Farmhouse Hutch with Vintage Yellow Pottery
Back in January, after I finally finished putting away all of my Christmas decor, I was left with a blank slate on the Farmhouse Hutch in our kitchen. I change out the decor here seasonally and I also use this hutch to display some of my vintage collectables.
One thing that I love to collect is vintage pottery and I have never displayed my vintage yellow collection on this hutch. I'm enjoying having all of my yellow collection in one spot!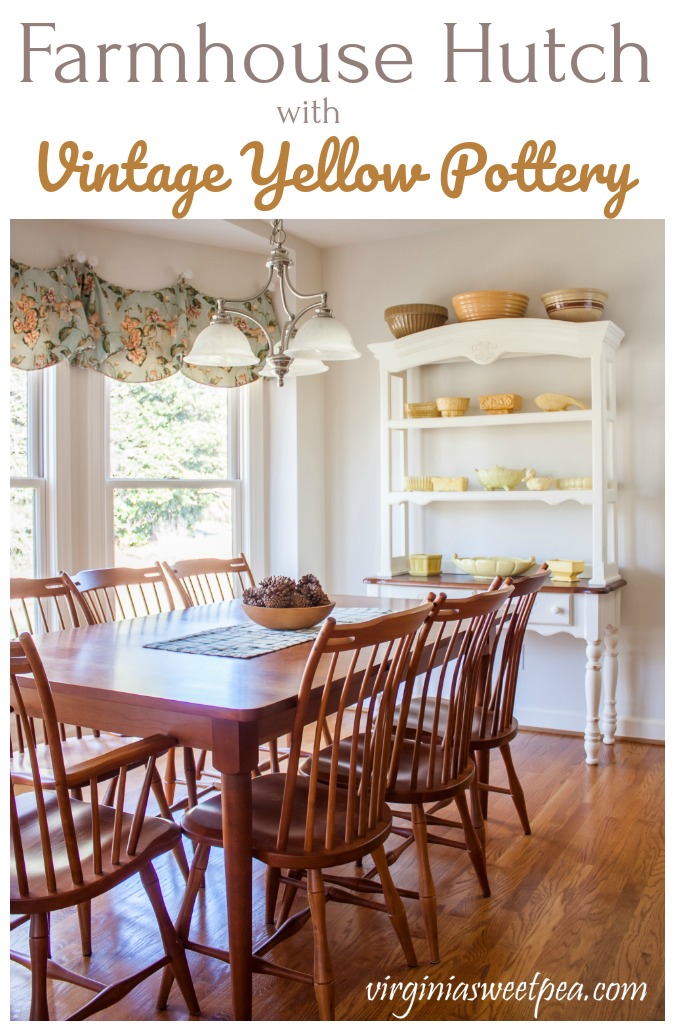 Farmhouse Hutch with Vintage Yellow Pottery
It's been a while since I've shared our breakfast room. This room and our kitchen used to be painted a butter-yellow color and this fall got an update with a new paint color. I went with "Ballet White" by Benjamin Moore as it blends nicely with our kitchen backsplash. I am really pleased with the update!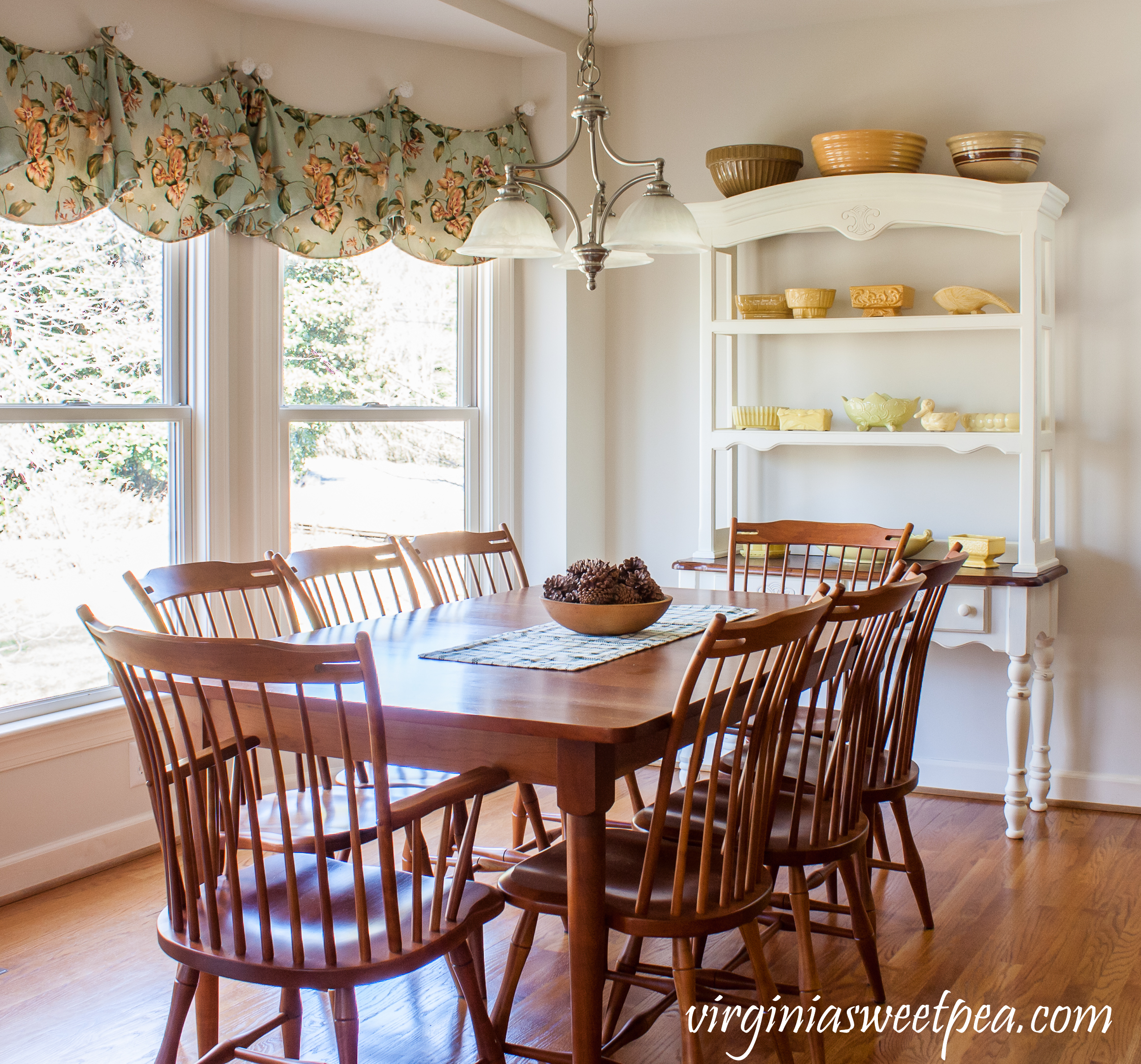 You may remember when I first shared this hutch a few years ago. It belonged to my friend's mom and I purchased it to makeover and then sell. I ended up liking so much that I kept it. When I shared it the first time, I styled it with some of my mom's Blue Ridge Pottery.
I've also shared it styled with my vintage green pottery and another time with vintage farmhouse decor.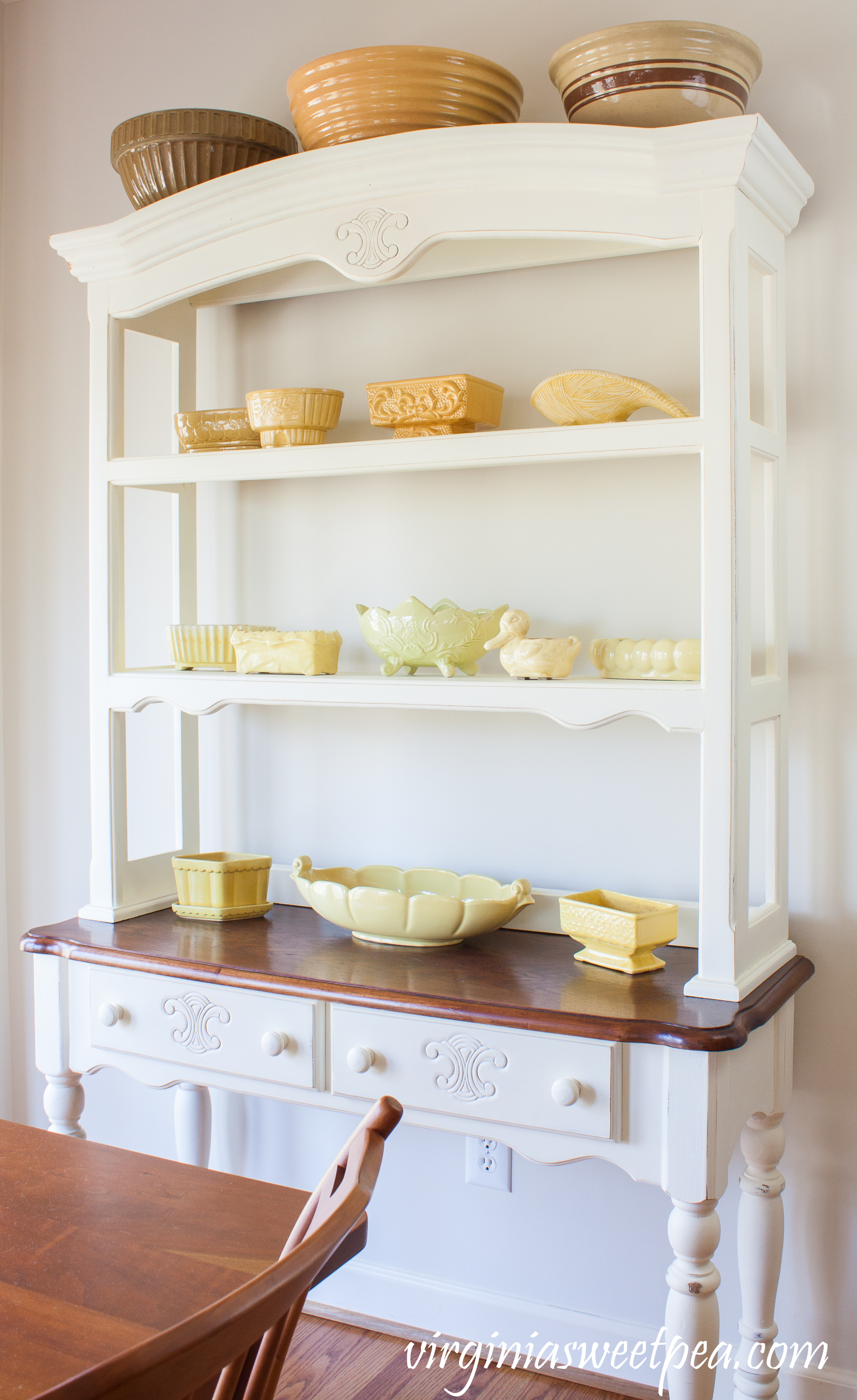 A few of these pieces belonged to my grandmother who was an avid gardener and garden club member. She arranged flowers for church and also for garden club competitions. Most of my yellow pottery collection along with the mixing bowls on top of the hutch were picked up here and there at antique shops and thrift stores.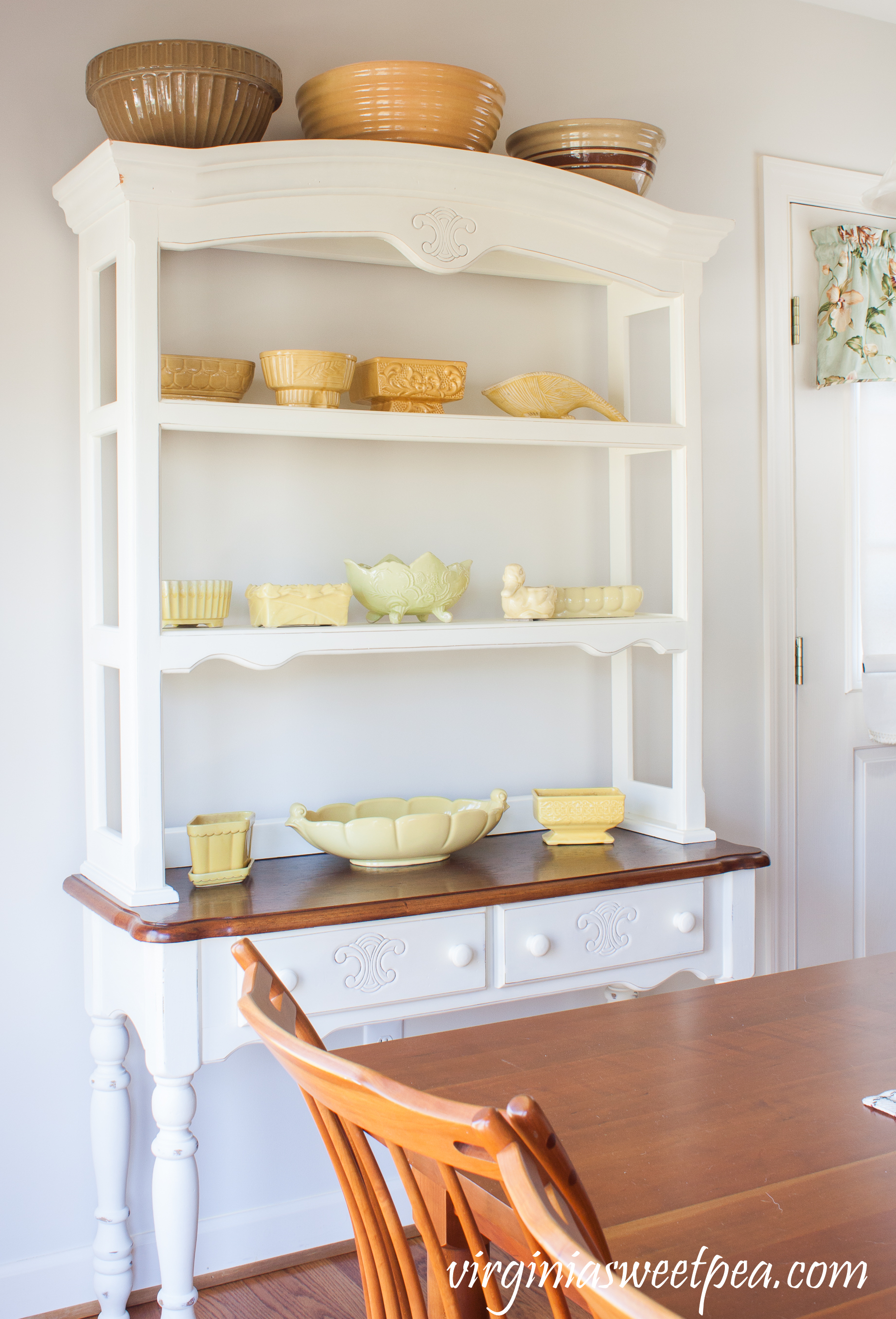 Vintage Yellow Pottery
When I gathered all of my vintage yellow pottery pieces, I noticed that the colors ranged from light yellow to dark yellow. I used the lighter pieces on the bottom two shelves and the darker pieces on the top shelf.
Light Yellow Vintage Pottery – Bottom and Middle Shelves
I'm sharing each piece of pottery, starting with the bottom shelf.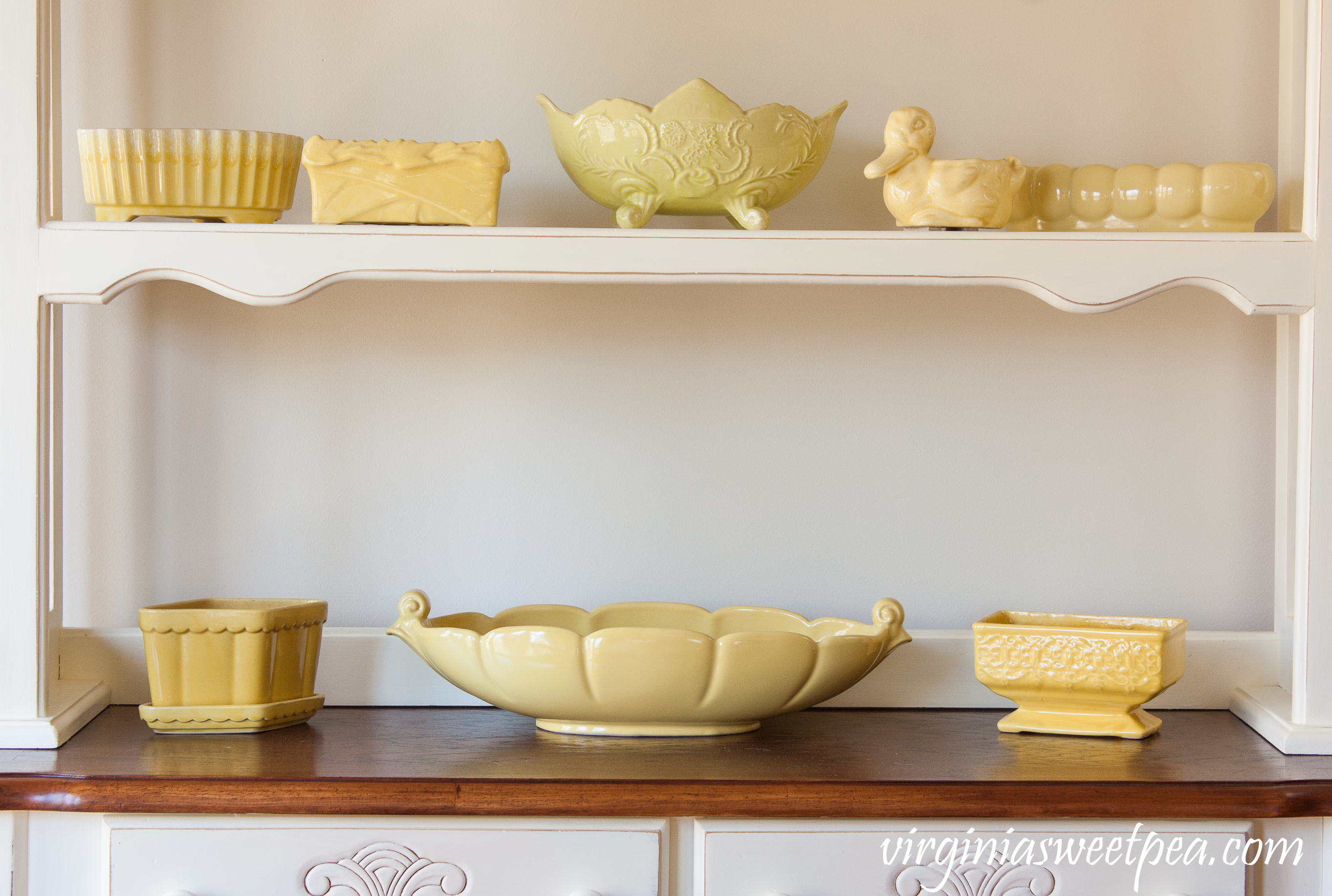 This diamond shaped pot has no marking. Someone once told me that if a pot has no mark, it could have been one that a florist used.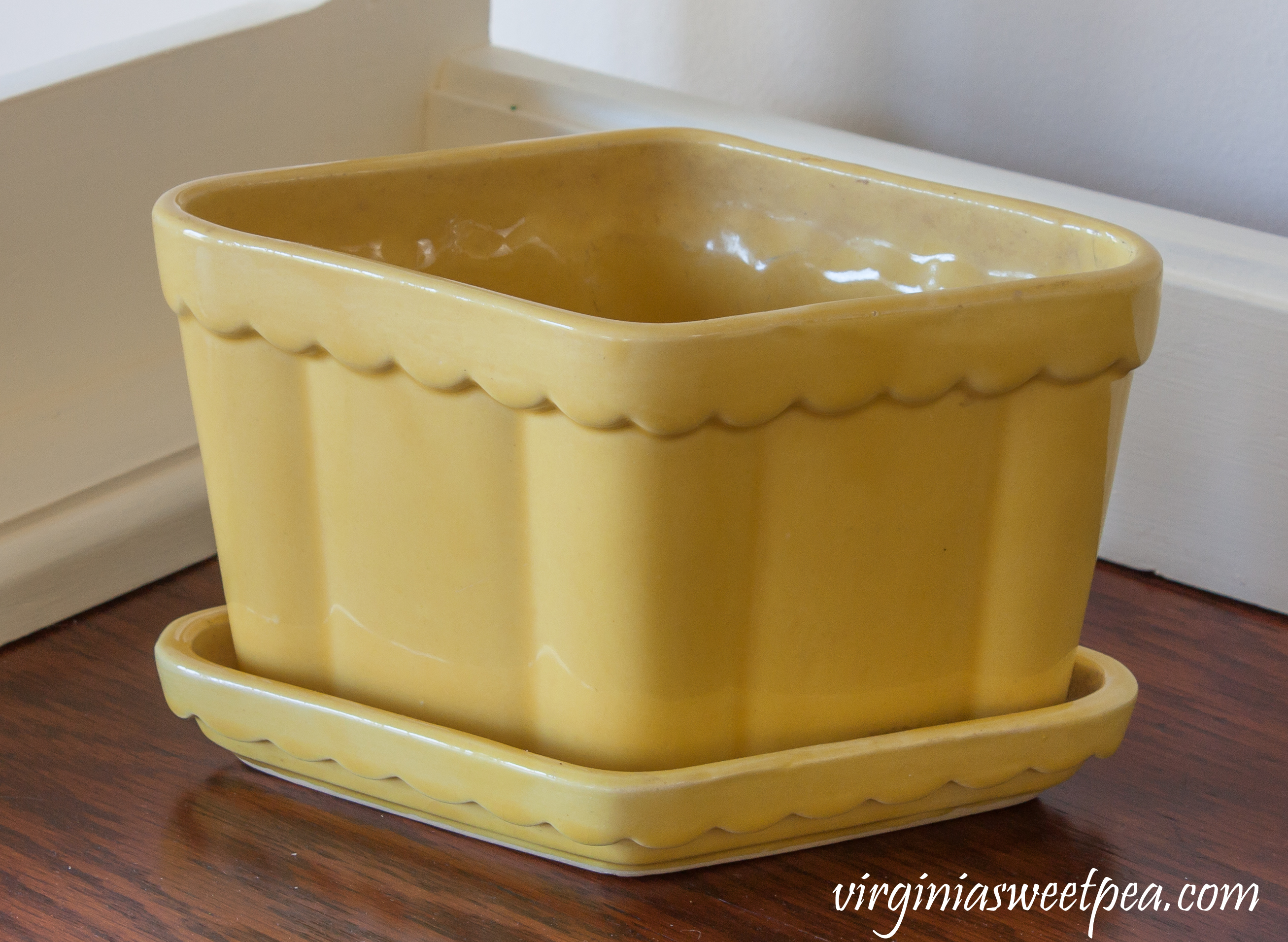 This piece is a console bowl by Abingdon USA in their Fern Leaf pattern. I often use this in fall filled with gourds.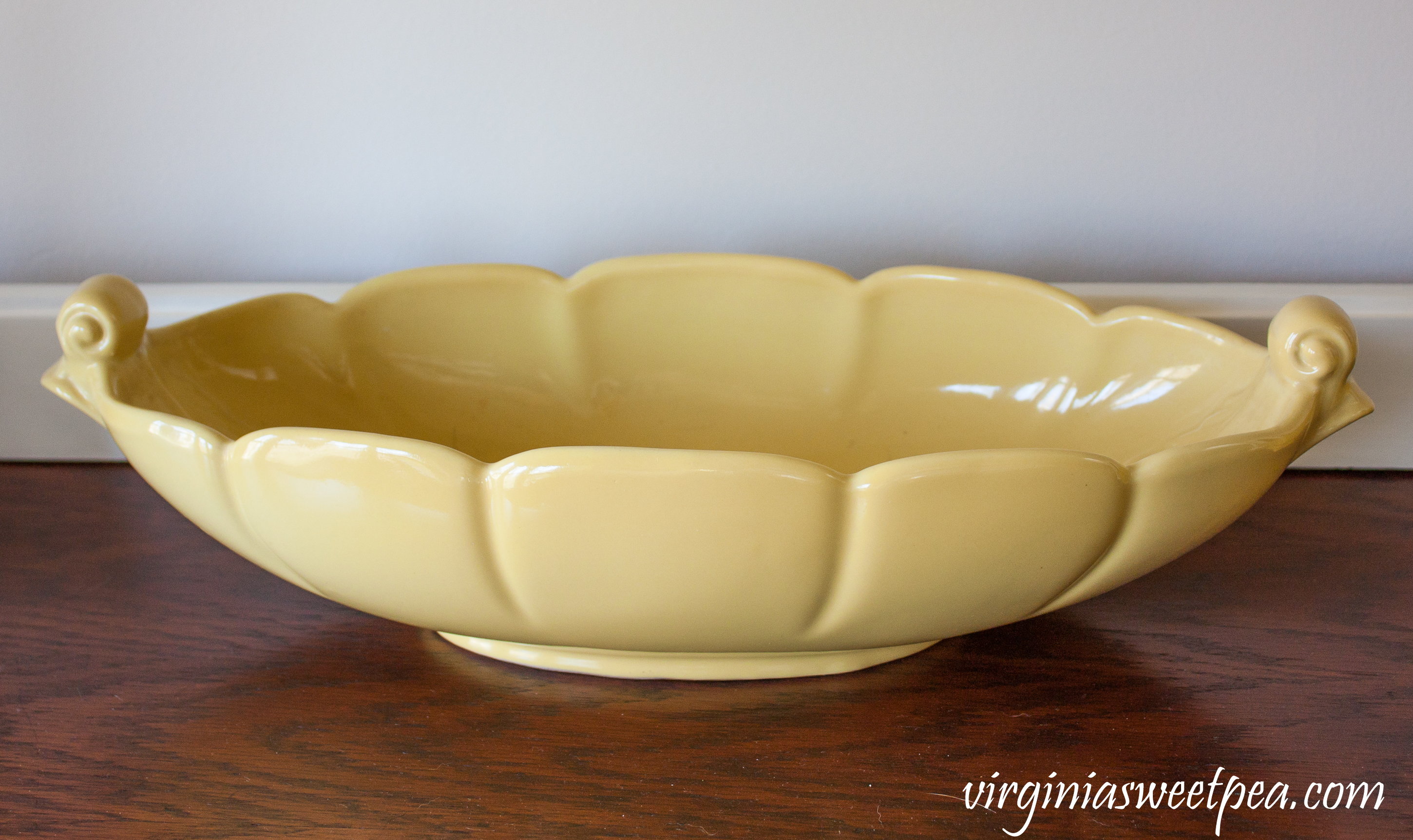 This pot also has no marking on the bottom of the pot.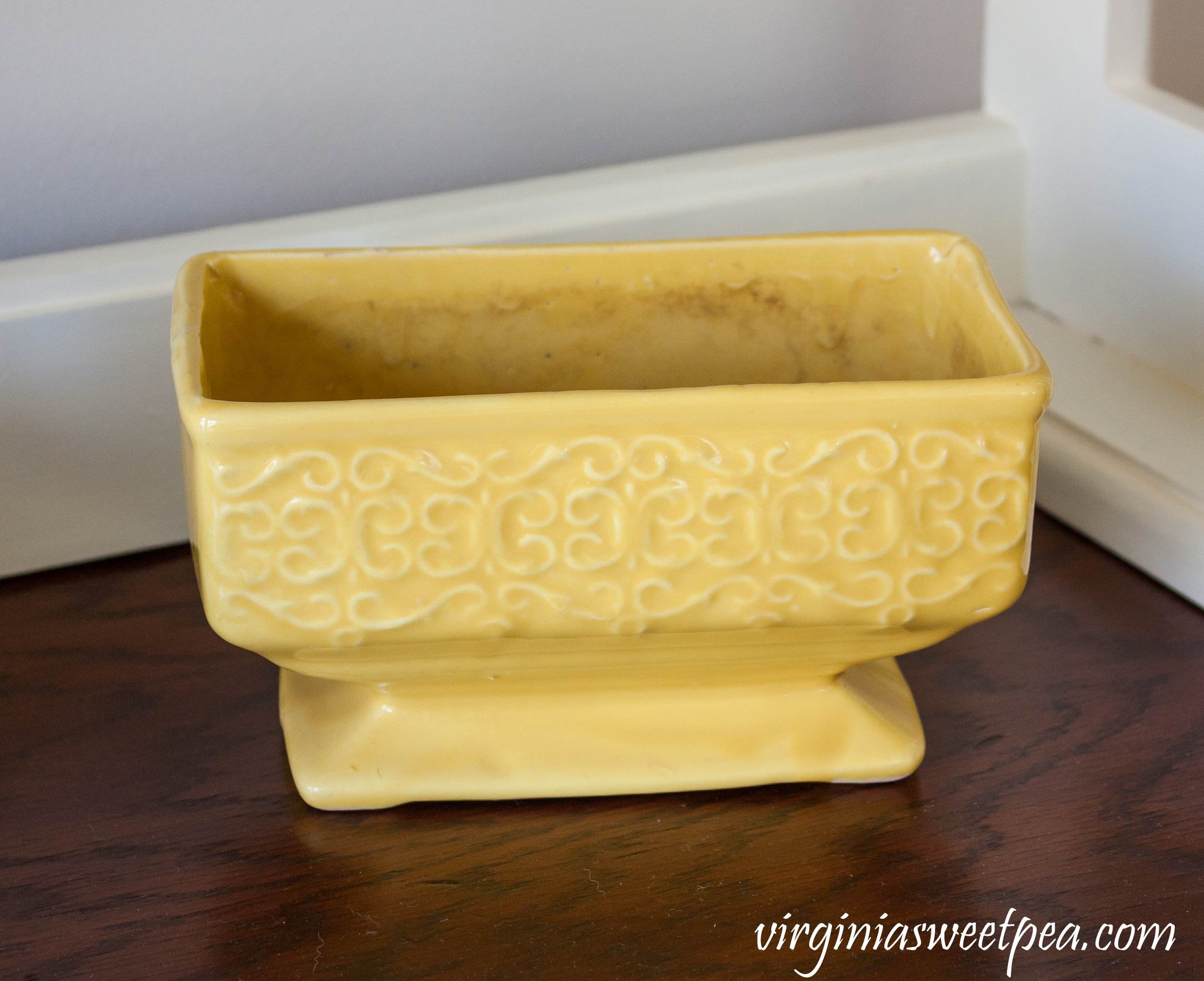 Moving on to the middle shelf, we have a Cookson Pottery Paisley planter marked "USA CP-1507" and a McCoy planter.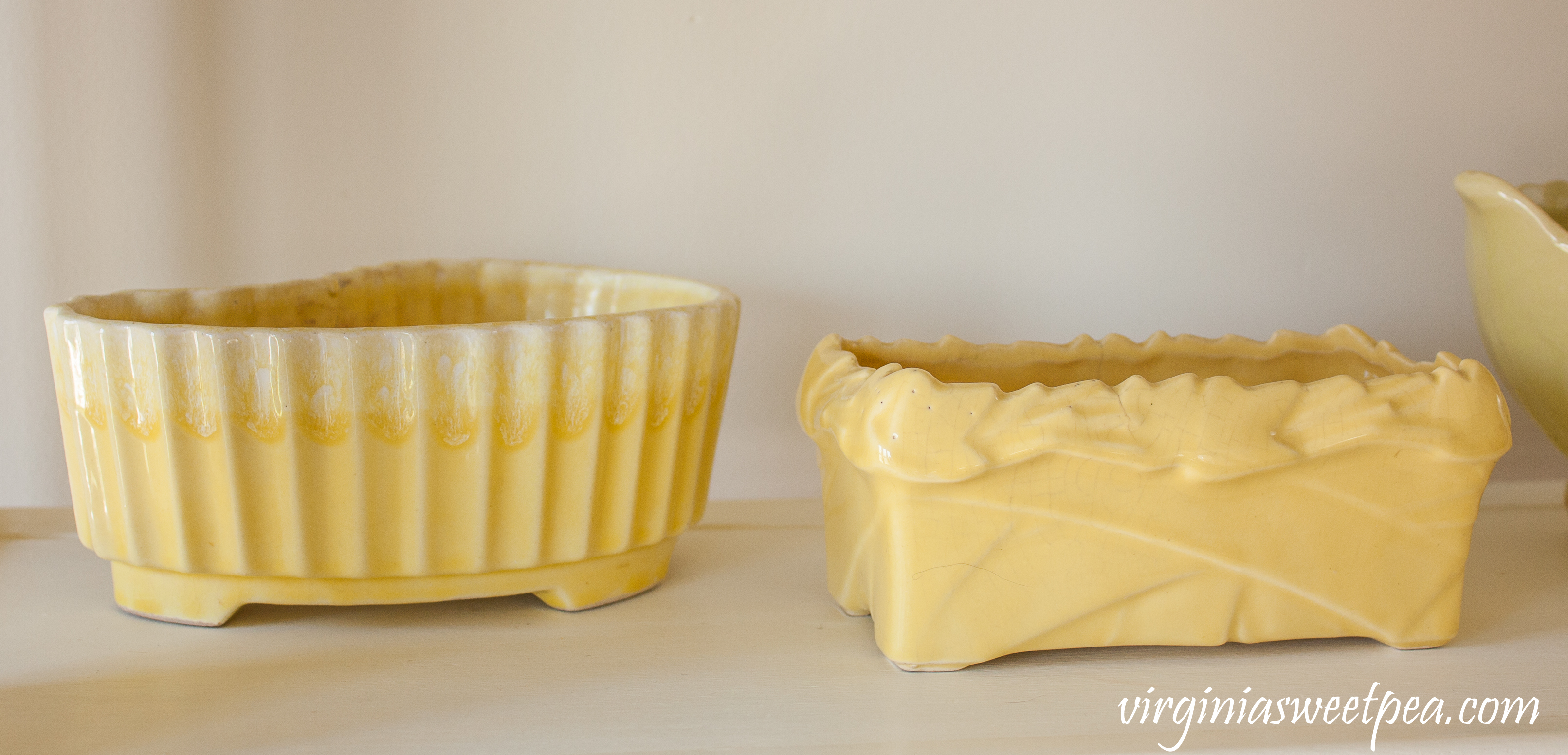 The footed planter in the center of the shelf is a Cookson Pottery piece marked "CP-92-USA". This belonged to my grandmother.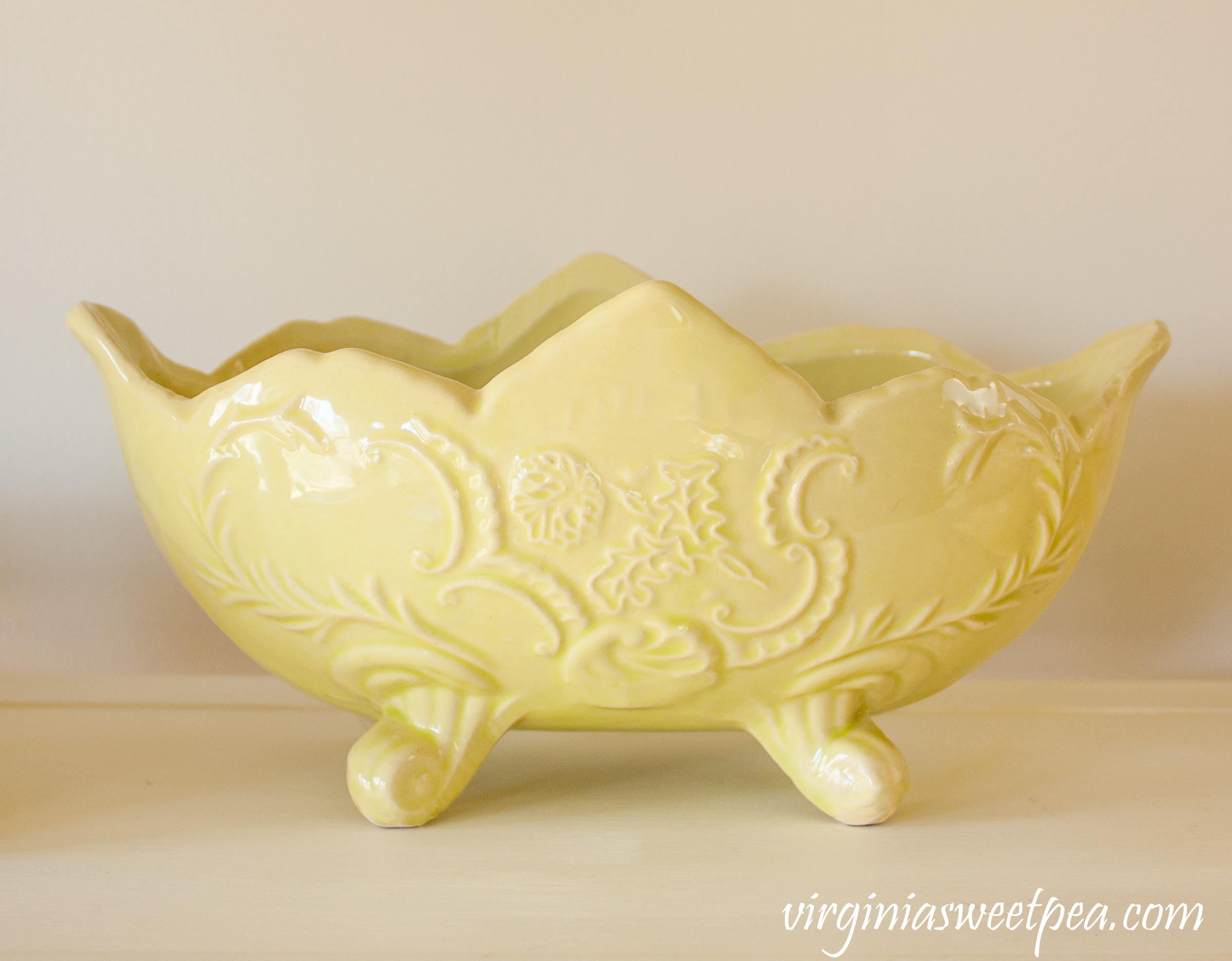 To the right of the planter are two more pieces that belonged to my grandmother, an unmarked duck and a Norton USA planter.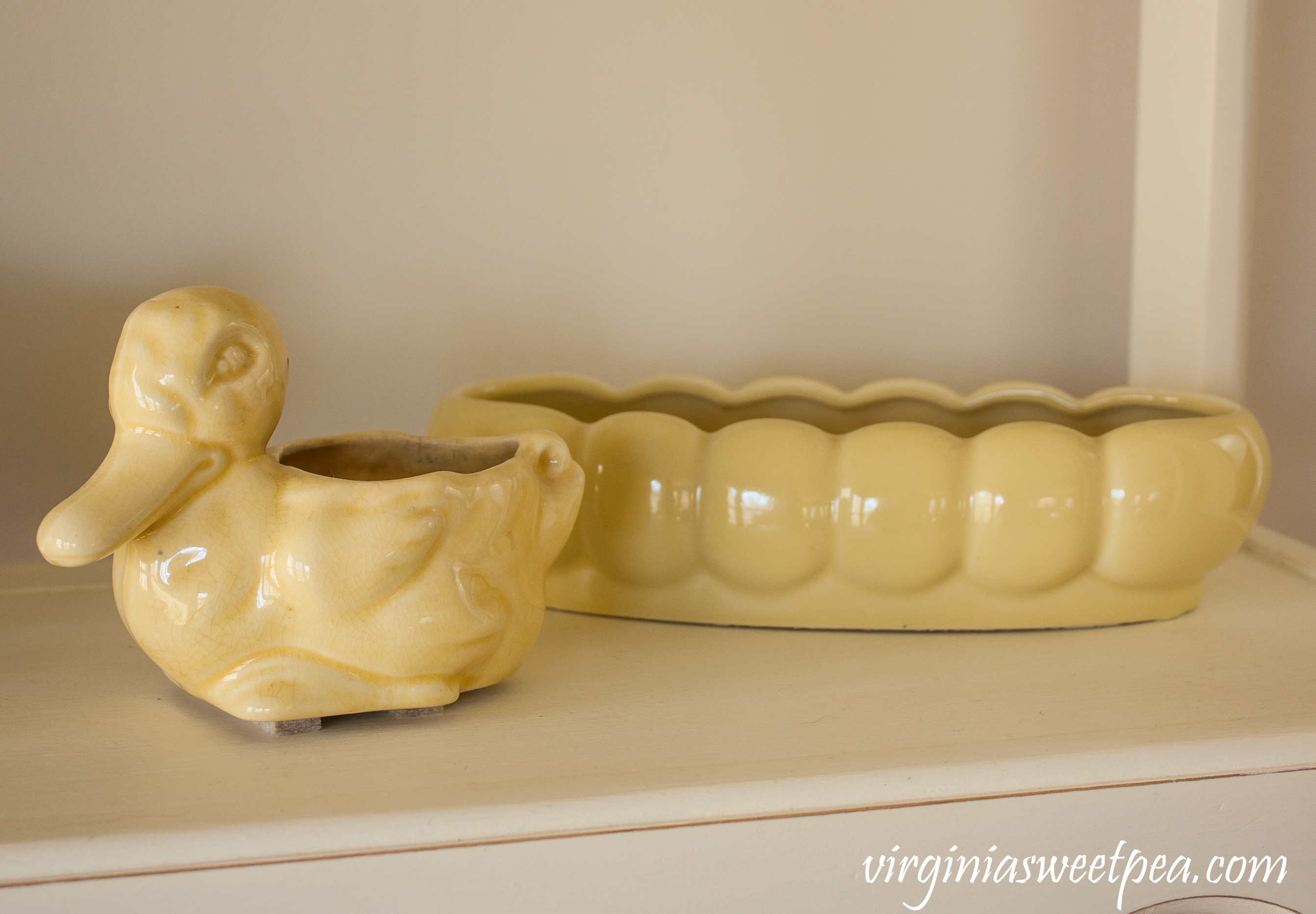 Dark Yellow Vintage Pottery – Top Shelf
I prefer the dark yellow of the pottery pieces on the top shelf.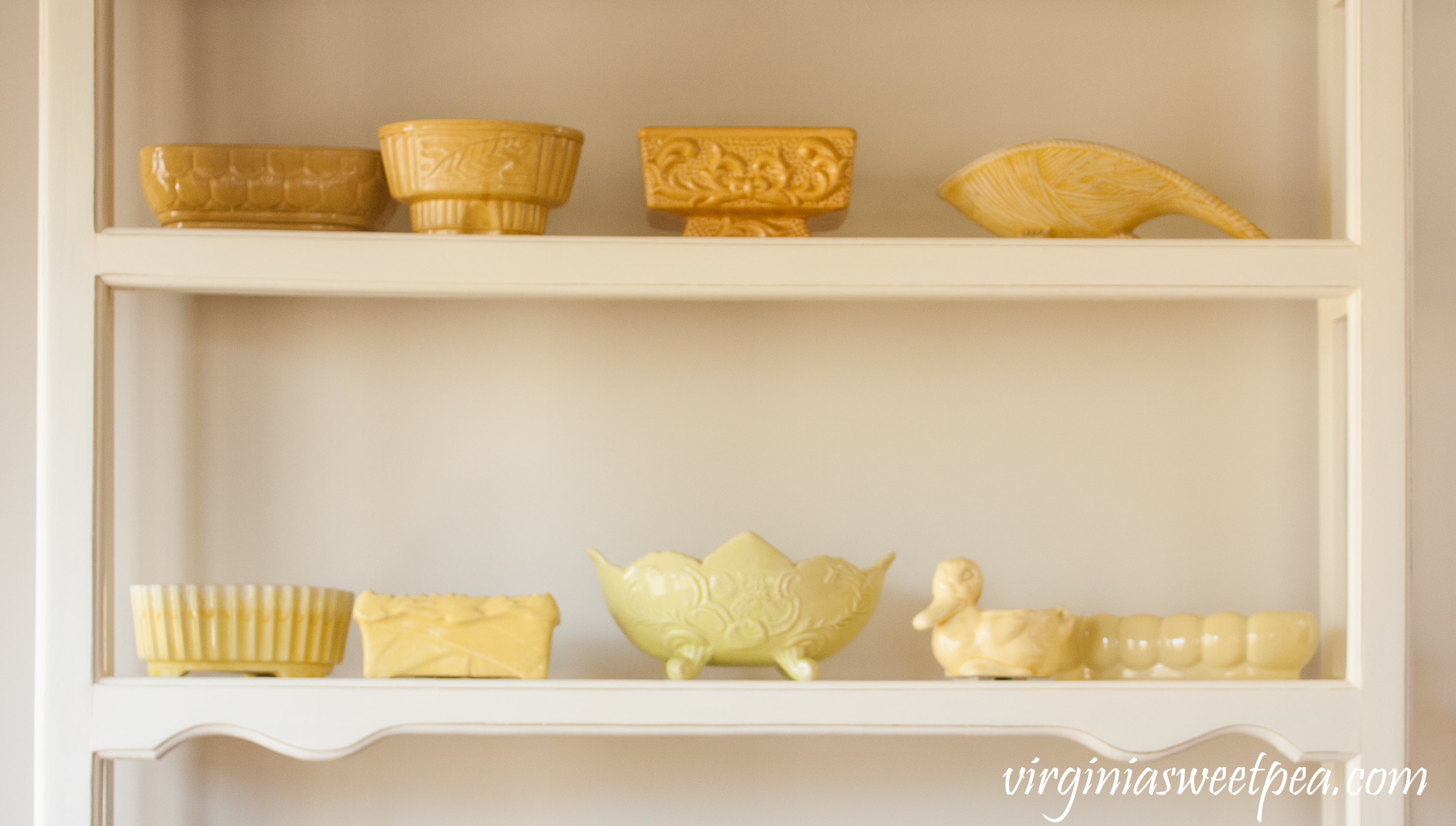 Both of these pieces are Cookson. The pot on the left is marked, " CP USA 356″ and the one on the right, CP USA 356″.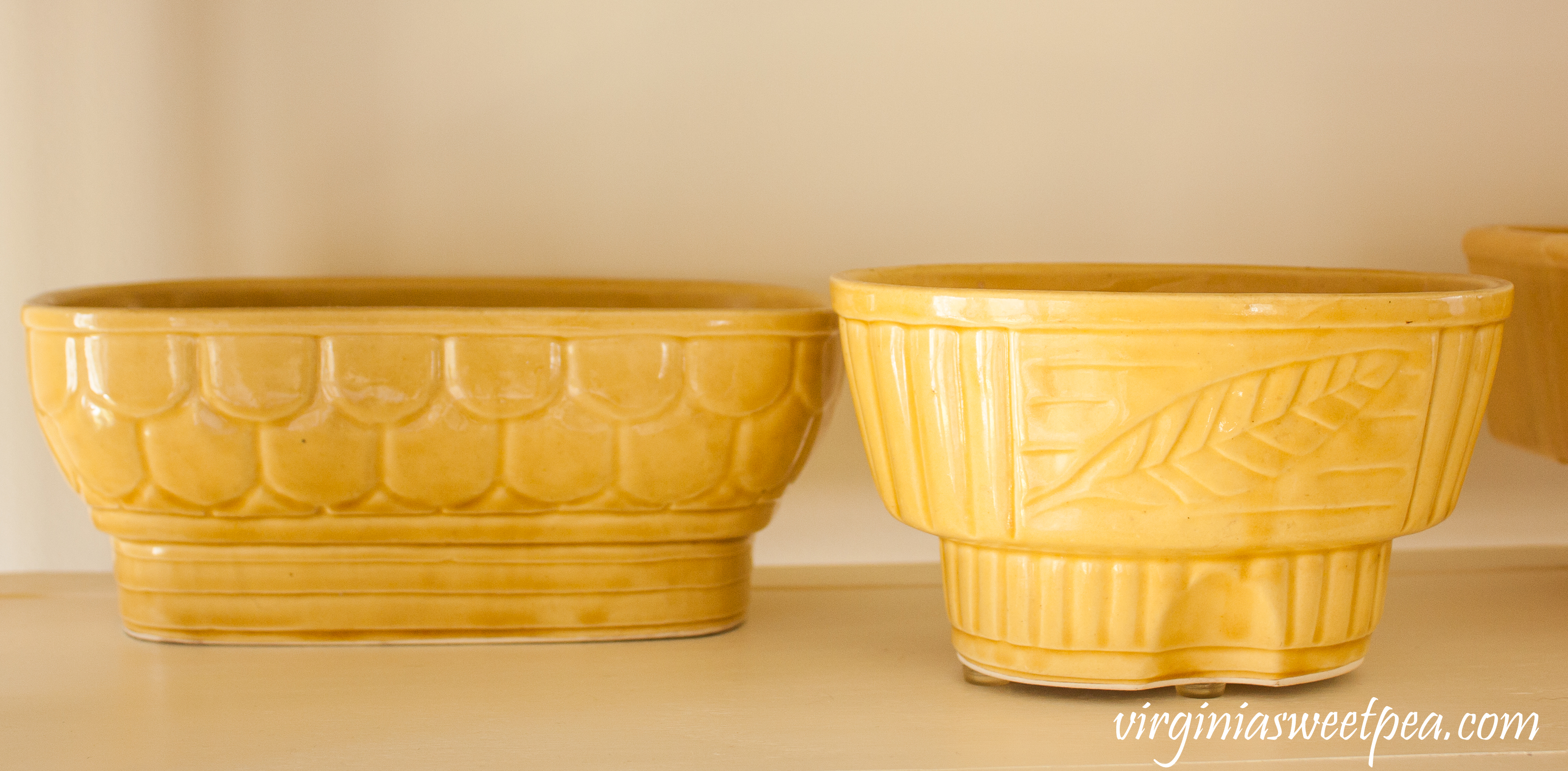 This piece has no mark.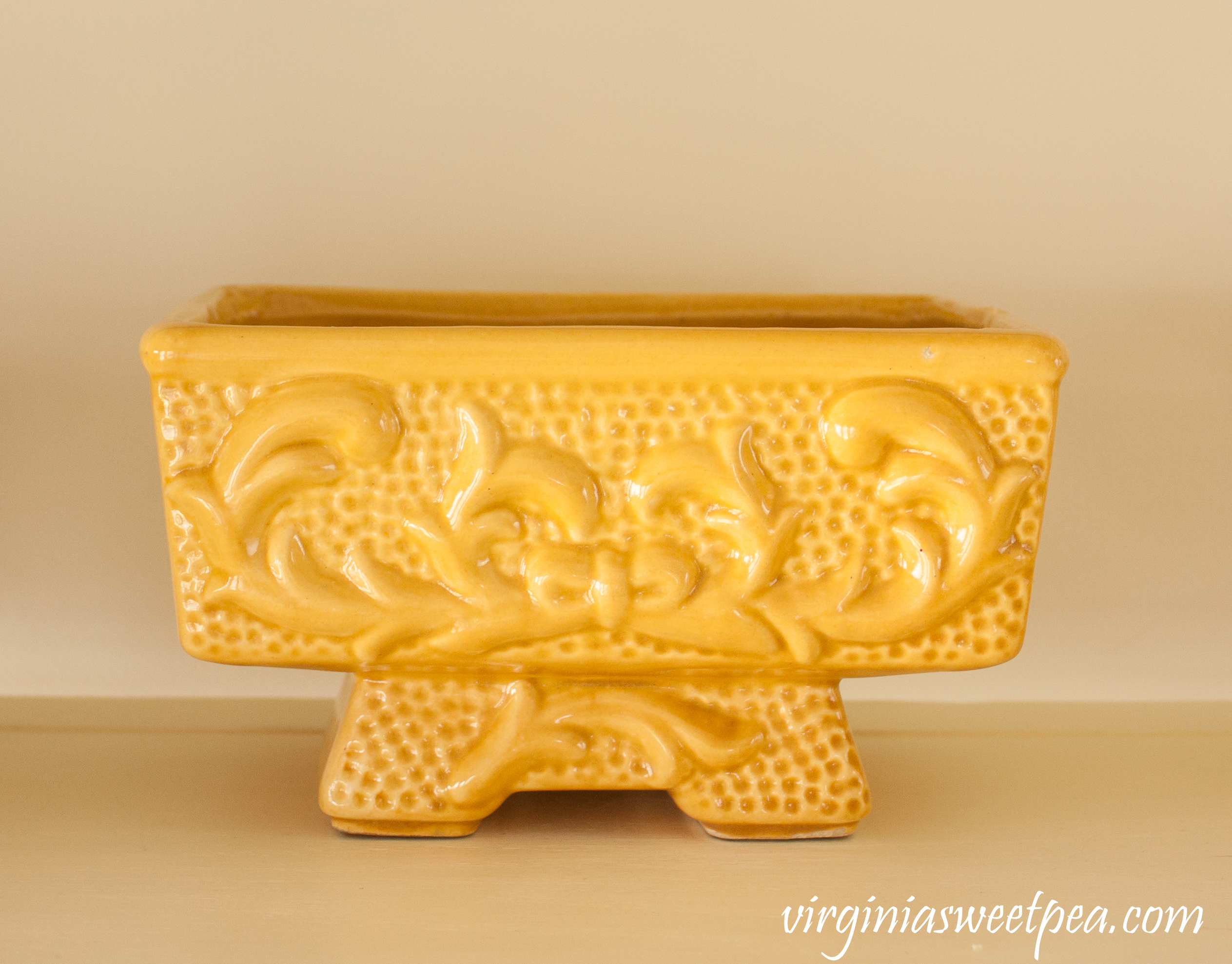 I'd love to know more about this McCoy planter. It reminds me of two things: either a dinosaur or a gravy boat. What do you think?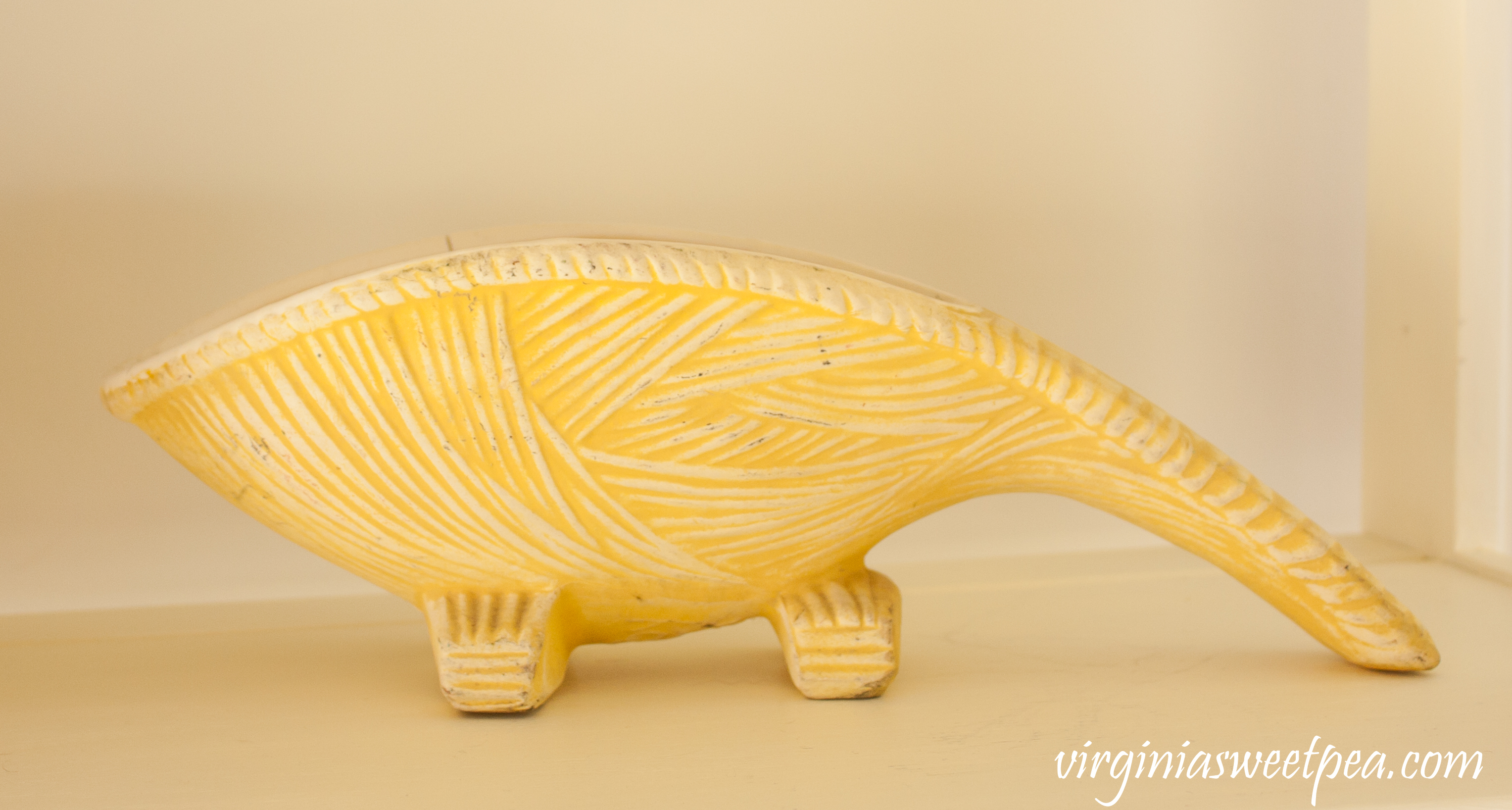 Mixing Bowls on Top of the Hutch
I used three old mixing bowls to fill the space on the top of the hutch.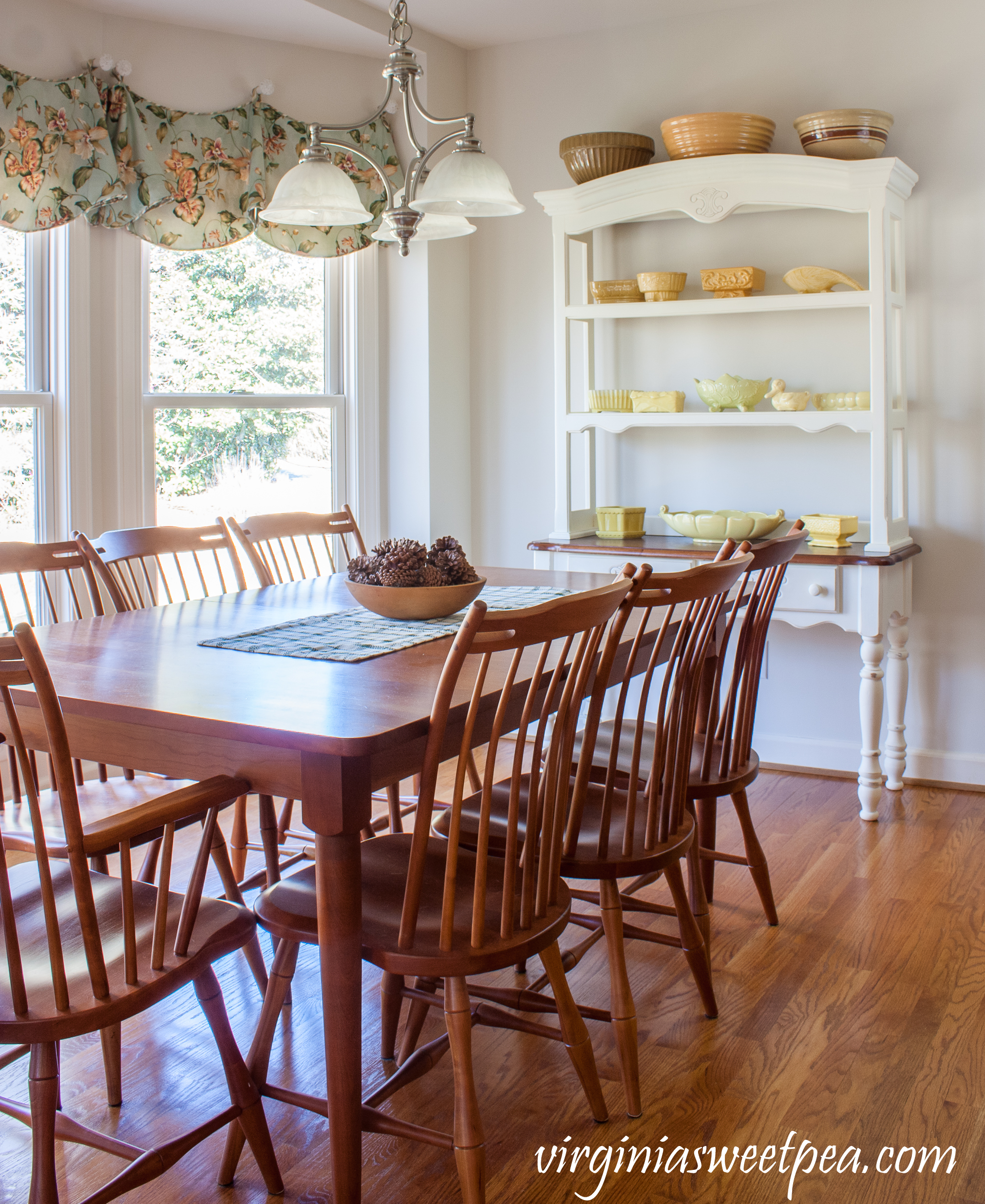 This bowl belonged to my friend's mother and is marked with a 12 on the bottom.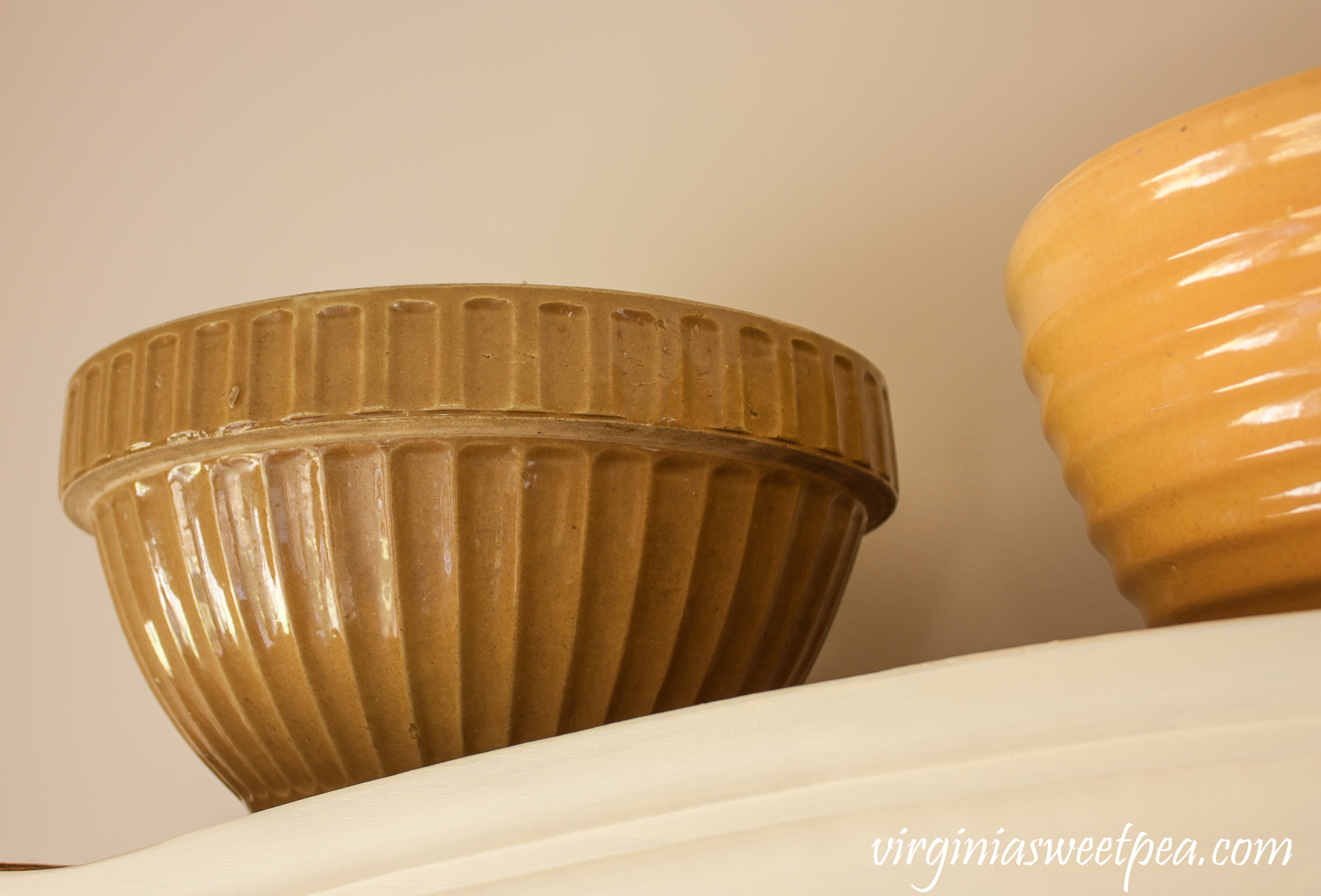 This large yellow mixing bowl was my grandmother's and is marked, " York P Made in USA". I was curious about this mark and discovered that the P stands for Pfaltzgraff and that Pfaltzgraff is the oldest operating pottery in the United States. The mark that this bowl has indicates that it was made in the 1930's. Unfortunately, Granny once let someone serve drinks from this bowl at a party and it was returned to her with a crack.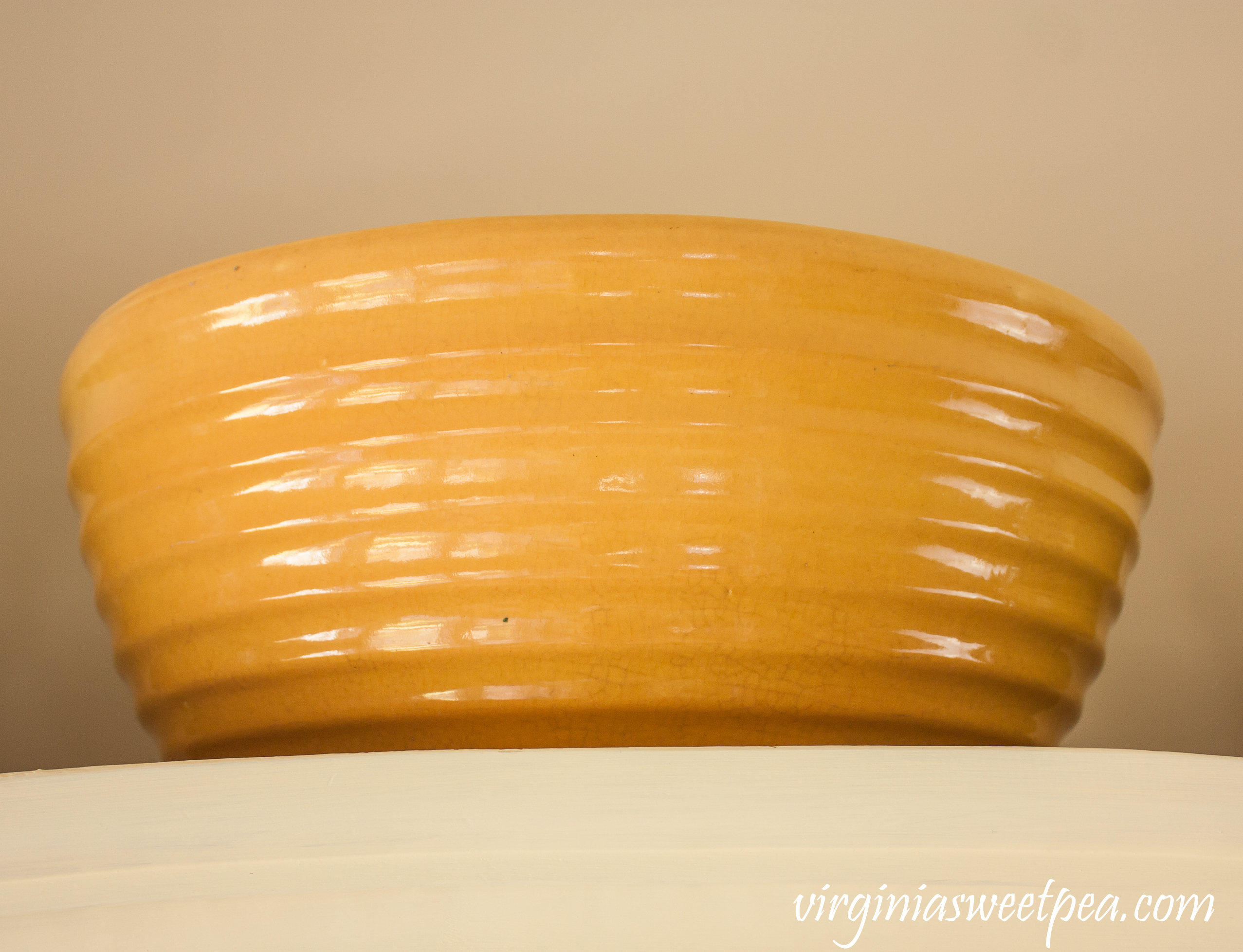 The last mixing bowl is a Watt that I purchased a long time ago at an antique store.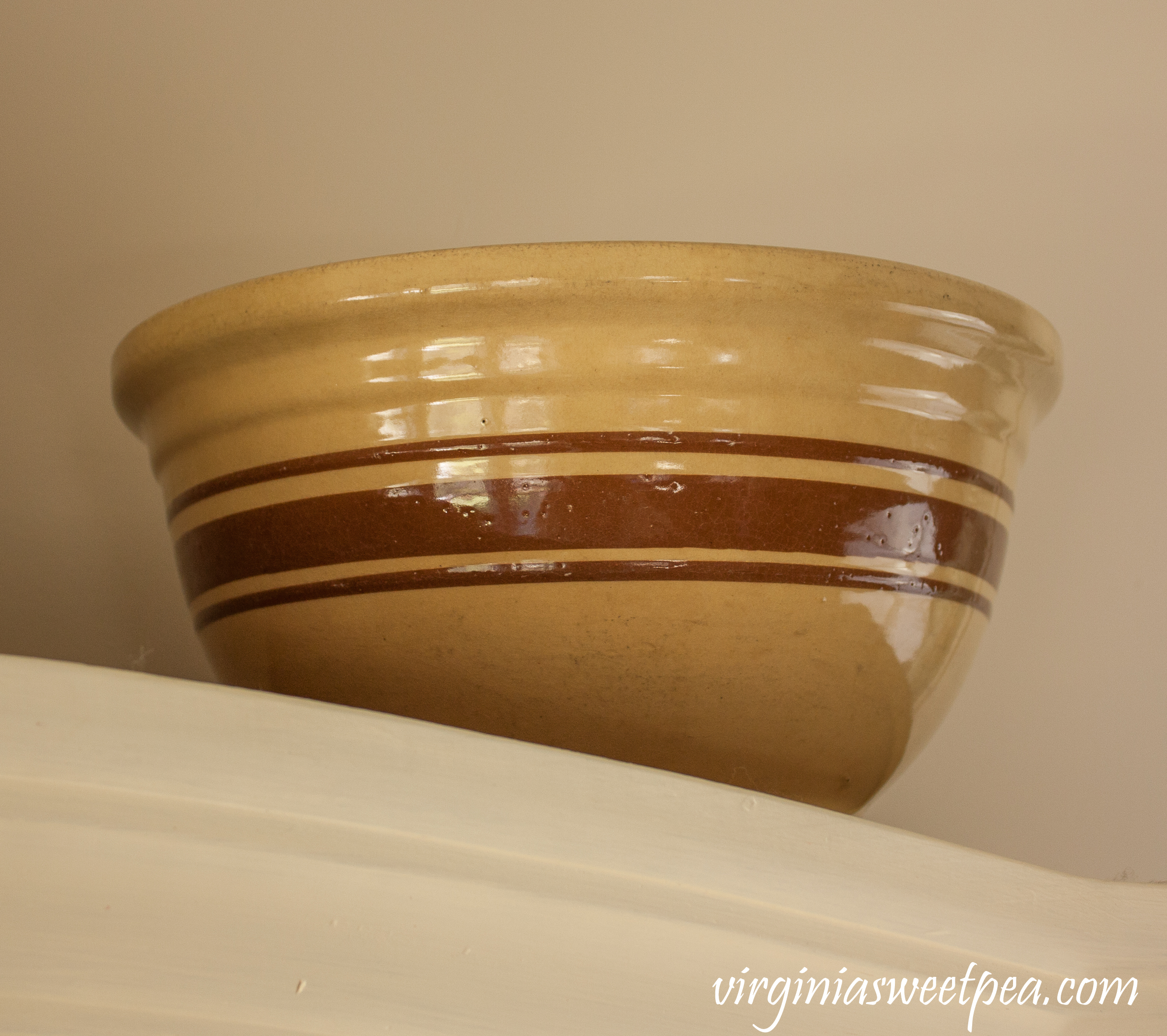 Pin It!
I hope you enjoyed seeing my yellow vintage pottery collection and also seeing my new kitchen paint color.
I'd love it if you would pin this post for others to discover!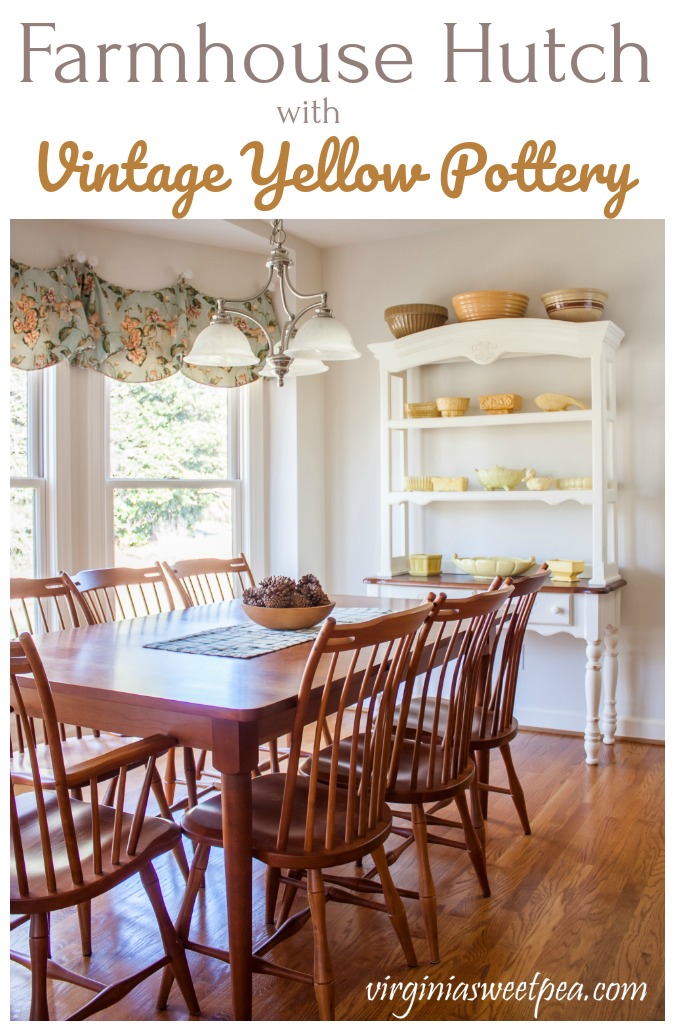 More Hutch Decor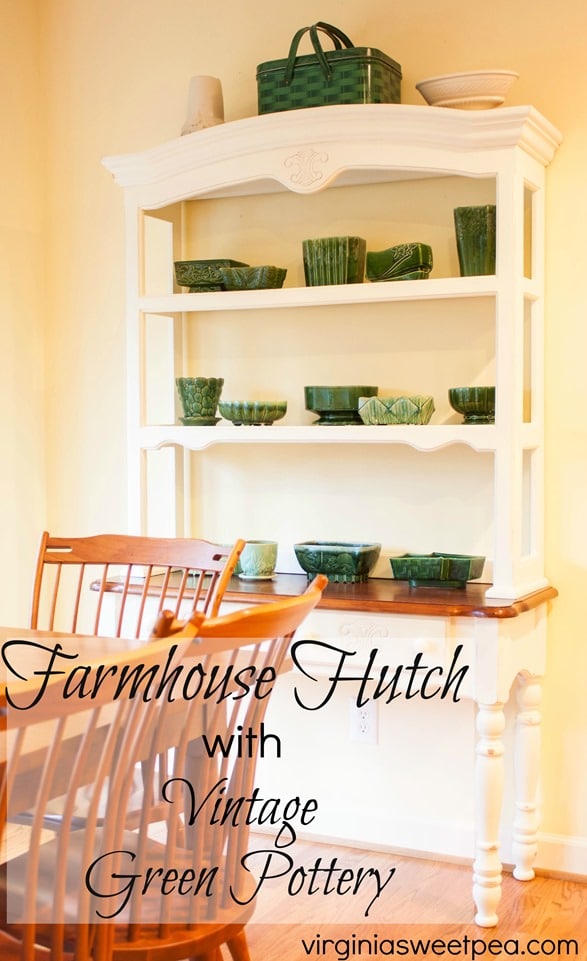 Farmhouse Hutch with Vintage Green Pottery
Kitchen Hutch with Vintage Farmhouse Decor