Kitchen Hutch with Vintage Farmhouse Decor
Decorate a kitchen hutch with vintage farmhouse decor.
The hutch in our kitchen is a favorite spot to display some of my vintage collection. After I removed the Christmas decor from these shelves, I decided to display some favorite vintage kitchen items, many of which belonged to my grandmothers.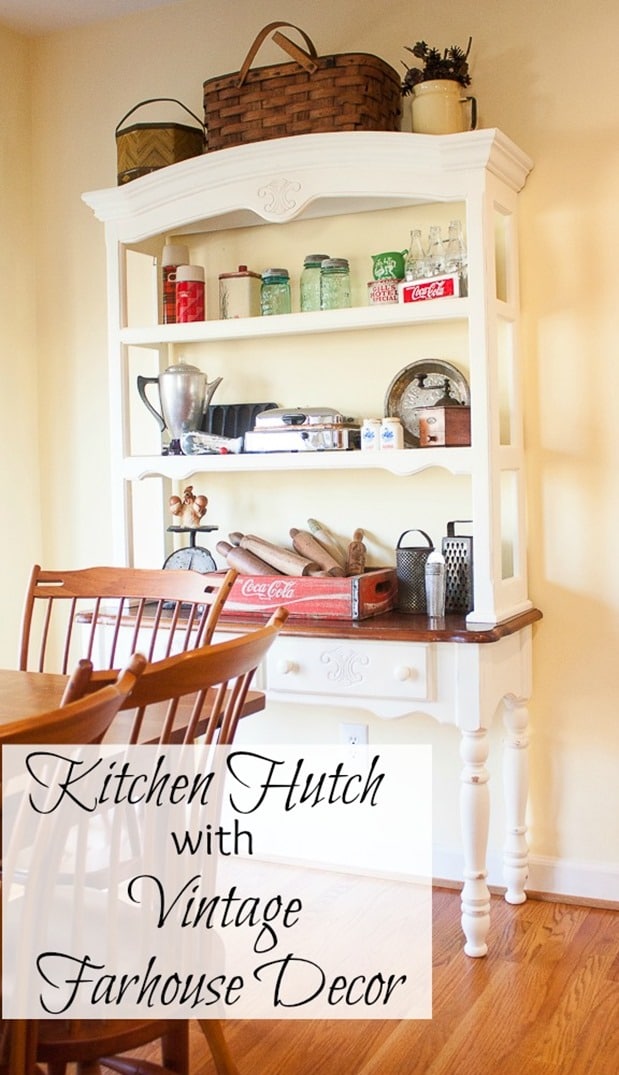 Vintage on the Kitchen Hutch Shelves
I filled the shelves on this hutch with vintage kitchen items. I'm not positive that I love this "filled-to the-brim" look but I am positive that I like having some of my vintage things out instead of in their usual spot on the storage shelves in my basement.
Bottom Shelf
We'll start on the bottom shelf because it holds my newest vintage find, an old Coke crate. I recently purchased this at an antique shop in Amherst, Virginia. I don't regret buying it, but I should have asked my mother first because she has one in her basement that she would have given me.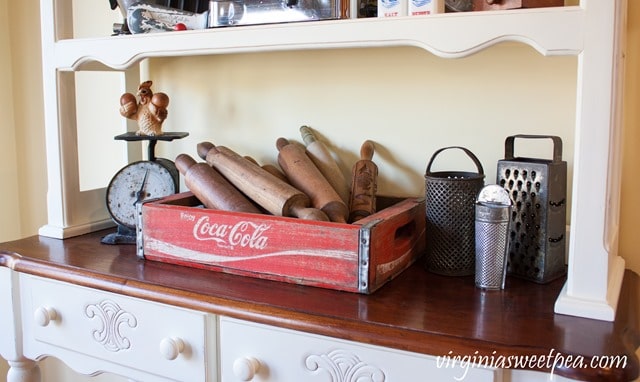 I filled the Coke crate with vintage rolling pins that my old neighbor gave me when he moved.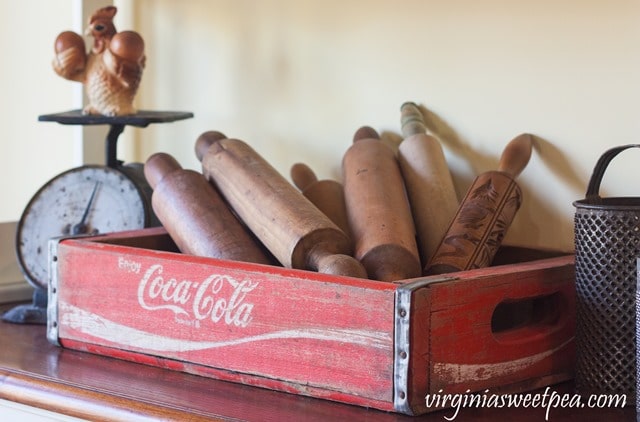 The kitchen scale belonged to my paternal grandmother and the chicken salt and pepper shaker was my maternal grandmother's. I am so lucky that both grandmothers passed along old things to me!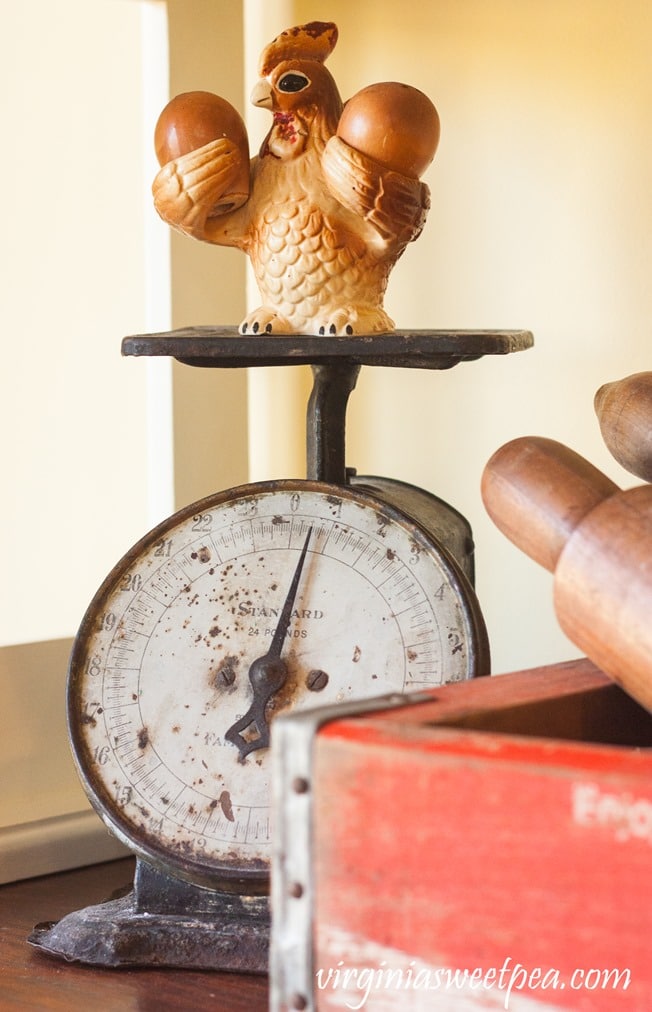 The neighbor who gave me the assortment of vintage rolling pins also gifted me with his vintage grater collection. These are a just a few of those that he gave me. You can see more of what he passed along to me here.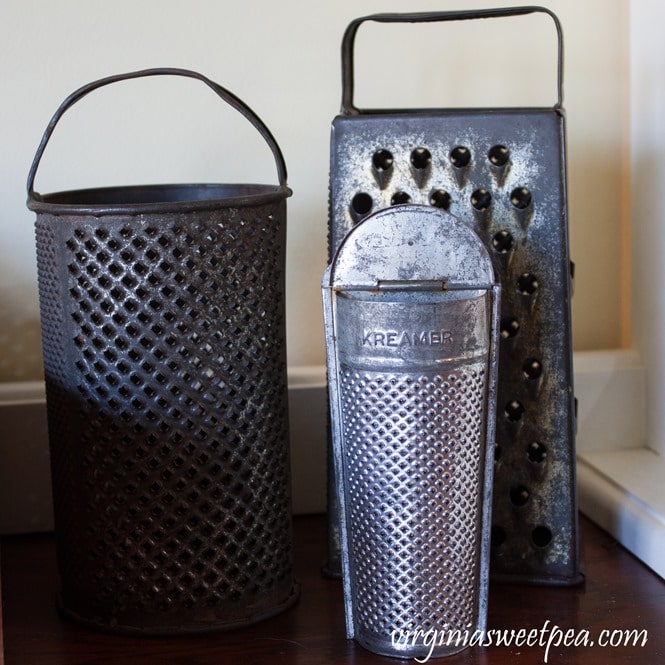 Middle Shelf
The middle shelf holds items that were in use not too many years ago.

The coffee percolator and can opener were my maternal grandmother's. A neighbor gave me the cast iron corn stick pan when it didn't sell at her yard sale. Of course I was thrilled to take it off of her hands! The waffle iron in the middle of the shelf belonged to one of my grandmothers but I can't remember which one.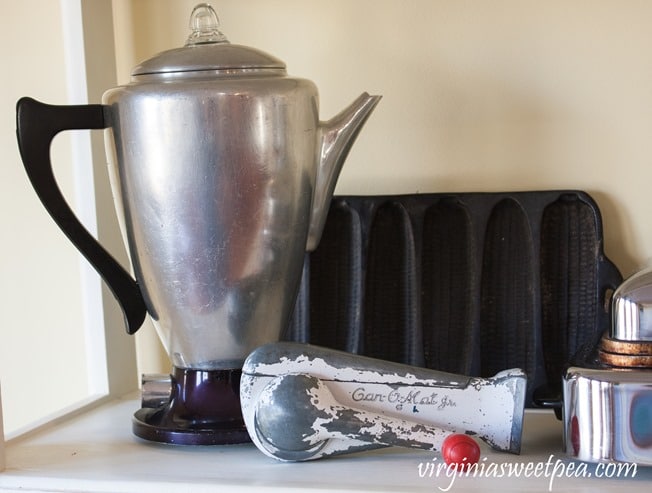 Shortly after we were married, my husband bought this coffee grinder for me in a local antique shop. He was told that it came from a Lynchburg estate. The tag on the front of it says, "Peugeot Freres Valentigney Doubs". A quick search tells me that this was made in France and is worth at least $75. Mama gave me the Mrs. Smith's pie pan and I purchased the Swan salt and pepper shakers locally a long time ago.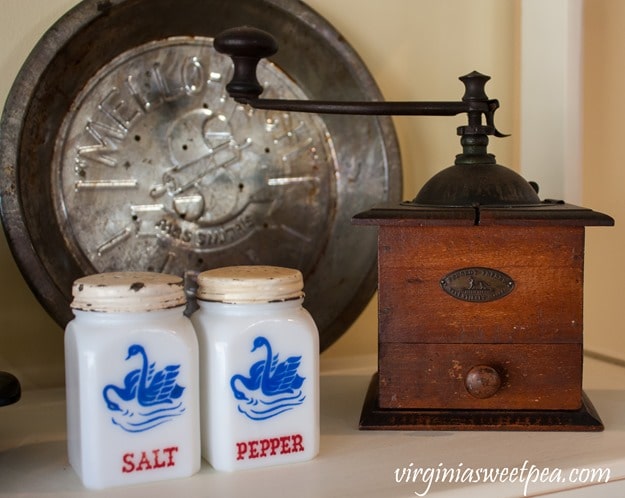 Top Shelf
The top shelf holds more vintage goodies.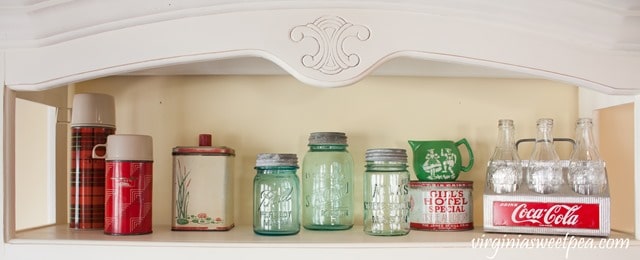 Who doesn't love a thermos? The thermos to the left was found in a dumpster and I purchased the one on the right in Bedford just before Christmas. The canister was one of my paternal grandmother's wedding shower gifts. See more of Granny's 1938 wedding shower gifts here.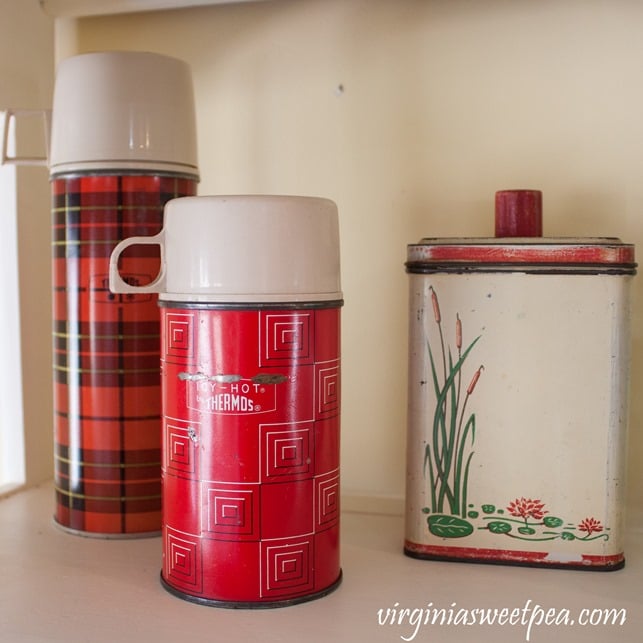 I love old Mason and Ball jars and often display them on the small shelves on the sides of my kitchen cabinets. My very favorite jar is the "Lynchburg Standard Mason" jar from my town.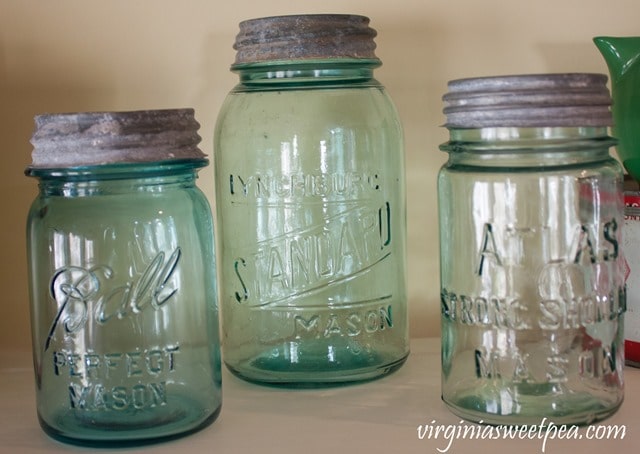 The little green pitcher is Czechoslovakian. Granny used the Coke caddy to carry extra flowers for her flower arrangements when she competed in garden club competitions.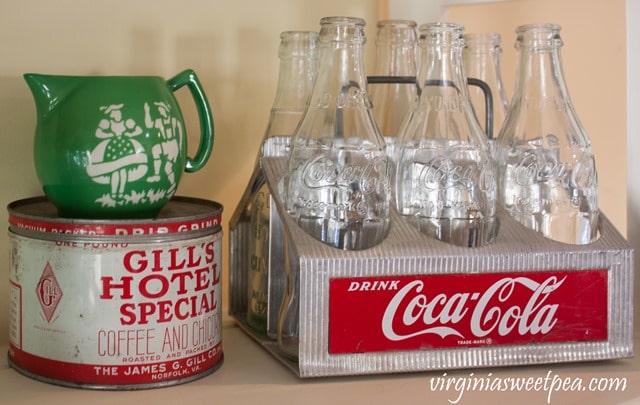 Hutch Top
The top of the hutch holds a picnic basket that I found in a trash pile, a tin that I usually use in my pantry to hold extra rolls of plastic wrap and foil, and an enamel pitcher that belonged to my friend's mom.
Table Centerpiece
The centerpiece on my table was originally a wreath that I made for our front door out of Sweet Gum Balls. This Christmas I sprayed it with Rustoleum Spray Glitter in Silver (affiliate link) and used it as a table centerpiece with a red candle. To change the look to winter, I switched the candle to white.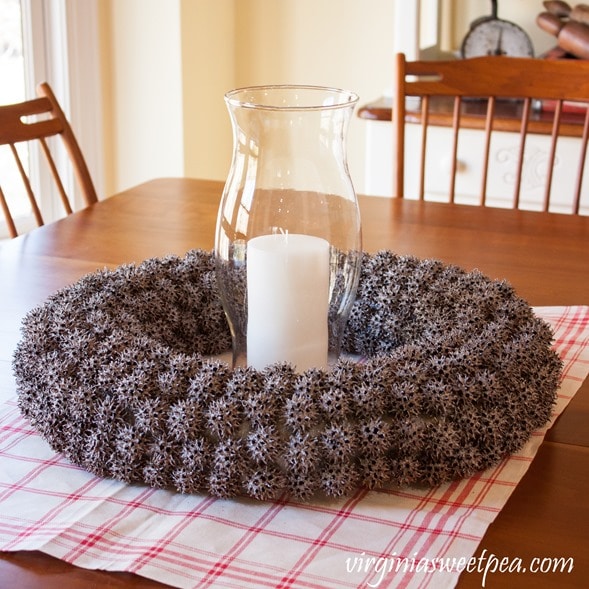 If you enjoyed seeing these vintage items, check out more of my vintage posts here.
Kitchen Hutch Last January
Last January I styled these shelves with pieces from my vintage green pottery collection. Which look do you prefer? I think I like last year's look best but I'll leave these shelves as is for now.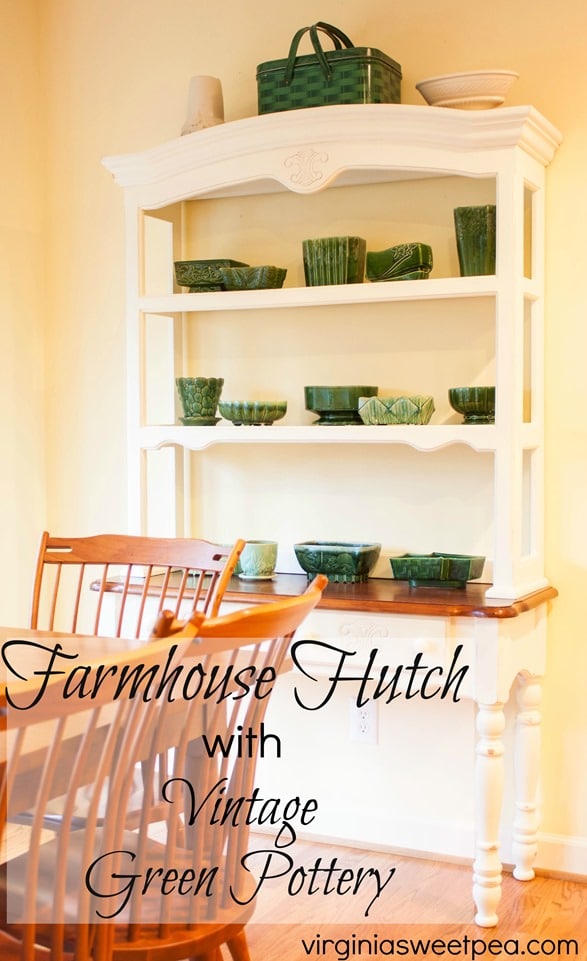 I'll be back on Thursday with the first Power Tool Challenge of 2018. We are sharing organizing projects and I made an rolling under bed storage drawer that I can't wait to show you.