Angel Themed Christmas Table
Earlier this week I shared my Christmas table centerpiece and today I'm sharing the rest of my Christmas table.
I decorated my table with an angel theme and I love the end result.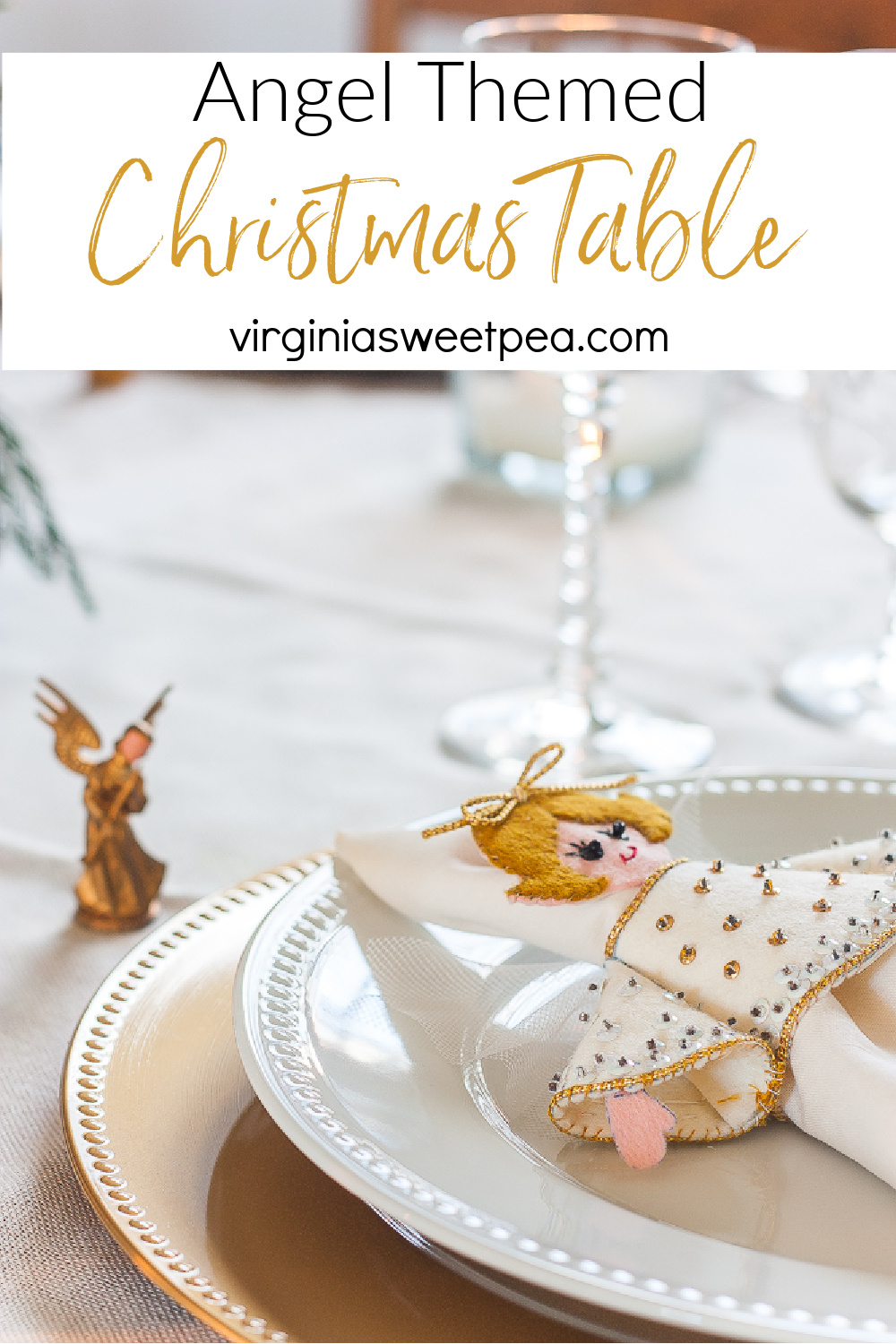 I've teamed up with two vintage-loving friends who are also sharing their vintage-inspired Christmas tables. You'll find links to their tables at the end of this post.
Angel Themed Christmas Table
My Christmas table is set in our dining room. One of my great-grandmother's chairs is pulled out, ready for you to take a seat.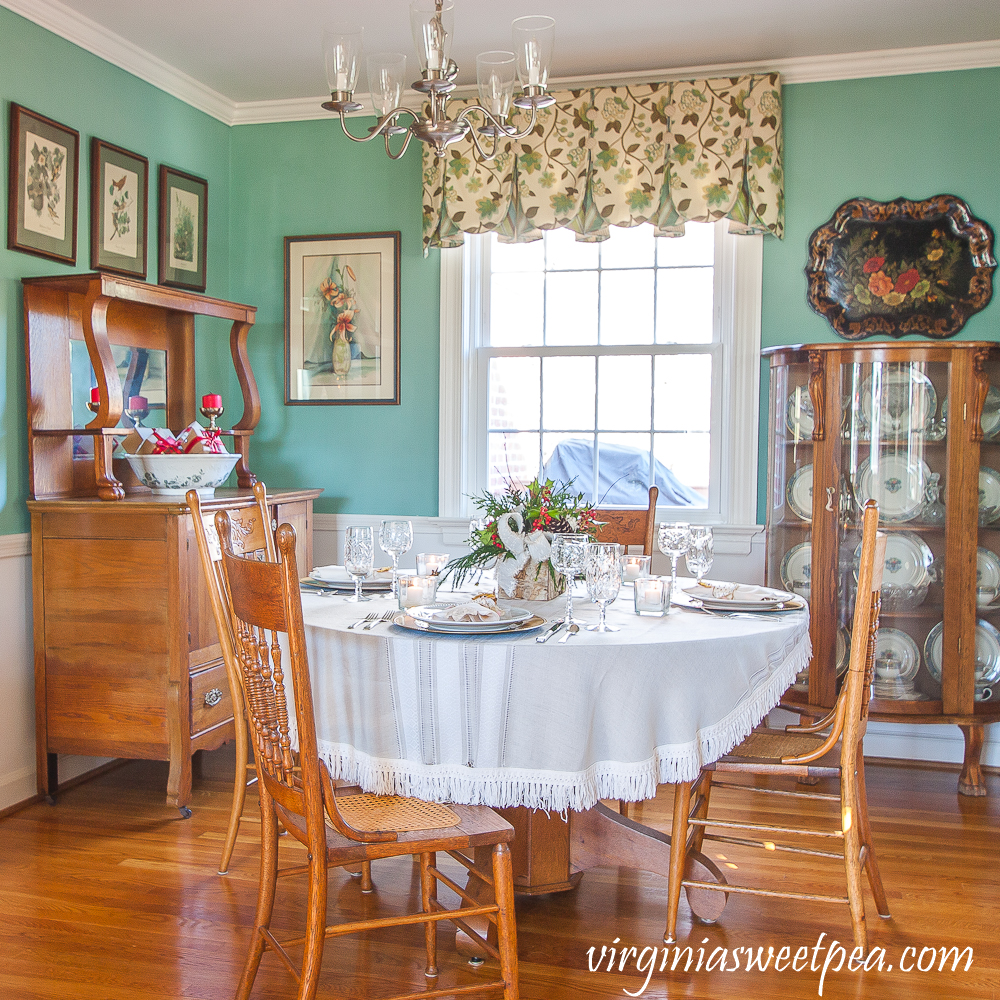 Most of the furniture in my dining room is oak which is currently not in fashion, but I like it. The buffet and china cabinet aren't family pieces but the chairs and table are.
My grandfather bought the table at an auction in the 70s and refinished it for my parents. Mama gave it to me when my paternal grandmother died and she inherited Granny's dining room set.
The painted tray always hung over my grandmother's refrigerator. It was a Christmas gift, painted by her cousin's wife. If you like my tray, you'll like this one and also this one. My cousin recently gave me a painted tray and I'm hoping to hang it in a bedroom at the lake. I love painted trays!
The china in the china cabinet is my wedding china, Lenox Autumn. The glass pieces in the cabinet are pieces that belonged to my grandmother and great-great-aunt.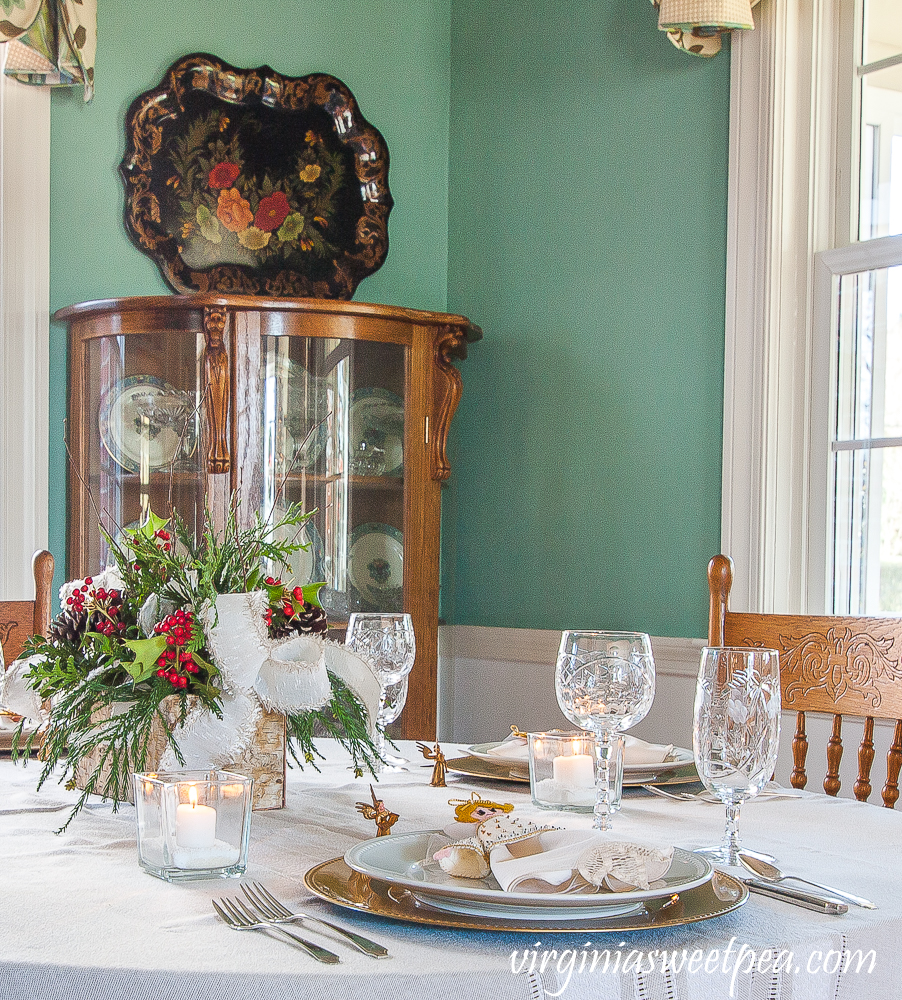 I created the table centerpiece using a florist centerpiece that I saved from a few years ago. You can see how I made the centerpiece in this post.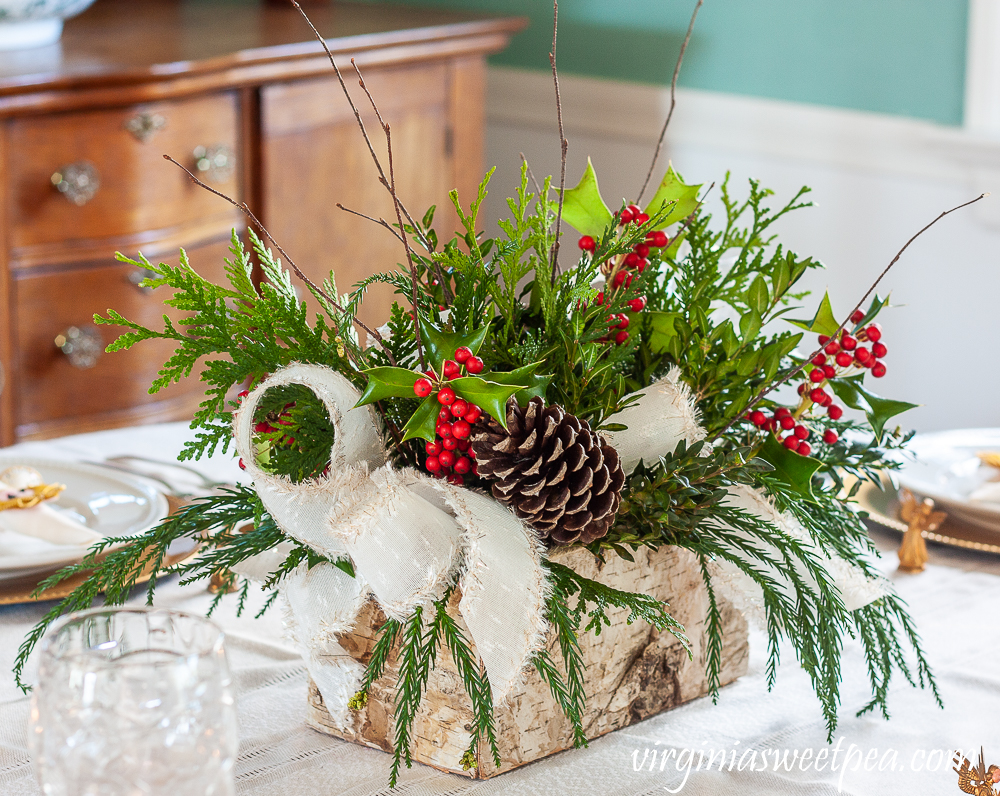 Now let's look at all of the table details!
Vintage Felt and Sequin Angel Napkin Rings
The idea to create an angel themed Christmas table started with a set of angel napkin rings that my paternal grandmother made in the 1970s.
I inherited these when my grandmother moved into a retirement home.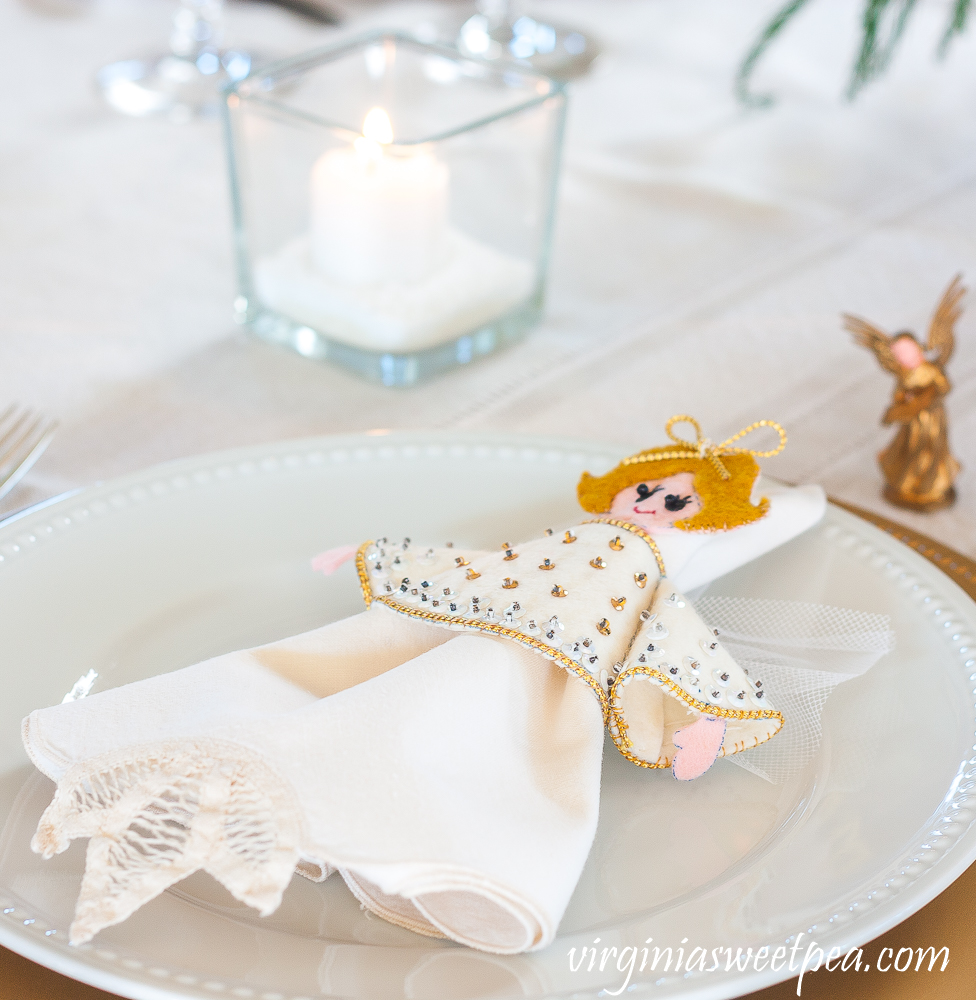 Granny made a set of eight napkin rings. Crafts like this were very popular in the 70s. She also made our family a felt and sequin Christmas tree skirt that I love to use every Christmas and tree ornaments from the same type of kit.
I can imagine that each angel took a bit of time to create.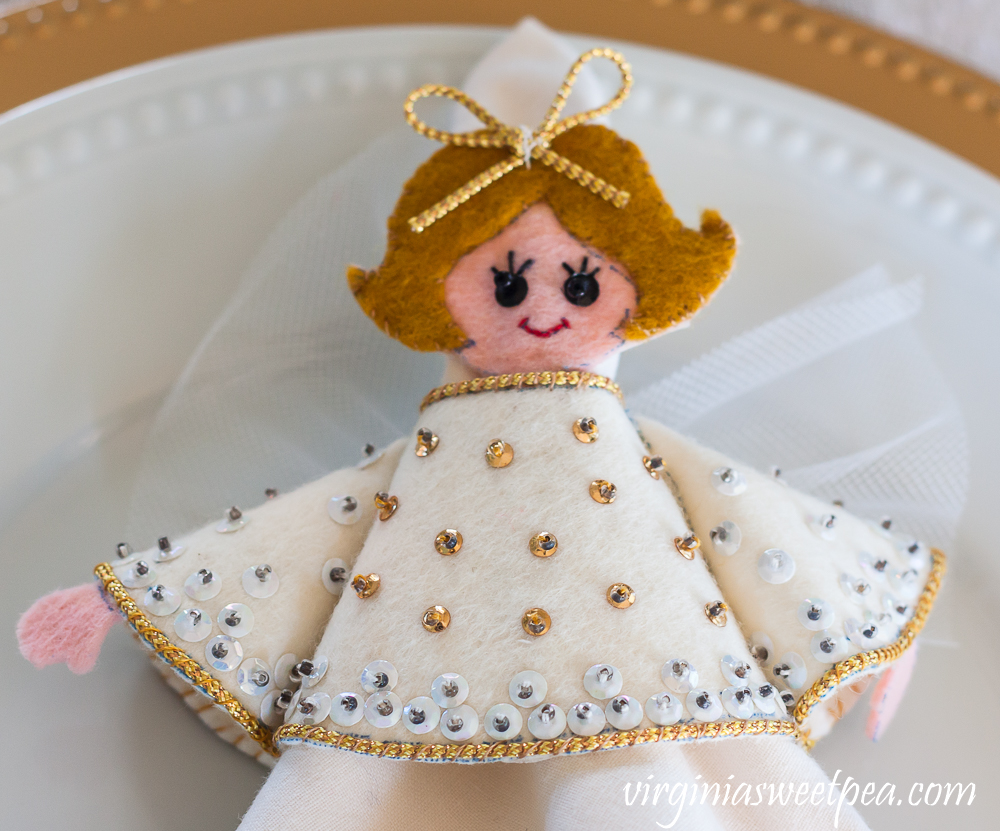 The angel napkin rings were made using this Bucilla Christmas needlework kit.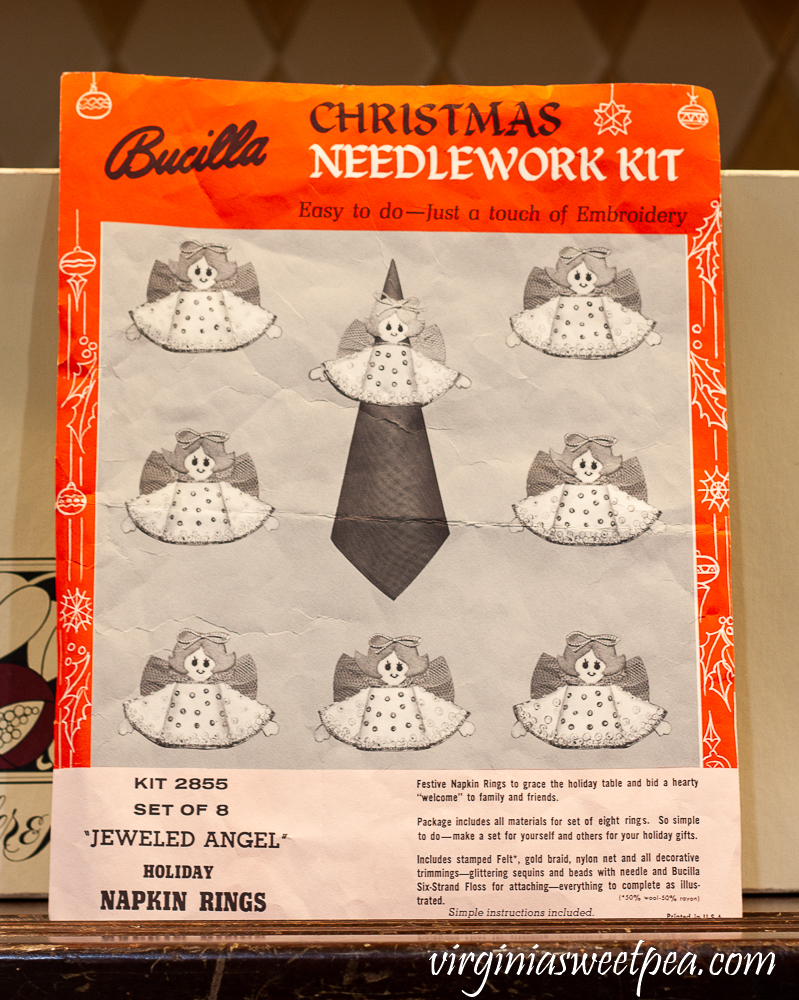 The back of the sheet has the directions to make the angels.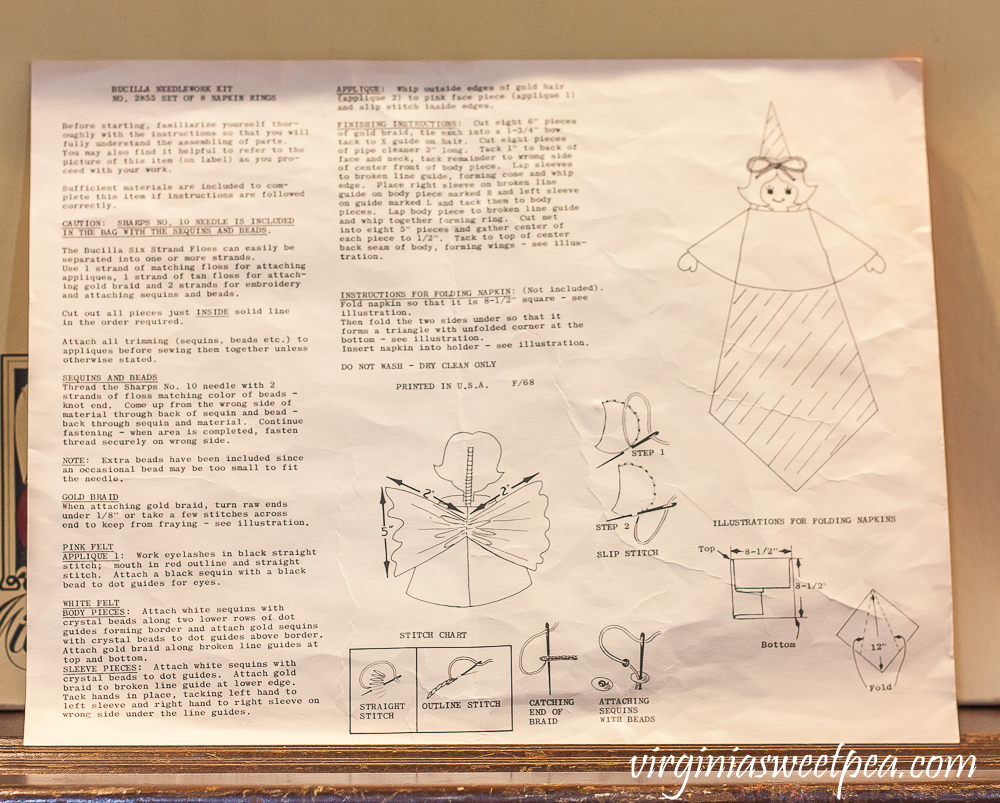 Granny stored the angel napkin rings in a Miller and Rhoades box. Miller and Rhoades was a Virginia department store chain that sadly closed forever in 1990.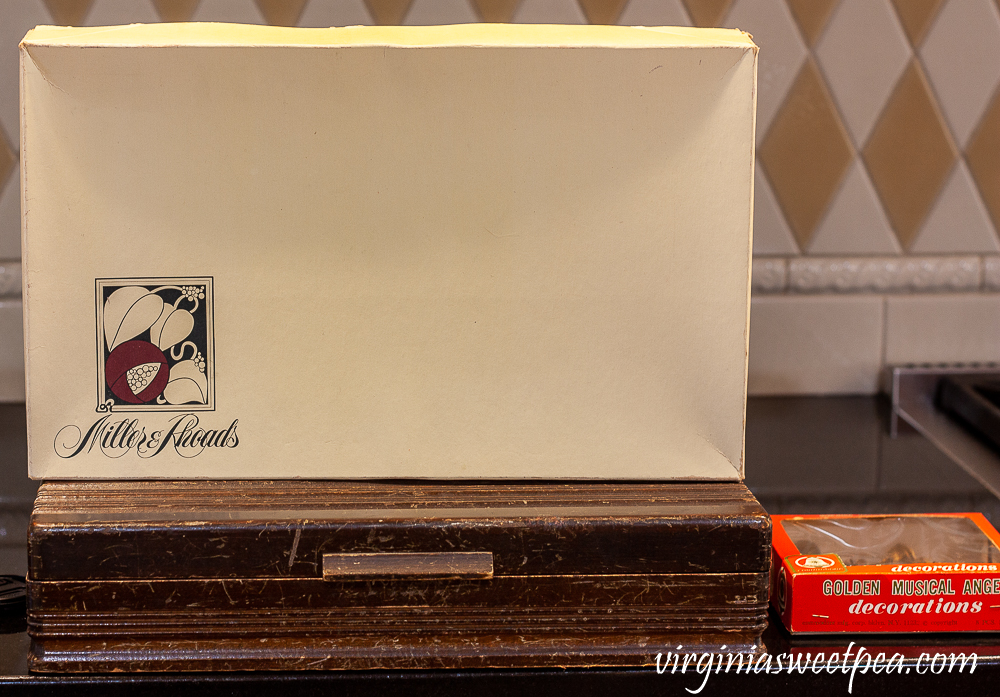 If you are a Virginian, you probably remember Miller & Rhoades fondly.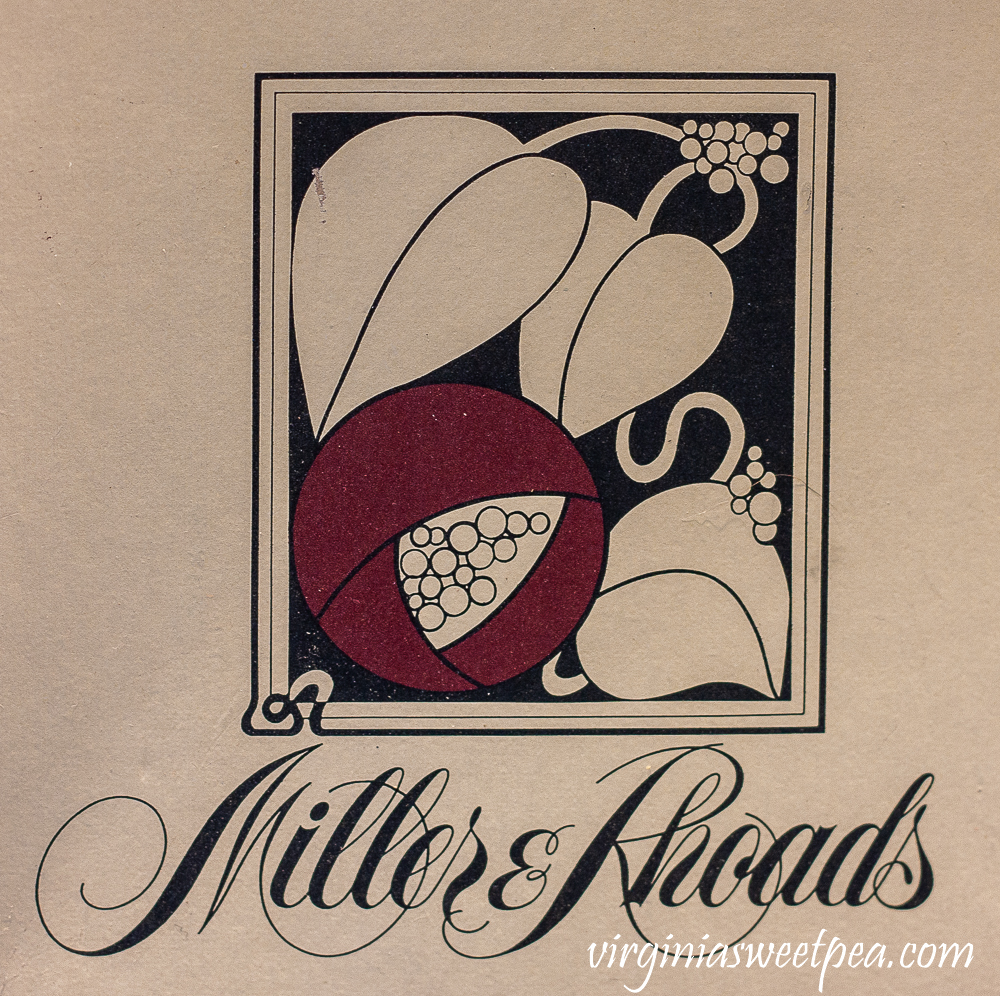 Musical Angel Ornaments
To go along with the angel napkin rings, I placed a musical angel ornament above each place setting.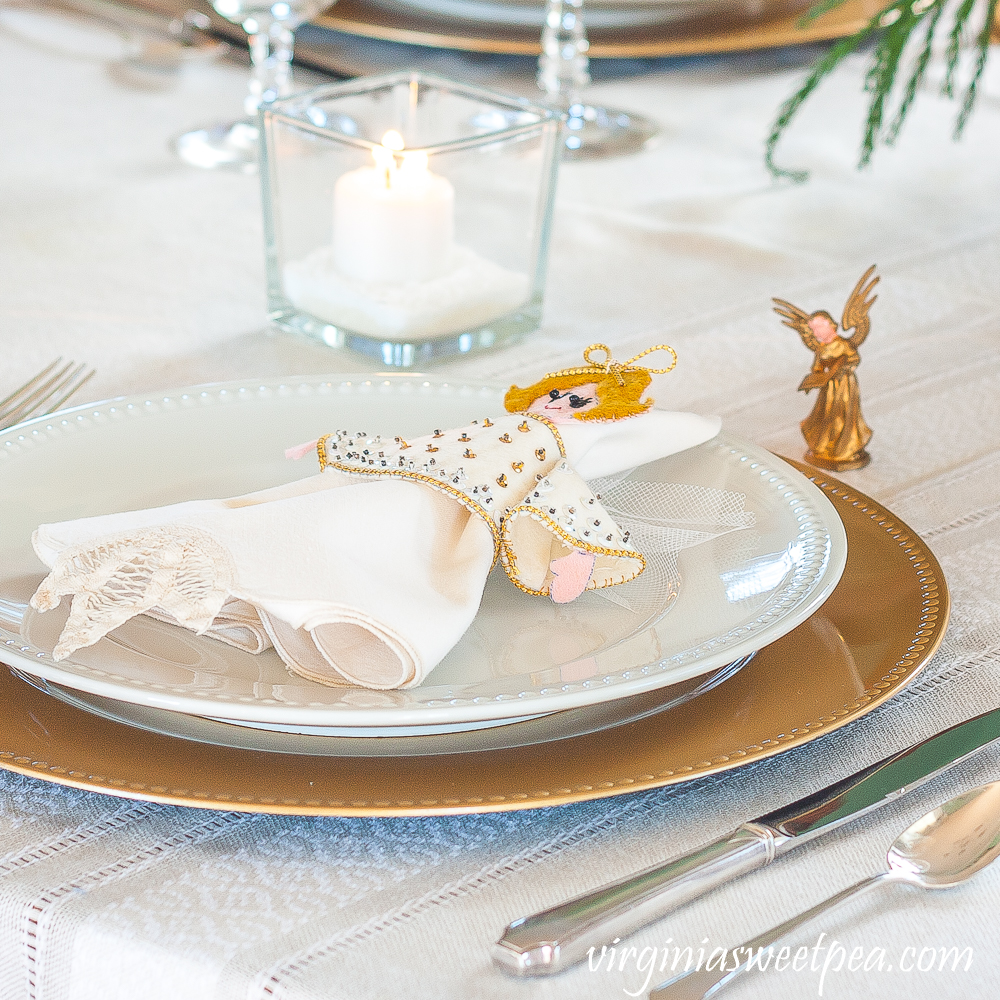 My friend and former teaching assistant gave me a box of vintage musical angel ornaments last year. These angels were perfect to use for my Christmas table.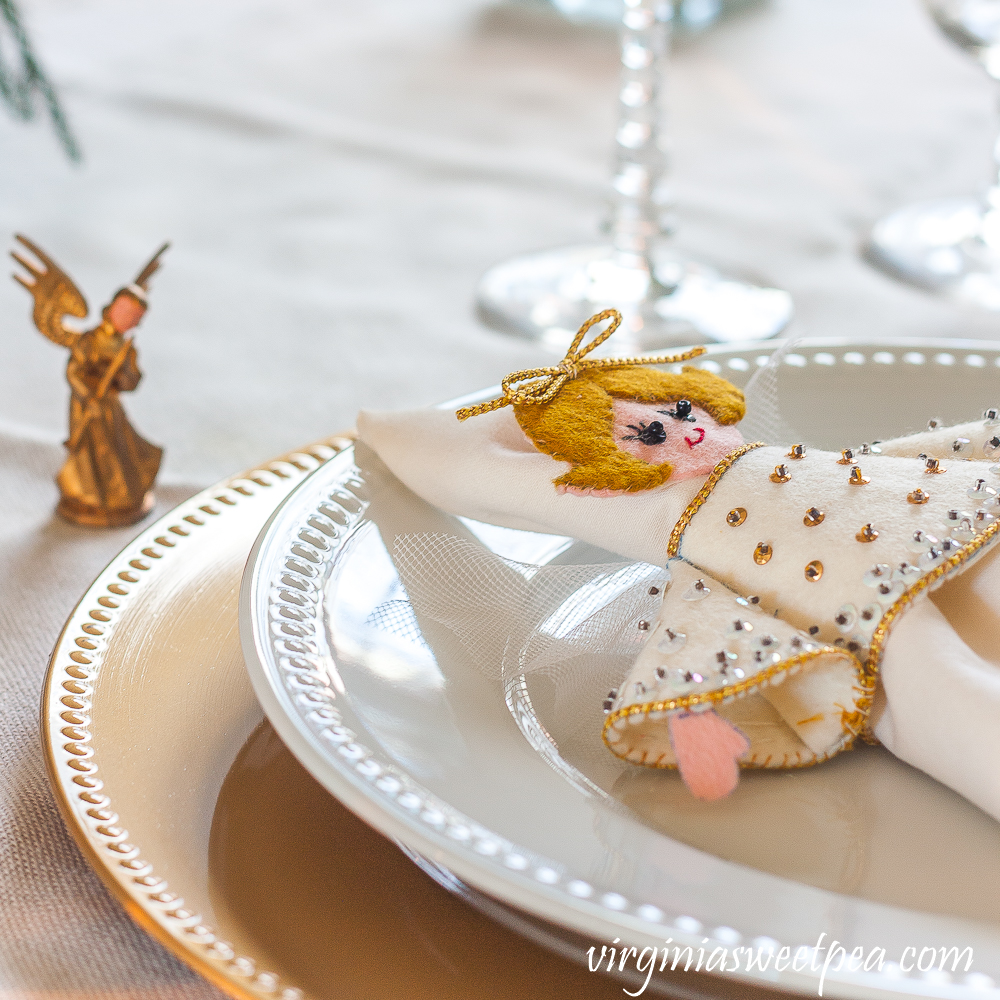 I love how the gold angels coordinate with the gold in the angel napkin holders.
The square candle holders are from the Dollar Store and hold Epsom salt and white votives. Their original use was for this candle holder that I made a few years ago and still enjoy using. You can see it on my dining table in this year's Christmas home tour.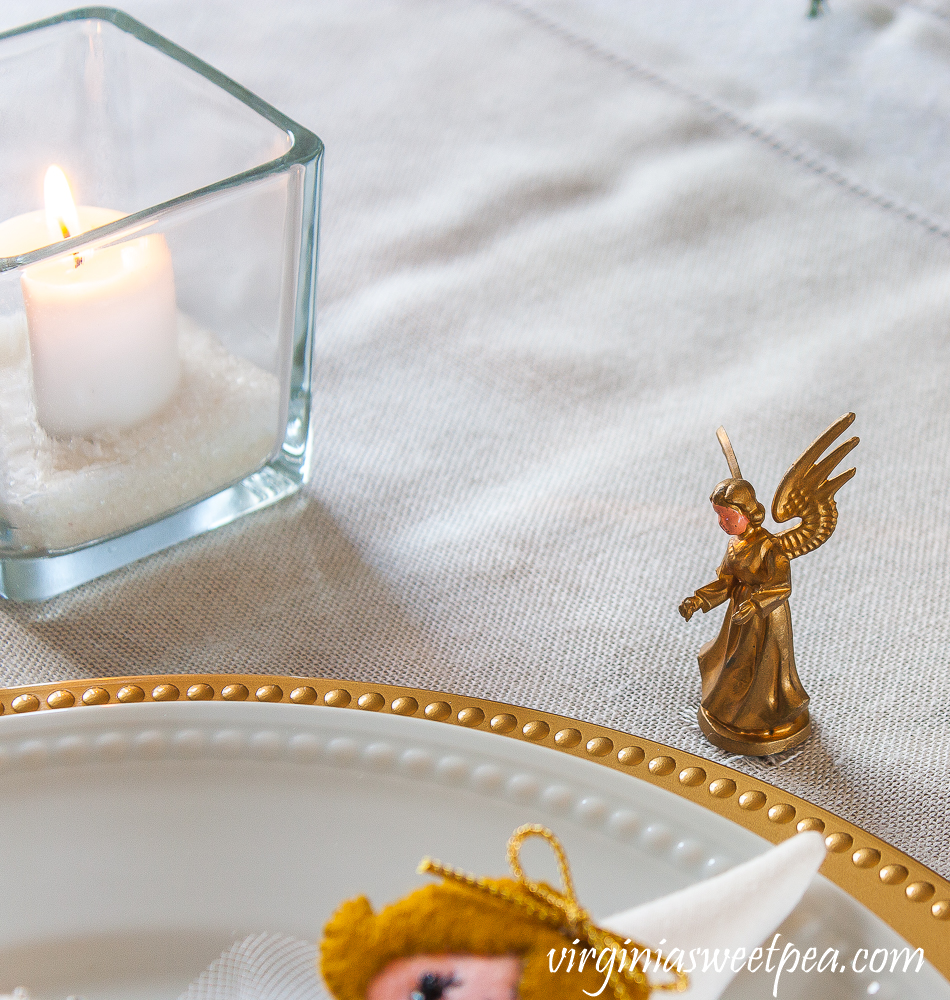 Becky also gave me the vintage 1970s Christmas ornaments that I used on my porch Christmas tree last year.
I love these angel ornaments and if you do as well, I found a set for sale on Etsy. This set of six angels is made by the same manufacturer but they are larger and more colorful.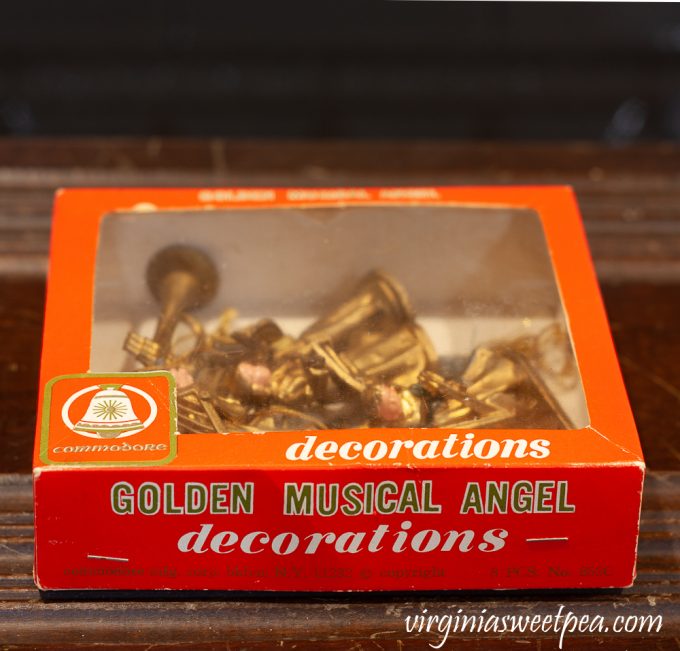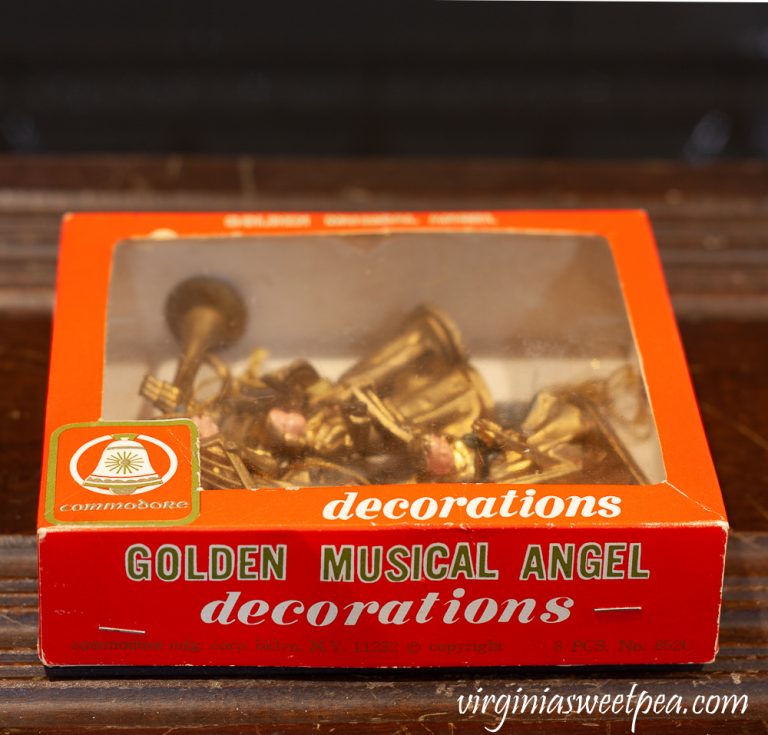 The Place Settings
The table is set with my great-great-aunt's silver, crystal inherited from the same great-great-aunt and my grandmother, and Walmart plates and Dollar Store chargers.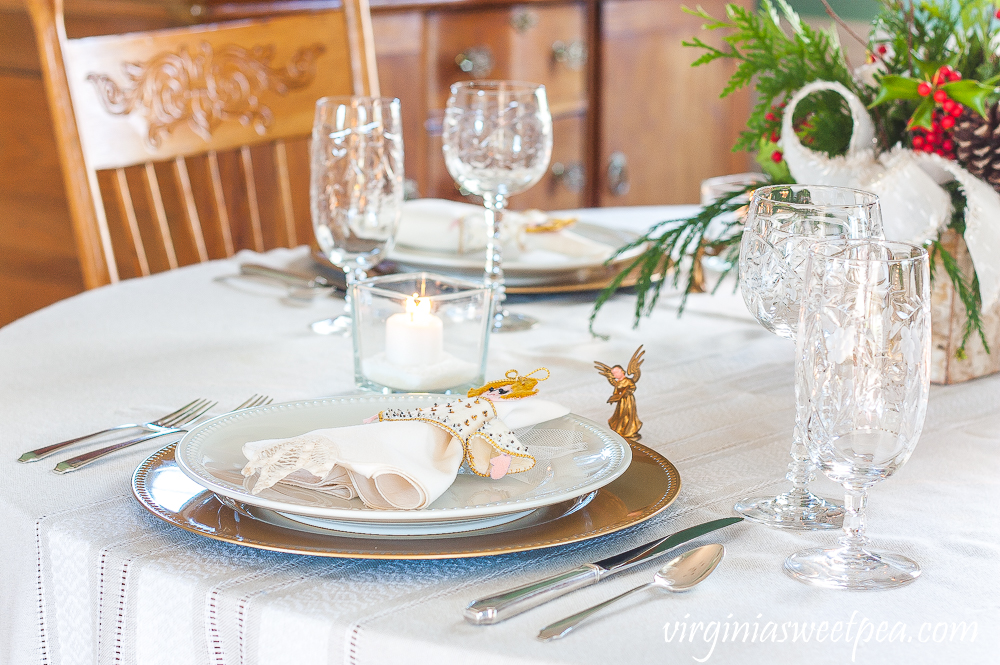 I don't know the silver's pattern but I do know that my great-great-uncle gave it to my great-great-aunt as a Christmas present. (This couple raised my grandmother.)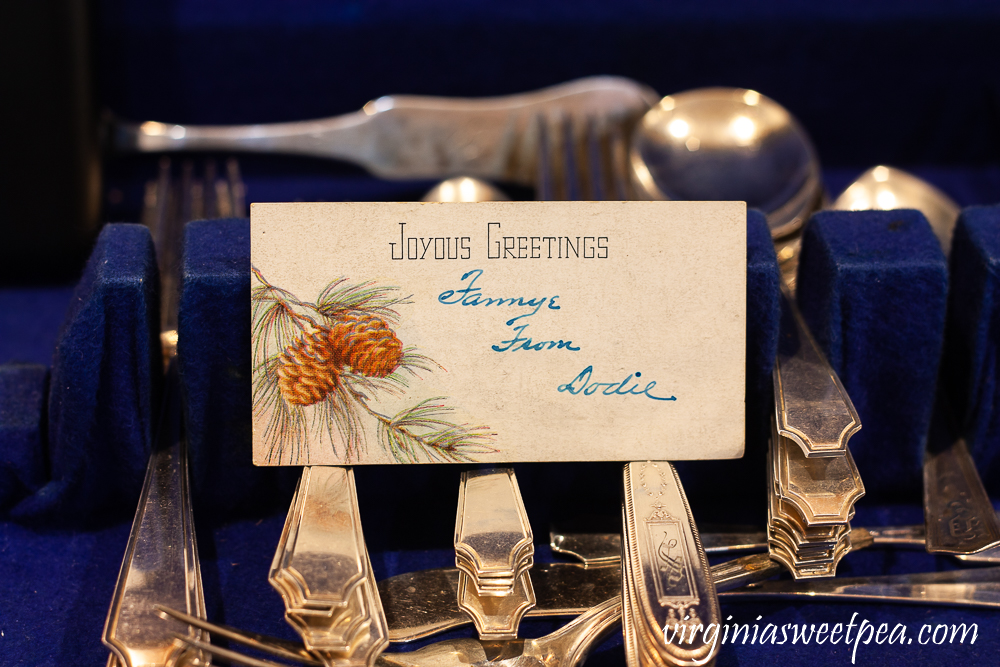 The forks with the S engraved on them aren't part of the set. I found them along with knives in a fishing tackle box that belonged to my husband's grandfather. They were very dull and when I polished them with silver polish, I discovered a treasure!
The Crystal
My great-great-aunt's crystal pattern is Rocksharpe 1004-2 (Polished Cut). When my grandmother got married, she decided that she wanted the same pattern.
She couldn't find Rocksharpe 1004-2 but chose a similar pattern, Rocksharpe Villars.
The glass that looks like a wine glass is a water goblet and the other glass is for iced tea.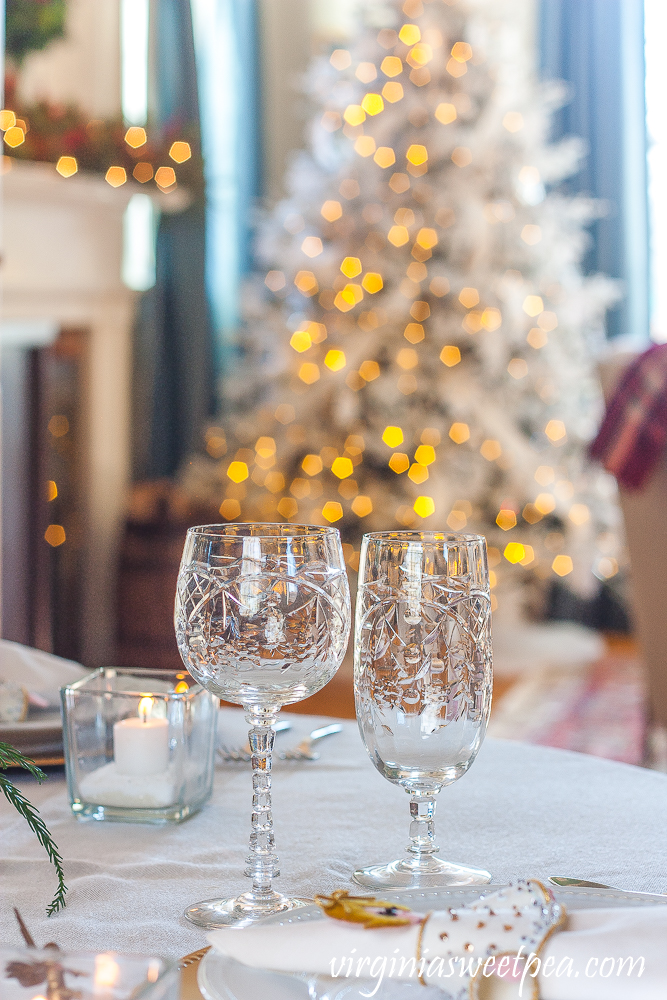 The Tablecloth
When I first began to set my table, I started with placemats that belonged to my grandmother. It didn't looks right, so I crawled into my attic (we live in a Cape Cod with tiny attic space under the eaves) to retrieve a bag of tableclothes that my mom gave me that she used when my table was hers.
I found this tablecloth that I fondly remember being on the table when Mama made a special meal for a holiday.
When an additional leaf is in the table, this tablecloth fits correctly. It's too long on the ends now but I don't mind. I love its 1970s fringe!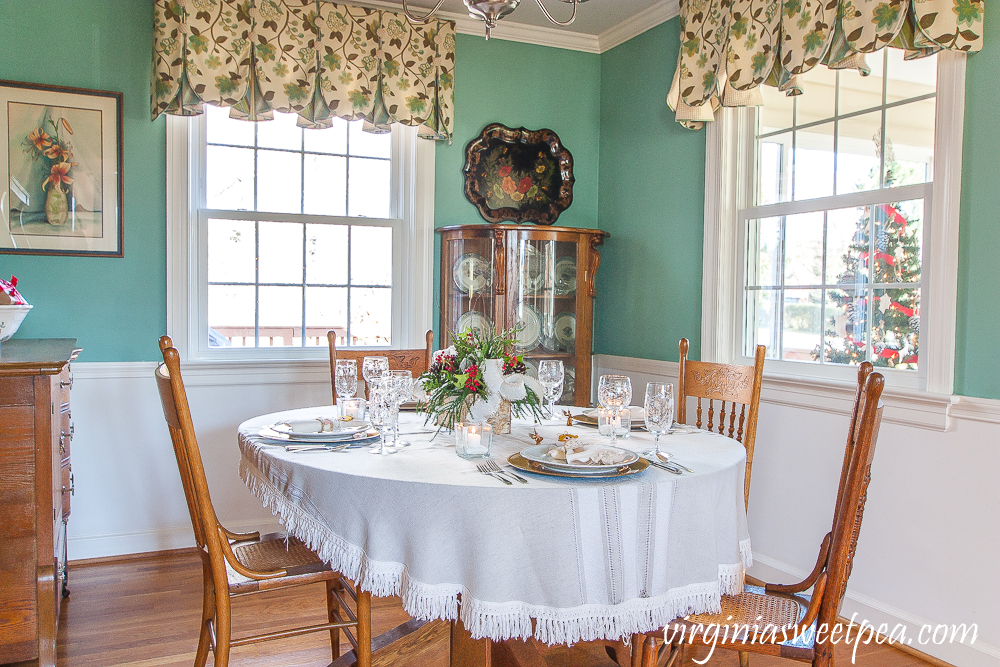 Want to know a secret? This tablecloth was used many times and has a few stains. The musical angel ornaments were perfect to use to hide a few stains.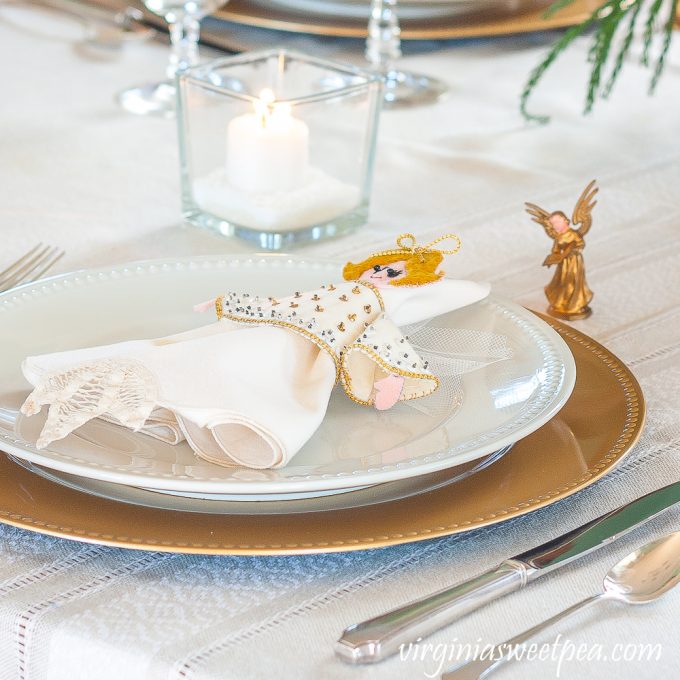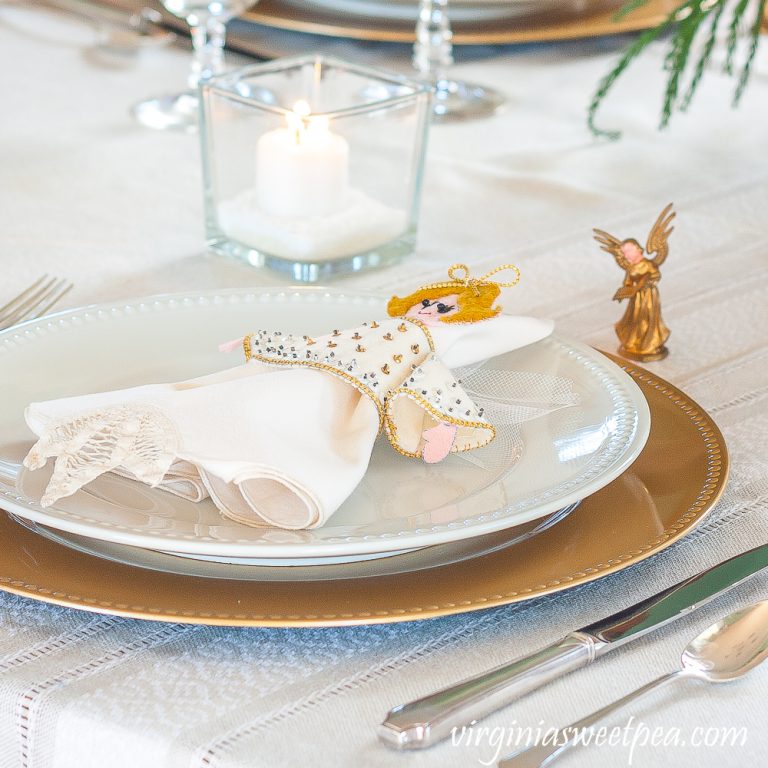 I so much enjoyed sharing my Christmas table with you! I know you are going to enjoy seeing the tables that Laurie and Lora are sharing.
Join Us in Our Creative Vintage Darlings Group
If you like vintage, Laurie, Lora, and I would love for you to join us in the Creative Vintage Darlings Facebook group. It's free to join and there are share threads where you can share your vintage with the group.
If you are an Instagram user, tag your vintage with #creativevintagedarlings so that your fellow vintage-loving friends can enjoy your posts. If you aren't already following me on Instagram, I would love for you to do so!
We are also starting up a brand new Instagram in the new year, be sure to follow our new CreativeVintageDarlings account!
Enjoy Lora and Laurie's Christmas Tables
Be sure to see the tables that Lora and Laurie are sharing today. Click on the links below the pictures to visit.
I had so much fun looking on Etsy for Vintage Bucilla Kits like my grandmother used. Aren't these kits charming?