A desk makeover of a found at Goodwill desk is a favorite furniture makeover.
This desk got a makeover and now has an updated look.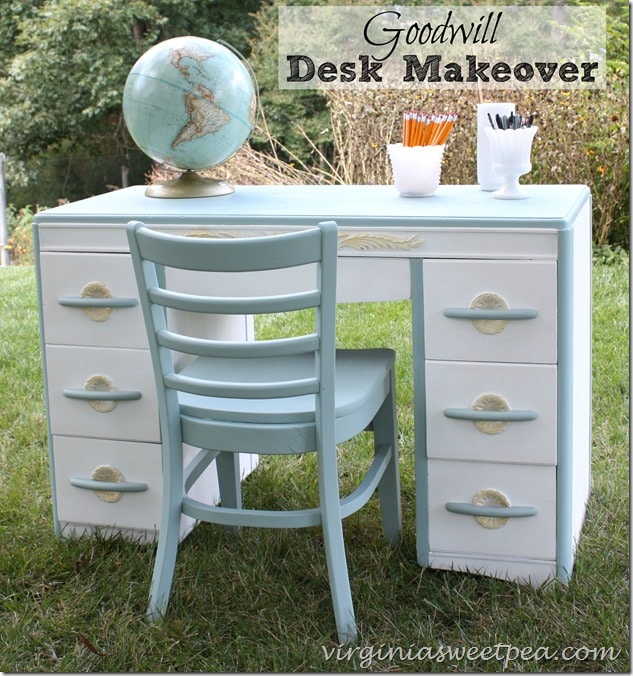 Desk Before the Makeover
Here is what the desk looked like when I found it at Goodwill.
The finish was in rough shape, but the desk was solid and I knew that I could make it beautiful.
I was immediately drawn to this desk because of the pretty scrollwork on the front and also because of the unique design of the drawer pulls.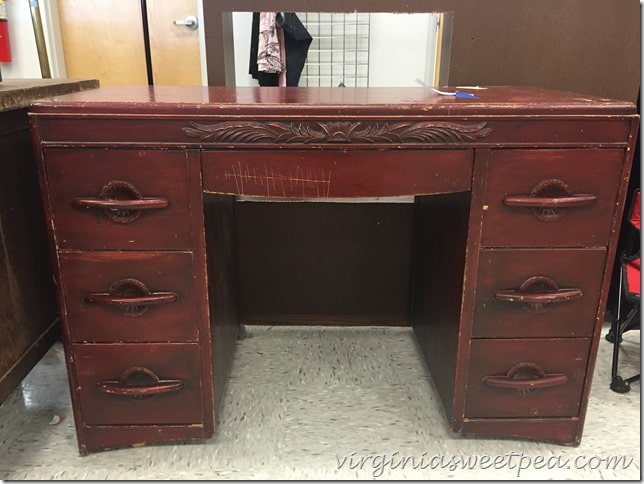 Steps to Makeover the Desk
I started by giving the desk a good cleaning with Simple Green.
The desk then needed a few repairs and after they were complete, it was sanded.
For the finish, I used these products:
DecoArt Americana Decor Chalky Finish Paint in Everlasting and Vintage (Look for it at Michael's.)
Metallic Finish Paint (Similar to what I used.)
DecoArt Americana Chalky Finish Paint in Everlasting was used on the front of the desk and drawers.
The top of the desk and drawer pulls were painted with DecoArt Americana Chalky Finish Paint in Vintage.
Gold Metallic Finish Paint was dry brushed on both the scrollwork and on the medallions behind the drawer pulls.
The entire piece was then sealed with Americana Decor Soft Touch Varnish.
I love the combination of these three colors.
The End Result
I love the end result of this makeover!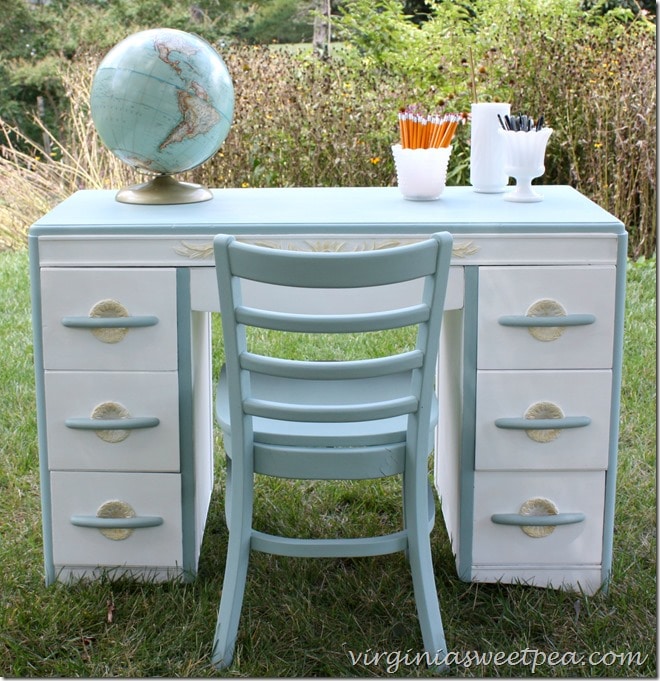 Shortly after I finished painting the desk, I discovered the chair that I painted to match it at our local Habitat Restore.
I really liked its design and it's actually pretty comfortable to sit on.
My mom told me that it looks like chairs that teachers used to have long ago, so perhaps it originated in a school.
I painted it to match the desk and to me, they look like they were always a pair.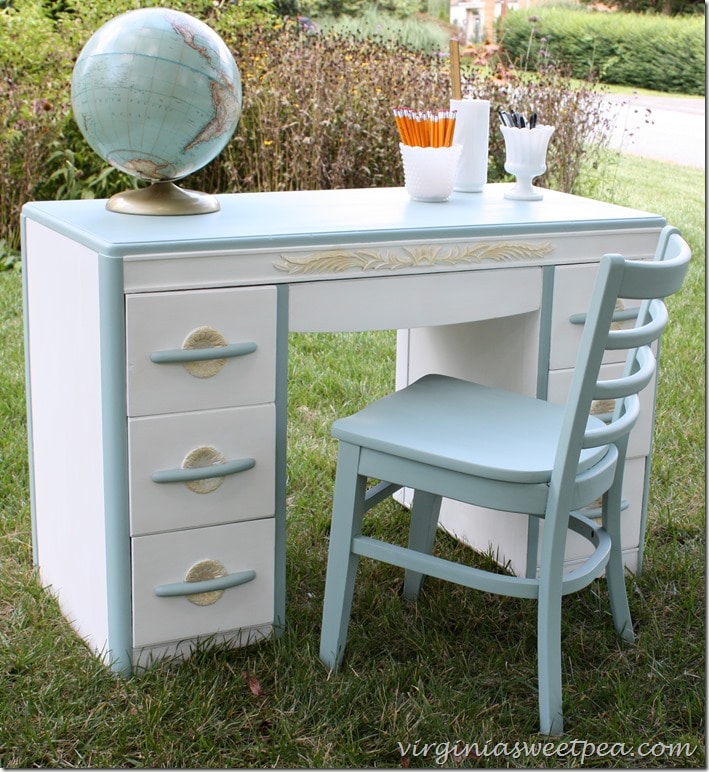 Here you can better see the pretty scrollwork on the front of the desk.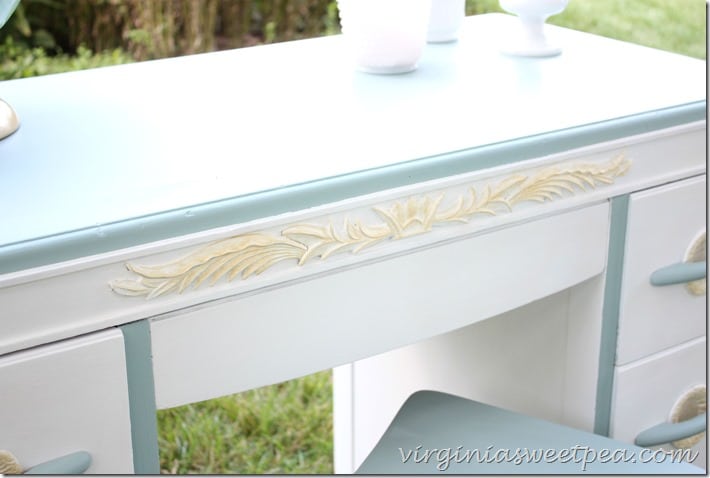 This desk has six side drawers plus a large one in the middle.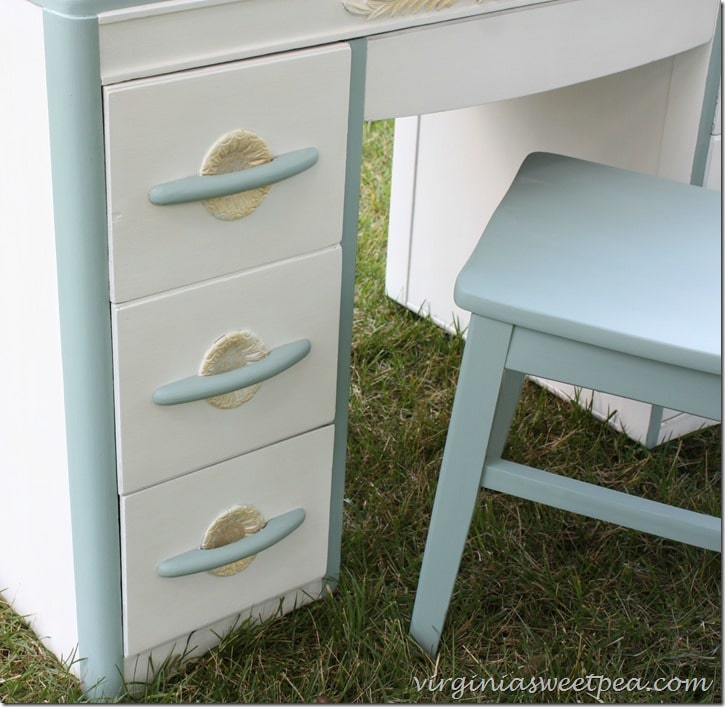 History of the Desk
This desk originally came from Sears.
When I researched Harmony House, I discovered that Sears carried all sorts of products marketed under this brand from 1940 to 1969.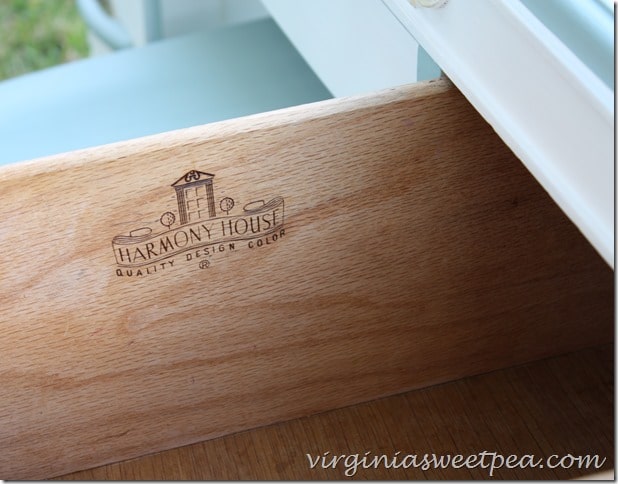 This desk was taken to my shop at Blue Sky Cottage where it sold very quickly.
I hope that the new owner loves it as much as I do!

If you like this makeover, I'd love for you to pin it to one of your boards on Pinterest for others to discover.