Vintage Teacher's Desk Makeover
On a trip to Goodwill, I discovered a vintage teacher's desk.
Being a 26 year teaching veteran, I instantly fell in love with this desk even though it was in bad condition.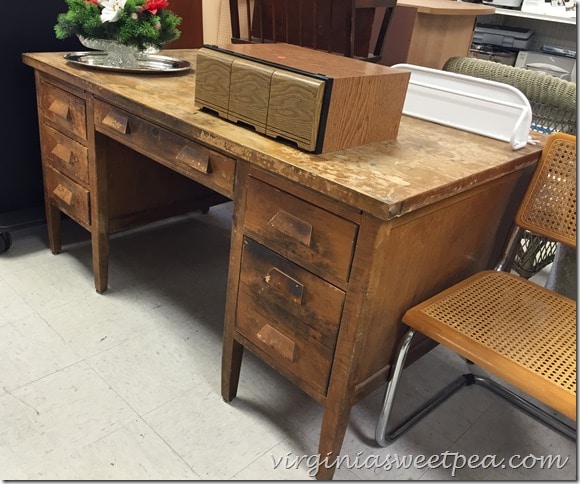 This piece is huge and heavy. Lucky for me, Mr. SP had driven his vintage Ranger to work and was able to drive out to Goodwill to pick up this piece.
Even luckier for me, two kind Liberty University boys drove up to Goodwill just as Mr. SP did and kindly helped him to load this piece onto the truck.
That evening it took all of my muscle power to help him to unload it and carry it around our house to our basement.
Refinishing the Vintage Teacher's Desk
Since we do not have a dust collection system in our workshop, we sanded the desk outside.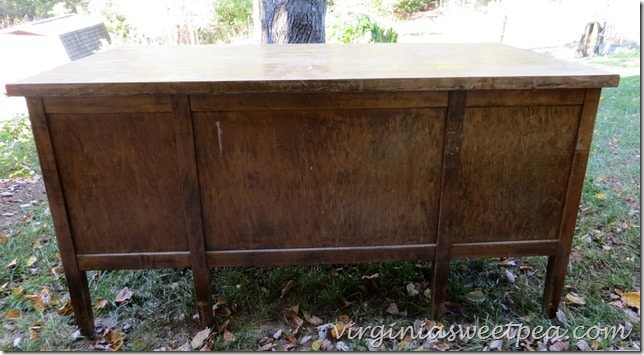 The years had not been kind to this desk. Luckily sanding and stain was all it needed to bring it back to life.
Every surface of this desk was sanded with a rotary sander.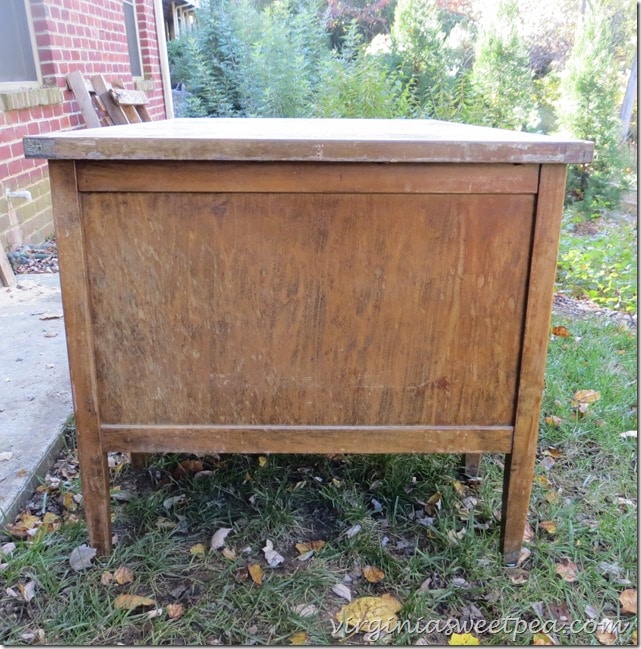 The rotary sander did not get into the corners, so Mr. SP got out the detail sander and was able to make short work of sanding those hard to reach places.
After completing this project, I purchased a Black and Decker Mouse Sander that is perfect to use to get into corners like this.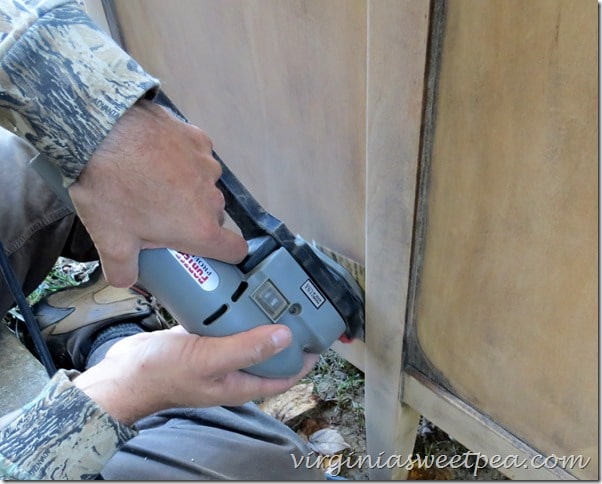 Stained Vintage Teacher's Desk
I stained the desk with my favorite stain, General Finishes in Brown Mahogany.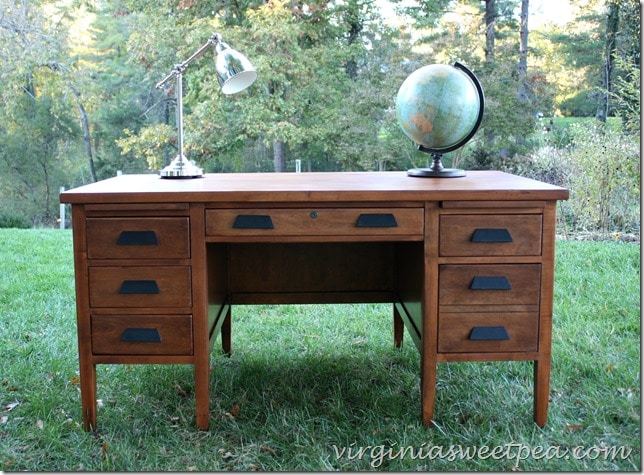 The stain was protected with two coats of General Finishes Satin Topcoat.
One feature that really caught my eye when I spotted this piece at Goodwill was the design of the handles.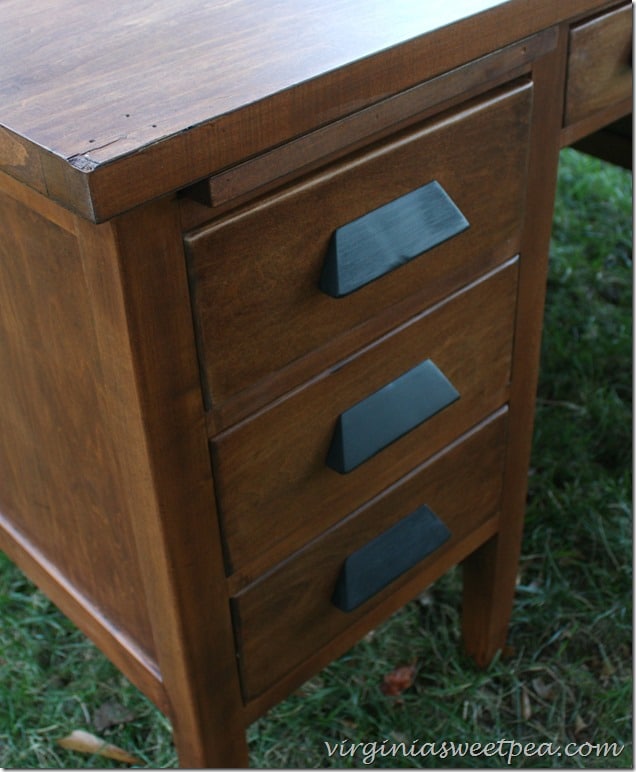 After sanding the wood, I painted the handles with several coats of Black Tie paint by The Plaster Paint Company.
To protect the paint, I sealed it with a coat of liquid wax also by The Plaster Paint Company.
Features of the Vintage Teacher's Desk
This desk has so much storage! And guess what? It's going to be my new desk!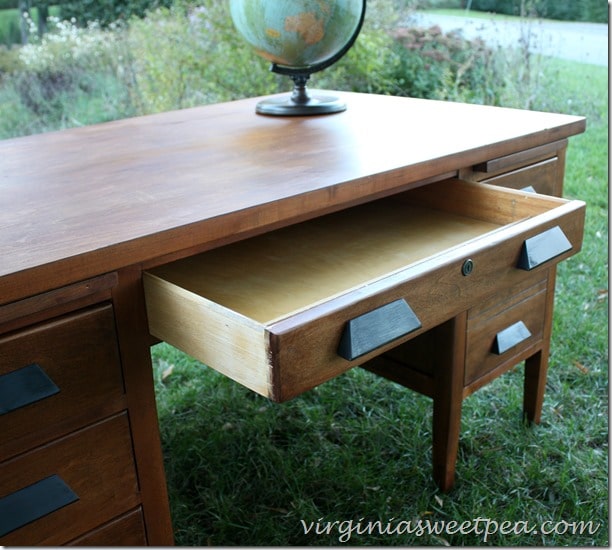 We are going to have to do some rearranging in our office to make this piece fit and I can't wait! I've never, even at school, had a large desk like this one.
This drawer is a filing drawer. I'm thrilled that I'll have this to use and using it may allow me to eliminate my current small filing cabinet from our office.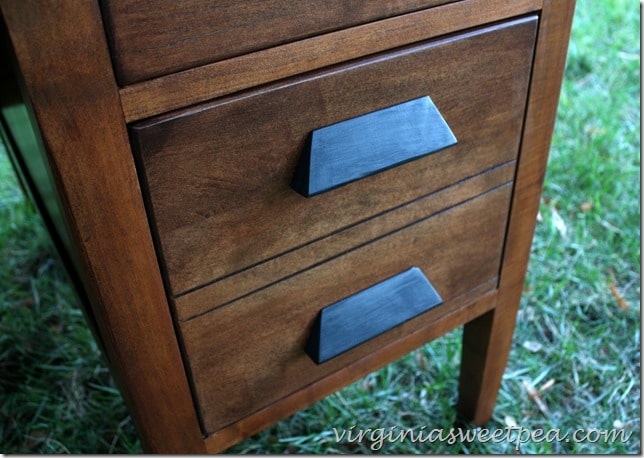 Desk Accessories
Every desk needs a good lamp like this one from Ikea.
The globe is pre-WWII and was inherited from my grandmother.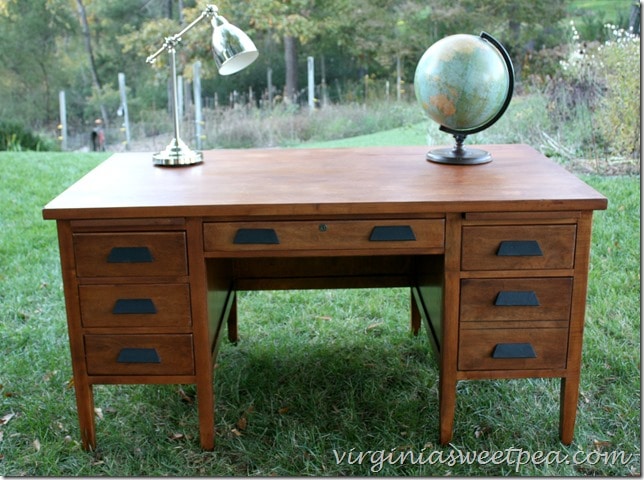 The office chair that will be used with the desk was picked up at a neighbor's yard sale for just $20.
All the chair needed was a set of new wheels and a good cleaning.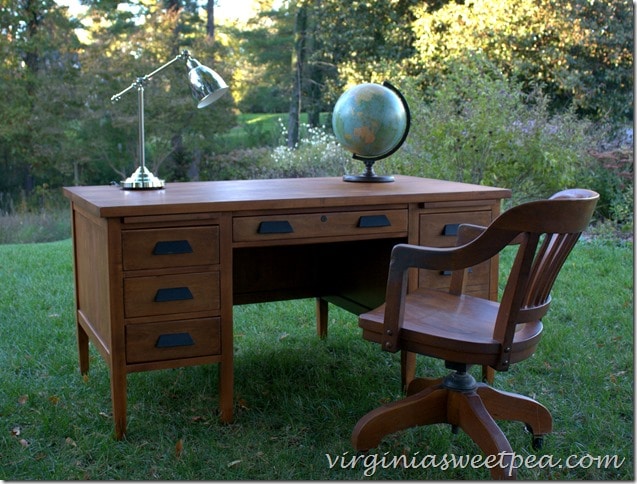 I am so pleased with this makeover and I'm glad that I rescued this desk from Goodwill and gave it a makeover.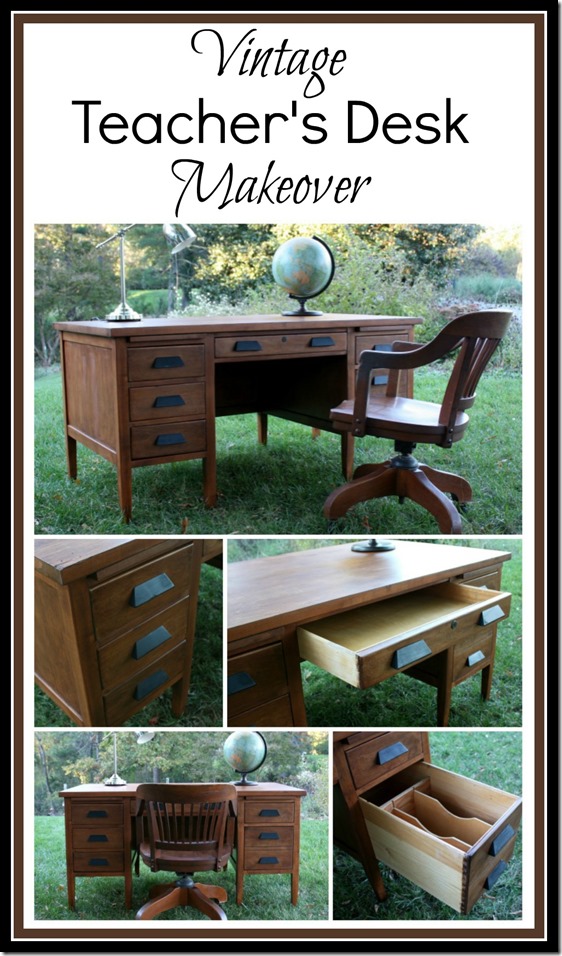 I plan to use this desk for many, many years to come.
Desk Makeovers
These are the desks that I've made over.