My Grandmother's Melt in Your Mouth Cookies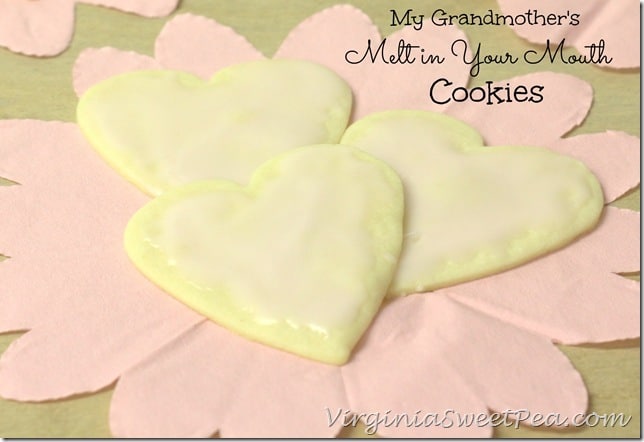 Today I'm sharing a family favorite cookie that brings back so many wonderful memories. My grandmother was a wonderful cook and baker. When she came to visit, she would arrive with tin after tin of assorted cookies. The cookie that we most looked forward to eating wasn't in a tin, it was in a Russell Stover paper candy box. We would eagerly take off the lid of the box and inside would be cookies that literally melted in your mouth. Granny iced these cookies with a thin glaze of icing, sometimes flavored with a hint of lemon.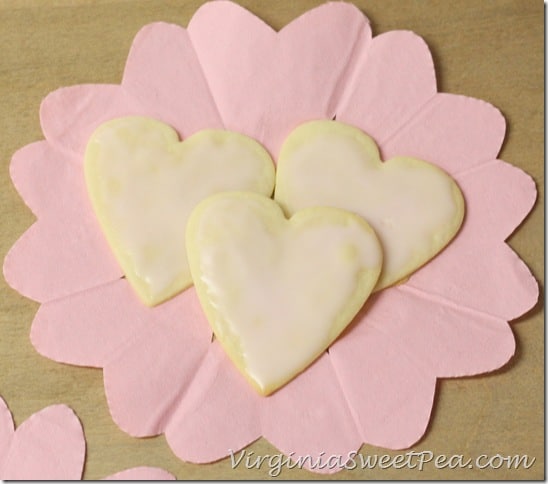 I truly don't think that anyone could make these cookies taste as good as my grandmother could, but my mom and I both try. The secret is to roll the dough very thin. I can't successfully get my cookies as thin as my grandmother's but I'm getting close.
The ingredients for these cookies are few: butter, flour, powdered sugar, and egg, and vanilla. The dough can be chilled or you can roll it out immediately. I usually break off a quarter of the dough at a time to roll and keep the rest in the refrigerator until I'm ready for it. My grandmother's hint to me for rolling out the dough is to mix powdered sugar with flour for the rolling surface. Be sure to coat your rolling pin as well as this dough can get sticky very quickly.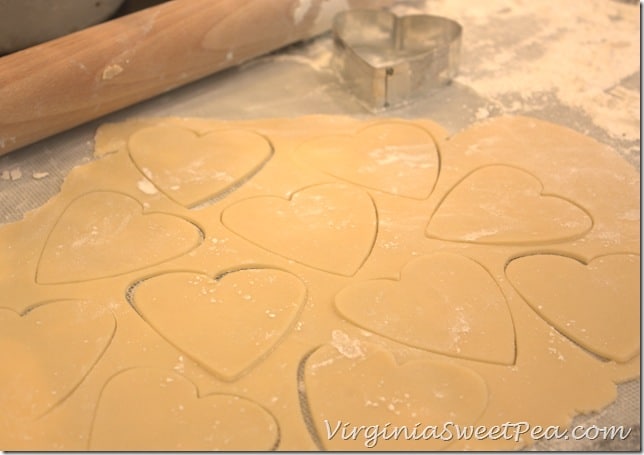 Place cut out cookies on either a parchment or Silpat lined baking sheet. Bake at 400 degrees for 2 minutes, turn pan and bake for another 1 1/2 to 2 minutes. Watch these cookies closely as they can quickly get too brown.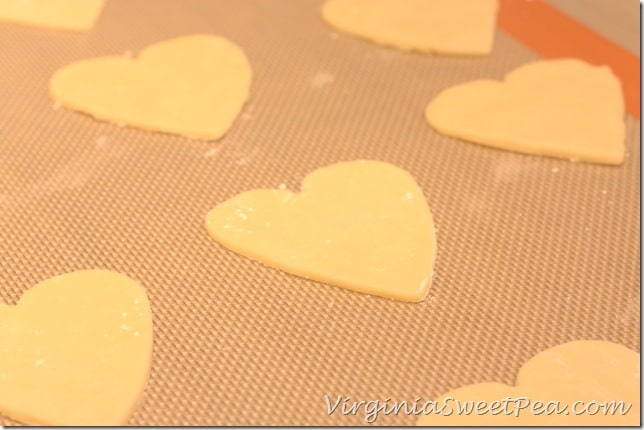 Cool cookies on a wire rack.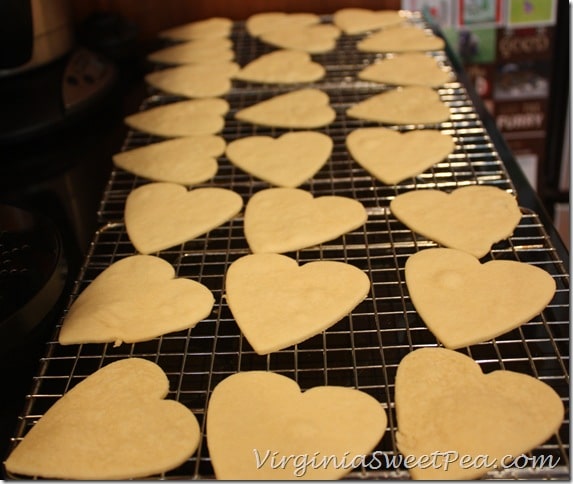 My grandmother always iced her cookies with a thin coat of icing. Simply whisk powdered sugar with a bit of water until the icing is of a glazing consistency. I tinted my icing with a touch of pink since I made hearts for Valentine's Day.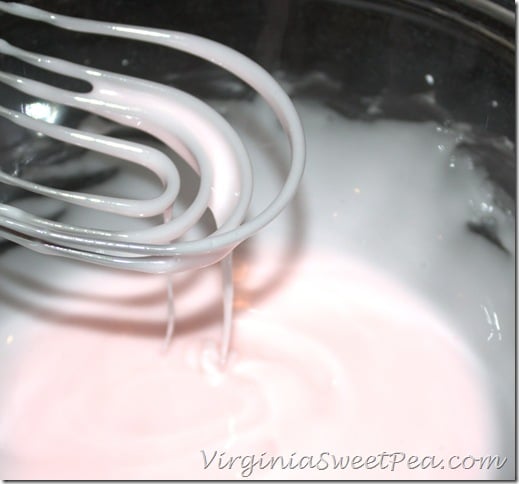 Thinly coat cookies with icing. Make sure the icing is dry before storing the cookies in a container. I recommend putting a layer of parchment or waxed paper between each layer of cookies.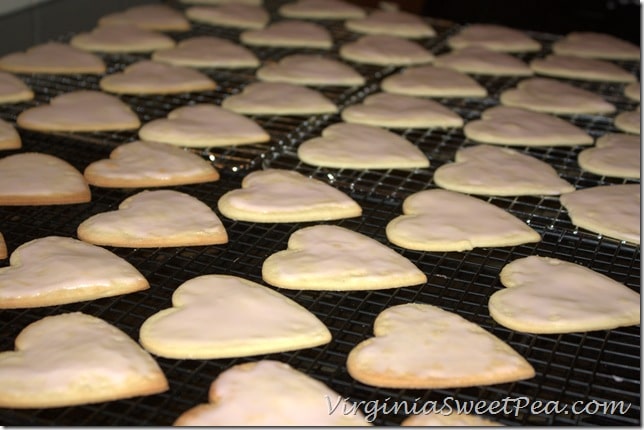 My Grandmother's Melt in Your Mouth Cookies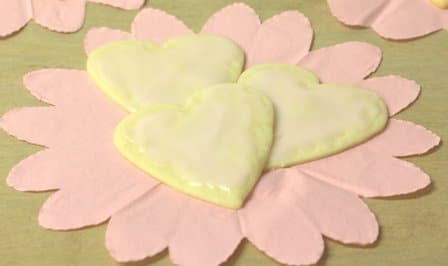 This sugar cookie recipe is the best. The dough is rolled thin and after baked, iced with a glaze. The cookies truly melt in your mouth and they are a family favorite.
Ingredients
2 1/4 cups flour
1/2 tsp salt
1 cup powdered sugar
1 cup soft butter
1 egg
2 tsp vanilla
Instructions
Sift together flour, salt, and powdered sugar.
Cut in butter until the mixture resembles course meal.
Beat egg and add to mixture along with vanilla. Blend well and form into a ball. Dough may be chilled if desired.
Roll out a quarter of the dough at a time on a floured pastry cloth or board to 1/8". Cut into desired shapes with cookie cutters.
Bake at 400 degrees for 2 minutes, turn pan and bake for another 1 1/2 to 2 minutes. Watch closely as these cookies will get too brown very quickly.

These cookies are so good! Growing up, they were a tradition for Christmas and later on for Valentine's Day. My brother and I gobbled them up about as quickly as she could make them!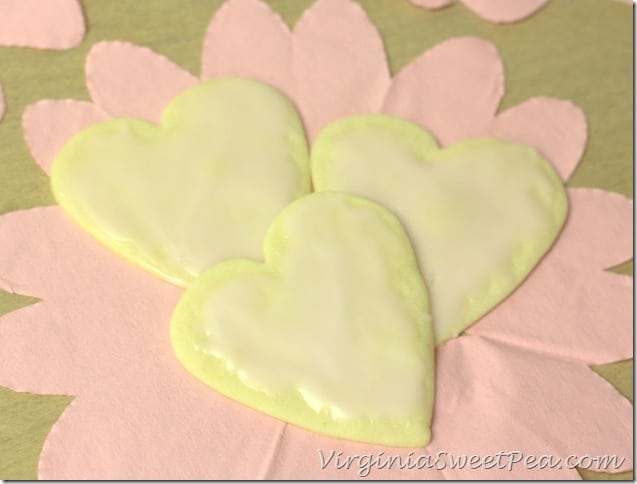 Wouldn't your sweetie love a few of these for Valentine's Day?