Peppermint Cookies with White Chocolate
Peppermint Cookies with White Chocolate are just the kind of Christmas cookie that I enjoy. They aren't too large, they are flavorful, and they melt in your mouth. My husband and father-in-law can't get enough of these when I bake them.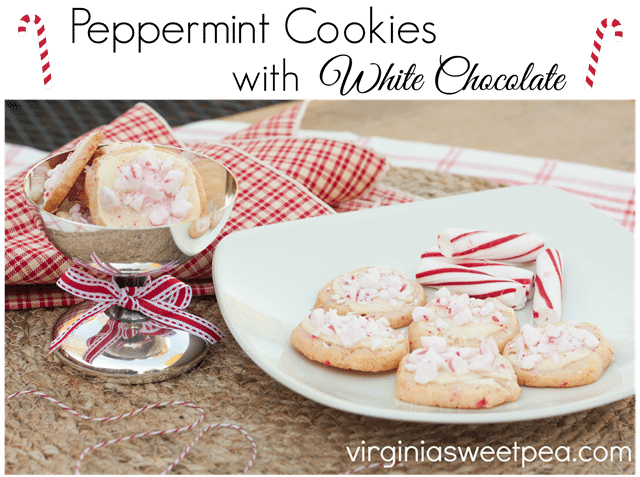 To give you a size reference for this cookie, the silver compote shown here is designed to serve ice cream or other desserts.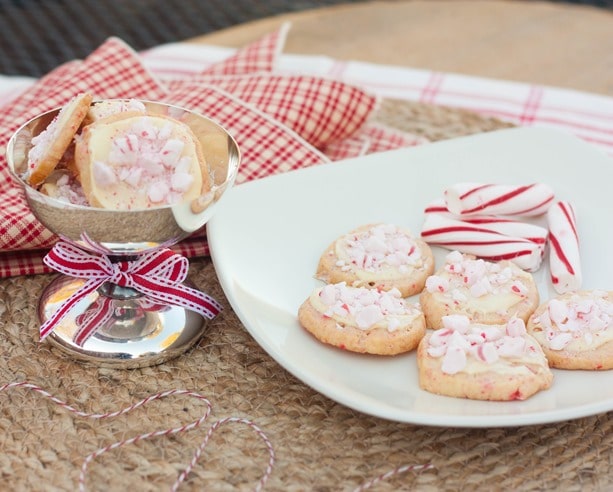 This is one of four compotes that I have, all passed on to me by my grandmother. When my grandfather started teaching in the 1930's, he lived in a boarding house and these silver dishes were used for the boarders.
My grandfather befriended the boarding house owner and at some point she gave these compotes to my grandmother.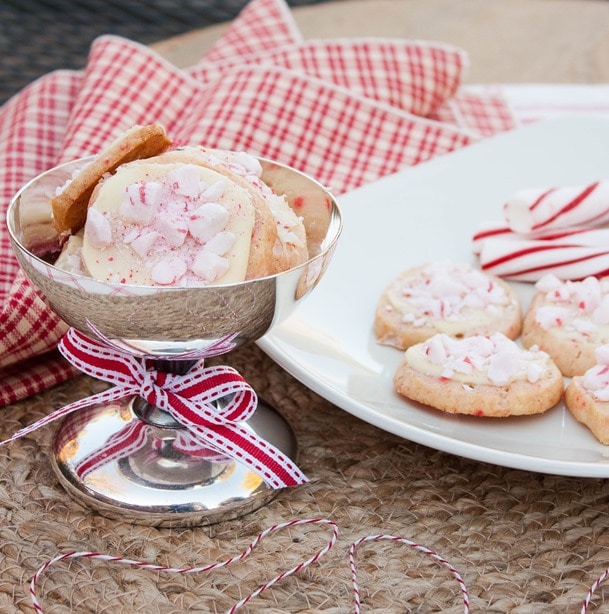 If you like peppermint, you'll love this cookie. I can only imagine how good it would be with a cup of hot chocolate or a cup of coffee.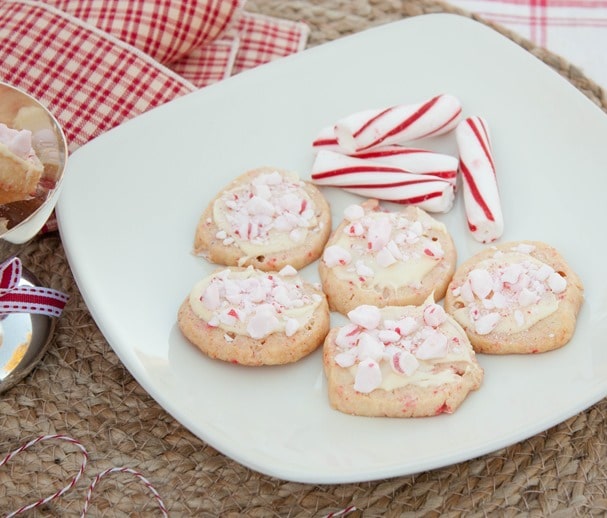 This is a simple cookie to make and it contains just nine ingredients: butter, sugar, egg, peppermint extract, flour, baking powder, salt, peppermint candies, and white chocolate.
The dough comes together easily and is divided into two 2'' diameter logs that are refrigerated until firm.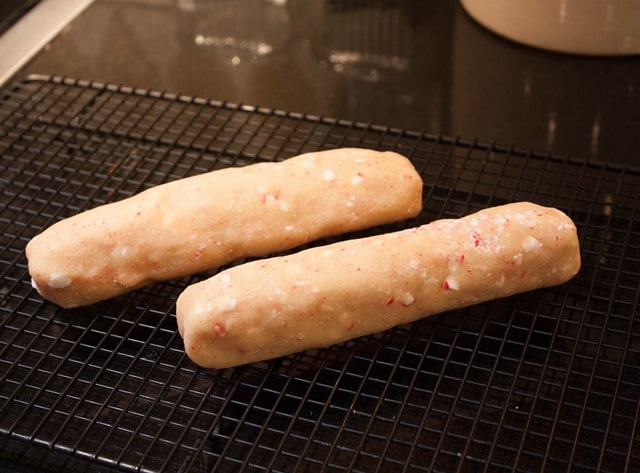 After the dough is firm (freeze it for 45 min if you are in a hurry), it is cut into 1/4" slices and baked.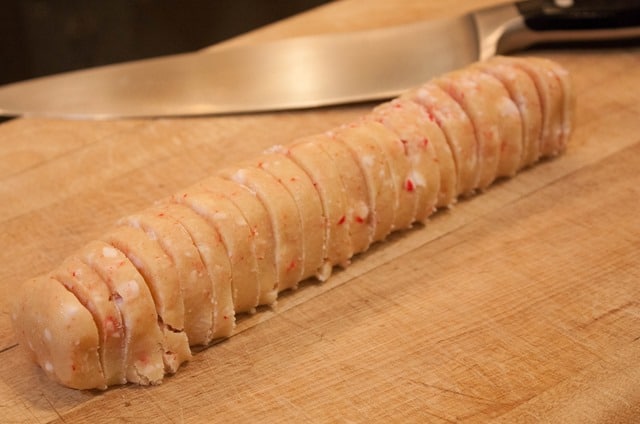 You can bake the cookies on either parchment paper or a Silpat lined cookie sheet. I like Silpat liners because they are reusable.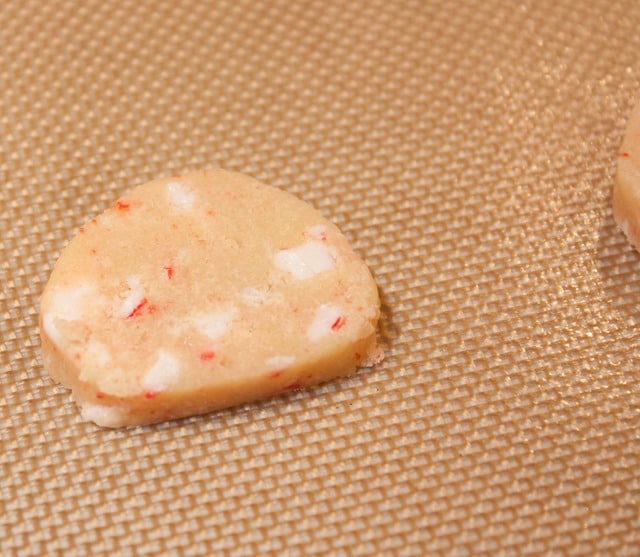 A mini chopper like the Black and Decker that I've had for nearly 20 years makes quick work of chopping the candies needed for both the dough and topping.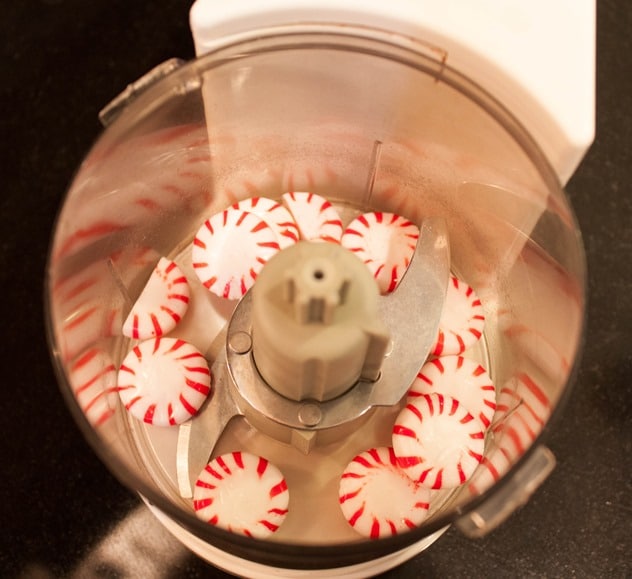 After the cookies are baked and cool, melted white chocolate is spread over the top and each cookie is topped with a sprinkle of crushed peppermints.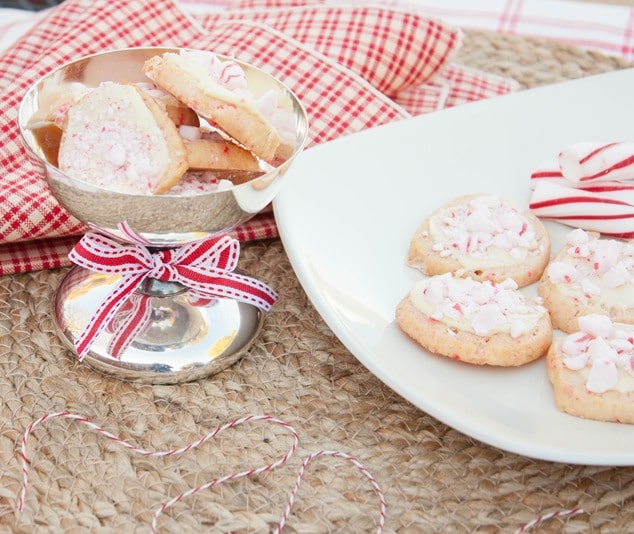 You'll also enjoy these yummy cookie recipes!
Yield: 3 1/2 dozen
Peppermint Cookies with White Chocolate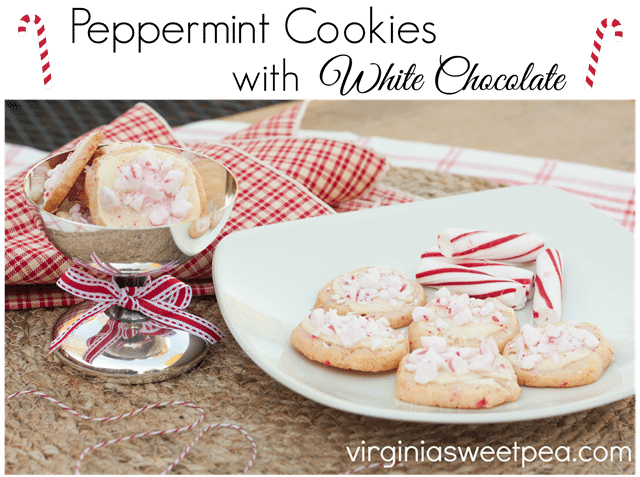 The peppermint infused cookie tastes delicious and is melt-in-your-mouth good.

Cook Time 10 minutes

Total Time 10 minutes
Ingredients
1/2 cup sugar
6 T butter, softened
1 large egg
1/2 tsp peppermint extract
1 1/4 cups flour
1/2 tsp baking powder
1/2 tsp baking soda
23 hard peppermint candies, crushed and divided, plus 10 more for topping
2 (4 oz) bars white chocolate
Instructions
Beat sugar and butter at medium speed with an electric mixer until fluffy. Add egg and peppermint extract, beating until blended.

Stir together flour and next 2 ingredients; gradually add to butter mixture, beating just until blended. Stir in 23 finely crushed candies.

Shape dough into 2 logs and wrap each log in plastic wrap. (Logs will be about 2" in diameter.) Refrigerate until firm.

Preheat oven to 350 degrees. Cut each log into 1/4" slices; place on parchment or Silpat lined baking sheets. Bake for 10 minutes until or until lightly browned. (I rotated my sheets after 5 minutes.) Remove from baking sheets to wire racks and cool completely. (About 20 minutes.)

Microwave white chocolate at medium heat for one minute. Stir until smooth.

Spoon chocolate over cookies and sprinkle with candy pieces. Let stand until the chocolate is firm.



This recipe makes 3 1/2 dozen cookies, a nice amount for sharing with friend, family, or your neighbors.
It's already been requested that I make this recipe again and I'm sure to do so again before Christmas!