Halloween Treats (Not Tricks) for Sherman's Doggie Friends
This shop has been compensated by Collective Bias, Inc. and its advertiser. All opinions are truthful and my own.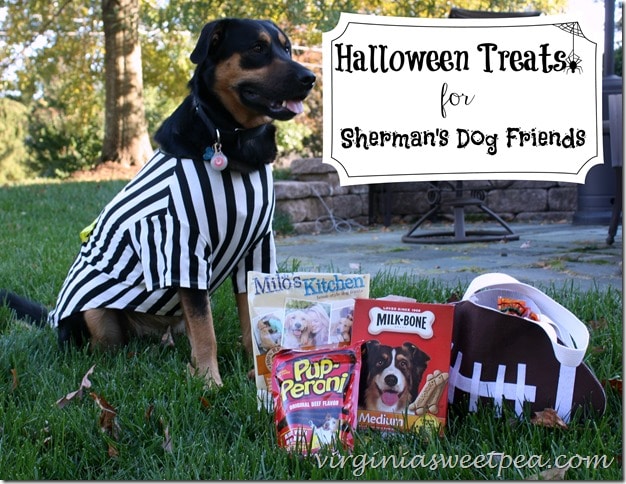 Our dog Sherman loves to visit dogs in our neighborhood to play. He loves to go from house to house to play with his doggie friends. This year for a pre-Halloween celebration, I bought Halloween treats at Kroger and made treat bags for Sherman to take to his friends. I made a football treat bag holder (tutorial coming this week) to coordinate with Sherman's "Rufferee" costume.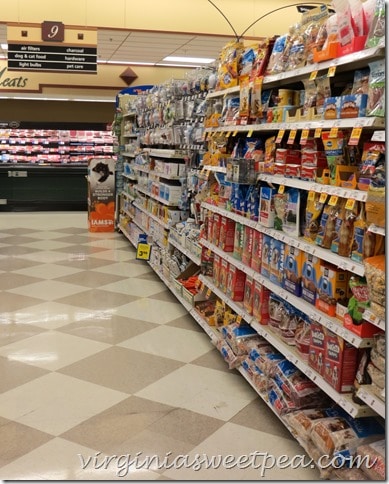 Kroger has a fun Trick Or Treat 'Em page where you can take a quiz on your dog's Halloween personality, upload a picture of your dog into a Halloween frame, and print a coupon for treats for your dog. Sherman is posing here with Cajun, his BFF. Cajun has a famous dad, can you guess who it is?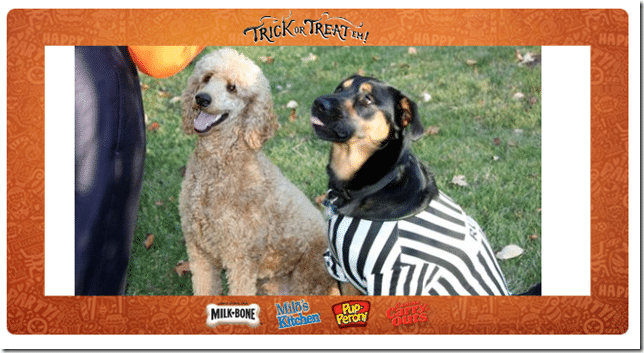 For Sherman's treat bags to take to his doggie friends, I purchased some of his favorite treats: Milk Bones, Pup-Peroni, and Milos's Kitchen. I packaged the treats in Halloween themed plastic bags, put them in his football themed tote bag, and then we were off to visit some of his friends.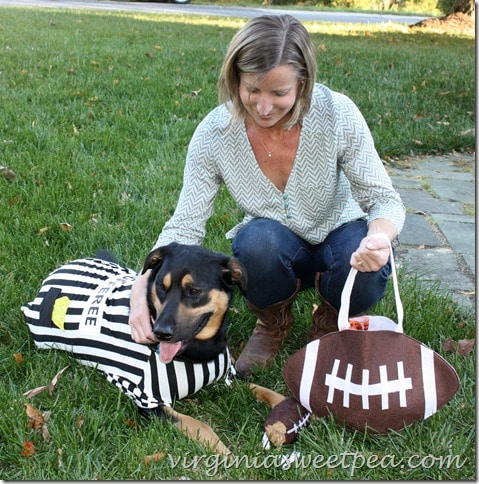 The first stop was to visit Auggie who lives next door to us. Auggie has his own bedroom and loves to sit in the window watching for friends to pass by. After a chasing session around the yard, we were on to the next house.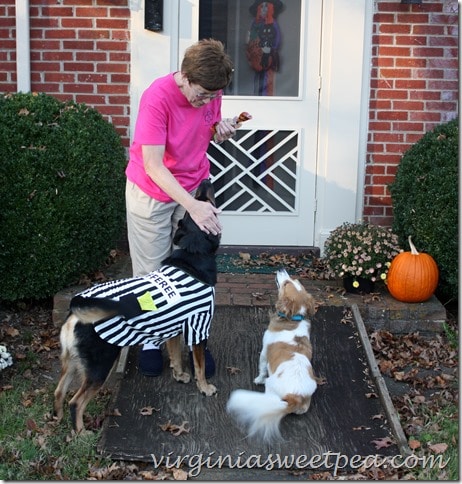 Our next stop was Cajun's house.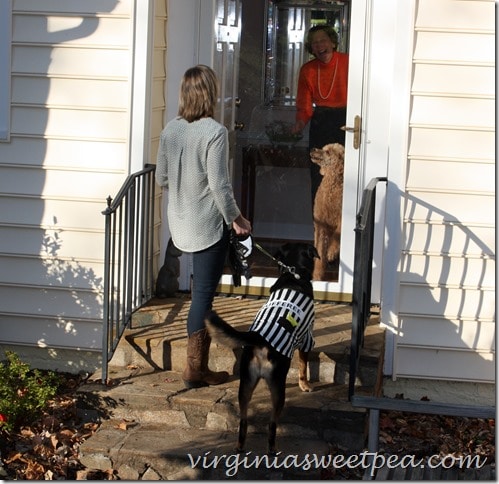 Sherman and Cajun usually play twice a day and love to chase each other around the yard.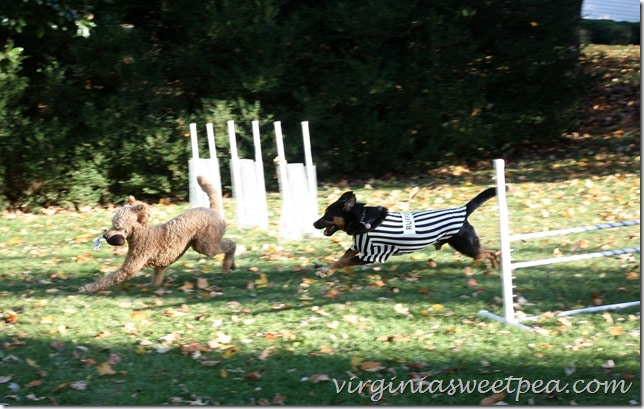 Tug-of-War is also a favorite game. Sherman's football toy that coordinated with his costume didn't survive this play session.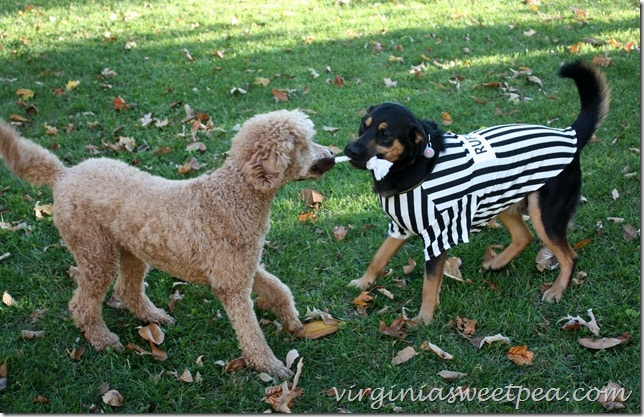 Stewart had just arrived home from Saturday's UVA game and is decked out in UVA's colors. She felt better about UVA's loss after playing with the dogs. Sherman and Cajun worked for treats from Stewart.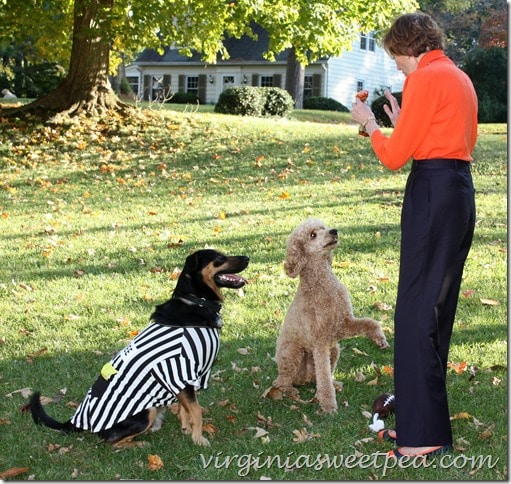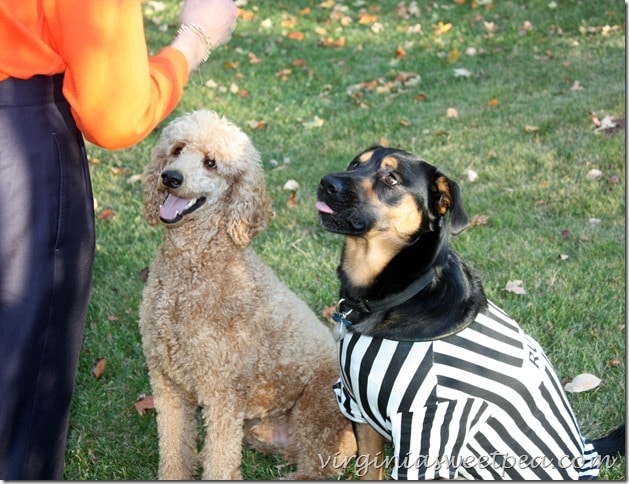 Our next play session was with Simba.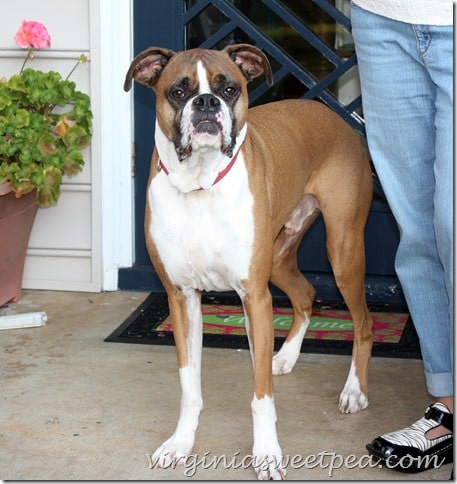 Then it was off to see Blaze who spends most of his day sitting in the picture window in the front of his house. Blaze and Sherman have a ball playing together.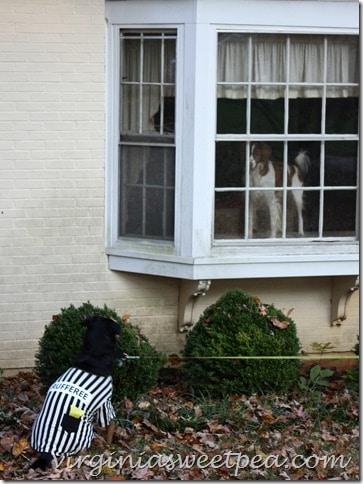 Nick and Weston's house was next on the list. Sherman loves to play with these cuties.
Blaze came over to join in the doggie fun.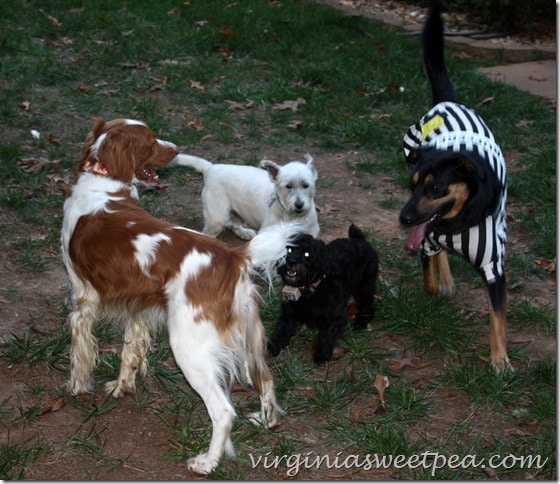 Sherman was exhausted after all of this doggie fun. His friends' owners loved getting Halloween treats to share with their dogs.
Sherman will be out and about on Halloween wearing his "Rufferee" costume. We'll visit some neighbors who don't have pets and enjoy seeing the neighborhood children in costume. #TrickOrTreatEm #CollectiveBias
What are your Halloween plans?