Easy to Make Frozen Dog Treats (Copycat Frosty Paws)
If your dog is anything like our Sherman, then he or she loves treats. Since Sherman enjoys a Frosty Paw almost every evening, I came up with a Copycat Frosty Paws recipe that he loves..
I don't mind buying Frosty Paws for Sherman, the problem is that our local Kroger, where I almost always purchase my groceries, has stopped carrying them.
What's a dog Mama to do when frozen dog treats can't be purchased where she buys groceries? She makes homemade Frosty Paws!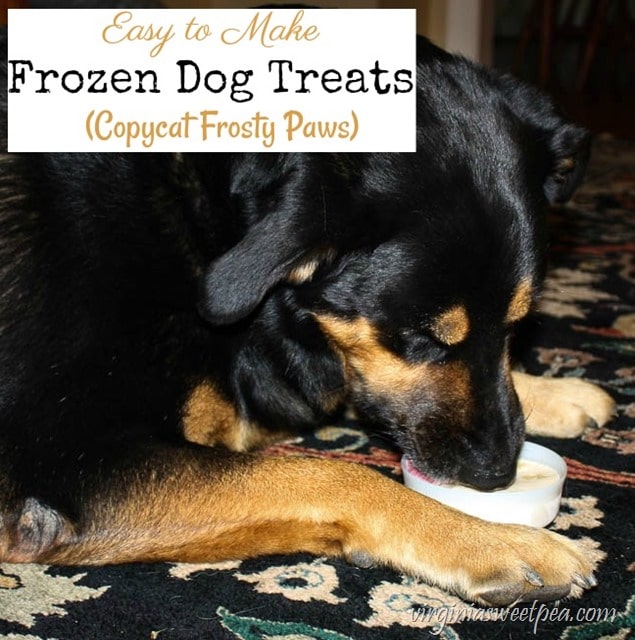 I hoped that Sherman would like my Frosty Paw recipe and he did! Now I don't have to worry about buying Frosty Paws for Sherman, I make my own DIY Frosty Paws.
How to Make Frozen Dog Treats (Copycat Frosty Paws)
Frosty Paws Ingredients
3 Ingredients are needed to make homemade Frosty Paws.
32 Ounces of Plain Non-Fat Yogurt
1 Ripe Banana
3 Tablespoons Peanut Butter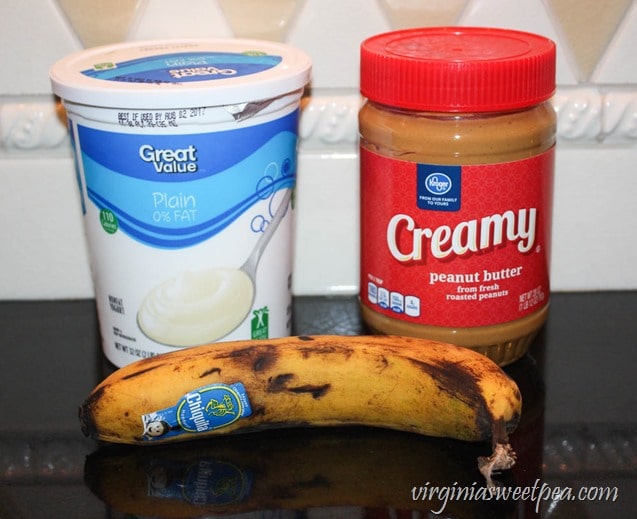 This dog ice cream recipe definitely isn't like a human ice cream recipe!
Your dog might like additional ingredients added to the mixture such as sweet potato puree or honey. Sherman enjoyed his treat made with just yogurt, peanut butter and a Banana.
Procedure
Mix the Ingredients
To make this recipe for Frosty Paws, put yogurt, peanut butter, and banana in the bowl of a stand mixer. Blend until the mixture is smooth and the banana is evenly dispersed through the mixture.
Place Mixture in Containers.
I found five Frosty Paw containers in our family room (don't judge), washed them out, and spooned the mixture into each cup. I had some mixture left over and added it to two small containers that we use for leftovers.
You could also use an ice cube tray, mini muffin tin, or small paper cups as treat containers.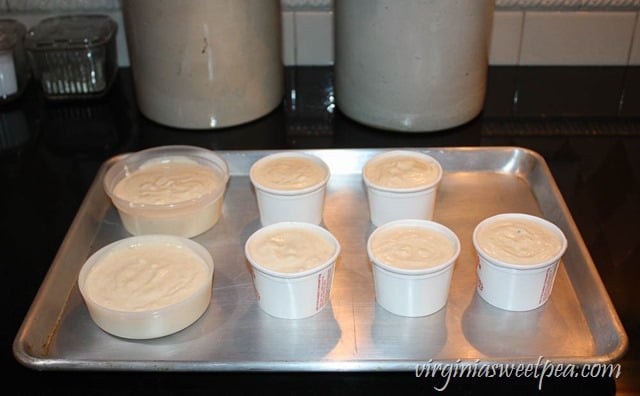 Freeze
After about three hours in the freezer, the frozen dog treats were ready to enjoy.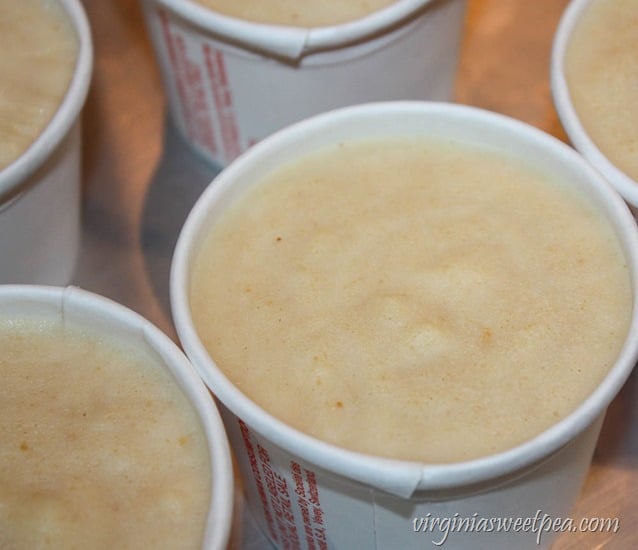 I didn't take a picture of this step, but I did wrap each treat in plastic wrap after they were frozen.
Enjoy the Frozen Treats
We are in the middle of a heat wave here in Virginia and it is very hot. After Sherman's evening walk, I thought he might enjoy a DIY Frosty Paw to help him to cool off.
Can you tell that he liked it?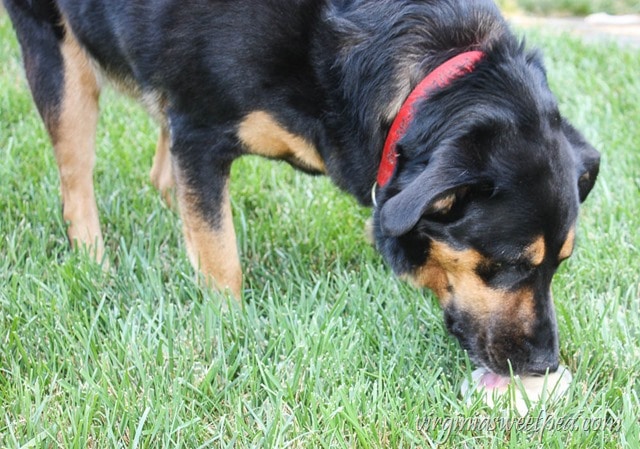 Sherman only ate a little of his treat after his walk, so I popped it back into the freezer so that he could enjoy more of it later.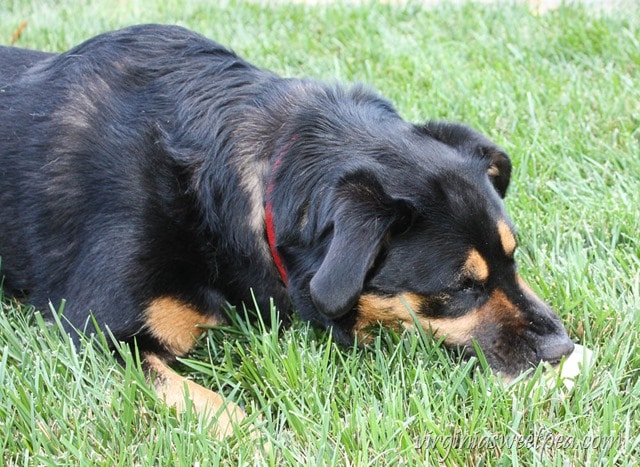 Later in the evening when Mr. SP had his evening ice cream, Sherman had his frozen treat, made with love using this easy dog ice cream recipe.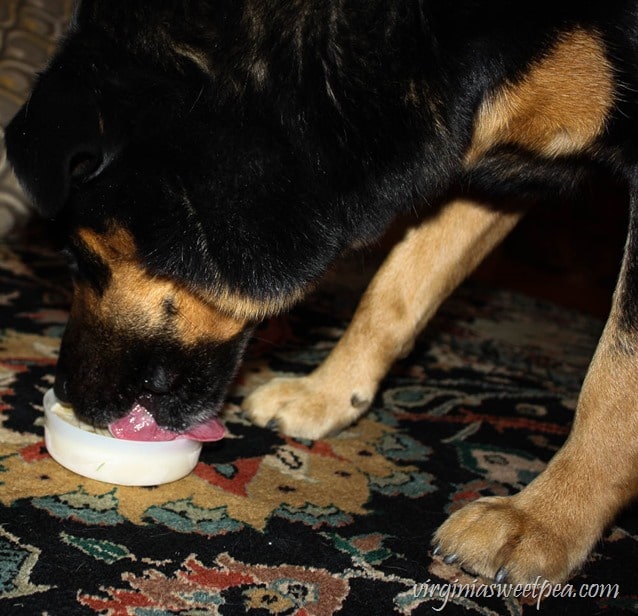 I love to watch him eat his treat. He always starts to eat his frozen treat standing up and then he lays down to finish.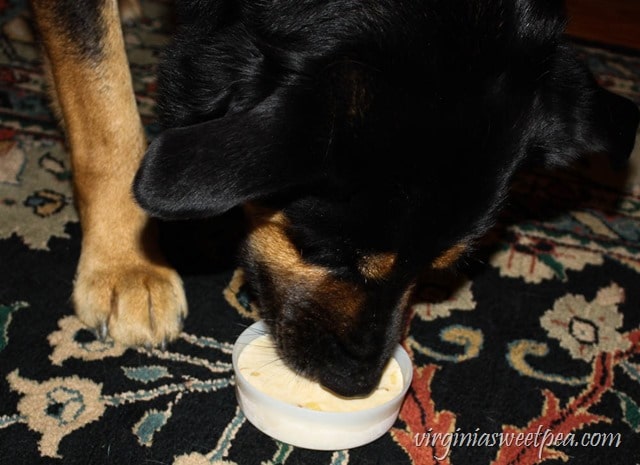 Down he goes!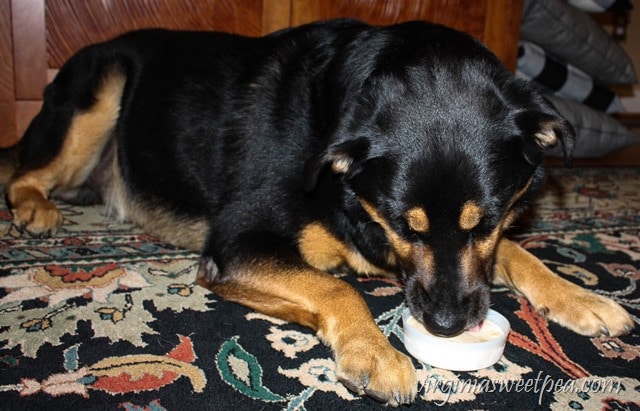 Sherman loves treats and this particular plastic container size of treat was too much for one sitting. The leftovers went back in the freezer to be enjoyed another time.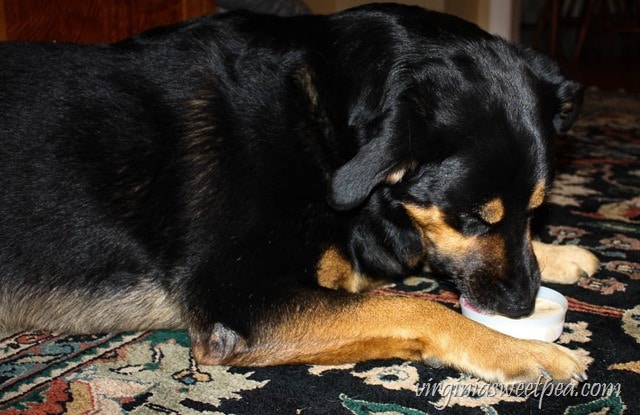 Cost to Make
Frosty Paws come four to a box and cost $4.19 at Kroger. Walmart also carries them for $3.68 a boxand Walmart has Peanut Butter Frosty Paws that Sherman loves.
I roughly calculated the cost to make eight traditional Frosty Paws sized treats and came up with $.30 each. If I'm willing to take the time to make rather than buy them, the cost savings is substantial.
I'm so glad that I came up with this recipe for Frosty Paws that Sherman loves so much.
Please pin this post so that you can refer back to it when you make your own dog frozen treats.
You can feel good about making this for your pooch since this Frosty Paws copycat recipe contains healthy ingredients.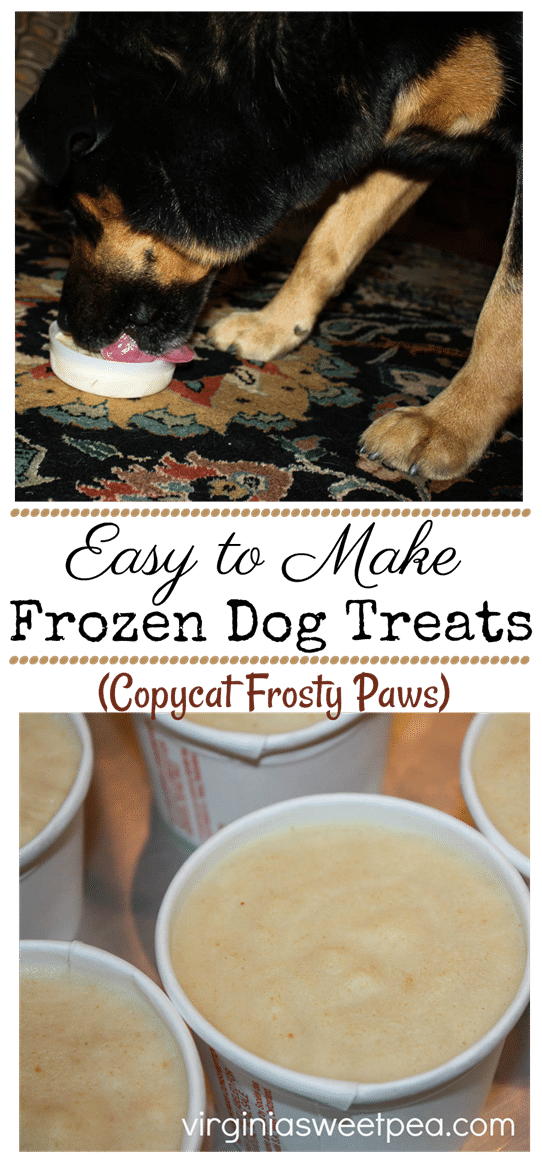 More Posts about Sherman