How to Make a Chalkboard Using a Framed Print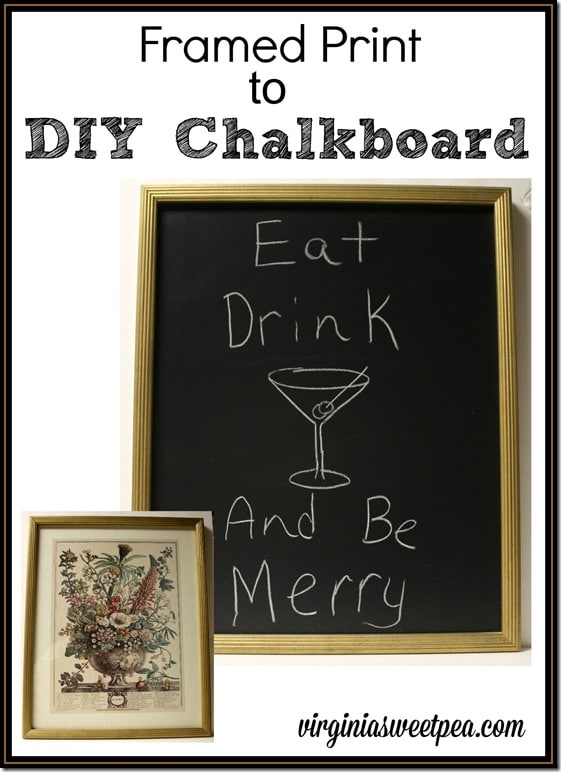 A few weeks ago my friend Christy from Confessions of a Serial Do It Yourselfer shared a Jewelry Holder and Chalkboard that she made using a thrifted framed print. Christy's post inspired me to search my attic for framed prints that I no longer use that could be turned into chalkboards.
The first picture that I pulled out of the attic was this print that I purchased at Kirkland's back in 1991 for my first working girl apartment. I used it for years and years and finally retired it to the attic.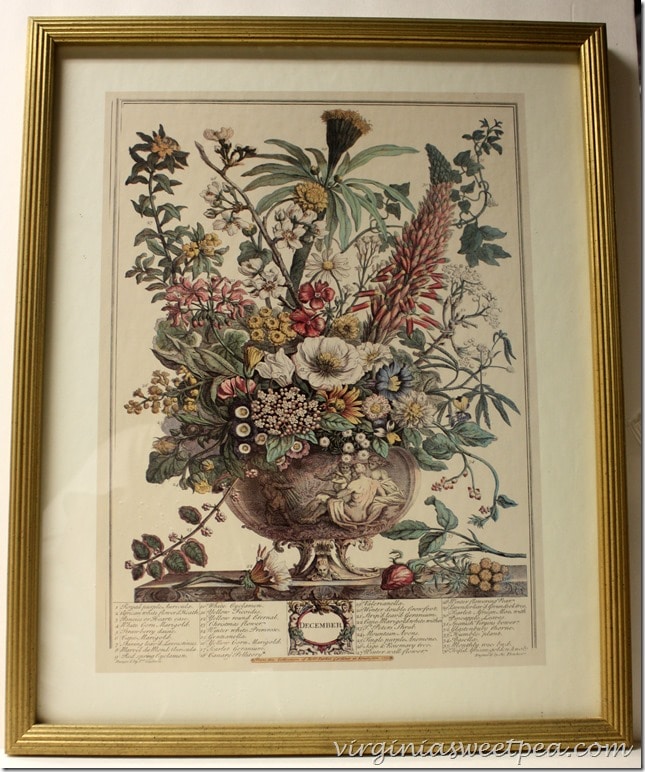 This post contains affiliate links which means if you make a purchase, I make a small commission. I only share products that I find useful!
Christy recommends using hardboard and spray paint style chalkboard paint
. I've been using chalkboard paint
for a long while so when I went to Home Depot I intended to just buy hardboard since I have plenty of chalkboard paint. While looking at the hardboard, I saw sheets of hardboard already painted with chalkboard paint, so I bought that instead. One sheet was less than $10 and I was able to make three framed chalkboards with it with enough leftover to complete a few small projects.
After purchasing the sheet of chalkboard, I got busy taking three framed prints apart that I had in my attic. I didn't take before pictures of two pear prints originally sold through the Southern Living at Home catalog.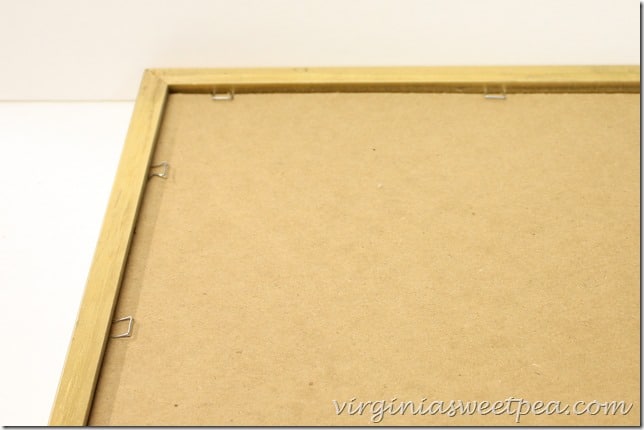 I used a screw driver to lift up the staples holding the print in place.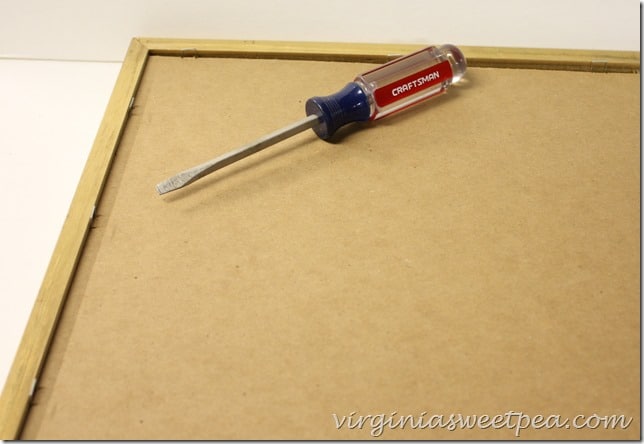 After removing the print from the frame, I traced it on the chalkboard painted sheet. (The chalkboard is turned face down here.)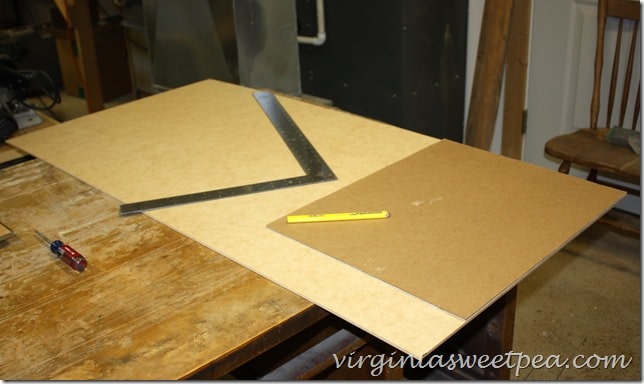 I then took the other two pictures apart and traced them on the chalkboard sheet. A circular saw
made quick work of cutting the pieces out.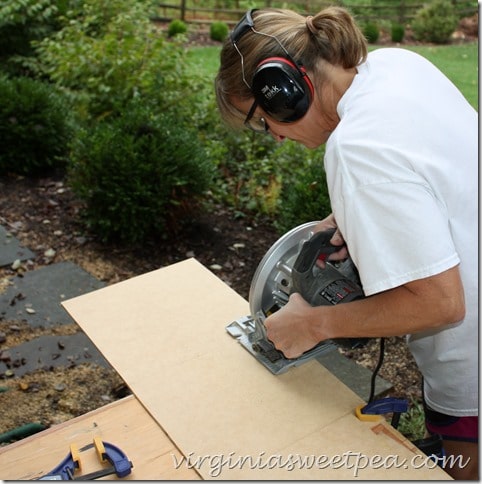 A desk that I recently found at Goodwill makes a good work surface for this project. If we get a Saturday or Sunday without rain, I'll move this outside to sand it down and refinish it. I hope to be able to share the end result with you in the next few weeks.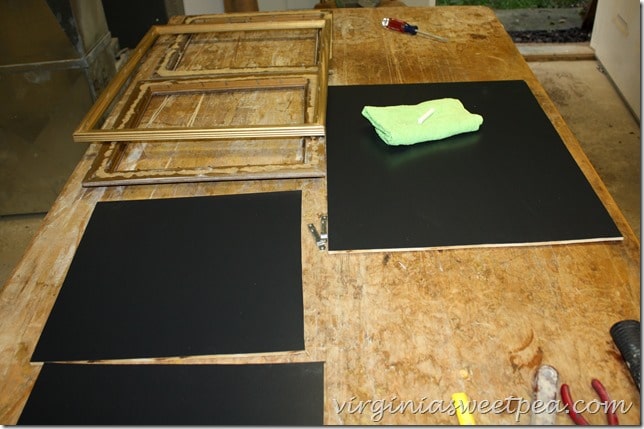 When you use chalkboard paint, you have to season the paint with chalk before writing on the board or the writing will get etched into the paint. Last year I painted a worn out white board in my classroom with chalkboard paint and even though my students helped me thoroughly season it, we still had trouble with etching. In fact, a few boys volunteered to repaint sections that were ruined. Now that I've been using it for a year, it is fine.
I seasoned one piece of the pre-painted board like I always do when I use chalkboard paint. I then decided to do a test with an scrap piece of board to see if seasoning is necessary with the pre-painted kind. Good news! It isn't necessary.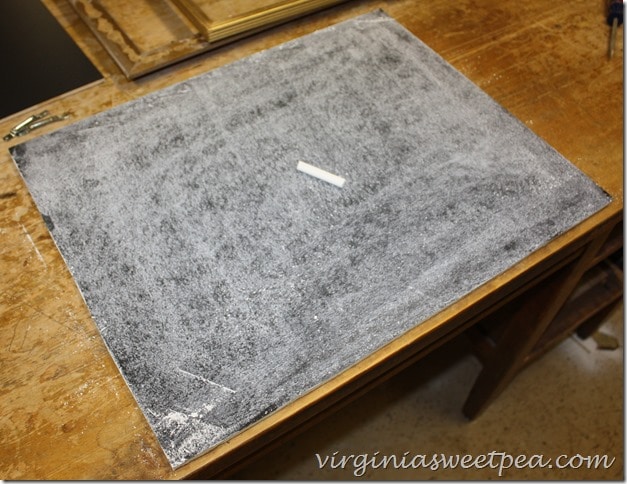 I am going to take the three chalkboards that I created to my shop at Blue Sky Cottage, so I came up with some simple artwork for each. The very first sale that I had in my shop was a chalkboard, so I'm hoping that these will sell quickly.
I did the writing and Mr. SP did the artwork.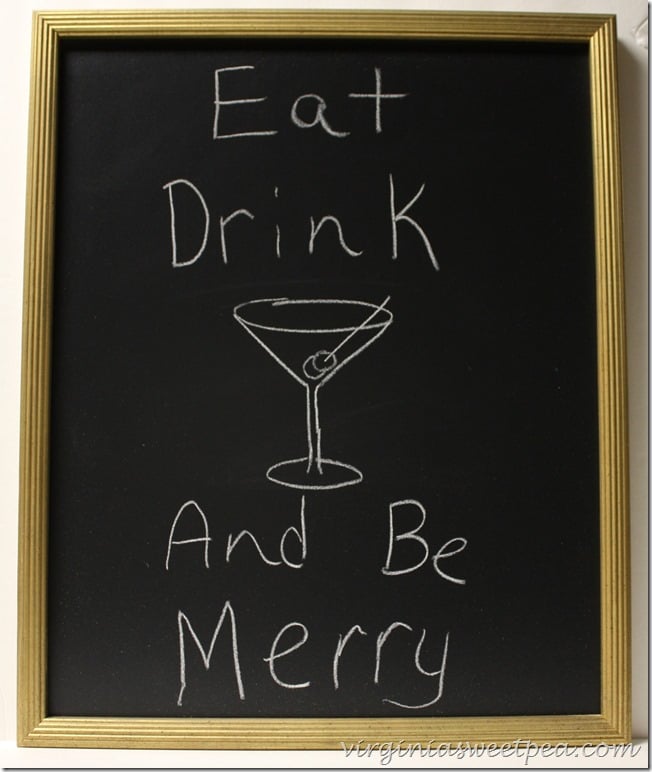 I'll definitely buy more pre-painted sheets of chalkboard for future projects like this. The pre-painted surface is both easier to write on and easier to clean than a surface painted with chalkboard paint and at less than $10 for a big sheet, it is a good value.

Thanks to Christy for inspiring this project. If you haven't visited Confessions of a Serial Do-It-Yourselfer, you should! Christy's latest project was recovering a sectional sofa. It took a lot of effort, but boy does it look great!
I'll be back tomorrow night for the Best of the Weekend party at 8 pm. I hope you'll join me!