Have you done any Christmas baking? I love to bake and especially love to do so during the Christmas season. A cookie exchange is always a fun holiday party and this week I'm joining 29 other bloggers in a Virtual Cookie Exchange hosted by The Everyday Home. My contribution is a family favorite, Iced Ginger Cookies.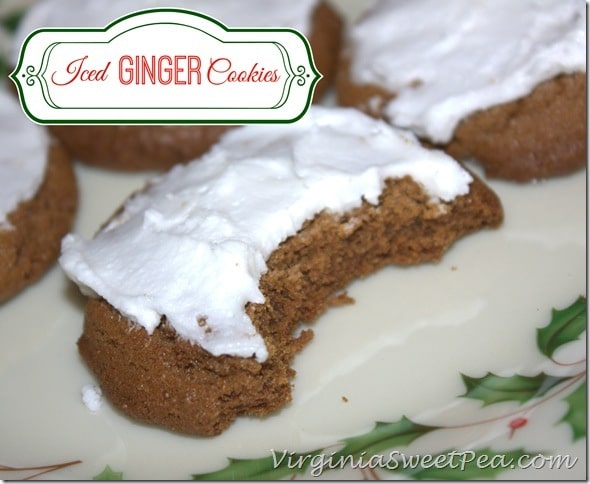 My friend Jeannine shared the recipe with me many years ago. I knew I had a hit when I served these at a large family Christmas dinner and John, who is a chef, complimented me and wanted the recipe.
Don't you think Santa would love to find a few of these waiting for him when he slides down the chimney to visit in the wee hours of December 25?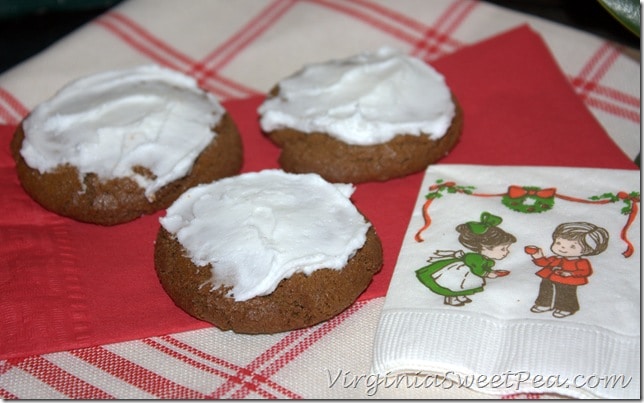 A great thing about this recipe is that it requires few ingredients and there's no butter that needs to soften ahead of time. Flour, baking soda, cinnamon, ginger, salt, vegetable oil, sugar, egg, and molasses combine to make a cookie that is so very good. (See below for a printable recipe!)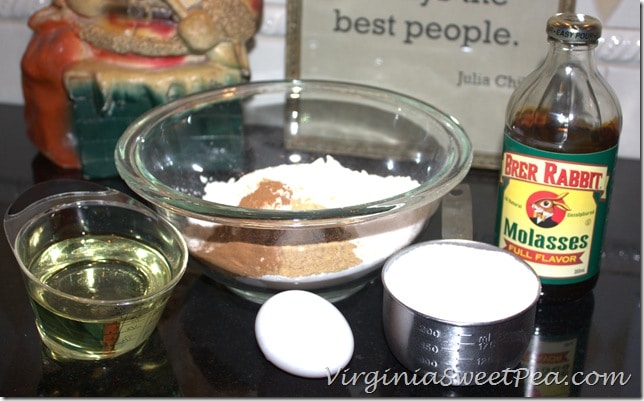 Preparation begins with mixing the sugar and oil for 2 – 3 minutes. Next the egg and molasses are added. A tip that works well is to measure the molasses into the measuring cup that previously held the oil. The molasses will slide out of the measuring cup and you'll hardly waste a drop.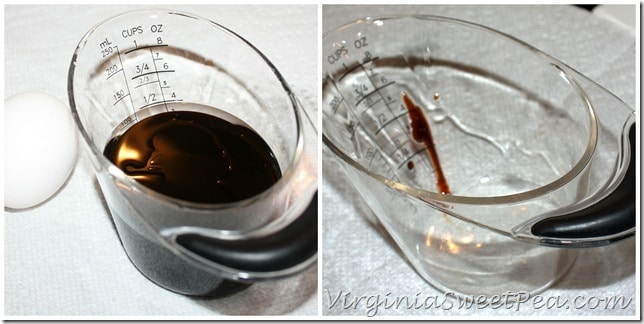 The dry ingredients are mixed in until combined.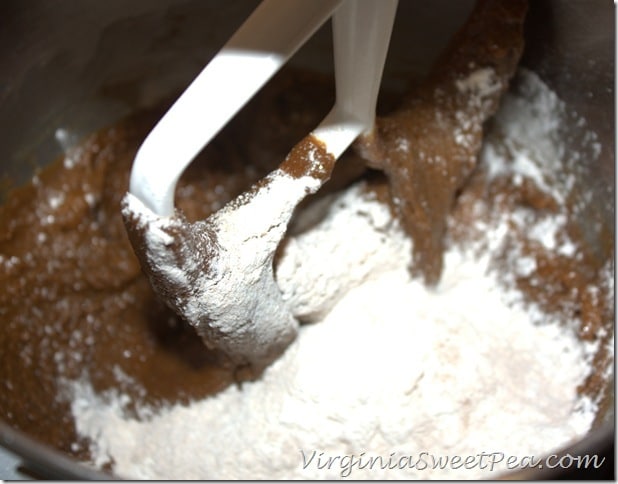 I use a small ice cream type scoop to scoop my cookies onto Silpat baking mats. Each cookie gets a light sprinkle of sugar before baking at 350 degrees for 8 minutes. The cookies cool on the cookie sheet for 5 minutes and then are transferred to a baking rack to finish cooling.
The icing is made by combining powdered sugar, Crisco, and water. You can make this as thin or as thick as you'd like by adding more or less water. I chose to make the icing thick for this batch because we think there's no such thing as too much icing.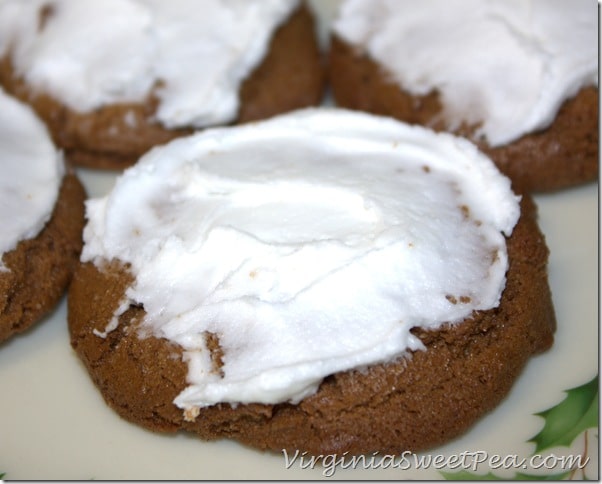 Do you like my cute vintage napkins? They were my grandmother's and I'm sure she purchased them for Christmas bridge club parties and never used them. I started collecting Lenox Holiday Christmas dishes when I was a teenager. Thanks to my Aunt Nancy, grandmother, and mom, I have a large collection to enjoy for Christmas.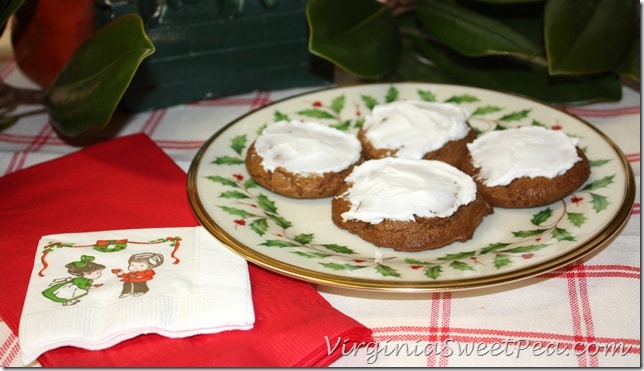 Iced Ginger Cookies are equally delicious served without the icing. I usually run out of icing halfway through icing a batch because I apply it so thickly. Rather than make more icing, I leave the second half plain.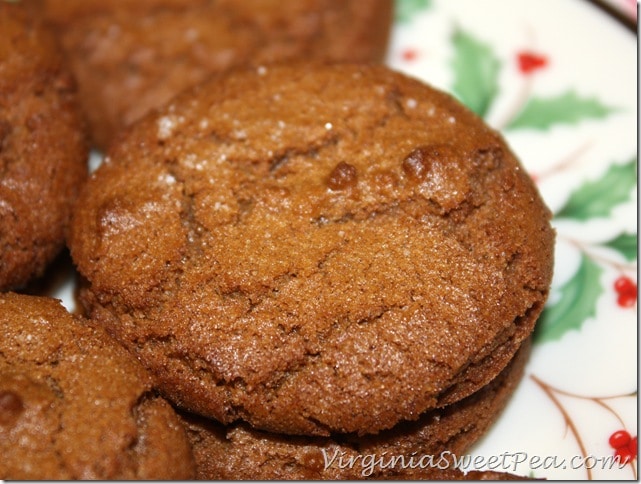 If you like to bake ahead of time, these freeze very well uniced.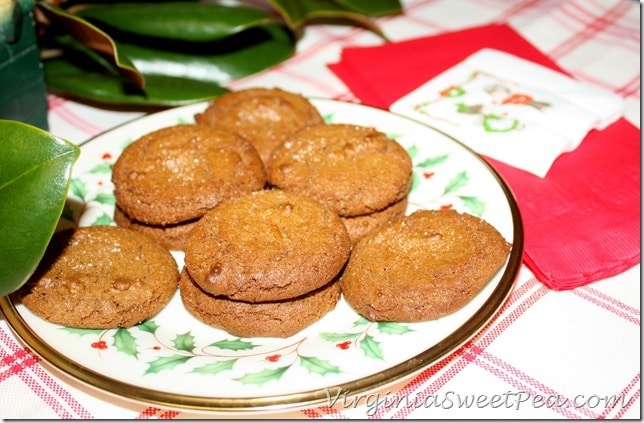 Iced Ginger Cookies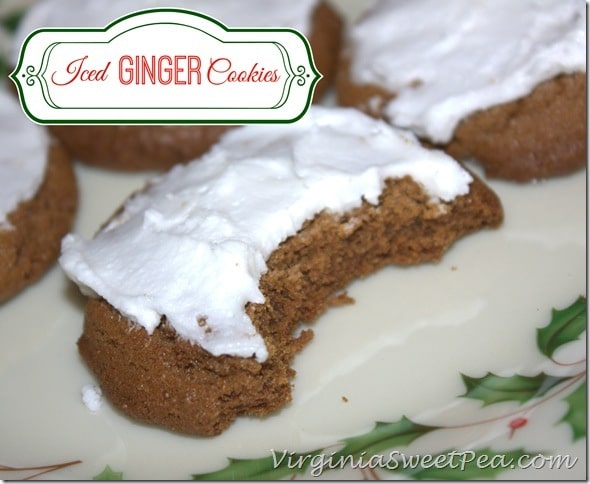 Ingredients
2 cups flour
2 tsp baking soda
1 tsp ginger
1 tsp cinnamon
1/2 tsp salt
3/4 cup vegetable oil
1 cup sugar plus 1 T for sprinkling
1 large egg, at room temperature
1/2 cup light unsulphured molasses
Instructions
Preheat oven to 350 degrees.
In a small bowl, combine the flour, baking soda, ginger, cinnamon, and salt. Set aside.
In a large bowl, on thee medium speed of an electric mixer, beat together the oil and sugar for 2-3 minutes. Add the egg and molasses, and beat well.
Add the dry ingredients and mix thoroughly. Drop by rounded teaspoons onto ungreased cookie sheets, leaving several inches between for expansion.
Sprinkle lightly with sugar. Bake for 8 minutes. Cool the cookies on the sheets for 5 minutes, then remove to a wire rack to cool completely.
For the icing, combine 1 cup sifted powdered sugar, 1 T Crisco, and water to the desired consistency.
When the cookies are completely cool, spread a thin layer of icing on each cookie with a small knife or spatula.
Many thanks to Barb for inviting me to the cookie exchange. I've already added several "must try" recipes to my baking list.

Click on any picture or the link below it to see your favorite cookies!
Everyday Home | Atta Girl Says
Southern Color | Deja Vue Designs
Shabby Art Boutique | All Things Heart and Home
Town and Country Living | Worthing Court
Lilacs and Longhorns | Inspiration for Moms
Vintage News Junkie | Marty's Musings
Domestically Speaking | My Soulful Home
A Delightsome Life | Cottage at the Crossroads
Pennywise | Major Hoff Takes a Wife
Country Design Style | House on the Way
Fresh Idea Studio | Confesions of a Plate Addict
Stone Gable | Create and Babble
So Much Better with Age | Cupcakes and Crinoline
The 12 Days of Christmas Tours are still going strong. I had so much fun sharing yesterday and have really enjoyed visiting the blogs participating each day.