Industrial Style Hanging Bottle Holder
This shop has been compensated by Collective Bias, Inc. and its advertiser. All opinions are mine alone. #UniquelyMine #CollectiveBias
Have you seen the new Diet Coke "It's Mine" bottles at Kroger? I first noticed them at the lake when we were picking up dinner one evening and spent a long while looking at each bottle's fun pattern. Every bottle's pattern is unique and best of all, the bottles are glass. I grew up drinking Coca Cola out of glass bottles and to me that's when it tastes the very best.
I've enjoyed Coca Cola for as long as I can remember. When I was a teen I switched over to Diet Coke when I realized that I had to watch my calories. 30+ years later, I still love to enjoy a Diet Coke.
A fun way to display decorative bottles and to use them with fresh flowers is with the Industrial Style Hanging Bottle Holder that I created. This was easy to make and really shows off both my pretty spring flowers and the bottle's fun patterns.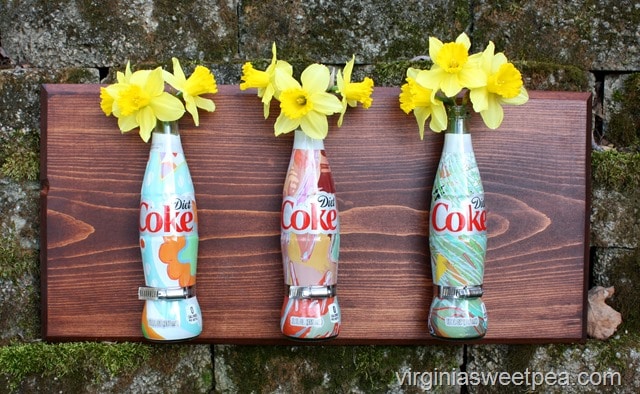 How to Make an Industrial Style Hanging Bottle Holder
Supplies
3 Diet Coke "It's Mine" Bottles
3 Plumbing Clamps (#40)
3 No.6 x 3/4" Tapping Screws
Board – Mine is 11 1/2" x 24"
Stain for Board – Mine is General Finishes Water Based Wood Stain in Brown Mahogany
D-Rings for Hanging
Nail Set
Hammer
Drill Press
Drill
Nut Driver
Center Rule or Ruler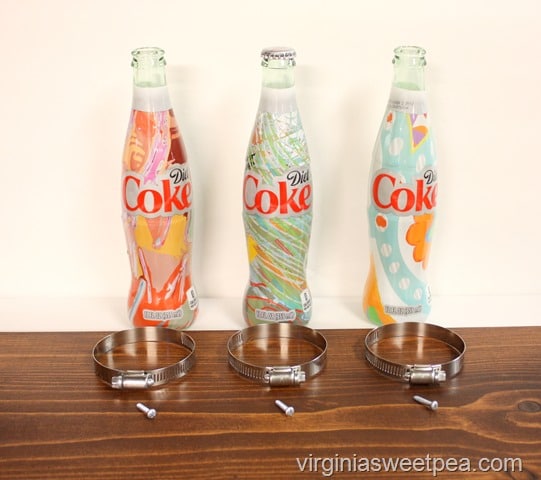 My Kroger is being remodeled. I found my Diet Coke "It's Mine" bottles on a display at the end of the temporary beverage isle. At the lake they were in a prominent display at the front of the store.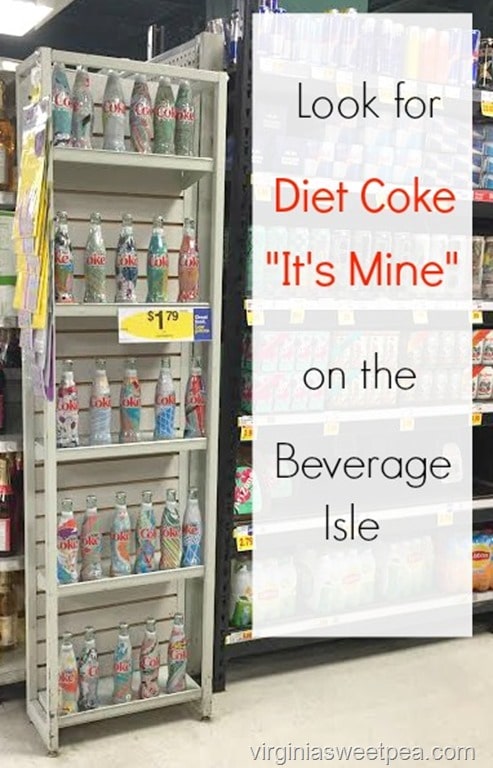 It took a while to decide on the three that I wanted to use for my Farmhouse Style Hanging Flower Holder but in the end these three were what I selected. Aren't the colors and patterns on these three bottles amazing? Not only are bottles available, but so are cans and they also have pretty and fun patterns.
You can learn more about Diet Coke's "It's Me" bottles here including where to find them in your area.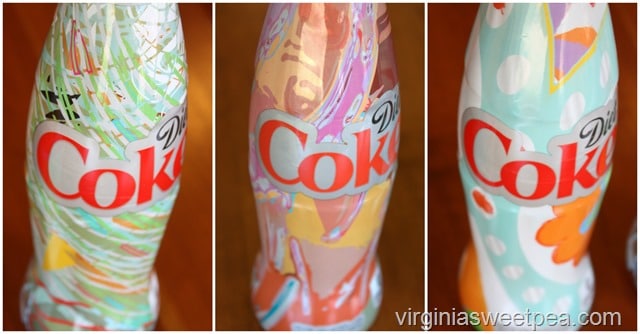 Procedure
1. Cut a board to 11 1/2" x 24", route edges if desired, and stain. Let dry.
2. Attach a pipe clamp to one Diet Coke "It's Mine" bottle to figure out where the hole should be to attach it to the board. Use a nail set to punch a hole through the metal.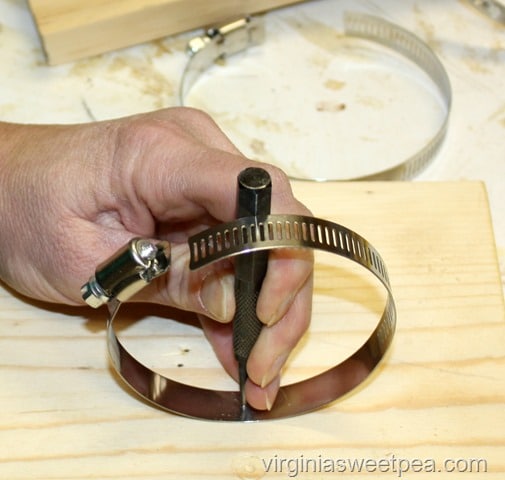 Use a drill press to make the hole the same diameter as the screw.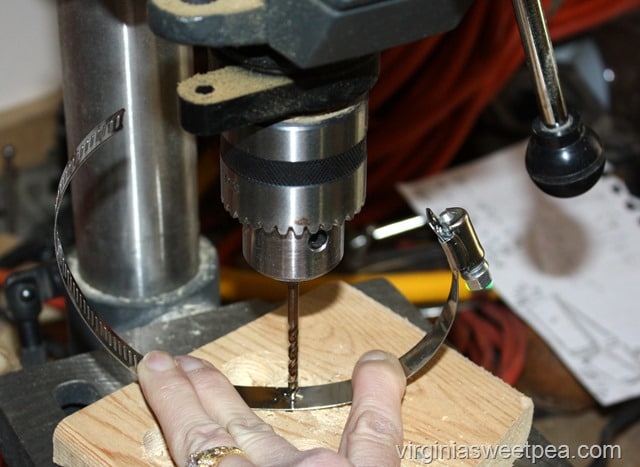 Repeat with the other two pipe clamps.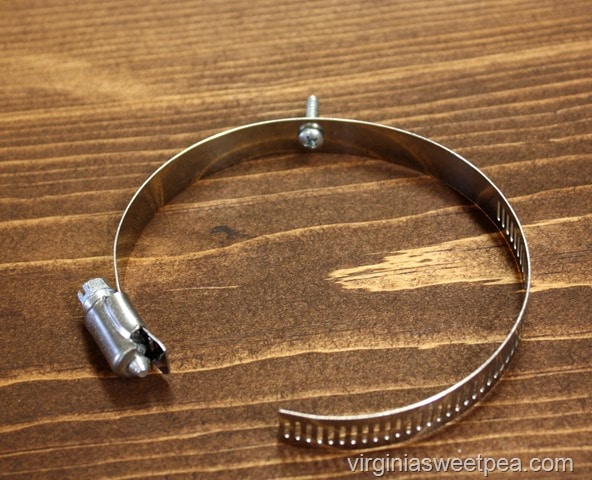 3. Find the center of the board using a center rule. This tool lets you find the center without doing any math!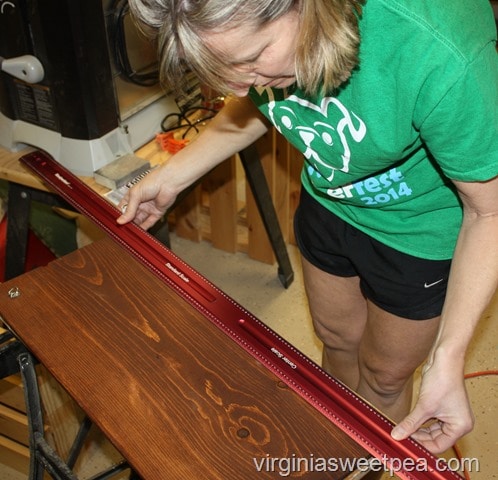 Mark the center with a pencil.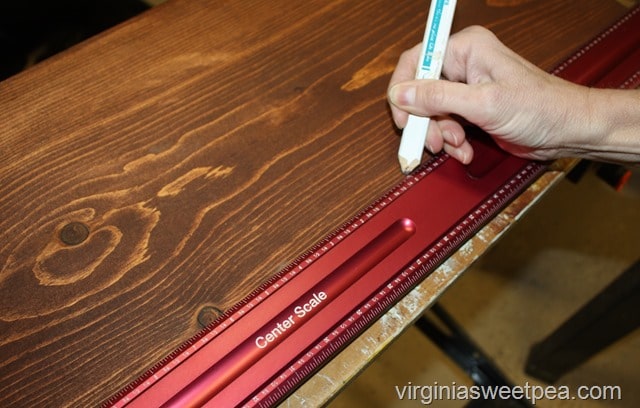 Mark halfway from the center to either edge of the board.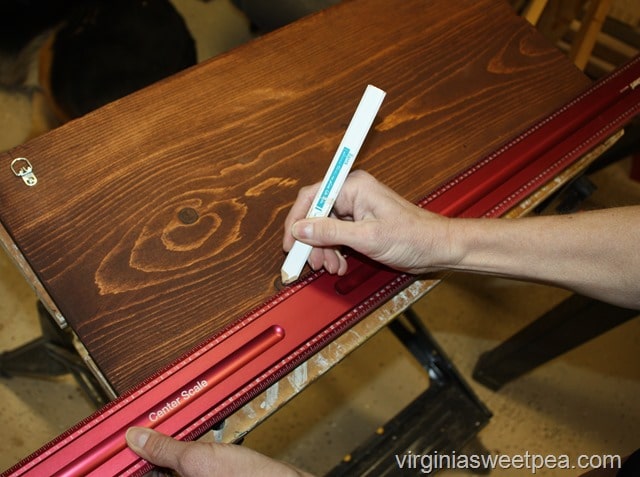 Drill pilot holes from the back of the board through to the front. Flip the board over and attach the three pipe clamps to the front of the board.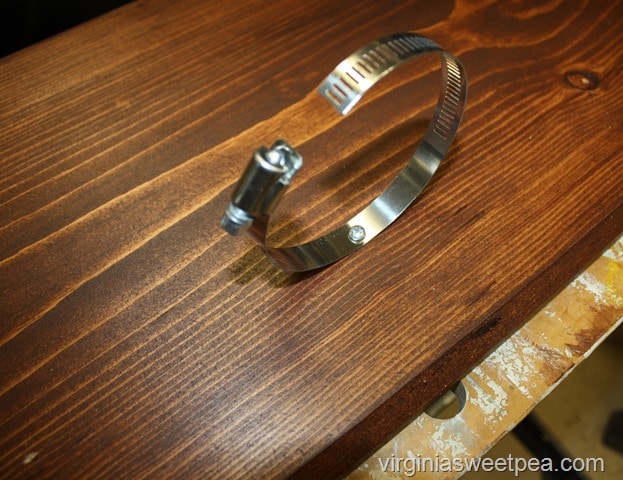 Use a nut driver (not shown) to tighten the pipe clamp around each Diet Coke "It's Mine" bottle.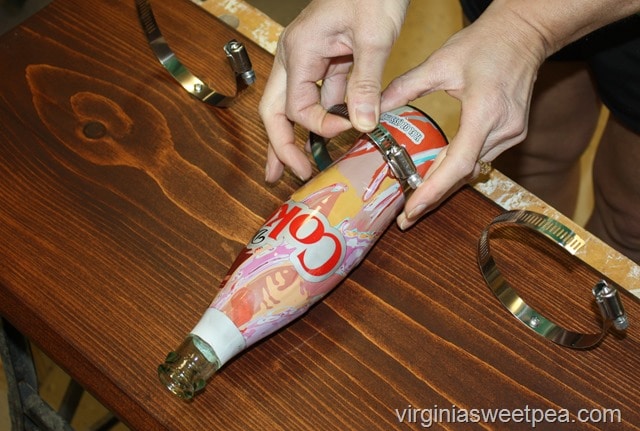 4. Add water and flowers to each bottle, hang, and enjoy.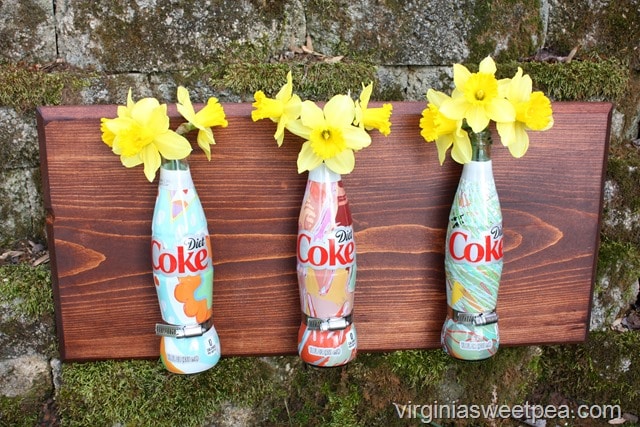 I really like the industrial vibe that the pipe clamps give this project. If you like the industrial look, be sure to check out the Industrial Style Paper Towel Holder that I shared a few weeks ago.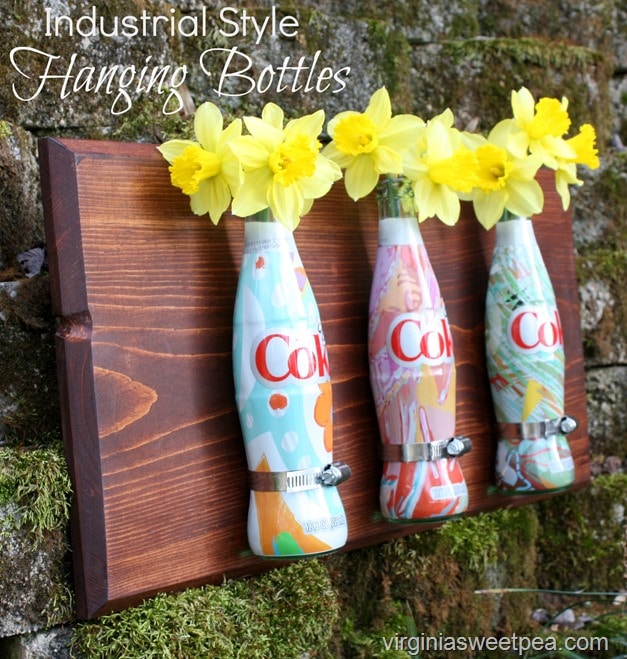 I
This project was quick to make and now I want to make another to showcase some of my vintage Coca Cola bottles. Wouldn't that make a great display?
Learn more about Diet Coke "It's Me" bottles by clicking here.