Life Threw a Curve Ball…The Post I Never Wanted to Write
This is hard. I don't want to write this post, but I am going to do it.
If you are a regular here, you know that I am very active and health conscious. I exercise, I eat well, I rarely drink, and I go to the doctor when needed.
On January 13, I got the shock of my life…I found out that I have lung cancer. Yes, I found out this terrible news on Friday the 13th.
You are probably wondering if I smoke. I don't, but my dad did. He died of lung cancer in 1997 at the age of 57. I am 47.
Lung cancer is the #2 most common cancer for women following breast cancer at #1. The type of lung cancer that I have is the most common type for non-smokers.
I have never take a selfie at the gym, but on Friday the 13th, I took this one. I wanted a picture of the cute new shirt that I had just purchased. Little did I know that in a few short hours my world would be forever changed. I have since thrown that shirt away. I could never again wear it without thinking of what happened shortly after that workout.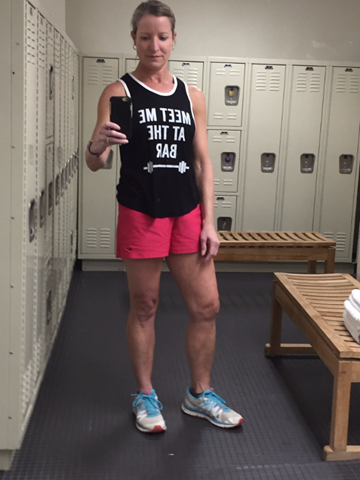 How My Cancer Was Discovered
Just before Thanksgiving, I noticed that I coughed at bedtime. Being in a reclined position made me cough, but I didn't cough during the day. The cough continued into December, but I didn't worry about it because I thought it was allergies.
In December, I noticed that when I ran, I felt like I couldn't get a deep breath of air. Again, I thought it was allergies.
We had a big snow storm in my area on January 7, which led to school being closed January 9-11. Since school was closed, I took advantage of the free time and made an appointment with the doctor so that I could get some new allergy medicine to get rid of my pesky cough. I saw a PA on January 10 who suggested a chest x-ray. I just thought it was routine given that there was congestion in my chest.
Shortly after the x-ray, the PA called and told me not to worry, but there was a shadow on my x-ray, and that I needed a CT scan. I was a tiny bit worried then, but not a lot. I had the CT scan on January 13 and that evening my doctor called with the news that I have lung cancer and that the lymph nodes in the center of my chest are enlarged.
I had no idea. I thought that I needed a new nose spray for my allergies but my problem was really cancer. What? How could this be happening to me?
What Happened Next
I did not know what to do with myself. I paced around the house. I walked up and down the street. Finally, I just sat on the porch and waited for my husband to come home from walking the dog. My husband is a rock star and did what he could to comfort me and to calm me down. Neither one of us slept much that night.
Over the weekend I kept busy. We walked our dog, we went to the lake, and we worked on the DIY 2×4 Shelves that I shared last week.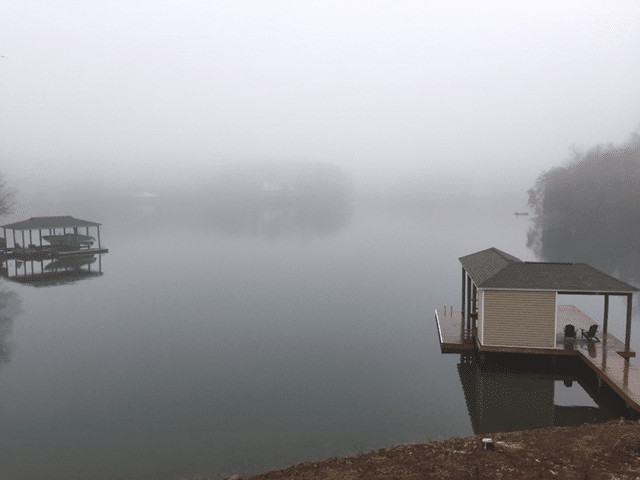 On Monday, January 16, I went to my doctor's office to do blood work and to get my treatment process started. My blood work was normal.
On Tuesday, January 17, I had a biopsy of the tumor to check to see if it was indeed cancer. On Thursday, during my planning period at school, I got the call that the tumor was cancer. I had a small glimmer of hope that it wasn't cancer, but it was. Nothing beats getting a call during your planning period that you definitely have cancer and then having to teach two more classes.
I kept all of this to myself. No one knew but my husband and my mother. I was afraid that if someone found out and said anything to me at work that I would break down. I didn't want my students to see me upset, so I kept it to myself.
My first oncology appointment was January 24. I went in hoping to start some kind of treatment that day, but that is not how it works. The doctor explained to me that I would need to do several tests, the results of which would determine my treatment plan. The necessary tests are an MRI of the brain, a bronchoscopy, and a PET scan. The doctors need to know exactly which parts of my body have cancer before they can determine how to treat me.
The bronchoscopy was the most worrisome appointment to schedule. The pulmonology office in my town is very busy and there wasn't an appointment to be had. The sweet scheduler finally forced me into the schedule, but the appointment wasn't until February 2. I knew that if I didn't see a doctor in that office until February 2 that I wouldn't be able to have a bronchoscopy before my next oncology appointment on February 6. I asked her to call me if there was a cancellation. She knew that I was upset and desperate to get an appointment. The next morning she called me to tell me to come in that day as someone had just cancelled. And she also told me that a giant rainbow appeared as the cancellation came in allowing her to call me with an appointment. A sign? You tell me.
Mr. SP just happened to take a picture of that rainbow as he walked Sherman.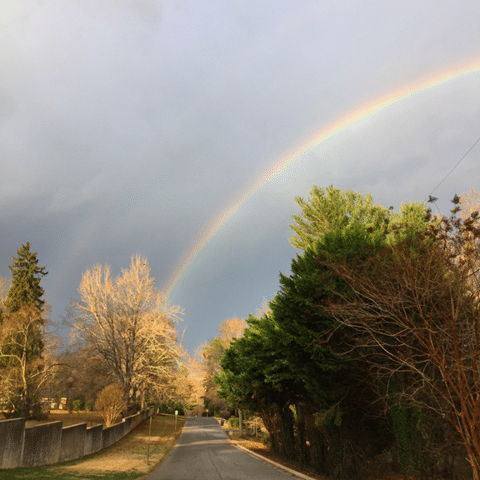 I had my brain MRI Friday and the bronchoscopy yesterday. The PET scan is scheduled for Friday. The waiting is hard. Really hard.
Before the 24th, I made the difficult decision to leave school to focus on my health. I miss my students and my teacher friends but right now dealing with this is about all that I can handle.
If you've been wondering why there haven't been a lot of blog posts from me in 2017, now you know why. I have no plans to stop blogging, I just haven't had the heart to do anything creative that I can share with you. I am hoping that once I have the results of my tests and a treatment plan in place that some of my creative mojo will come back.
The Positive
My friends and family have rallied around me. So many people have reached out to me with good thoughts, prayers, and offers to help if I need it. I feel so loved which is just what I need.
That's all for now.
Other Posts About My Cancer That I Have Written