Lucky Soup with Black Eye Peas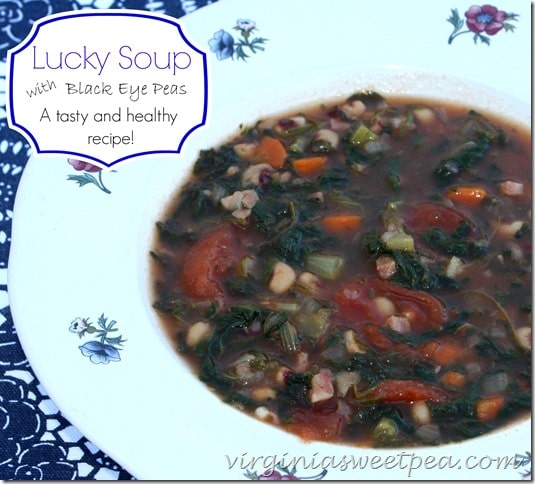 Happy 2015! It's a new year and if you follow tradition, you'll have black eye peas for one of your first meals. Several years ago my friend invited me over for a New Year's meal where she served Lucky Soup, a traditional family dish. At the time I didn't realize that I liked black eye peas, I always thought that they were yucky. It only took a few bites for me to realize what I'd been missing for so many years.
Lucky soup starts by sautéing onion, garlic, celery, carrots, and ham in a small amount of butter until the vegetables are soft. Chicken broth, black eye peas, stewed tomatoes, and tomato sauce are then added. After simmering for 1.5 hours, thawed and drained spinach is added. Except for the ham and butter, this soup has completely healthy ingredients.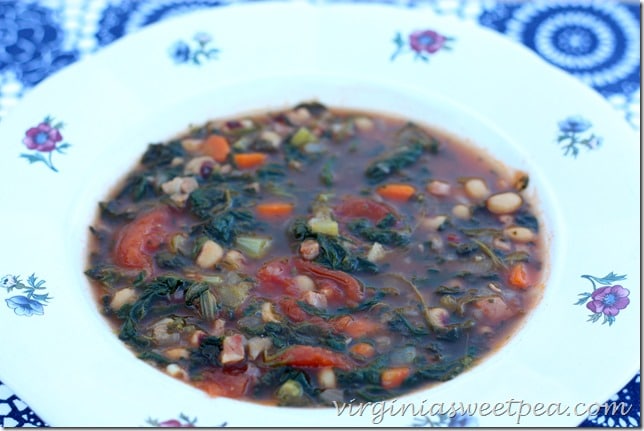 After making this soup yesterday, I texted Elsie to ask if she'd mind if I shared the recipe here on the blog. She wrote back to tell me yes and to let me know that she was actually on the way to the store to buy the ingredients to make her own batch.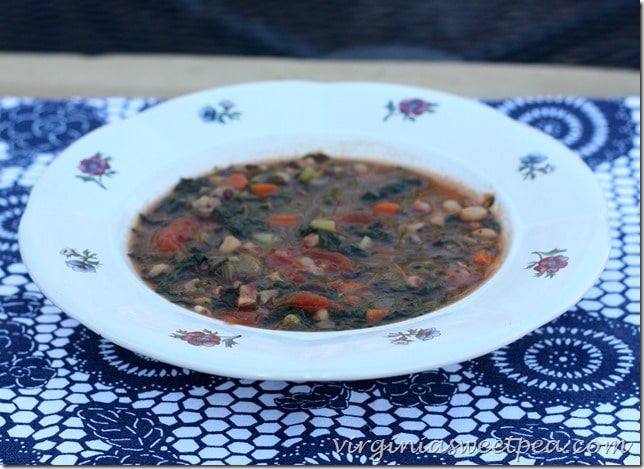 Yield: 8-10 servings
Lucky Soup with Black Eye Peas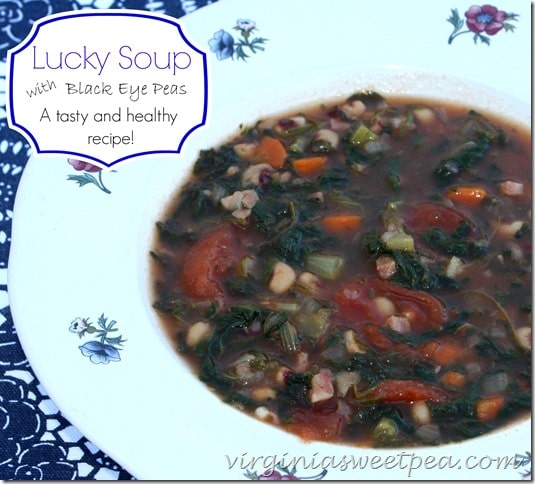 Ingredients
1 cup chopped ham
2 celery ribs, chopped
1 onion, chopped
2 carrots, chopped
2 garlic cloves, minced
Butter
2 (15 oz) cans black-eye peas
2 (14 oz) cans chicken broth
2 (14 oz ) cans stewed tomatoes
1 (8 oz) can tomato sauce
1 1/2 cups fresh spinach or 1 (10 oz) pkg. frozen chopped spinach, thawed and drained
1/2 cup fresh parsley, chopped
Salt and Pepper to taste
Instructions
Saute ham, onion, celery, carrots, and garlic in a small amount of butter until tender.
Stir in black eye peas, broth, undrained tomatoes, and tomato sauce. Bring to a boil. Reduce heat and simmer for 1.5 hours.
Stir in spinach, parsley and salt and pepper.



Black Eye Peas are supposed to bring one luck for the new year. Here's to hoping that Lucky Soup works its magic for 2015!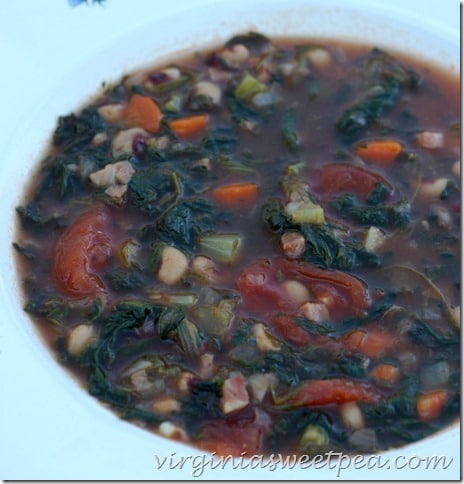 I'm quite sure that this batch won't last long at our house. Knowing that, I bought ingredients to make a second pot this weekend. We love this concoction and I love knowing that we are eating something healthy.
We also enjoy Black Eye Pea Chili, a recipe shared by another friend. Check it out if you are looking for a different and very tasty dish containing black eye peas to start the new year.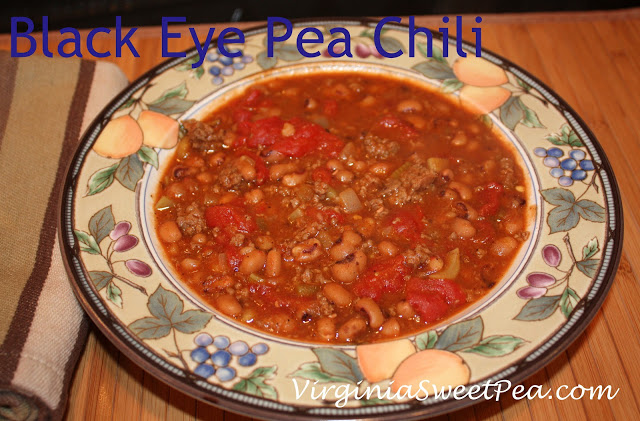 Sharing With: Serenity Now, Little Miss Celebration, Vintage Paint and More, Denise Designed, Refresh Restyle