Mid-Century Yard Sale Finds
Over Labor Day weekend I happened upon two yard sales and found some great things!
I haven't been to many yard sales this season because we've spent nearly every weekend at the lake and not in town where yard sales are plentiful.
Our morning lake routine includes driving to Smith Mountain Lake State Park to walk Sherman. We love going there because there are miles of trails that parallel the water. Sherman can walk to his heart's content and take a swim whenever he gets hot or thirsty.
On our way to the park over Labor Day weekend, we stopped at two yard sales where I found several treasures.
The first yard sale was at a cabin where we made many stops over the summer, but not for yard sales. The reason for our stops was this cute tomato shack where we purchased tomatoes each weekend from July through August. I was so sad when the shack was no longer in the driveway a few weeks ago. Boy did I enjoy those tomatoes this summer!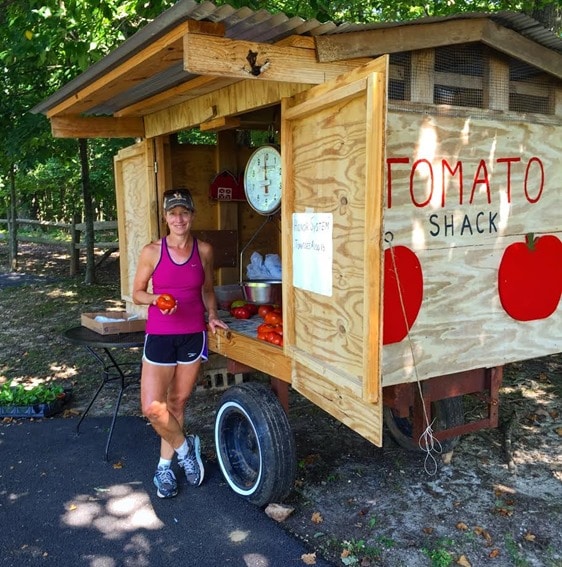 When we walked up the driveway to the yard sale, the first thing that I did when I saw the home owner was tell him how much I enjoyed his tomatoes. He disappeared, and while I shopped the sale and chatted with his wife, he suddenly appeared at my side and handed me a brown paper bag full of tomatoes. I offered to pay him for them but he refused. Wasn't that sweet?
I shopped and chatted for a long while with his wife and then noticed that he brought out one of his restored trucks for Mr. SP to admire.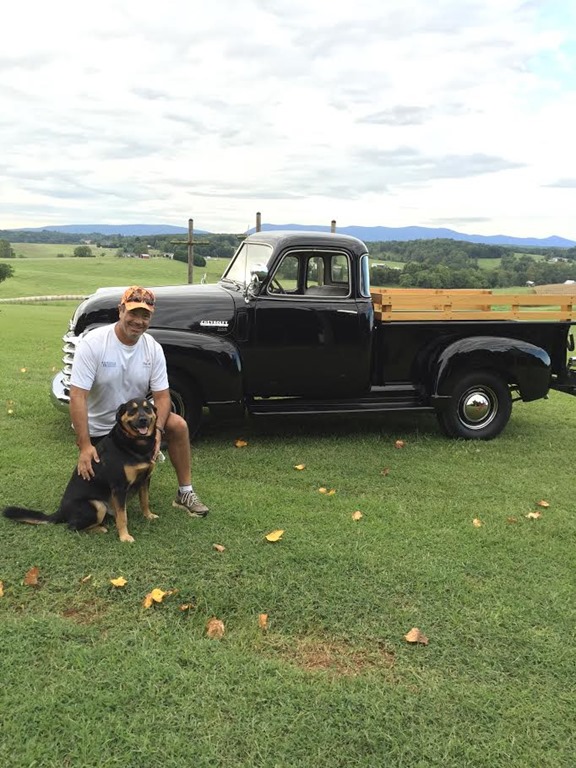 After shopping the sale and enjoying the hospitality of Violet and Flay Tuck for over an hour, we were finally on our way. Little did I know that I'd run across a second sale not even a mile away! This one was in a garage and yielded the first two things that I'm sharing. The rest of the things are from Violet and Flay's sale.
Inland Carafe and Warmer
My heart pitter-pattered when I saw this Mid-Century Inland Carafe and Warmer. It doesn't appear to have ever been used and belonged to the mother-in-law of the lady hosting the sale.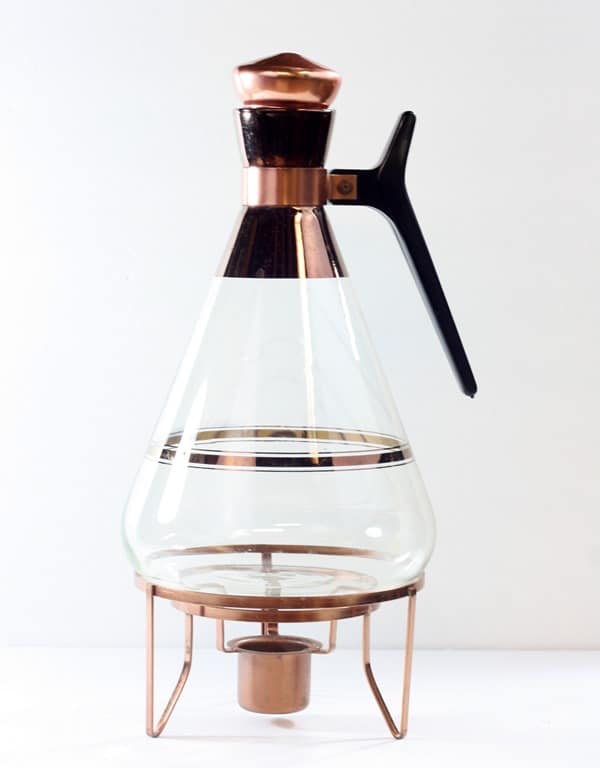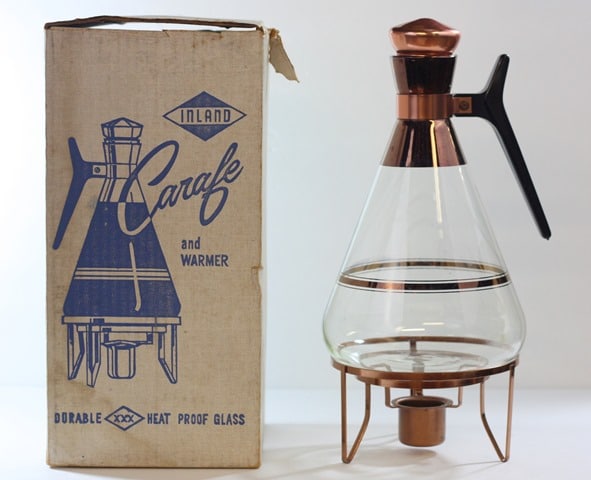 I'm not sure if I'll keep this charmer or if I'll try to sell it in my next pop-up sale on October 22.
International Silver Company Radius Martini Set
This Mid-Century International Silver Company Radius Martini Set belonged to the same mother-in-law. Labels are on all of the glasses and the caddy, so once again, this item appears to never have been used.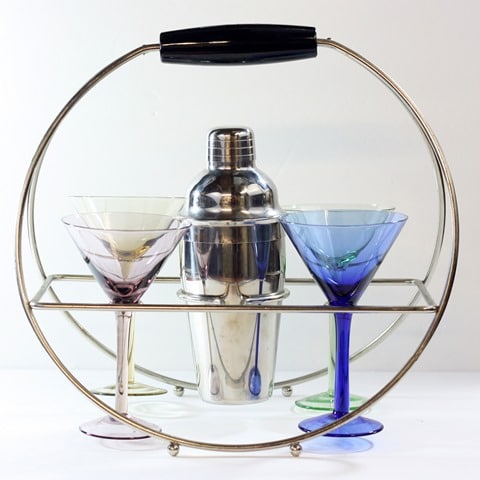 Wouldn't this look great displayed on a bar cart or bar?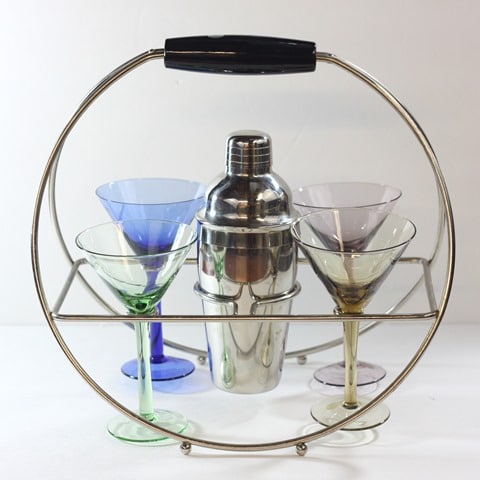 I have neither a bar nor a bar cart, so I doubt that I'll keep this but to tell you the truth, it's going to be hard to let it go.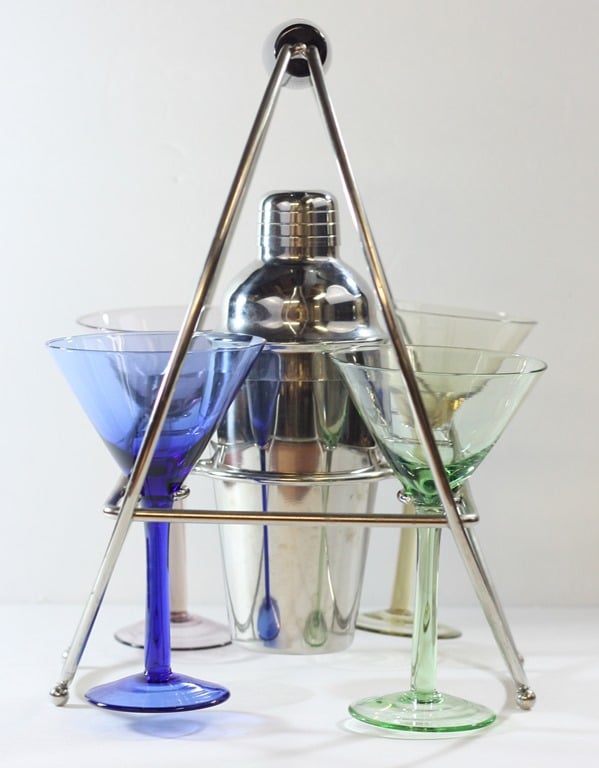 Here are the stickers still on the handle of the caddy.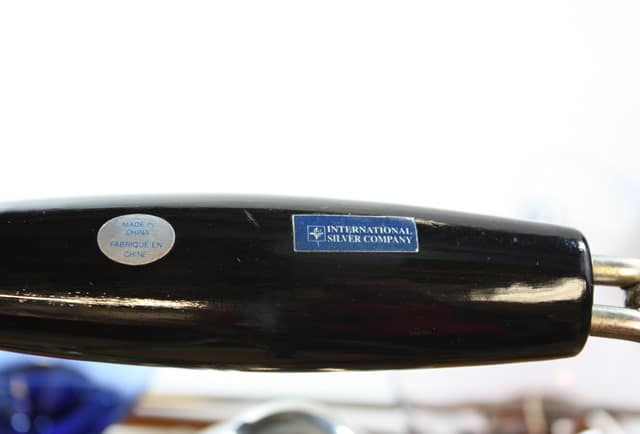 The next set of items came from Violet and Flay's sale. Violet obtained most of these things from a neighbor who had to move.
Hobnob Milk Glass Ashtrays
Have you ever seen hobnob milk glass ashtrays? I certainly hadn't until I spotted these. The larger ashtray would make a great candle holder and the smaller two would be perfect on a dresser to hold rings or earrings.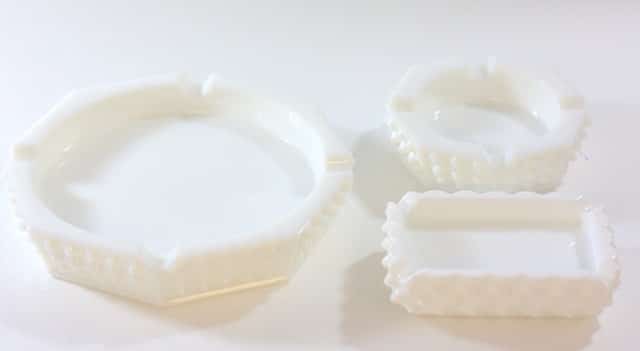 Glass Ashtrays
These two glass ashtrays could also be used for something other than cigarette ashes. The glass patterns are too pretty not to be used for décor.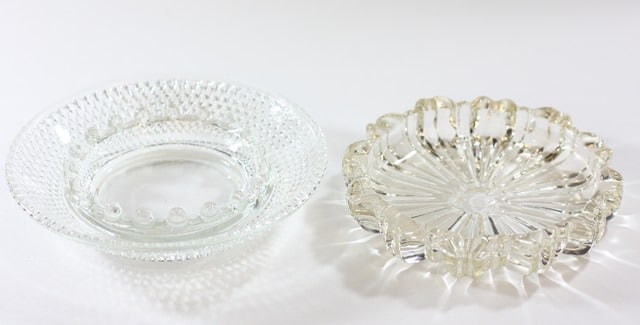 Fenton French White Covered Powder Holder
This Fenton powder holder reminded me of my grandmothers and I couldn't help but buy it. It's now at home on my dresser. (You can see my 1920's Bird's Eye Maple dresser here.)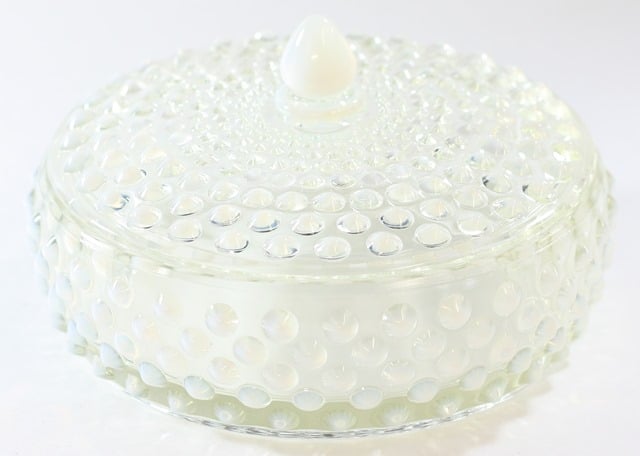 1898 Aunt Charlotte's Stories of Bible History for Little Ones
I love old books and couldn't pass up this 1898 Aunt Charlotte's Stories of Bible History for Little Ones.
It's full of beautiful illustrations.
These weren't the only treasures that I found at the sale. I also scored a 1960's, like new, Tupperware ham or turkey holder and an end table that I can't wait to paint for my October 22 sale.
I'm going to have to make a point of scouting out yard sales in the next few weekends because before I know it, it will be cold and yard sale season will be over.

Coming Soon!
I'll be back on Thursday to share my new fall front door décor! Not only did I make something fun for my door, I cleaned the porch and planted some mums in our urns.