Family Room Winter Decorations + Our New Chair
Can you believe that it is already the third week of January? Our family room is decorated for winter and we've been enjoying the room's winter decor all month. Today I'm sharing my winter decorations and our new budget-friendly family room chair.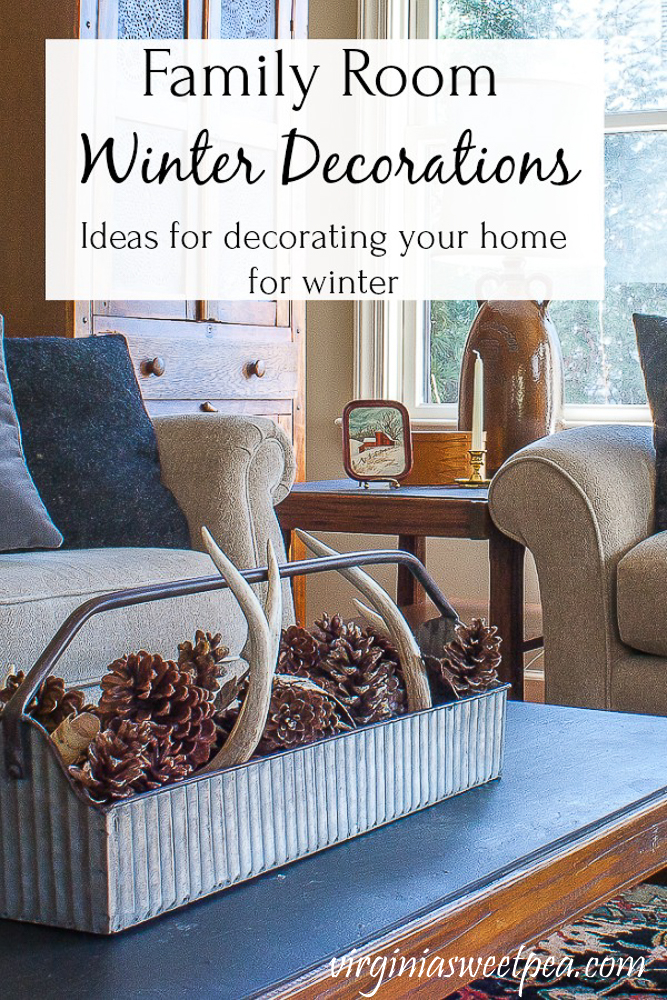 Family Room Winter Decorations
We love relaxing in our family room each night. I'm on one sofa and Mr. SP is on the other and Sherman is either on the floor getting petted or in "his" leather chair.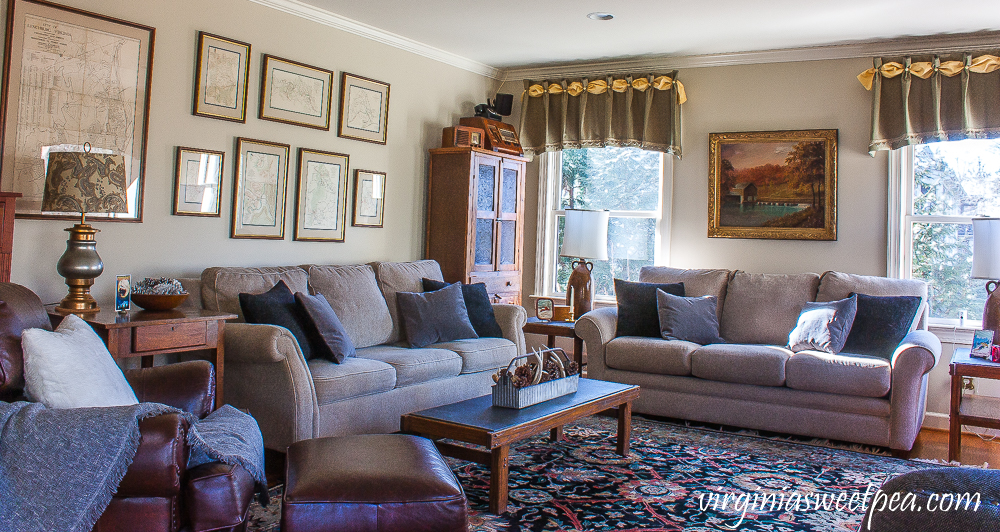 Coffee Table and End Table Winter Decor
I created a winter look for our coffee table by filling a metal tool caddy with pine cones, deer antlers that Sherman found, and birch bark that I collected in Vermont.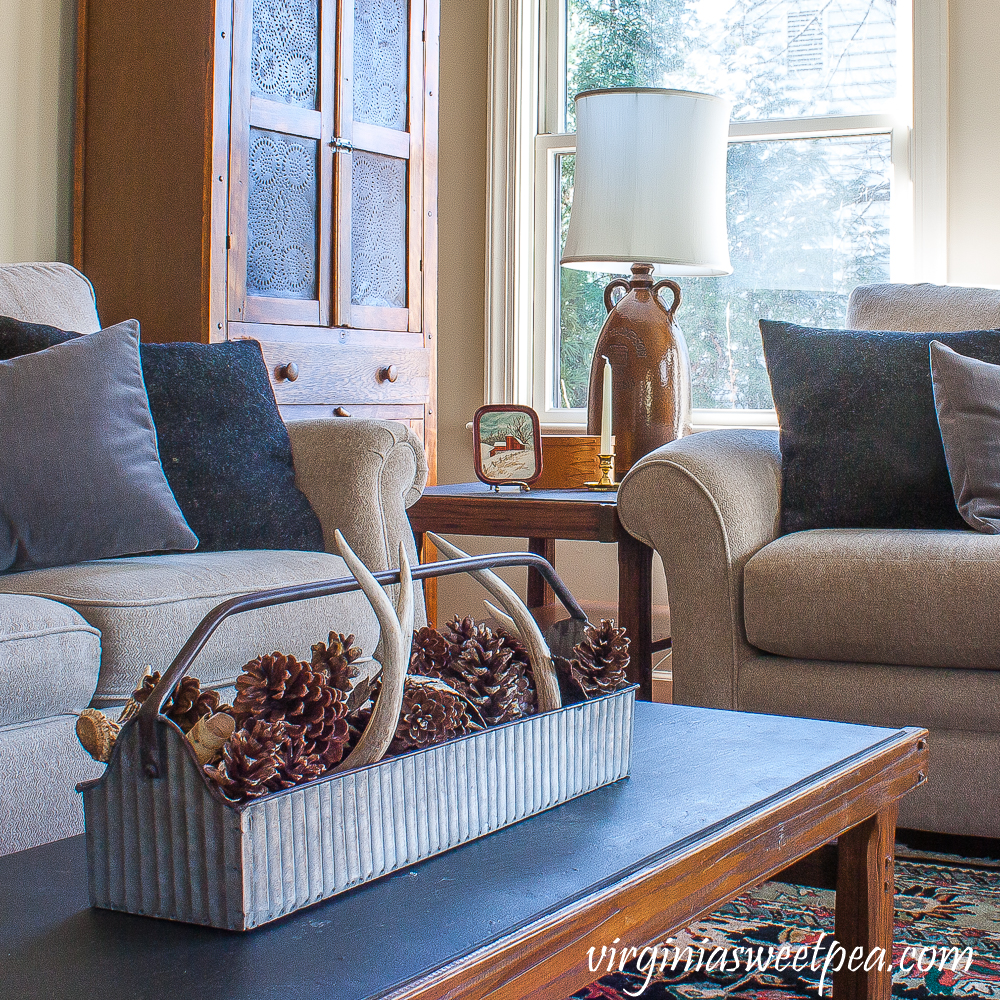 At Christmas, this tool caddy was filled with Sherman's gifts. Santa brought him too many presents and he still hasn't opened them all.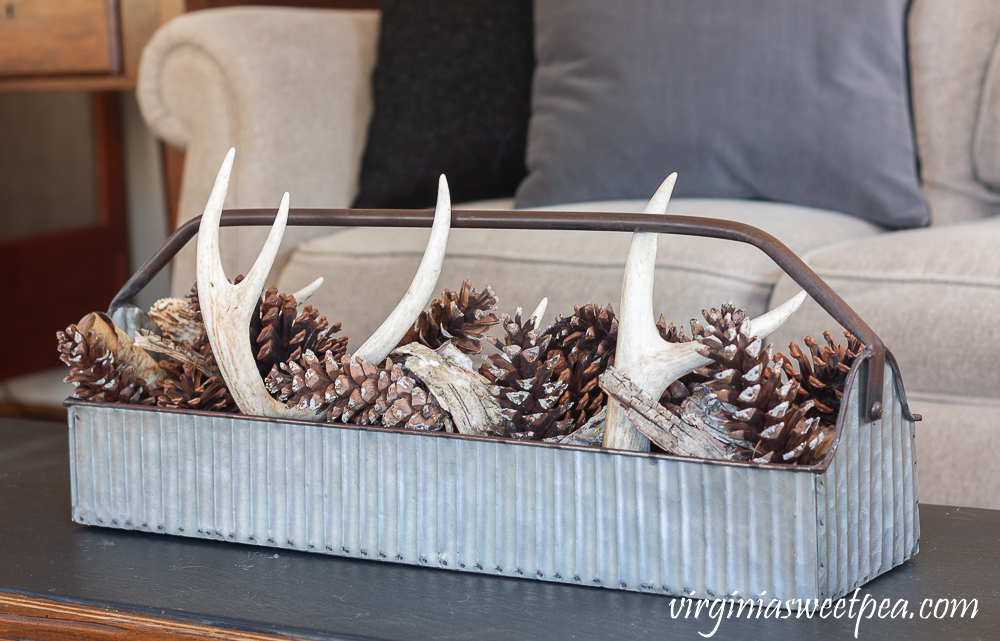 For a winter vignette on an end table, I used an embroidered winter farm scene, a handmade maple box, and a candle in a brass candle holder.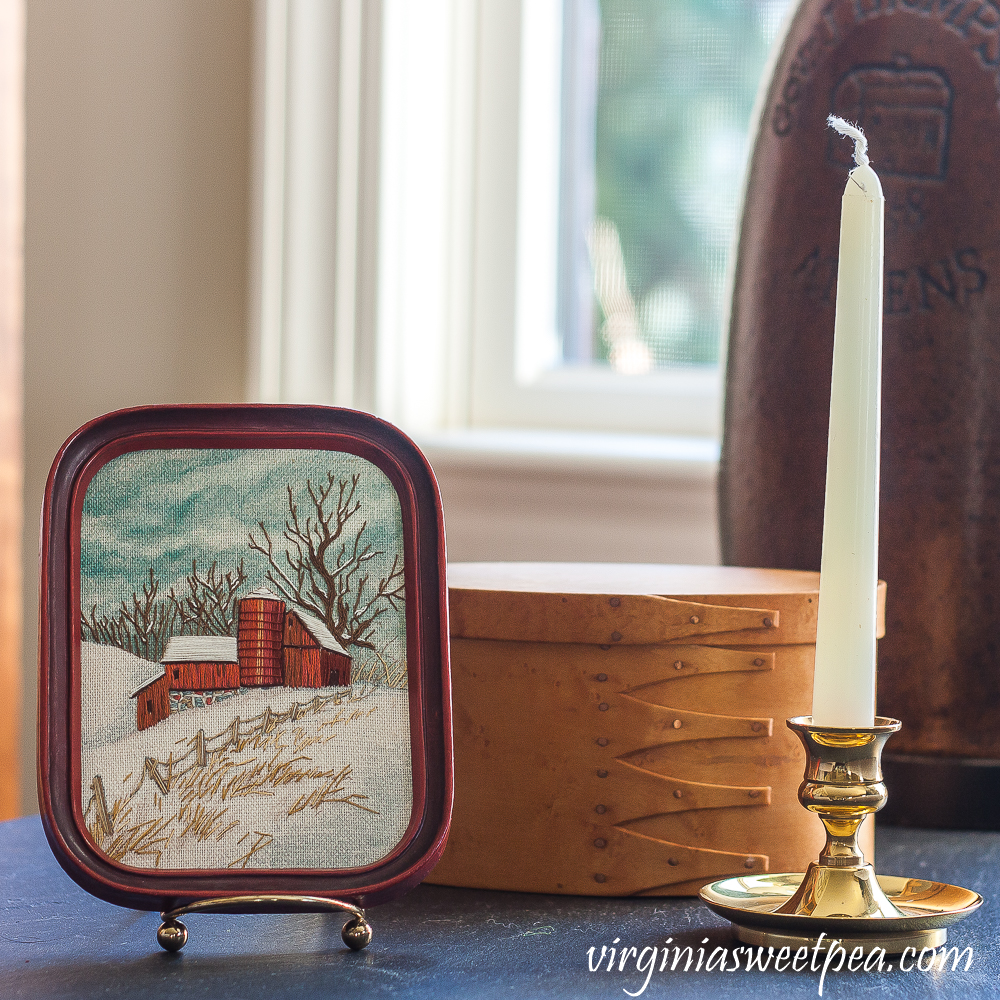 The needlework was a $1 thrift shop find when I traveled to New Mexico in November.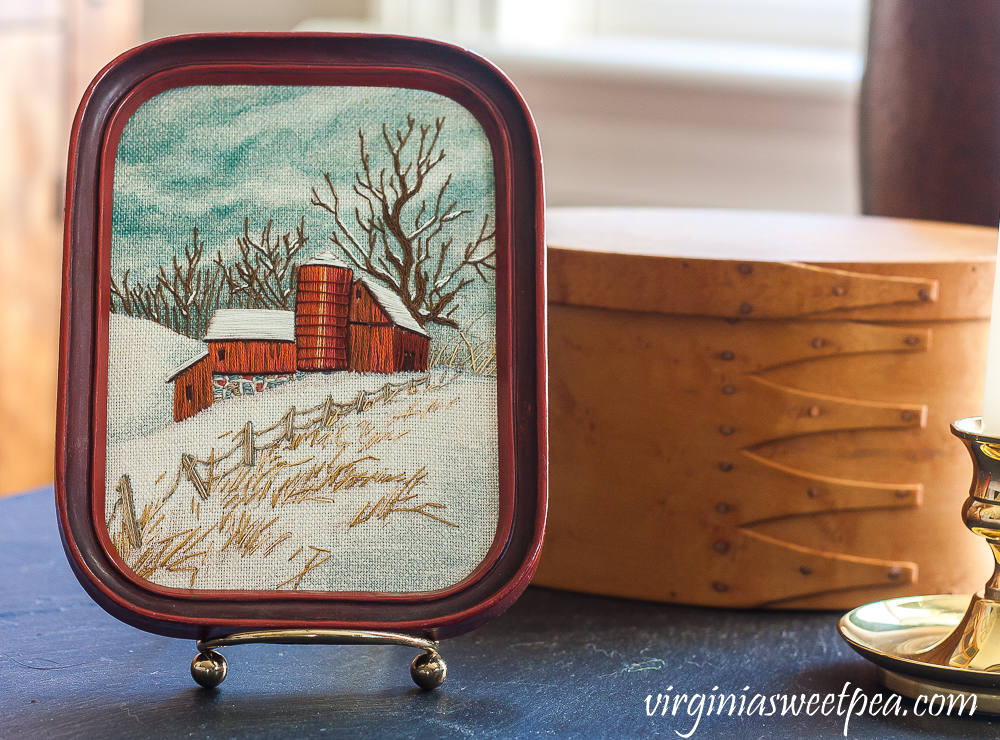 Winter makes me think about skiing and skiing makes me think about Vermont, so the other end table is decorated with a Vermont ski vignette. You can see my granddad's lantern in the background.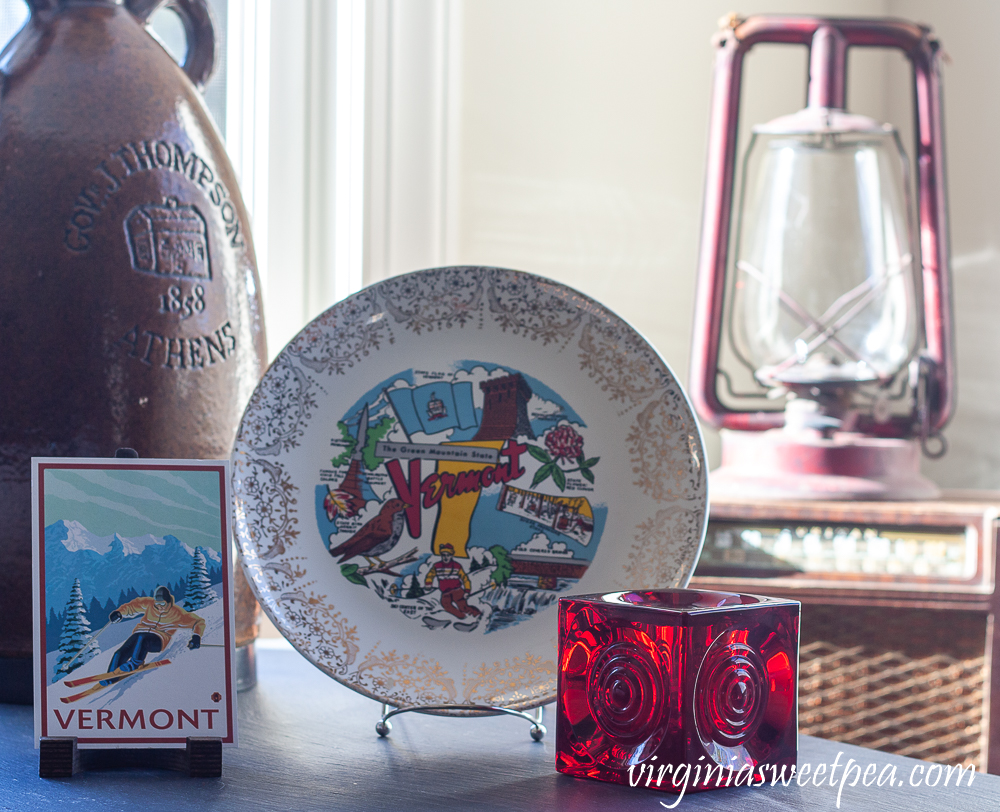 Our New Chair
For a few years, I've had a mid-century chair in our family room that at first I liked, but then after some time, I realized that mid-century just isn't my style.
Below is a picture of our family room taken about this time last year. You can see the mid-century chair and also the map that I had hanging over our sofa that I really had grown tired of. I put the map there because I had no other art to hang in that space that looked good.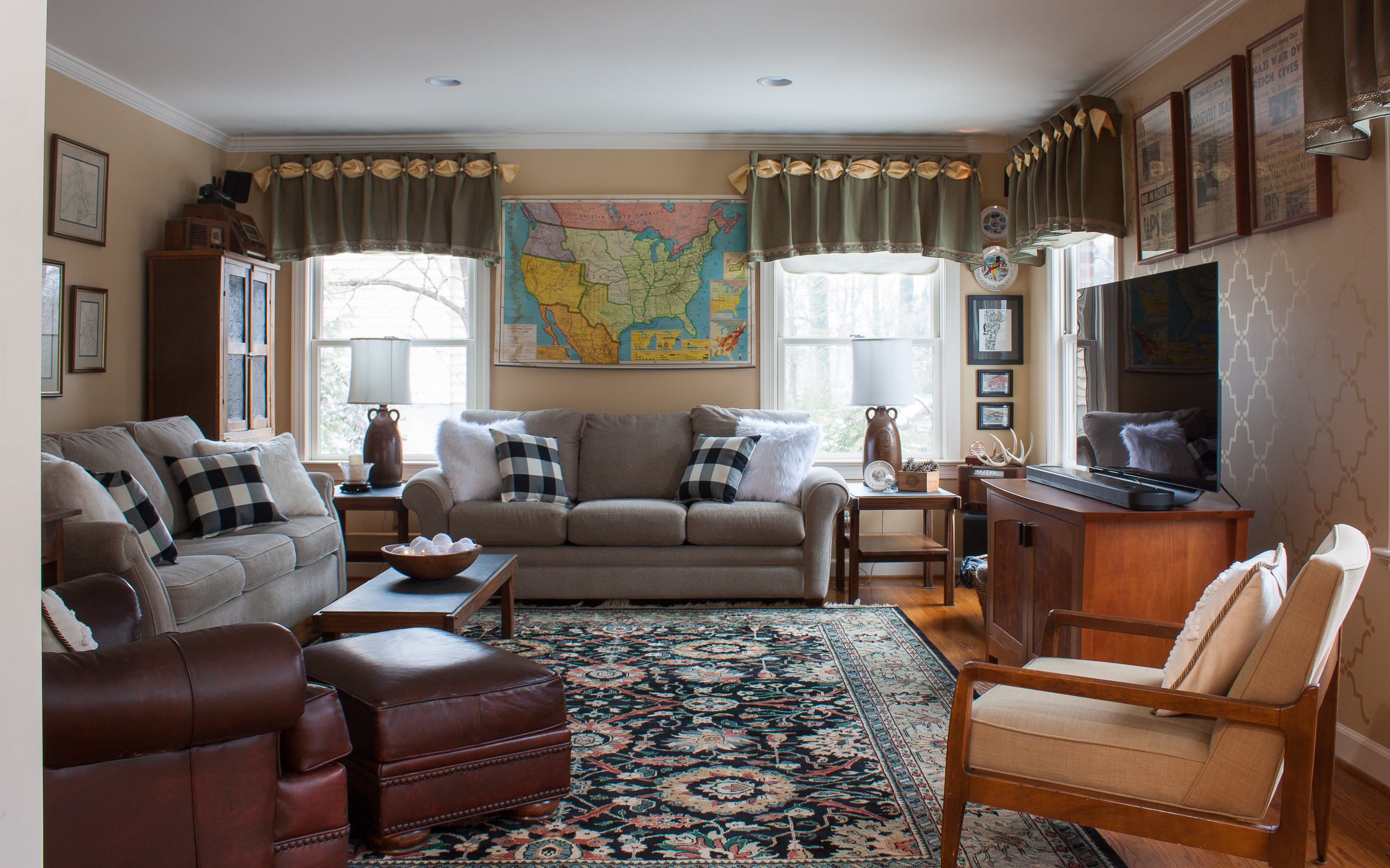 Since last year I found a new home for the map. I listed it for sale on Facebook and my cousin who lives in Missouri happened to see my post. She told me that her husband would love it, so I wrapped it up that day and mailed it to him. I am much happier passing a piece on to a family member over selling it to a stranger.
I also painted the walls a lighter color and removed the Vermont memorabilia that used to hang to the right of the right side end table.
The art that I bought in North Carolina and used for my fall mantel is now in use in our family room where the map was last winter and I really like it in this spot.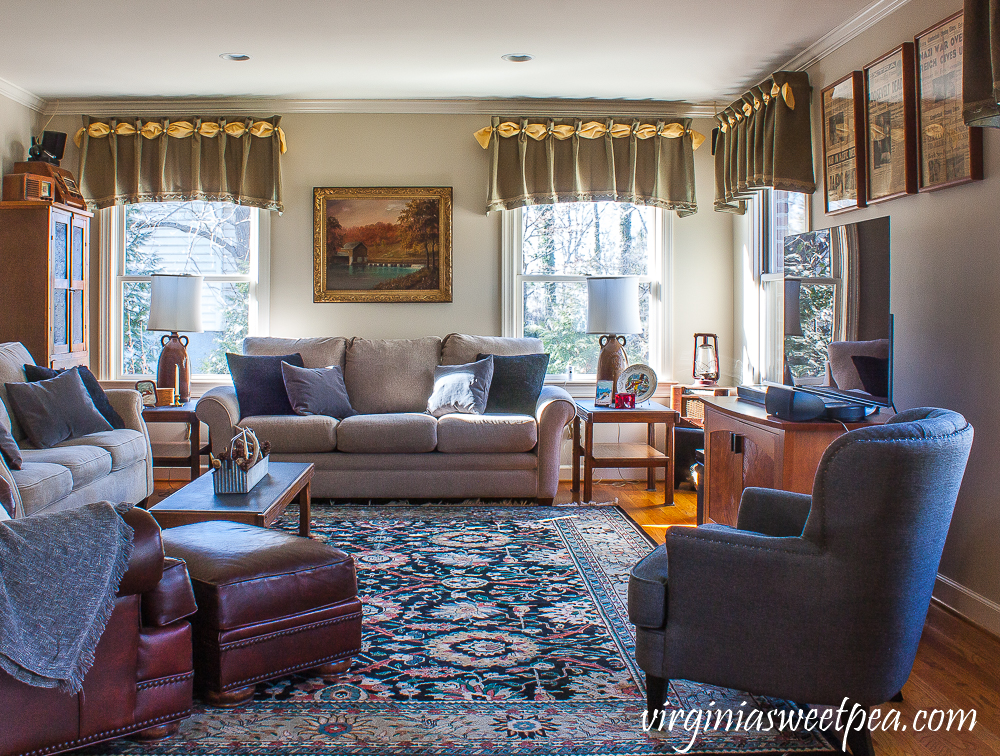 I shopped around online for a chair to replace the mid-century one and ordered this one from Amazon. It was inexpensive and I like how it looks in this room a lot more than the mid-century one.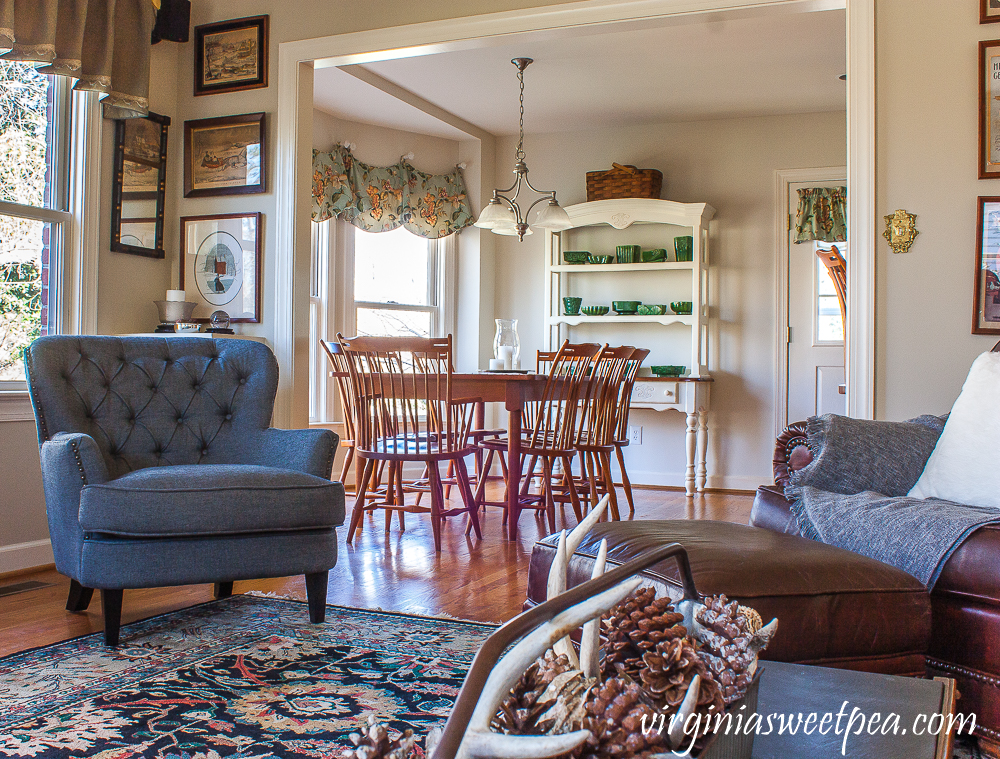 I was a bit nervous about ordering furniture, but this one had free returns, so I bit the bullet and ordered it. I like its tufted back, nailhead trim, and how its color coordinates with our rug.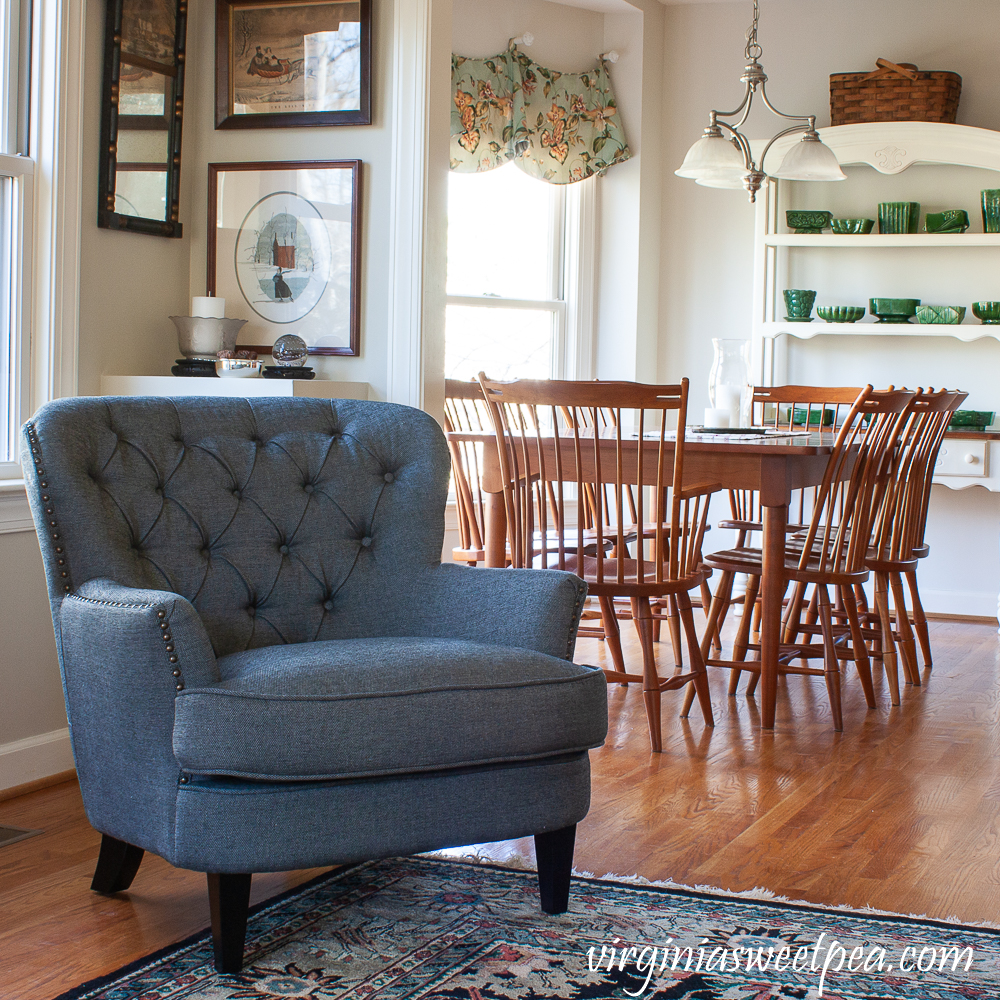 Now that I have a new chair in this spot that I really like, I need to sell the mid-century chair. I bought it at an antique shop in Lynchburg and had it recovered, so it shouldn't be too difficult to sell.
Winter Scene Behind the Chair
I switch the art in this corner for the season. The winter look includes antique art that I collected over the years and a P. Buckley Moss cross-stitch that I completed in college. My aging eyes couldn't do intricate work like this nowadays.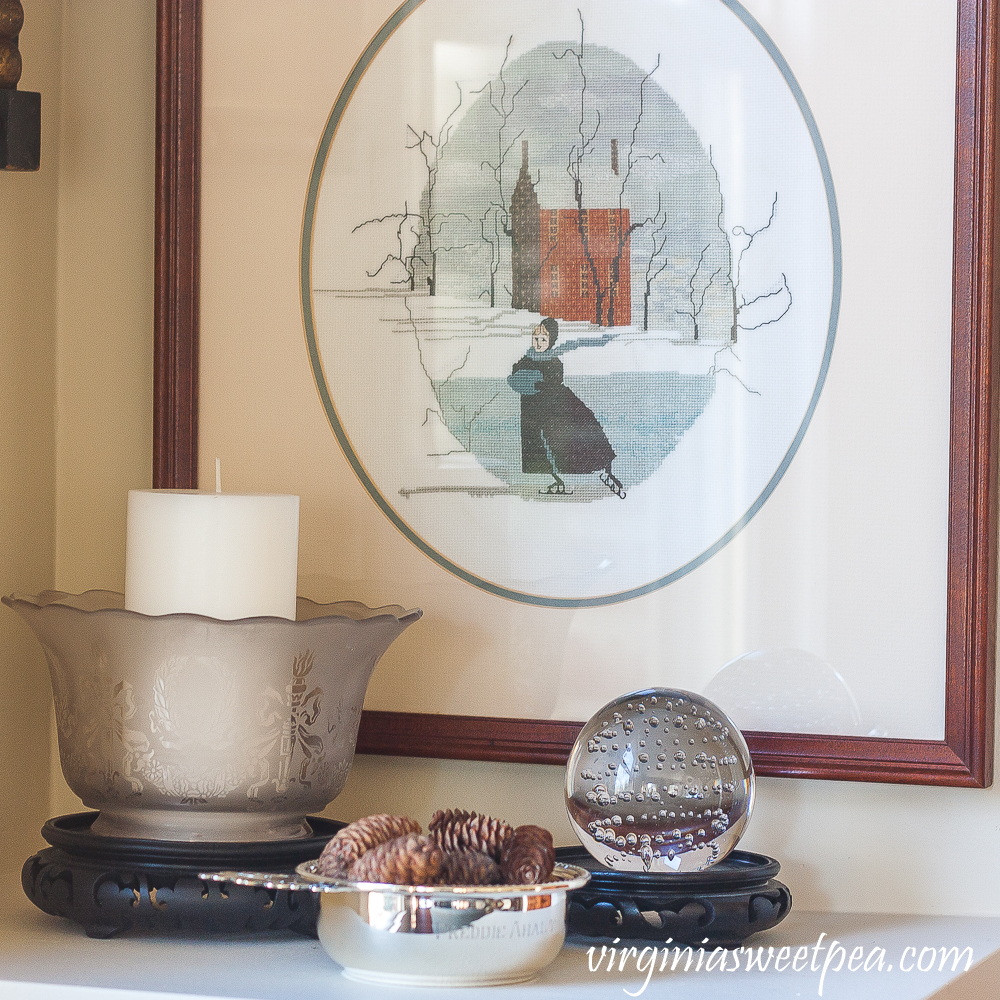 On the shelf is a wall sconce shade from the farm where my grandfather grew up, my dad's 1941 porridge bowl, and a glass ball with bubbles that belonged to my grandmother.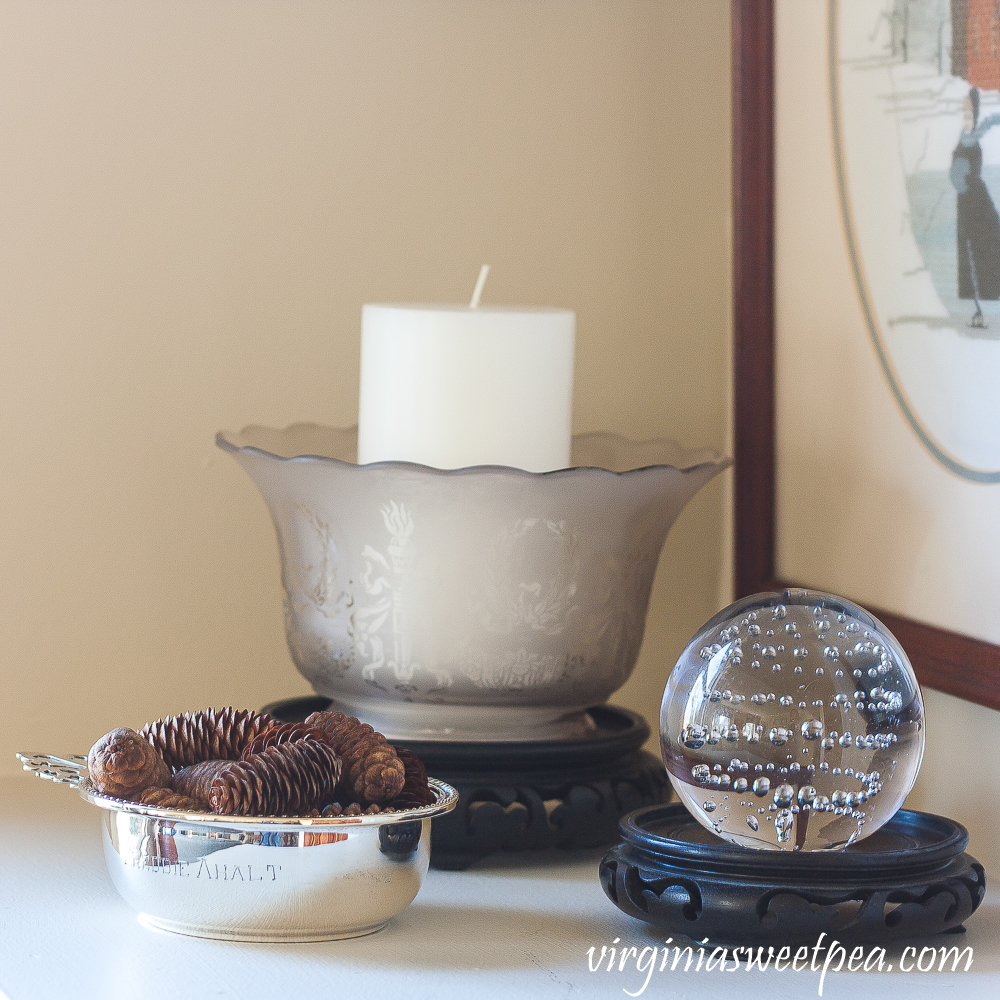 Cozy Winter Corner
Cozy pillows and throws add texture to the chair and to the sofas. I made all of the pillow covers and the throw was an inexpensive Ikea purchase.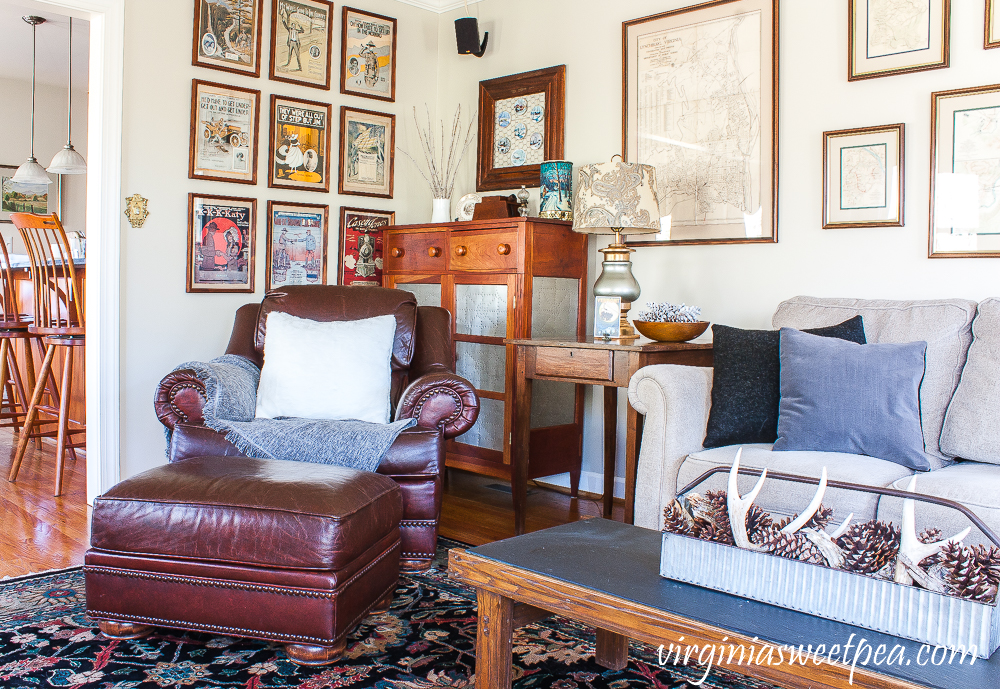 On our fall Vermont trip, I found this postcard and knew that I would enjoy displaying it in winter. Beside it is a vintage wood bowl filled with pine cones that I sprayed with faux snow.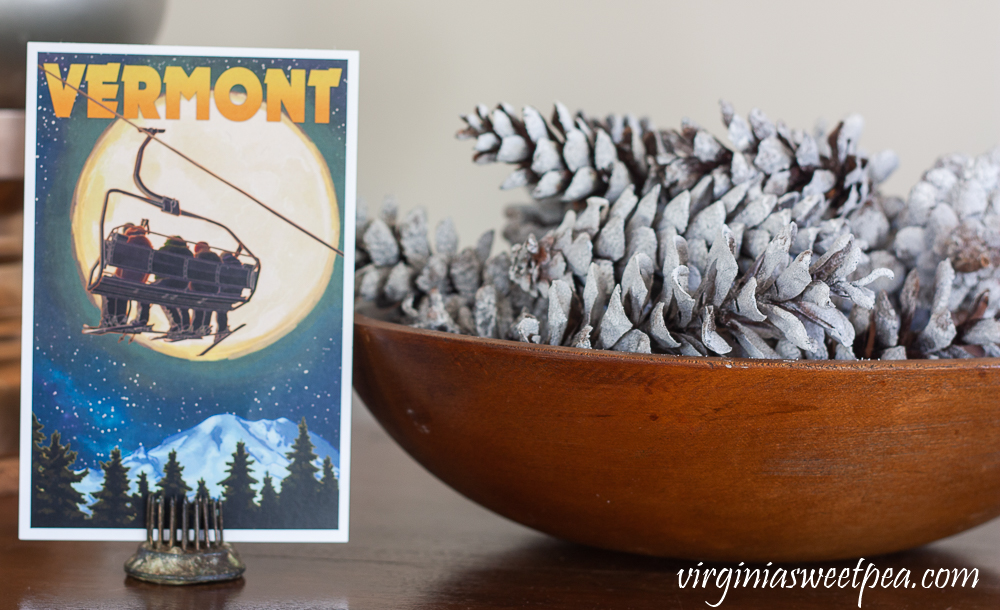 The pie safe in the corner is a favorite spot to decorate seasonally.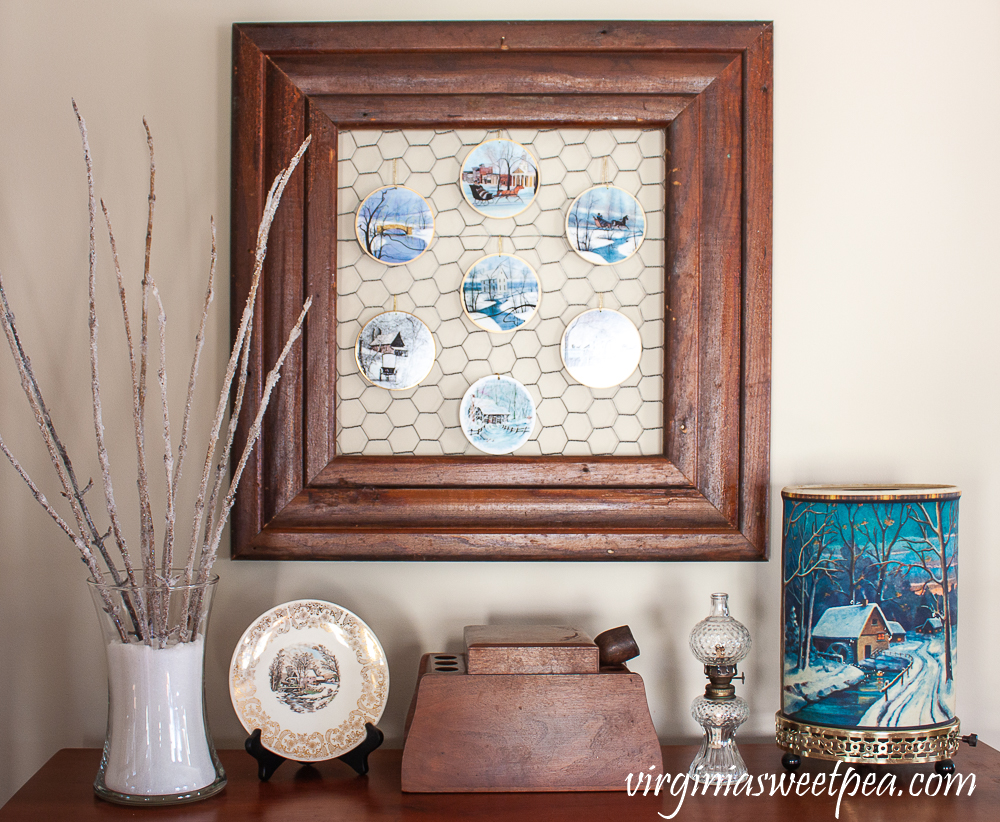 When we undecorated our Christmas tree, I set aside P. Buckley Moss Christmas ornaments that had a winter look and hung them on the framed chicken wire. This piece is great for displaying postcards or art. You can read about the history of the wood that we used to make it here.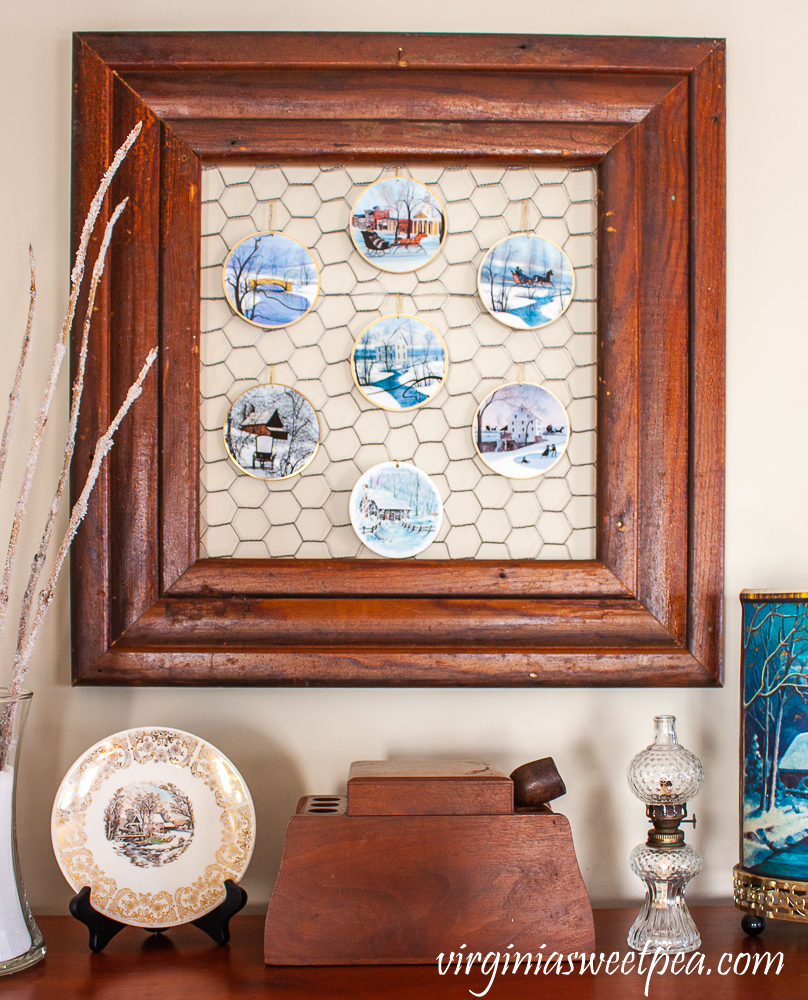 My granddad's pipe and tobacco box is on display along with my beloved Econolite. The small oil lamp was my dad's and my grandmother gave it to me when I was a little girl.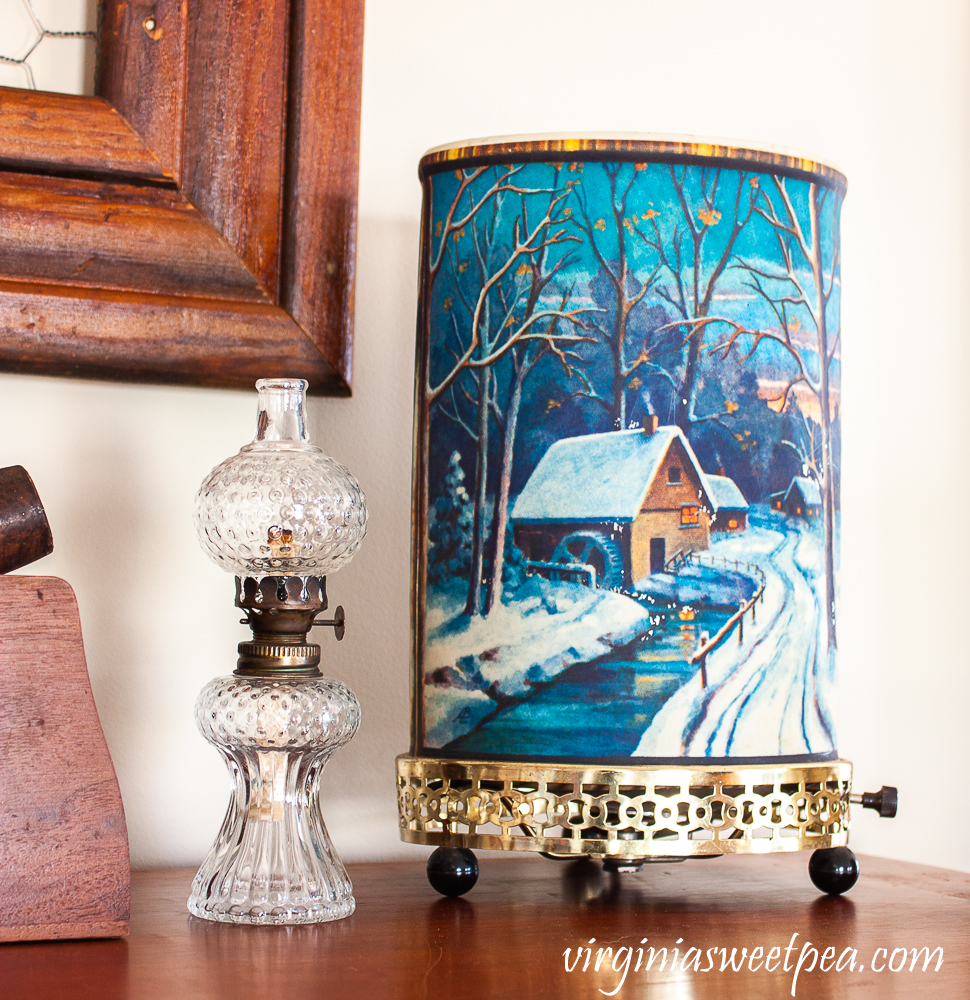 For the left corner of this winter vignette, I clipped some branches from our yard and covered them with Epsom salt using this method. They are displayed in a florist vase and held in place with more Epsom salt.
Beside it is a Knowels plate that I found a long time ago at an antique shop.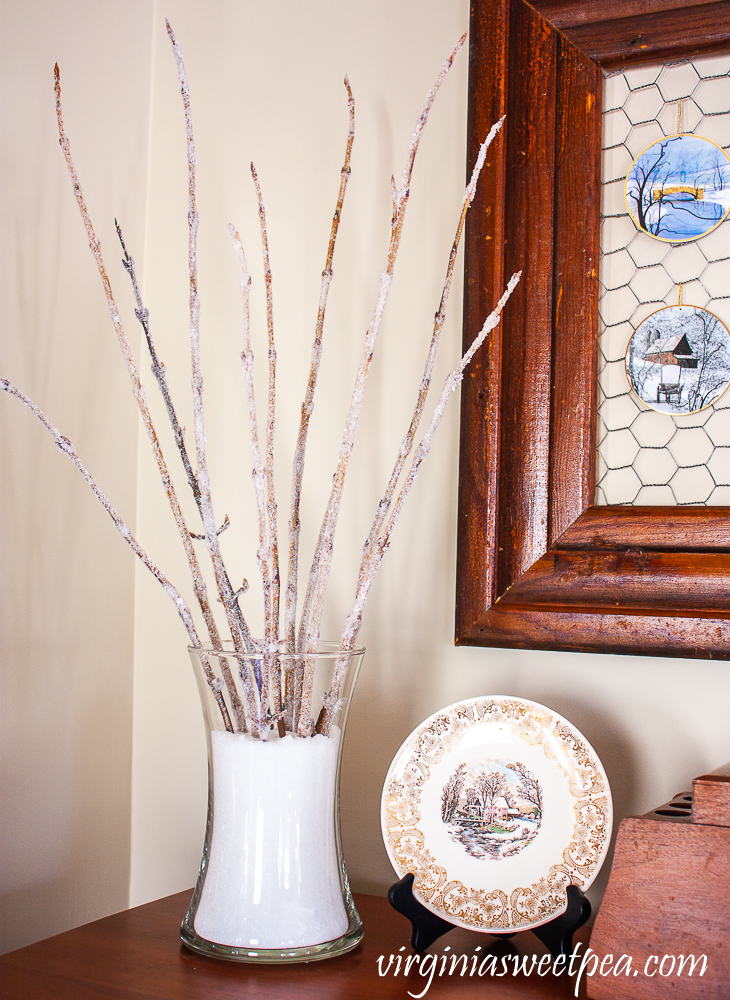 We'll continue to enjoy the winter decorations in this space until a new season rolls around.
You may also enjoy these winter decorating ideas.