I am at the stage in life where I do not need to buy more vintage but I can't help myself when I see something that I really like. Today I'm sharing my Latest Vintage Finds.
Latest Vintage Finds
The best way to avoid buying vintage is to not shop for it. I've been very good lately about not buying new things but a few recent stops at a yard sale, a consignment shop and an antique store yielded treasures that I couldn't resist buying.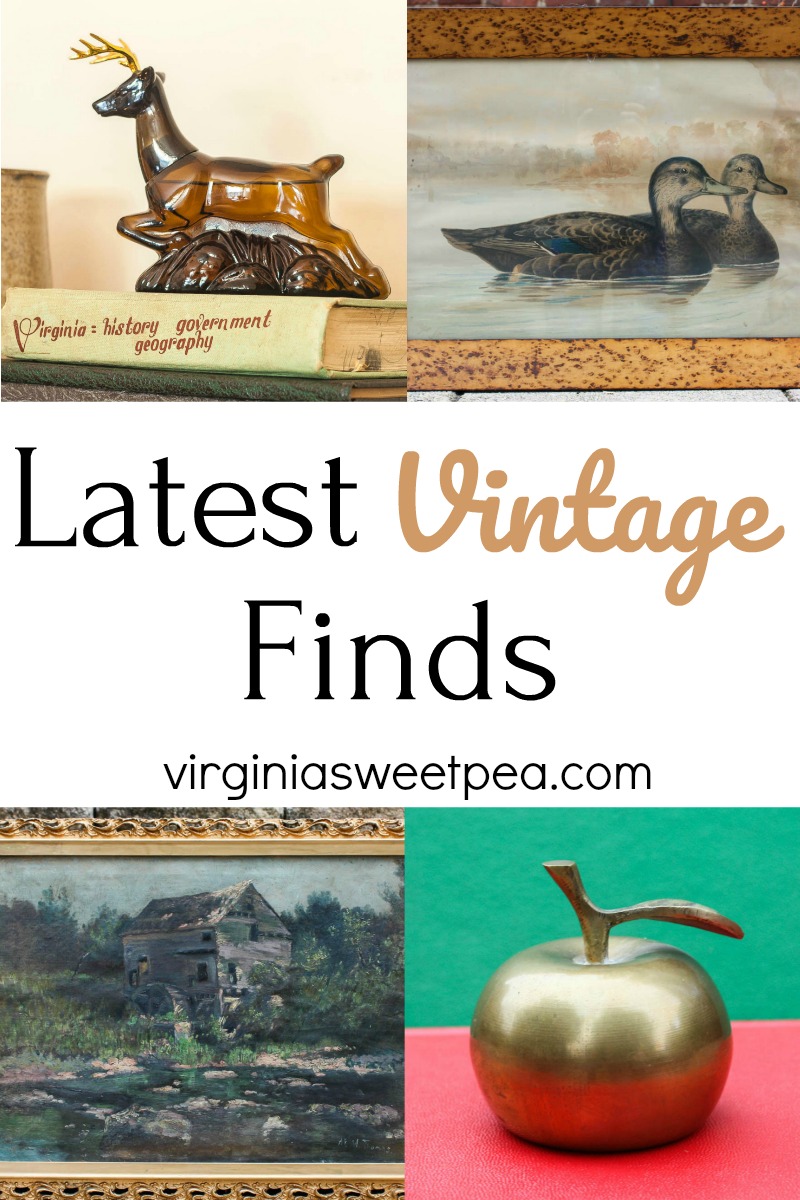 Consignment Shop Find
When we were on vacation in Vermont earlier this month, I went into a consignment shop in Woodstock while Mr. SP and Sherman browsed in a bookstore.
When I saw this duck chromolithograph, I couldn't stop looking at it. I walked away from it a few times and then I decided that it would look great in our lake house, so I purchased it for $80.
The artist is Alexander Pope, Jr. (1849-1924). I can't tell if this is a print or an original. What do you think?
Framed prints of his work sell on eBay for $350 and up and the frames aren't nearly as beautiful as this one.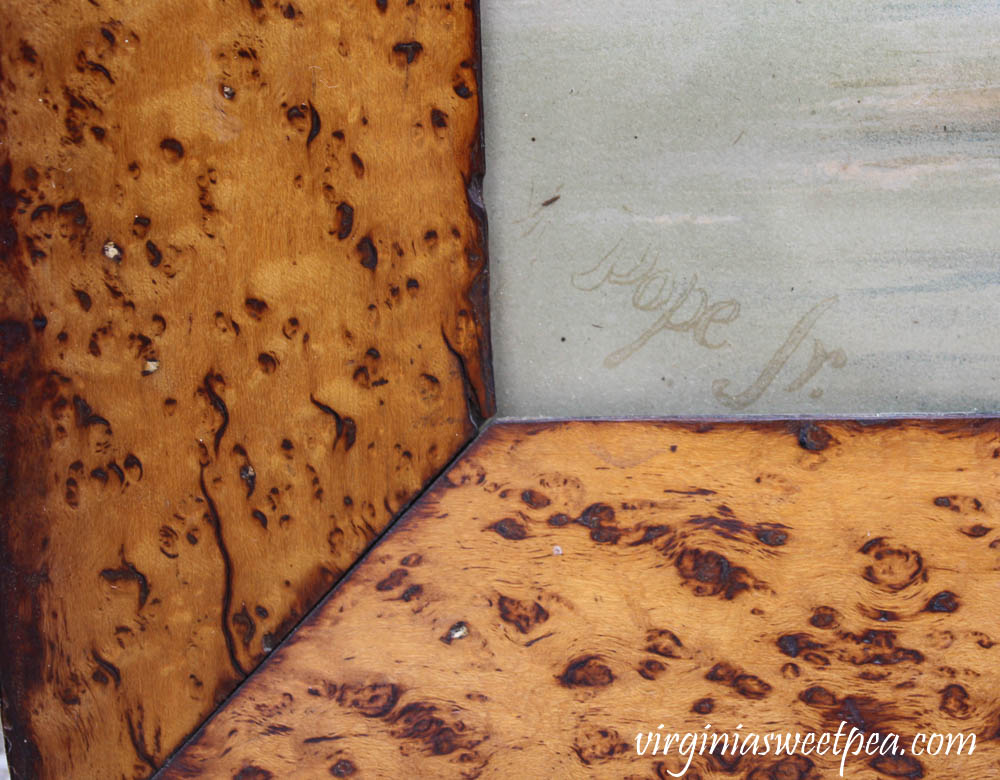 I think that this was a great purchase and well worth $80.
Yard Sale Finds
I hardly ever go to a yard sale, but when I saw one at the Tuck Farm in Bedford, I had to stop because a previous yard sale there was a jackpot of vintage goodness.
This yard sale did not disappoint! The homeowners, Violet and Flay, are the sweetest people and like when I stopped at a previous sale, they were fun to talk to.
Violet was selling some of her things along with things that belonged to her great-aunt. ALL of what I'm sharing below was purchased for $20. Violet wanted it TO GO and I didn't mind helping her out.
Mill Painting
This mill painting immediately caught my eye at the yard sale. Not only did I like the painting, I also loved the frame.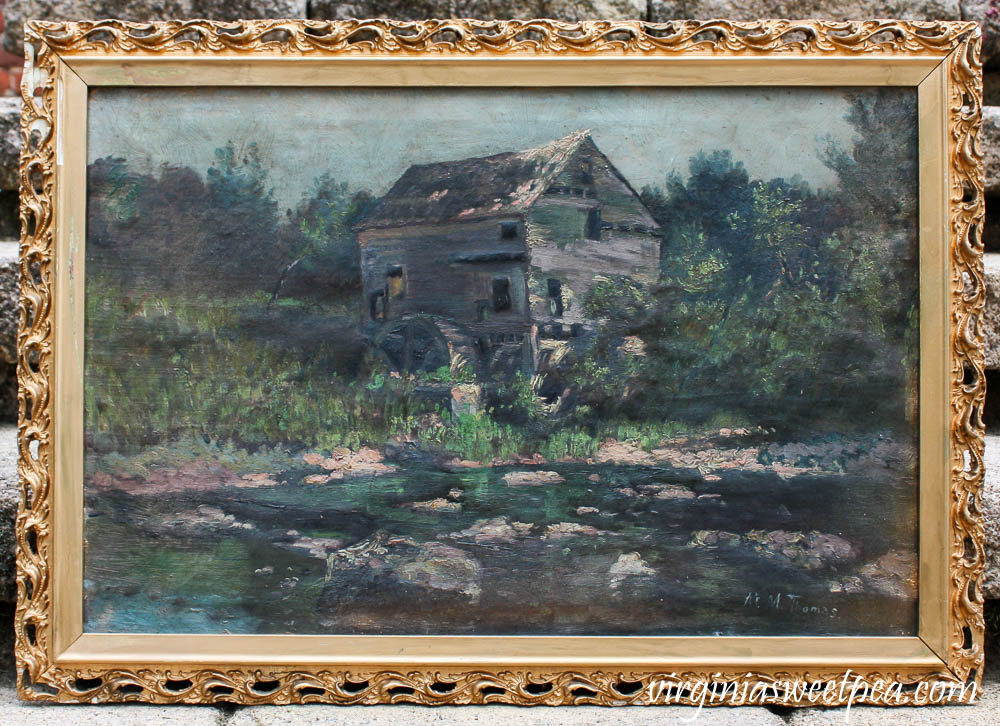 This piece is signed, M. M. Thomas. I haven't been able to find out any information on this artist.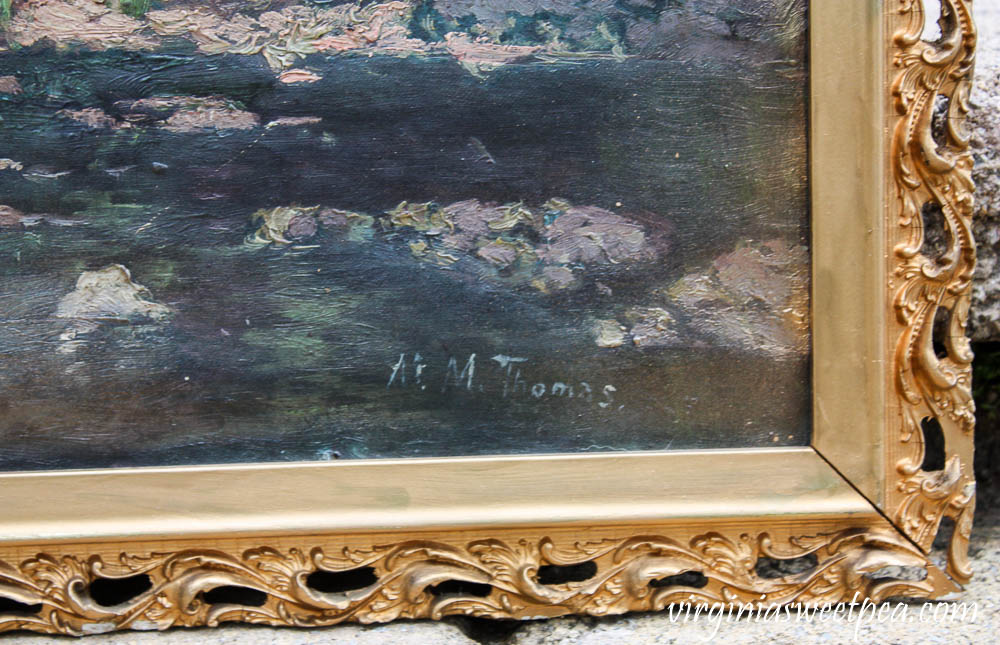 I feel almost guilty typing what I paid for this piece. $5.00!
Key Farm Photograph
The next thing that caught my eye at the yard sale was this framed photograph of the Key Farm located at the base of the Peaks of Otter in Bedford, VA.
The mountain on the left is Sharp Top (see mountain top views in this post) and the mountain on the right is Flat Top. The Blue Ridge Parkway meanders through this area.
We used to ride our bikes both along the parkway and on Bedford County country road with views like this. I also used to run in the mountains and one run was to the top of Flat Top.
I couldn't resist buying this framed photograph since I grew up with cows and this photograph is shot in a place where I have fond memories.
Price – $5.00
Framed Mirror
The next item that I discovered that Violet had for sale was a beautiful old framed mirror that belonged to Violet's great-aunt.
Did I need this? No! But I had to give this beauty a loving home. Hopefully I can use it in our lake house basement.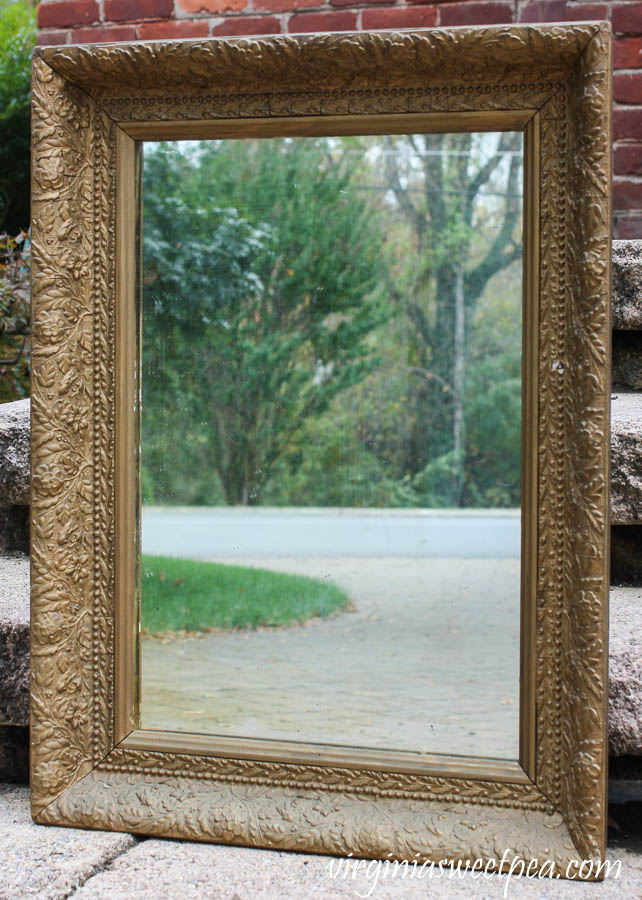 The frame has really pretty detail.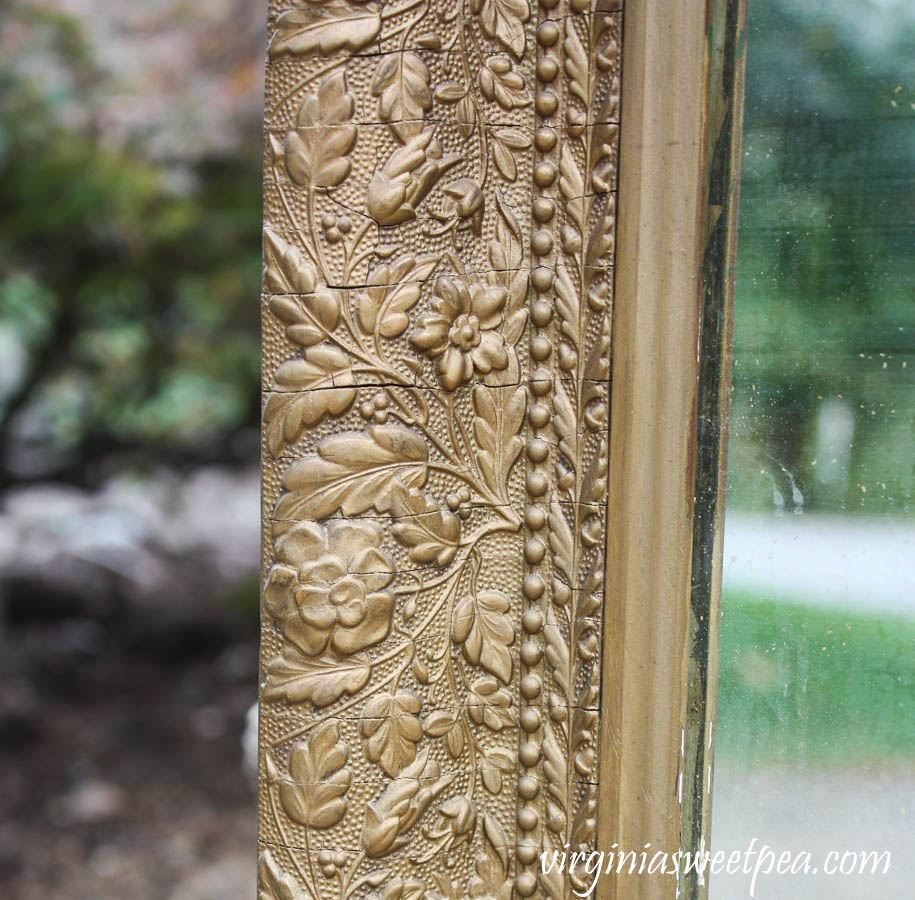 Price – $6
Vintage Christmas Books
My next purchase was two 1963 Christmas books. I bought these to use for Christmas decor and I think they'll make a great base for a vignette.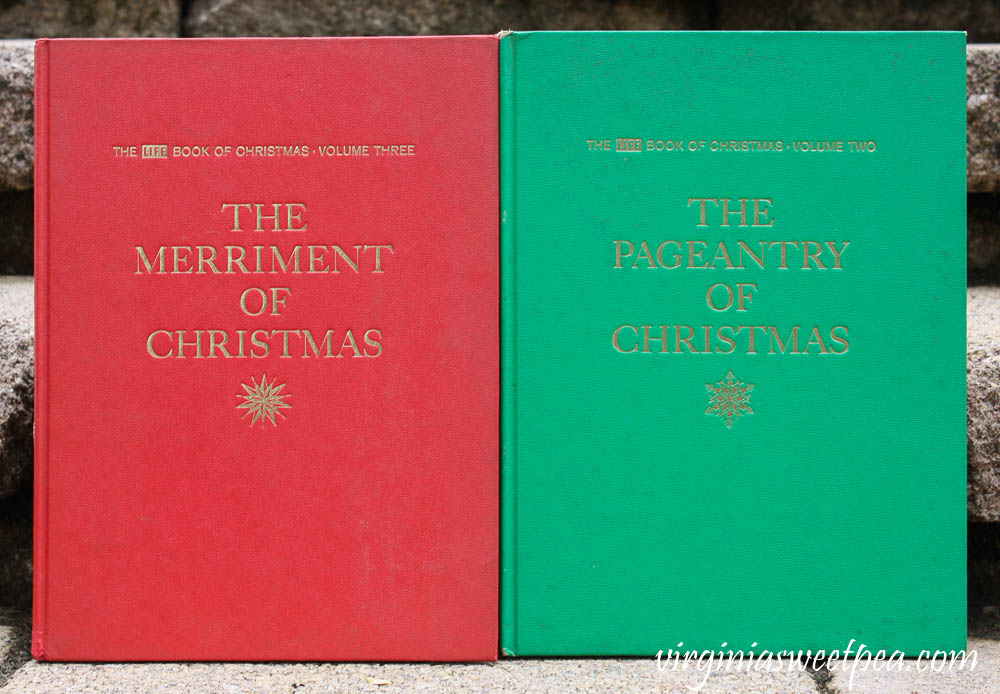 I'm going to enjoy looking through these books. I think that this 1963 craft is adorable. There are directions for making each thing in the back of the book.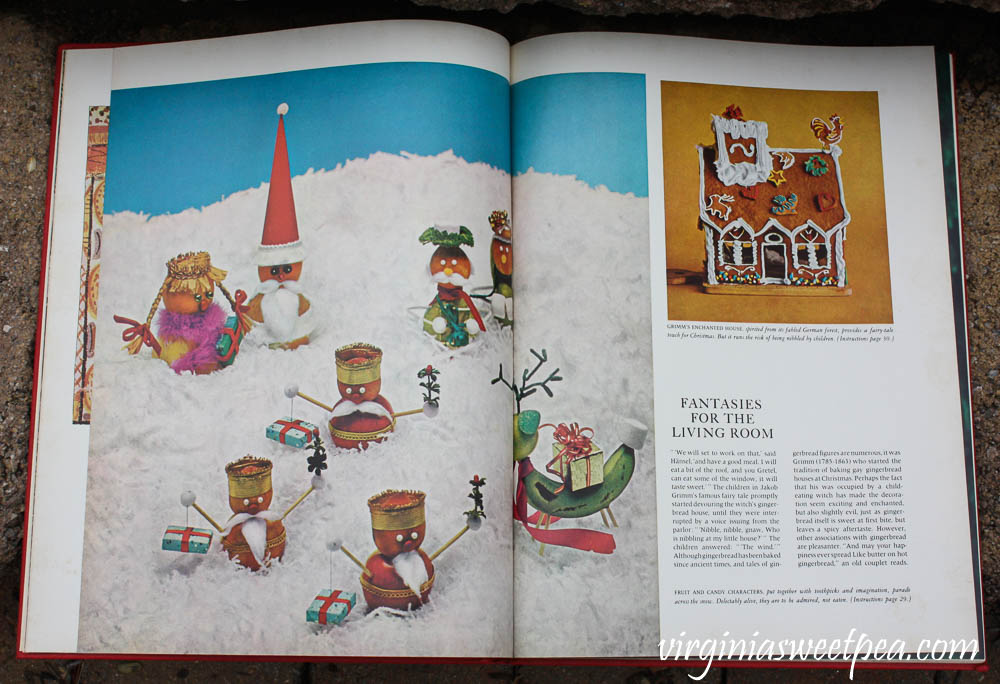 Here's a mid-century version of The Twelve Days of Christmas.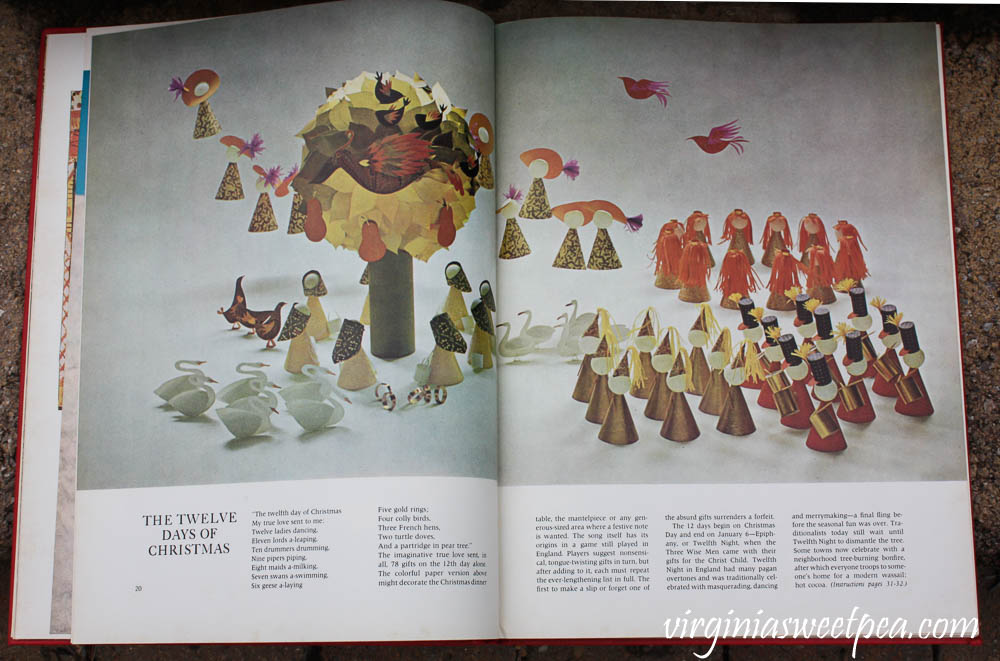 Brass Apple Bell
The last thing that I found at the yard sale was a brass apple bell. I decorated with an apple theme for summer to fall transitional decor and if I do something similar next year, this will be a nice addition to a vignette.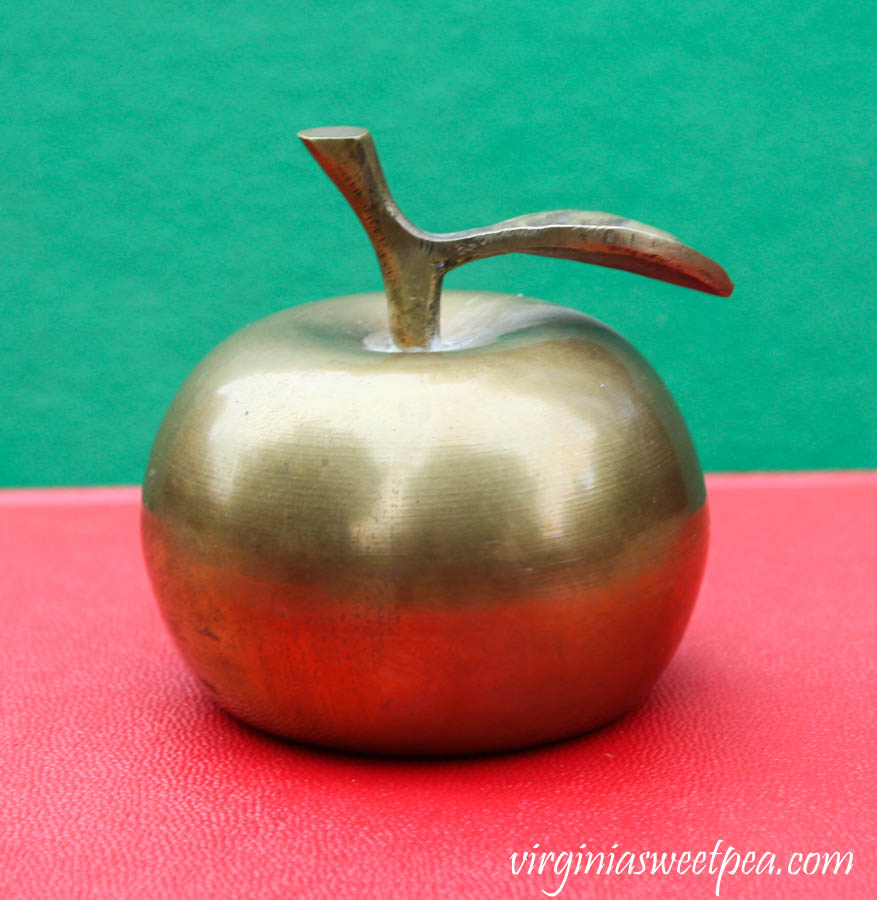 Price for books and bell – $4
Vermont Antique Shop Find
While I was in Vermont, I was on a mission to find a deer figurine to use for decorating Mr. SP's desk using a picture from Pinterest as my inspiration.
I got really lucky and found an Avon 10-point buck aftershave bottle in the first antique store that we visited. It was marked $5 but I got it for $4.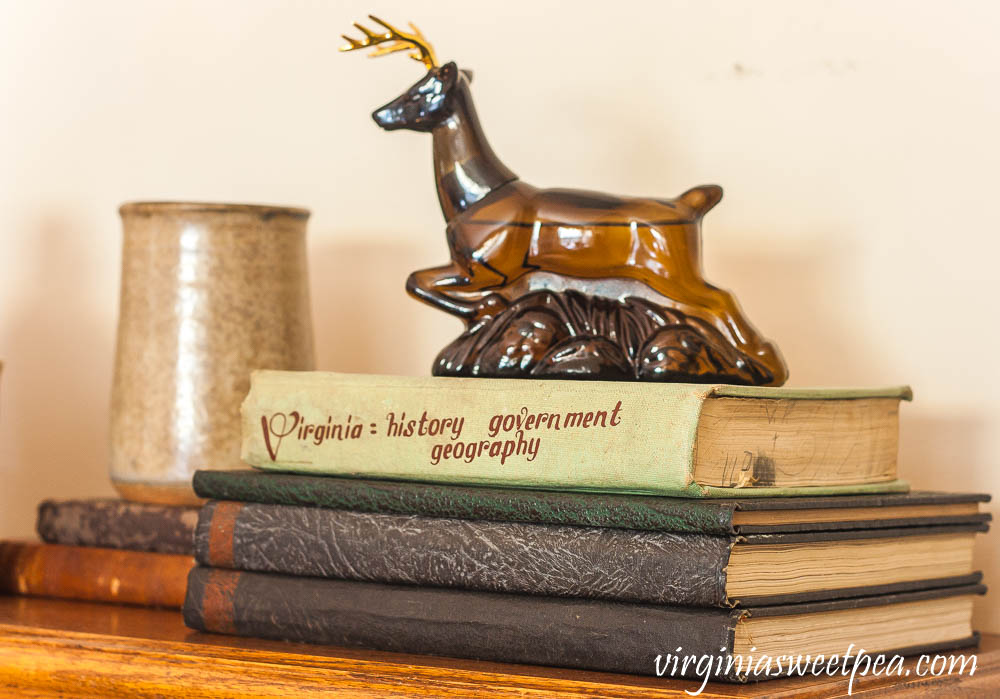 Vintage Card Table
This vintage card table belonged to my great-aunt who lived in my mother's 1913 home for many years. She kept it propped up in front of a non working fireplace in the parlor.
Being a horse girl, I always loved it because of the hunt scene printed on the top of the table.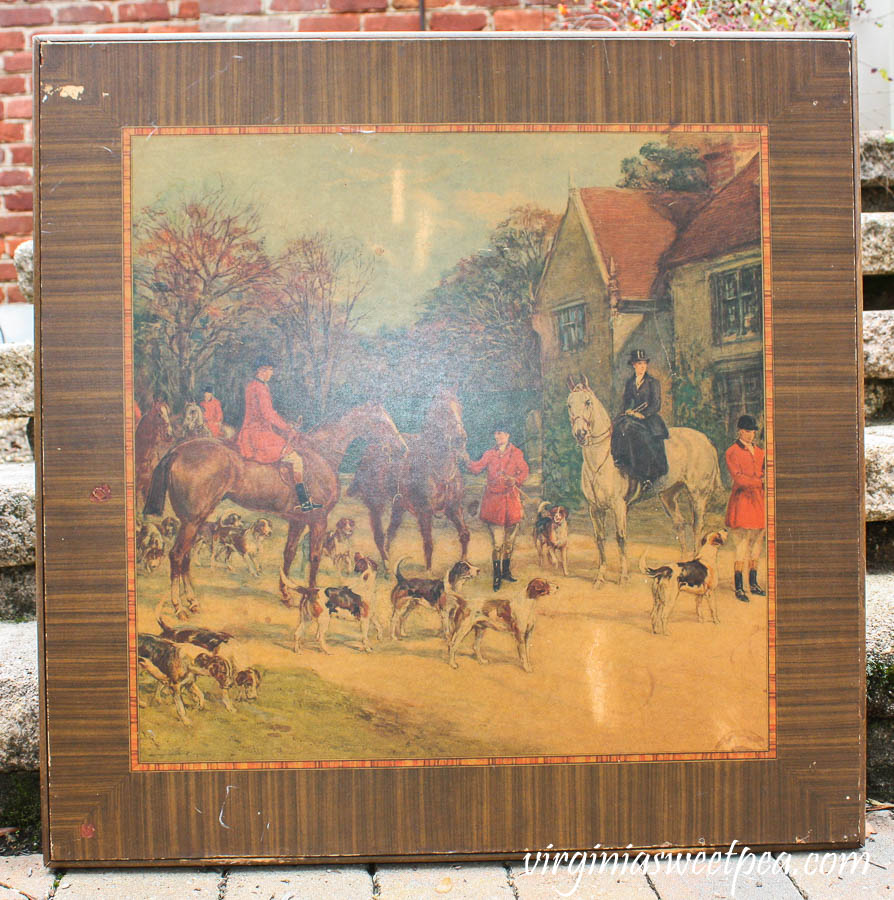 One of my cousins sold this to my mom who gave it to me. I'm hoping to hang it somewhere.
Do you see the box of Bittersweet in the background? My cousin cut this for me and I can't wait to share with you how I used it for decorating my living room for Thanksgiving. Be on the lookout for that post at the beginning of November.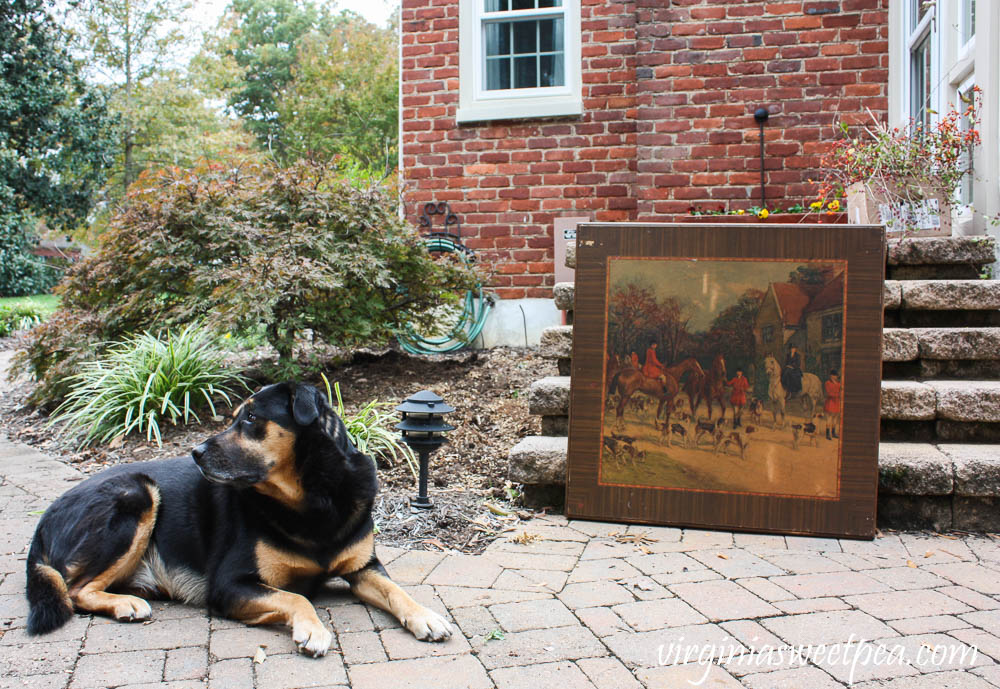 Sherman helped when I took pictures of my vintage things. He loves to be outside and if I'm working in the yard or doing anything outdoors, he joins me.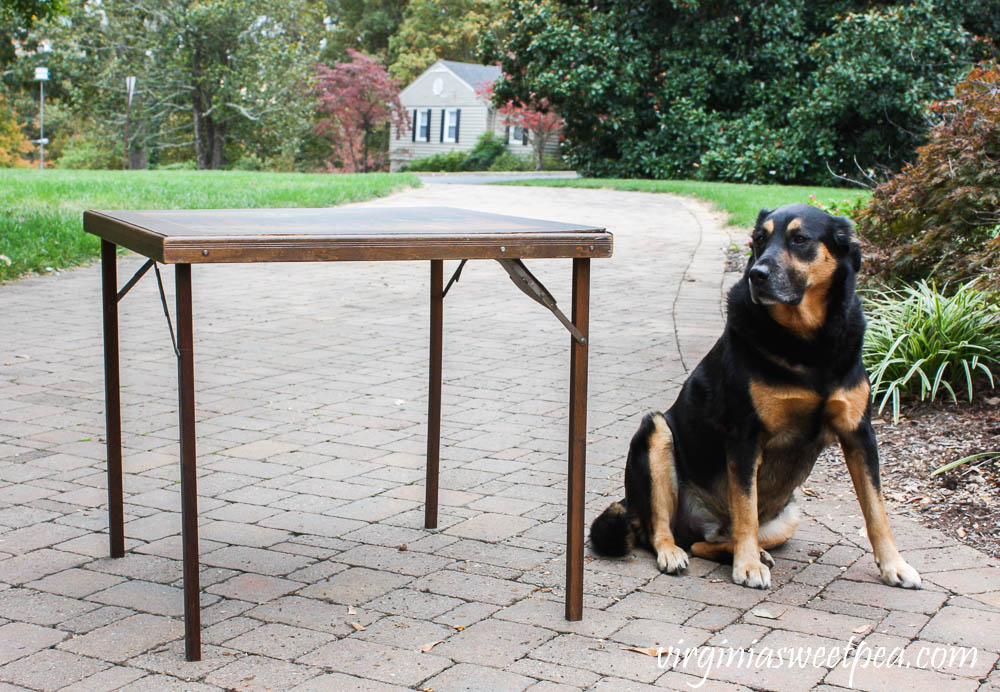 Pin It!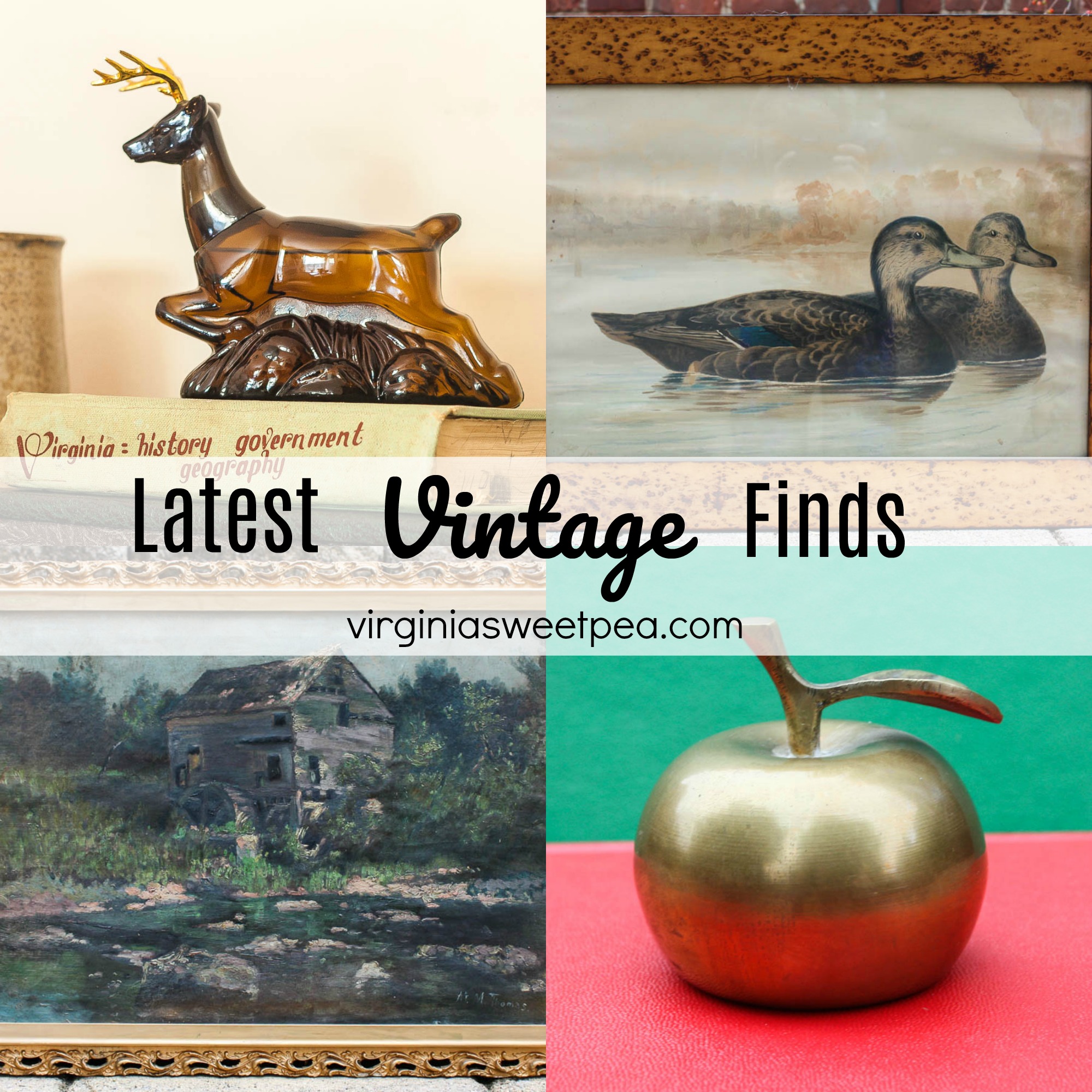 I hope you enjoyed seeing my latest vintage finds!
I'll be back on Friday with my November Stitch Fix review.