My Booth at Blue Sky Cottage
Blue Sky Cottage: Isn't that a great name for a shop? I've enjoyed browsing Blue Sky Cottage since Michele Hayden opened it in 2013.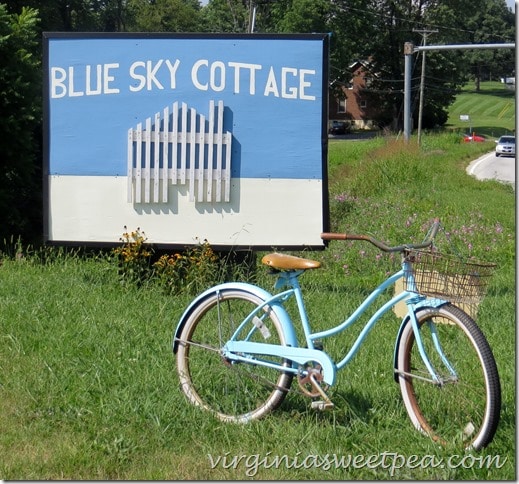 Blue Sky Cottage oozes with charm. The building formerly was a loan office and now each individual office is a booth. Doesn't it look welcoming?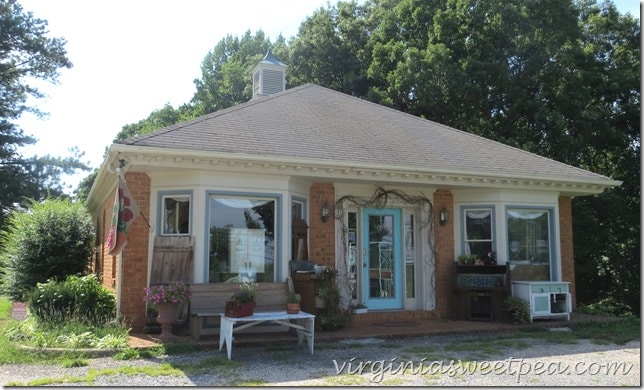 Come on in and look around!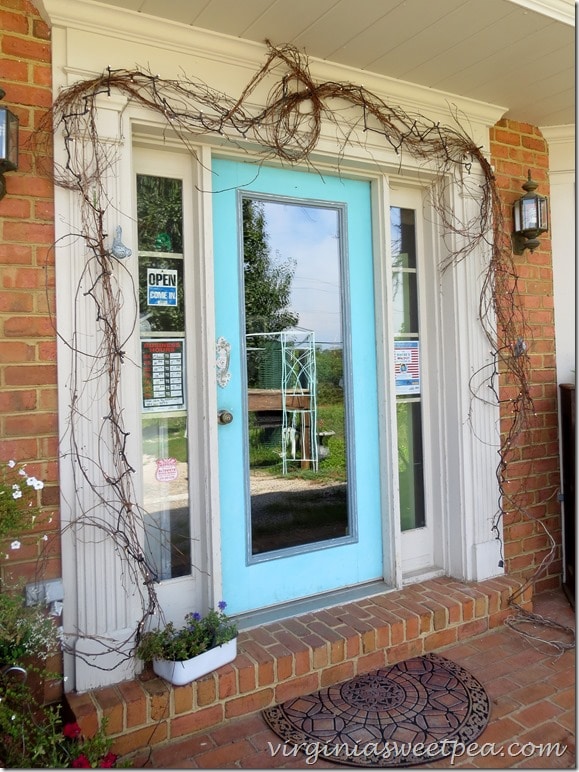 This is Michele, the owner of Blue Sky Cottage. She is so nice and is quite talented at the art of painting furniture and other pieces. She offers classes to share her knowledge with the community and I'm hoping to participate in as many of them as I can. She also organizes junking trips where participants travel to an unknown location for a day of junking fun. These are so popular that the next one is already sold out.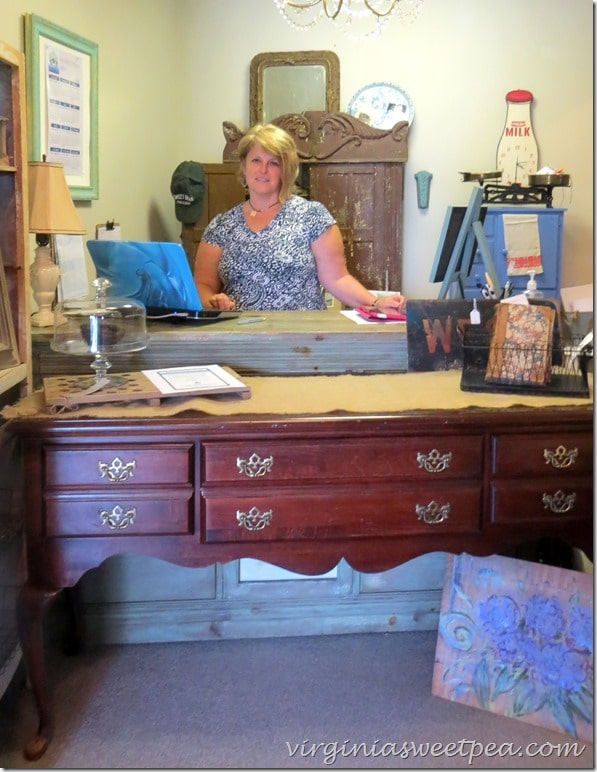 Michele uses the front two rooms of the former office to display the things that she has for sale. She's constantly changing things around and adding new things, so I've found that I'll miss something if I don't stop by Blue Sky Cottage regularly.
Michele just started carrying Heirloom Traditions Paint and I can't wait to try it. I've been reading about this paint and people really seem to like it. The developer of this line is a Paula like me! 🙂
For years my mom and I have talked about opening a booth at an antique mall or shop. (My mom has actually had this dream since I was in high school.) After enjoying many visits to Blue Sky Cottage, I approached Michelle about the possibility of renting a booth. Blue Sky Cottage is quite popular and there is a waiting list to become a vendor. My mom and I put our names on the waiting list and hoped for the best. While we were at the beach in June, we got the good news that a booth would be available August 1.
Talk about excited! We both were so happy that we would finally have a booth. After much debate, we decided to name our booth Vintique.
Each vendor at Blue Sky Cottage has a sign outside of their door. Remember that this used to be an office, so off of the hallway that makes a circle around the store there are doorways leading to each booth. I made our sign from a tray that Mama bought for me at Goodwill. I wish I had taken a "before" picture of this tray because it was a doozy!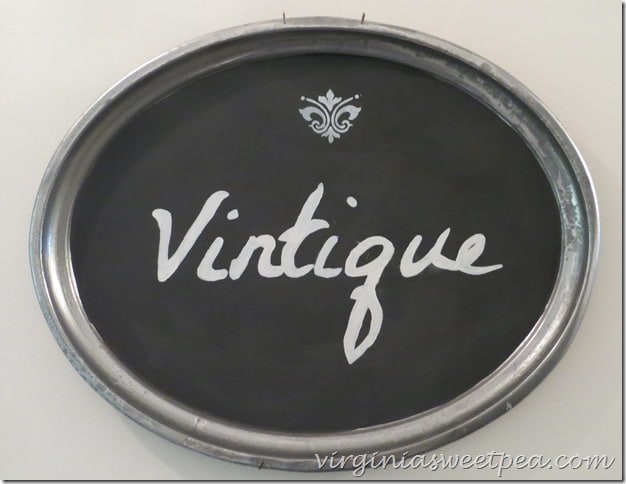 Vintique is lucky to have a window to let in light. Mama made the window valence from an antique feed sack and she made the "Old Glory" wreath.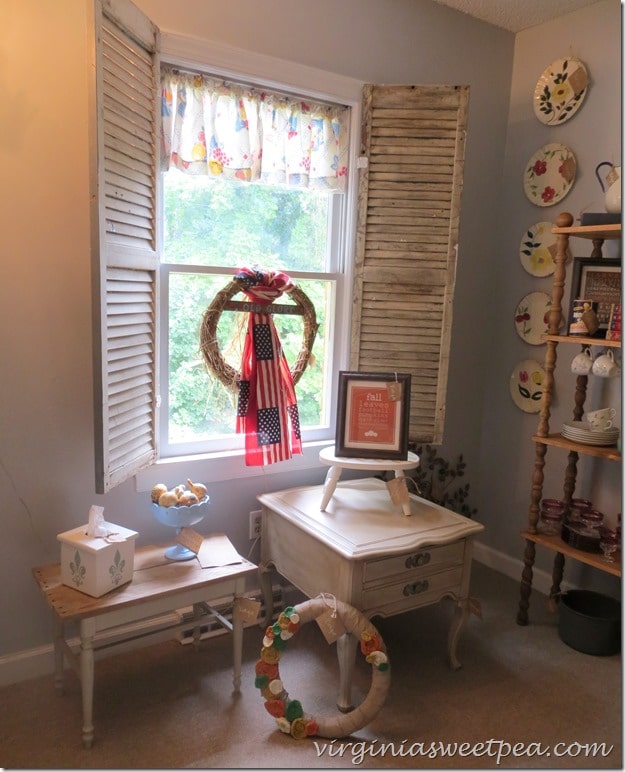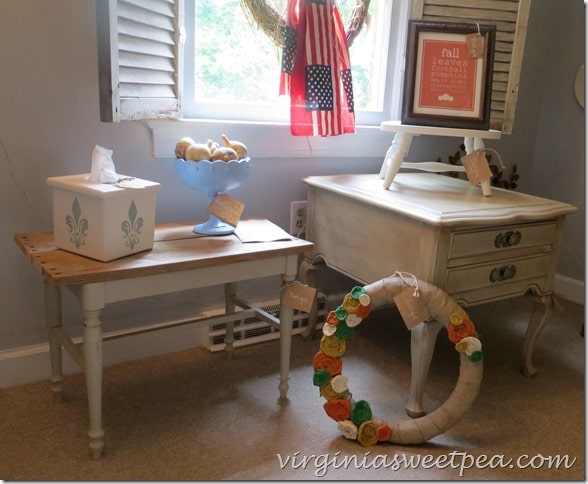 The dishes hanging on the wall and a few on the shelf are Blue Ridge Pottery.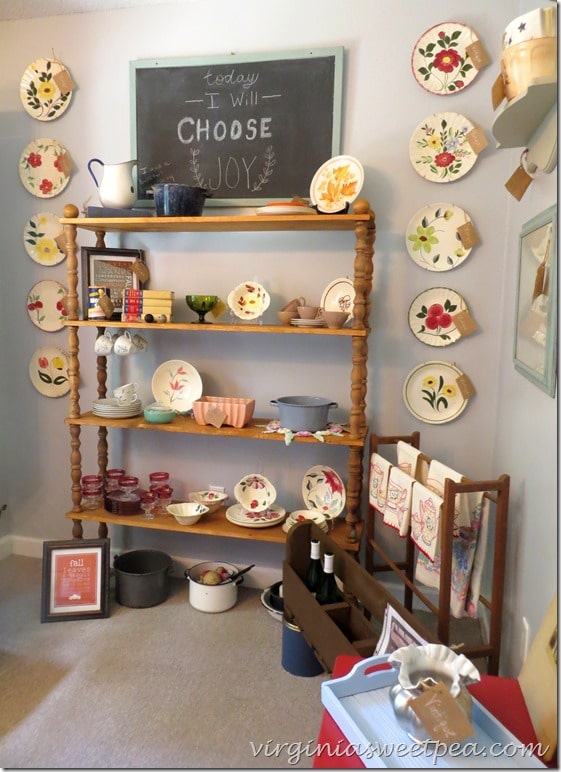 I had fun putting together a gallery wall with some of our wares.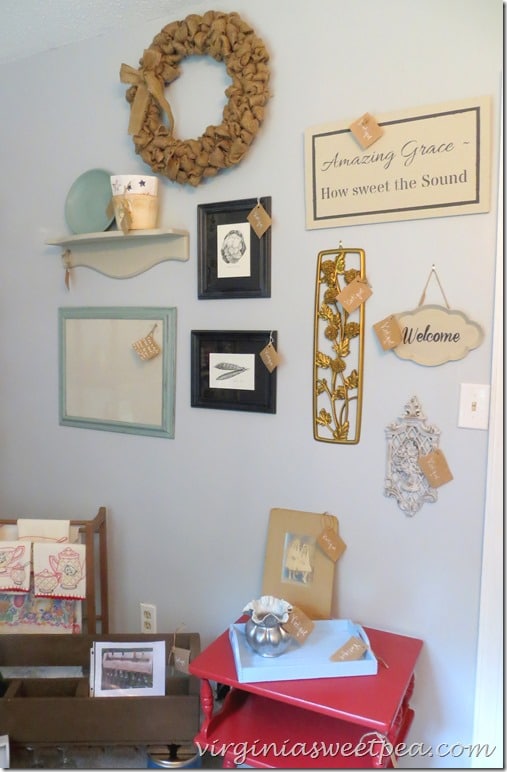 I'm hoping that a wine lover will come along and fall in love with the pallet wine rack that Mr. SP and I made a few years ago. I didn't notice until looking at this picture that the kitten linens on the quilt rack are all different. Mama and I both love vintage linens but the two of us each have all that we need.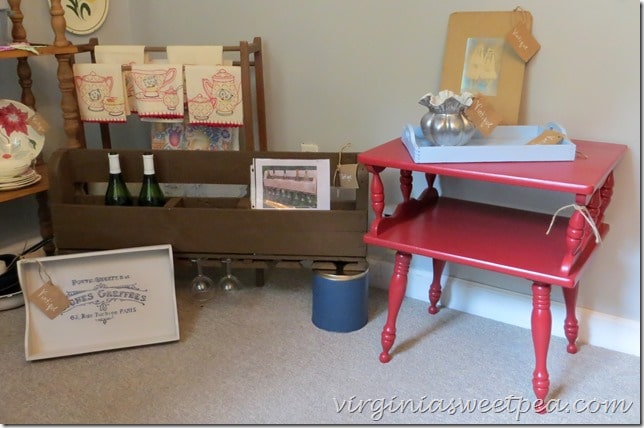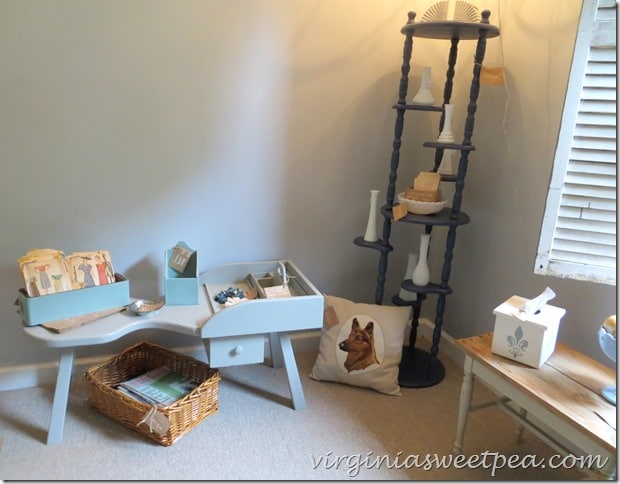 Here's one last look at our booth from the hall. We had so much fun setting our booth up! If you are local, be sure to visit us in Madison Heights.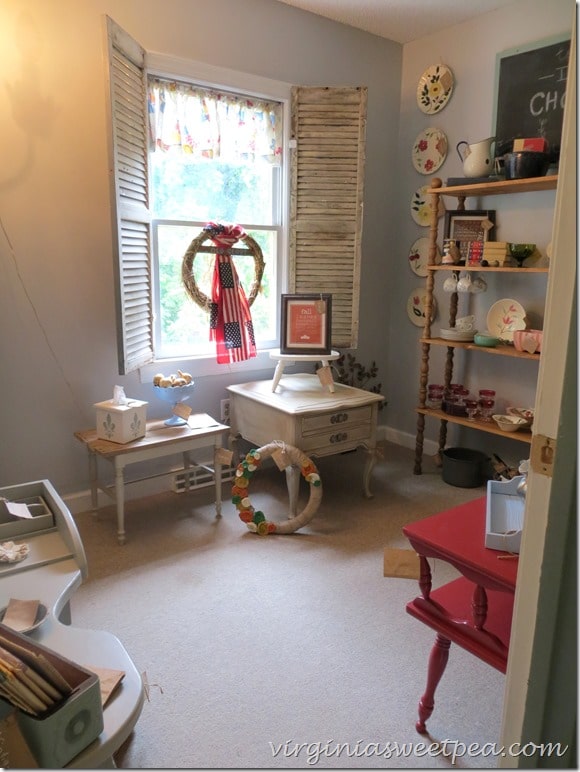 Be sure to follow Blue Sky Cottage on Facebook and on Instagram for the latest shop updates.
I'll be back tomorrow to share the other booths at Blue Sky Cottage.