September 2015 Stitch Fix Review (Fix #28)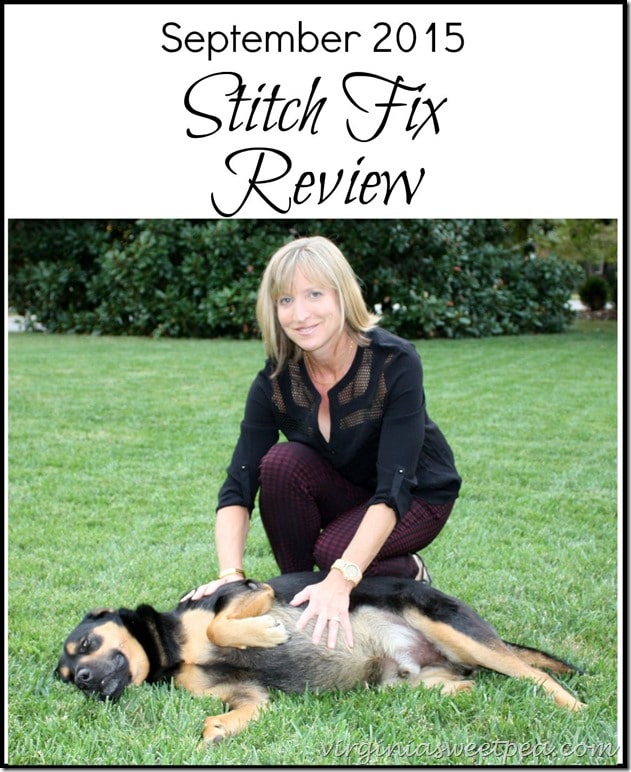 It seems like I was just writing my August Stitch Fix Review and somehow it's now late September and time to share another review with you. My mom always told me that time passes faster and faster the older you get and I am finding that to be very true.
This month's Stitch Fix shipment was a good one. In fact, I kept it all!
My stylist did a great job this month selecting items for me. I requested a second pair of Emer pants since I liked the ones that I received last month so much. I also asked for a dress and a jean jacket. I was expecting a dress for fall but instead got one for summer. I'll be able to wear it a few times before it gets cold and then when I discover it in my closet next spring it will feel like a new dress all over again. A jean jacket wasn't available, so I'll request it again next month. I also received two tops that I'll be able to wear all fall and winter.
Daniel Rainn Shanon Mesh Detail V-Neck Top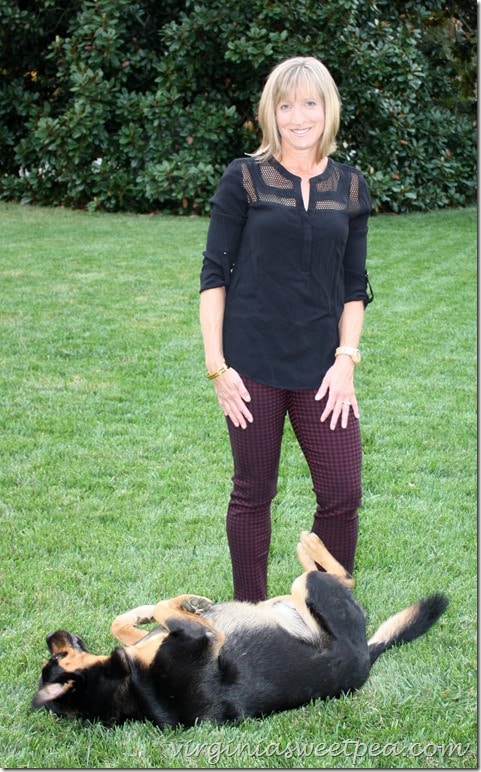 This top has a neat mesh detail in front that continues to the back. I like that fun detail and also the 3/4 sleeves that button. The shirt is also a great length.
Margaret M Emer Houndstooth Straight Leg Pant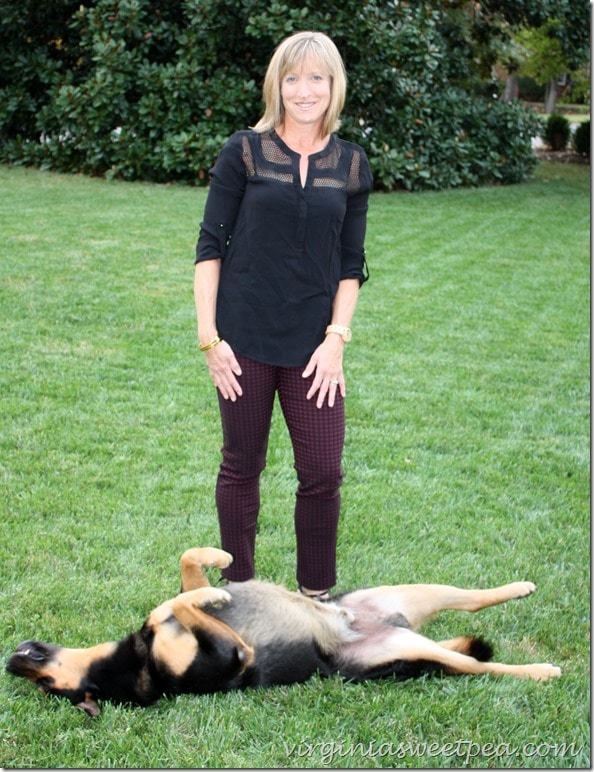 Last month I purchased a pair of Emer pants and liked them so much that I requested another pair. Last month's pants were the printed high waist cropped pants and this month's are a straight leg version. They are definitely made using a different pattern because the straight leg pant is much smaller. In fact, when I put the pants on top of each other to check, the straight leg pant is an inch smaller in the waist area.
I originally thought that I'd send these back but after wearing them for pictures, I realized that they were quite comfortable so I decided to keep them. I do wish that they were a smidgen bigger so that they wouldn't be quite so tight in the legs.
Can you tell that Sherman is a happy dog? 🙂
Pixley Ellie Elephant Print Blouse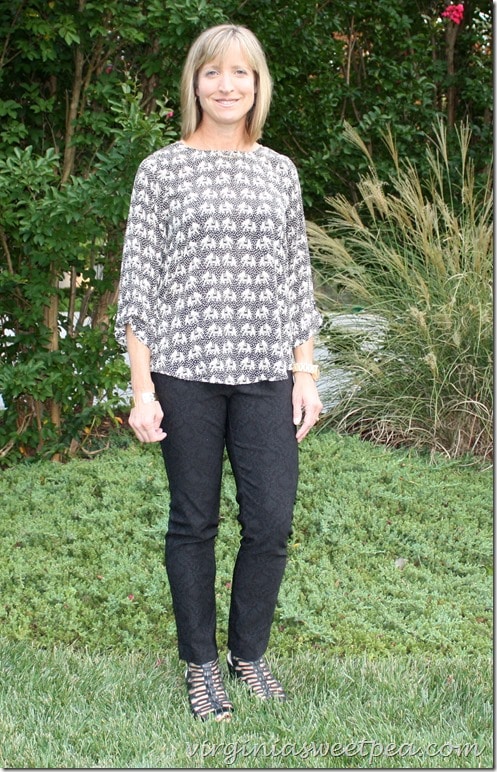 I paired this blouse with my Emer pants from last month. The elephant print on this blouse is so cute and the fabric is soft and silky. Originally I thought that this would be the only item that I would keep.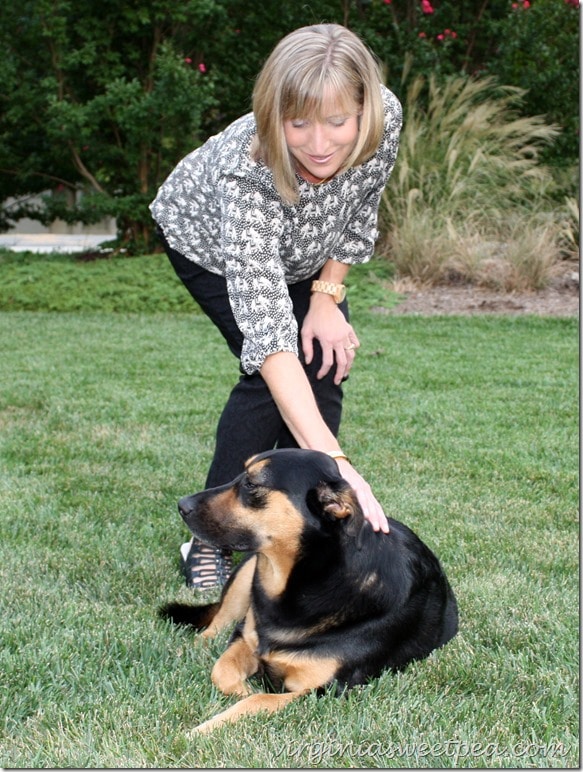 Did you notice that I have a new hair style? Last week my stylist removed a lot of length to give me a bob with bangs. I'm loving the change!
Pixley Jolene Dress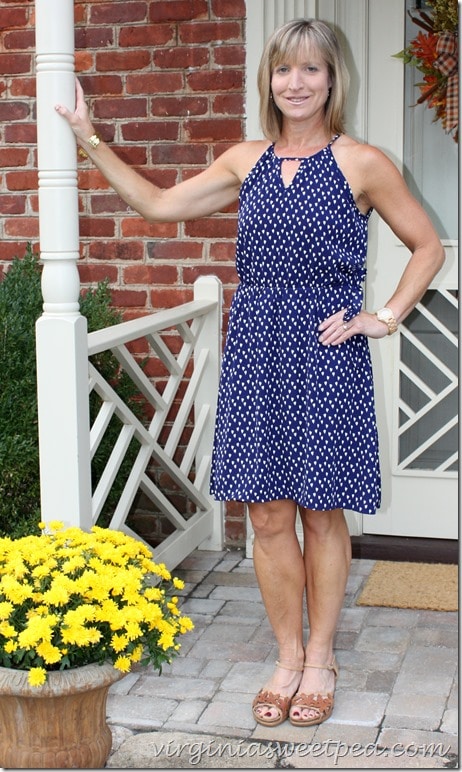 I love this dress's neckline and also the color. It's hard to see in the picture but it has a tie on the side that is a cute detail. I'm wearing this to work today because I doubt that it will be warm enough to wear a dress like this much longer.
Skies are Blue Jinni Open Draped Cardigan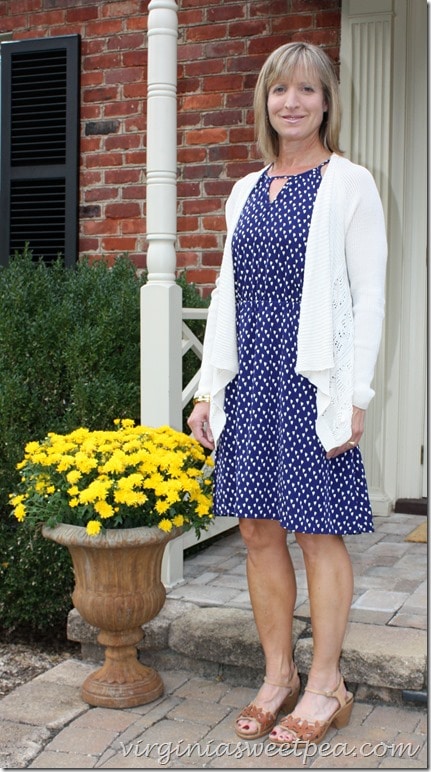 This cardigan is so soft and I like the way it is cut. It will be perfect to wear over dresses or tops during the fall and winter. This cardigan is perfect to wear this time of year when it is cool in the morning and then hot in the afternoon. I'm actually planning to wear the cardigan seen here with this dress. I think that pink and blue will look great together.
If you haven't tried Stitch Fix, you should! It is so much fun to have clothes selected just for you and to be able to try them on in the privacy of your own home. I love that Stitch Fix offers free returns but this month I don't need that service since I kept all five items. I do not enjoy shopping for clothes and I live in a town where the store selection is limited, so Stitch Fix is a service that I truly enjoy and appreciate.