Stitch Fix Review for January 2019 – Fix #65
Happy New Year! I'm ringing in 2019 with my January 2019 Stitch Fix Review. This is my 65th Stitch Fix box and it's a good one.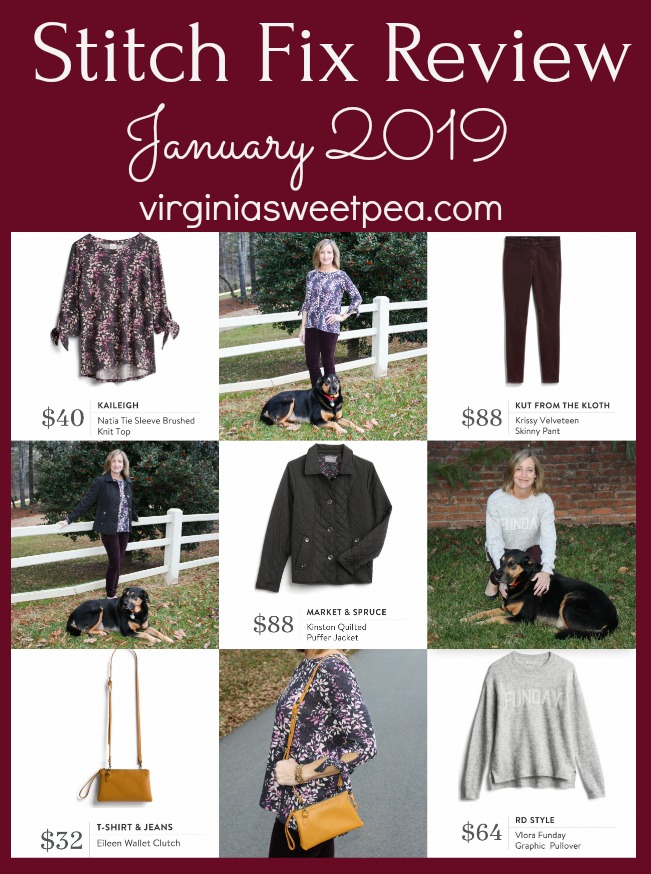 I am a Stitch Fix affiliate and if you make a purchase, I make a small commission. My love for Stitch Fix is genuine and all opinions are truthful and my own.
JANUARY 2019 STITCH FIX REVIEW
If you are new to Stitch Fix, these details will help you to understand the service. Feel free to email me with any questions you might have about Stitch Fix. I can also send you a link to use that will give you $25 off your first box.
STITCH FIX DETAILS
Stitch Fix is a personal styling service. When you sign up for Stitch Fix, you fill out a detailed style profile that helps your stylist know your likes and dislikes. Since I've received 65

Stitch Fix

shipments, my stylist knows my likes and dislikes very well and I almost always like every item in my Fix, a good problem to have!
When a Fix arrives, you have three days to try the clothes on and to decide what to keep and what to send back. Stitch Fix includes a postage paid envelope making returns super easy.
When you sign up for

Stitch Fix

, you can choose how often a box is delivered. You can pick a monthly options or schedule a box when you'd like to receive one.
I do not like shopping and love receiving clothing from Stitch Fix. I get clothes that I like without having to do any work other than pinning things that I like to my fashion board on Pinterest. My stylist, Brittany H., checks my Pinterest board for inspiration and also reads my note to her each month to see if I have any special requests.
You can find links to all of my Fixes here and also be sure to check out my Stitch Fix Review Board on Pinterest where I pin my favorite looks.
For more Stitch Fix looks, be sure to check out my other Stitch Fix reviews. And if you haven't tried Stitch Fix, what are you waiting for? It's so much fun to received a box of five items picked just you.
THIS MONTH'S STITCH FIX ITEMS
My stylist, Brittany H., is so good at picking out fashions for me. Like last month, I forgot to leave a note with requests, but even without hints as to what I wanted, Brittany selected five items that I liked and had so much fun trying on. It's always hard to decide what to keep and what to send back and this month was no exception.
Kaileigh Natia Tie Sleeve Brushed Knit Top
First up is a top made of soft sweater-like material with adorable tie sleeves. I like the cut of this top, it's figure flattering yet loose enough to be very comfortable.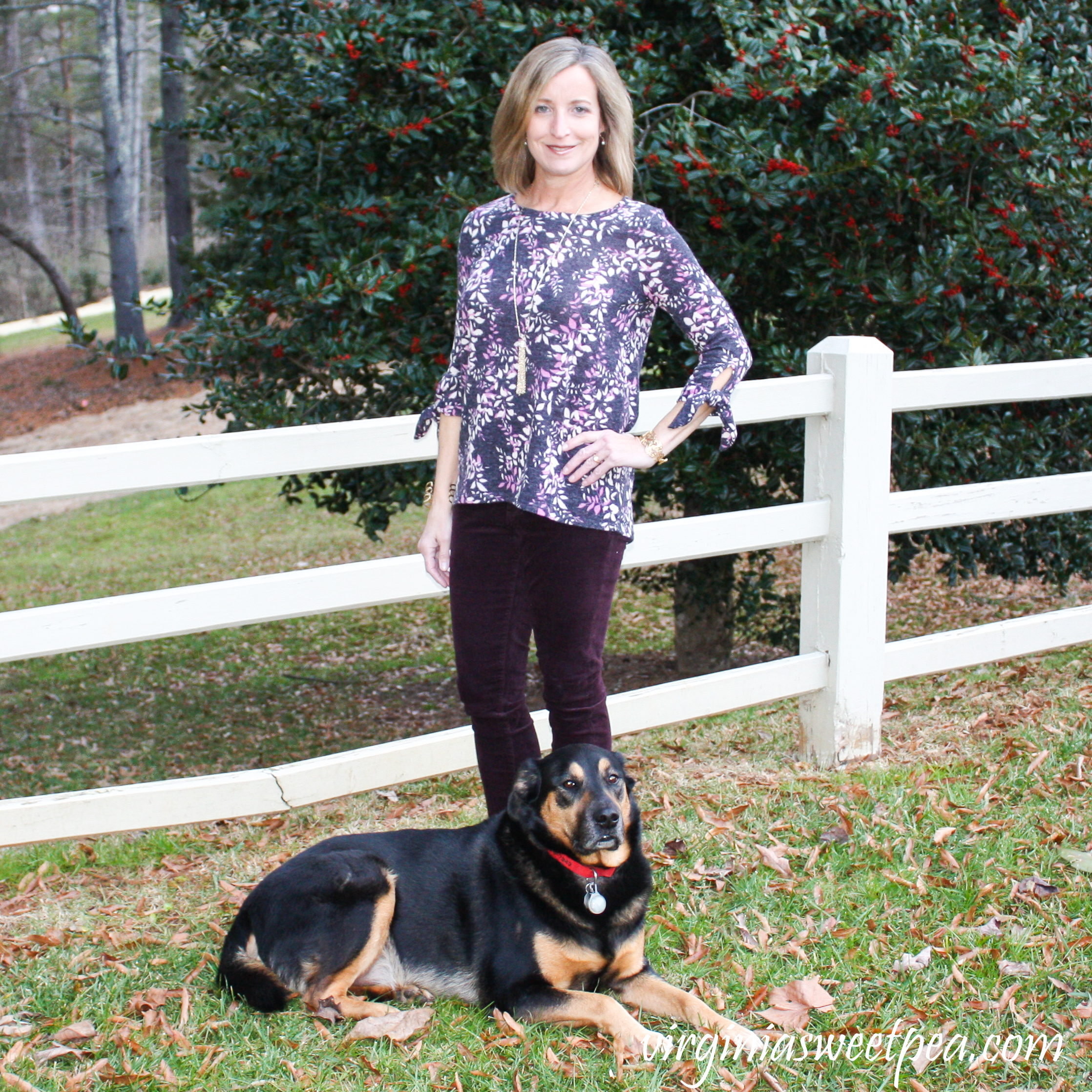 This top's beautiful gray, purple, and creme colors would look great with many colors, I'm wearing it with burgundy skinny pants, also from this Fix.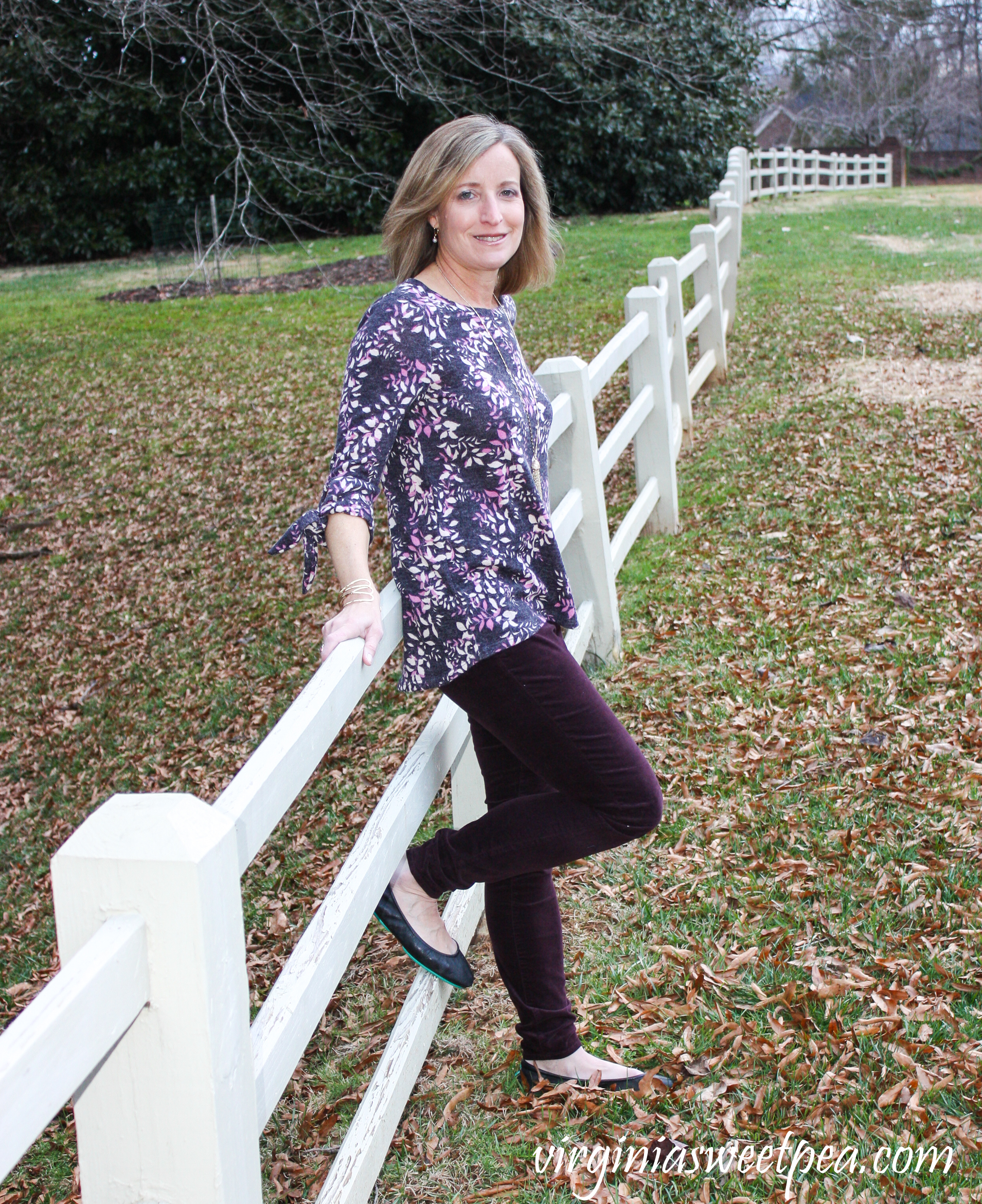 I went back and forth on keeping this top or sending it back. Since it's price was so reasonable and I liked how it looked with the pants that I knew I was keeping, I decided to keep it.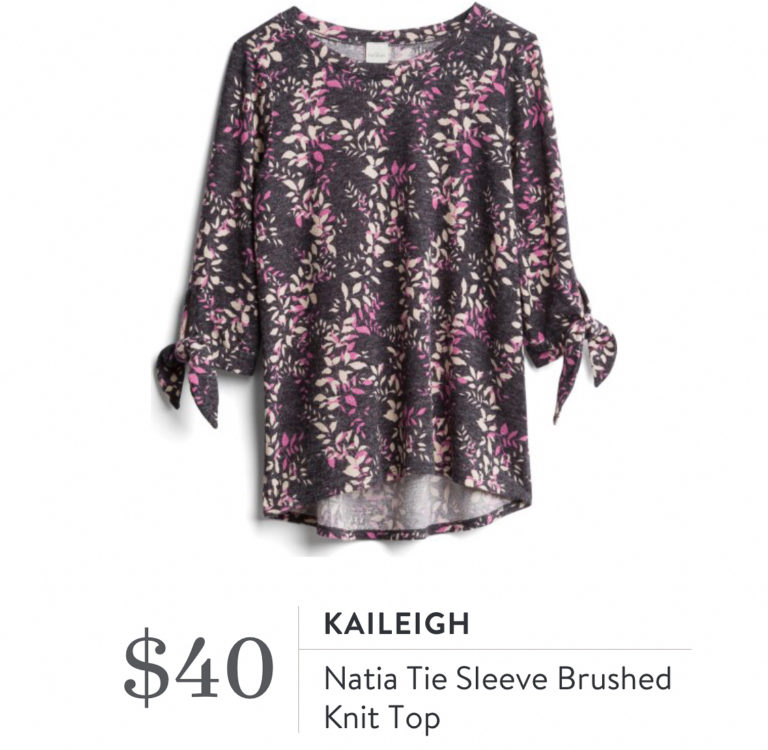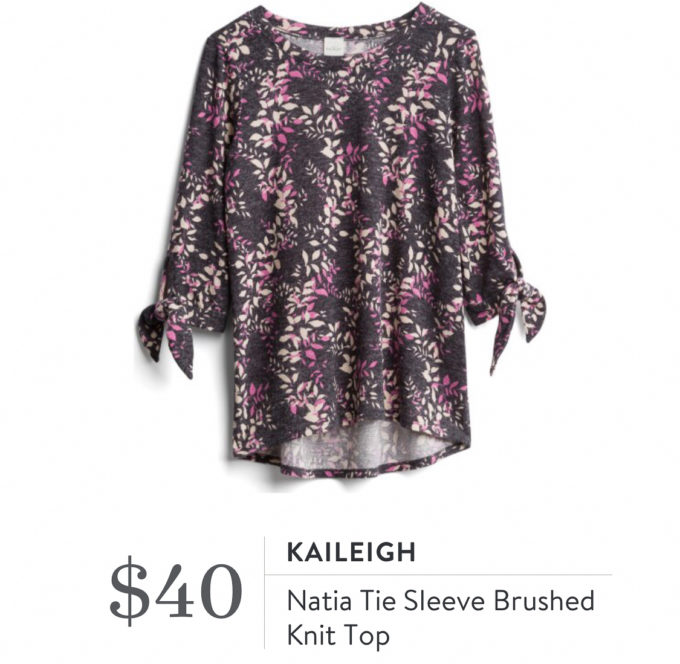 Verdict – Keep
Kut from the Kloth Krissy Velveteen Skinny Pant
When I read "skinny pant", I thought, "Uh-Oh, there's no way these will stretch over my legs." Big surprise, I was totally wrong, these pants fit like a dream.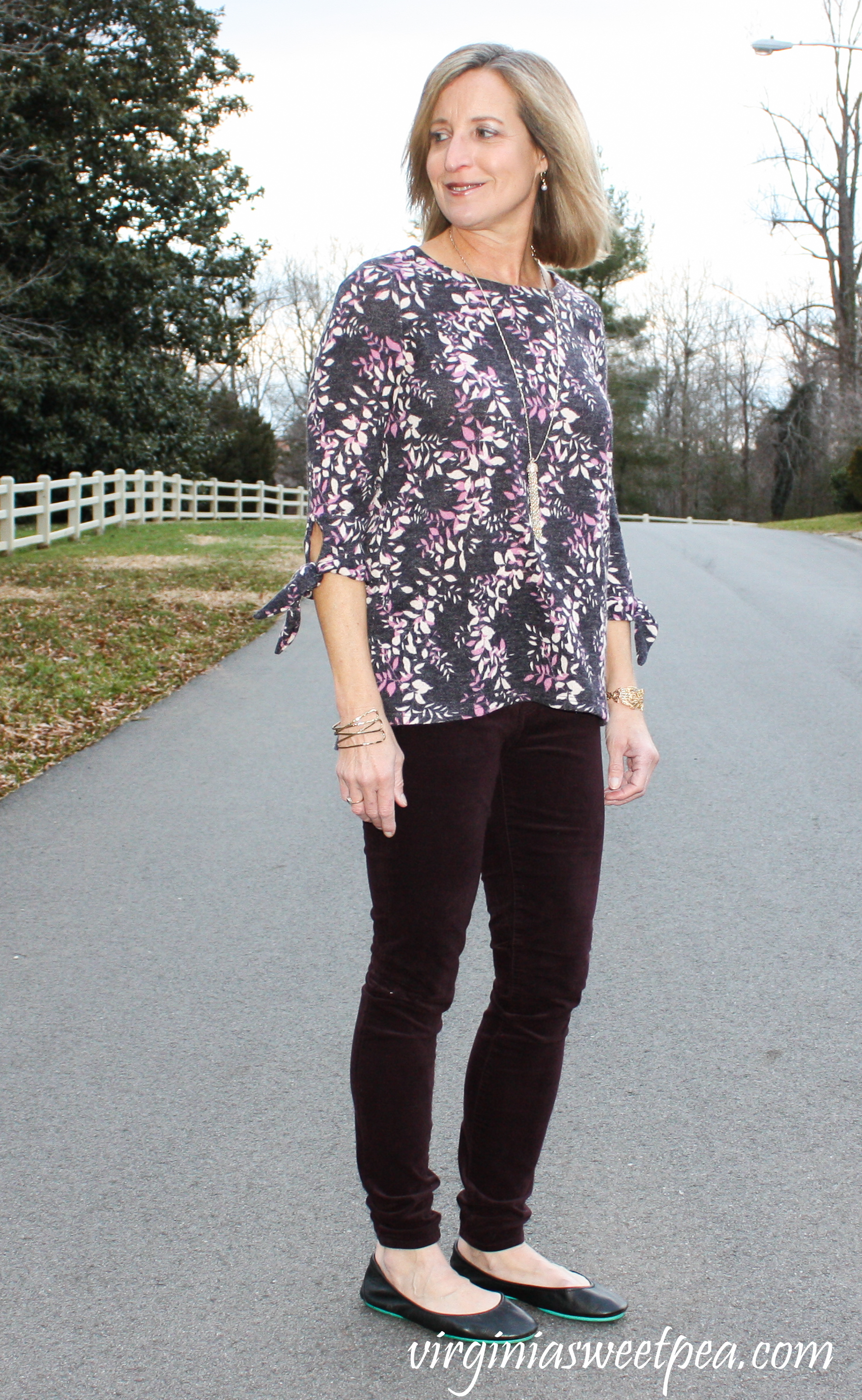 Not only are these pants comfortable, their material is a beautiful velveteen which is perfect for winter.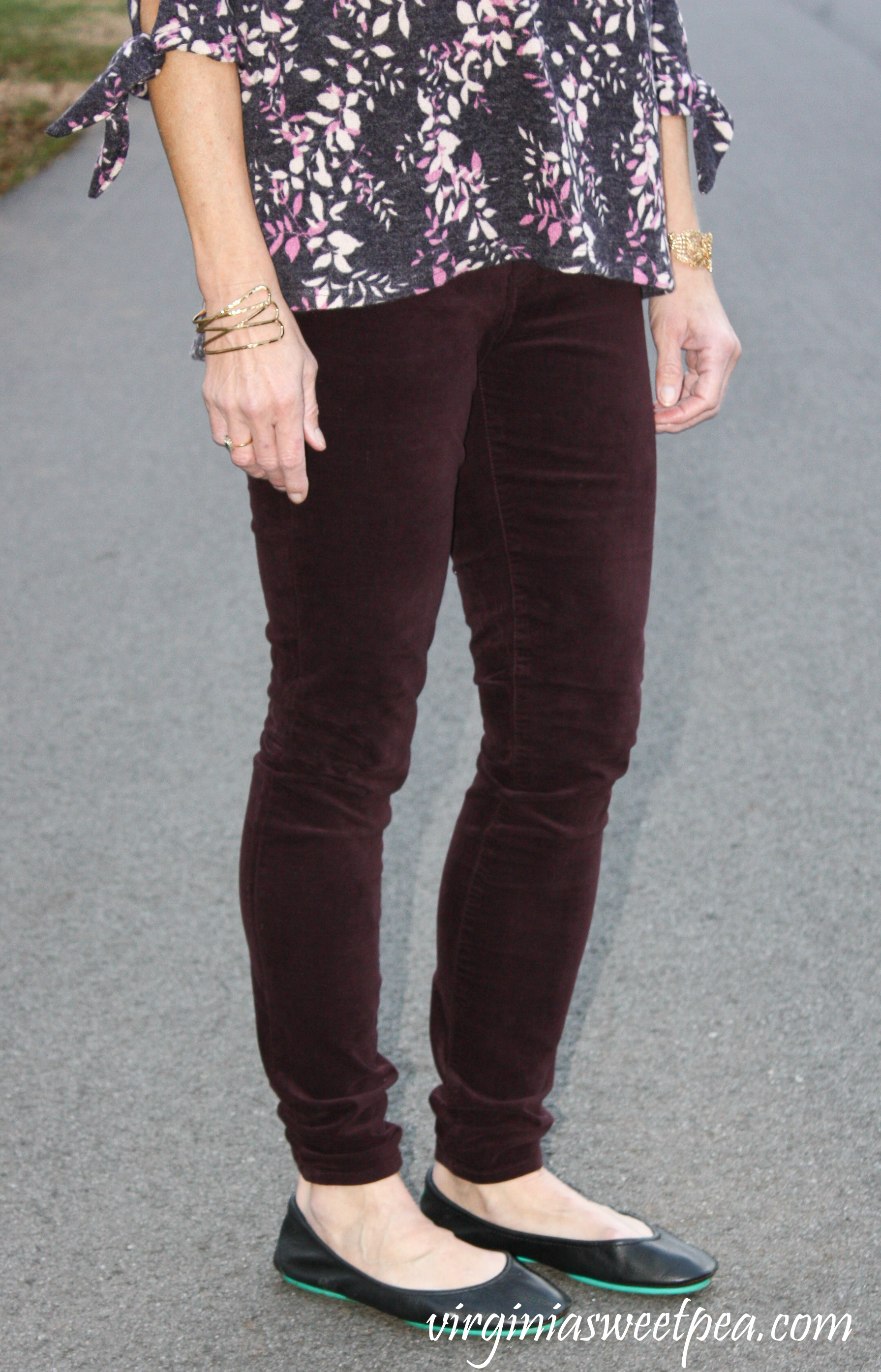 The necklace and bracelets that I'm wearing are from Rocksbox. Rocksbox is a jewelry subscription service that sends three pieces of jewelry that you can wear for as long as you like each month. When you send your three pieces back, or buy what you like, a new box is sent. If you'd like a free month of Rocksbox, sign up with this code: PAULABFF54. I rejoined Rocksbox a year ago January and am LOVING their service. I've received the cutest jewelry and have purchased quite a few items.
I knew as soon as I tried these pants on that I would be keeping them. They will pair nicely with winter sweaters and tops that I've received in past Stitch Fix shipments. I do not like to shop and almost all of my clothing is Stitch Fix, what isn't is three or more years old!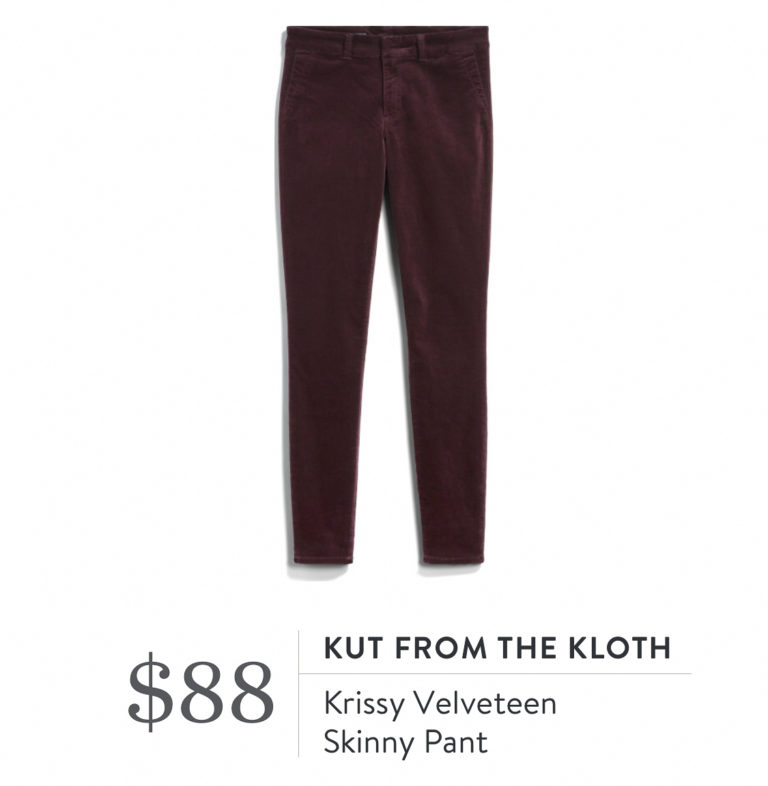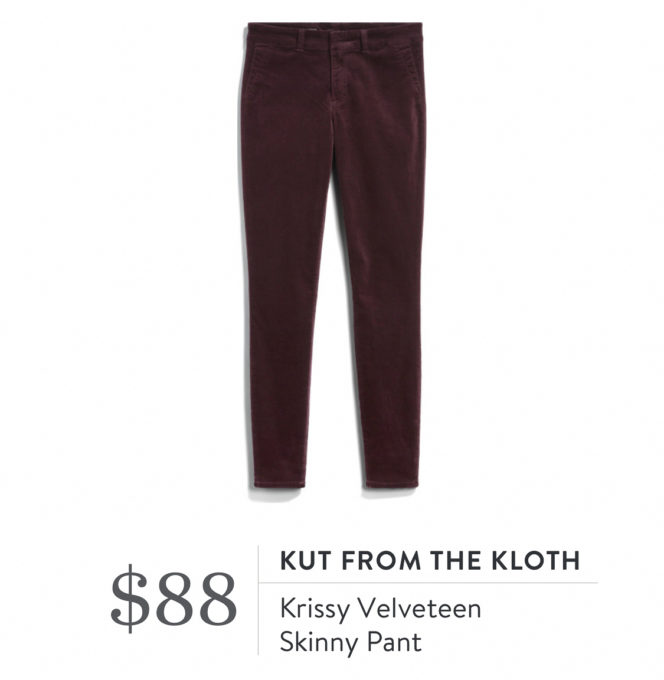 Verdict – Keep
Market & Spruce Kinston Quilted Puffer Jacket
I have been wanting a puffer jacket and was super excited to try this Market & Spruce version. I loved it's design and cute lining. Look at my wrists to see the pretty lining pattern.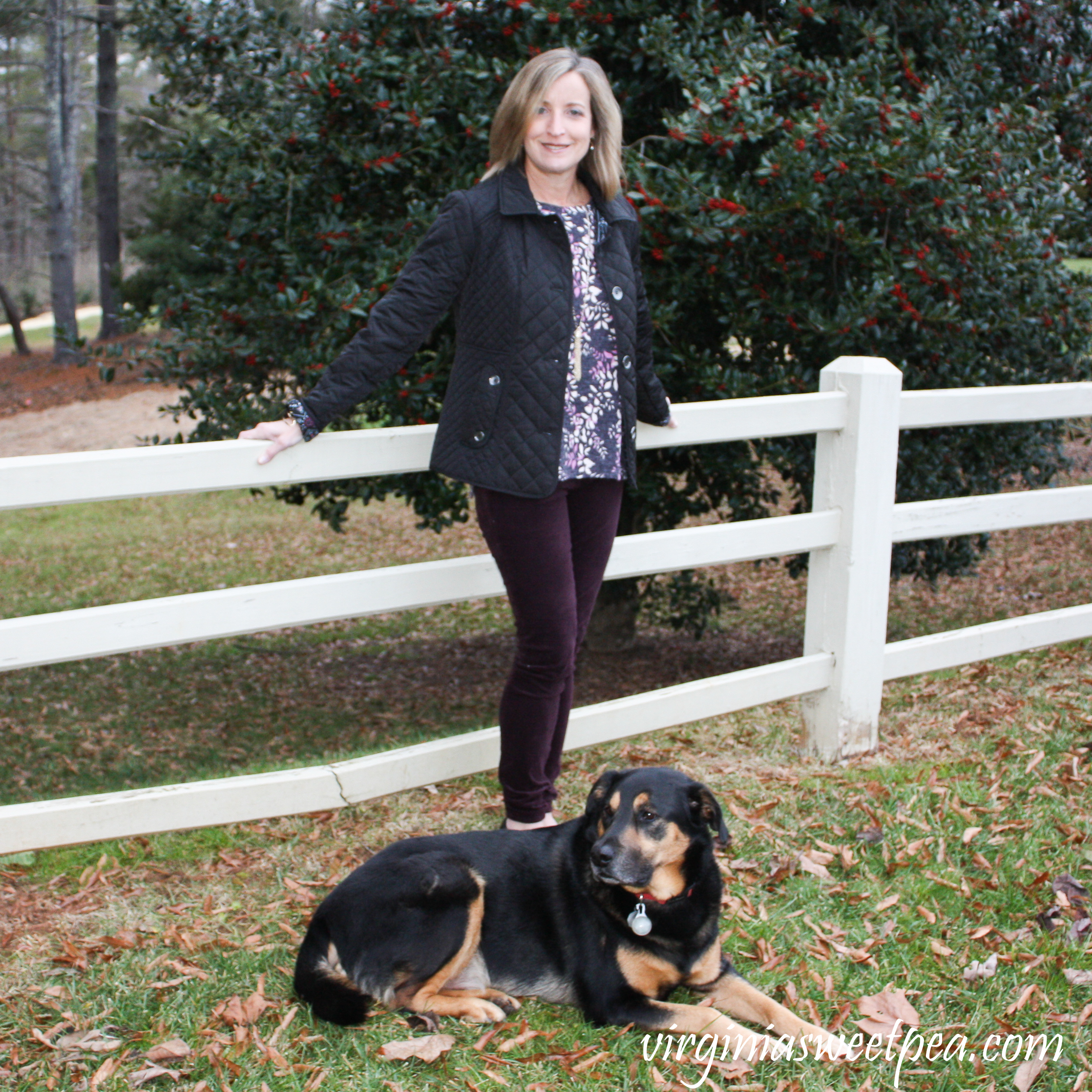 This jacket is lightweight and would be perfect for a normal winter day. If you live where it gets super cold, it wouldn't be warm enough for those temperatures but here in Virginia the majority of our winter days are in the 40's and this jacket would be perfect for that temperature.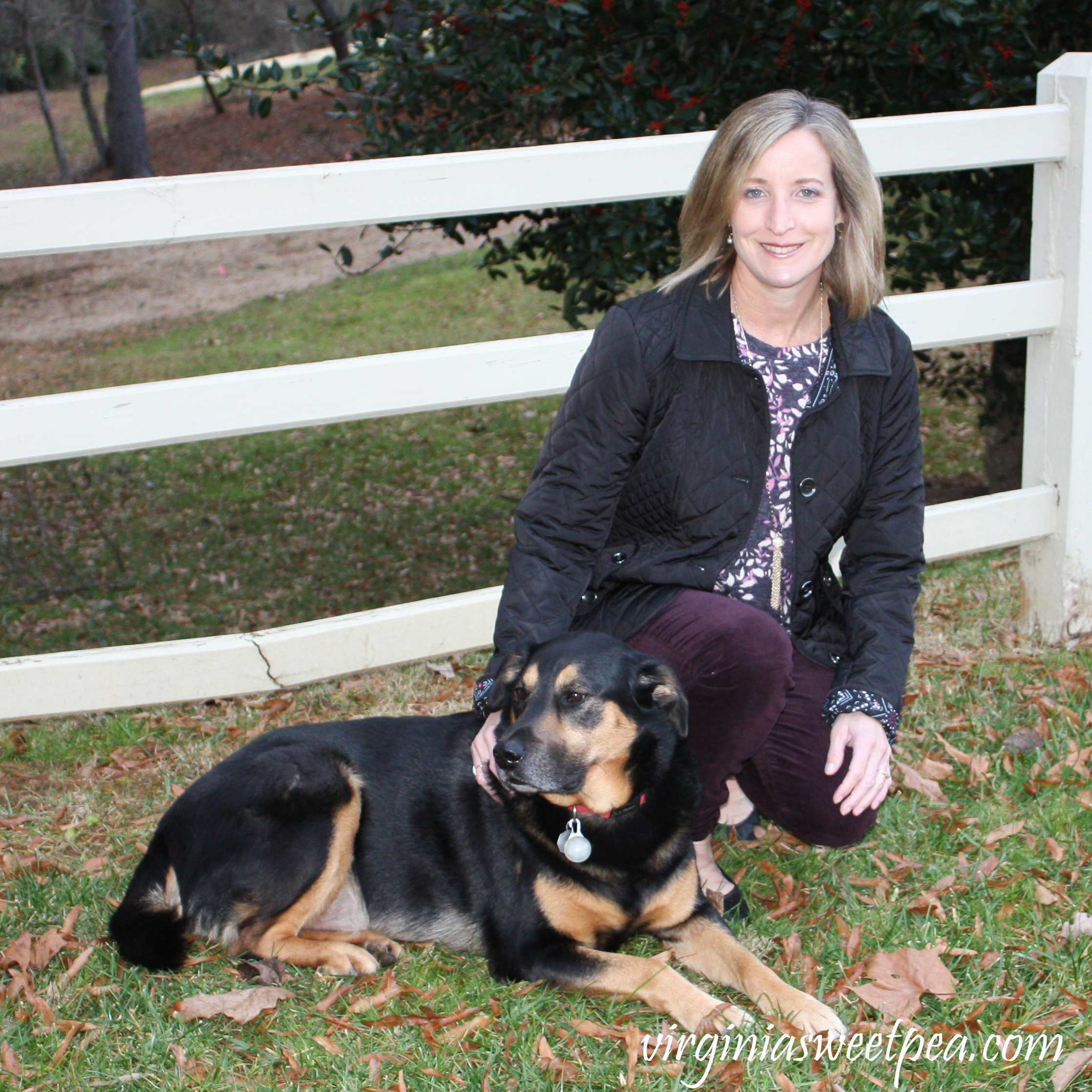 The back of the jacket has a nice design.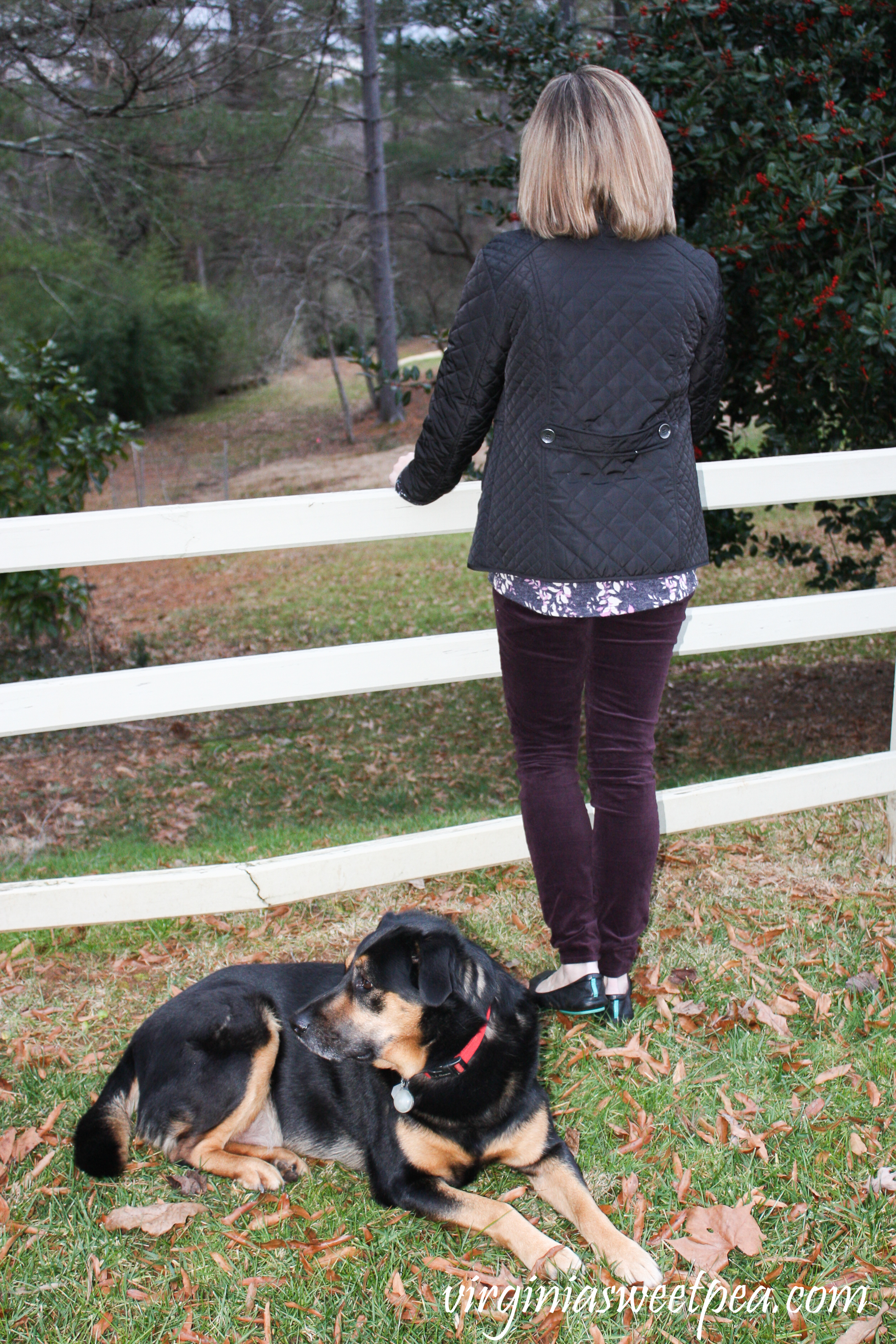 I really liked this jacket but it was too tight in the shoulders. Stitch Fix has an option to request a different size when you check out, so it's very possible that I could have received this in a medium had I tried.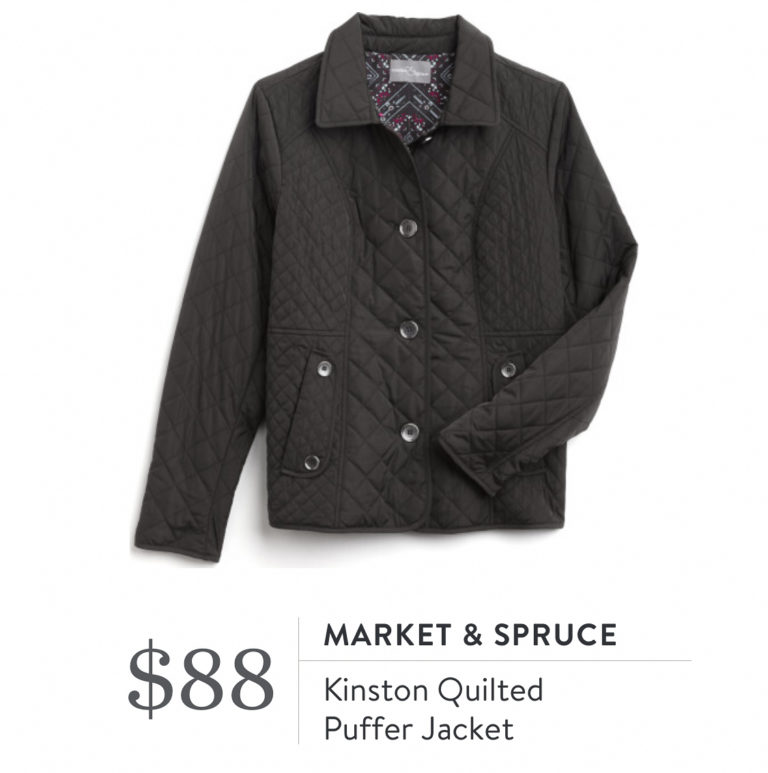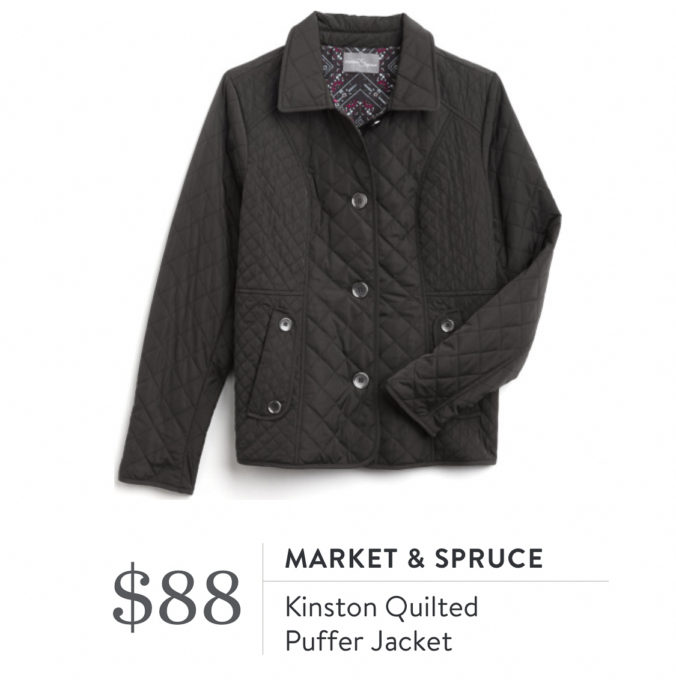 Verdict – Return
T-Shirt & Jeans Eileen Wallet Clutch
Isn't this an adorable purses? It has an adjustable strap so it could also be used as a crossbody.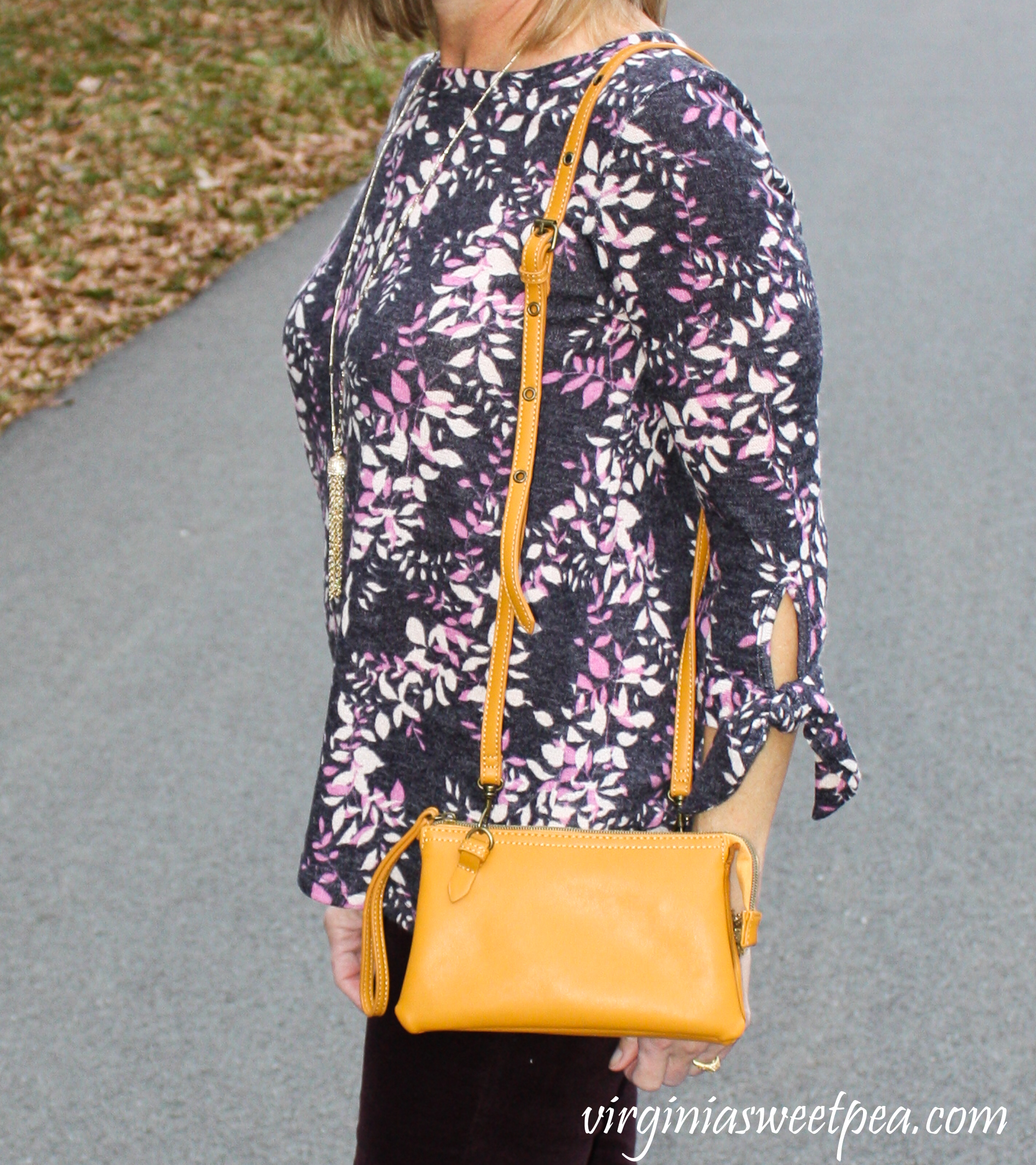 I have a large wallet that won't fit into this, so I couldn't use it as an everyday purse, but it would be perfect when I only need my phone, lipstick and and ID.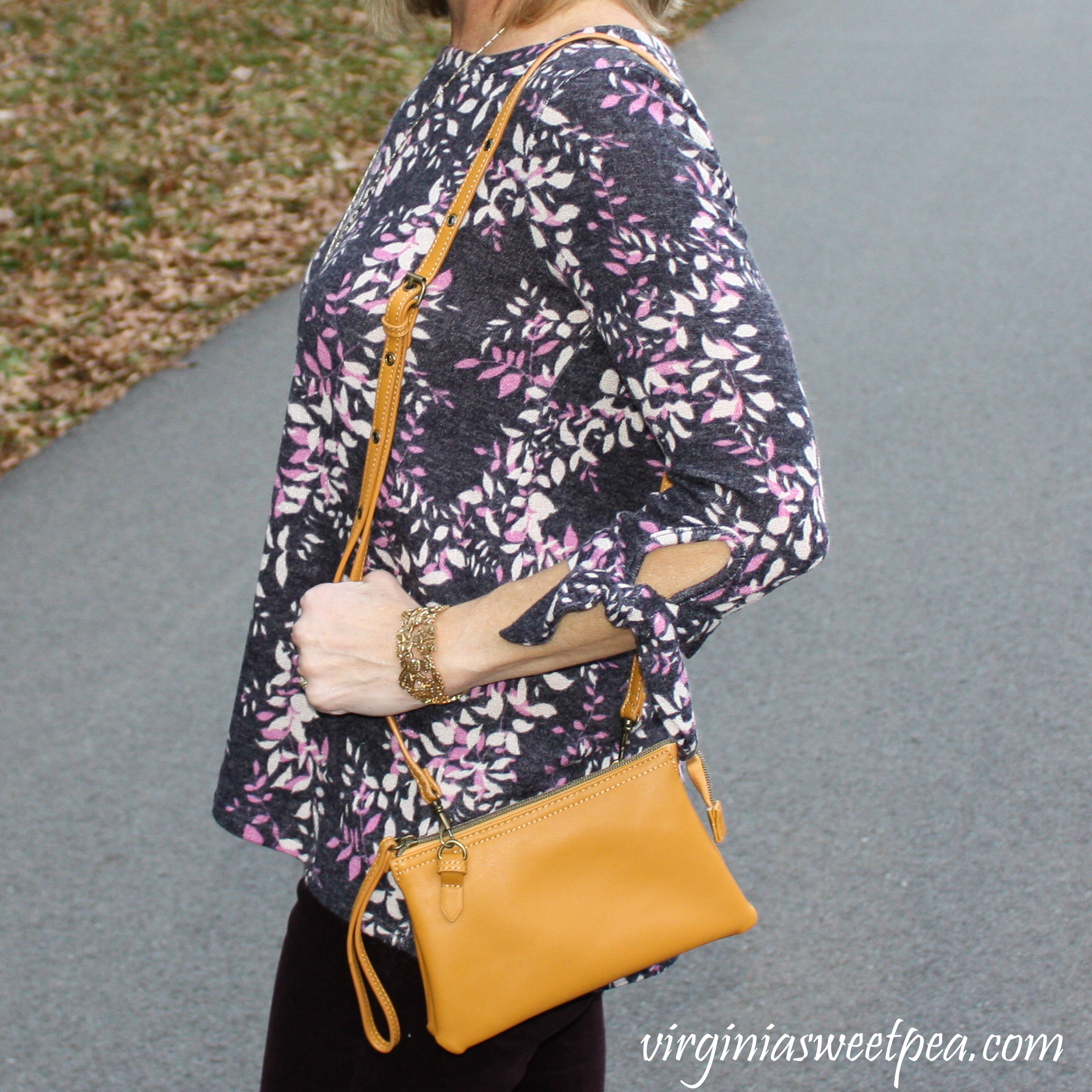 The strap can be detached to carry it as a clutch.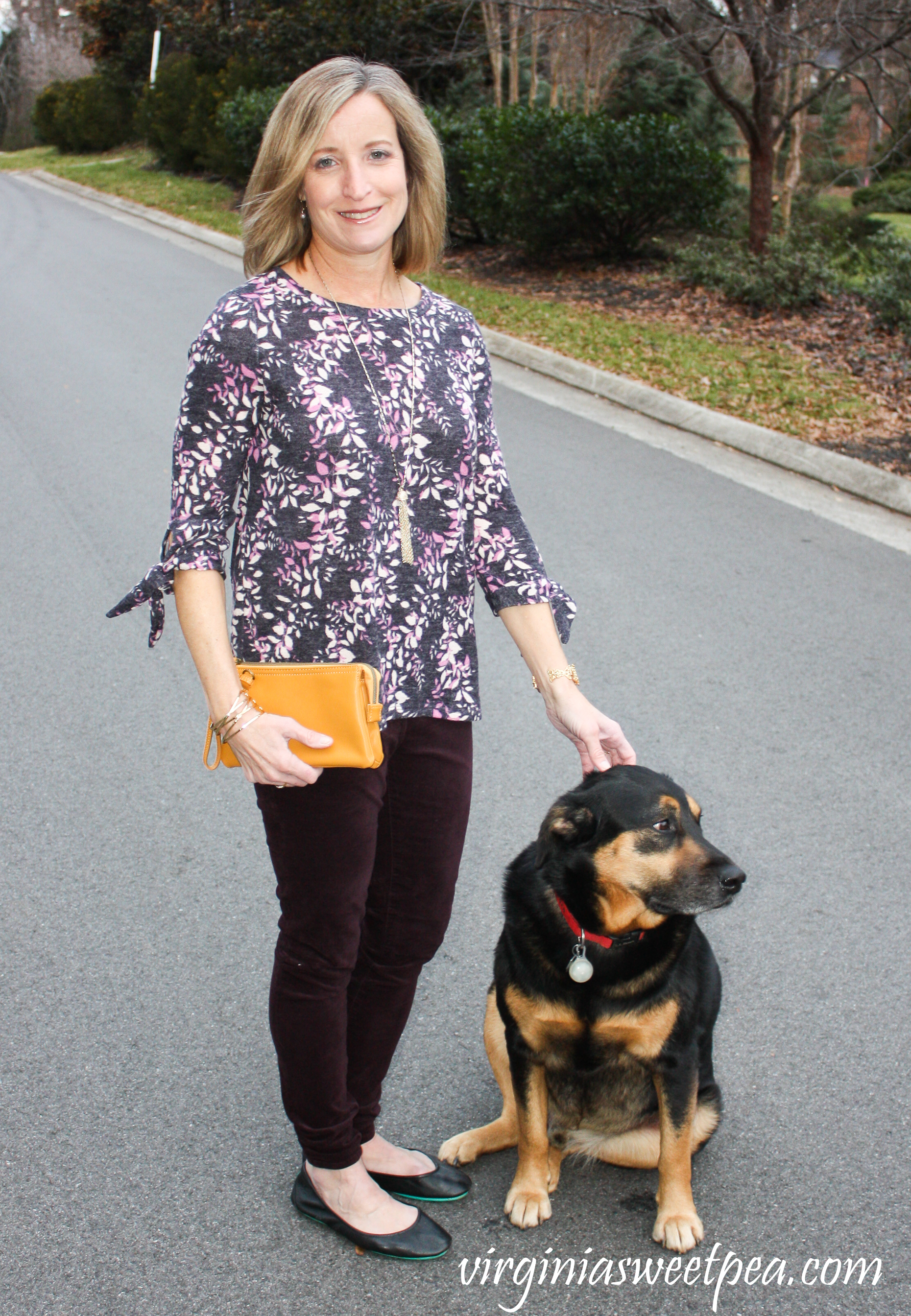 I liked this purse but didn't think that I would use it often enough to justify buying it.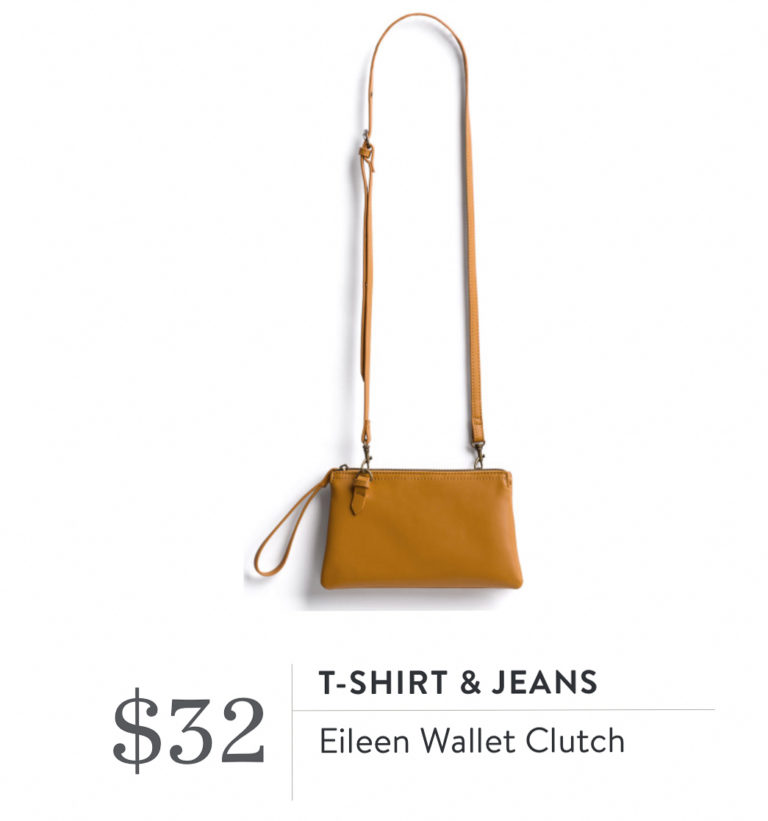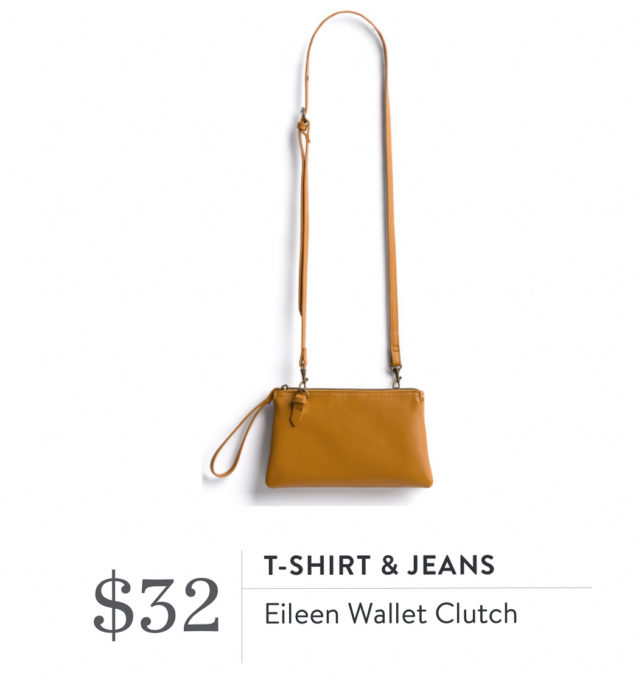 Verdict – Return
RD Style Viora Funday Graphic Pullover
This sweater would be perfect for casual weekend wear or to wear on a day off during the week. It's also super soft and comfortable.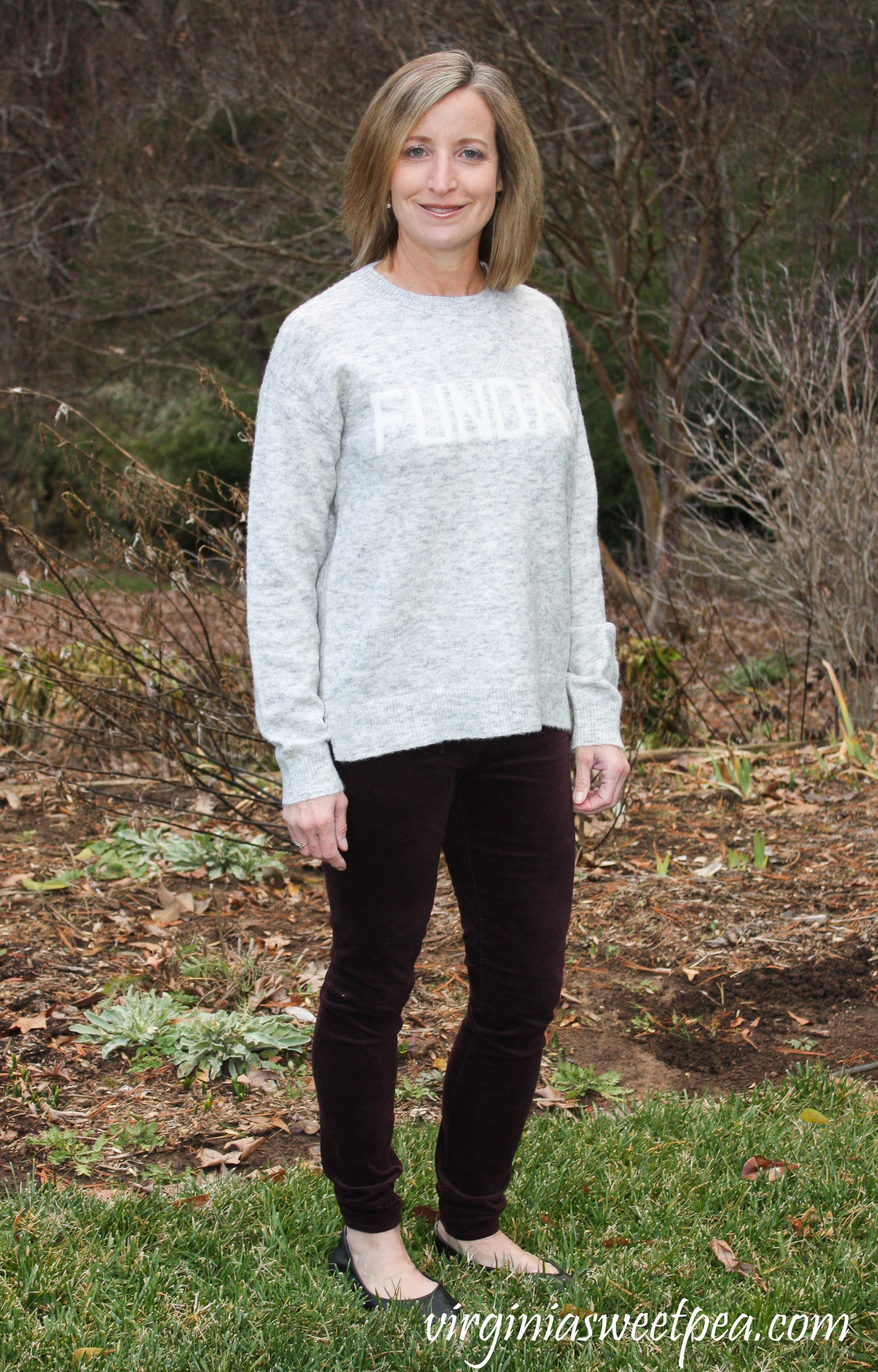 My husband really liked this sweater and I could envision wearing it with jeans or leggings but I also like how it looks with these velveteen skinny pants.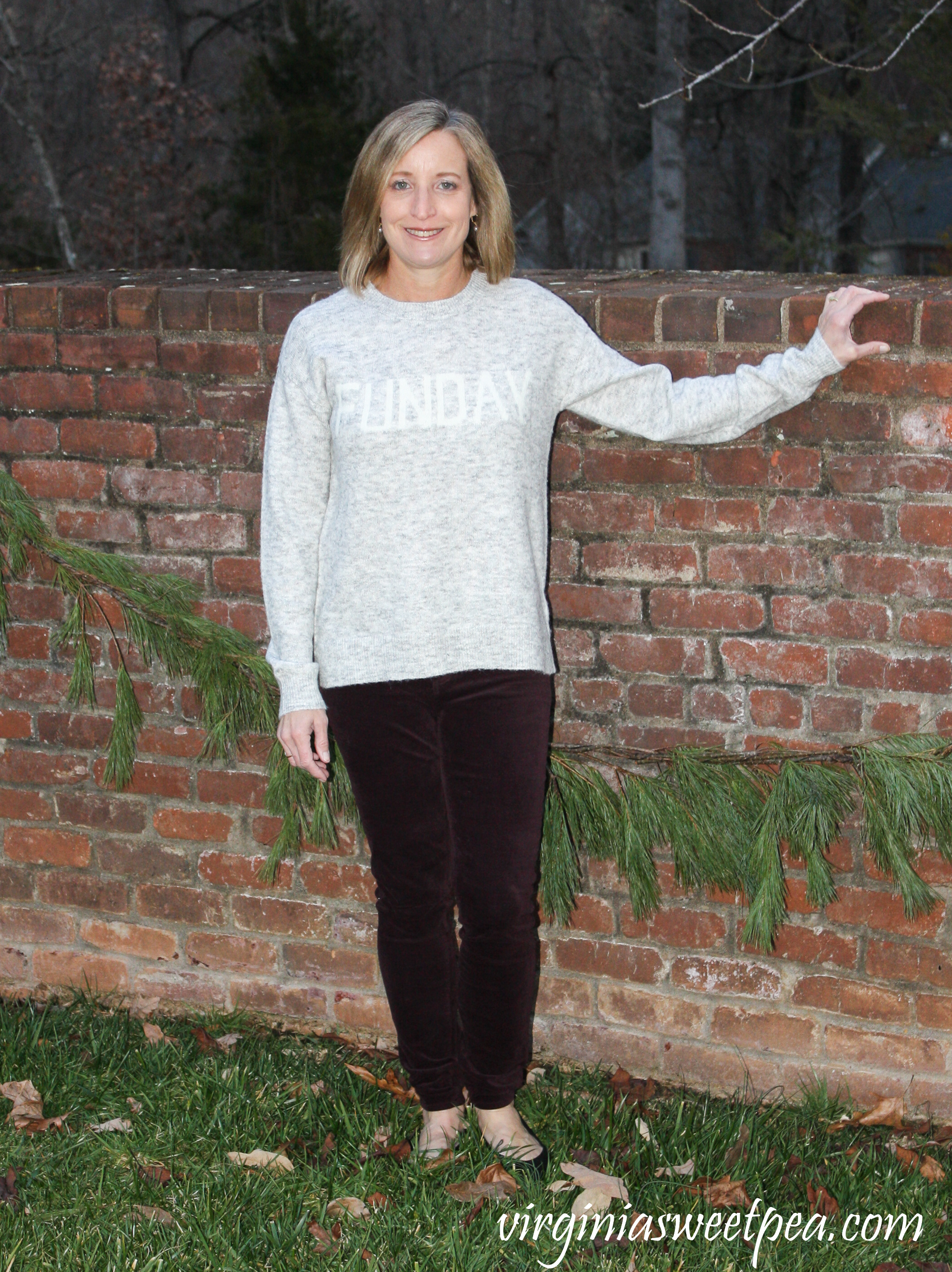 Sherman looks a bit grumpy here but he really isn't. He's always a participant when it's time to take Stitch Fix pictures.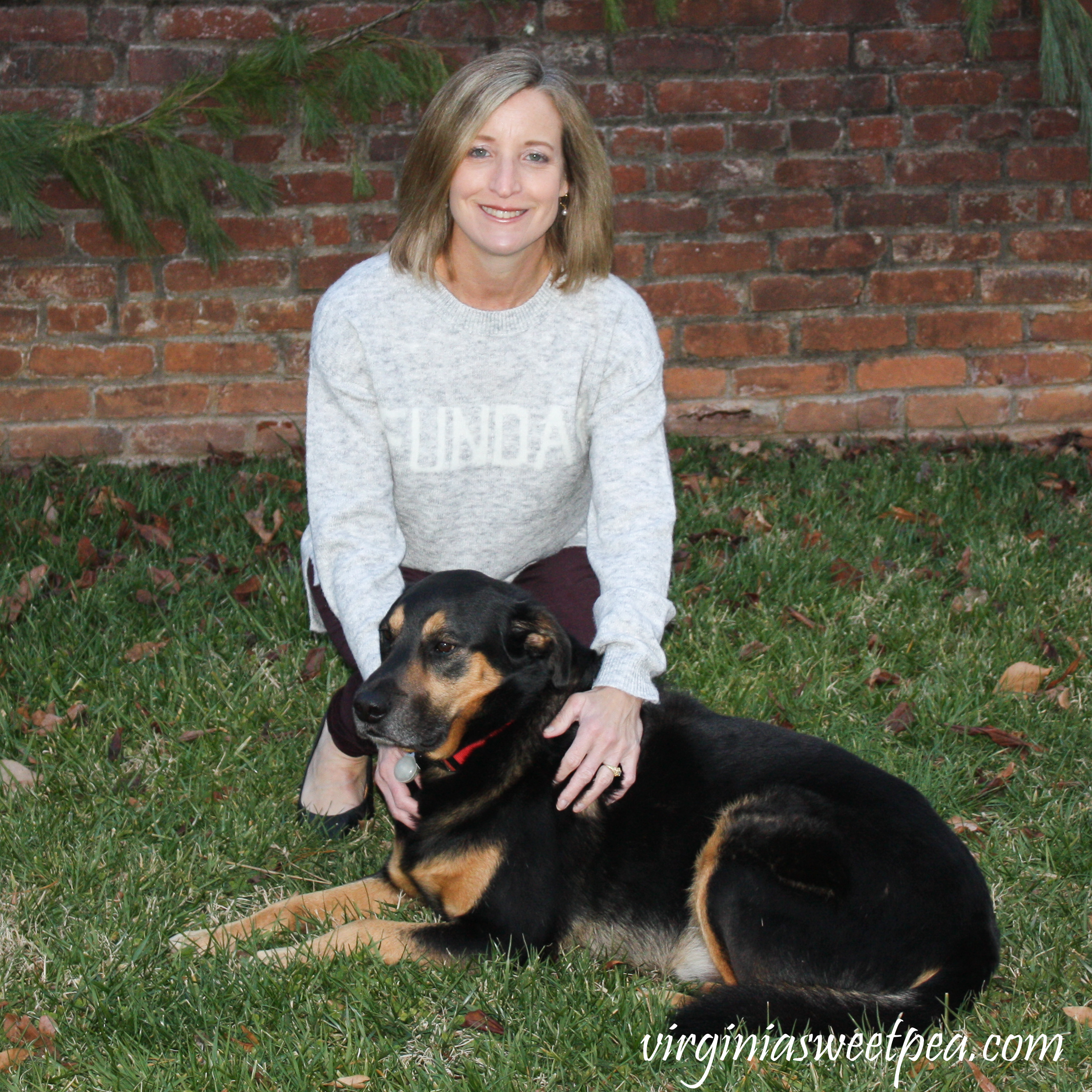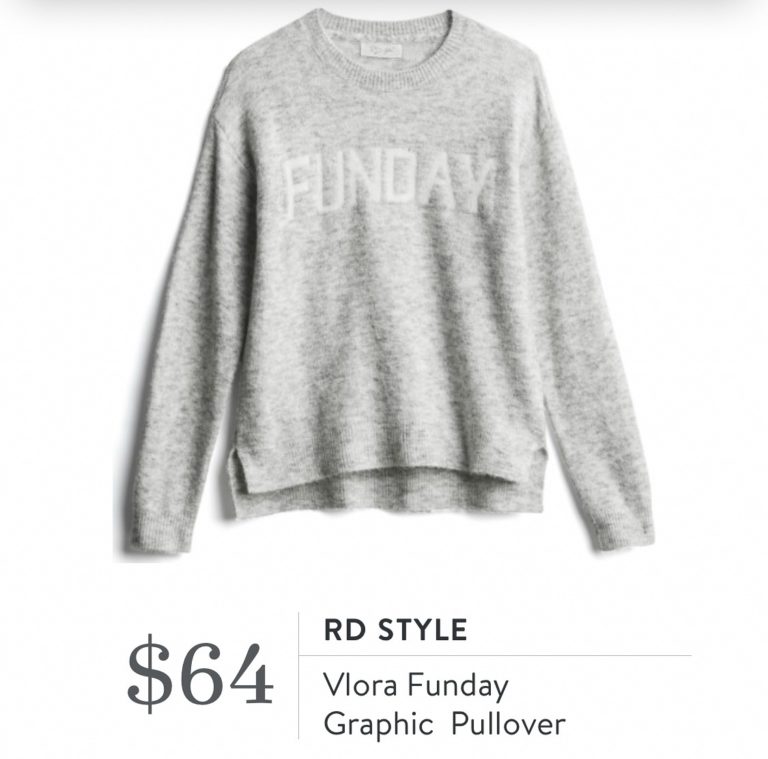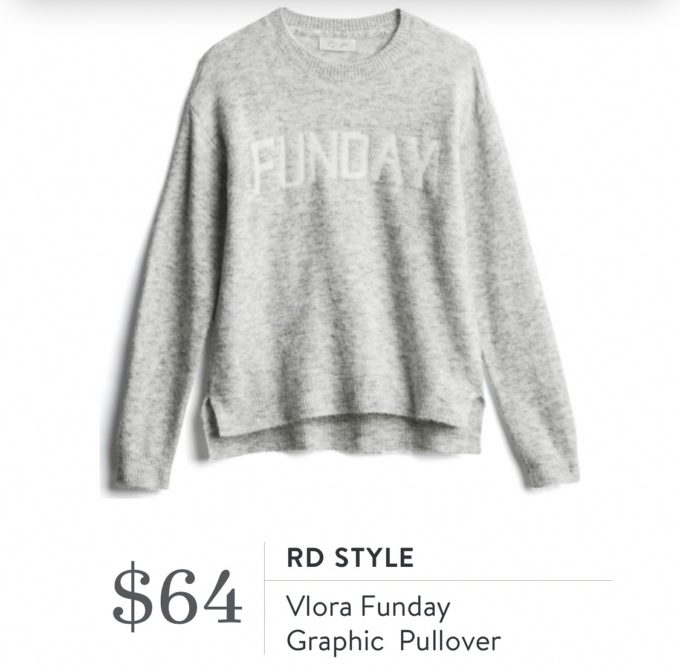 Verdict – Return
This was a fun Fix and I really enjoying trying everything on. I ended up with a cute top and pants that look great together and that can also be worn with other things already in my wardrobe. My sweet mother gave me a Stitch Fix gift card for Christmas and I used it to purchase this outfit. Thanks, Mama!
GIVE A STITCH FIX GIFT CARD
A Stitch Fix gift card is a gift that any man or woman would like to receive. I know I'm thrilled when I receive one! Click below to give a gift card to someone that you know who likes Stitch Fix or has been meaning to try it.
TRY STITCH FIX
If you've been thinking about trying Stitch Fix but haven't, I encourage you to give it a try. Don't forget that Stitch Fix also offers services for both men and children.
I love receiving my box each month and have so much fun trying on all of the styles sent to me.