Stitch Fix Review for September 2018–Fix #61
It's September and time to think about transitioning to fall. I'm not ready to let go of summer but fall is coming whether I'm ready or not.
This month's Stitch Fix box contained items perfect for transitioning from summer to fall.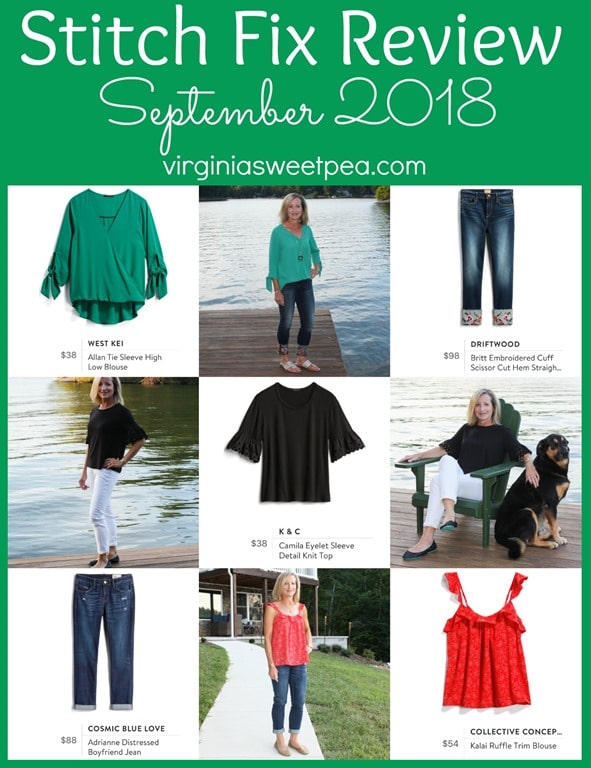 I am a Stitch Fix affiliate and if you make a purchase, I make a small commission. My love for Stitch Fix is genuine and all opinions are truthful and my own.
September 2018 Stitch Fix Review
If you are new to Stitch Fix, these details will help you to understand the service. Feel free to email me with any questions you might have about Stitch Fix. I can also send you a link to use that will give you $25 off your first box.
Stitch Fix Details
Stitch Fix is a personal styling service. When you sign up for Stitch Fix, you fill out a detailed style profile that helps your stylist know your likes and dislikes. Since I've received 58 Stitch Fix shipments, my stylist knows my likes and dislikes very well and I almost always like every item in my Fix, a good problem to have!
When a Fix arrives, you have three days to try the clothes on and to decide what to keep and what to send back. Stitch Fix includes a postage paid envelope making returns super easy.
When you sign up for Stitch Fix, you can choose how often a box is delivered. You can pick a monthly options or schedule a box when you'd like to receive one.
I do not like shopping and love receiving clothing from Stitch Fix. I get clothes that I like without having to do any work other than pinning things that I like to my fashion board on Pinterest. My stylist, Brittany H., checks my Pinterest board for inspiration and also reads my note to her each month to see if I have any special requests.
You can find links to all of my Fixes here and also be sure to check out my Stitch Fix Review Board on Pinterest where I pin my favorite looks.
For more Stitch Fix looks, be sure to check out my other Stitch Fix reviews. And if you haven't tried Stitch Fix, what are you waiting for? It's so much fun to received a box of five items picked just you.
This Month's Stitch Fix Items
This month I asked my stylist for denim and shirts with a ruffle detail. Let's see what Brittany picked for me for September!
West Kei Allan Tie Sleeve Blouse
I love the color of this blouse, the tie detail on its sleeves, and its longer back.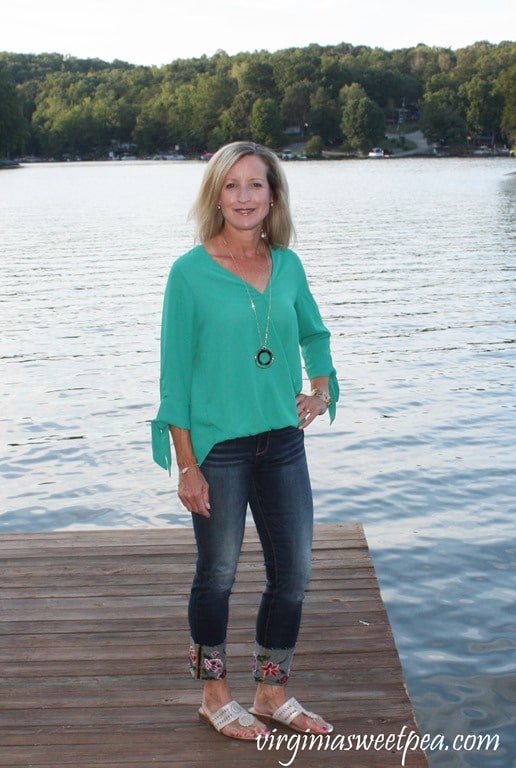 Here you can see the back of this blouse. I also like its inverted pleat.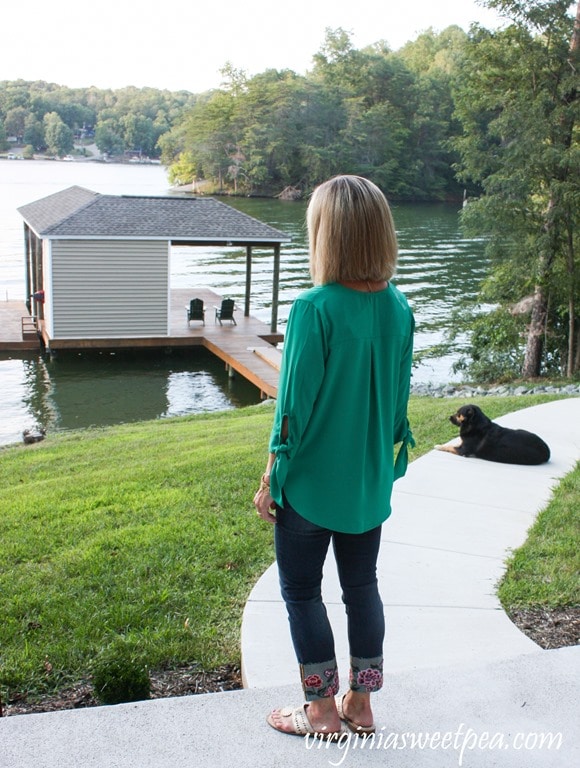 My necklace is from my August Rocksbox shipment. Rocksbox is a jewelry subscription service that sends three pieces of jewelry that you can wear for as long as you like each month. When you send your three pieces back, or buy what you like, a new box is sent. If you'd like a free month of Rocksbox, sign up with this code: PAULABFF54. I rejoined Rocksbox in January and am LOVING their service. I've received the cutest jewelry and have purchased quite a few items.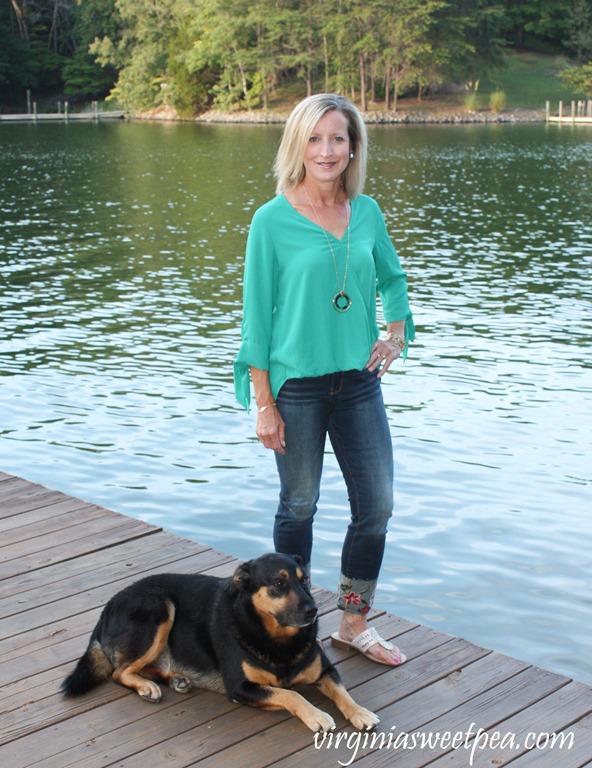 My bracelets are also from Rocksbox. I'm definitely buying this one from this month's box. These jeans are super soft, stretchy, and very comfortable.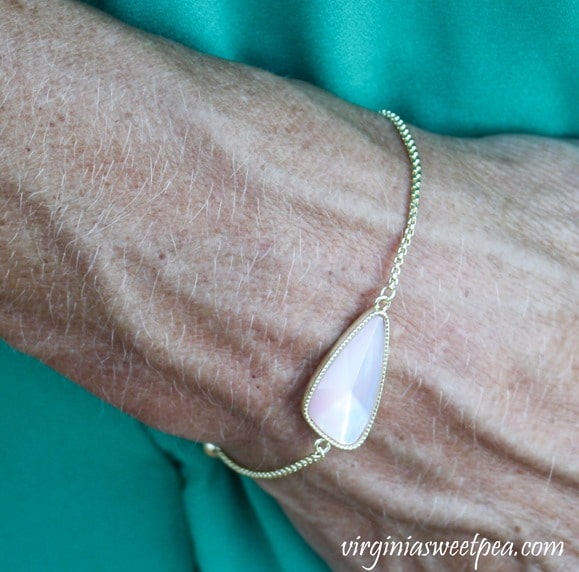 I bought this one earlier in the summer.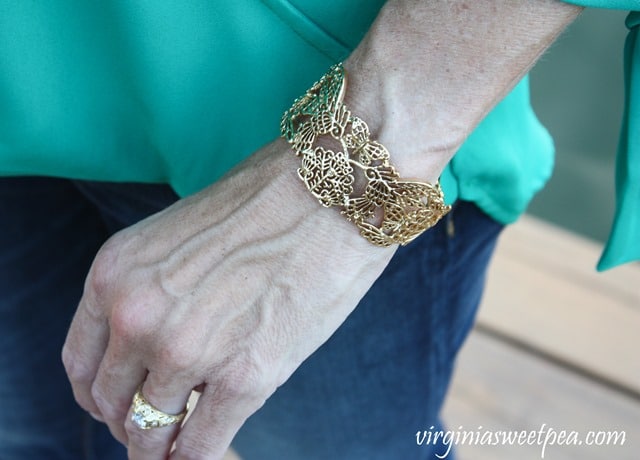 I really liked this top and at $38, its budget friendly. I'm keeping it and it will be perfect to wear in all but summer here in Virginia.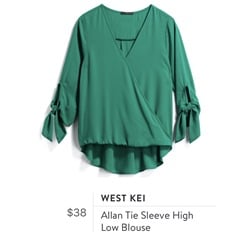 Driftwood Britt Embroidered Cuff Scissor Cut Hem Straight Leg Jean
I paired the West Kei blouse with these jeans who have a cute embroidery detail on the cuff.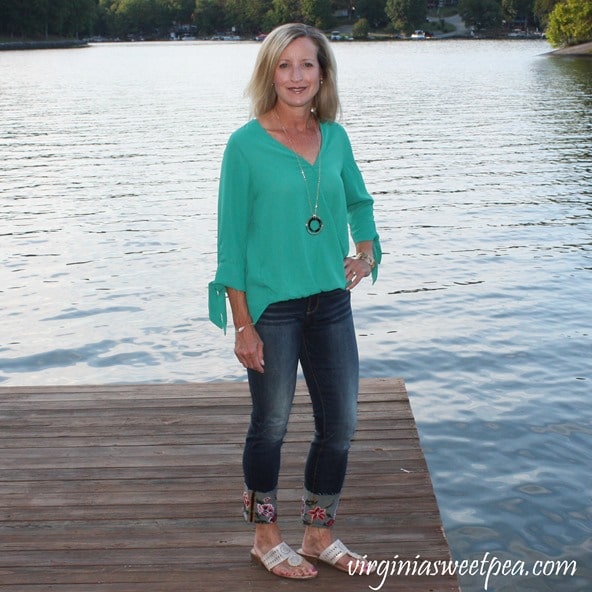 We recently added Tiki torches to our lake patio. It's wonderful to sit out there in the evening, but the bugs are terrible. Using Tiki torches along with burning some Citronella candles solves our biting insect problem.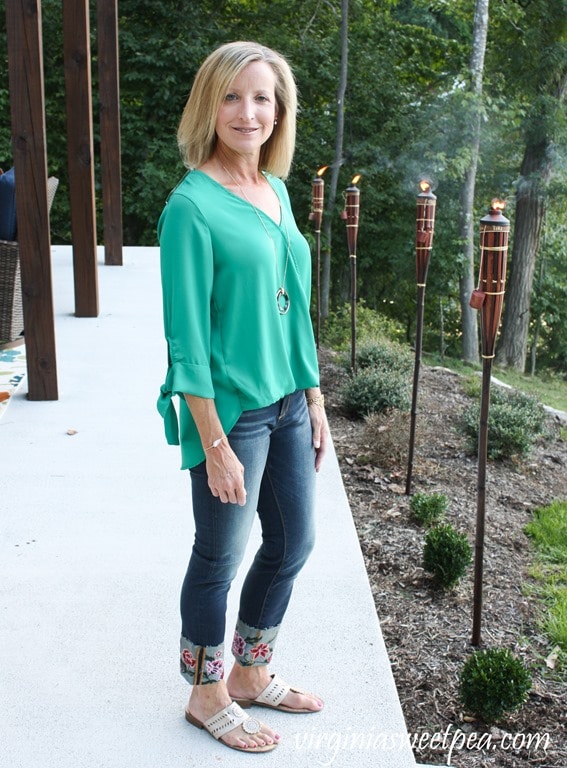 Although I like the jeans, I know that I wouldn't wear them enough to justify their price.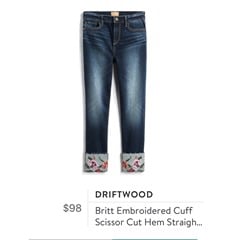 K & C Camila Eyelet Sleeve Detail Knit Top
This top is made from the softest fabric and it has the cutest eyelet lace ruffle on the sleeves.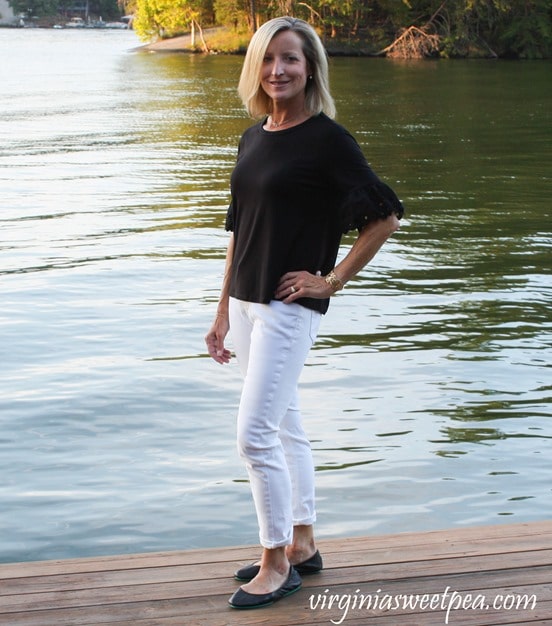 I can wear this with shorts or a skirt now and later in September pair it with jeans or pants.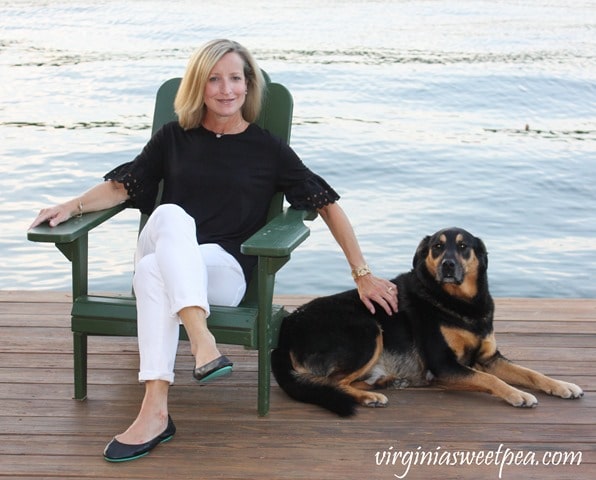 I'm wearing a Rocksbox necklace from this month's box that I'm also keeping. I love the stone, the rose gold, and how it's almost a choker.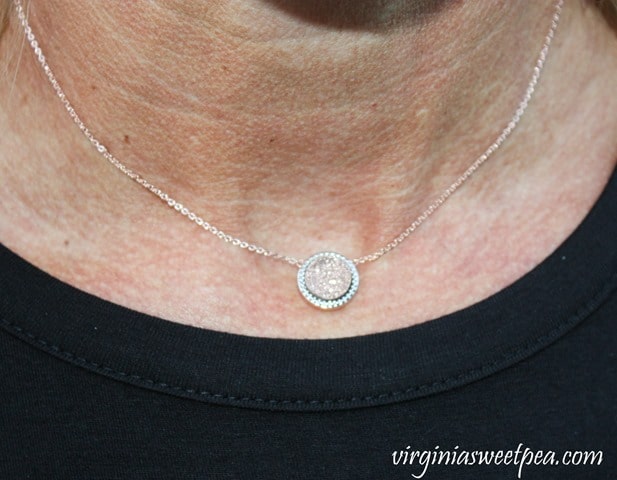 Sherman got a kiss after I got up from the Adirondack chair. Poor thing ended up with lipstick on his head!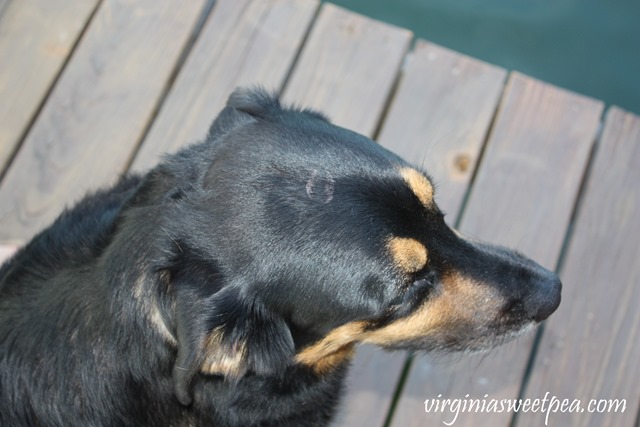 This is another keeper from this month's box.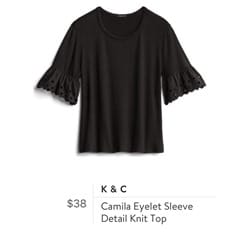 Collective Concepts Kalai Ruffle Trim Blouse
I loved this blouse's pretty color and pattern and also its ruffles.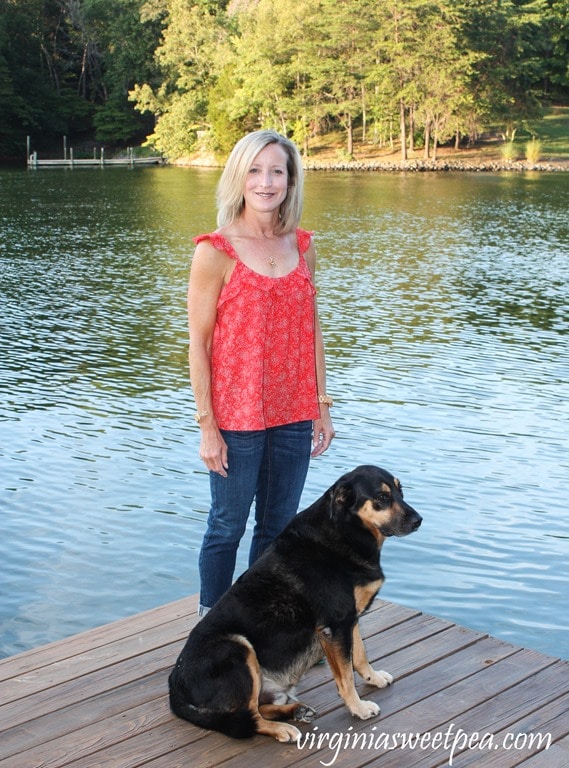 The straps on this blouse are adjustable which will help it to be a good fit for different body types.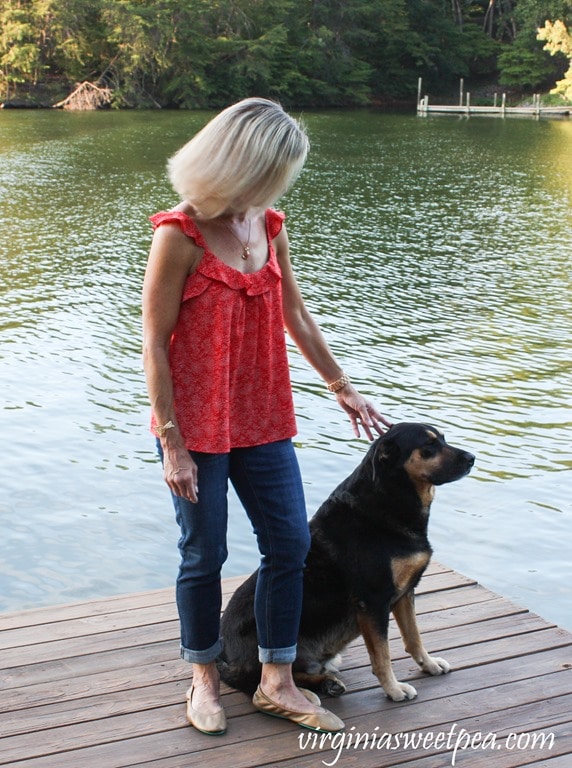 I paired this blouse with a Kate Spade crab necklace that's also from Rocksbox. I truly am enjoying getting jewelry from Rocksbox. It's fun to receive jewelry that I would never shop for on my own and to get to wear it with no pressure to buy.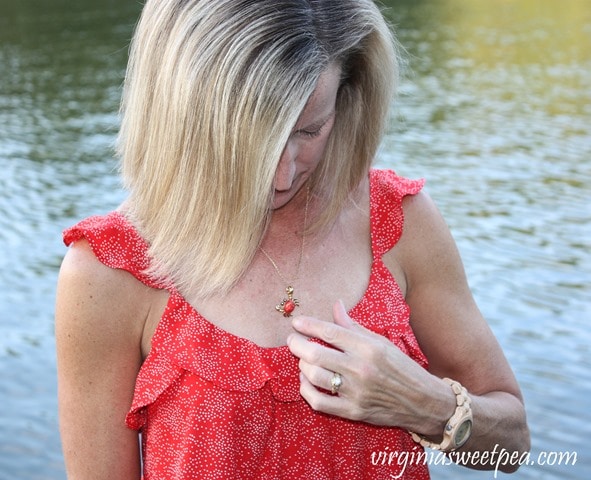 I already have a Stitch Fix top that is similar to the style of this one, so I didn't keep it even though I liked it very much.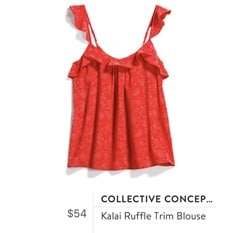 Cosmic Blue Love Adrianne Distressed Boyfriend Jean
These jeans are super soft and comfortable. I like their subtle distress and their color.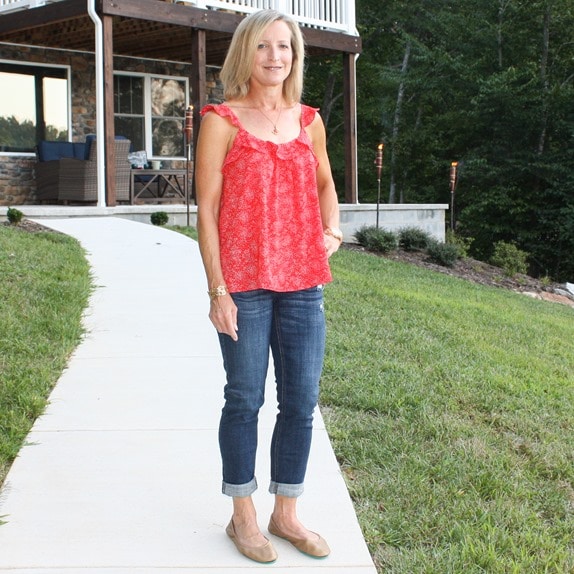 Here you can see more of our patio. The sofa, chairs, and coffee table are from Sam's and I bought them for myself for my birthday in May. We've so much enjoyed using the patio this summer.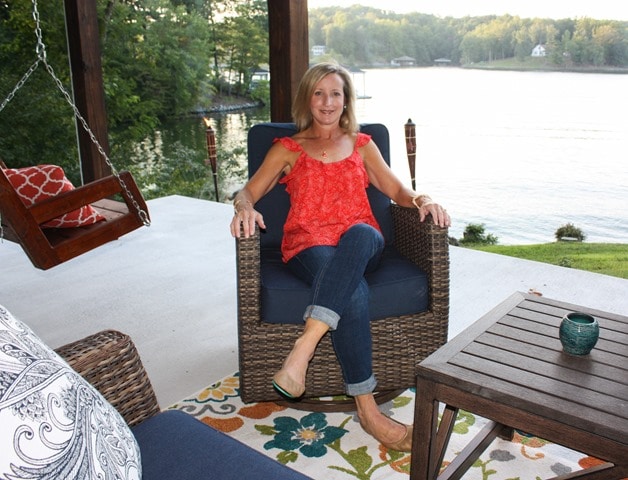 I really liked these jeans but I didn't buy them because my next denim purchase will be a pair with a released hem.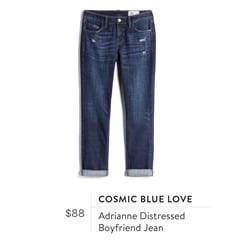 Try Stitch Fix
If you've been thinking about trying Stitch Fix but haven't, I encourage you to give it a try.
I love receiving my box each month and have so much fun trying on all of the styles sent to me. Stitch Fix also offers gift cards, so if you need to give a special lady or gentleman a gift, consider a gift card for a Stitch Fix purchase.
Stitch Fix for Kids!
Calling all Mamas! Stitch Fix now offers a new service just for kids. Stitch Fix offers clothing for boys and girls sizes 2T to 14. You'll get 8 – 10 items of clothing and your child's stylist will include a personalized note just for them.
Budget Friendly Pricing – Prices start at just $10 per item.
One of a Kind Styles – Your kid won't look like every other kid on the playground.
Convenience – No trips shopping! The box comes and your child tries the clothes on at home.
Free Shipping – Shipping is free both ways. Use the prepaid envelope to return items that you or your child don't want.