Stitch Fix Review for February 2019 – Fix #66
The first of the month brings another Stitch Fix review to share with you. Although Fix #66 wasn't one of my favorite boxes, it still was fun to receive and try on what was sent.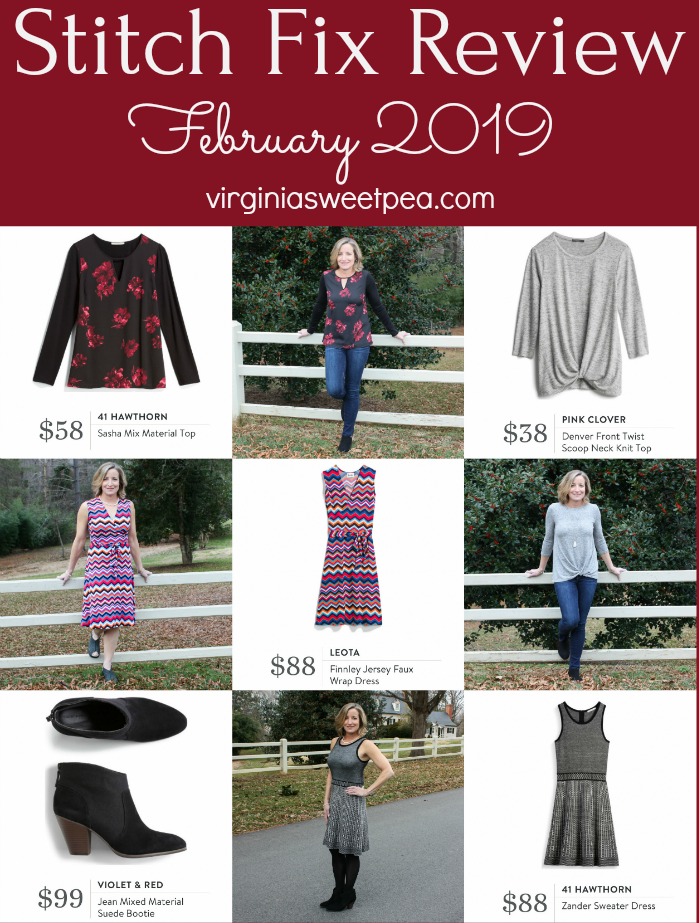 I am a Stitch Fix affiliate and if you make a purchase, I make a small commission. My love for Stitch Fix is genuine and all opinions are truthful and my own.
February 2019 Stitch Fix Review
If you are new to Stitch Fix, these details will help you to understand the service. Feel free to email me with any questions you might have about Stitch Fix. I can also send you a link to use that will give you $25 off your first box.
STITCH FIX DETAILS
Stitch Fix is a personal styling service. When you sign up for Stitch Fix, you fill out a detailed style profile that helps your stylist know your likes and dislikes.
When a Fix arrives, you have three days to try the clothes on and to decide what to keep and what to send back. Stitch Fix includes a postage paid envelope making returns super easy.
When you sign up for

Stitch Fix

, you can choose how often a box is delivered. You can pick a monthly options or schedule a box when you'd like to receive one.
I do not like shopping and love receiving clothing from Stitch Fix. I get clothes that I like without having to do any work other than pinning things that I like to my fashion board on Pinterest.
You can find links to all of my Fixes here and also be sure to check out my Stitch Fix Review Board on Pinterest where I pin my favorite looks.
For more Stitch Fix looks, be sure to check out my other Stitch Fix reviews. And if you haven't tried Stitch Fix, what are you waiting for? It's so much fun to received a box of five items picked just you.
THIS MONTH'S STITCH FIX ITEMS
For this month's Fix I requested dresses and a pair of shoes to match. When you schedule a Fix, it's always a good idea to leave a note for your stylist if there's something in particular that you want or if you need an outfit for an upcoming event.
It's also a good idea to pin outfits that you like to give your stylist an idea of what you'd like to receive. I pinned a few floral dresses and a few pair of booties that I thought were cute.
Why I Wasn't Happy with this Fix
This Fix was styled by a new-to-me stylist, Lori, since my beloved regular stylist, Brittany H., is taking some time off this month. I did not know that Brittany wouldn't be styling me this month until my Fix arrived and I read the note that Lori wrote to me. I liked the tops and booties that Lori sent but I did not like the dresses that she selected. It is freezing cold here in Virginia and the two sleeveless dresses that Lori selected are not what I would wear in February. The summer dress that Lori sent was something that I had pinned from last summer but it wasn't something that I wanted to buy in February.
I don't know if Brittany will be back next month, but to make sure that my March Fix is better than this one, I've been pinning a lot of things to my pinterest board to give whoever styles me a better idea of what I expect.
On with the Stitch Fix Review!
You're here to see what I received this month, so let's get this show on the road.
41 Hawthorn Zander Sweater Dress
Sleeveless and sweater dress just don't go together in my opinion. It's winter! If I'm going to wear a sweater dress, I want it to have sleeves to keep me warm.
Can you tell that I did not like this dress?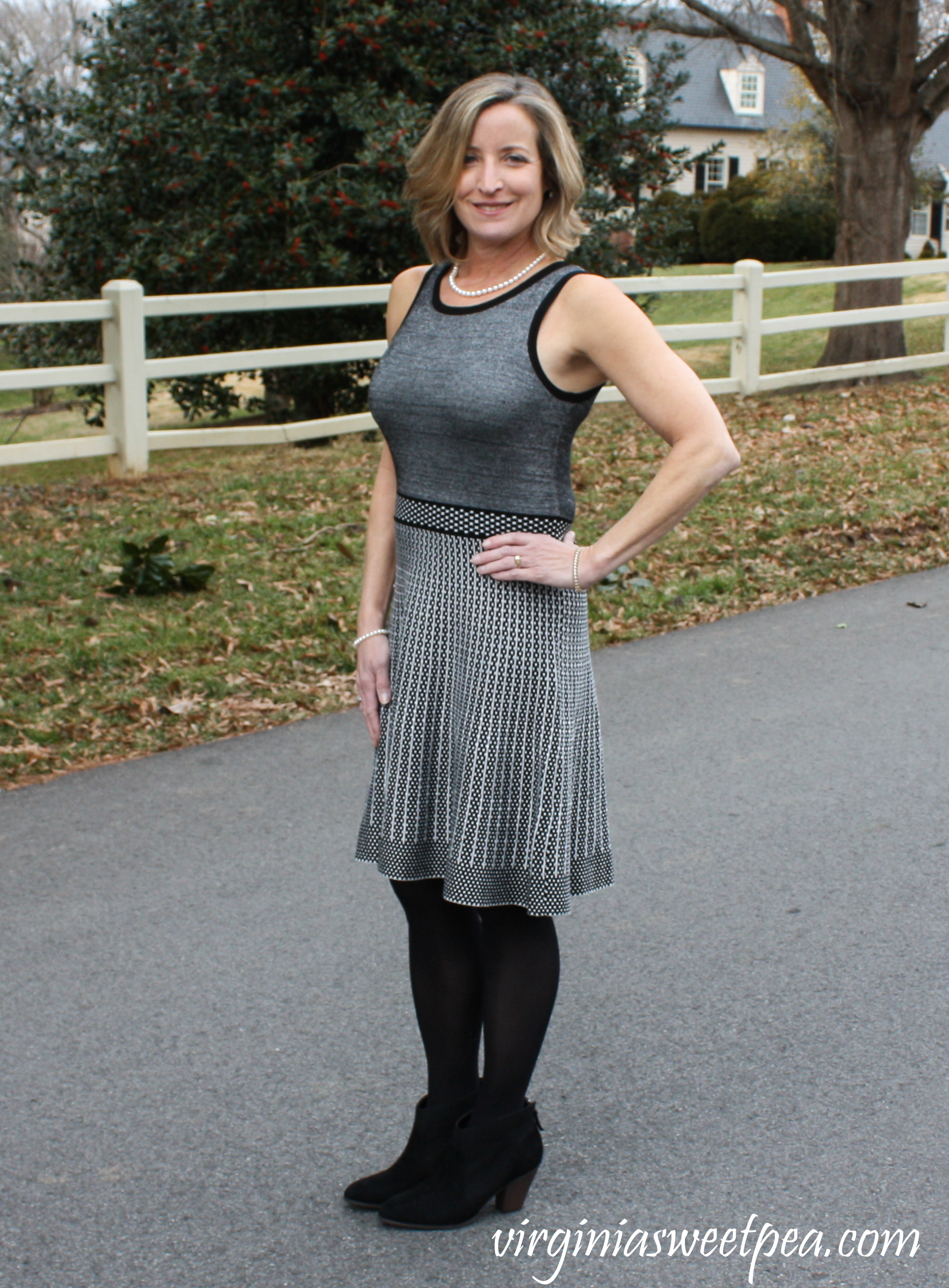 If this dress had long sleeves, I may have liked it a bit more, or maybe not. I didn't feel good in it and I didn't think that it was flattering.
I paired the dress with Violet & Red Jean Mixed Material Suede Booties (see below) also sent with this Fix.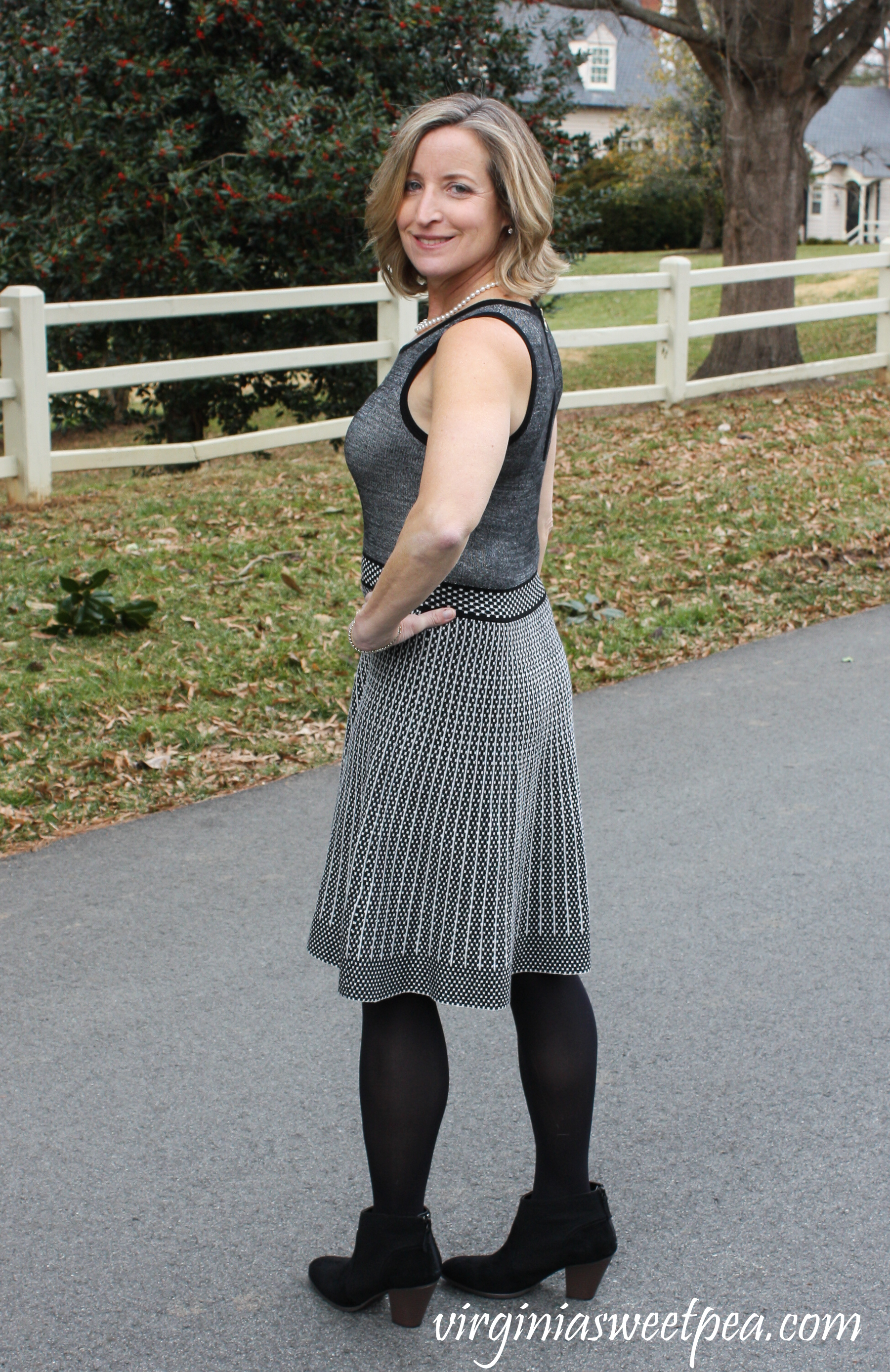 Here I've added a black cardigan from a previous Fix and I like the look of the dress better with the addition of the cardigan. A black blazer would also look good with this dress. The shoes I have on here are Danskos from my teaching days when I stood on concrete all day.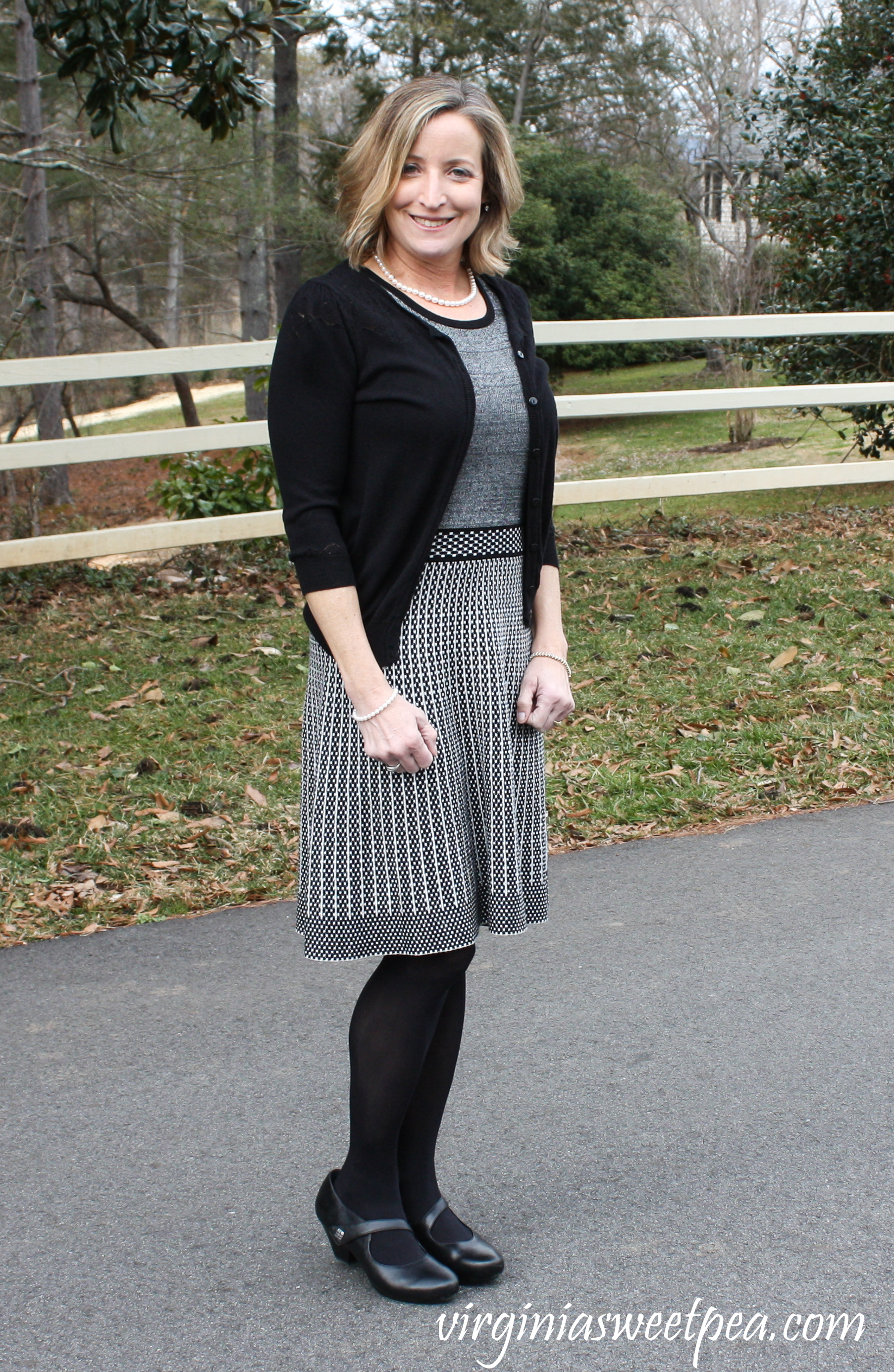 It probably is no surprise to you that this dress was returned.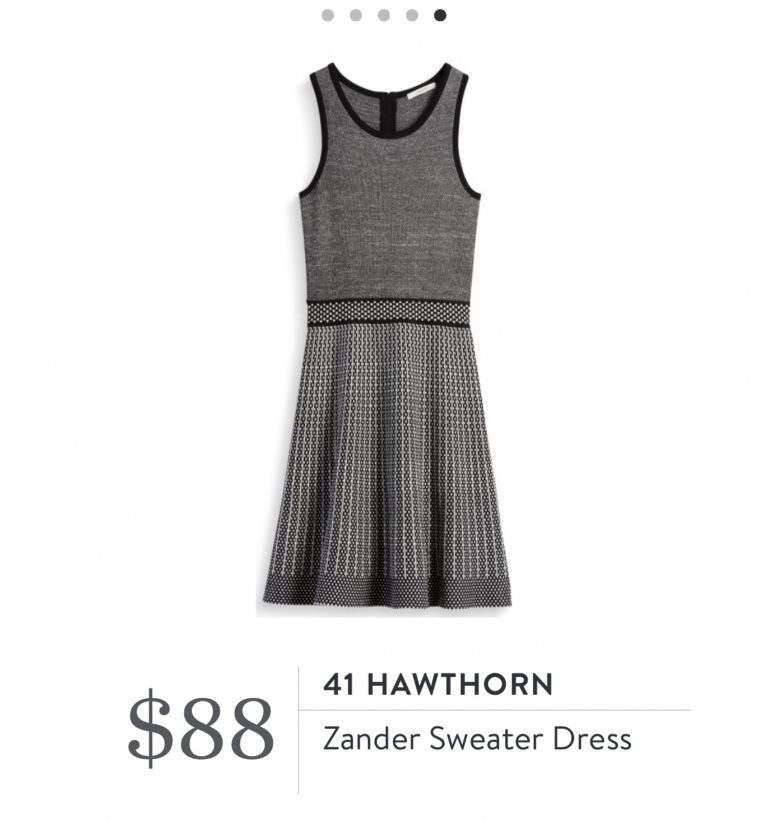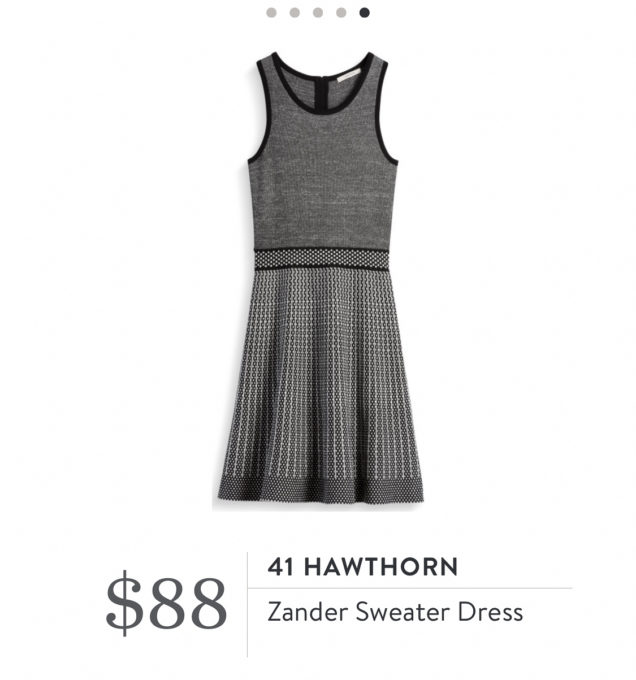 Violet & Red Jean Mixed Material Suede Bootie
I really liked these booties. Their style is cute and they were comfortable.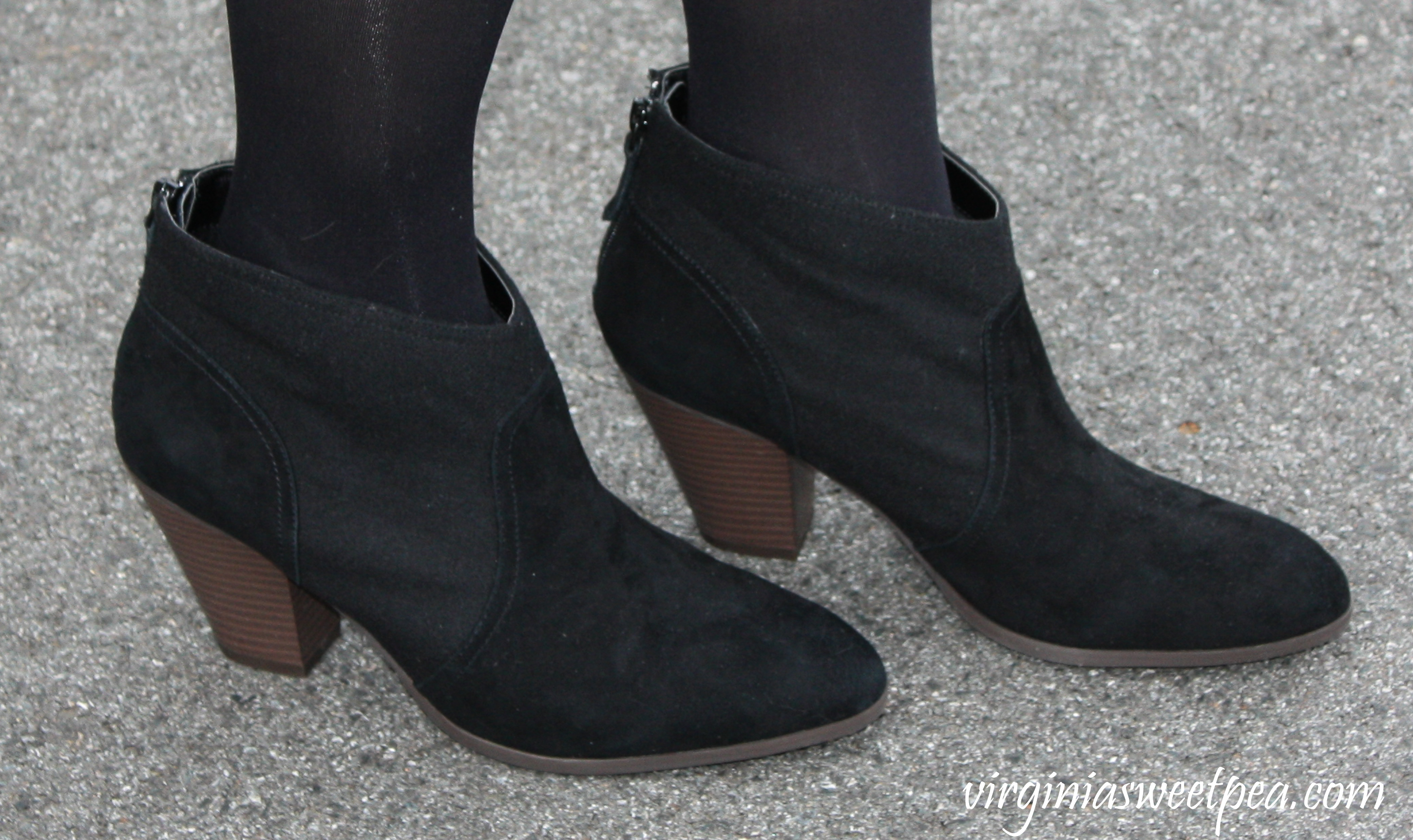 A few weeks ago I ordered and received two pair of black booties from Payless that I've been wearing non-stop, so I didn't need this pair.
My Payless boots are on sale now. I have the Shanna Chelsea boot in black and brown and the Rey Low-Heeled Bootie in black. I have been ordering all of my boots from Payless for many years and I've always been happy with them. It's nice to get something fashionable for an inexpensive price.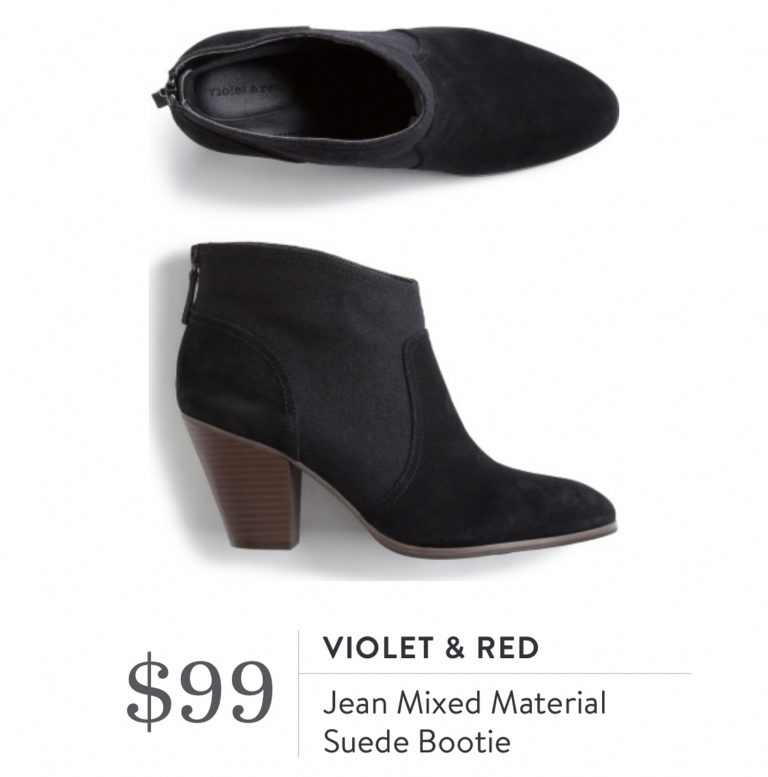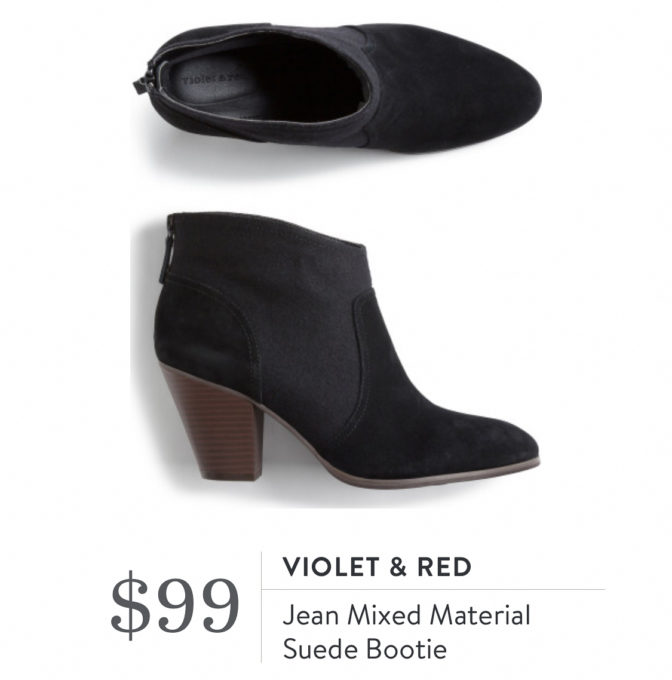 Leota Finnley Jersey Faux Wrap Dress
I am a huge fan of a wrap dress as they are usually flattering. While I liked the bold pattern and colors of this dress, I didn't like how it fit in the waist area. You can't see this in the picture, but the waist seam hit me in an odd place in both the front and the back.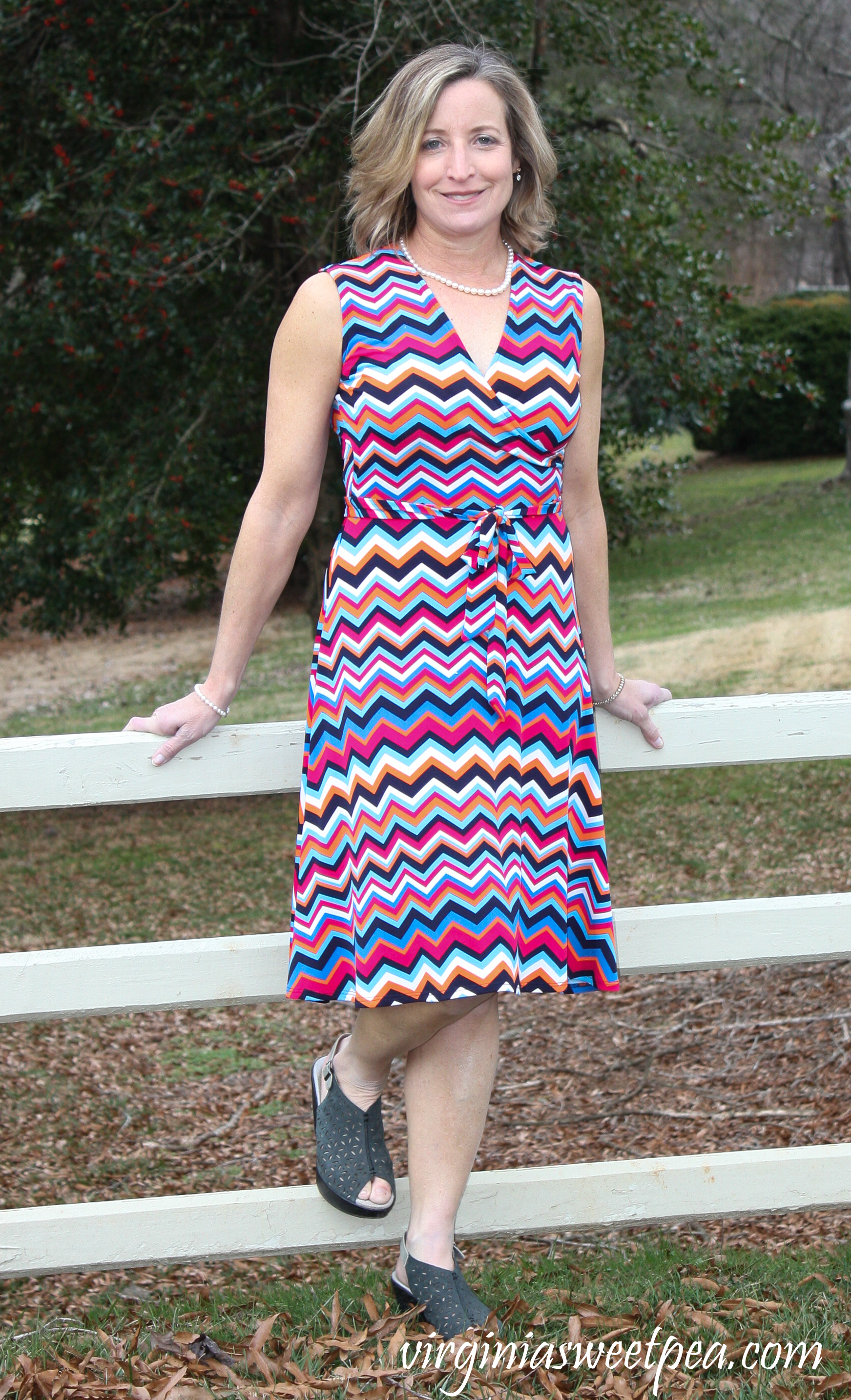 Another plus for this dress was its fabric. It was a soft and silky no-wrinkle type fabric that is perfect for travel. I love it when a dress can be stuffed into my suitcase or gym bag and be unpacked wrinkle-free.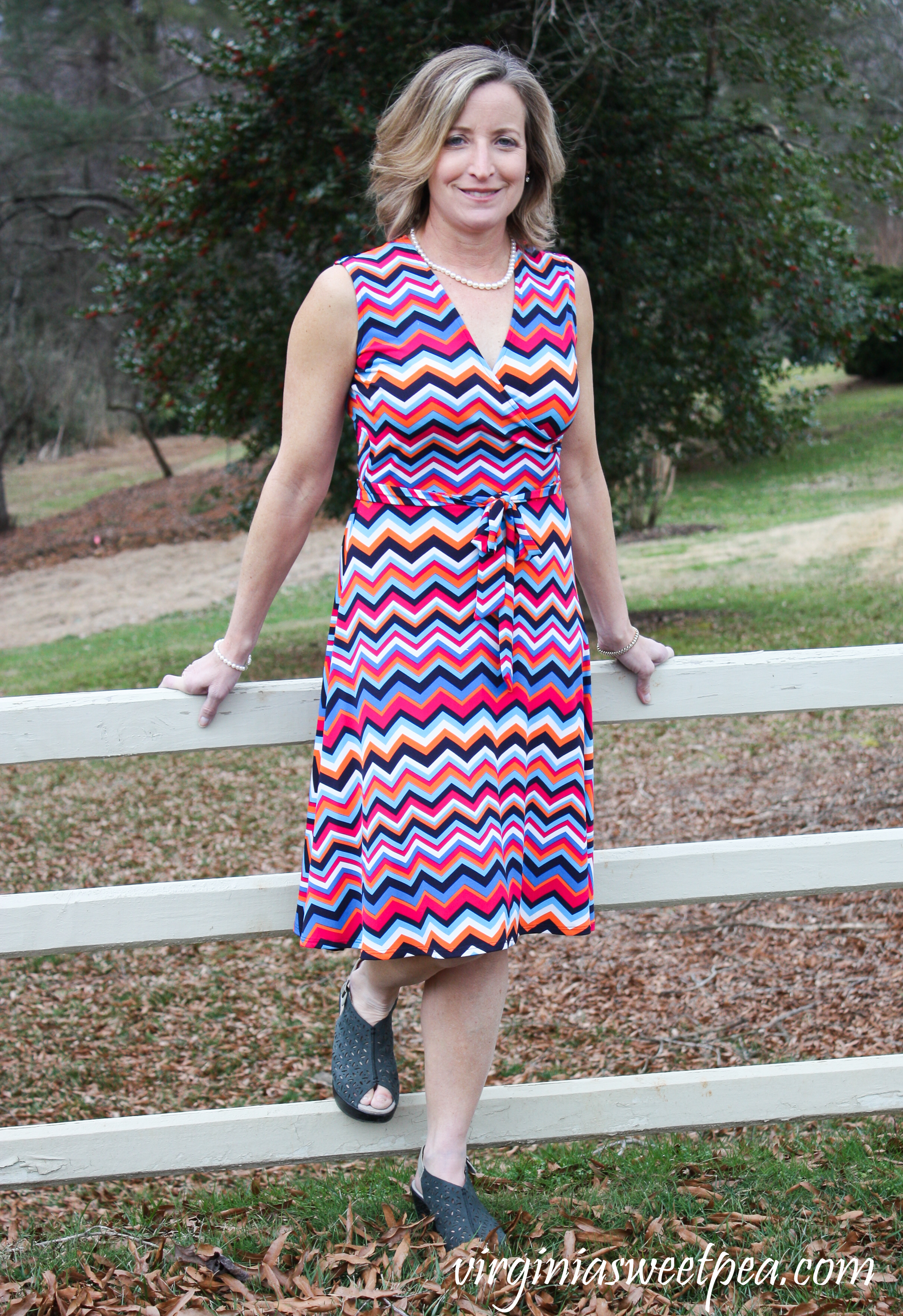 Like the previous dress, this one was returned.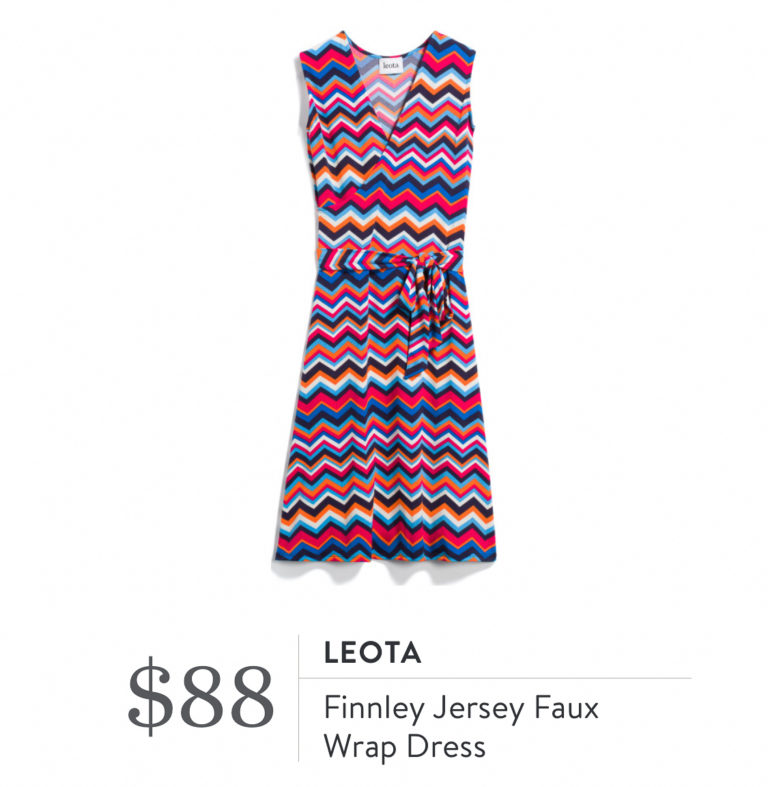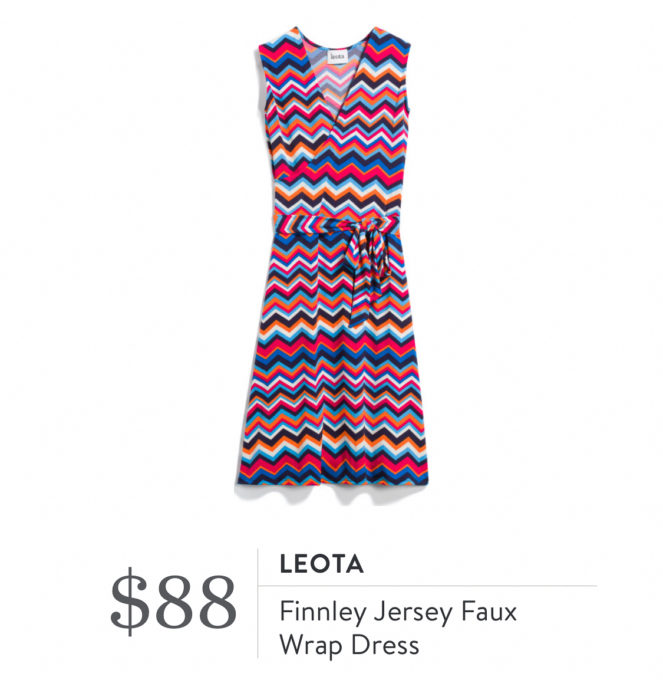 41 Hawthorn Sasha Mix Material Top
I really liked this top's floral pattern and its mixed material. The floral part was silky and the sleeves and back were a sweater-like material.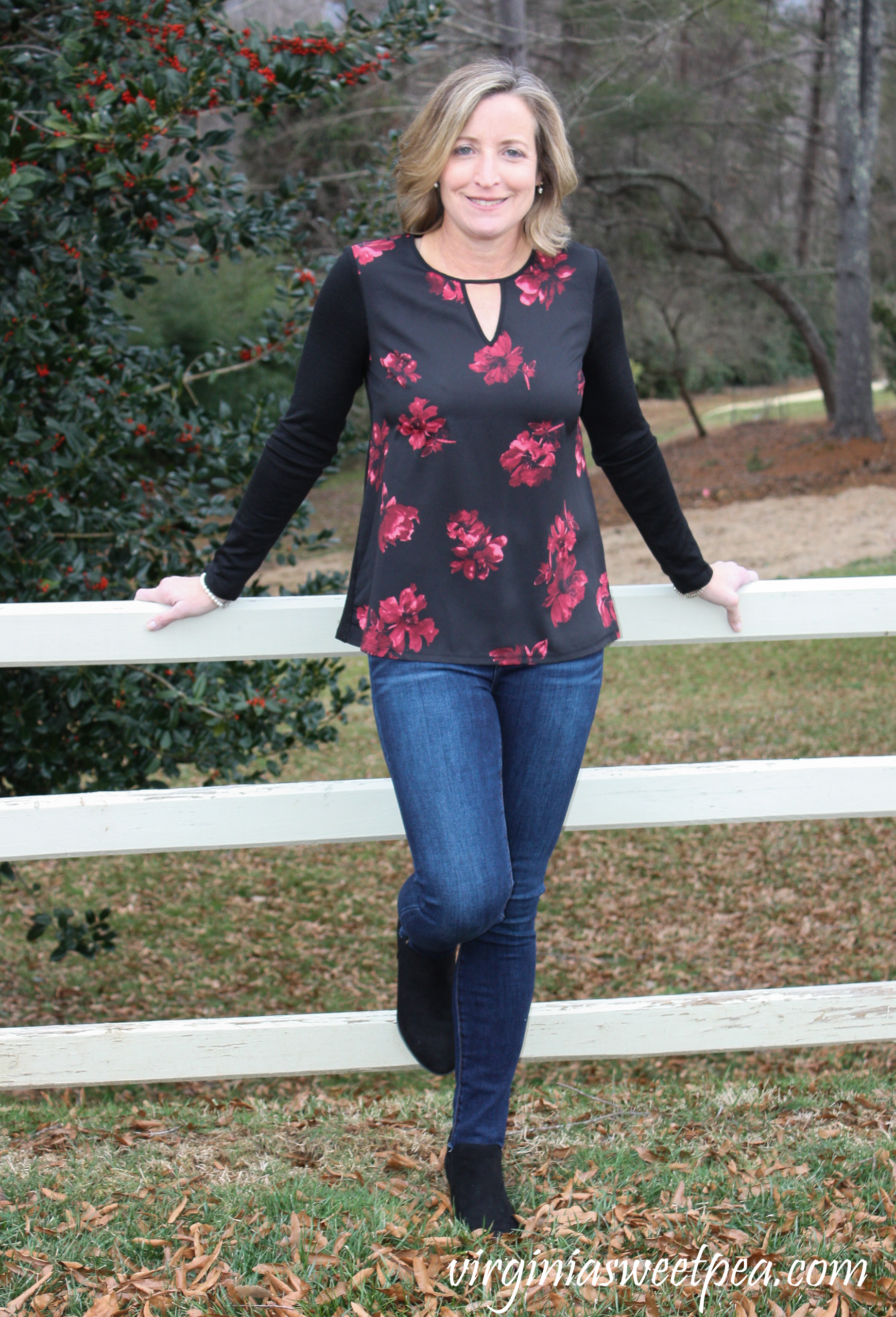 I also liked the keyhole cut-out in the neckline.
The booties that I'm wearing are the Rey bootie from Payless that I mentioned above and my jeans are from my November Stitch Fix box.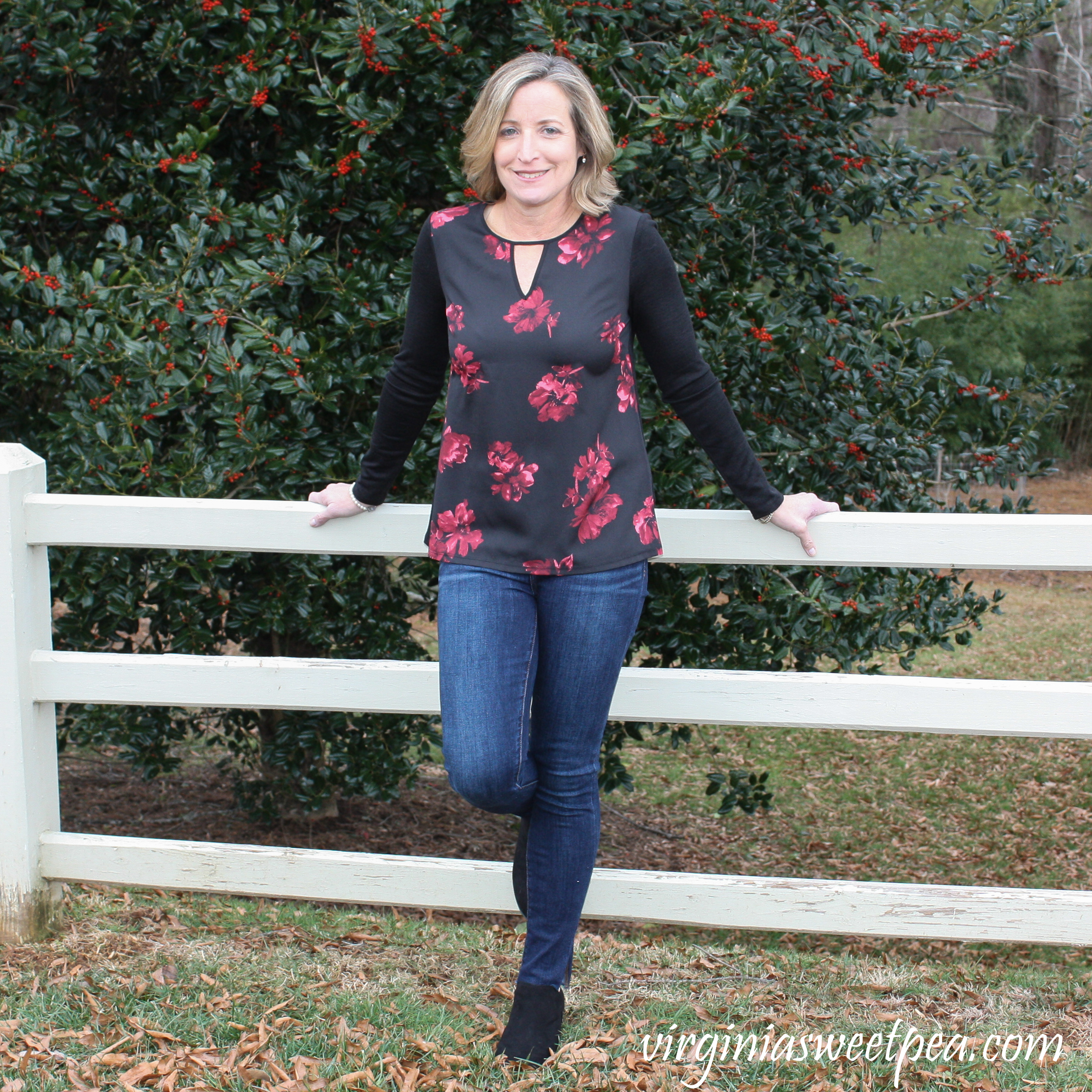 I really liked this top but felt like the price was a bit high so I returned it.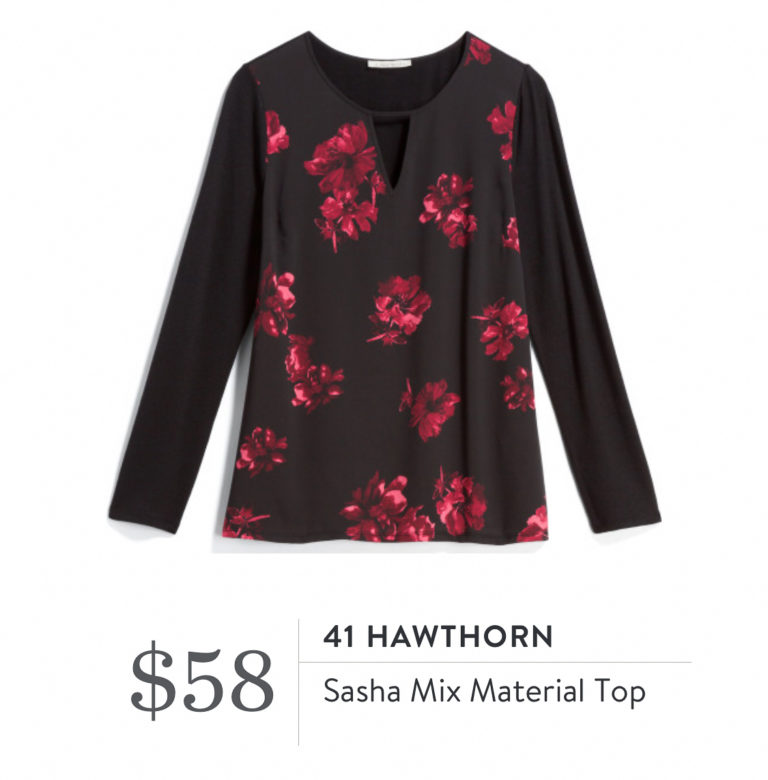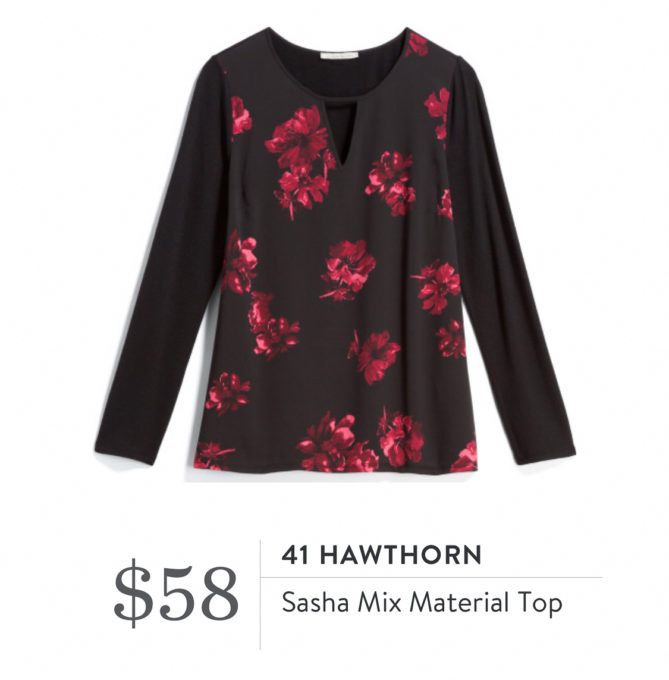 Pink Clover Denver Front Twist Scoop Neck Knit Top
This top is super soft, made of the kind of material that when you put it on, you don't want to take it off. I loved its 3/4 sleeves and cute twist front detail.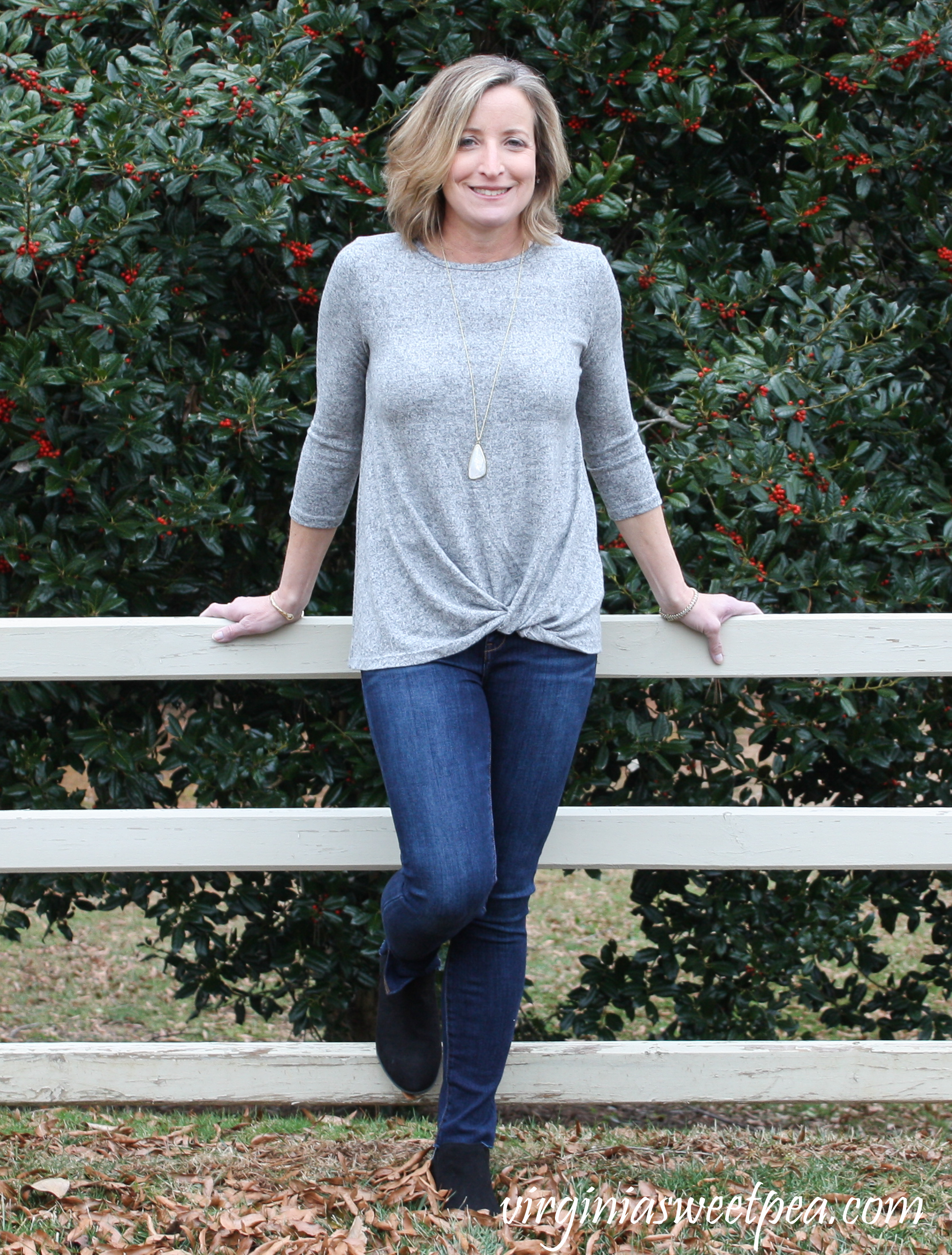 The necklace that I'm wearing is from Rocksbox. Rocksbox is a jewelry subscription service that sends three pieces of jewelry that you can wear for as long as you like each month. When you send your three pieces back, or buy what you like, a new box is sent. If you'd like a free month of Rocksbox, sign up with this code: PAULABFF54. I rejoined Rocksbox over a year ago and am LOVE their service. I've received the cutest jewelry and have purchased quite a few items.
I didn't buy this top because I have a Pink Clover top from my September 2017 box that is made from the same material and that is also gray, although the one I have has floral sleeves. This top is also similar to the Jolie Reid top that I purchased from my March 2018 box although admittedly I like this one better.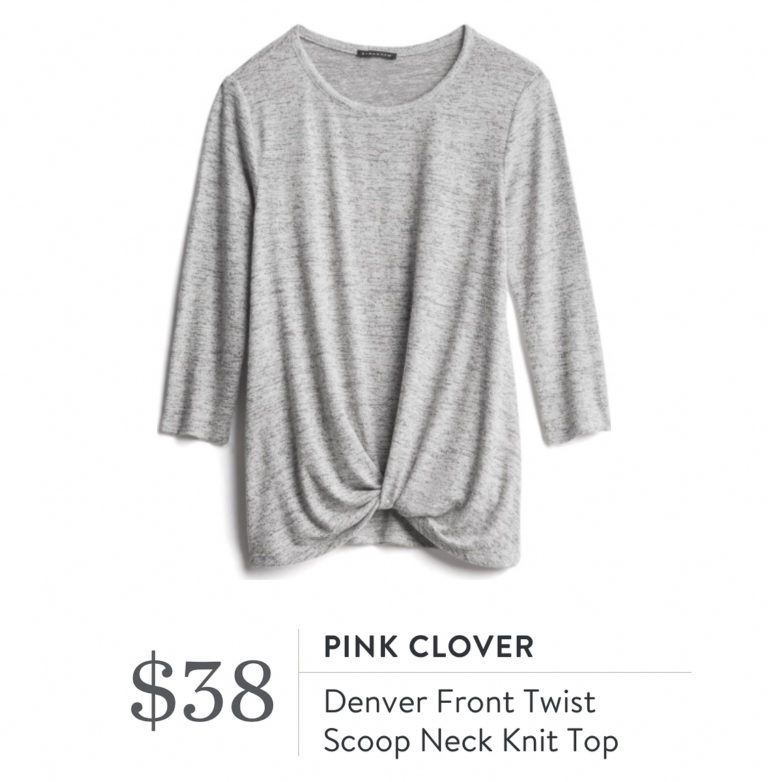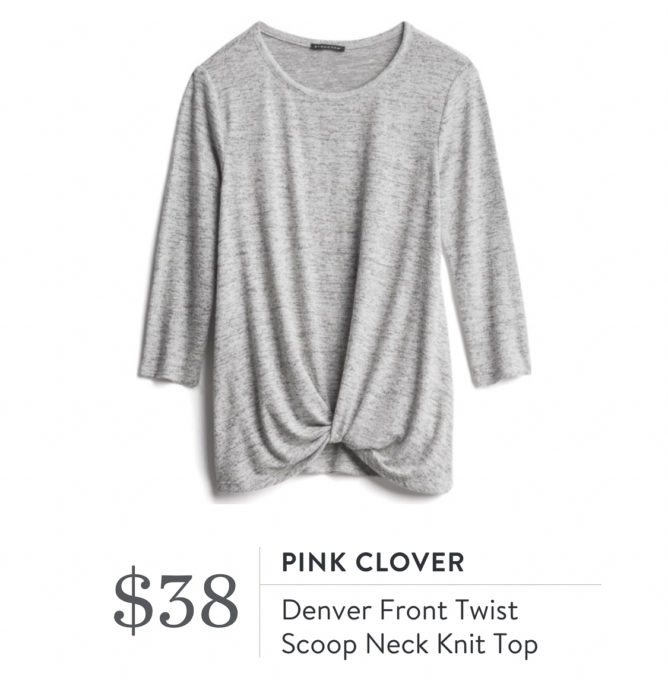 TRY STITCH FIX
If you've been thinking about trying Stitch Fix but haven't, I encourage you to give it a try. Don't forget that Stitch Fix also offers services for both men and children and they offer maternity and also plus-sizes.
I love receiving my box each month and have so much fun trying on all of the styles sent to me.
Even though this wasn't my favorite box, I still enjoyed trying on all of the items and I was tempted to buy two of them. I'm sure next month will be better and since I didn't buy anything this month, I'll have more money to spend next month.
GIVE A STITCH FIX GIFT CARD
A Stitch Fix gift card is a gift that any man or woman would like to receive. I know I'm thrilled when I receive one! Click below to give a gift card to someone that you know who likes Stitch Fix or has been meaning to try it.
My mom gave me a Stitch Fix gift card for Christmas and I used it to buy an outfit from my January box. She knew that I would love a Stitch Fix card and she was right.