Stitch Fix Review – August 2019 – Fix #72
How does time pass so quickly? It's already August and time to share another Stitch Fix Review. This month my stylist sent fashions perfect to enjoy in late summer.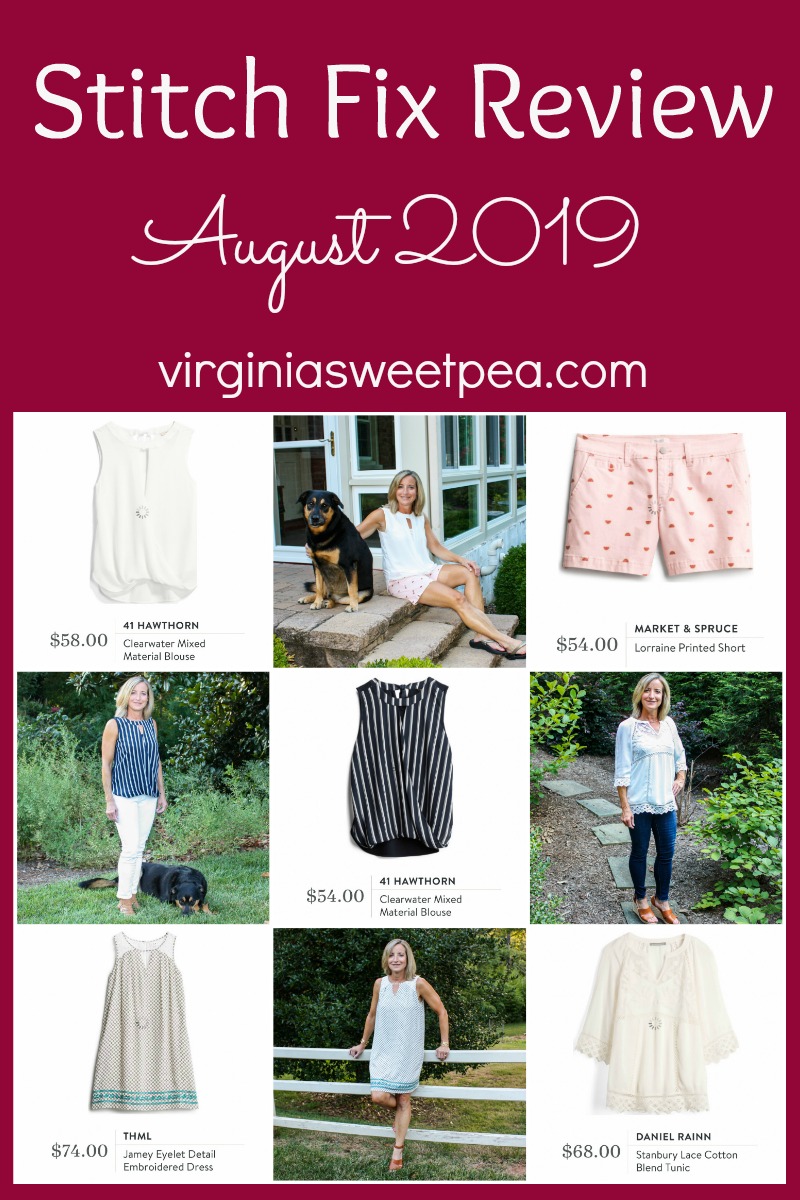 I am a Stitch Fix affiliate and if you make a purchase, I make a small commission. My love for Stitch Fix is genuine and all opinions are truthful and my own.
August 2019 Stitch Fix Review
If you are new to Stitch Fix, these details will help you to understand the service. Feel free to email me with any questions you might have about Stitch Fix. I can also send you a link to use that will give you $25 off your first box.
Stitch Fix Details
Stitch Fix is a personal styling service. When you sign up for Stitch Fix, you fill out a detailed style profile that helps your stylist know your likes and dislikes. Since I've received 72

Stitch Fix

shipments, my stylist knows my likes and dislikes very well and I almost always like every item in my Fix, a good problem to have!
When a Fix arrives, you have three days to try the clothes on and to decide what to keep and what to send back. Stitch Fix includes a postage paid envelope making returns super easy.
When you sign up for

Stitch Fix

, you can choose how often a box is delivered. You can pick a monthly options or schedule a box when you'd like to receive one.I do not like shopping and love receiving clothing from Stitch Fix. I get clothes that I like without having to do any work other than pinning things that I like to my fashion board on Pinterest. My stylist, Brittany H., checks my Pinterest board for inspiration and also reads my note to her each month to see if I have any special requests.
You can find links to all of my Fixes here and also be sure to check out my Stitch Fix Review Board on Pinterest where I pin my favorite looks.
This Month's Stitch Fix Items
I forgot to leave a note for my stylist this month and I hadn't done much pinning of outfits that I liked, so Brittany was on her own this month for picking items out for me. Brittany knows that I love Stitch Fix dresses and she knows that my style these days is casual. In addition to the dress she sent three blouses and a pair of shorts for me to try.
THML Jamey Eyelet Detail Embroidered Dress
Just about every dress in my closet is a Stitch Fix one. I'm always eager to try a new Stitch Fix dress when Brittany selects one for me.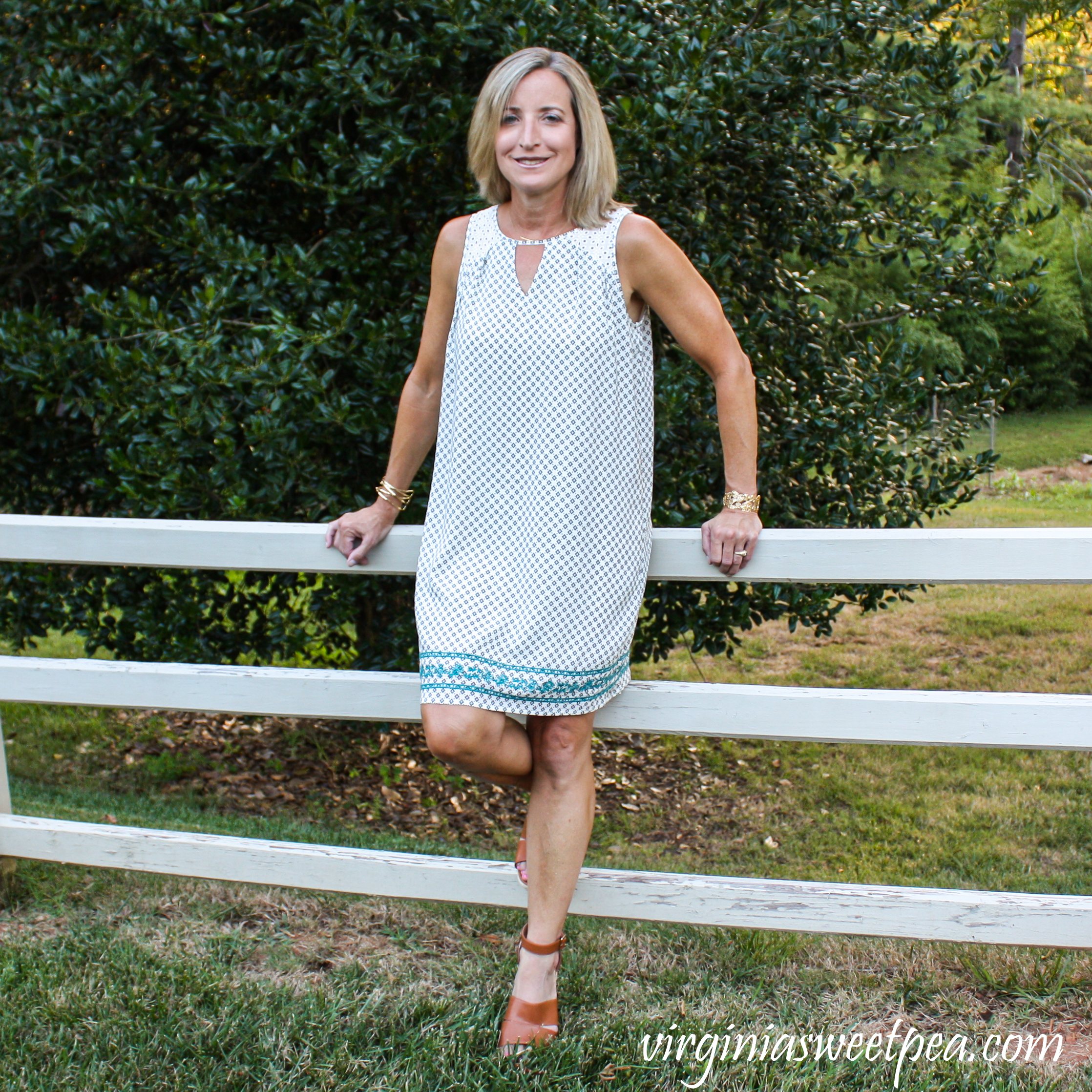 This THML Jamey Eyelet Detail Embroidered Dress is super soft and comfortable and it is lined. I really liked the neck detail and also the embroidery around the hem.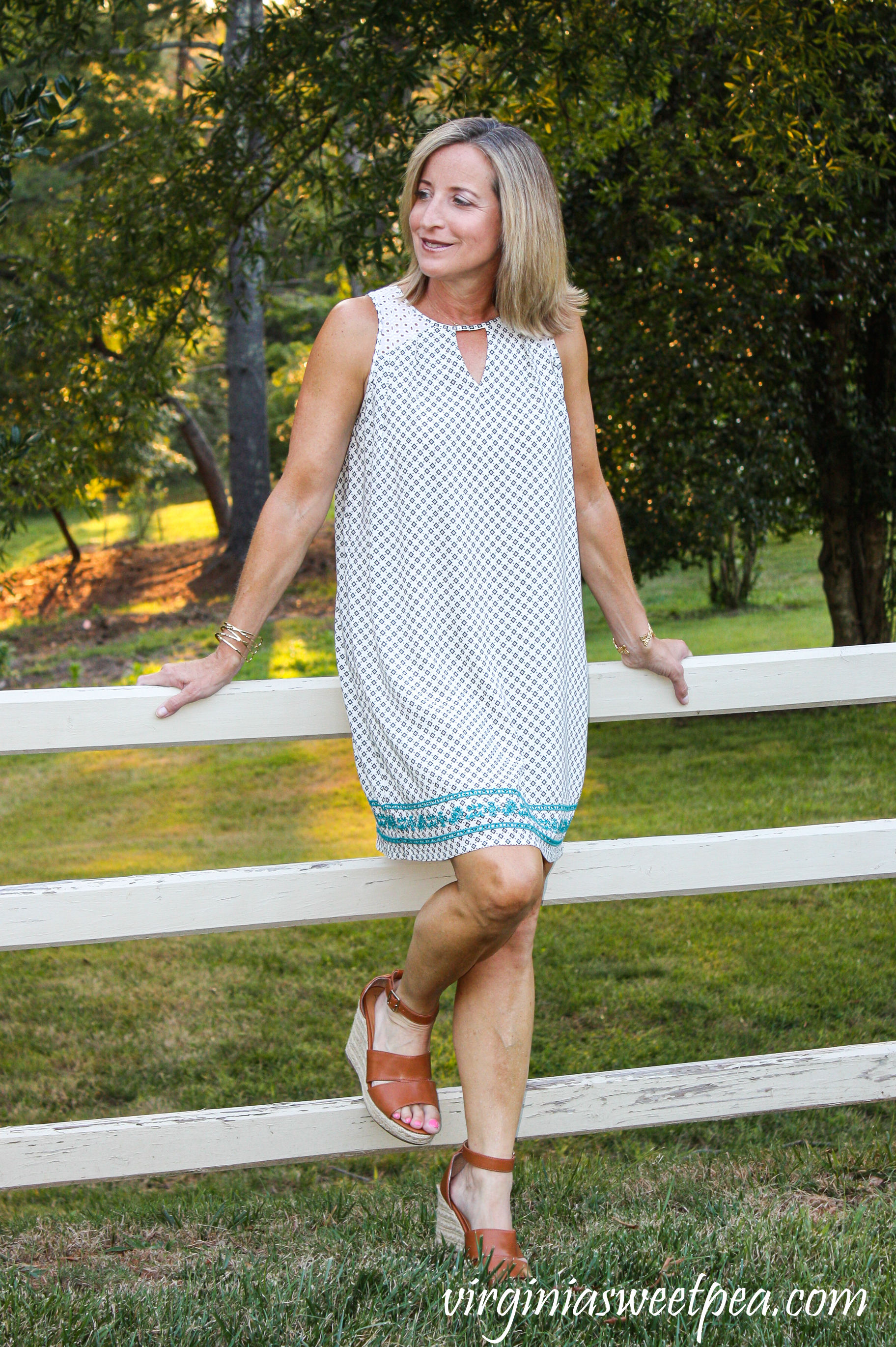 I paired this THML Jamey Eyelet Detail Embroidered Dress with shoes from Walmart that are a knockoff of a popular Sam Edelman style. You can't beat Walmart's $19.99 price with free shipping to the store!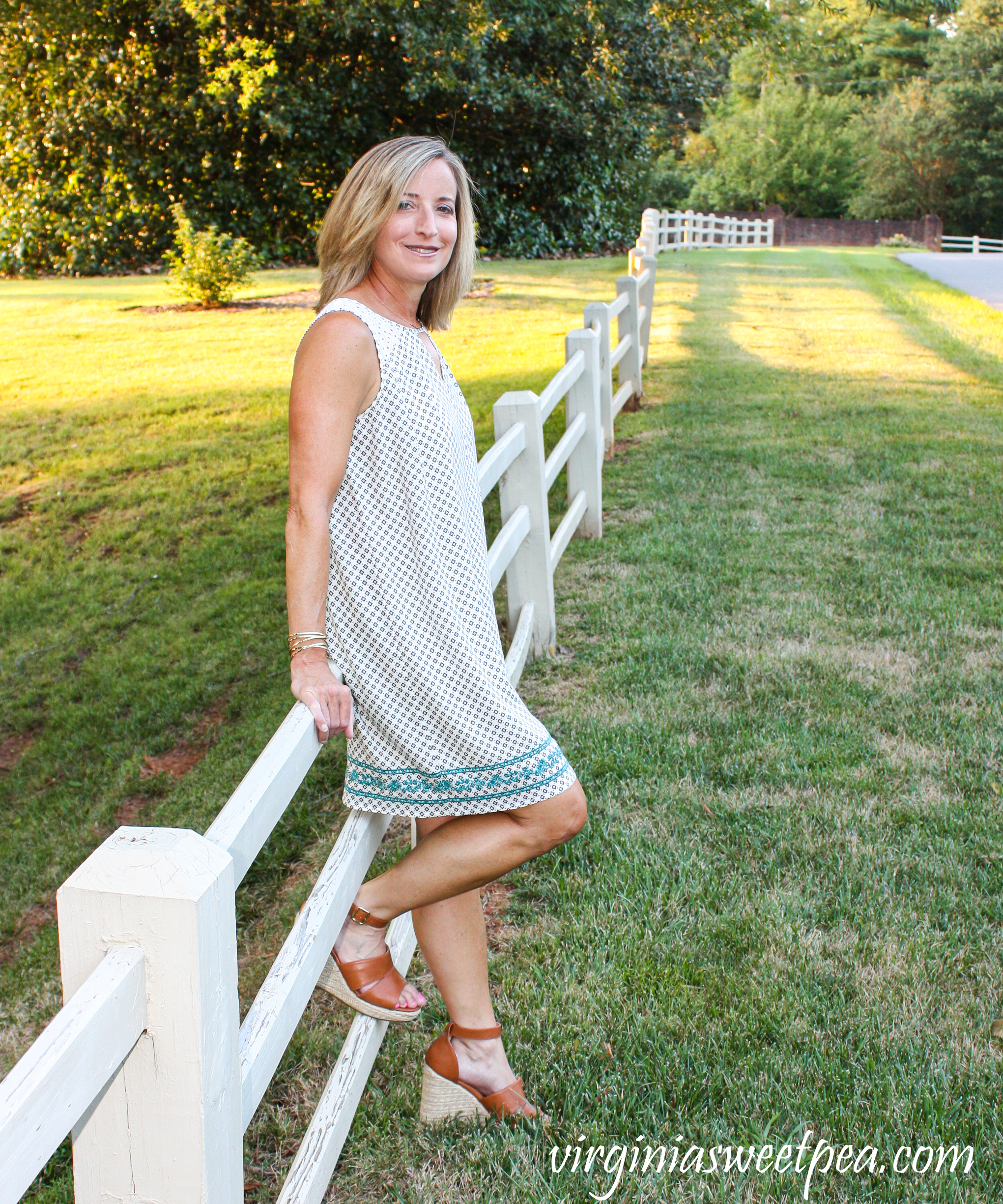 All of the other jewelry that I'm wearing in this post is from Rocksbox. Rocksbox is a jewelry subscription service that sends three pieces of jewelry that you can wear for as long as you like each month. When you send your three pieces back, or buy what you like, a new box is sent. If you'd like a free month of Rocksbox, sign up with this code: PAULABFF54. I rejoined Rocksbox a year ago in January and I love their service. I've received the cutest jewelry and have purchased quite a few items.
I have fun sharing what is coming in my Stitch Fix box in my Instastories and ask my friends on Instagram their opinion for each item. People seemed to enjoy voting and I enjoyed seeing the results. If you don't already follow me on Instagram, I would love it if you did.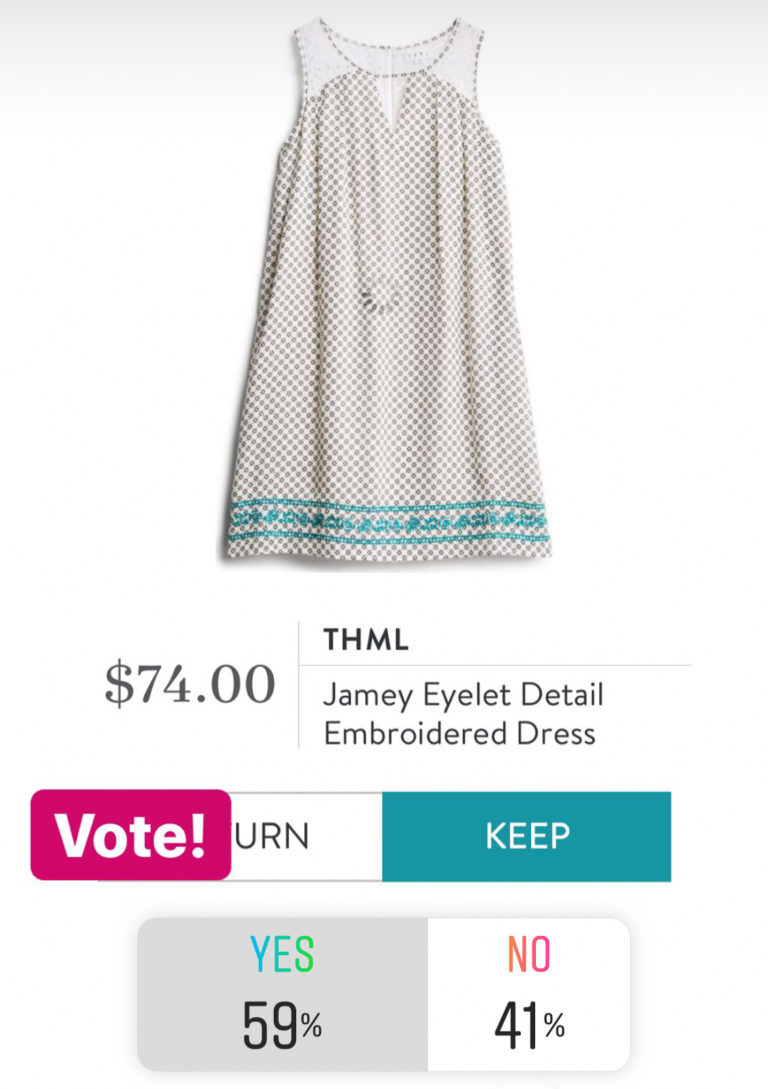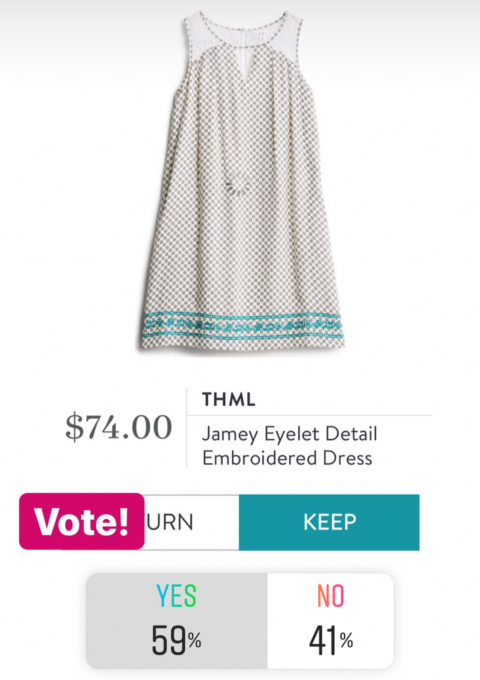 The majority of my Instagram friends voted yes for this dress but I didn't like it enough to spend $74 on it. Since I'm no longer teaching and spend most days in workout or casual clothes, I am particular about what I add to my wardrobe. While cute, this dress didn't make the cut.
41 Hawthorn Clearwater Mixed Material Blouse
When I received an email letting me know that my Fix had shipped, I immediately popped over to the Stitch Fix app on my phone to see what was coming this month. This 41 Hawthorn Clearwater Mixed Material Blouse was the item that I was most looking forward to receiving.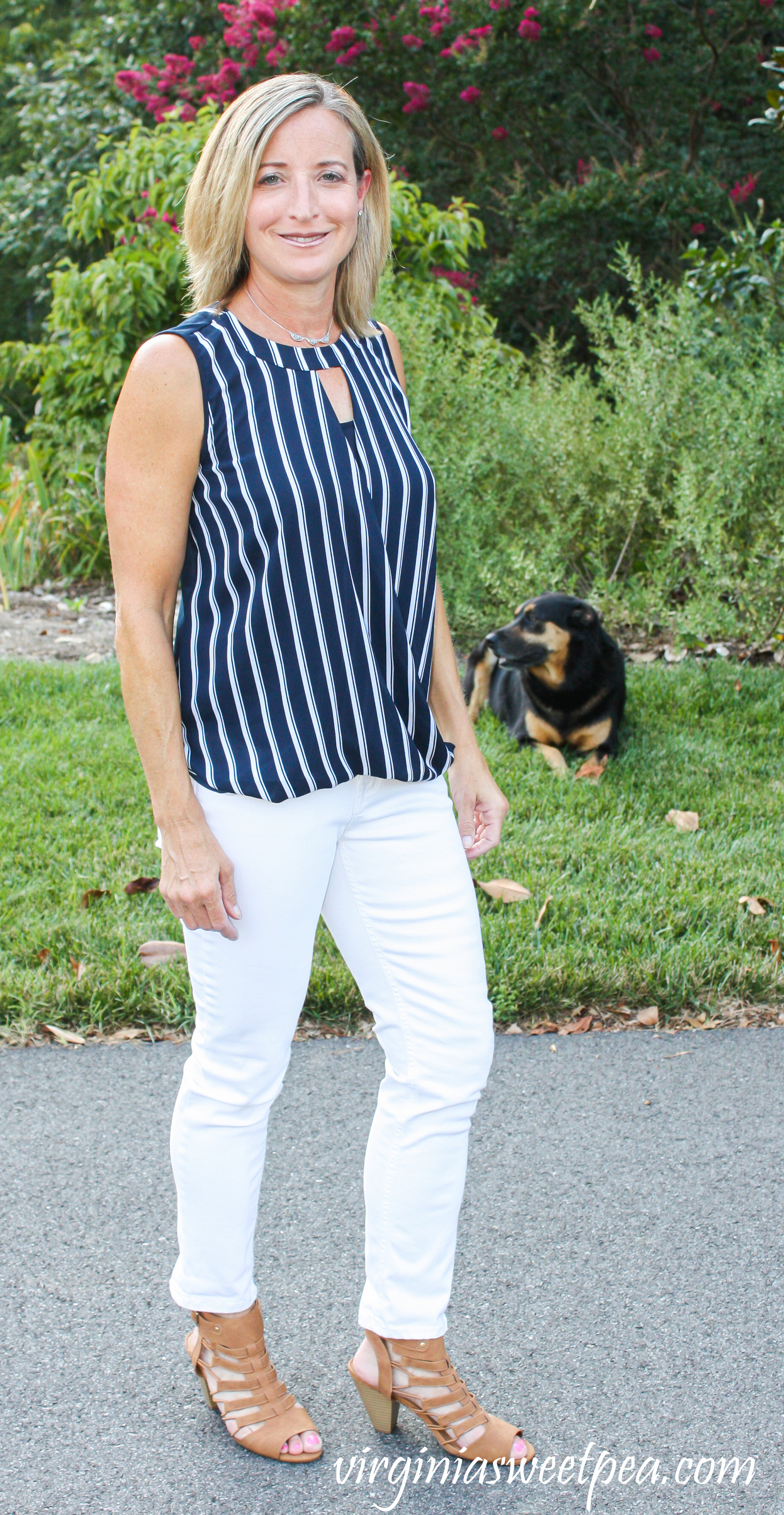 I was intrigued by this blouse's striped pattern, how it crosses in the front, and also how it is fitted yet is slightly loose at the waistline.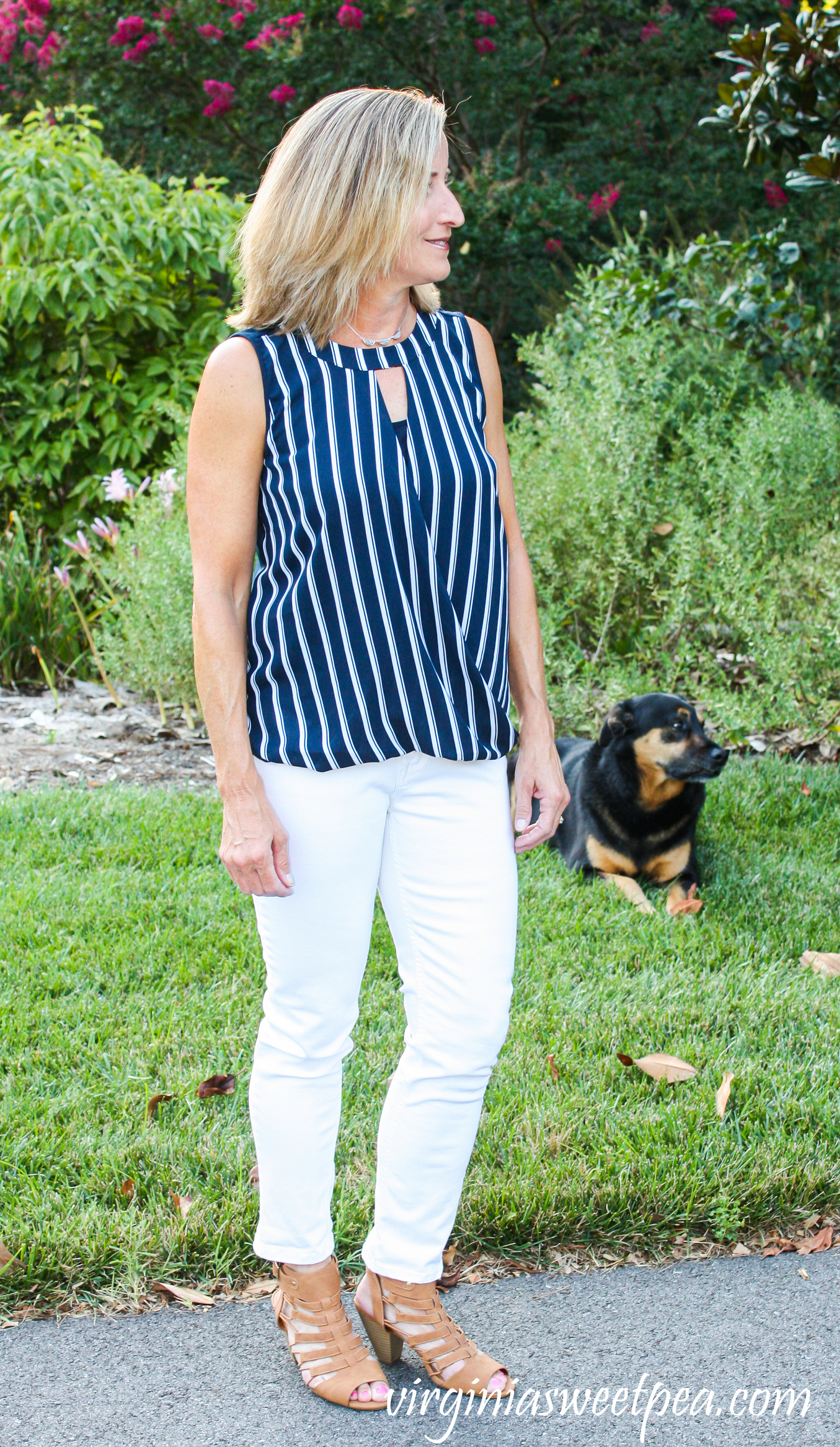 The back of this 41 Hawthorn Clearwater Mixed Material Blouse is solid blue instead of striped. The neck has an adorable tie with grosgrain ribbon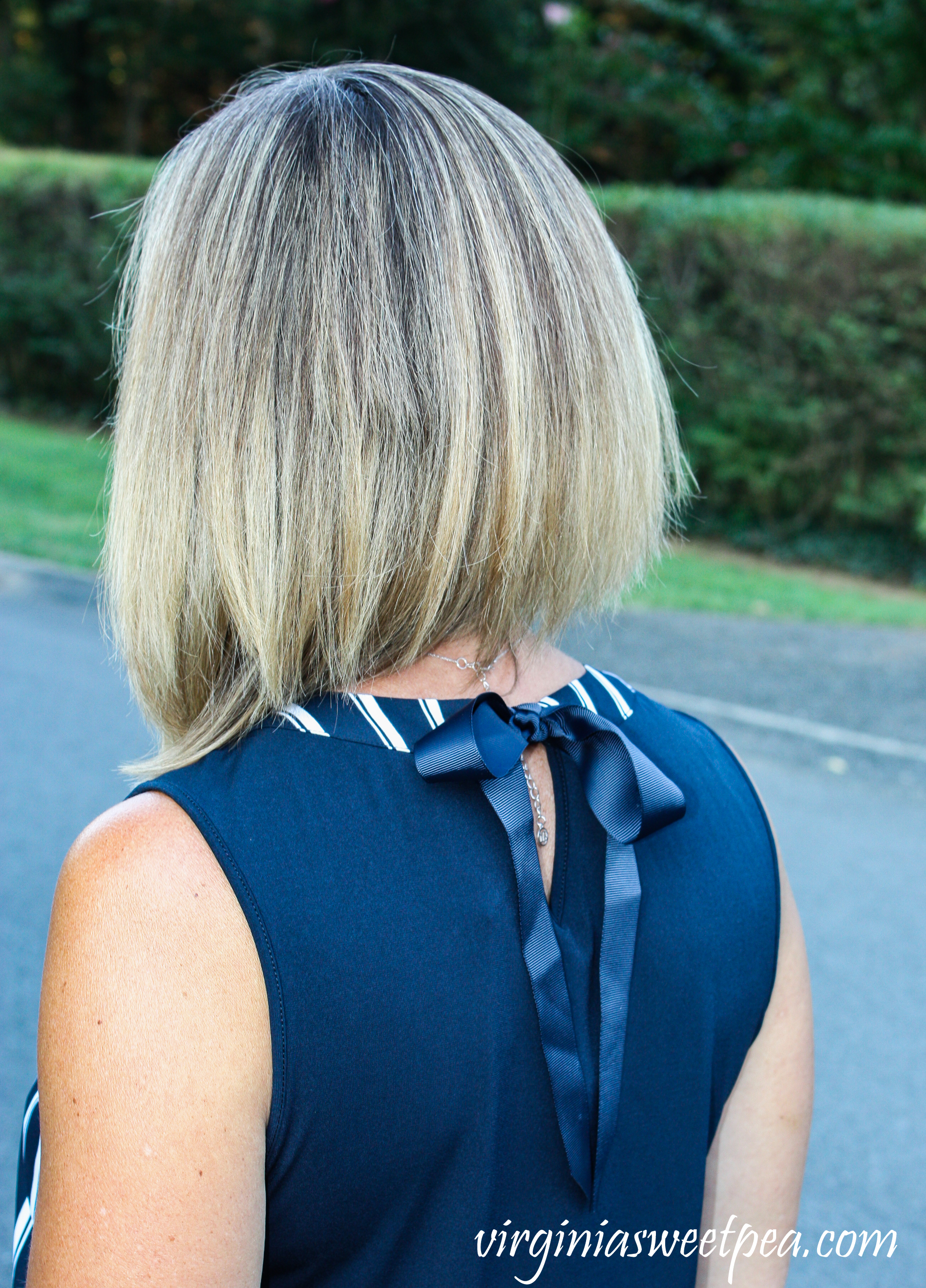 I paired this top with a pair of white Old Navy capris (similar) and shoes that I've had for years. My necklace is my latest Rocksbox purchase.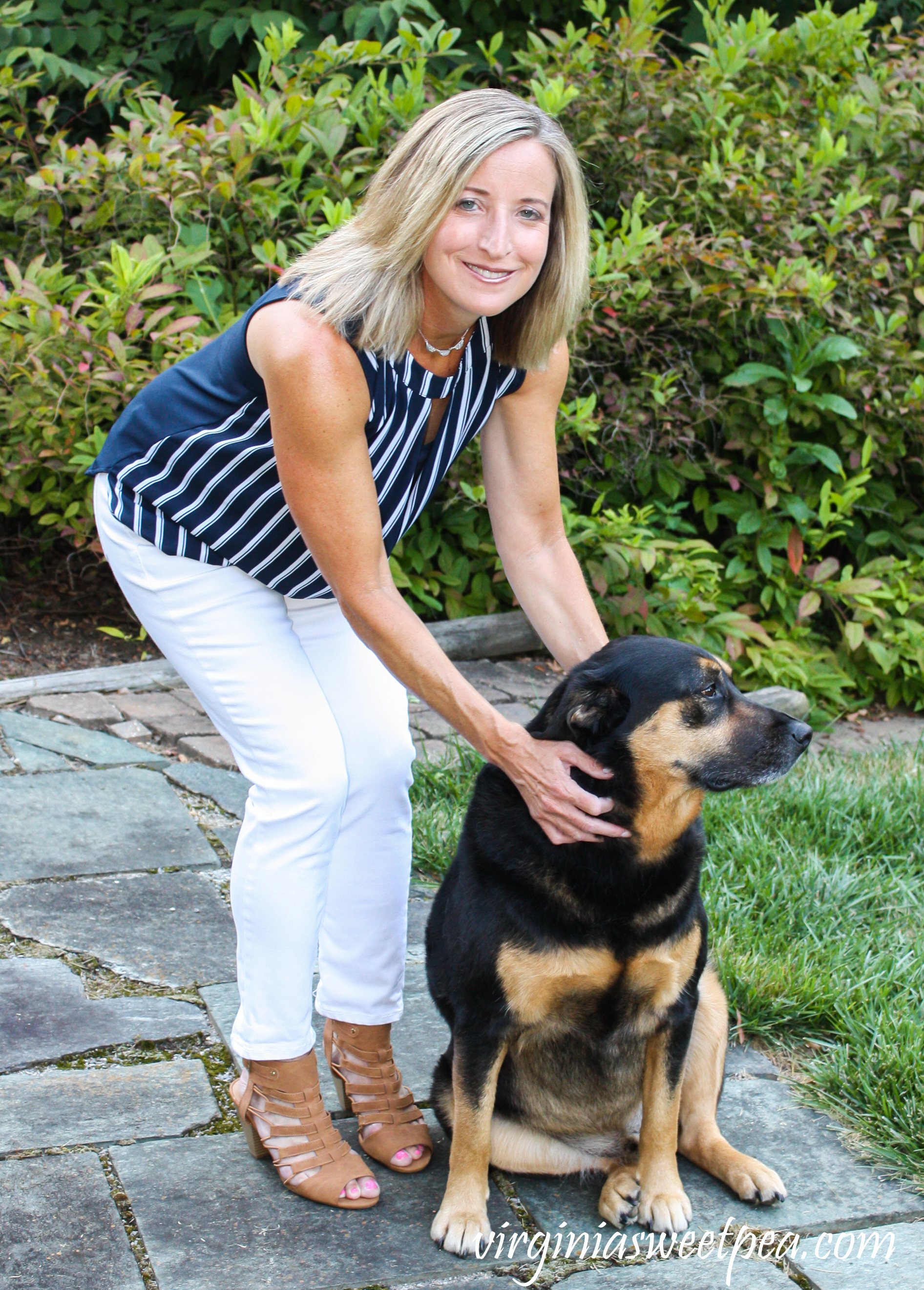 My friends on Instagram liked this blouse.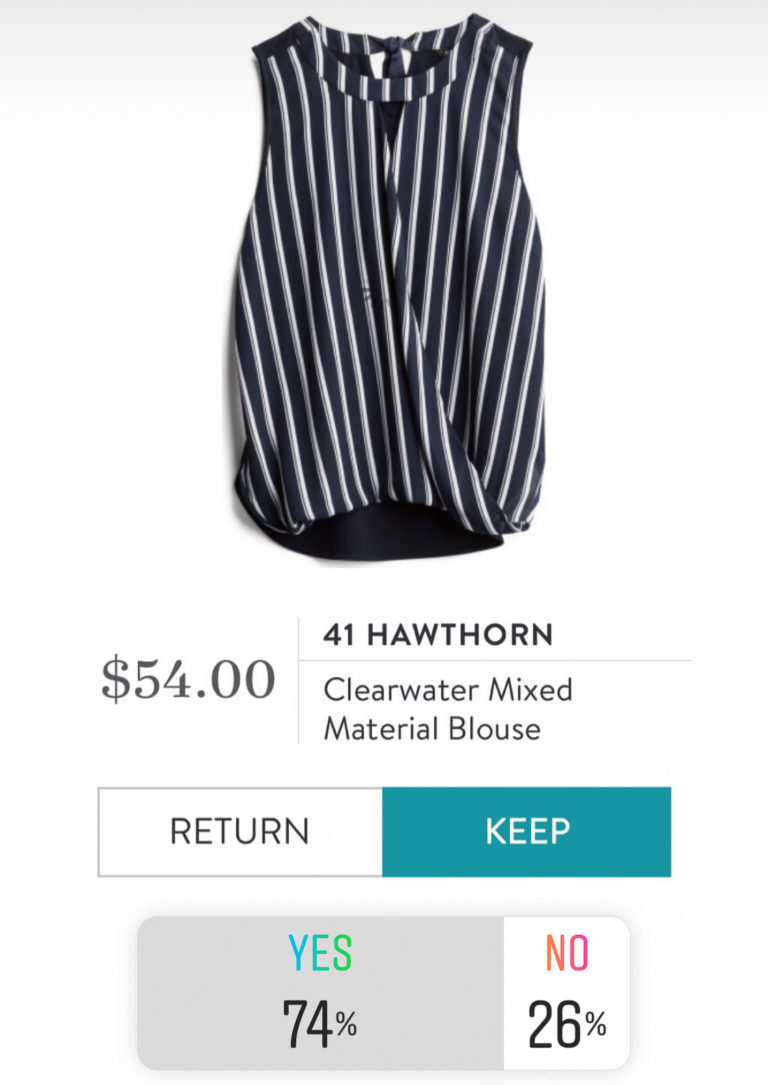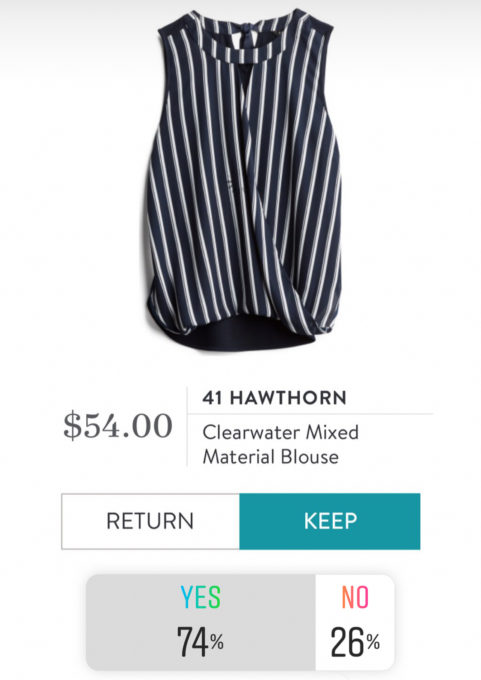 I liked this blouse but I didn't keep it for a few reasons. The first being that it arrived wrinkled and it was the devil to iron. I doubt that it would get wrinkled after laundering if I took it immediately out of the washer and hung it to dry like I do similar blouses. Since it was a pain to iron, I didn't want to ever have to do that again. Another drawback to this blouse is the tie at the neckline. While adorable, it pulled slightly at my neck and I knew that if I wore this blouse for an extended period that the bow would make my hair a tangled mess in the back.
Daniel Rainn Stanbury Lace Cotton Blend Tunic
Mr. SP loves tunics and this Daniel Rainn Stanbury Lace Cotton Blend Tunic was a blouse from this Stitch Fix box that he really liked. It comes with a soft and silky cami to wear underneath.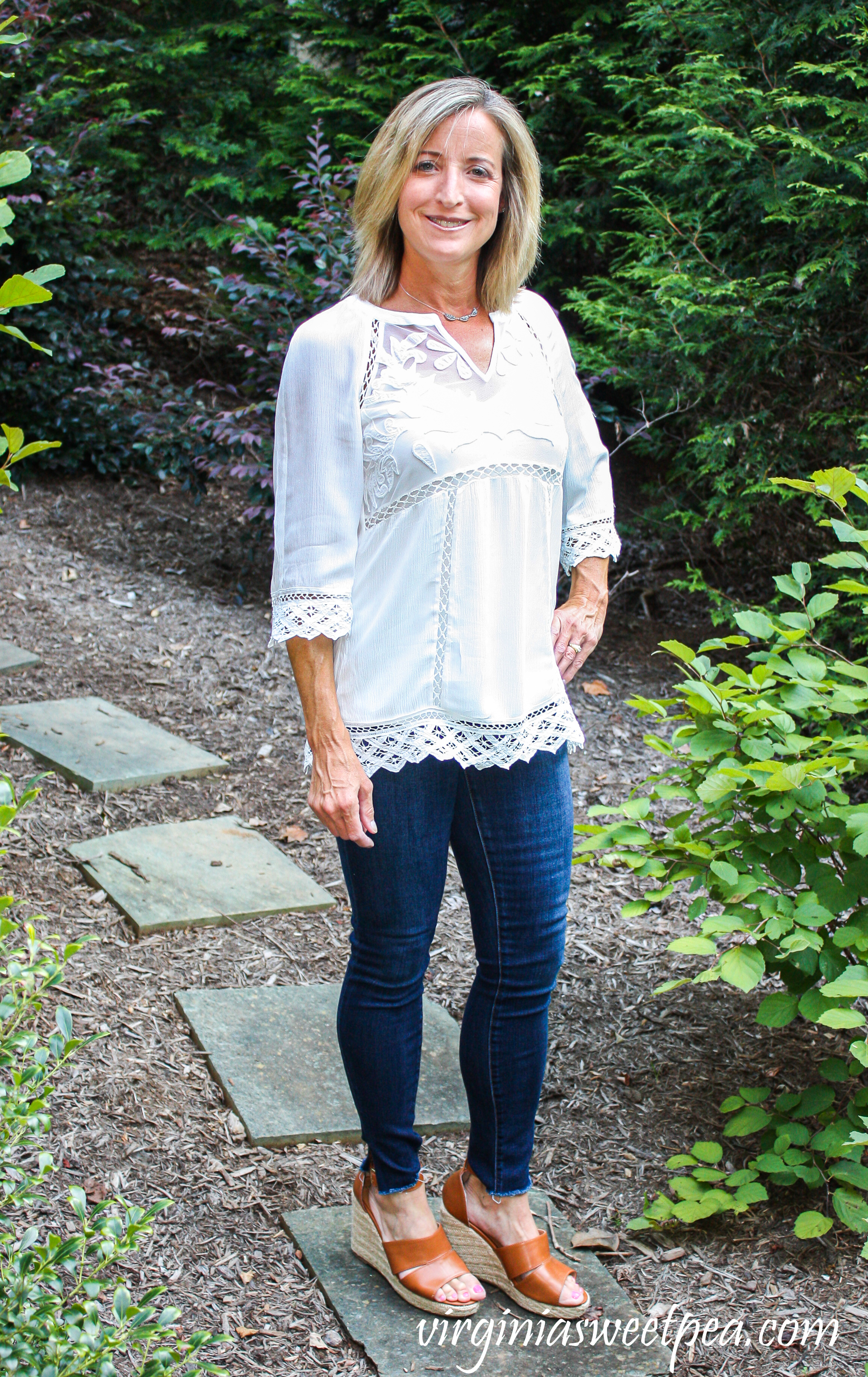 The lace detail makes this tunic especially pretty. I also liked its length, long enough to cover the rear but not too long.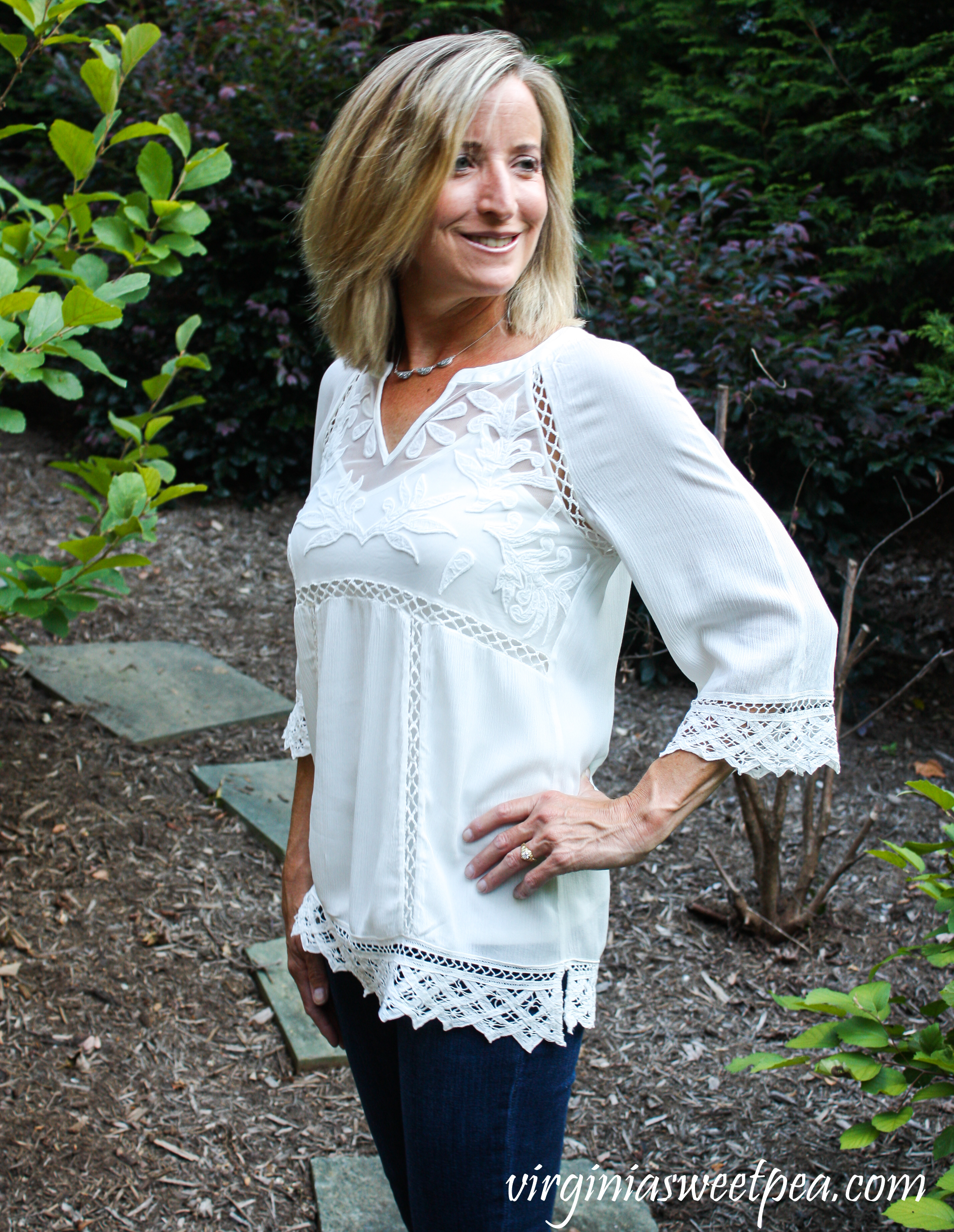 I did like this tunic very much but not enough to want to keep it. Like I said before, since I'm no longer teaching, I'm very picky about what I add to my wardrobe. When I buy something now, it has to be something that I love and something that I know that I'll wear often.
My Insta friends weren't overjoyed with this top but I'll say that I definitely liked it more in person once it arrived. The preview pictures often don't give the true story behind a piece. I always keep an open mind with Stitch Fix because many times I've thought that I didn't like something and when I tried it on, I loved it.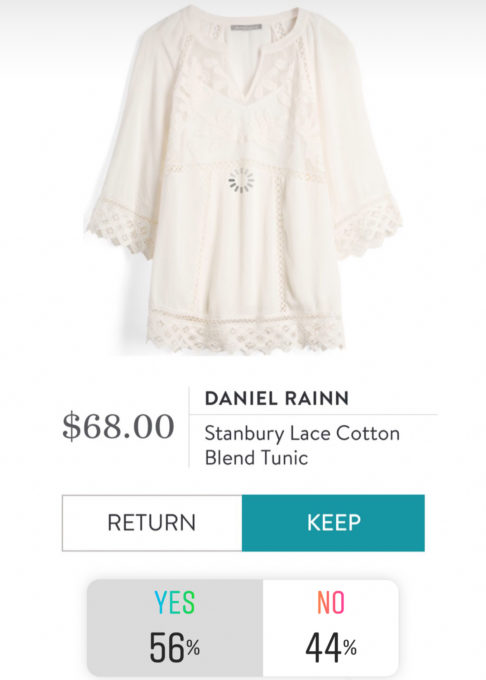 41 Hawthorn Clearwater Mixed Material Blouse
I'm not sure if it was on accident or on purpose, but this month Brittany selected two blouses for me in the same style, but different colors. When I opened my box, I found the 41 Hawthorn Clearwater Mixed Material Blouse in both striped and white.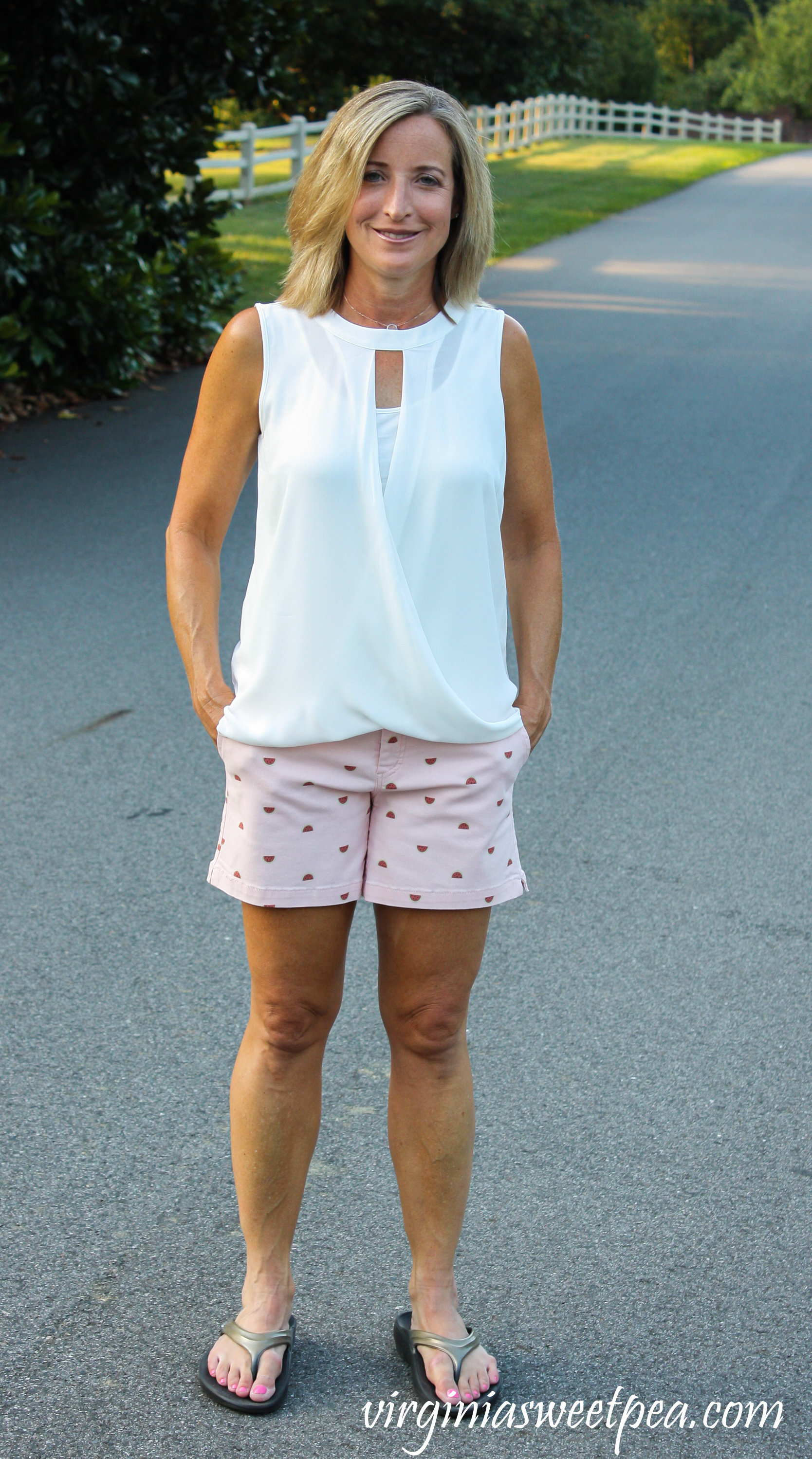 I'm wearing this outfit with the most comfortable flip-flops that I've ever put on my feet. The gals in our local running shop wear them and recommended them to me. They are OOFOS OOlala in Latte. The soles are super cushioned and so very comfortable. I've even walked a few miles in these in comfort!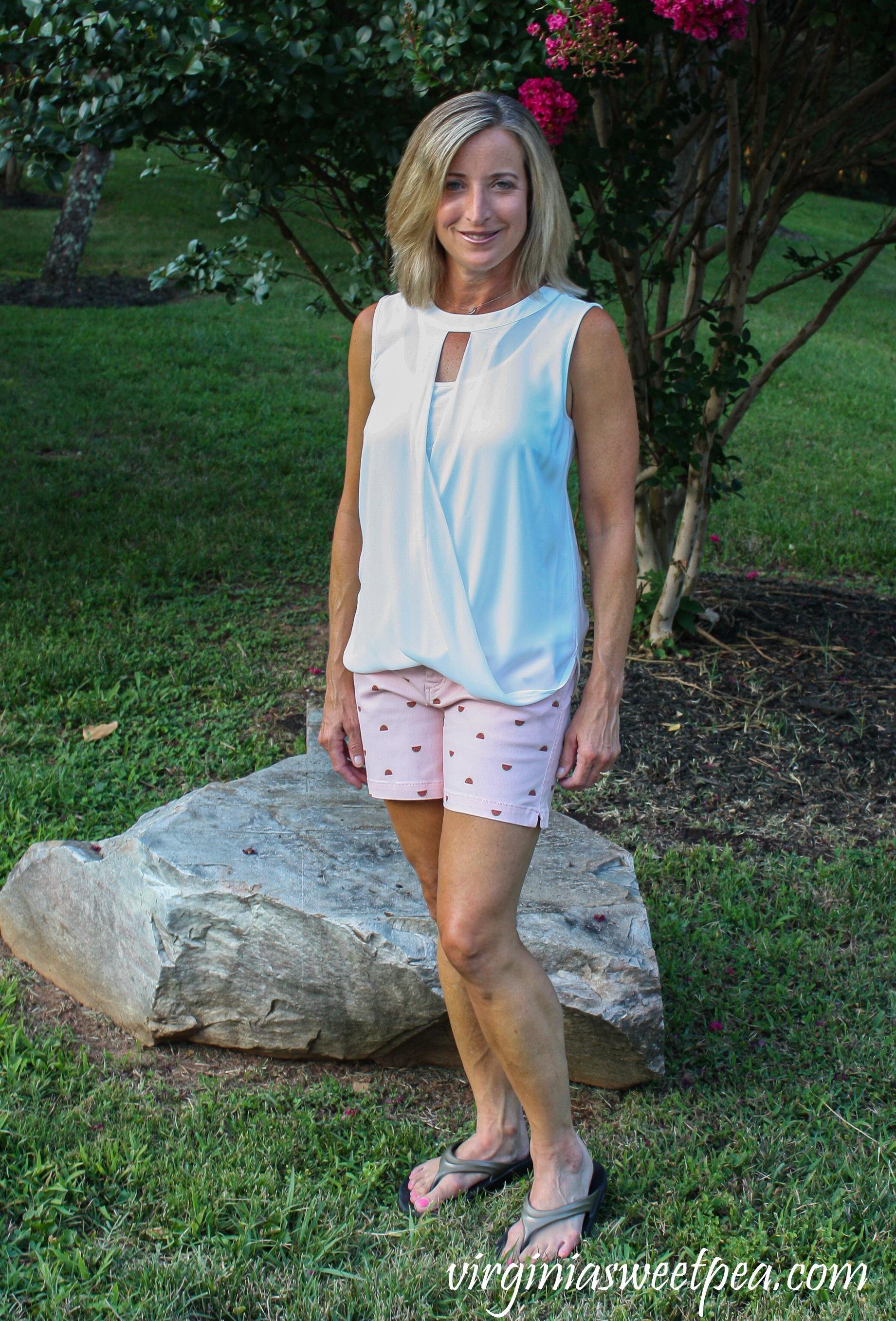 My Insta friends gaves this blouse a thumbs up but I didn't keep it for the same reasons that I didn't keep the striped version.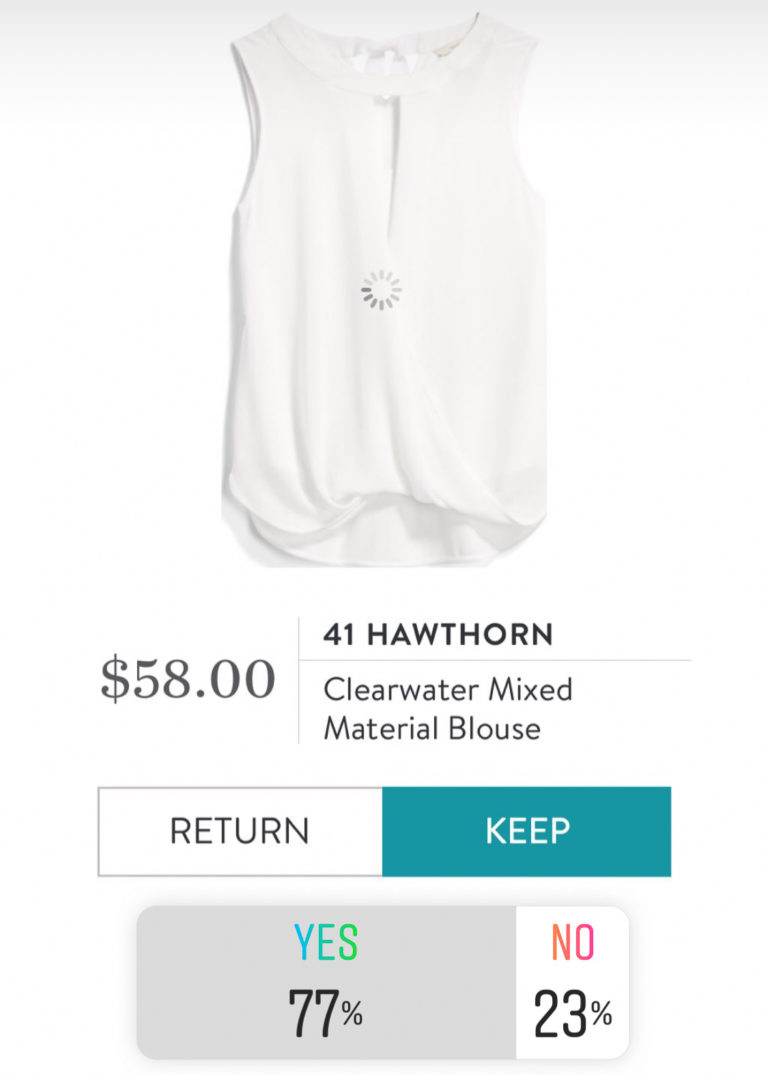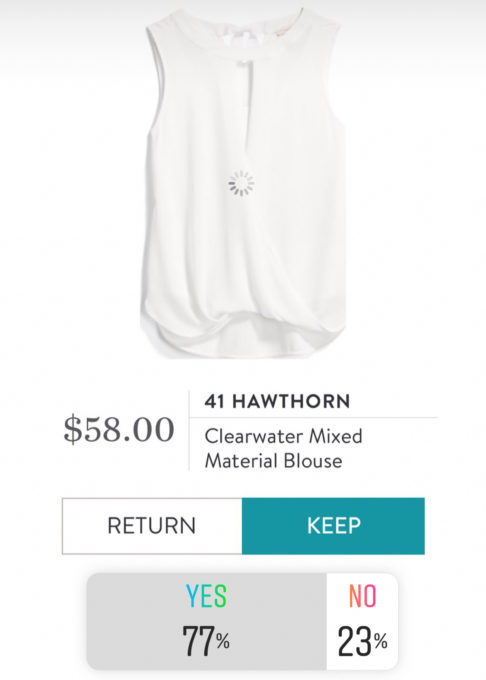 Market & Spruce Lorraine Printed Short
These adorable Market & Spruce Lorraine Printed Shorts in pink with watermelons are so fun for summer and like Brittany suggested, I paired the shorts with the 41 Hawthorn Clearwater Mixed Material Blouse.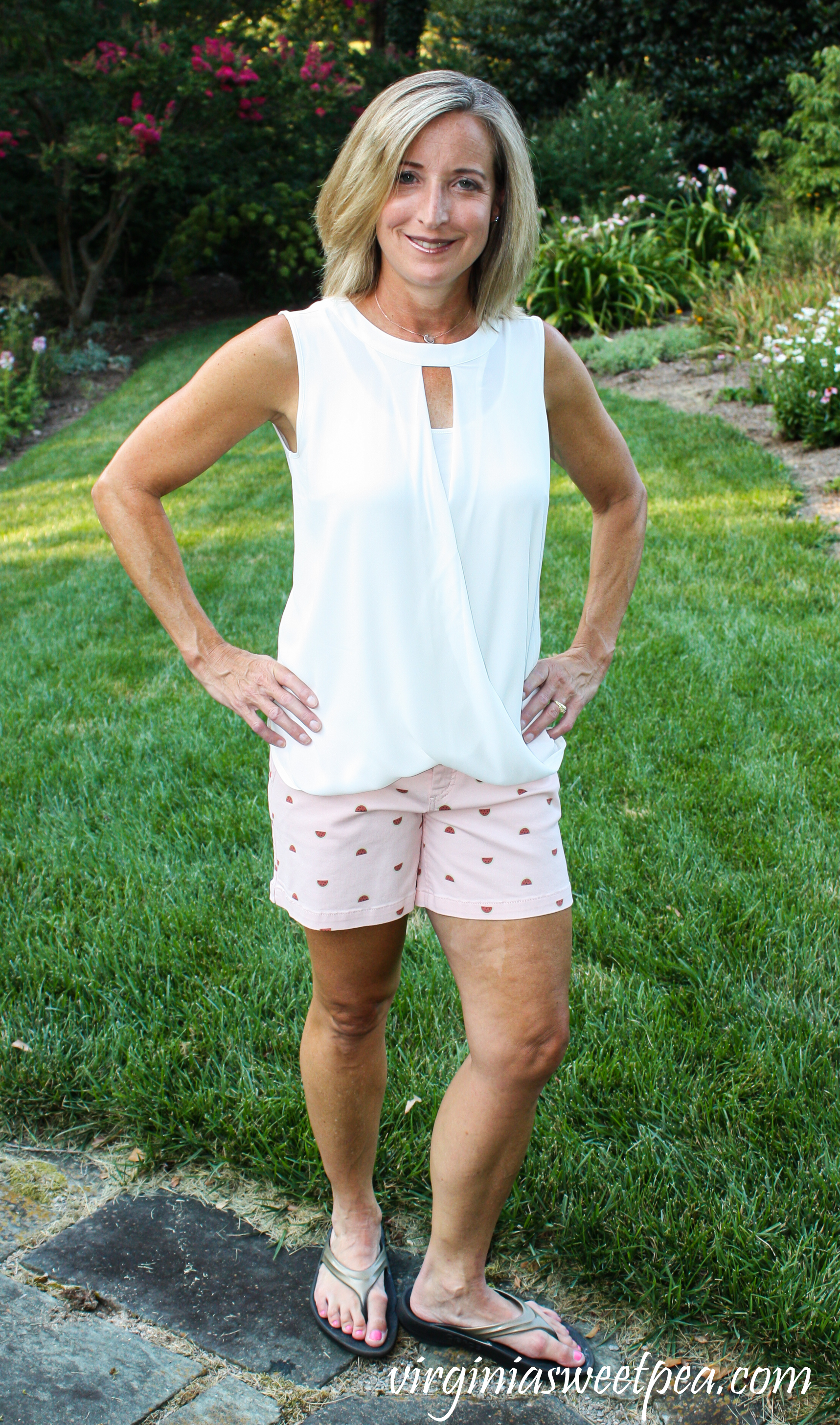 These Market & Spruce Lorraine Printed Shorts are super soft, stretchy, and very comfortable. They also have nice sized pockets, a feature that many shorts these days don't have.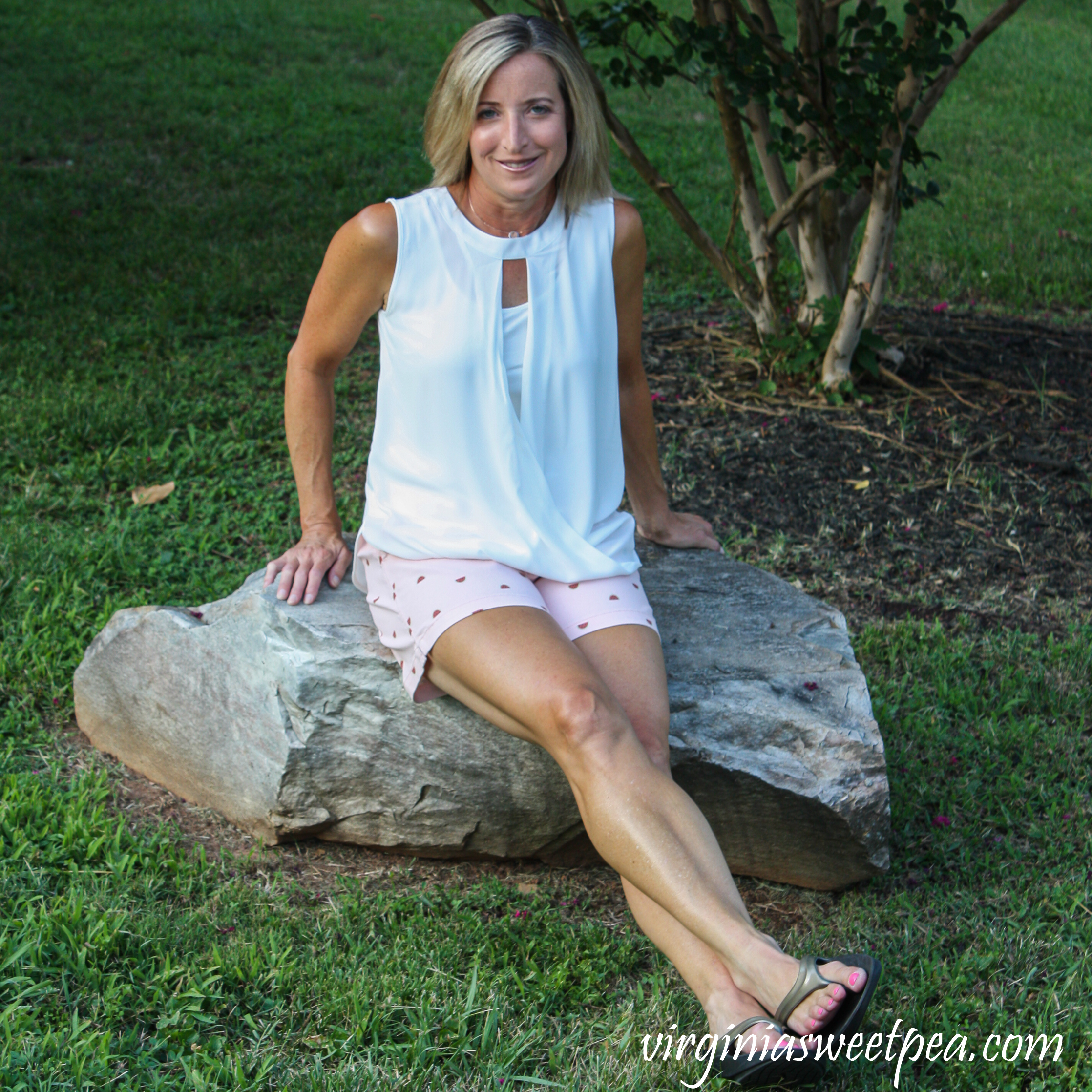 When I saw the preview picture of these shorts on my phone, I didn't realize that the print was watermelon. I was pleasantly surprised when they arrived to find that what I thought were hearts were actually watermelons.
My Insta friends weren't crazy about these shorts. I liked these shorts but wasn't in love with them so they were returned.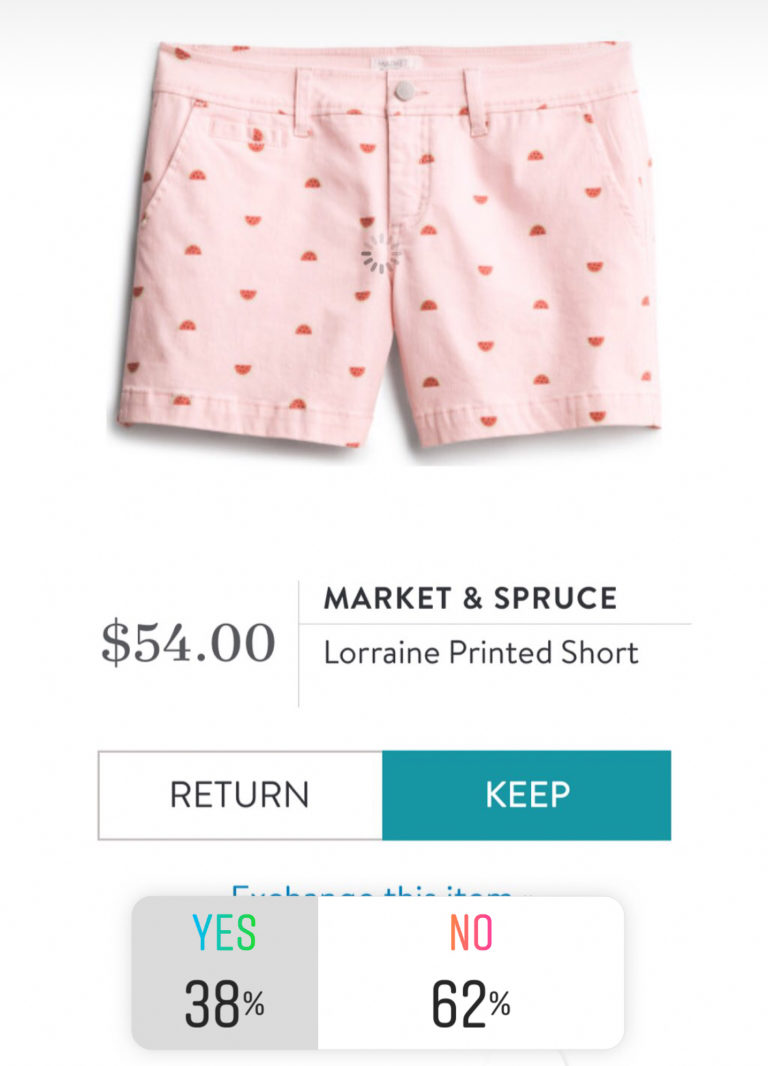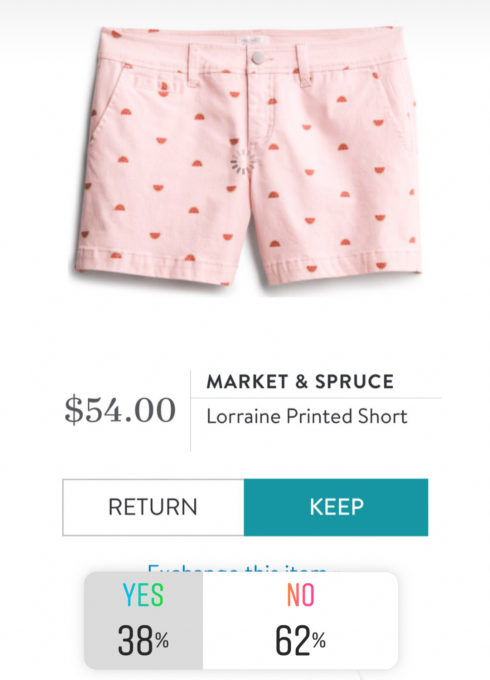 I ended up not keeping anything from this Fix but I did enjoy trying on the pieces that I received. I'm already looking forward to my September Fix and that one is sure to have a few items that I'll decide to keep.
Try Stitch Fix
If you've been thinking about trying Stitch Fix but haven't, I encourage you to give it a try. Don't forget that Stitch Fix also offers services for both men and children and they offer maternity and also plus-sizes.
I love receiving my box each month and have so much fun trying on all of the styles sent to me.
Give a Stitch Fix Gift Card
A Stitch Fix gift card is a gift that any man or woman would like to receive. I know I'm thrilled when I receive one! Consider a Stitch Fix gift card for someone that you know likes Stitch Fix or has been meaning to try it.
I love receiving a Stitch Fix gift card and am delighted when I receive one as a gift.