Stitch Fix Review–September 2017–Fix #49
Stich Fix box #49 arrived this week! My last review was in June and you can read it here if you missed it. I kept all five things and have worn them constantly this summer. Even though I wanted a box for July and August, I refrained since I have more than enough summer things.
My eyes lit up when I came home the other day and found my Stitch Fix box waiting for me. My stylist knows me so well and sent five great things for September.
These two are my favorites!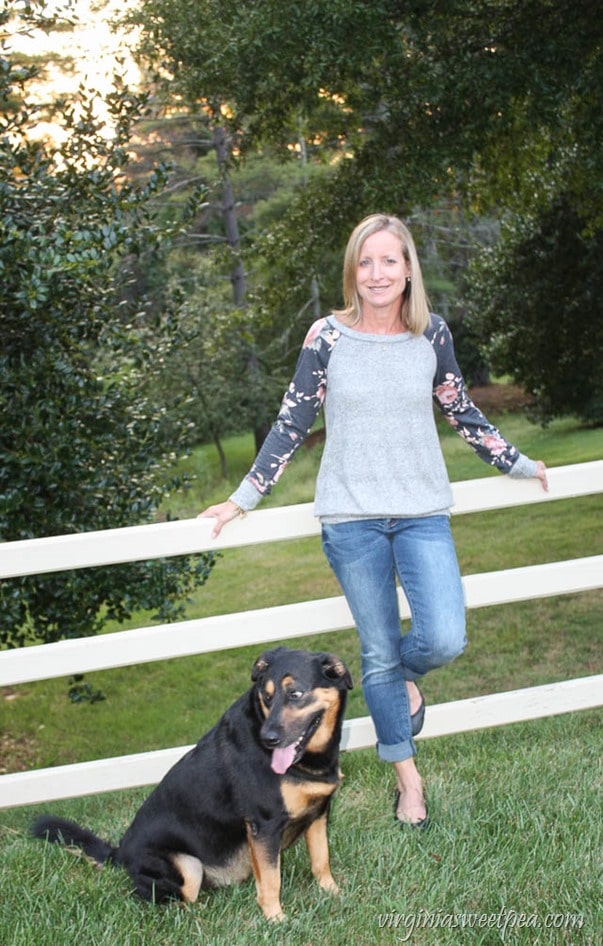 I am a Stitch Fix affiliate and if you make a purchase, I earn a small commission. My love for Stitch Fix is genuine and all opinions are truthful and my own.
Before I go on to talk more about Stitch Fix, I want to take a moment to talk about how things aren't always as they appear. When I was preparing the photos for this post, it occurred to me that I look healthy and carefree when in reality I am far from that. What you can't see in these smiling pictures is that just walking down the street to take them wasn't easy for me. A problem with my back / pelvis / SI Joint has robbed me of my mobility. I've gone from running, biking, playing tennis, and gardening to being thankful that I could shuffle down the street to take these pictures. I am being treated and have not lost hope that I will be back to my old ways, but for now I am very limited in what I can do. And I also am fighting lung cancer. So remember when you are scrolling through your favorite blogs or social media accounts that pictures don't show a person's true story. Everyone has struggles.
What is Stitch Fix?
Stitch Fix is a personal styling service. When you sign up for Stitch Fix, you fill out a detailed style profile that helps your stylist know your likes and dislikes. Since I've received 47 Stitch Fix shipments, my stylist knows my likes and dislikes very well and I almost always like every item in my Fix, a good problem to have!
When a Fix arrives, you have three days to try the clothes on and to decide what to keep and what to send back. Stitch Fix includes a postage paid envelope making returns super easy.
I choose to receive a monthly box but that is my choice. When you sign up for Stitch Fix, you can choose how often a box is delivered.
I do not like shopping and love receiving clothing from Stitch Fix. I get clothes that I like without having to do any work other than pinning things that I like to my fashion board on Pinterest. My stylist, Brittany H., checks my Pinterest board for inspiration and also reads my note to her each month to see if I have any special requests.
You can find links to all of my Fixes here and also be sure to check out my Stitch Fix Review Board on Pinterest where I pin my favorite looks.
September 2017 Stitch Fix Review
The first picture that I shared are my favorite two items in this box.
Pink Clover Delino Knit Top and Kut from the Kloth Kate Boyfriend Jean
Do you ever put on an outfit and think to yourself, "I never want to take this off."? That's how I feel about this top and jeans. The Pink Clover top is probably the softest top I've ever tried on. It is so comfortable and is going to be perfect to wear this fall when it gets a bit cooler.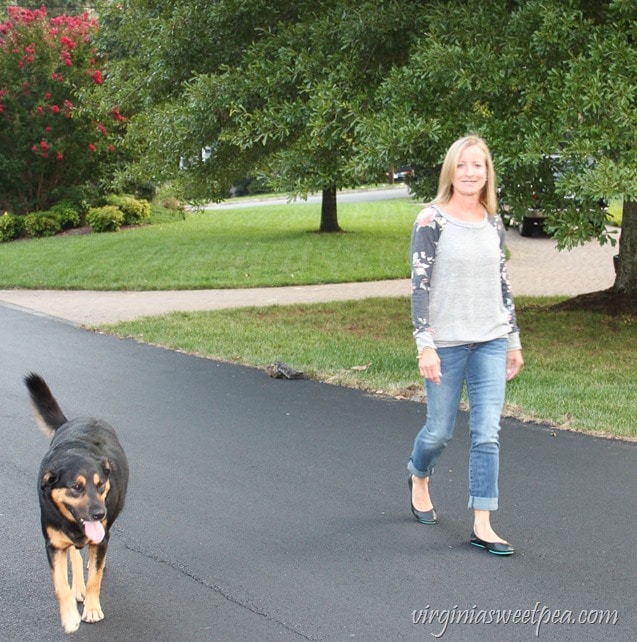 When Stitch Fix sends an email to let you know that you fix is on the way, you can use the Stitch Fix app to see what is being delivered. At first I was disappointed to receive these Kut from the Kloth Kate Boyfriend Jeans because I already have one pair of them. The pair I already have is distressed and a darker wash than these. I actually like this pair better because they are more fitted and I am not that crazy about having holes in my pants.
This outfit is sure to be worn a lot this fall!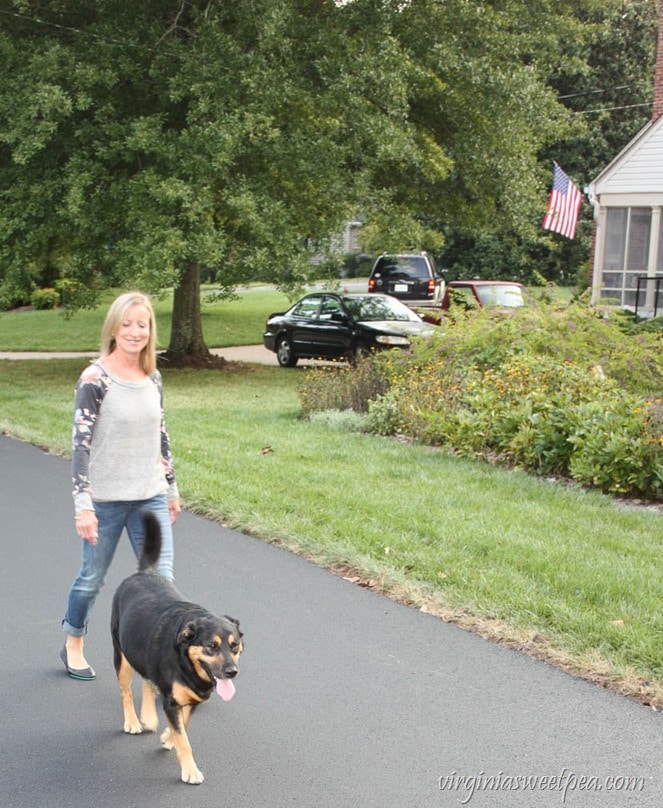 It was getting dark as we took these pictures.
I'm thinking about looking for a pair of dusty rose pants to wear with this top. I think it will also look great with black jeans and I have the perfect pair from a previous fix.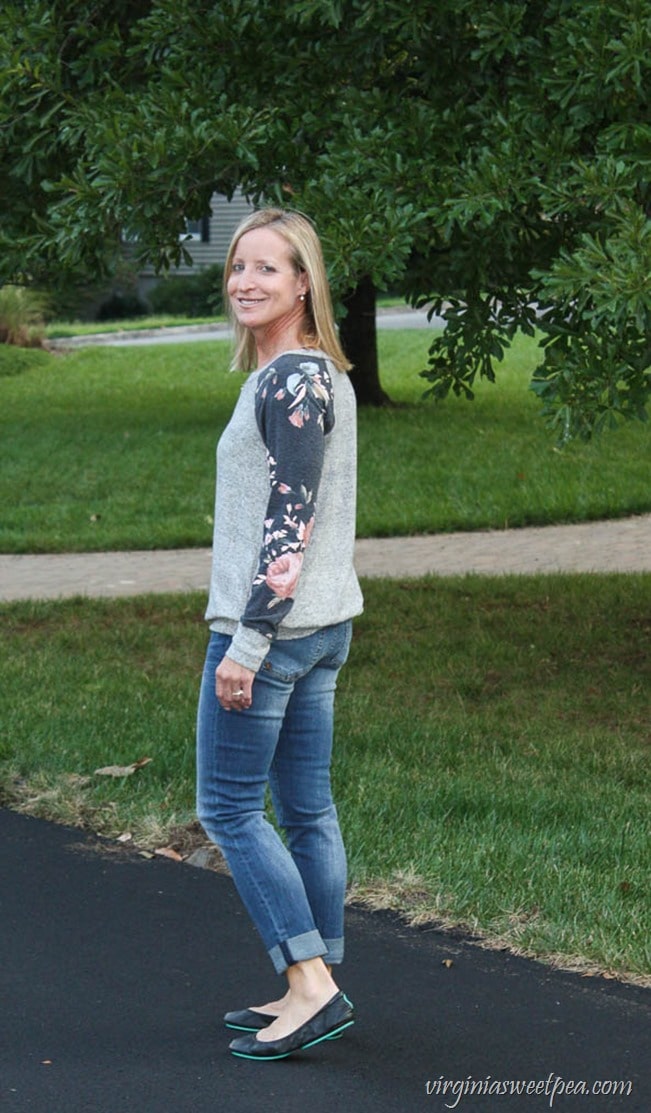 Verdict: Kept Both
Kaileigh Katinka Knit Dress
This dress is not only cute, but so very comfortable. It actually feels like a comfortable night gown. I love the red stripes and especially love the bell sleeves.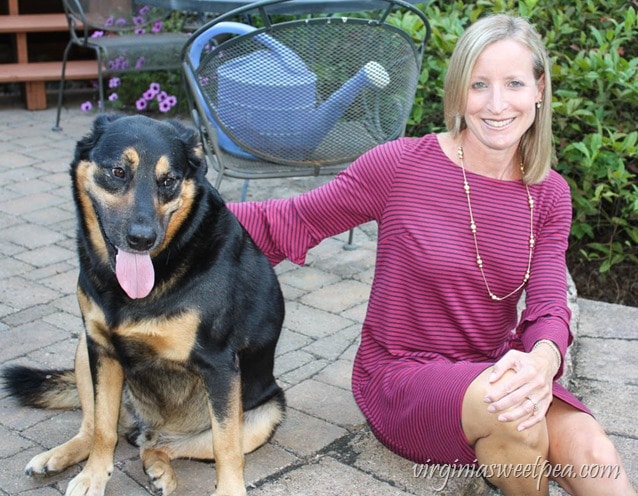 Here you can better see the cute sleeves. I can start wearing this dress now with flats and later on when it gets cold, add tights and boots.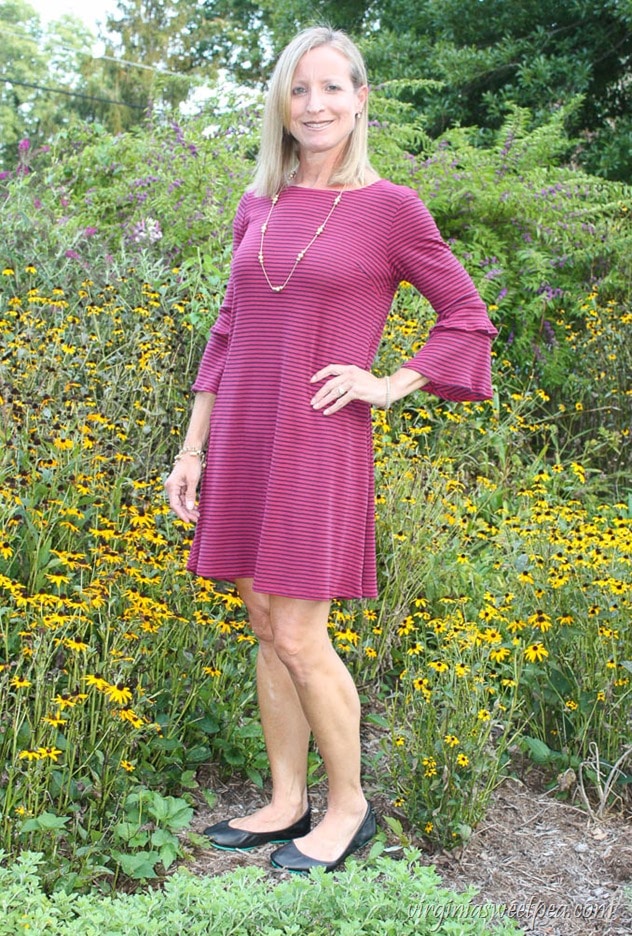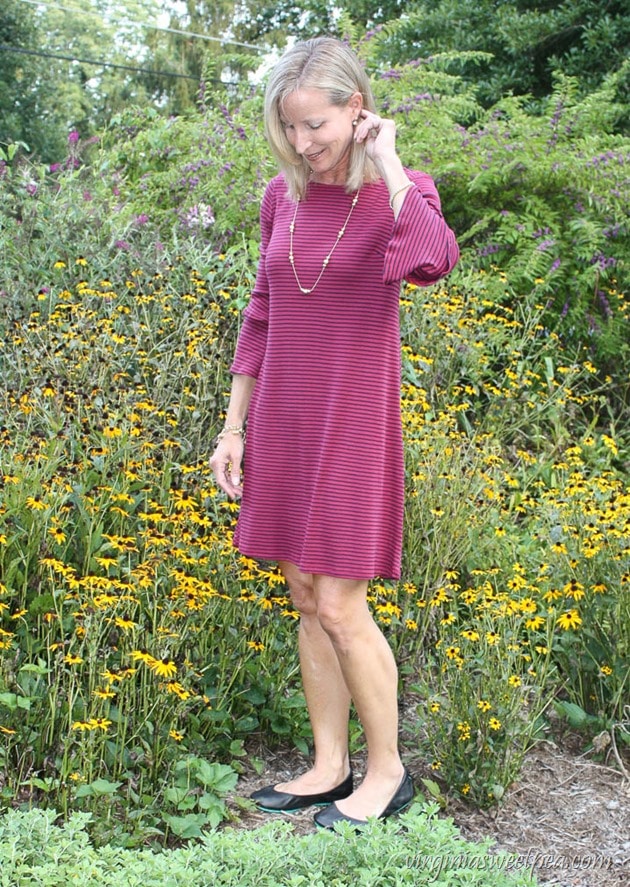 Sherman definitely approves of this dress.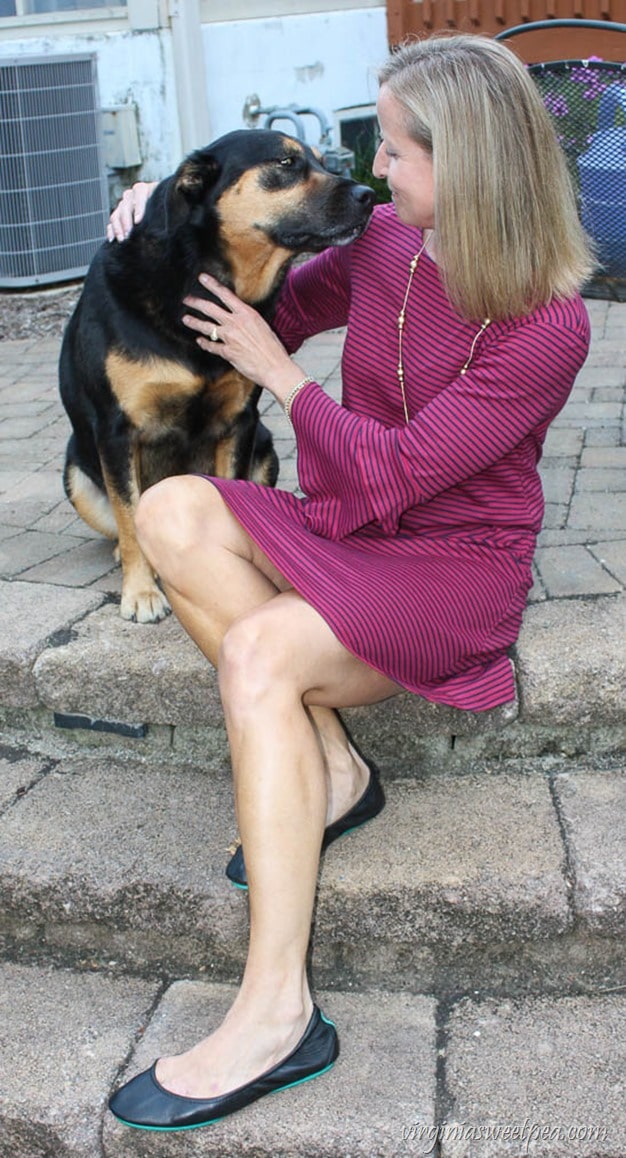 Verdict: Keep
Honey Punch Paron Bell Sleeve Wrap Top
I paired this Honey Punch Paron Bell Sleeve Wrap Top with Margaret M Emer Houndstooth Pants from my October 2015 fix.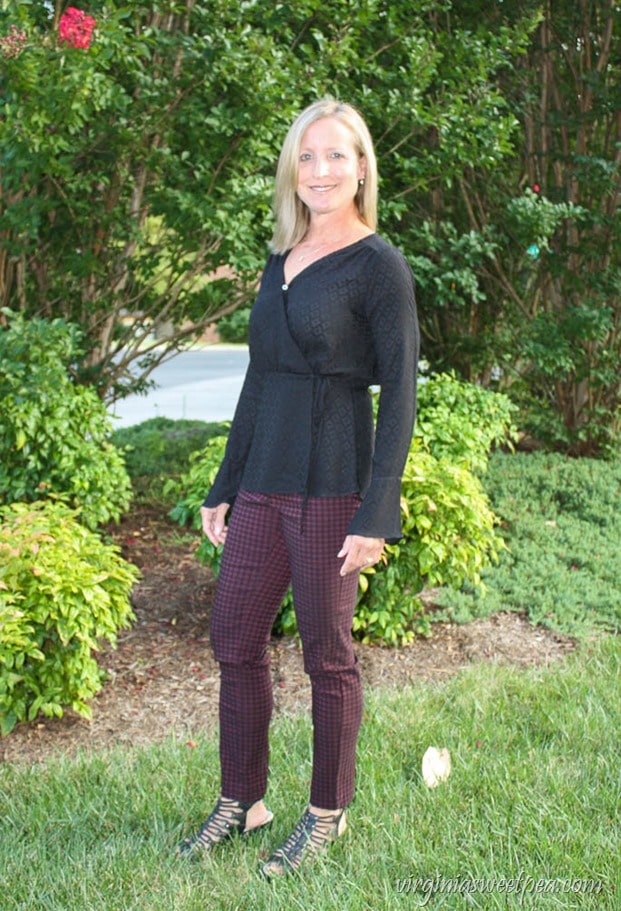 This top has a beautiful pattern, bell sleeves, and a flattering wrap cut.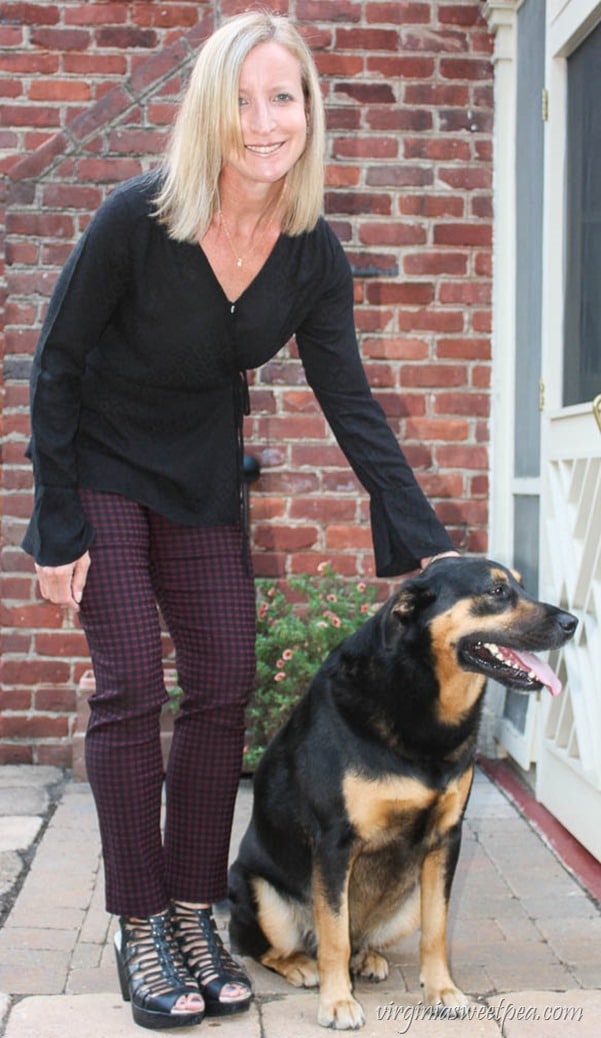 Sherman also likes this outfit. And he loves his Mama.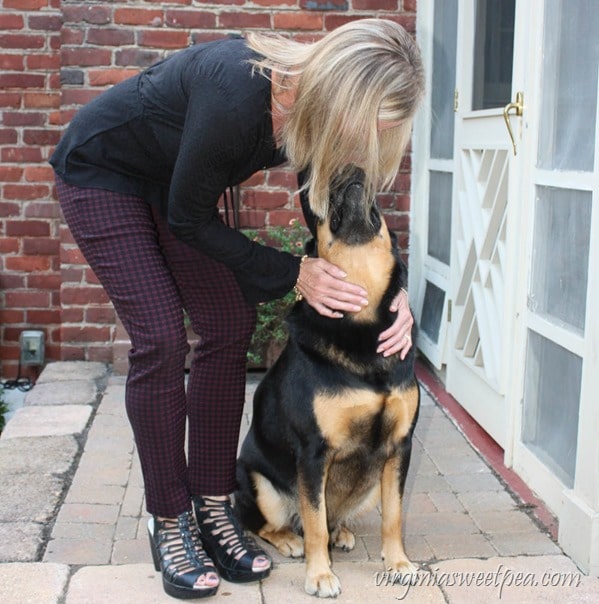 Verdict: Returned
This top was a wrinkled mess when it arrived and I had to iron the devil out of it for these pictures. I did not want to fight that battle every time I laundered this shirt. It also was a tad bit tight in the shoulders.
Brixon Ivy Bettie Laser Cut Dress
I love the color of this dress and the super cute laser cut detail on the bottom. It's comfortable and if I were still teaching, keeping this would be a no brainer.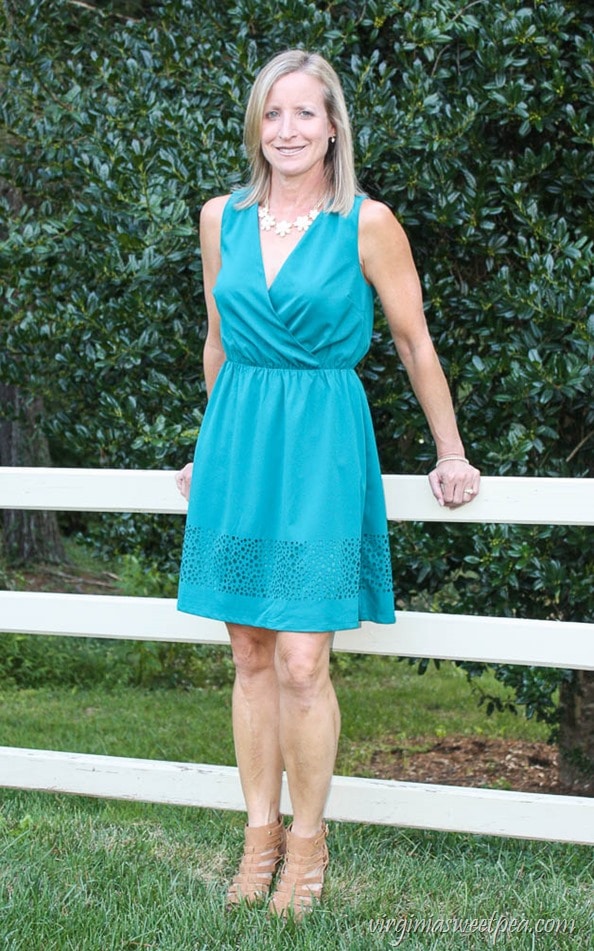 We have a Breast Cancer benefit dinner and comedy show to go to in early September, so I requested a dress to possibly wear to it. This dress would definitely work, but I really don't need it as my closet is full of other beautiful Stitch Fix dresses. I am pretty sure that I'm going to wear the Adelyn Rae Taliya dress that I received in my June 2016 Fix to the benefit dinner.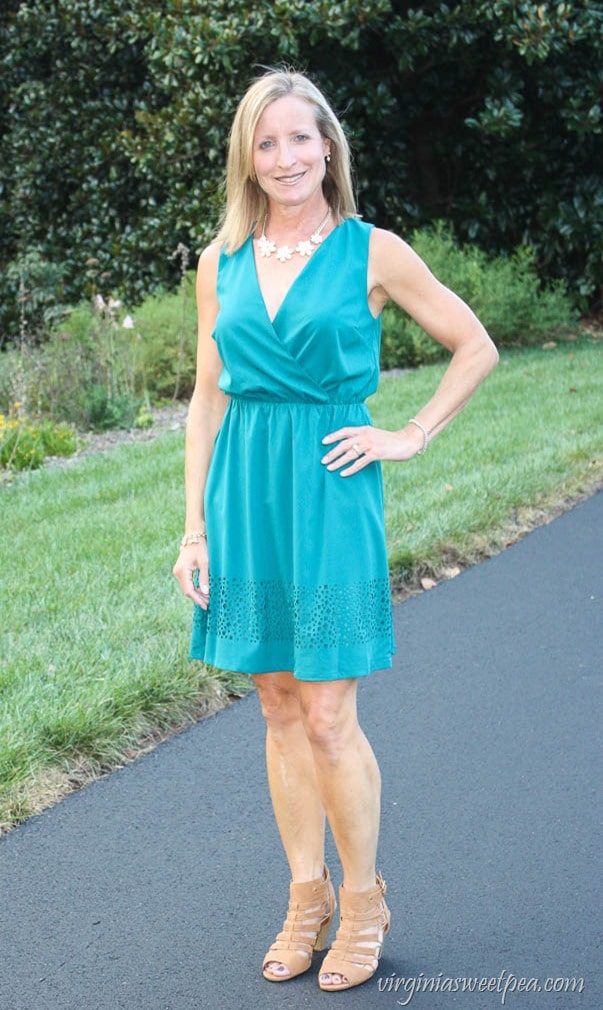 I really do like this dress and may regret my decision not to keep it.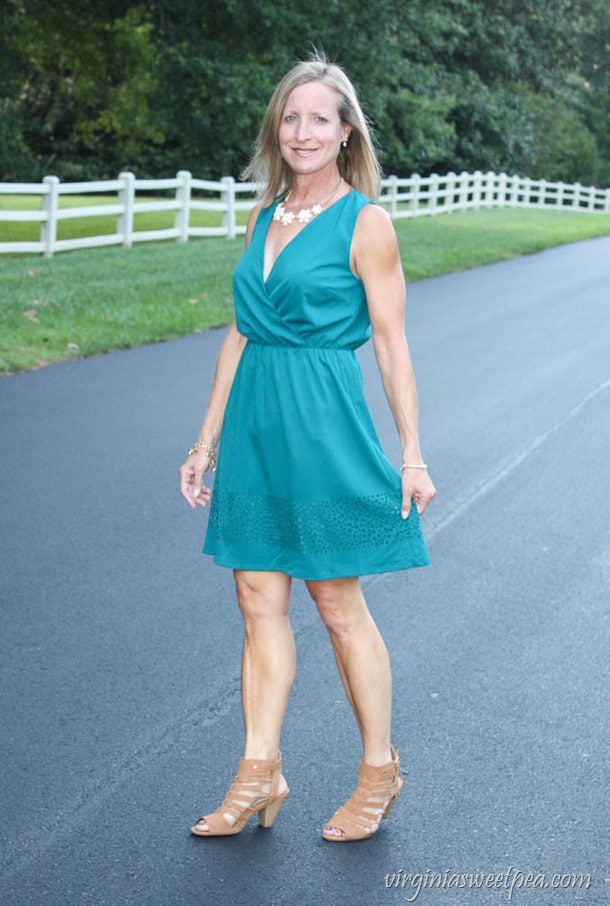 Isn't that laser cut design a great touch?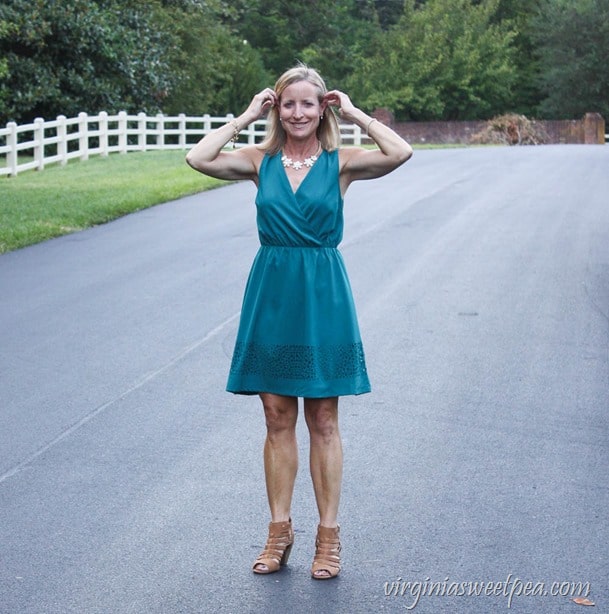 Verdict: Returned
In Summary
Stitch Fix is fun but certainly not inexpensive. The three pieces that I purchased are ones that I'm sure to wear time and again this fall and winter. I didn't have to go out shopping for them, so even though the cost is more than I'd spend in a store, I saved myself the time spent shopping and the pain of doing so. Plus, it's fun to receive a Stitch Fix box!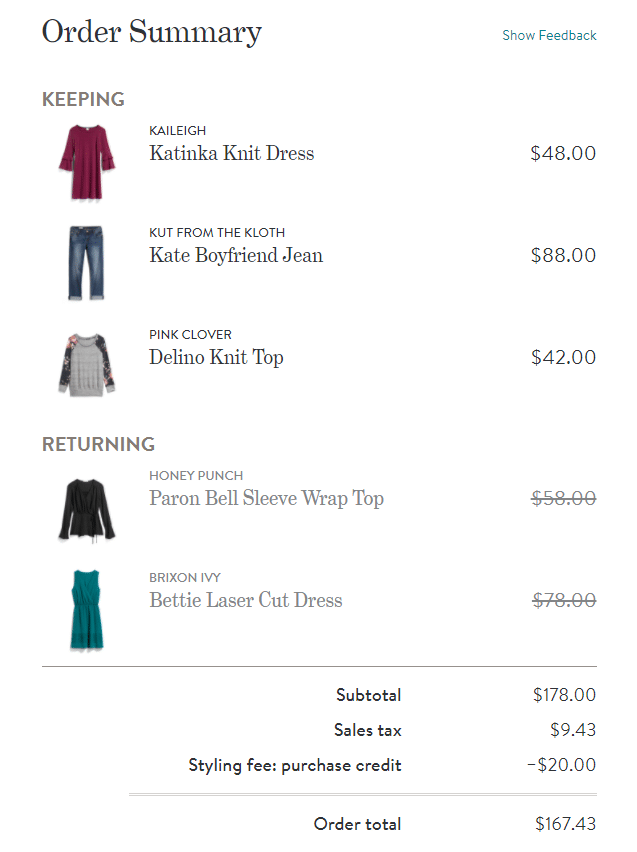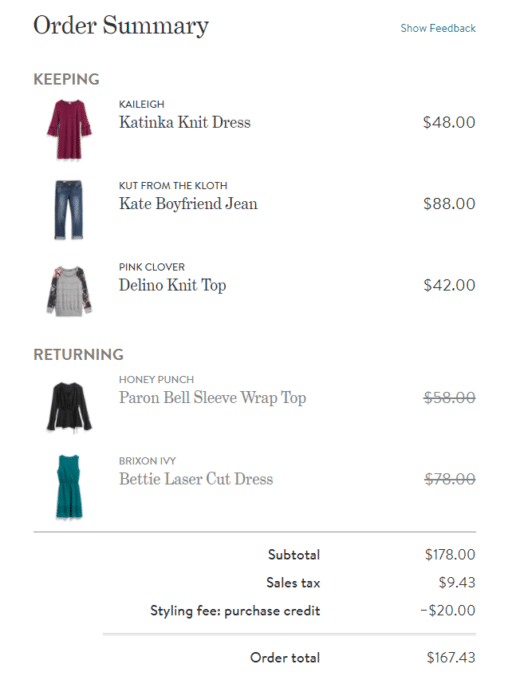 Gift Cards
A Stitch Fix gift card is a gift that any fashion loving girl or guy would like. If you have a friend or family member with a special occasion coming up, consider a gift card as a gift. I love it when I receive one!


Stitch Fix Maternity
Stitch Fix now offers their services to expecting moms. If you are expecting or if you know someone who is, they may appreciate a Stitch Fix box filled with cute maternity things.


Stitch Fix for Plus Sizes
If you are plus sized, Stitch Fix has you covered!


Stitch Fix for Men
My husband is NOT into fashion AT ALL and has enjoyed the three Stitch Fix boxes that he has received. In fact, he wears the items that I purchased from those boxes to work weekly. Why not treat your husband to his own Stitch Fix box?


If you've been thinking about trying Stitch Fix, I encourage you to do so. I have so much fun anticipating the arrival of my Fix and then trying on the clothing when it arrives.