Smith Mountain Lake House Update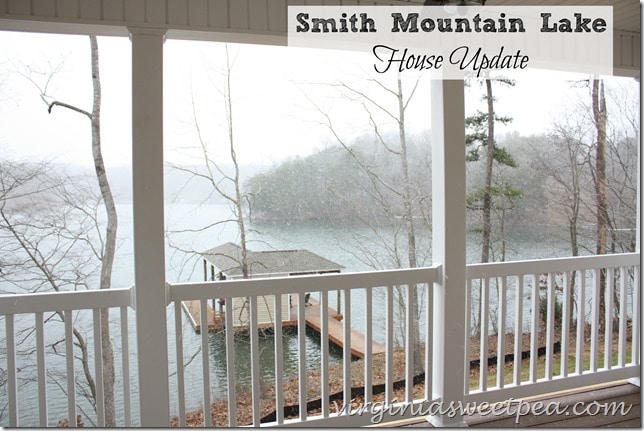 It's been over two months since I gave you an update on our Smith Mountain Lake house. The house was completed at the end of November and we finally spent the night there this past weekend. We got a fun surprise when we woke up on Sunday: snow!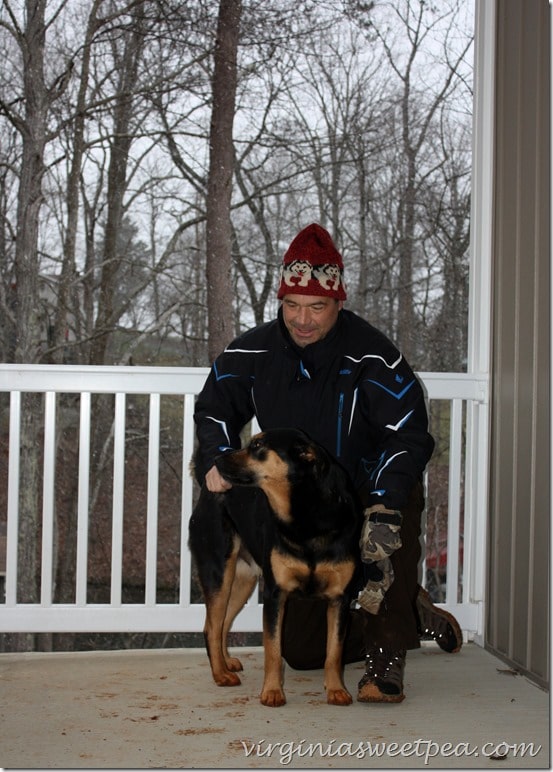 We have had a lot of rain in Virginia in the past few months and you can tell by the state of Sherman's paws that it is quite muddy around our house.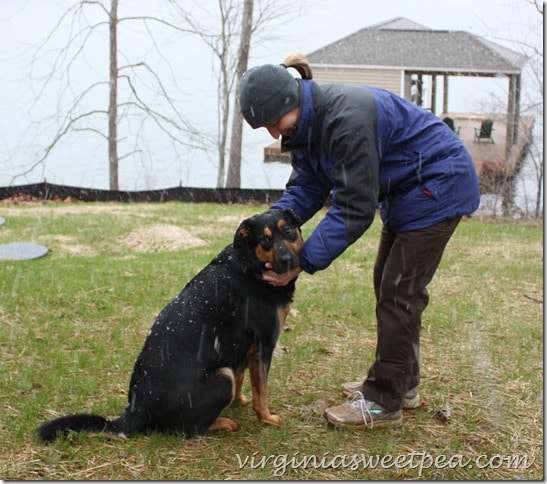 Even though the grass wasn't planted until late November, it still germinated thanks to the warm weather we had in December. If that hadn't happened, we really would have a muddy mess at the lake.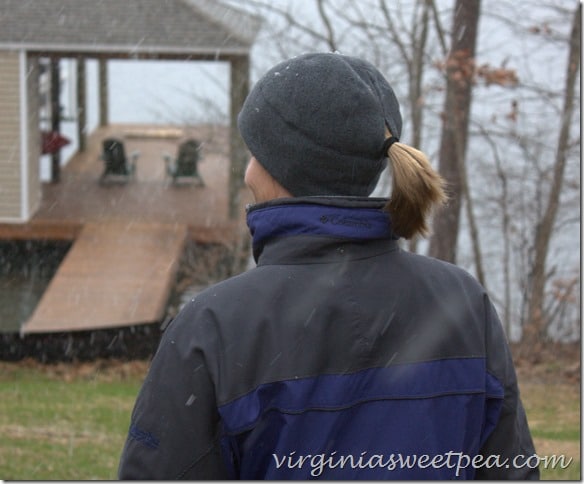 On a side note, the ponytail hat from Duluth Trading that Mr. SP got me for Christmas is the best thing ever. If you've tried shoving a ponytail into a hat, you know exactly what I mean.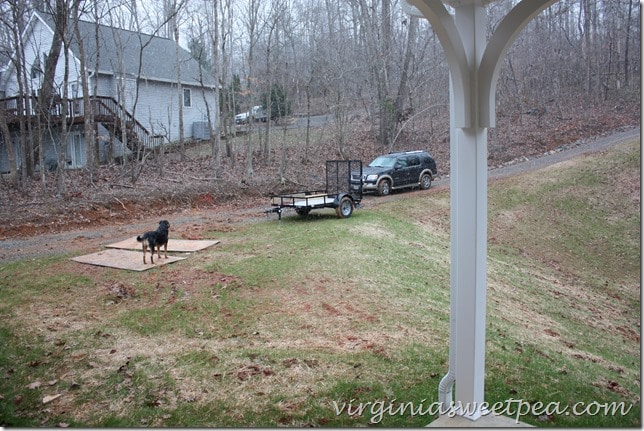 Our house came with no landscaping other than planting grass. We desperately need to add sidewalks as it's not at all pleasant to walk through mud to get into the house.
The driveway was supposed to be paved by our builder but the rain wouldn't cooperate and the ground was never dry enough to do it so we've postponed that job until spring. We are hoping that a load of gravel at the bottom of the driveway will help with the mud.
We've been taking things to the lake one trailer load at a time. We originally planned to rent a Uhaul for a day but decided instead to invest in a trailer and move things a bit at a time. This trailer will also be handy in the spring when it's time to spread mulch both at the lake and at home.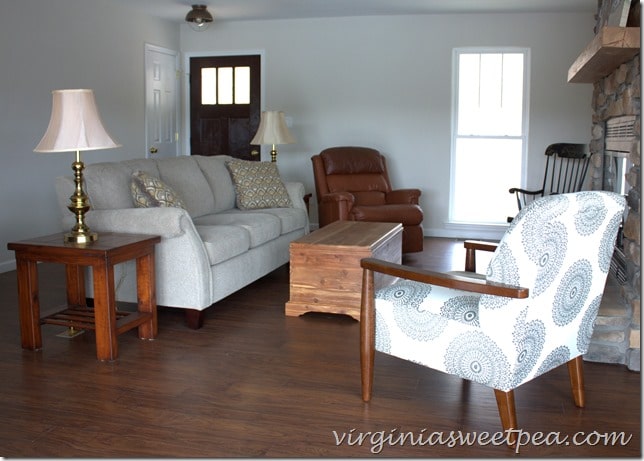 The family room is now comfortable and ready to enjoy. My mom gave us the Lazy Sofa, Mr. SP's dad gave us the recliner, I made over the Cargo end tables last summer, and I won the Lazy Boy chair through a blog contest. I'll tell you more about the cedar chest that we are using as a coffee table next week.
We plan to get a rug after we get the mud under control.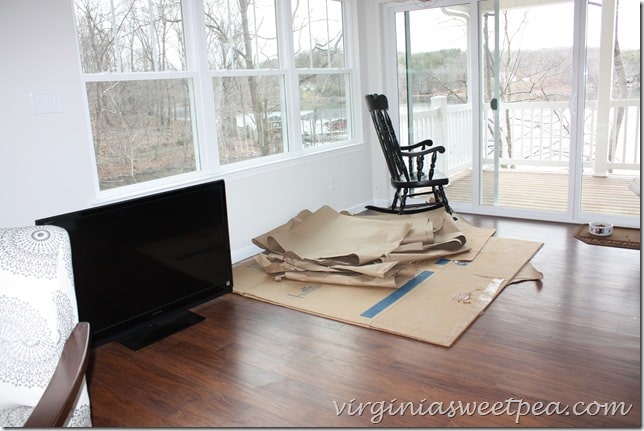 I've had contractor paper on the floors to help with the mud. I'll probably have to put it back down but it was nice to roll it up over the weekend to see what the house looks like without it. We plan to take the media cabinet that Mr. SP built to the lake soon for the tv. The black rocker that was a Goodwill find that I made over is waiting for nice weather to find its home on the deck.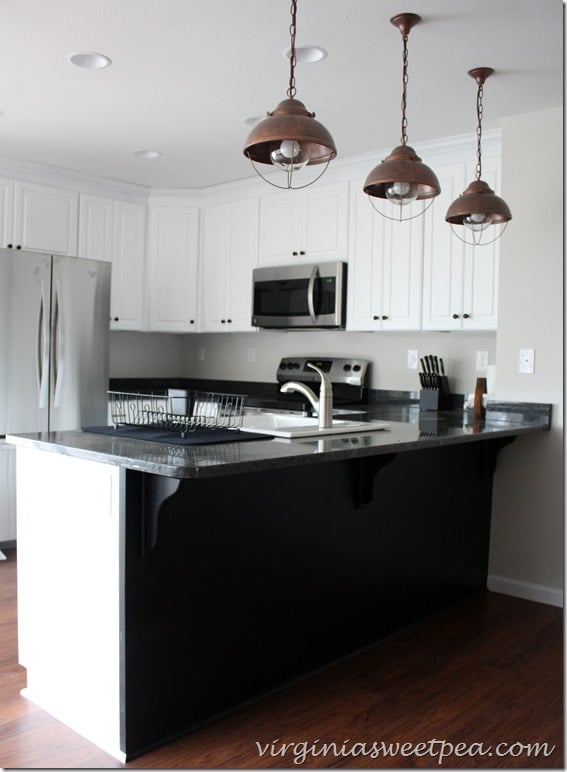 I'm slowly filling the kitchen with things that we'll need at the lake. The next purchase will be pots and pans. We also want to get bar stools but haven't found the perfect ones that fit our budget. I'm still crushing on our lights.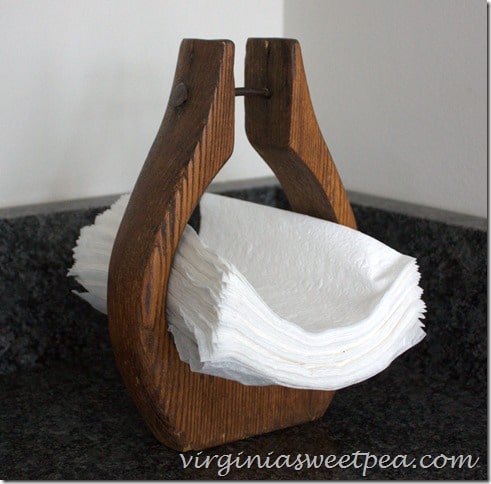 My mom used to use this stirrup for napkins and passed it along to me. Isn't this a great repurposing idea?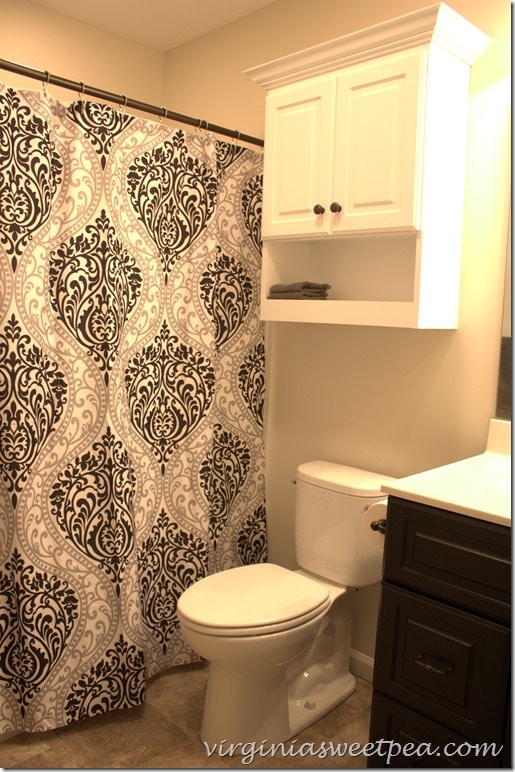 The guest bath finally got a shower curtain. I got it (Chelsea Paisley Print Microfiber) from Target.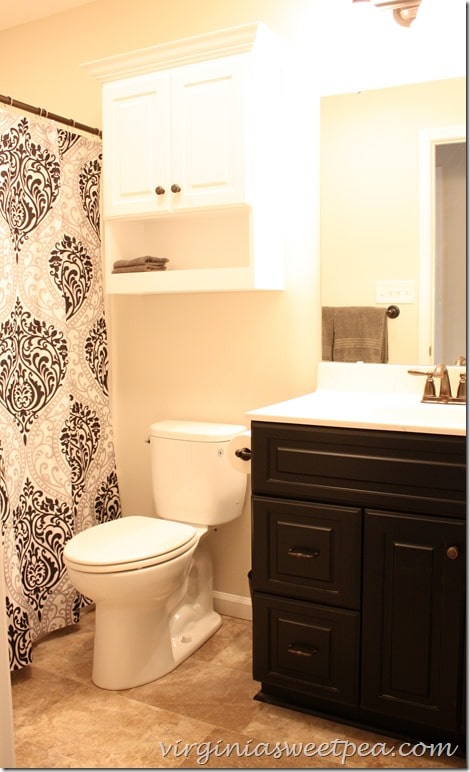 I bought a gray rug for this room from Ikea last summer but forgot to put it into place before taking the picture. If Ikea were closer, I'd buy a lot more things there for this house.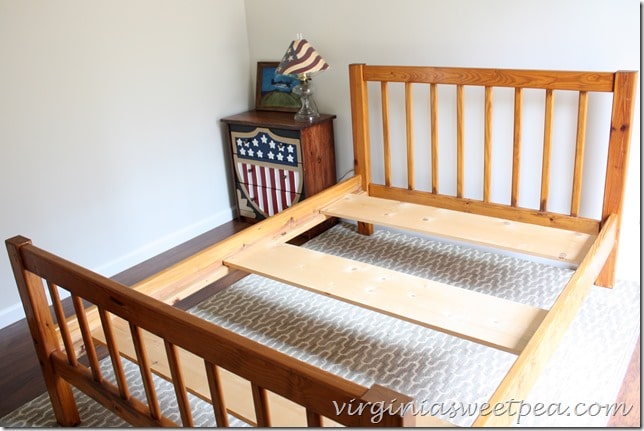 My father-in-law's room is going to be decorated in an Americana theme. This bed is Cargo and was one of Mr. SP's first furniture purchases after college. It's been in our guest room and has been replaced there with an antique bed that was my grandmother's. Mattress shopping is on our "to-do" list. It's too muddy for a delivery truck to deliver so once we make a purchase, we'll have to use our trailer to get the mattresses to our house.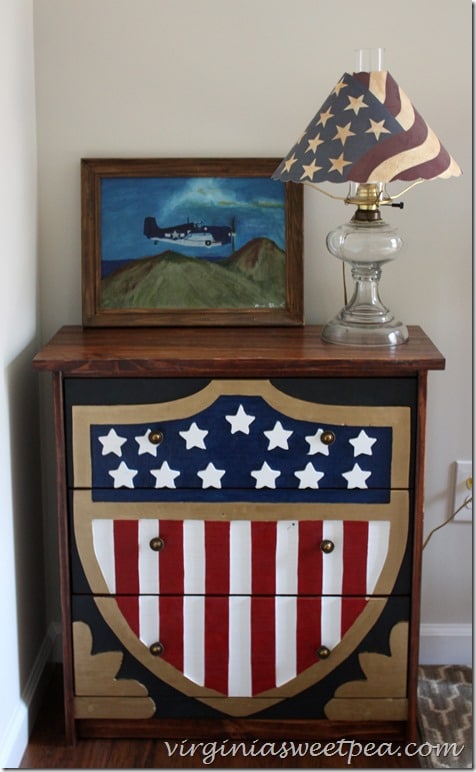 The Ikea Rast Patriotic Dresser that we completed last March makes a great nightstand. Mama gave me the lamp and I've had the lampshade for a long time. Mr. SP did the artwork when he was a child.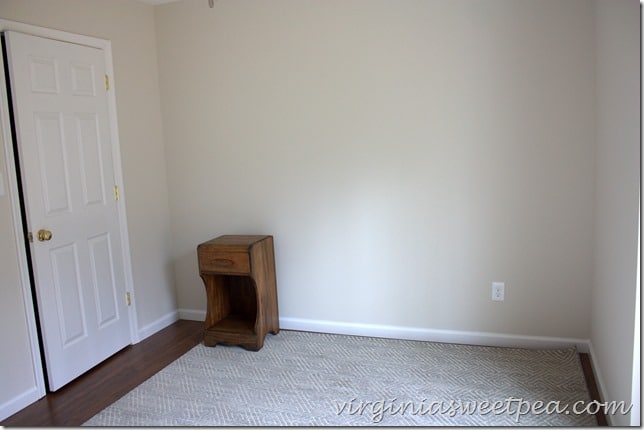 Mama's room is still empty. The iron bed that I plan to use here needs to be sand blasted before I can paint it. A friend has a mobile service but needs a warm day to do the job. I may or may not leave this nightstand in her room. It was my grandmother's and you can read about how I gave it a makeover here.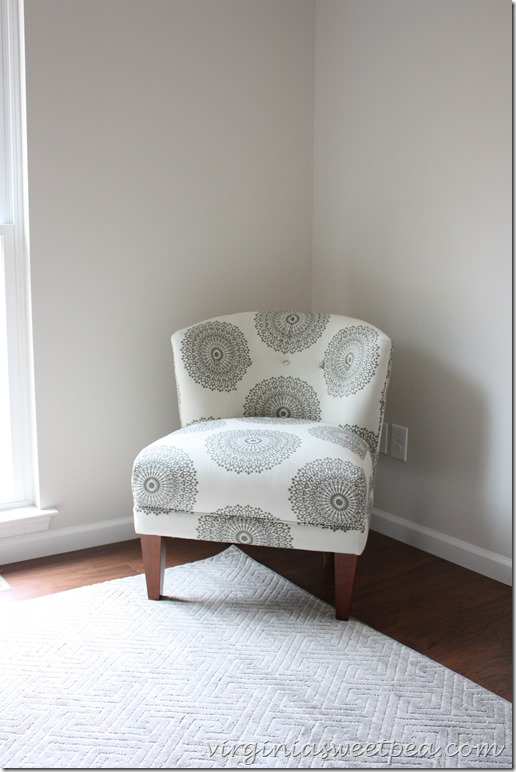 On the next trip I'm hoping to get a dresser into this room. We are using a dresser that my mom had stored in her barn that we made over. A new cabinet had to be made for it but were able to reuse the drawers.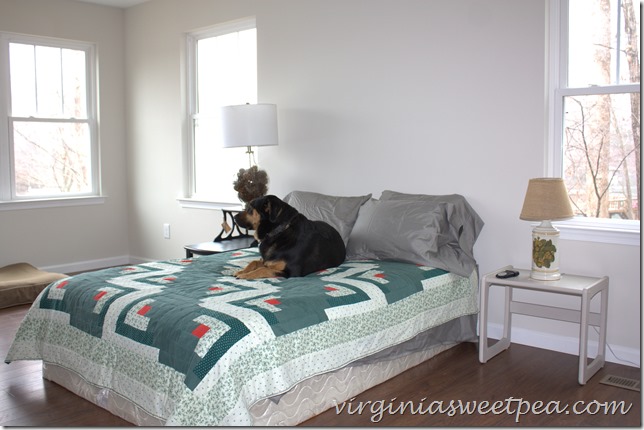 The master bedroom is an absolute hodgepodge but it's usable. The mattress and box springs will go into one of the guest rooms after we buy a queen set. Sleeping on a double bed with Sherman was a tight squeeze. Luckily he doesn't stay in bed long.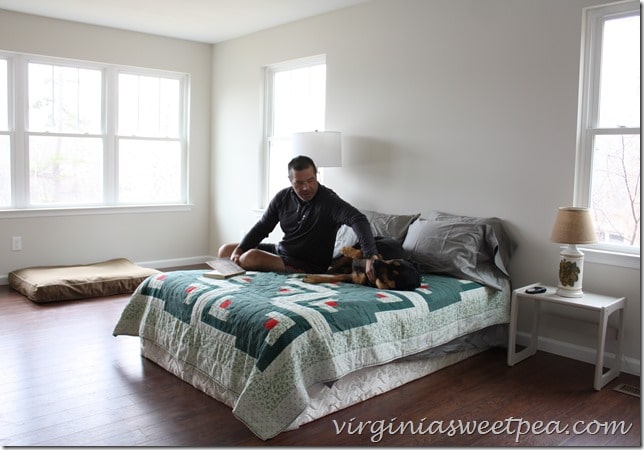 Mr. SP's mom made the quilt for him long ago. It's always the quilt that I use when we go to the beach. I'll use it until we figure out the decor for this room. I raided my basement stash to find side tables to use temporarily. The one on the right side of the bed was my project for the monogram challenge for Themed Furniture Makeover Day. The table on the left side was also a Themed Furniture Makeover Day piece, this one for a small table challenge. The lamp on the left side of the bed is Fillable Clear Glass Ovo Lamp from Lamps Plus. I got it by participating in Christmas in August lamp decorating contest. I didn't win the contest but I got the lamp, so that's a win for me. 🙂 I found the Primrose lamp in someone's trash, rewired it, and bought an shade for it at Lowe's.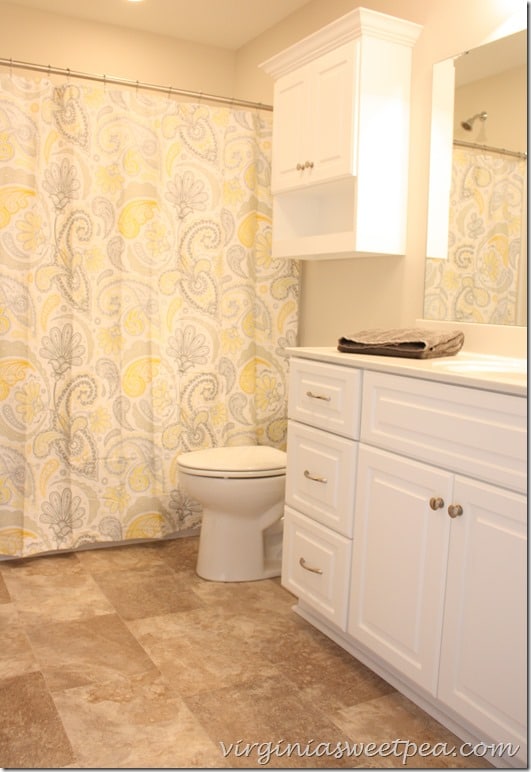 The master bath also got a Target shower curtain. This one is the Kassatex Paisley Shower Curtain in yellow/grey. This room also has Ikea rugs but I forgot to put them out.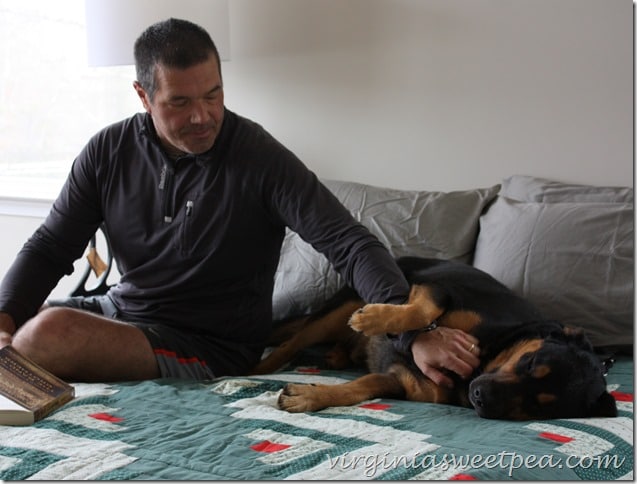 In case you were wondering, Sherman loves the new house. The bed meets his approval, especially if he is sharing it with Mr. SP.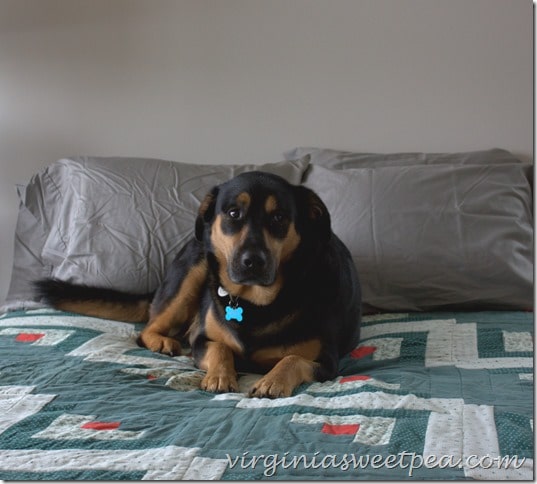 Our big boy went to the vet on Saturday for his yearly exam and weighed in at 95.7 pounds. We've been told to cut back on his treats to help him to lose a bit of weight. You an see that he wasn't thrilled with the news.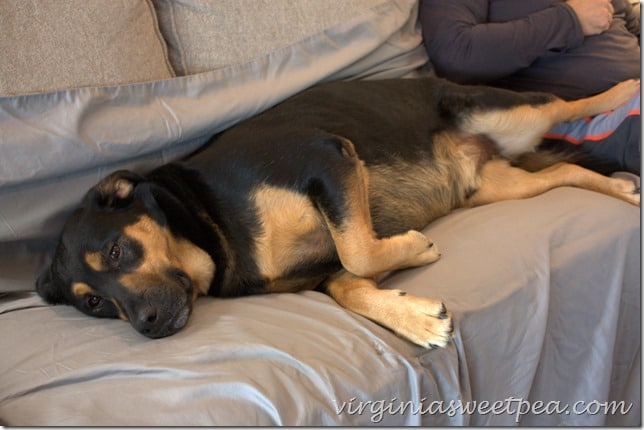 Sherman tested out the sofa this weekend and found it quite comfortable. I'm so afraid that he'll get red mud on it so it will definitely have to stay covered at all times. I'm thinking about buying this sofa cover from Plow and Hearth.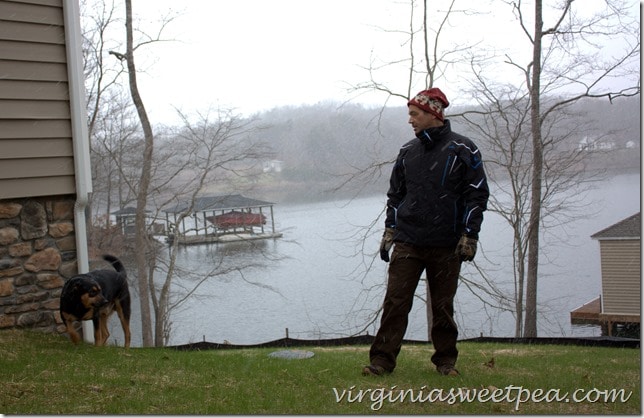 It was so much fun to spend our first night at the lake and to take Sherman for a long walk in the morning.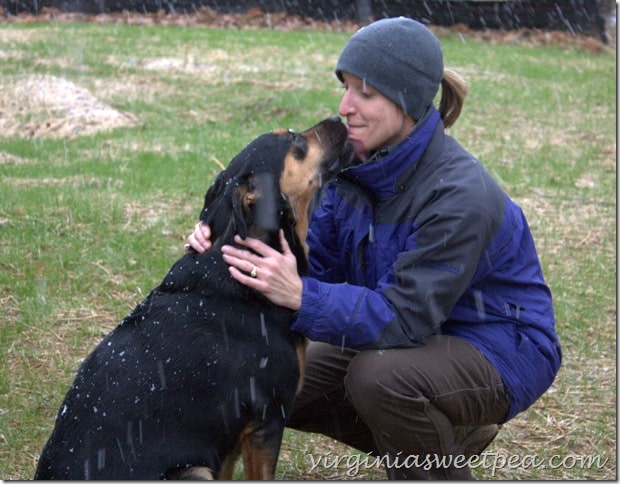 Sherman tells me that he's ready to go the lake again next weekend and so am I!