Lake House Basement Project – Update Fourteen
My last lake house basement project update covered how we installed metal balusters on our staircase. In this update, I'll share the other things that we accomplished over the last weekend of March.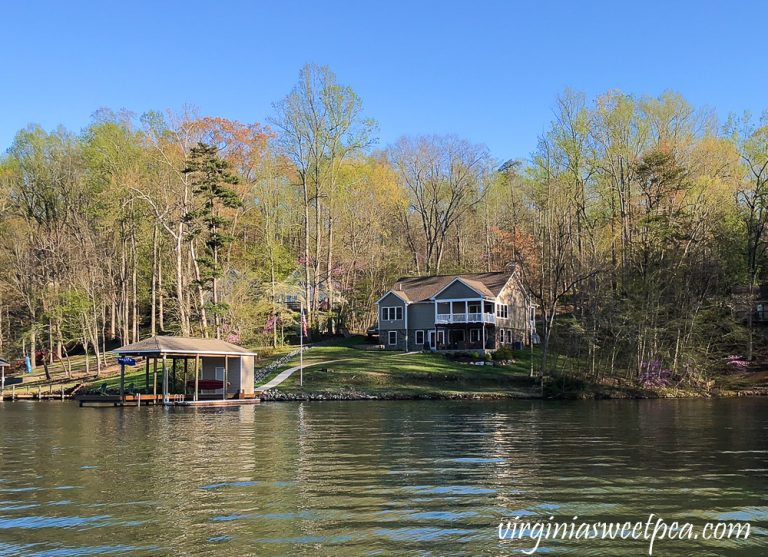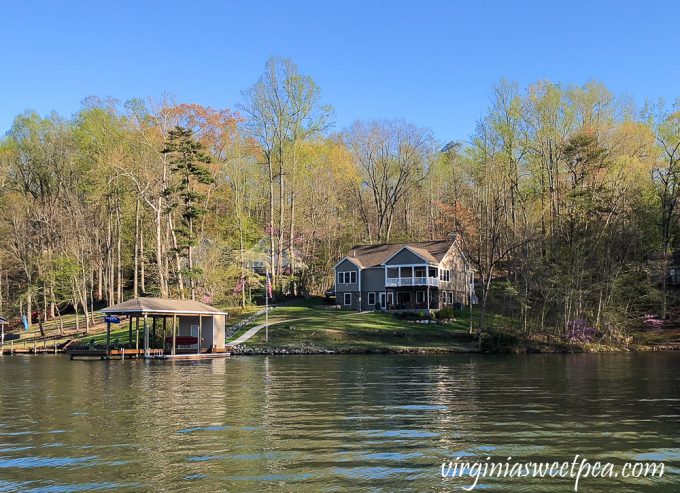 We started work on this project last August and are finally nearing the end. These posts chronicle our work transforming our unfinished basement into a family room, bedroom, and bathroom.
Doors
While Mr. SP worked on installing the metal balusters on the stairs, I continued working on adding topcoat to the doors. The doors are now in place and I can't wait to share how they look with you.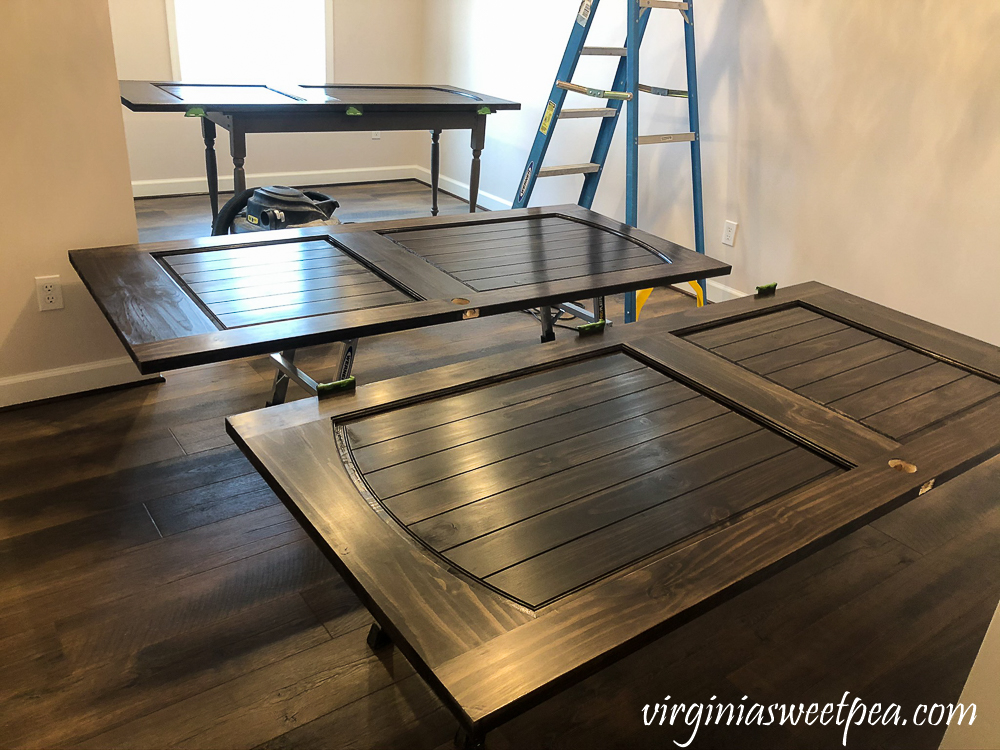 Windows
I caulked and painted the windows that had not been worked on in previous weeks. They are now done but realized that I forgot all about the trim around the double doors, so I still need to paint that trim and also the doors, both inside and outside.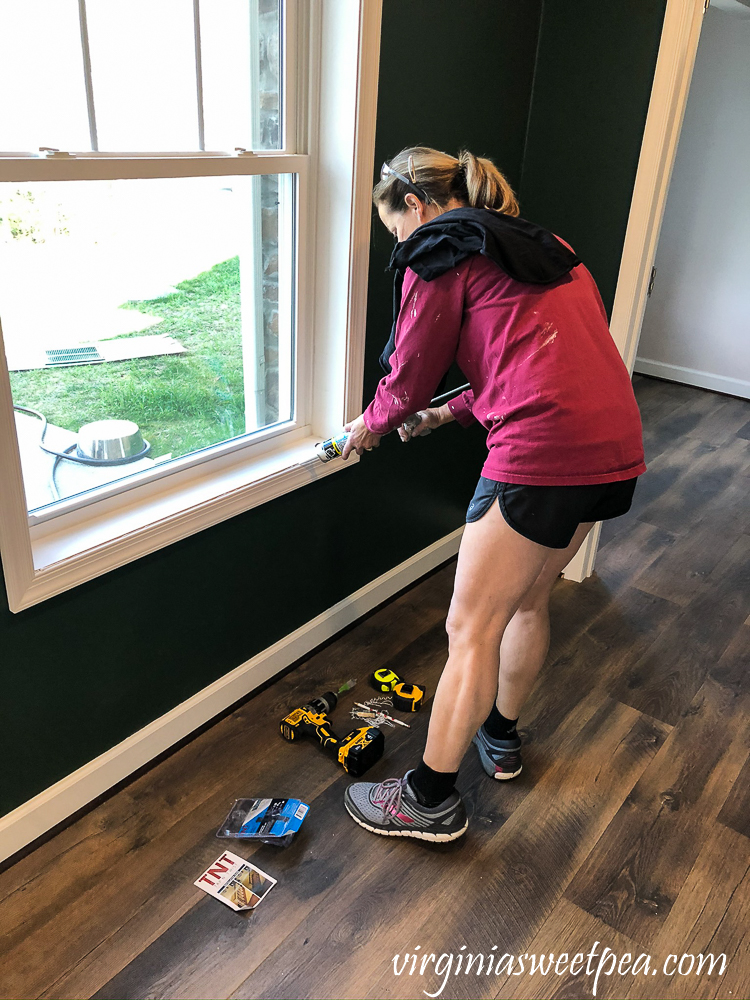 I love the view of the flag from the bedroom window.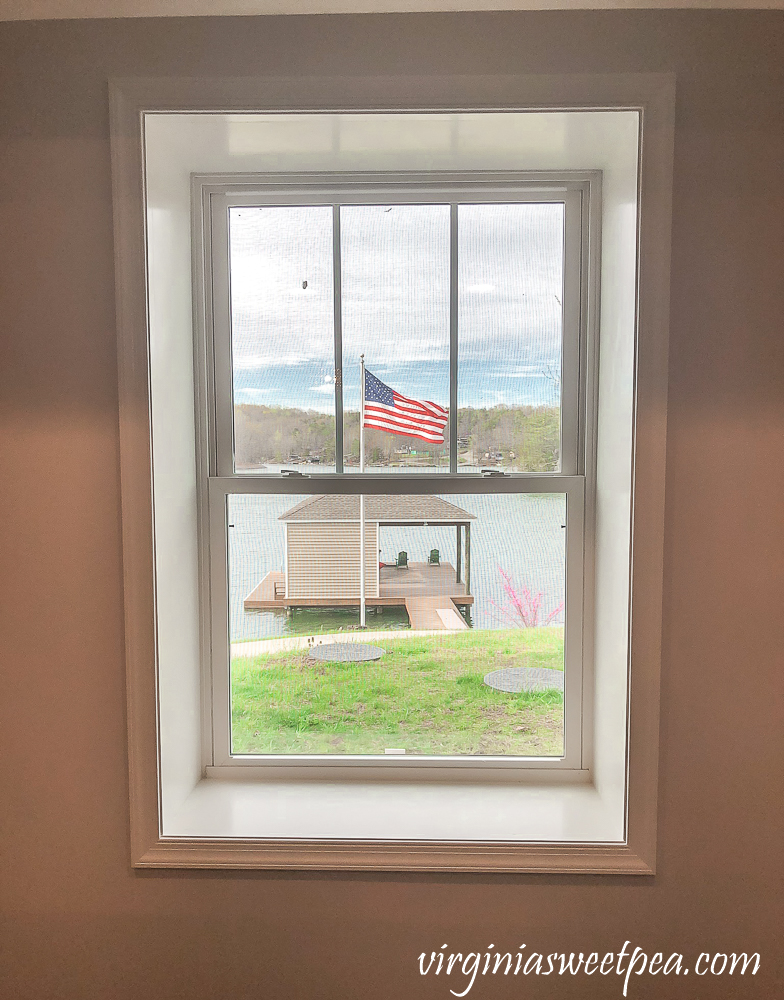 Bathroom Work
The bathroom is finished other than hanging the door and installing the threshold. (Both tasks now done and I'll share how it looks in my next update.)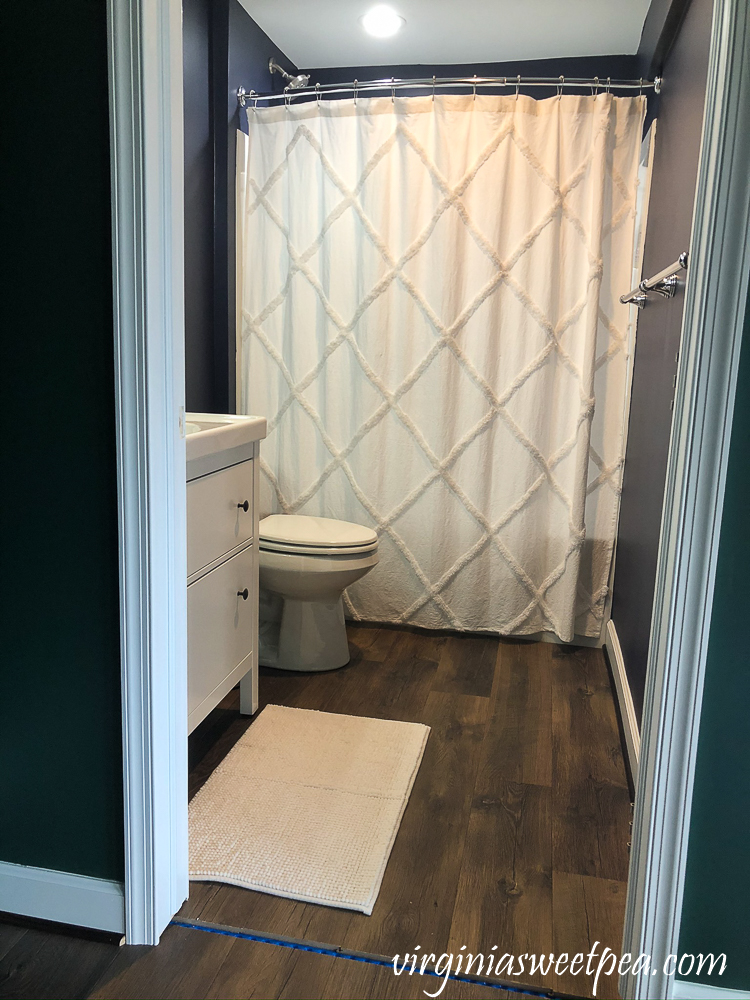 The shower is ready to be used. You can see that I still need to hang some towels in this space.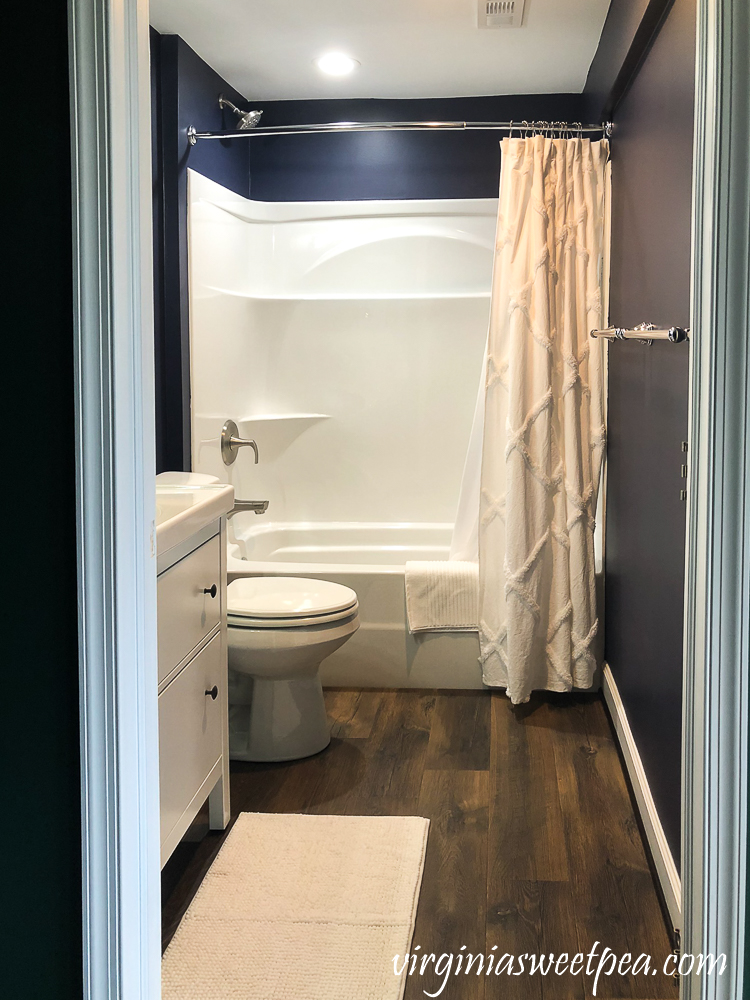 The mirror was tricky to hang, but we got it done. This bathroom is very well lit!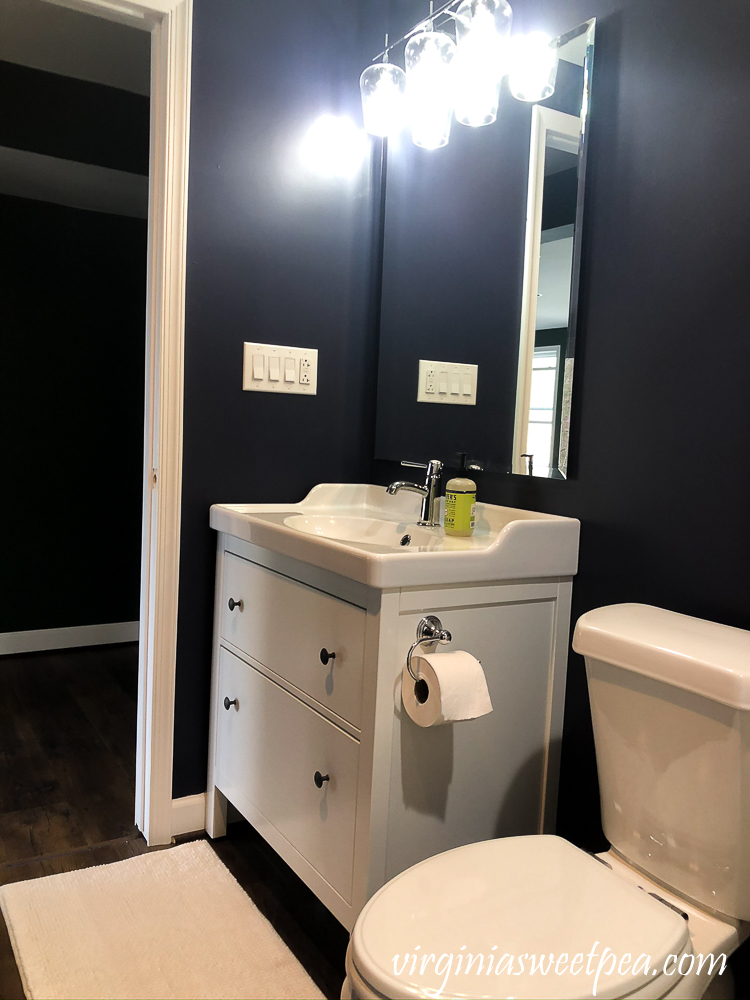 Bathroom Resources
Preparing the Family Room for Furniture
A sofa and two recliners were scheduled to be delivered on April 3, so I cleaned the floor in anticipation of their arrival.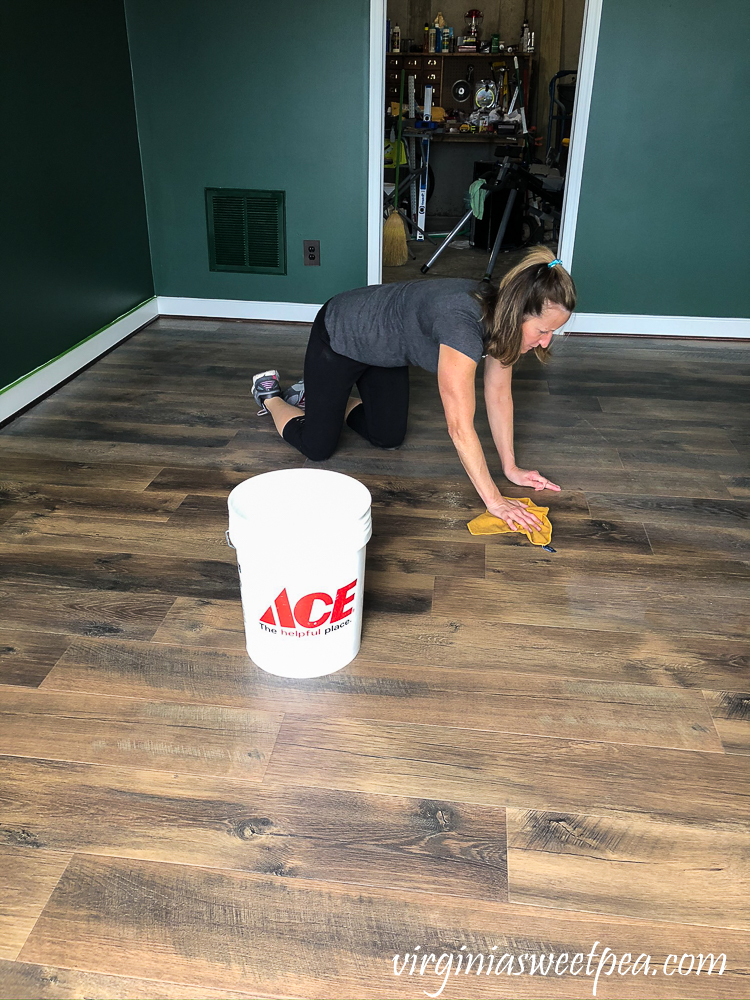 It was so nice to finally be able to thoroughly clean the floor!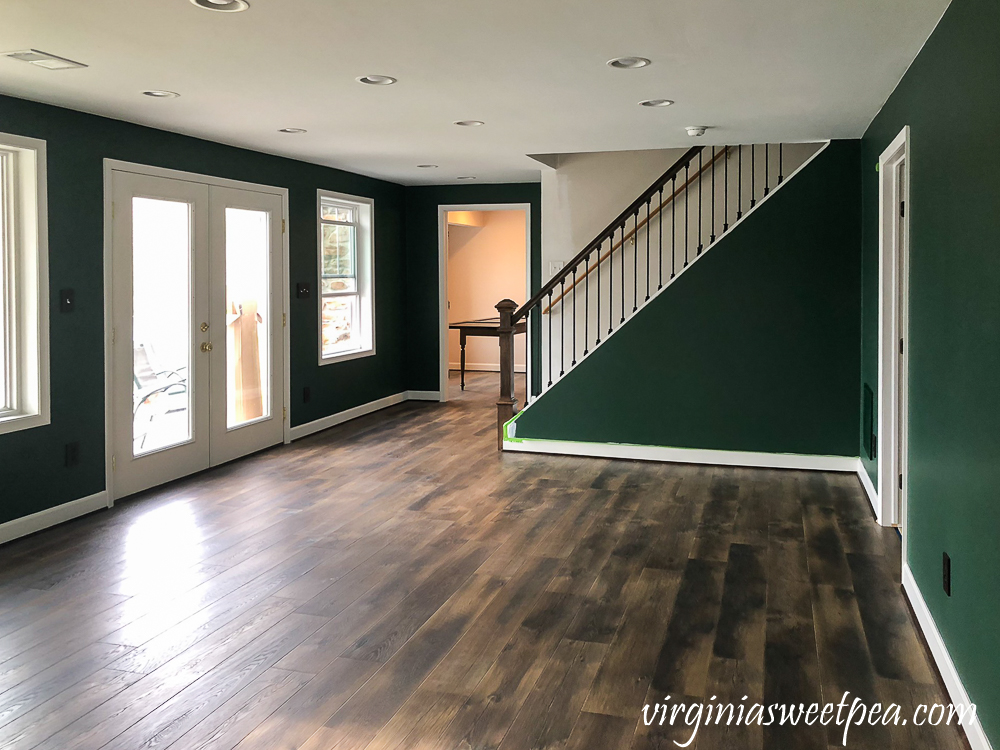 I while back I mentioned painting the wall register beside the basement door green to match the walls. I accomplished this using spray paint and the register is somewhat camouflaged now.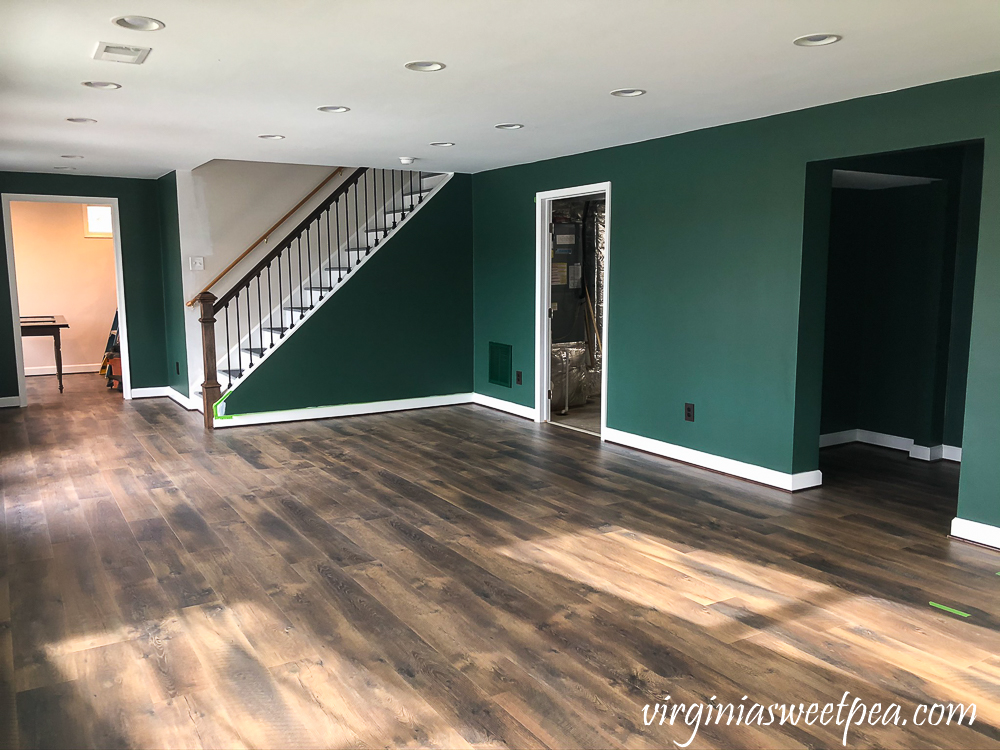 A Rug for the Room
We spread the rug out in the room so that it would have a few days for the wrinkles to smooth out before the furniture arrived.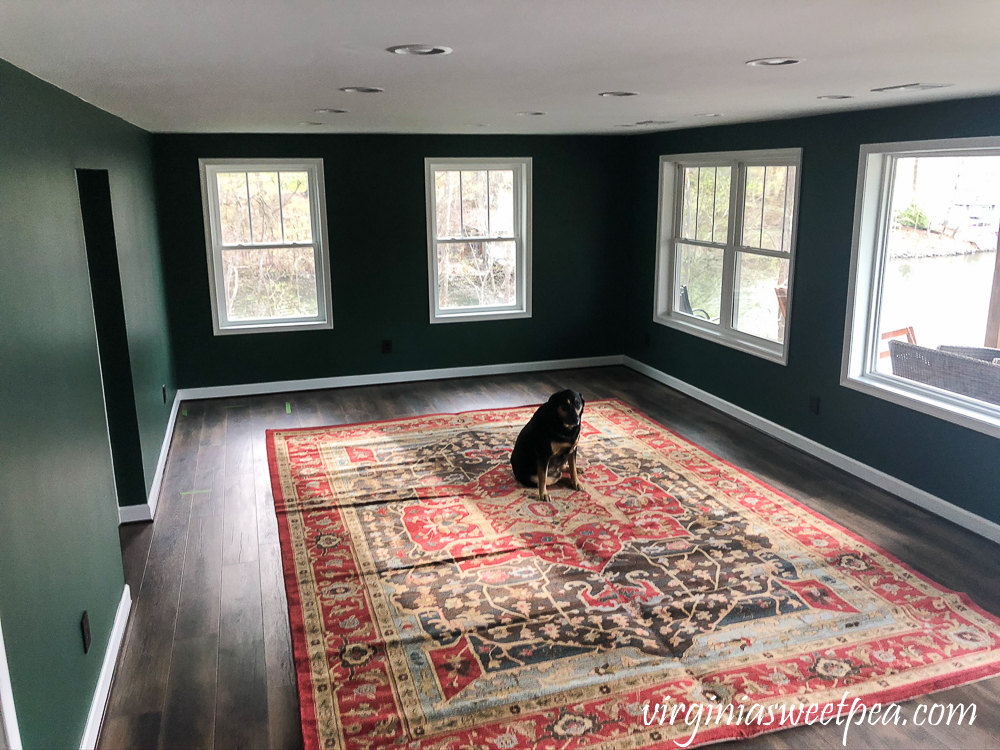 You can see that the first family member to enjoy the rug was Sherman.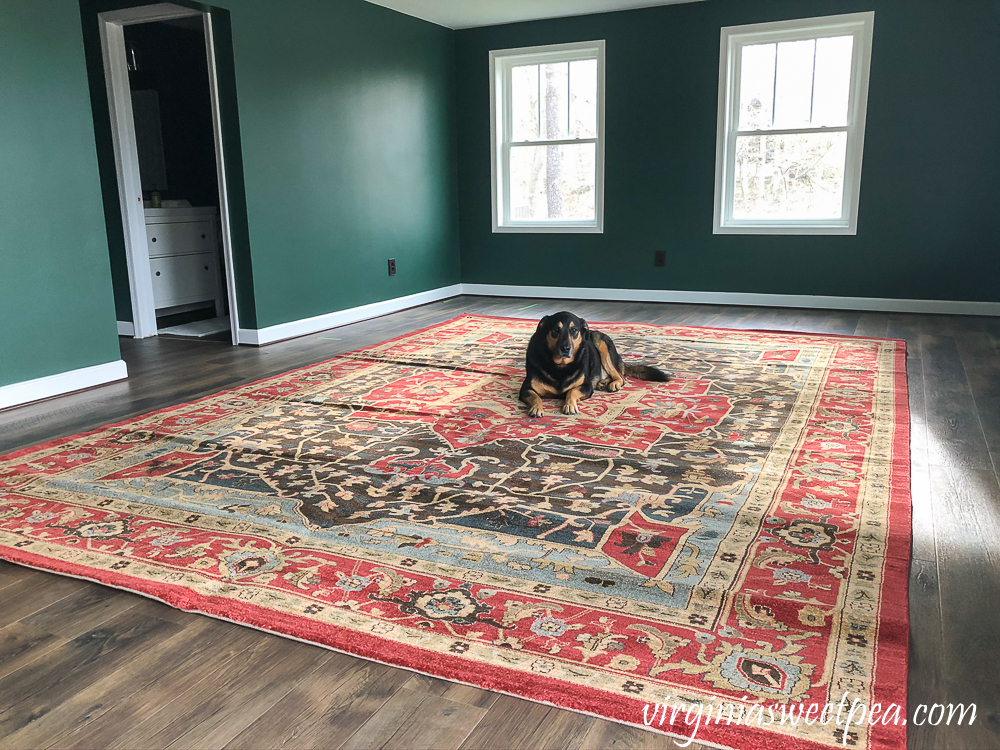 Note that I chose a rug that matches Sherman's fur.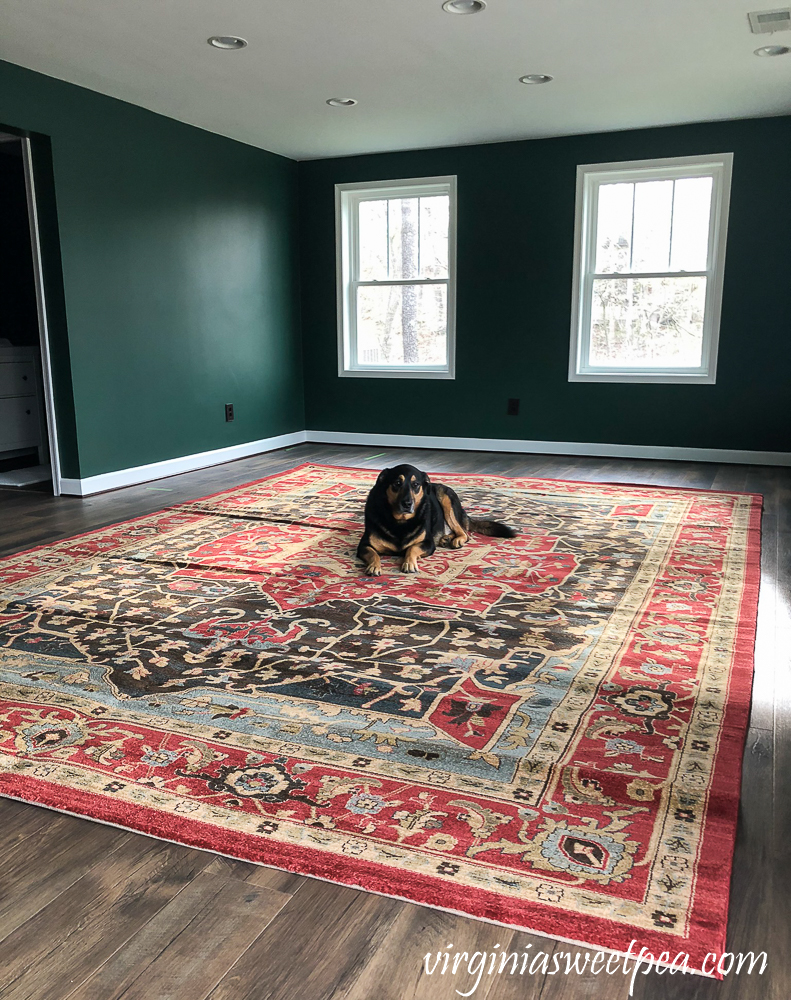 Family Room Resources
Fun with Sherman
We've had really nice lake weekends. Our good friends stopped by on their jet skis and Beth snapped this picture of us. It was nice to visit with Cole and Beth from a safe distance.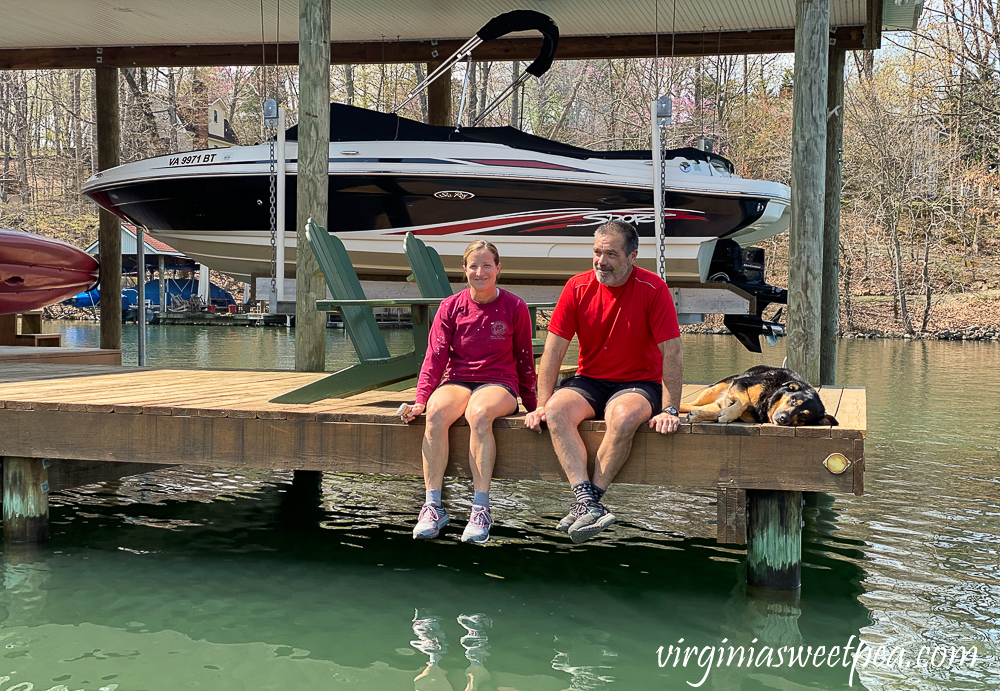 A weekend isn't a weekend for us without hikes at beautiful Smith Mountain Lake State Park.
My shirt was a Christmas gift from a good friend. The one I have has limited sizes available but this updated version is available in all sizes.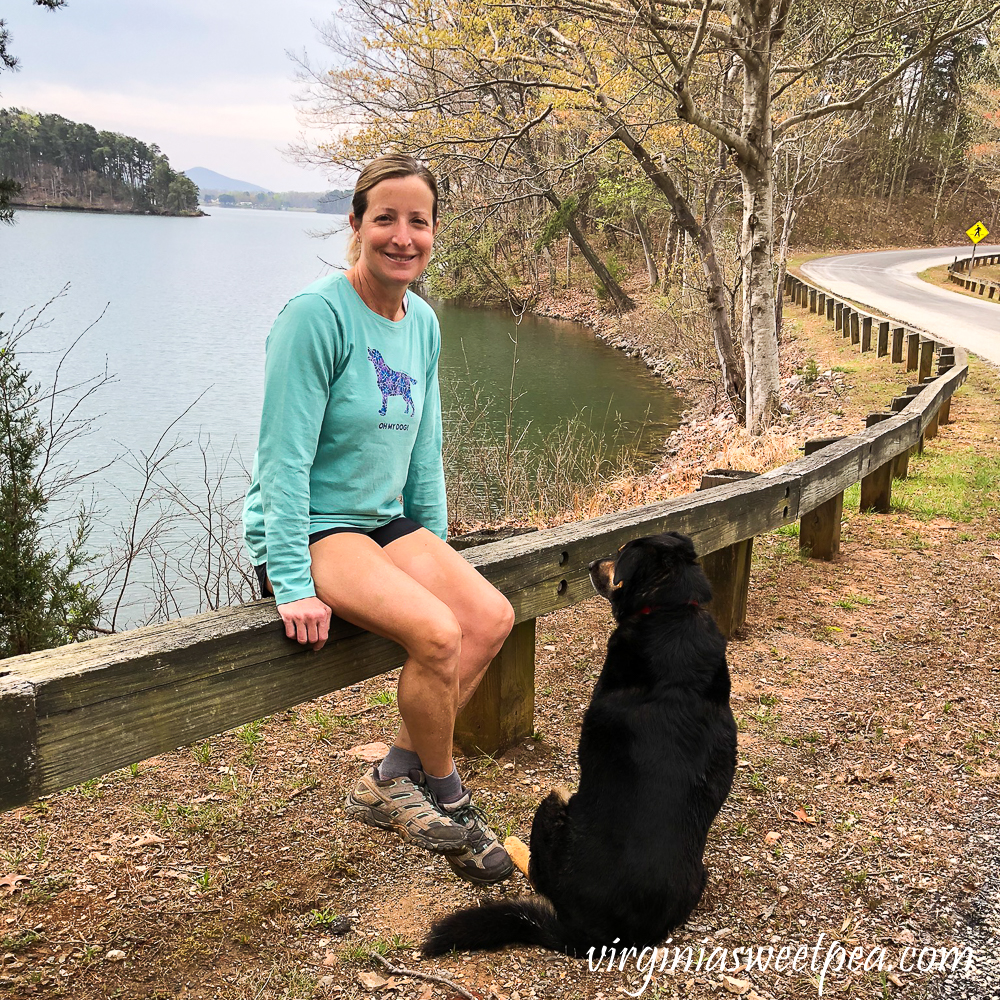 Sherman loves to go into the visitor's center at the park and visit with the staff. He doesn't understand that the park buildings are closed.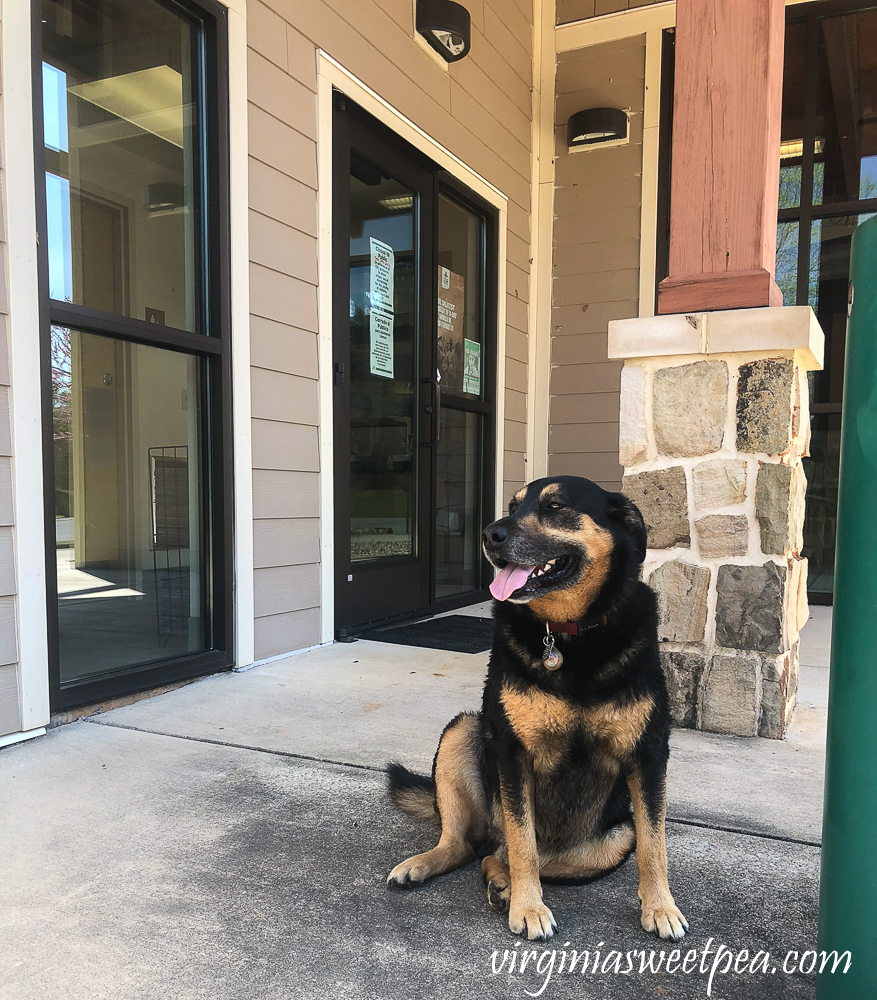 We also enjoy walking Sherman around the neighborhood. This is the boat ramp for a neighborhood next to ours.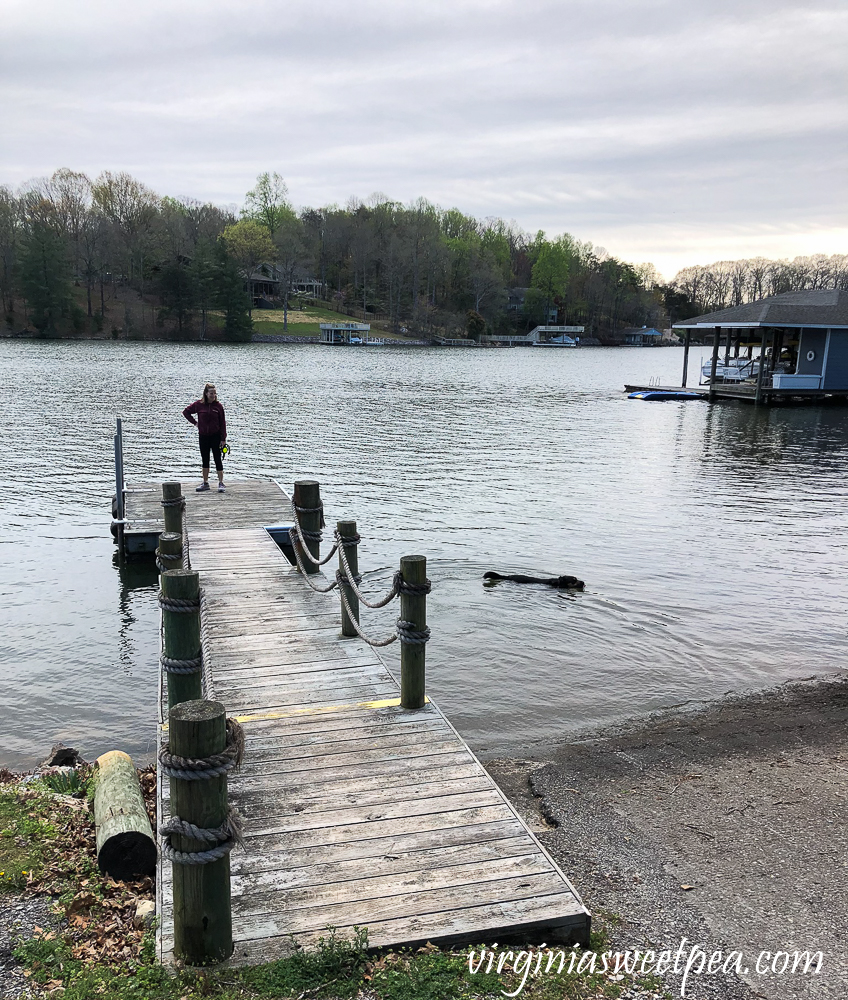 By the end of the weekend, Sherman is exhausted. Mr. SP always says, "A tired dog is a happy dog." Of course our Sherman has a bed with his name on it. (Bed is from LLBean.)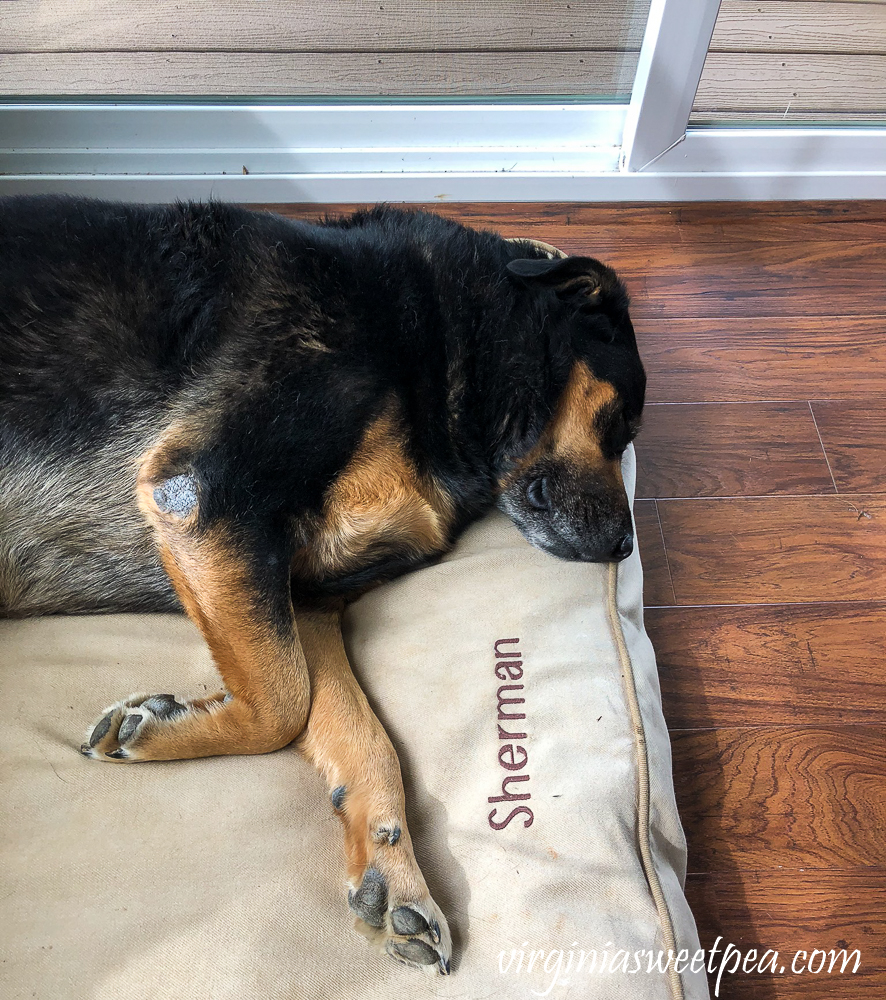 What's Next?
We have some touch-up paint to do, the closets need doors and also closet racks inside of each, and we need to figure out a way to hide the septic tank alarm system. We have a cover that we are supposed to use but it is ugly with a capital U, so I'm hoping to hide this with art or a large mirror.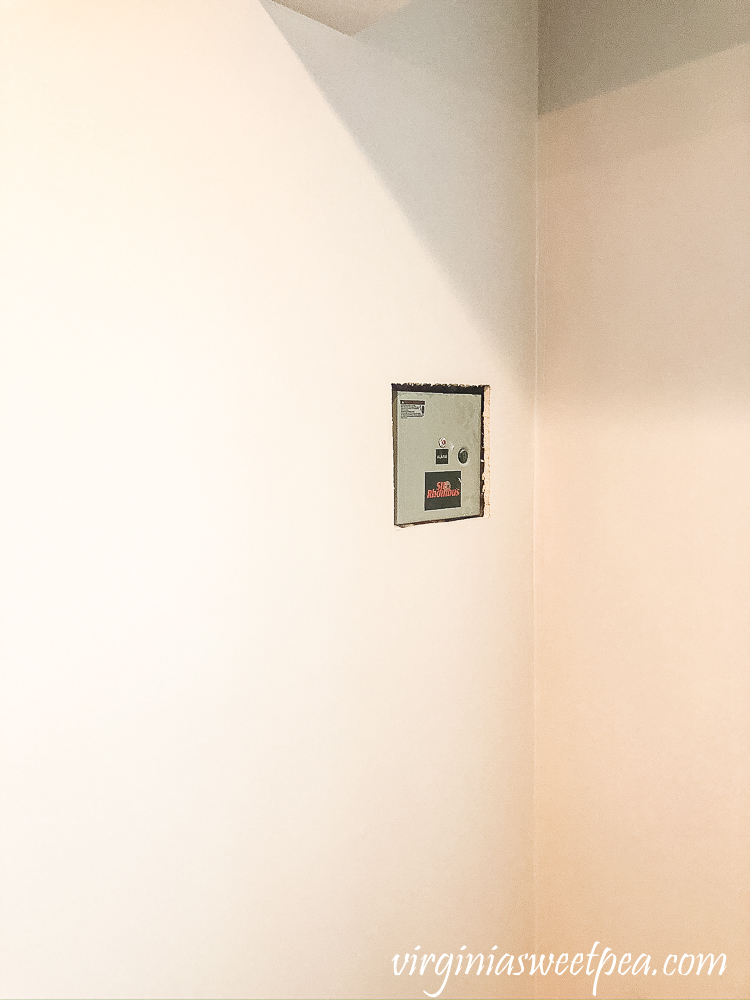 We have decided not to install the wallpaper on the stairwell ourselves since it's such an awkward space to reach. Once we schedule someone to install the wallpaper, after that we will paint the steps and install the runner.
Pin it!
I would love for you to save this post to Pinterest for others to discover.