Spicy Sausage Rolls – A Great Party Appetizer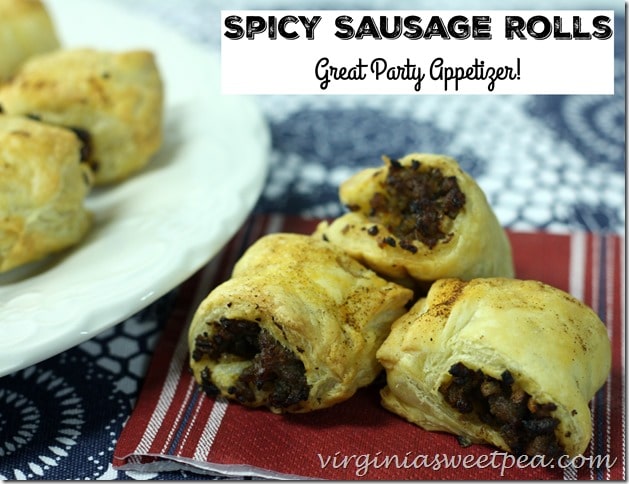 Are you completely partied out from Christmas? Hang on, there's still New Year's to celebrate! Like most of you, we are looking forward to some down time this week before we stay up on Thursday night to ring in 2016. Since New Year's Eve is a night where appetizers are commonly served, I thought I'd share a really delicious recipe, spicy sausage rolls.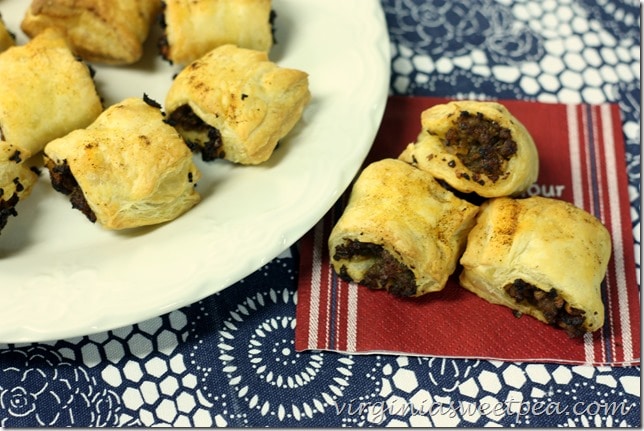 These tasty morsels feature a sausage and onion filling with just enough spice surrounded by flaky puff pastry. These are so tasty and Mr. SP and I devoured them in no time!
How to Make Spicy Sausage Rolls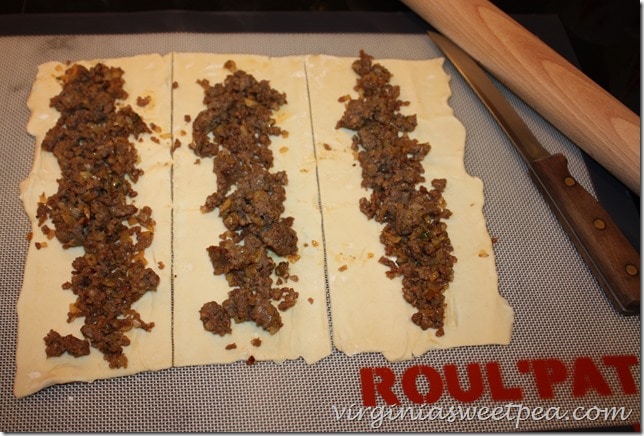 Pork sausage is cooked with onion, chives, garlic, basil, paprika, red pepper, salt and pepper until is is just brown. Thawed puff pastry is rolled into a 11" x 10.5" rectangle and cut into thirds. 1/2 cup of sausage mixture is spread down each third.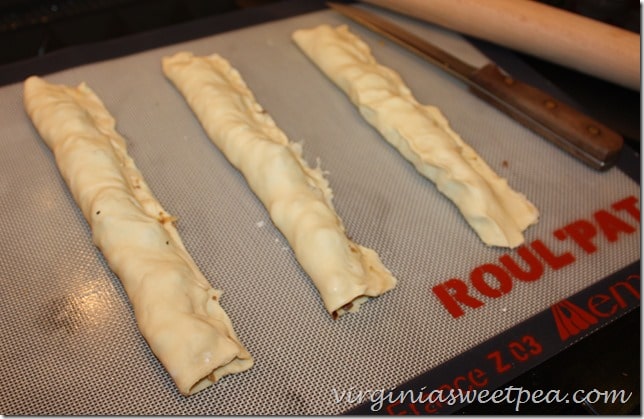 The puff pastry is folded over with the edges pressed to seal the dough.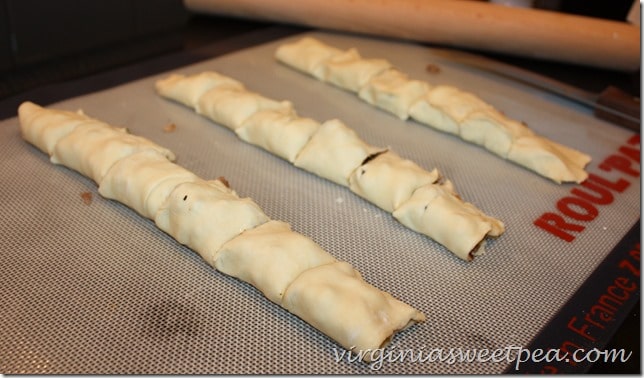 Each of the three strips is cut into six pieces. (I do all of my pastry work on a Roul'Pat
, a nonstick mat similar to a Silpat used to line pans when baking.)
Repeat with the other section of puff pastry from the box.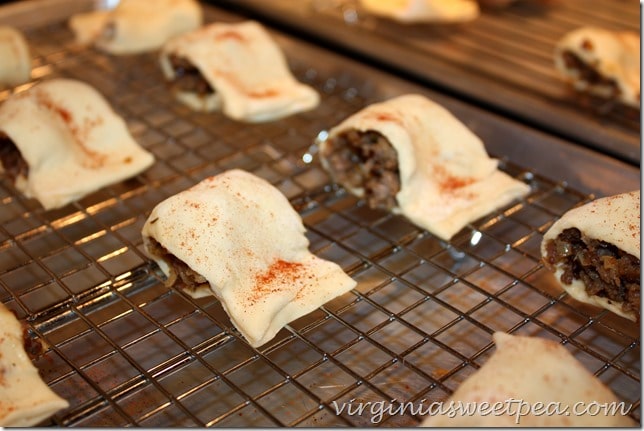 Line two sheet pans with wire racks and place sausage rolls on the rack to be baked. Sprinkle each with paprika.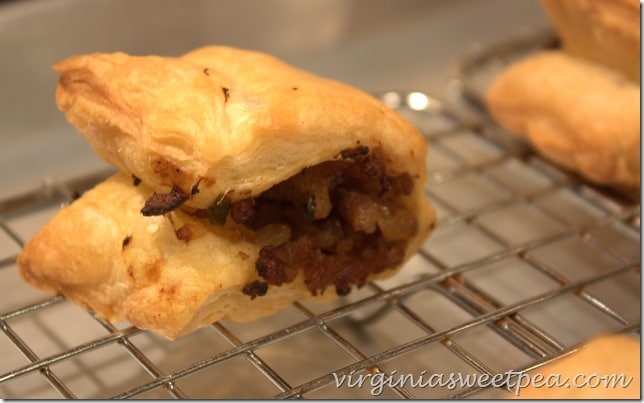 Bake at 350 degrees for 20 minutes until golden brown. Puffed pastry encasing spicy sausage makes a yummy combination.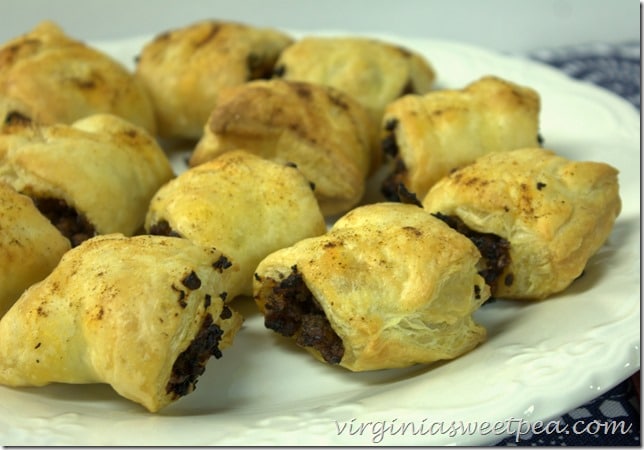 Your guests will love these! If you are hosting a party anytime soon, add these to your appetizer list!



Yield: 36
Spicy Sausage Rolls - A Great Party Appetizer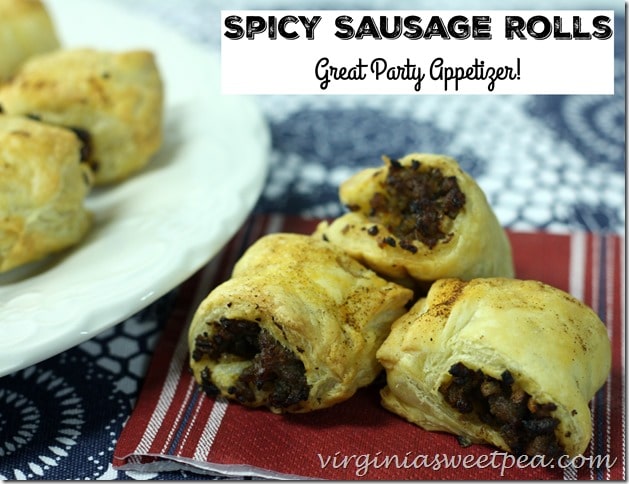 Cook Time 20 minutes

Total Time 20 minutes
Ingredients
1 lb pork sausage
1 medium onion, chopped
2 teaspoons mince green onion
2 minced garlic cloves
1/2 tsp. dried basil
1/2 tsp ground red pepper
1/2 tsp salt
1/4 tsp pepper
1 tsp paprika, divided
1 package (17.3 ounces) frozen puff pastry, thawed
Instructions
In a skillet, cook sausage, onion, green onion, and garlic until the sausage is just starting to brown and the onion and garlic have softened. Add basil, red pepper, salt, pepper, and paprika.
Roll one section of puff pastry into a 11 inch by 10 1/2 inch rectangle. Cut into three pieces.
Spread 1/2 cup of sausage mixture down the center of each strip. Fold pastry over and press edges together to seal. Cut each roll into six pieces.
Place on a rack on a baking sheet. Sprinkle with remaining paprika. Bake at 350 degrees for 20 to 25 minutes until golden brown.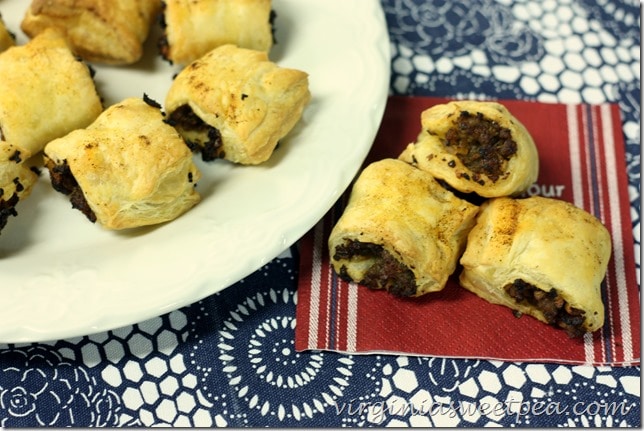 Don't think that this recipe has to be made just for an appetizer; Mr. SP and I enjoyed the leftovers reheated for breakfast.
Please pin this for others to discover and for you to remember for later!