We had some friends come to the lake for dinner on Saturday and like always, my friends volunteer to bring a dish to share. When Nicole asked what she could bring, I immediately thought of the Spicy Smoky S'mores Bars that she's made for a few other parties. These are chocolatey good with a pleasant kick of heat.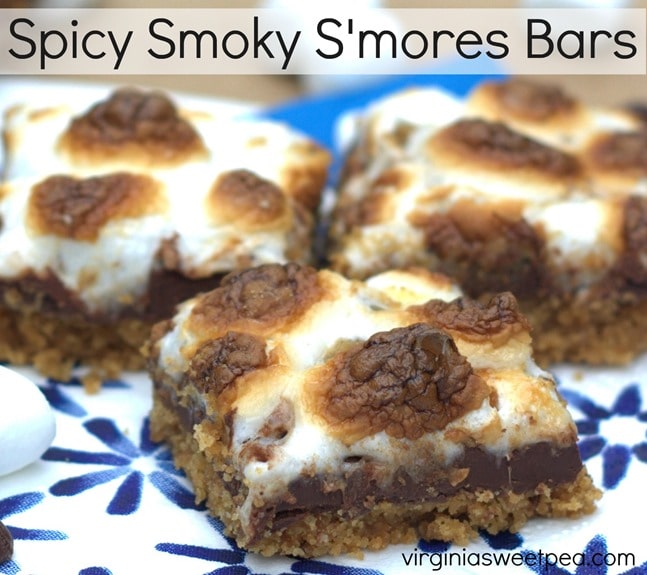 A crust is made with graham cracker crumbs, sugar and butter. After it bakes and cools, the crust is topped with chocolate spiced with chipotle pepper powder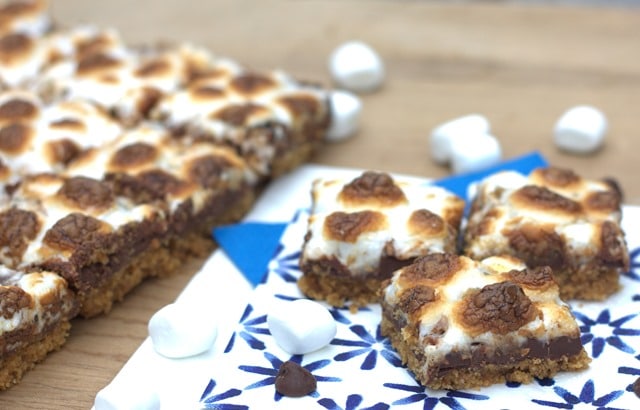 Marshmallows and reserved graham cracker crumb mixture are sprinkled on top of the spicy chocolate and then put under the broiler to brown the marshmallows.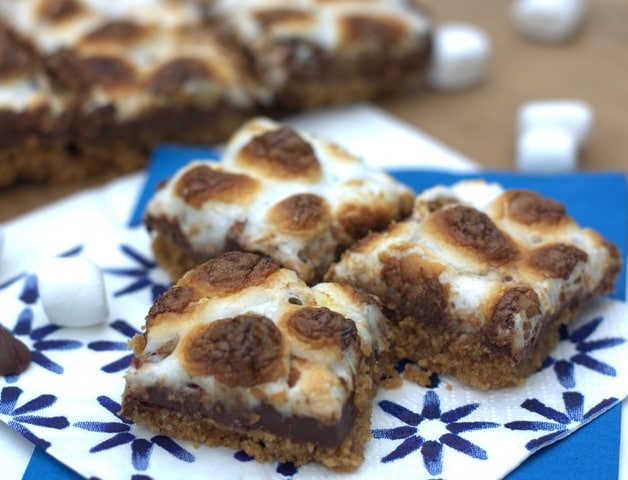 I had a small disaster with this batch and accidentally broiled my bars too long which burned the marshmallows. Luckily I was able to peel off the burned part, add more marshmallows, and once again but the bars under the broiler.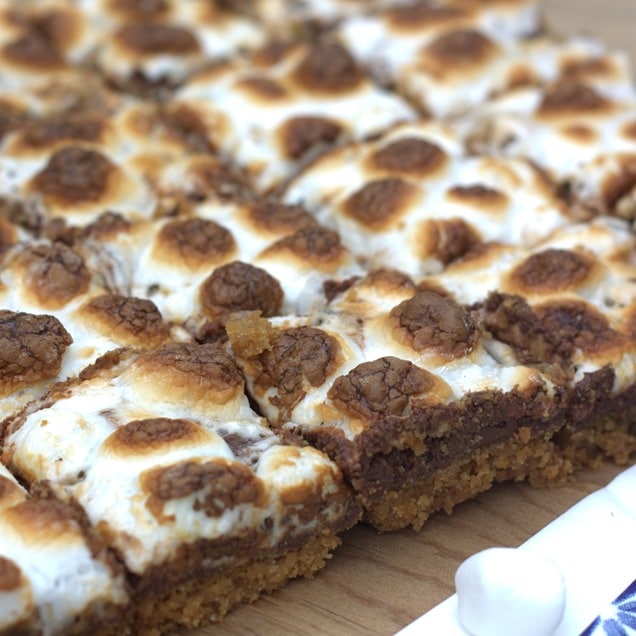 I wasn't careful enough the second time and almost burned them again. Luckily I like browned marshmallows!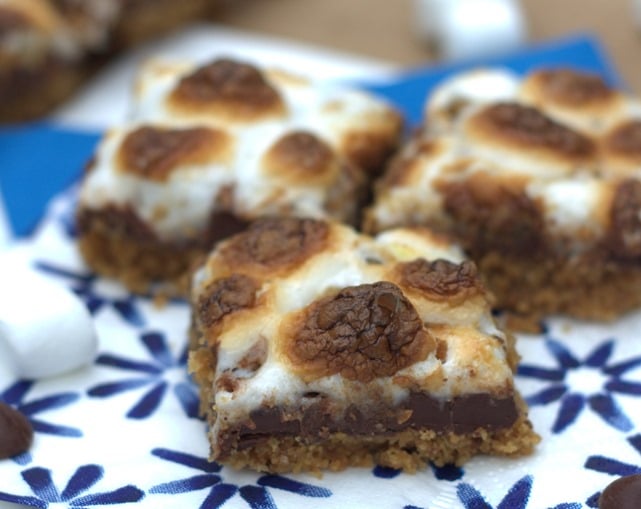 Nicole's batch were a hit at the party and I am quite positive that this batch will not last long at my house.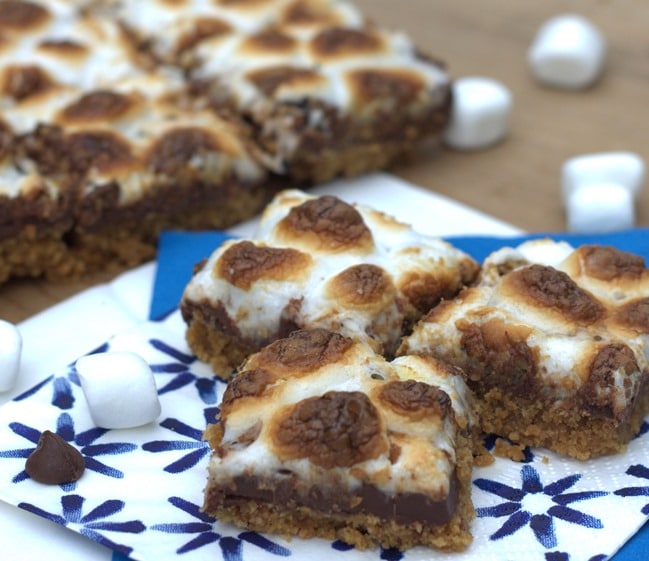 This recipe is adapted from an Anne Thornton one on Food Network. Many thanks to Nicole for discovering it and sharing it with me. I always love adding an excellent recipe to my files.


Yield: 24
Spicy Smoky S'mores Bars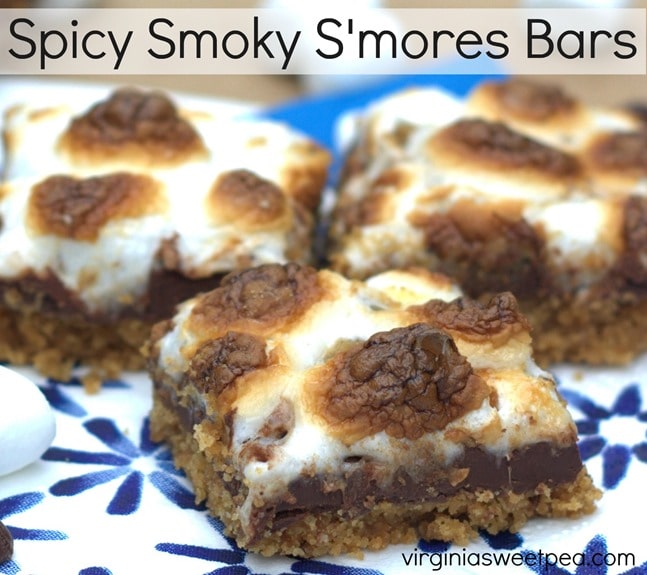 Spicy Smoky S'mores Bars are a real crowd pleaser. Chipotle pepper powder added to the chocolate gives these bars a pleasant hit of heat.
Ingredients
2 cups graham cracker crumbs
1/4 cup sugar
2 sticks of butter, melted
1/2 tsp salt
3 cups chocolate chips
1/2 tsp chipotle pepper powder
3 1/2 cups mini-marshmallows
Instructions
Preheat oven to 350 degrees.
Mix graham cracker crumbs, sugar, butter, and salt. Reserve a heaping 1/2 cup of the mixture. Press the remaining mixture into a foil lined 9x13" pan. (Leave extra foil on the ends to pull the bars out of the pan for cutting.) Bake for 10-12 minutes. Cool.
Melt chocolate in a double boiler over low heat. Stir in chipotle pepper powder and spread over cooled graham cracker crust.
Sprinkle marshmallows over chocolate and press gently. Sprinkle reserved graham cracker crumbs into the spaces around the marshmallows.
Refrigerate 2 hours. Remove from pan and cut into small squares.



Please pin this recipe for later and for others to discover.