Christmas Home Tour – Modern Living in a 100 year Old Home
Can you believe that it is Christmas week? I can't! It seems like it was just Thanksgiving and now we are just days away from Christmas. I've got a real treat for you today. Last week I shared four homes that were part of the Waynesboro, VA Christmas Homes Tour and today I'm sharing the fifth home.
Get a cup of coffee, hot tea, or hot chocolate and be prepared to enjoy this 100 year old home.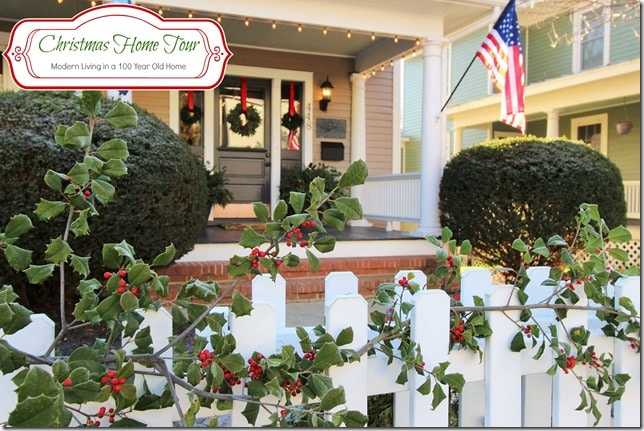 This home was built in 1915 and is just a few streets down from Mama's 1912 Walnut Avenue home. Kenneth and Keri Wilfong have lived in the home since 2008 but it has been in Keri's family since the 1960's.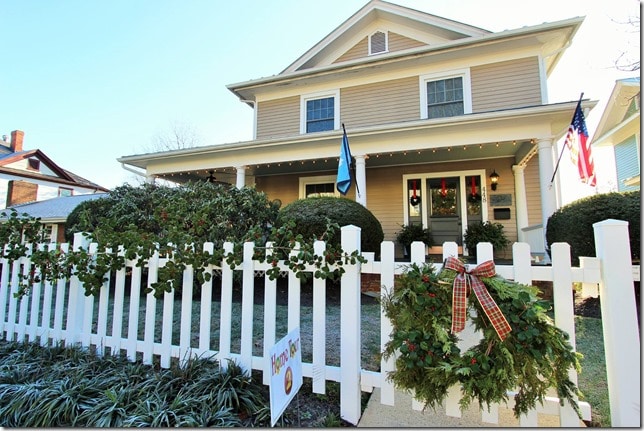 The Wilfongs have worked hard to modernize the home while being careful to preserve its historic charm. The home has beautiful millwork, original pine flooring, operating pocket doors, and a tin roof.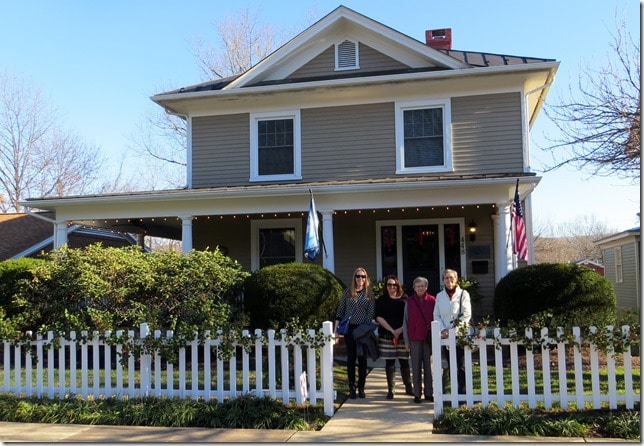 I toured the home with my friend Megan, my cousin, aunt, and my mother. We loved the house the second that we entered it. Keri, the home owner, was in her kitchen to chat with guests and to answer questions. When Megan and I left the house, we both commented, almost at the same time, that Keri should be a blogger because her house is so well done. We went back inside to tell her how much we enjoyed seeing her house and to suggest that she start a blog. During that conversation we learned that my mom was Keri's 9th grade math teacher which led to another trip inside the house so that Mama and Keri could chat.
Keri graciously allowed me to use her pictures to write this blog post.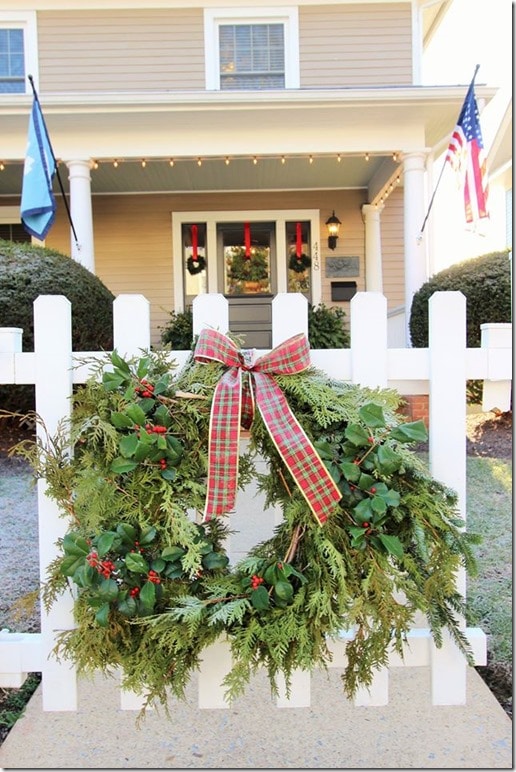 A wreath on the gate welcomes visitors.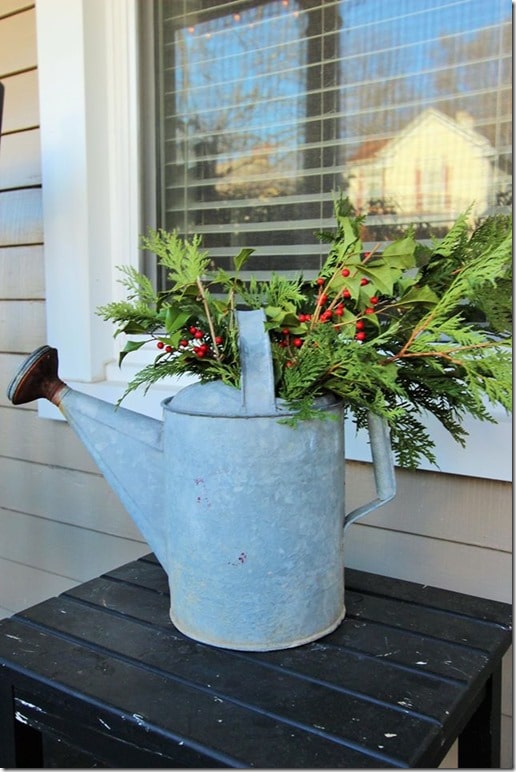 The porch is decorated for Christmas as well as the house. Christmas greens look festive in an antique watering can.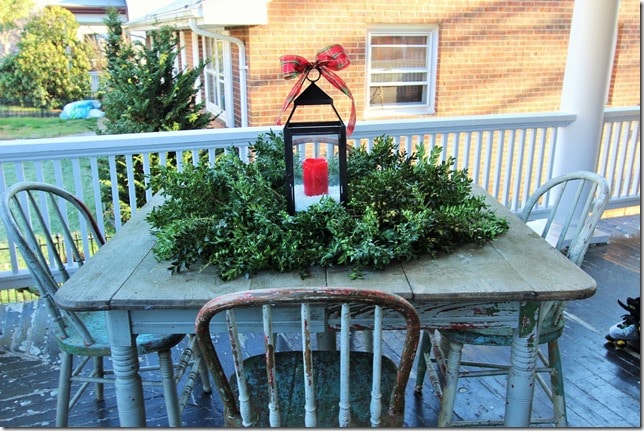 A chippy table and chairs are on the porch corner. I can picture this family enjoying meals out here in warm weather.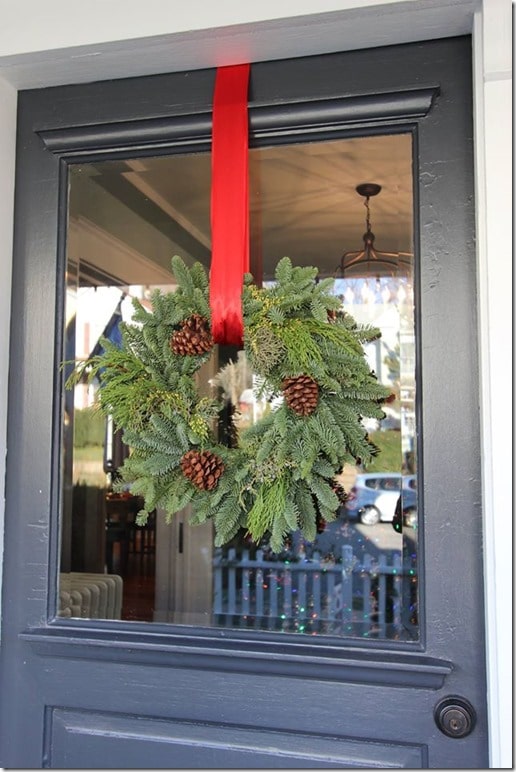 I love the half glass front door.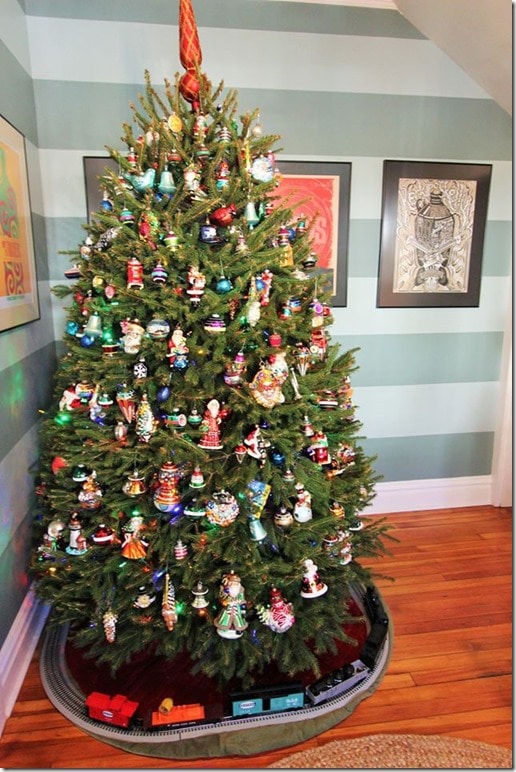 The foyer is large enough for a tree. Don't you love the train around the tree base? My dad used to do that with his boyhood train.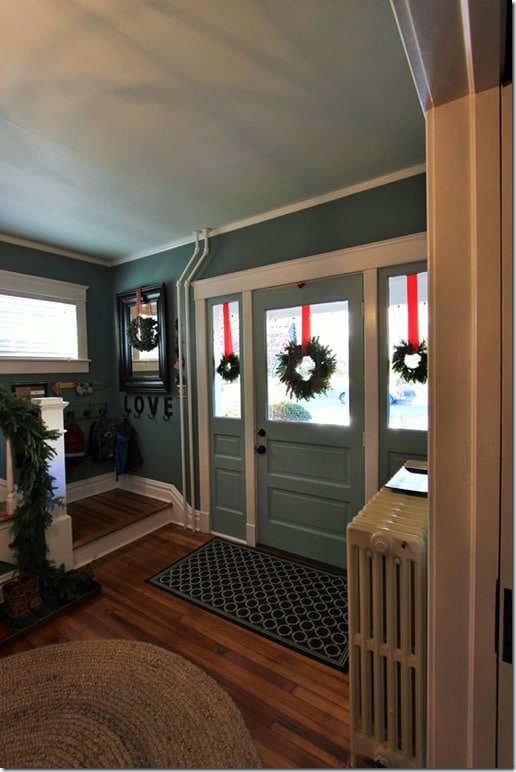 A backpack and key drop are conveniently located on the bottom of the stairs.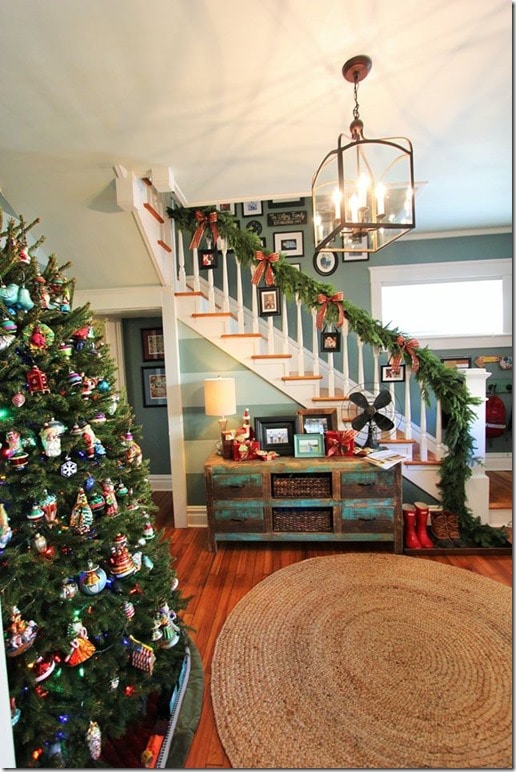 This view of the foyer shows you just how large it is.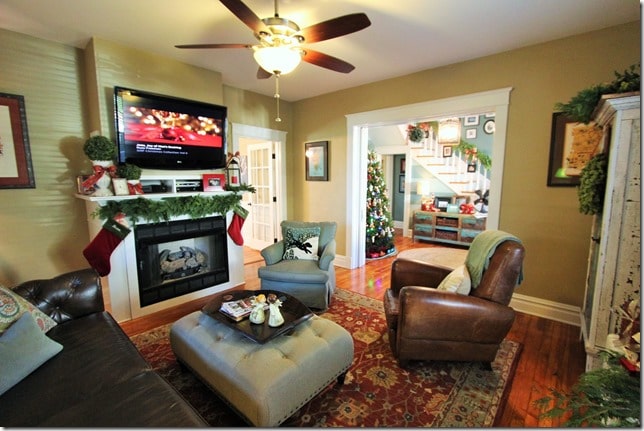 To the left of the foyer is the family room. Doesn't this look like a comfortable space to spend time with family?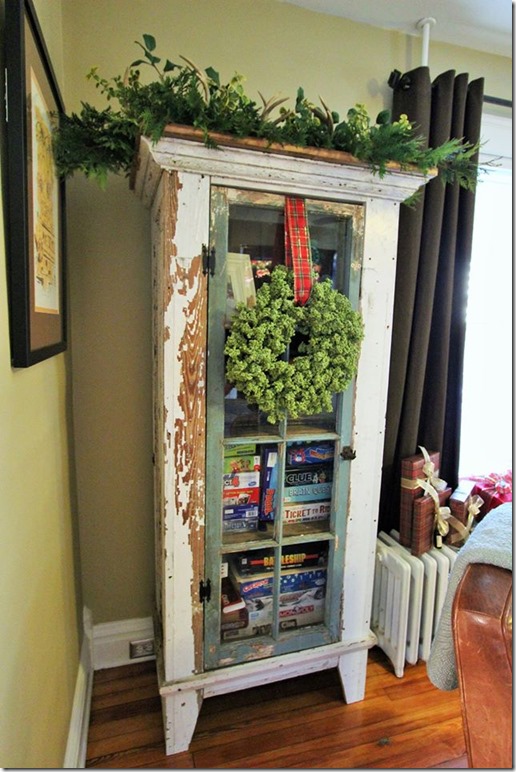 I loved this attractive way to store games and puzzles.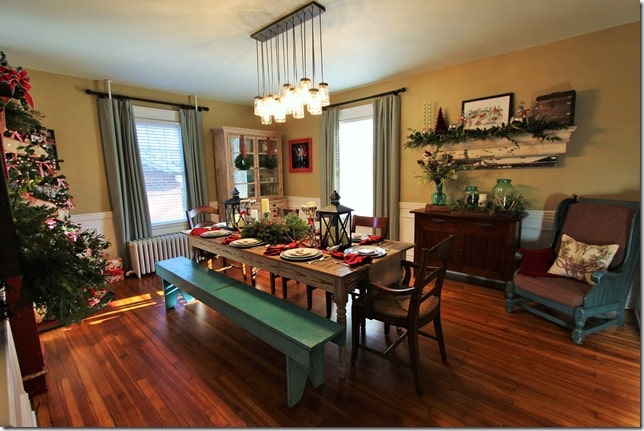 In the rear of the house is the dining room and kitchen. Would you look at those pretty floors?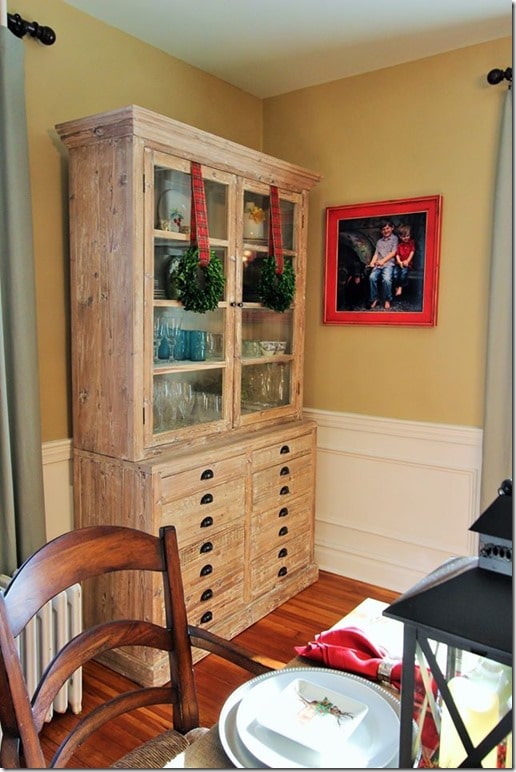 This piece looks old but it is new, purchased it at Greenfront in Farmville, VA.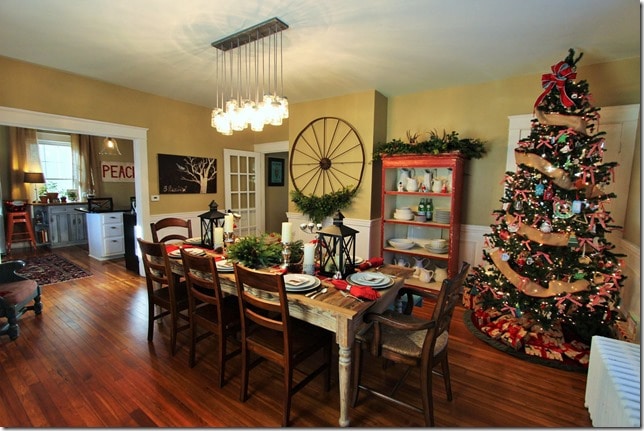 It looks like the tree is hiding a doorway that leads to the family room. Mama's house is also a four over four and is set up similarly.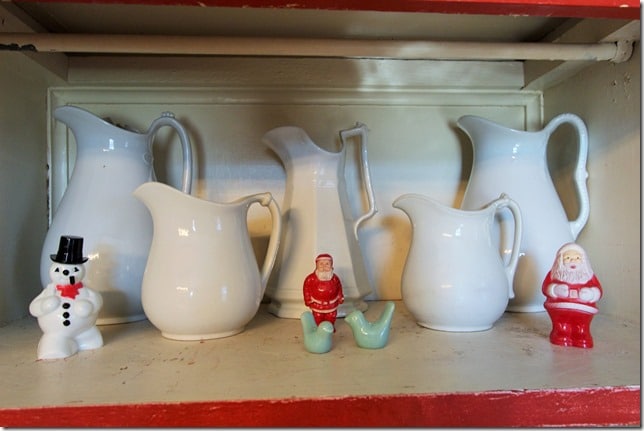 Ironstone, vintage Santas, and a Frosty the Snowman adorn one of the shelves in the red cabinet.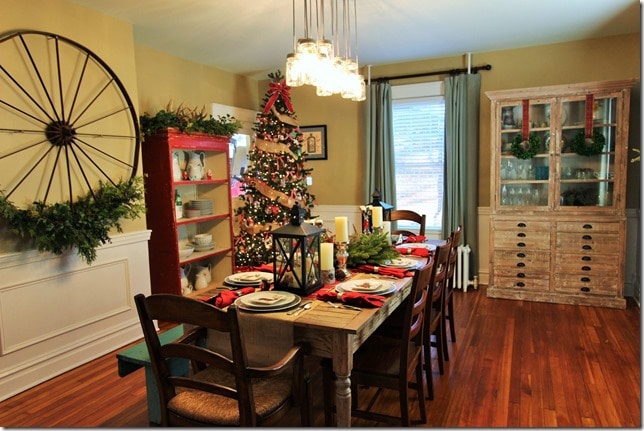 I loved the iron wheel on the wall in the dining room. After seeing it, I've asked Mama for a wooden one that she has so that I can display it at the lake.
I looked and looked at all of the detail Keri added to her decor.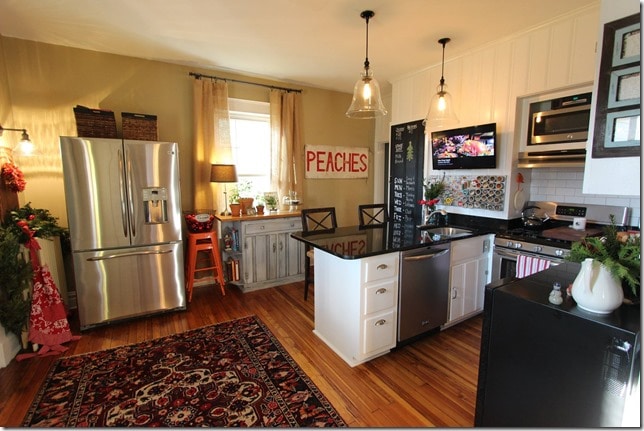 While small, the kitchen has a very efficient lay out. I'll bet that Keri's boys spend a lot of time sitting at the bar while their mom cooks.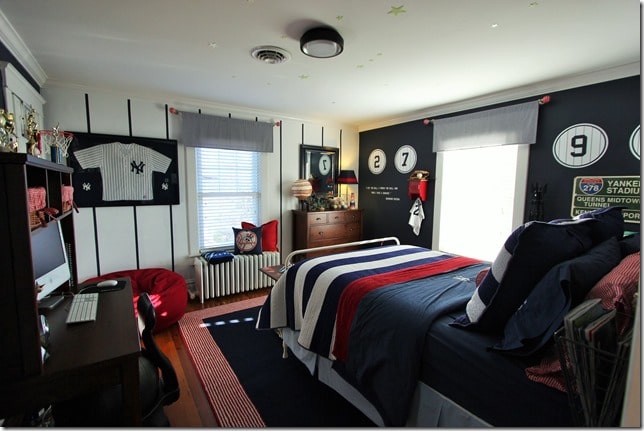 A New York Yankees themed bedroom is perfect for a young boy. Do you see the stars on the ceiling?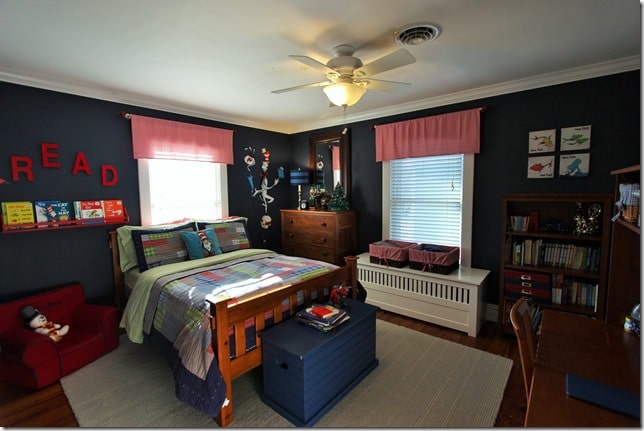 The other son has a Dr. Seuss themed room.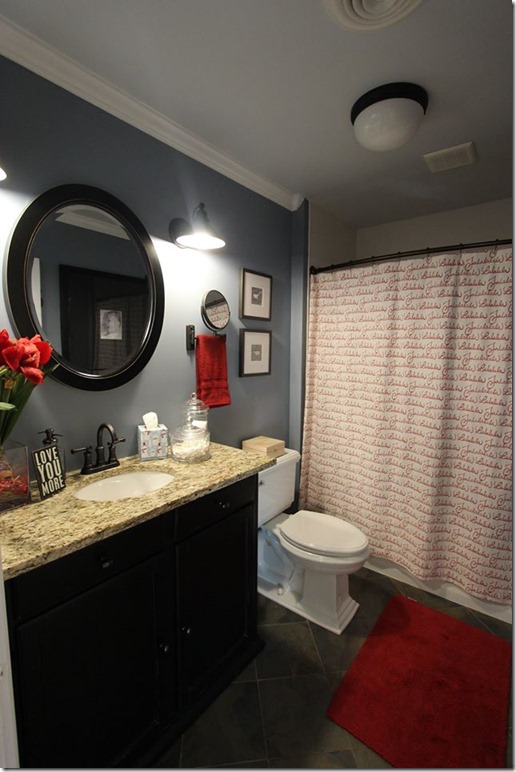 A completely modern bathroom is between the two boys' rooms. You'd never know that the home is 100 years old to see this room, would you?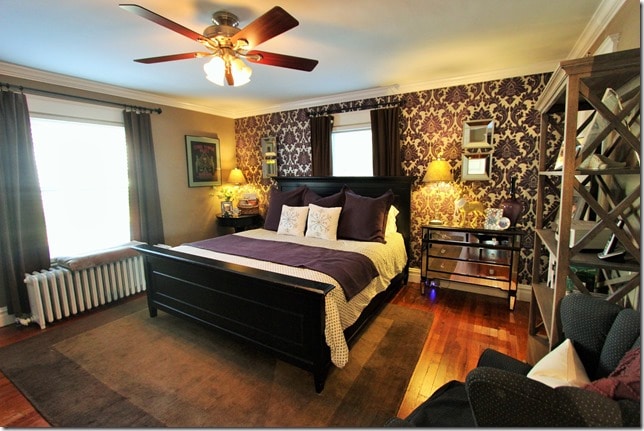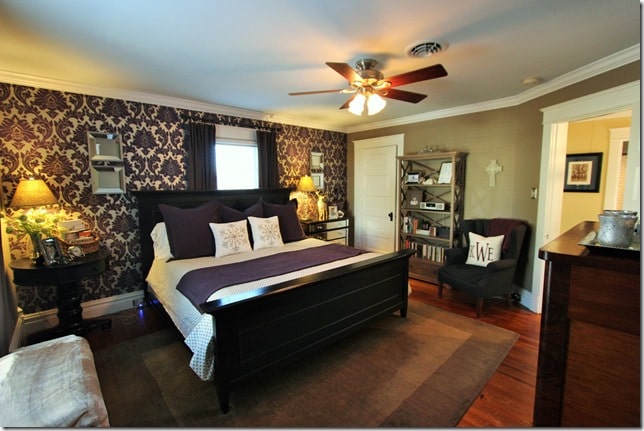 Isn't this a pretty master bedroom? Sigh!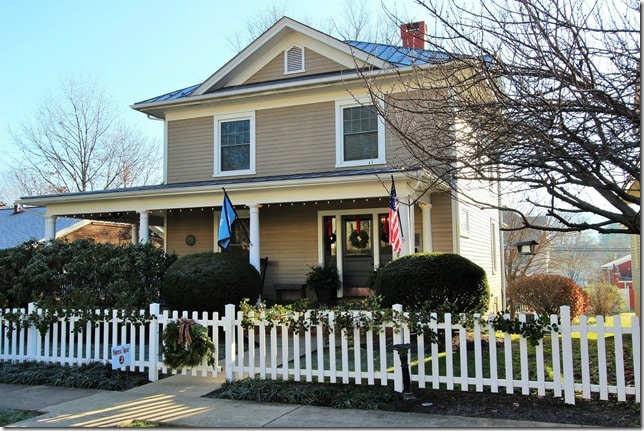 Thanks so much to the Wilfongs for allowing me to share your home. It's lovely and I truly enjoyed touring it.