Nature Inspired Fall Mantel Decor
Fall is nearly here and it is time to think about fall mantel decor. This year to decorate my mantel for fall, I used elements from nature to create a Nature Inspired Fall Mantel.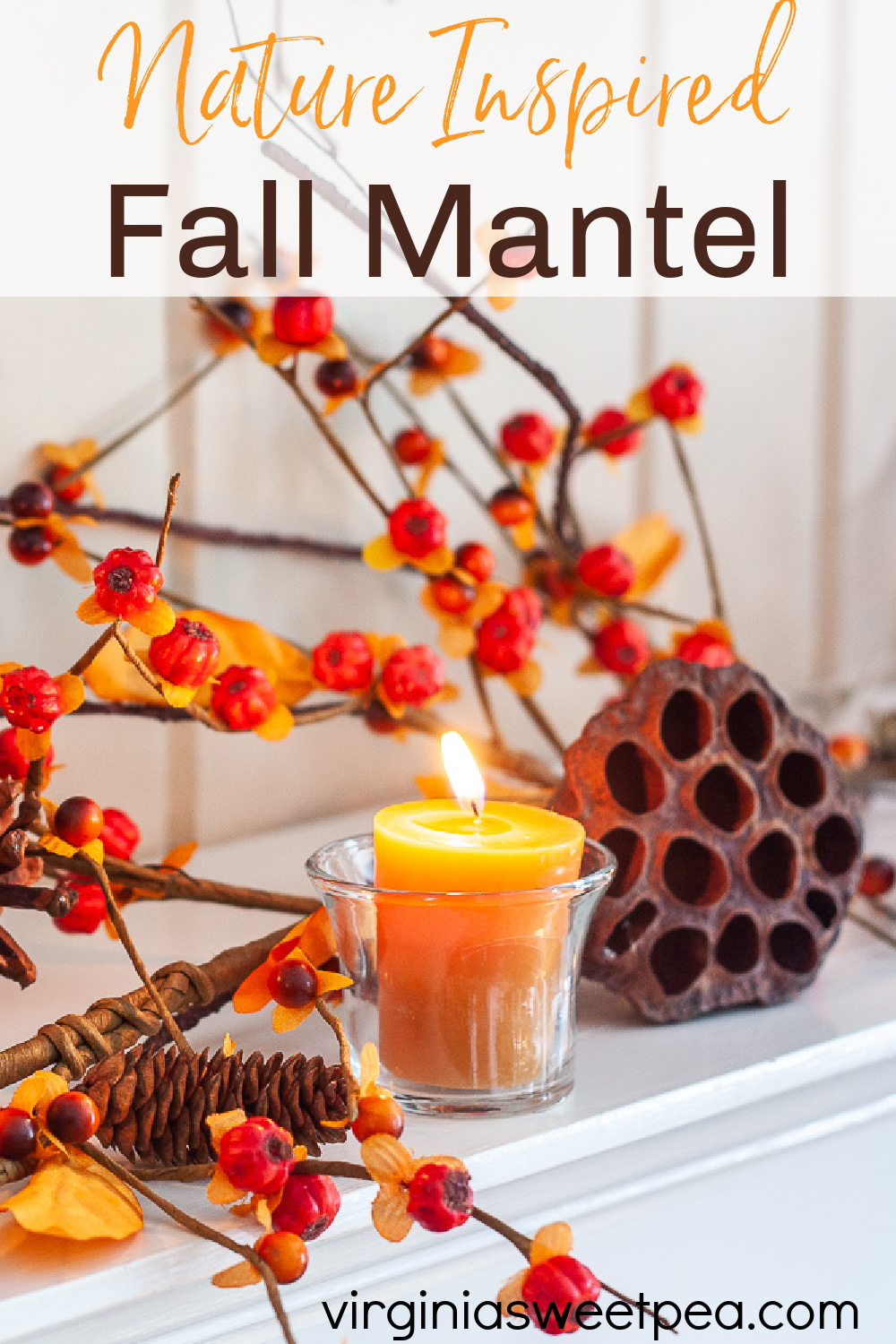 Nature Inspired Fall Mantel
I'm thrilled to share my mantel as part of a Fall Ideas Tour hosted by Angie of Postcards from the Ridge. Angie is one of my favorite bloggers and I love her style of decor. If you've never visited Angie's blog, you are in for a treat!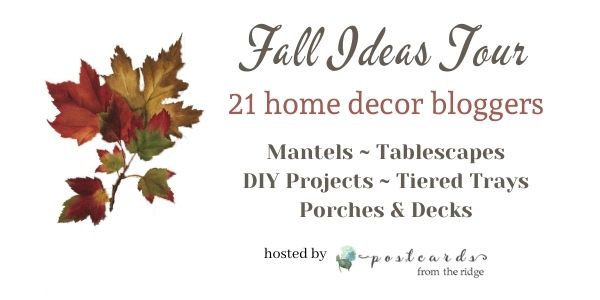 For today's Fall Ideas Tour, you'll find ideas for fall mantels, tablescapes, tiered trays, porches and decks, and fall crafts and DIYs.
You'll find links to all of the projects at the end of this post. You don't want to miss enjoying all of the fabulous ideas shared today!
Fall Mantel Decor
My formal living room is decorated for fall using traditional fall colors of orange and brown.
This is the view that our dog Sherman has as he spends his day on the sofa in this room. I enjoy this view with him as we spend a lot of time on the floor in front of these chairs enjoying cuddle sessions.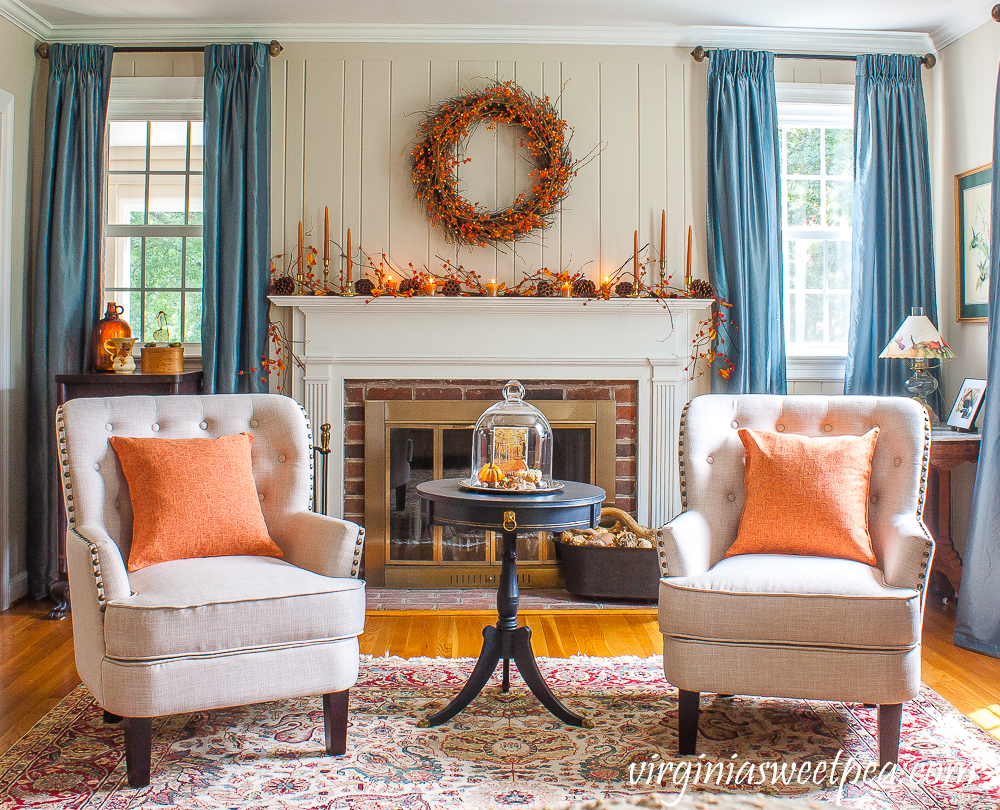 I recently shared how I decorated the cloche on the table in front of our fireplace for fall. A cloche is such a handy decor item to use in any season.
I love the warm and cozy feeling that my fall mantel gives my living room for fall.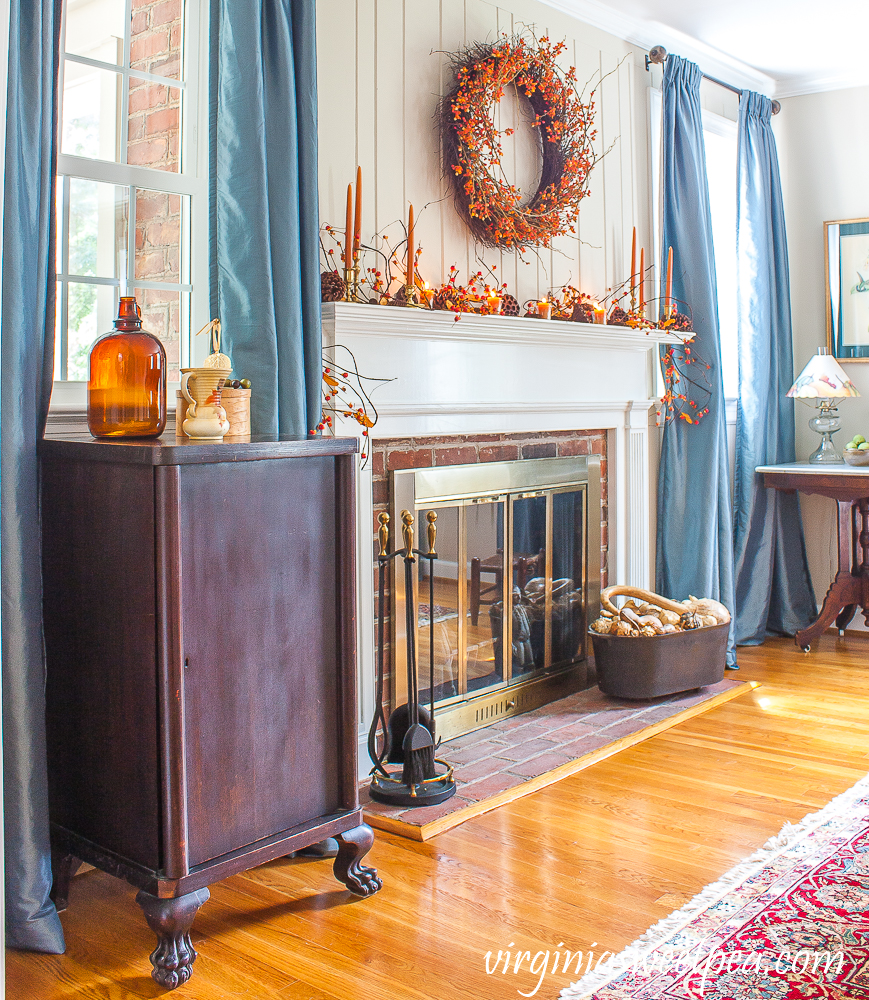 Decorating a Mantel for Fall
This year's fall mantel started with hanging a large Bittersweet wreath that I purchased long ago in Williamsburg, Virginia.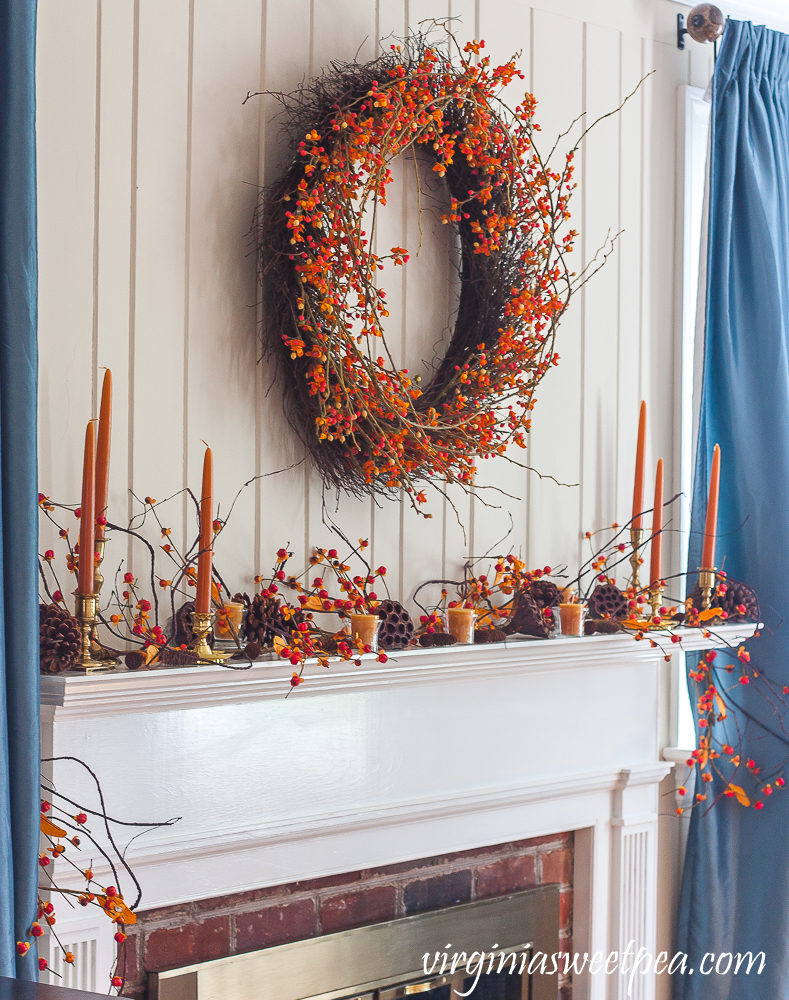 I have discovered that purchasing this large Bittersweet wreath was a wise decision as I have used this wreath for many years and I love it as much now as I did when I purchased it years ago.
Here are a few similar fall wreaths that I spotted on Amazon:
Etsy is another spot that is wonderful for discovering beautiful wreaths. This is a gorgeous handmade Bittersweet wreath that I found, along with this beauty, and this one.
After hanging the wreath, a used two Bittersweet garlands found at Black Dog Salvage in Roanoke, VA along the top of the mantel.
I discovered a fascinating family connection to Black Dog Salvage a few years ago. Don't miss touring my great-great grandfather's stone house beside Black Dog Salvage that is now a rental.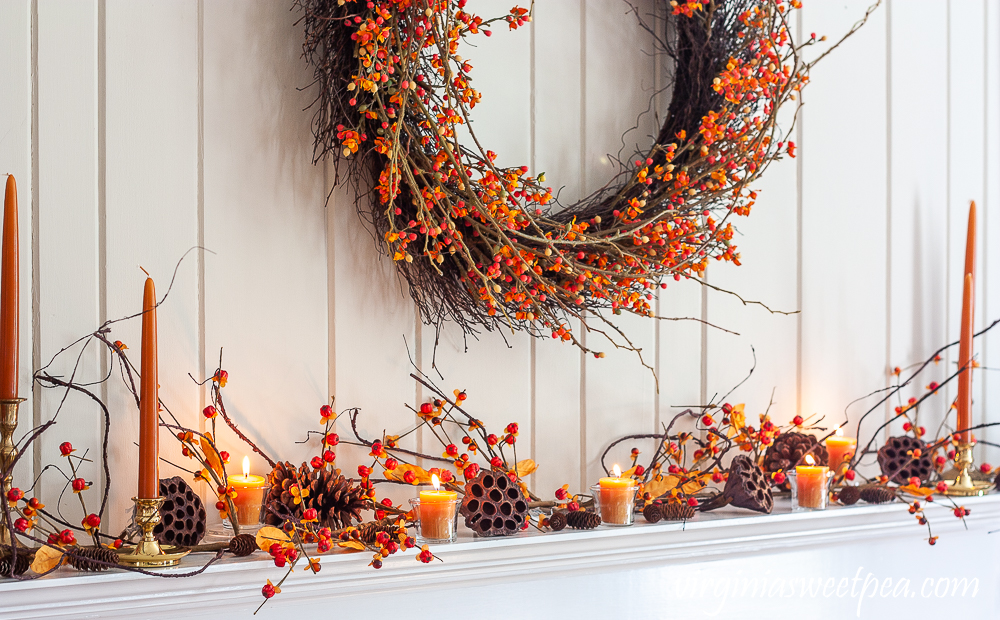 To keep the garland in place, I taped it down in a few spots with clear packing tape.
I love my Bittersweet garlands. I found a few similar Bittersweet garlands on Etsy: similar to mine; another pretty one; one more.
Adding Candles to the Mantel
After the garland was in place, I added three brass candle holders to either end of the mantel with orange dripless candles.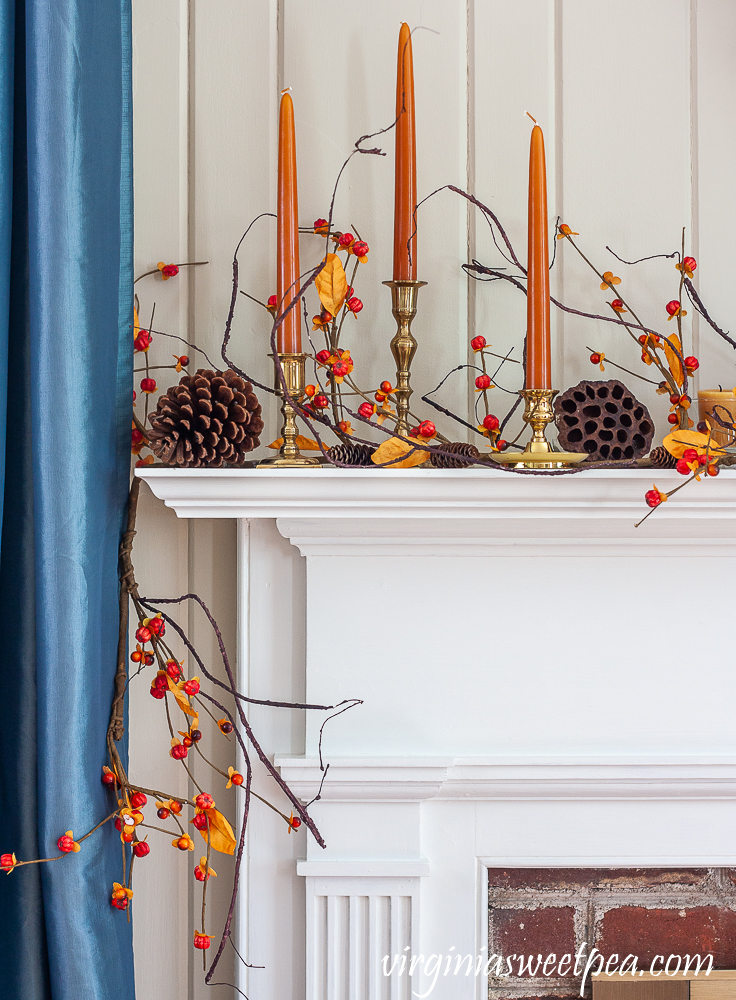 My brass candle holders are ones that I purchased in the early 90s or received as a wedding present during that same time period. I have always loved brass, even when it wasn't in style for a number of years.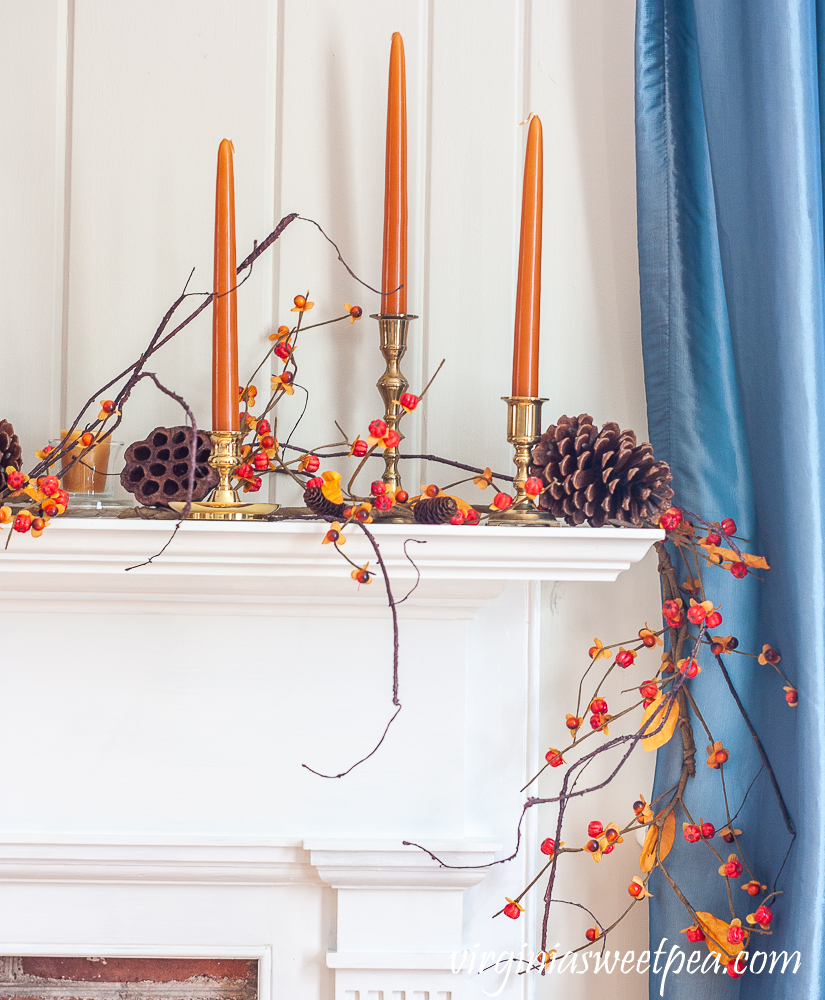 I like a symmetrical mantel with matching items on either end.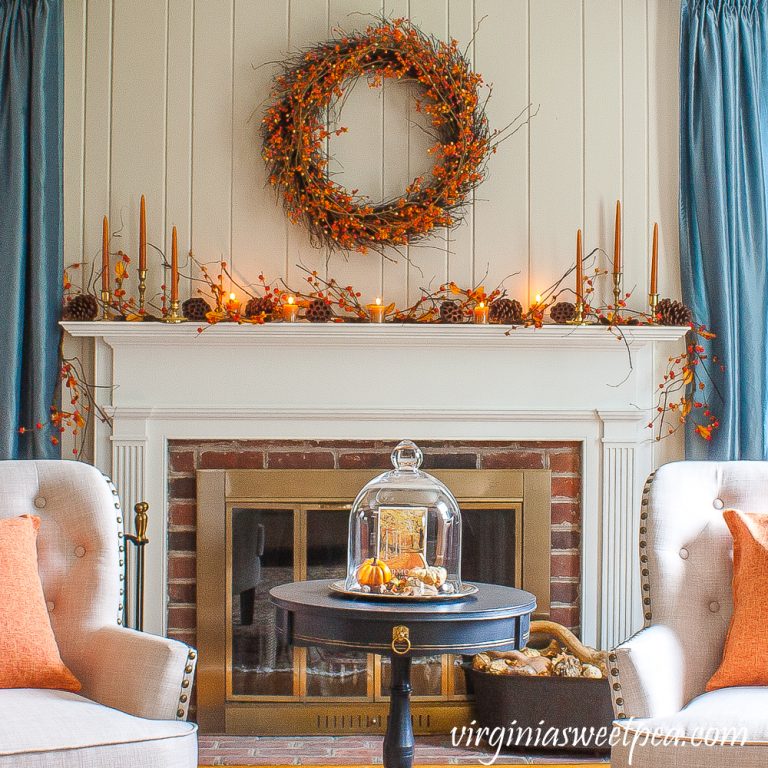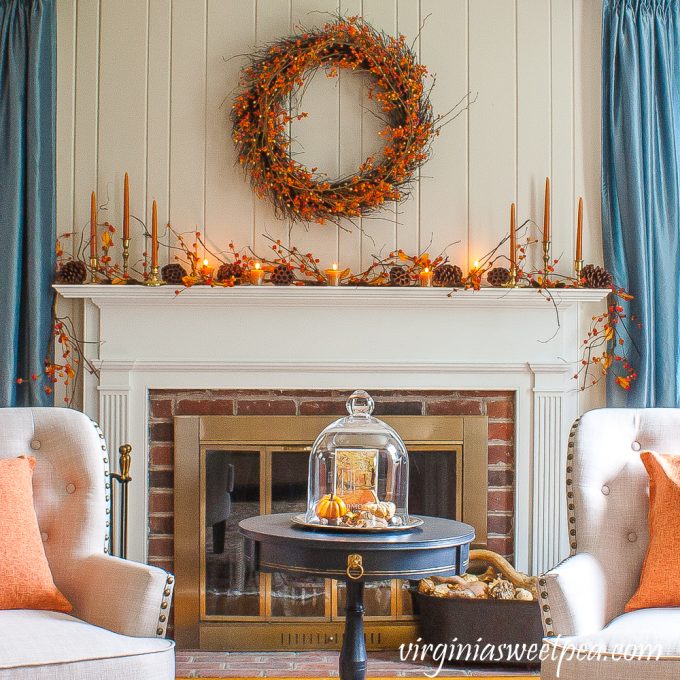 Adding Elements from Nature
After the Bittersweet garlands and candlesticks were in place, I added dried Lotus pods and pine cones.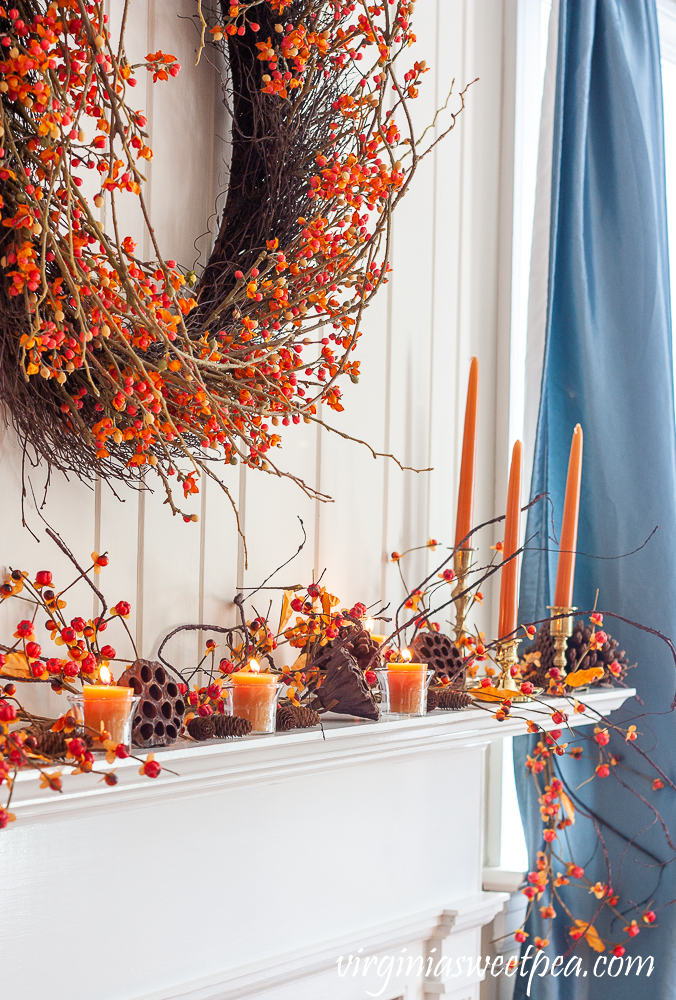 I purchased my Lotus pods years ago and the pine cones are ones that I've picked up and saved over the years.
I've been known to come home from a trip with pine cones packed along with my clothes in my suitcase, especially if I find ones that aren't available in nature in my area of Virginia.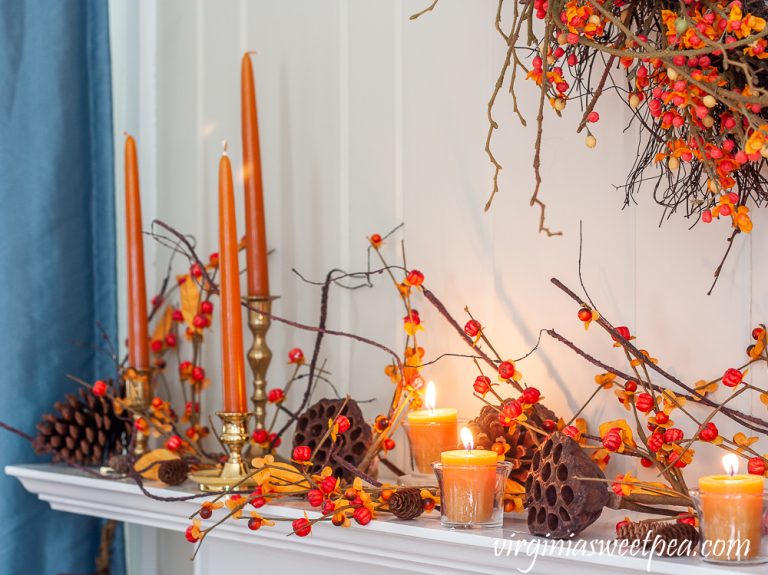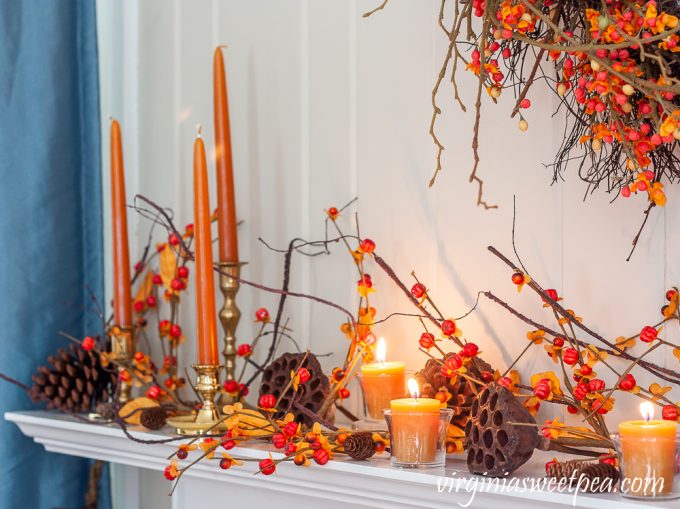 If you aren't familiar with Lotus pods, they also can be purchased with stems added making them perfect to use in a fall arrangement.
Back in 2007, when my blog was just three months old, I shared a fall front door arrangement using Lotus pods with stems. I think it's time to make another fall arrangement using my unique cornucopia.
Votive Candles
The last addition to my mantel was five votive candles tucked in between the Lotus and pine cones.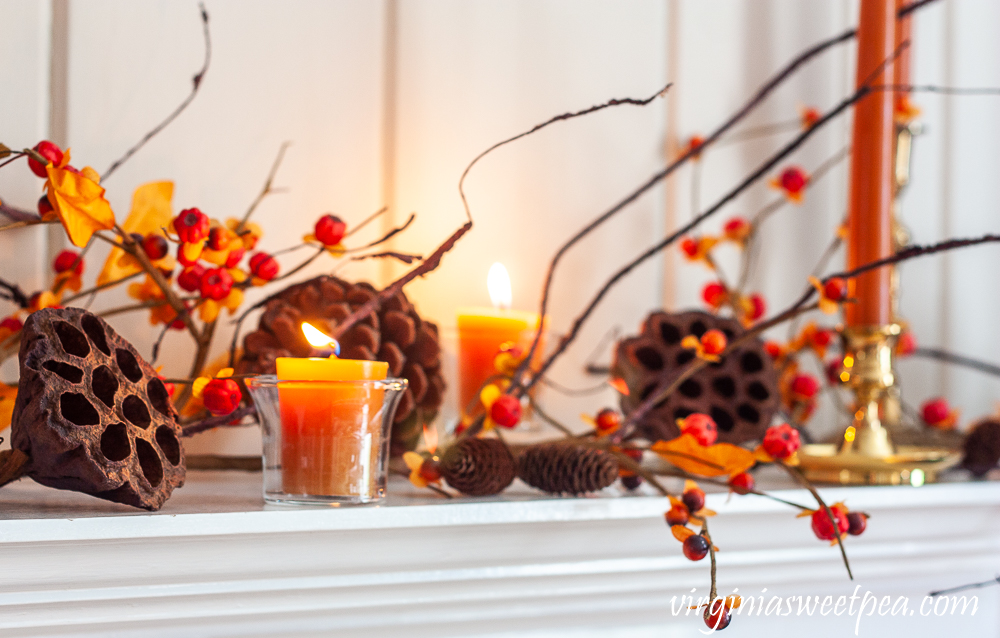 I hesitated to light the candles because I was afraid of starting a fire, but I couldn't resist lighting just the votive candles for a few pictures.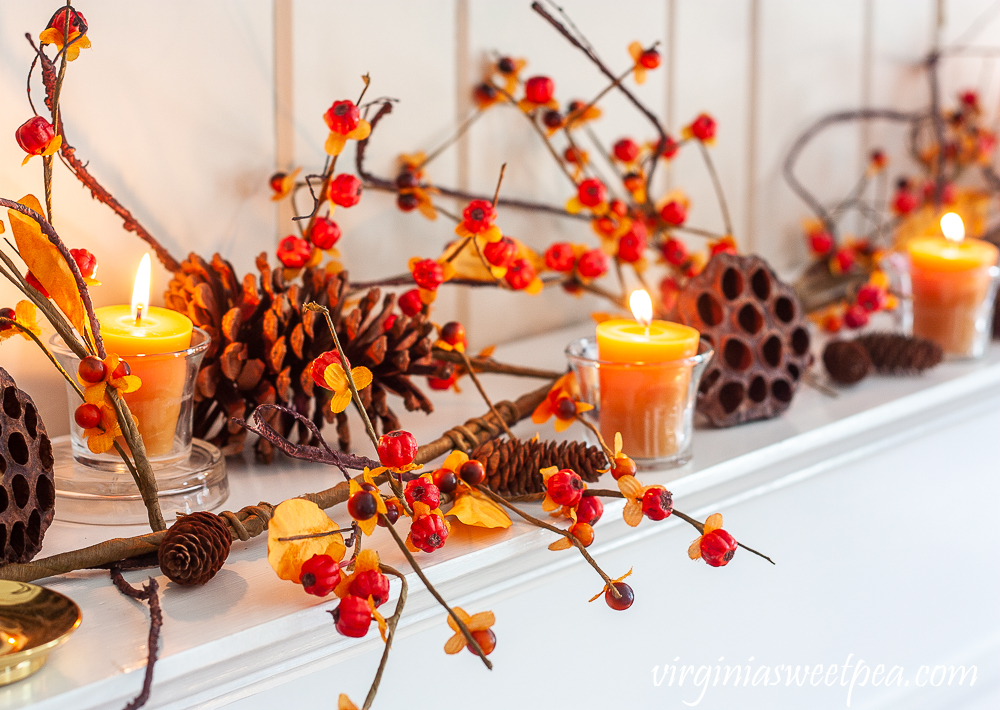 I love how these candles look lit but only kept them lit long enough for pictures for safety's sake. (Poor Mr. SP is probably going to have a heart attack when he reads this blog post and sees these candles lit.)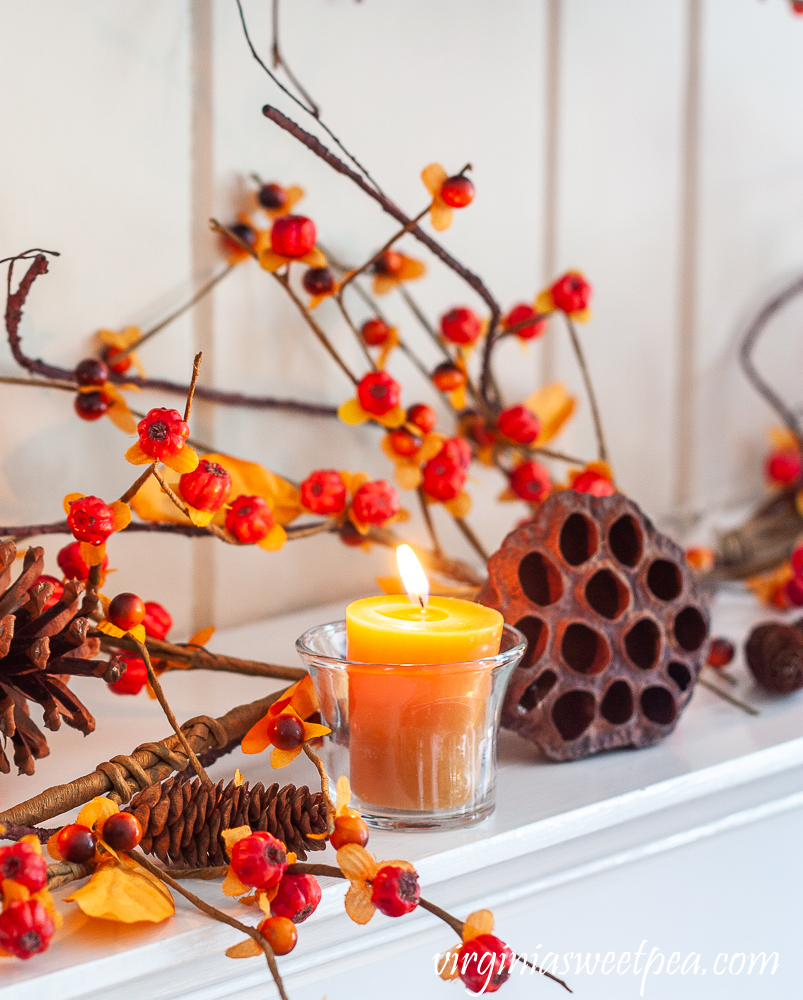 Decorating the Hearth for Fall
After the mantel was decorated, I turned my attention to the fireplace hearth.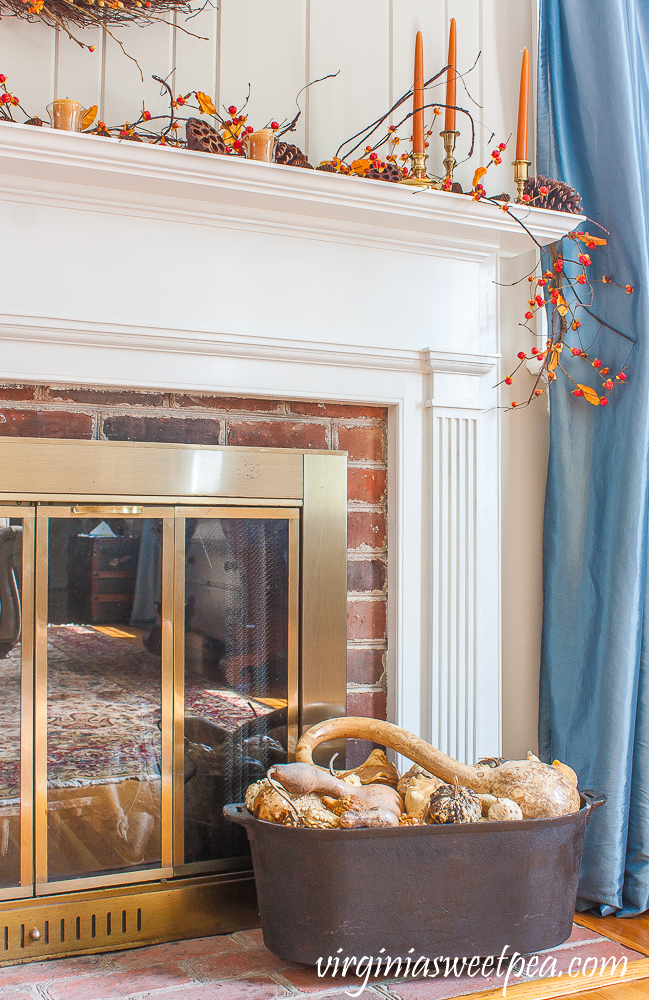 I decorated the fireplace hearth for fall with an antique cast iron tub filled with dried gourds.
The tub belongs to my mom and I borrowed it for last year's Christmas mantel and still haven't returned it to her.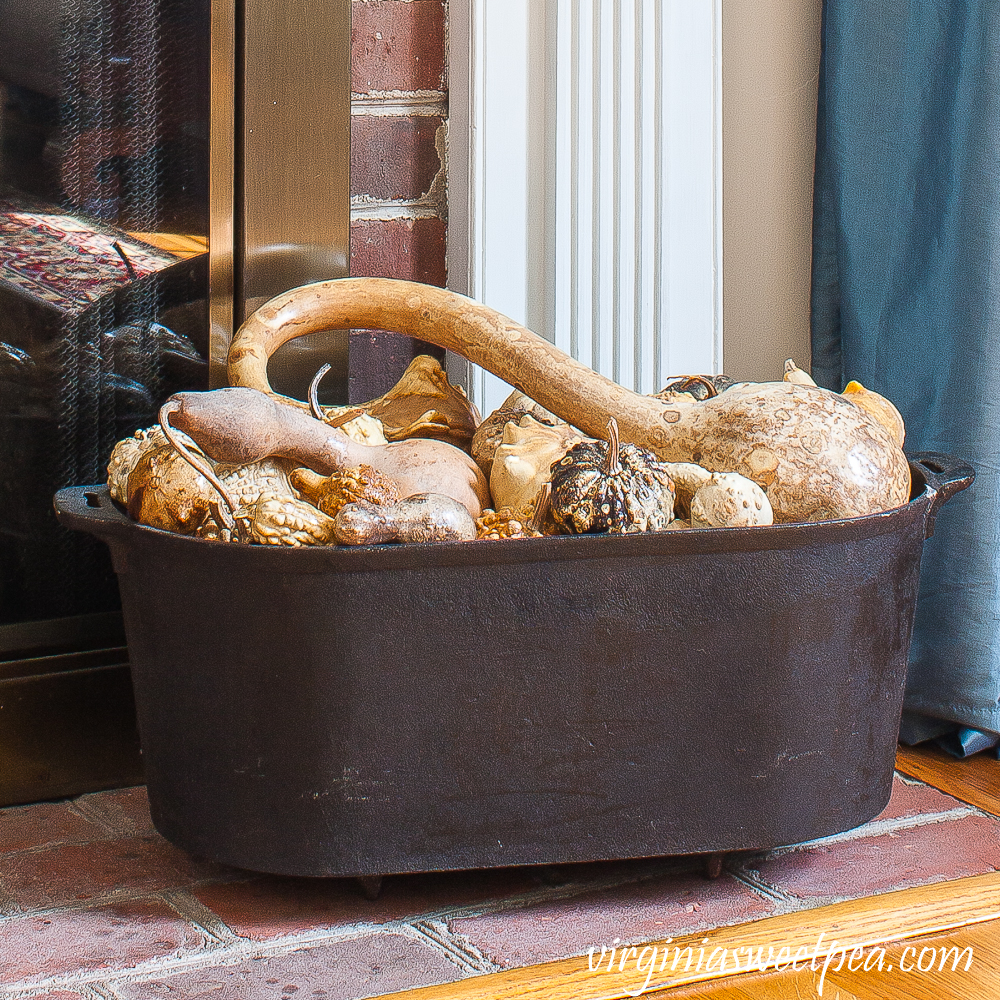 I dried all of these gourds and have used them for years and years.
The largest gourd was grown by my dad and I displayed it in my classroom during my first year of teaching in 1991. I dried it and have used it for fall decor every year since then.
I enjoyed sharing my fall mantel with you today and will be sharing more fall decor with you soon!
More Fall Inspiration
Now it's time to get some fall inspiration from my blogging friends! Click on the links below to visit each blogger sharing their fall decorating ideas.
Thanks again to Angie of Postcards from the Ridge for organizing this fun tour!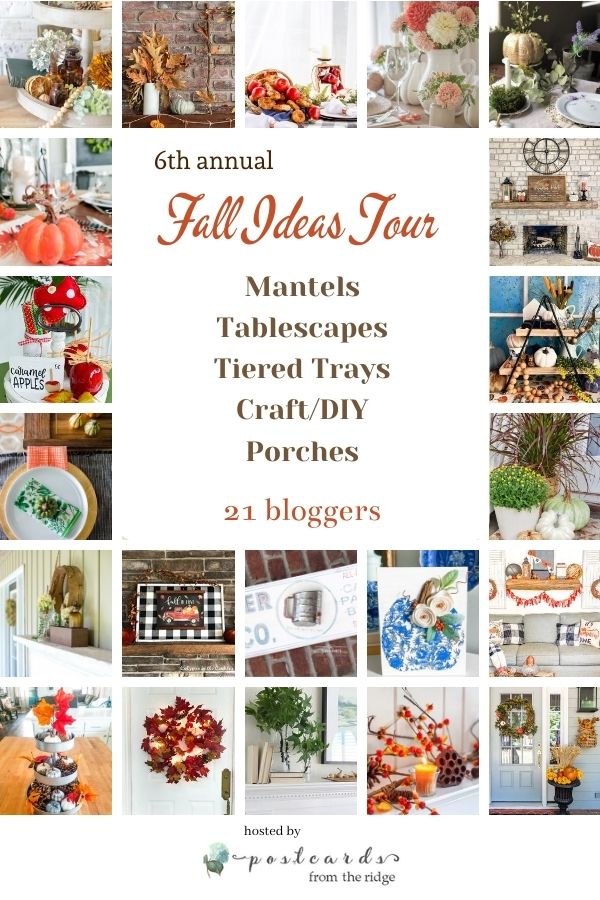 Fall Mantel Decor Ideas
Fall Tablescape Decor Ideas
Fall Porch and Deck Decor Ideas
Fall Tiered Tray Decor Ideas
Fall DIY Crafts
If you liked today's mantel post, you'll also enjoy these fall mantels