Three Tiered Shelf Makeover
A few months ago we purchased some vintage things from the estate sale of a former neighbor. One item that I purchased with the intent of putting in my shop was a three tiered wooden shelf. Now that I've given this shelf a makeover, I've decided that instead of selling it, I will keep it and use it either in my mom or my father-in-law's bedroom at the lake.
Who hasn't seen three tiered shelves like this one at estate sales or at thrift shops? I know that I see them fairly frequently but they aren't always in the best shape. This one was purchased in excellent condition.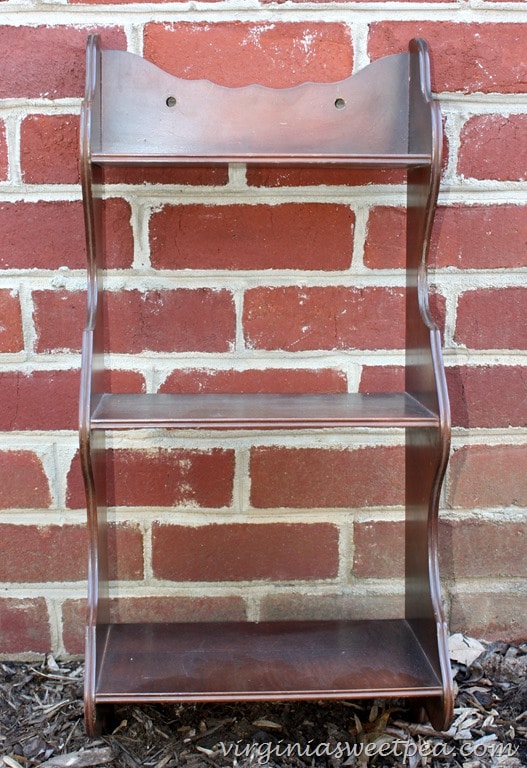 The original tag is on the back of the shelf. I looked up this brand but didn't find much information on it.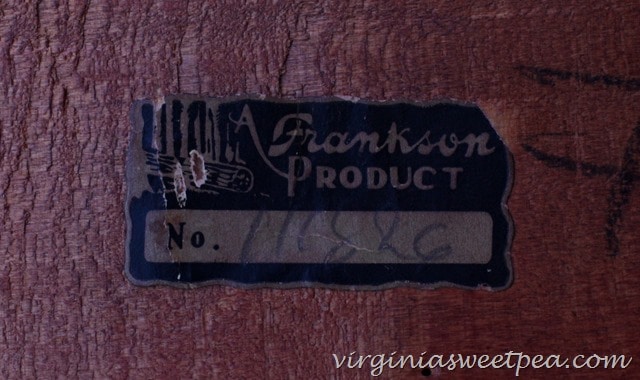 For this shelf's makeover, I started by cleaning it thoroughly. I then gave it two coats of primer (Zinsser Bullseye 1,2,3
). I did two coats because I was worried about the brown bleeding through the white paint that I intended to use. After three coats of Annie Sloan's Chalk Paint in Pure White, the piece was wax with Annie Sloan wax, and buffed. I used sandpaper to give the edges of the shelf a bit of distressing.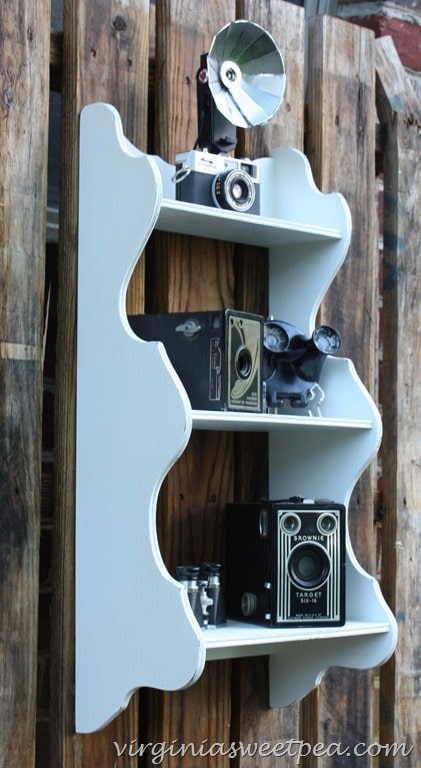 I love how this shelf looks painted white. I had to improvise for pictures and used a pallet as my backdrop. 🙂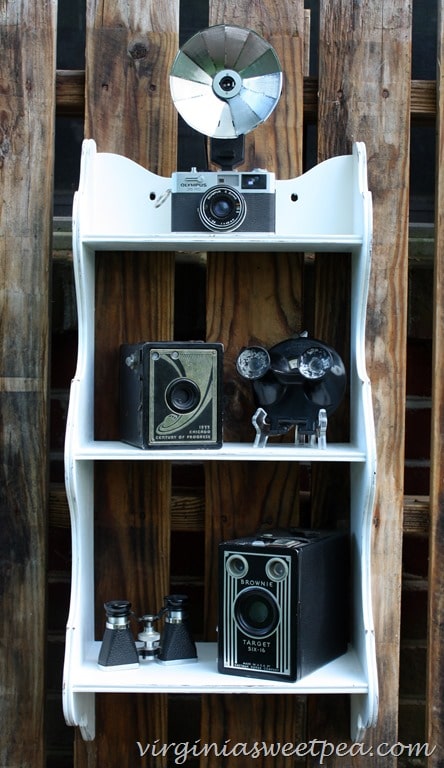 Here you can see how the edges of the shelf were lightly distressed.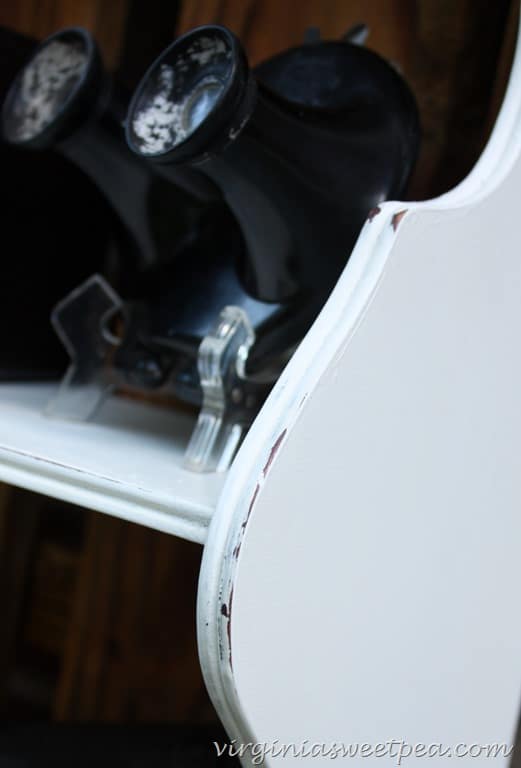 I had fun pulling out some of my vintage things to use as props for my pictures. My father-in-law has a huge vintage camera collection and I have a feeling that he might like to display some of his cameras on this shelf in his bedroom at the lake. This camera was my dad's and I just recently found it in my mom's basement. If I had to guess, I would say that it is from the 1960's.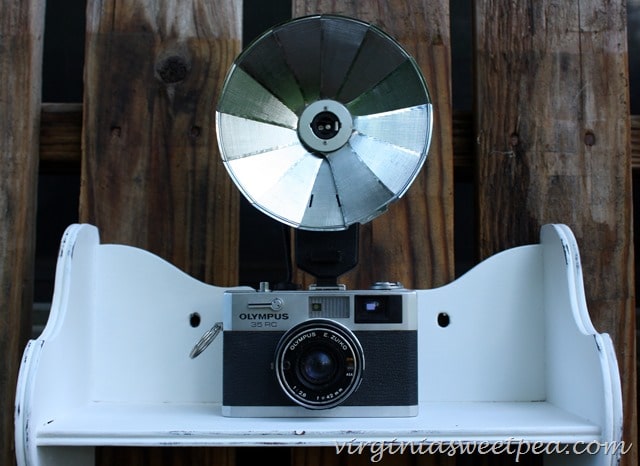 My father-in-law gave us this vintage camera long ago. I love the graphic on the front of it. The Viewmaster was my dad's and probably dates to the late 1940's or early 1950's.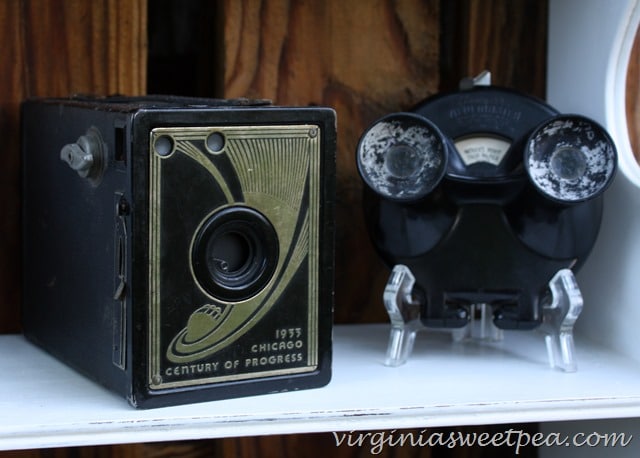 I'm not sure where we got the vintage binoculars and the Brownie camera is another that my father-in-law gave to us.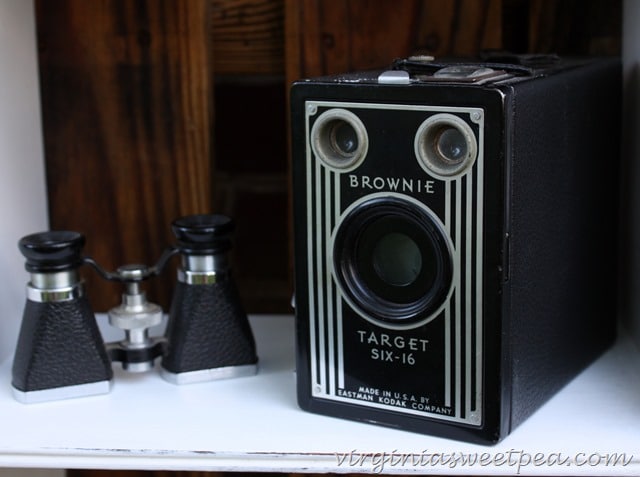 I can't wait to find a home for this shelf at the lake and to get it accessorized there. It's going to be a great addition to one of the guest rooms.
Please pin this project for others to discover! I so much appreciate it when my projects are shared.