May 2016 Stitch Fix Review (Fix #35)
How quickly a month goes by! It seems like I just shared my April Stitch Fix box and now it's time to share what I received for May.
This month I requested a dress, casual tops for summer, and a skirt with a shirt to match. My stylist, Brittany H., does a great job of picking out things for me that I almost always like and this month was no exception. After 35 fixes, Brittany gets my style and seems to know what I will like.
I am a Stitch Fix affiliate and if you make a purchase, I earn a small commission. My love for Stitch Fix is genuine and all opinions are truthful and my own.
Let's take a look at what my May 2016 Stitch Fix box contained!
Collective Concepts Atalya Cold Shoulder Top
I pinned a few cold shoulder tops to my fashion board on Pinterest, so Brittany sent one my way to try. I loved the pattern, color, and fabric of this top. I also loved that it looks trendy without showing too much skin.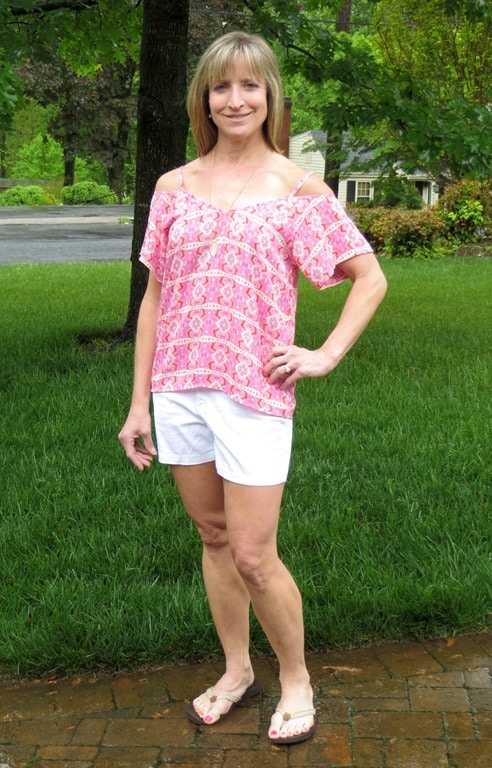 My shorts are from Walmart and cost just $7.88. Can you believe that? I'm pretty hard on shorts, especially white ones, so it's smart for me to buy an inexpensive pair so that I'm not too disappointed when I finally stain them permanently.
Even though this top is super cute, I decided not to keep it.
London Times Bryen Jersey V-neck Dress
This dress is super soft and comfortable and would be perfect for work. The fabric is the type that could be balled up in a gym bag or suitcase and wouldn't wrinkle.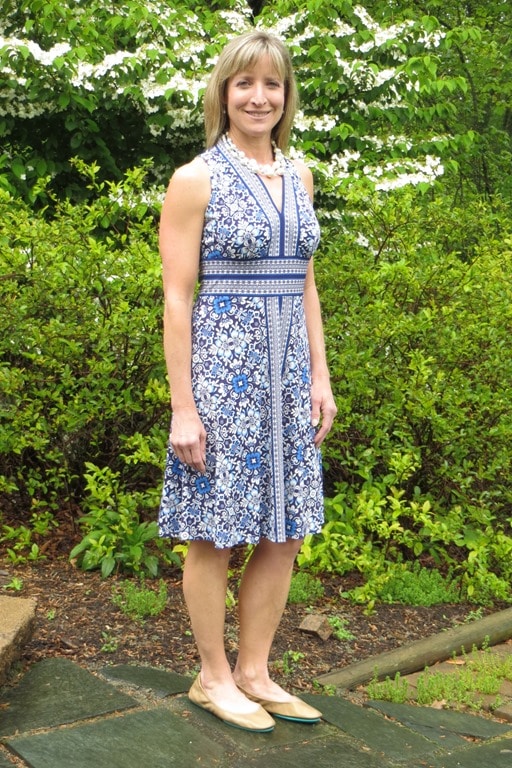 I loved the neckline of this dress and its floral pattern.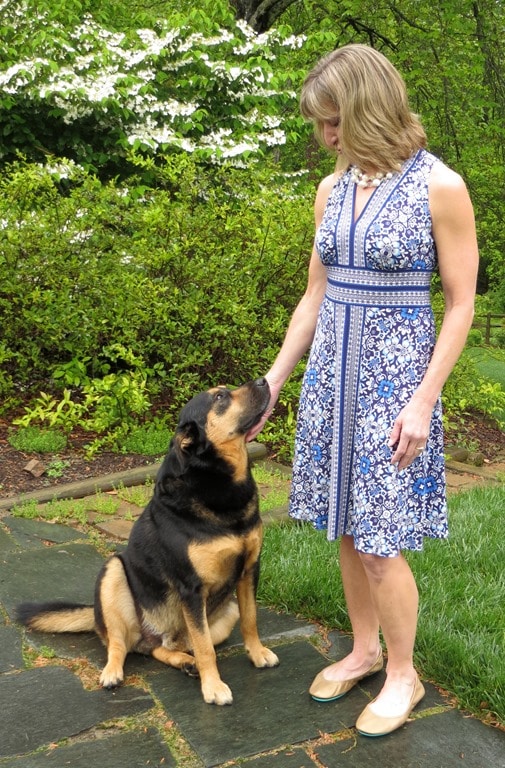 I decided not to keep it because I wasn't crazy about the vertical stripe on the skirt part of the dress.
Gill Rinna Dress
I pinned a picture of this dress because I loved the polka-dots. It is super soft and comfortable and the cut is flattering. I like that it could easily be dressed up or down depending on the occasion.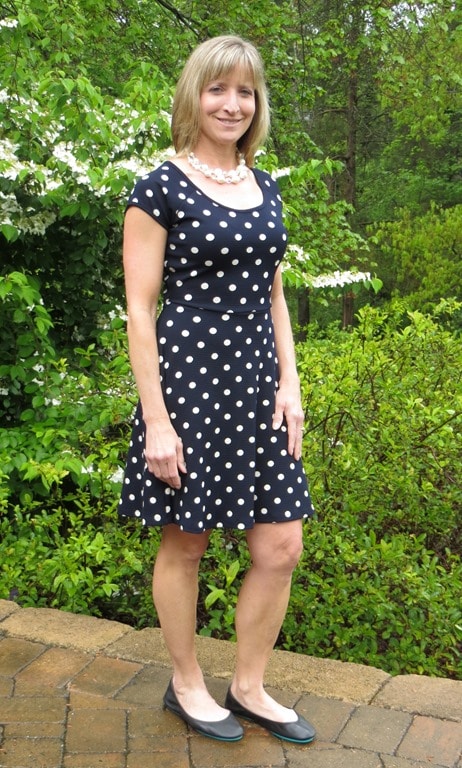 The back has a surprise: a cut-out!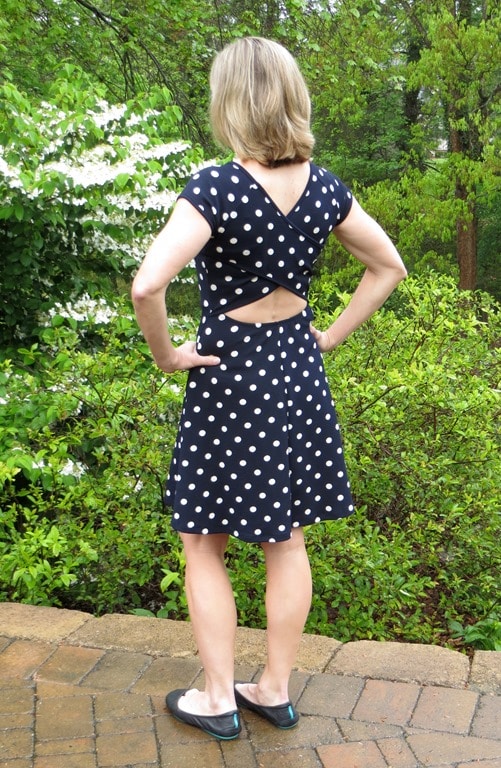 Although I loved this dress, I didn't keep it because the cut-out meant it wouldn't be work appropriate.
Collective Concepts Coryn Peplum Blouse and Pixley Eve Floral Skirt
I requested a skirt with a shirt to match. Brittany spotted this Pixley Eve Floral Skirt on my Pinterest board and thought that I would like it. The skirt is fully lined and is longer than any skirt that I've owned for a long while. I love its floral pattern and the color options that I have for pairing tops with it.
Brittany paired the Coryn Peplum Blouse with the skirt and the two match perfectly. This is a top that is dressy enough for work but could also be dressed down and worn with shorts.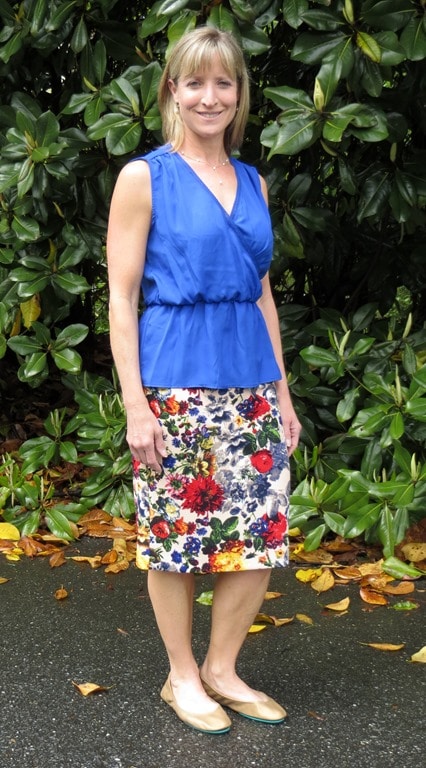 As soon as I put the skirt on, I knew that I was keeping it. It's comfortable and perfect for work. I like the Coryn Peplum that Brittany paired with it but didn't keep it because a 41Hawthorn top from my very first fix matched this skirt perfectly.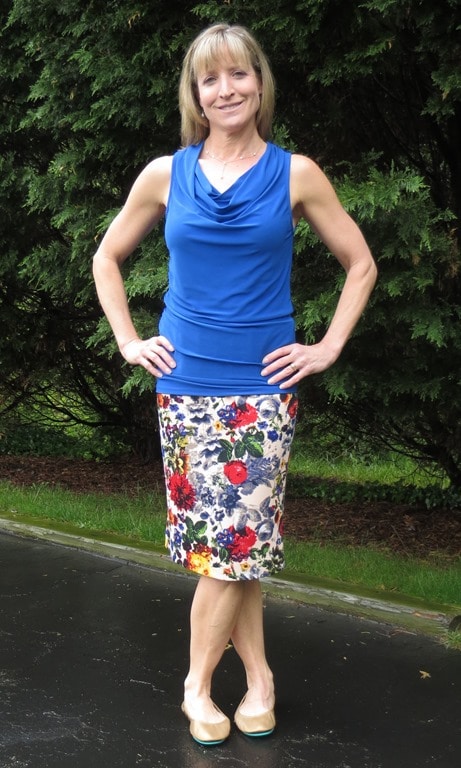 Can you guess what I'm wearing to school today? If you guessed this outfit, you are correct!
If you've thought about trying Stitch Fix, do it! I love getting my monthly fix. Even after 35 fixes, I still love the surprise of opening my box each month. I choose to get a monthly box, but how often a box is shipped your way is totally up to you. It's wonderful to have clothes delivered that I like and don't have to go to the store to buy.
You can read all of my Stitch Fix reviews here.