Shelf Makeover (Inspired By Chocolate Theme!)
Today is Themed Furniture Makeover Day and our theme this month is a fun one: Inspired By Chocolate.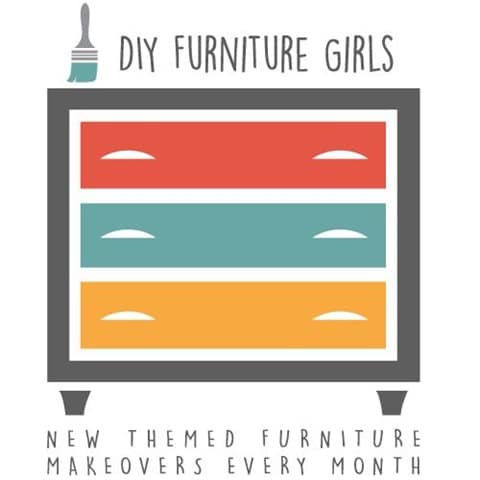 If you are new here, each month a group of friends challenge each other to makeover a piece of furniture using a theme. Last month the theme was "Shades of White" and I shared a coffee table makeover. (You can find links to all of my Themed Furniture Makeover Day projects here.)
For our "Inspired by Chocolate" theme, I decided to give a shelf a makeover.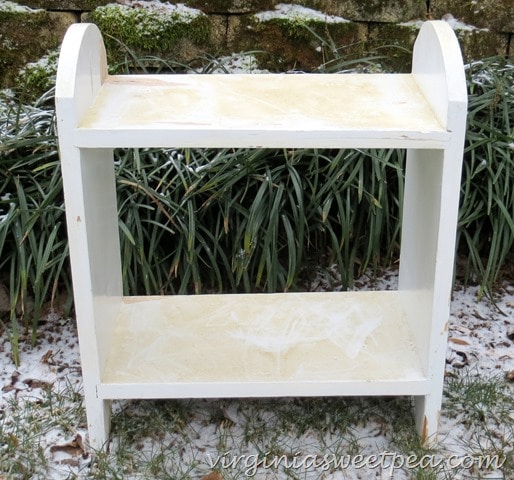 This shelf was made by my grandfather and was used in the guest bath at my grandmother's house. I can't remember a time that it wasn't in the bathroom, so if I had to guess, I'd say that he made it in the 1960's. It moved with my grandmother to her retirement home apartment and then to my aunt's attic after Granny had to move to a nursing home. When we visited my aunt at Christmas, she let me explore her attic to see if there were any goodies there that I would like to have. This shelf was one thing that came home with me.
After it got cleaned, sanded, and painted, it has a refreshed look that I love.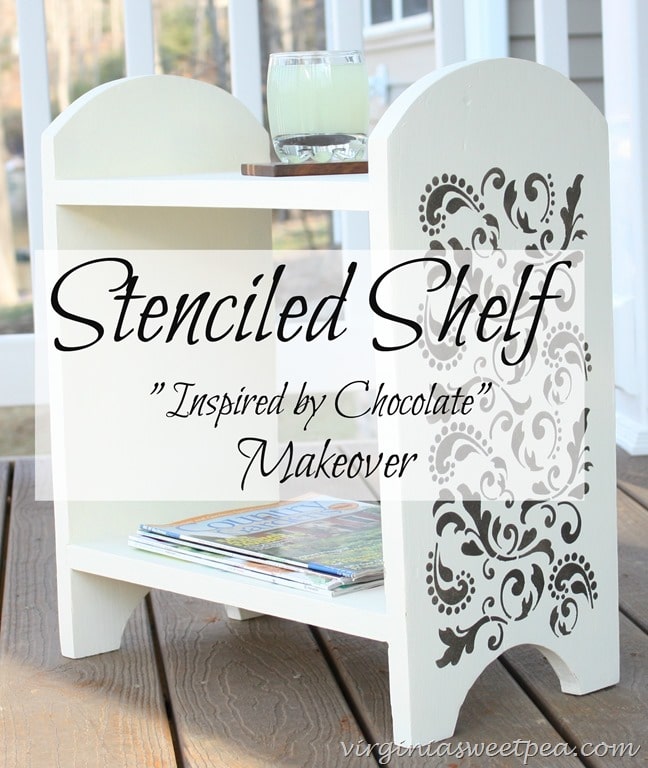 This shelf has a new home at the lake where it will be used for drinks and magazines on our deck. Last Saturday was warm and my mom and I tested it out. We agreed that it's the perfect height to hold our drinks and magazines to read when we aren't gazing at the water.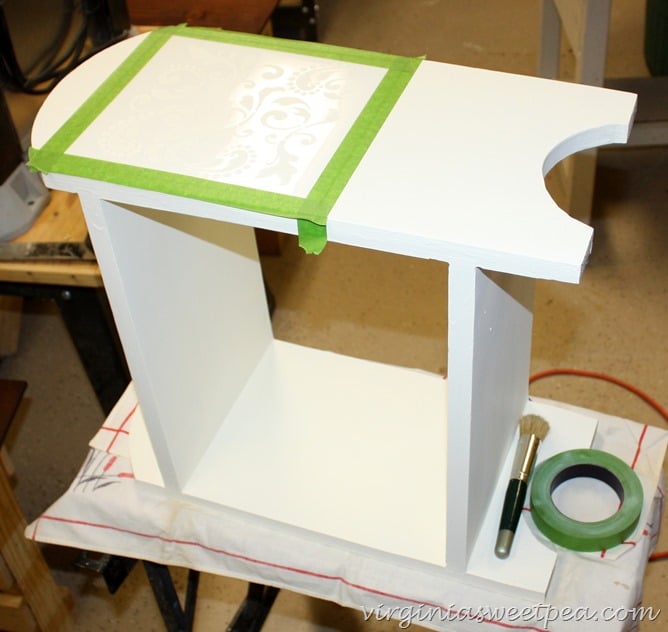 I painted the shelf with Chalky Finish Paint by Americana Decor in Lace. In the pictures the color looks the same as the "before" picture but in reality it is a creamier shade of white. To go with our theme this month, this paint color makes me think of white chocolate.
I used a Home Damask Accent Stencil from Michaels to add some pizzazz to the sides of the shelf. Be sure to either use spray adhesive or painter's tape when stenciling. A stencil brush is also a must.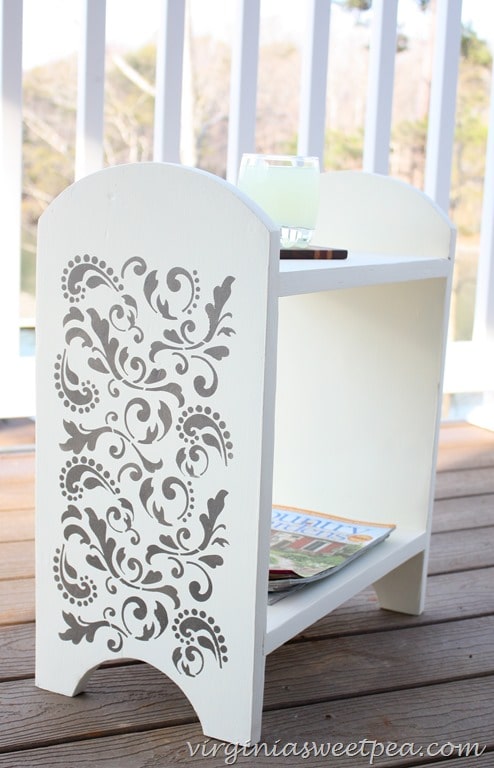 The stencil paint is Fireside Metallic by Plaster Paint Company.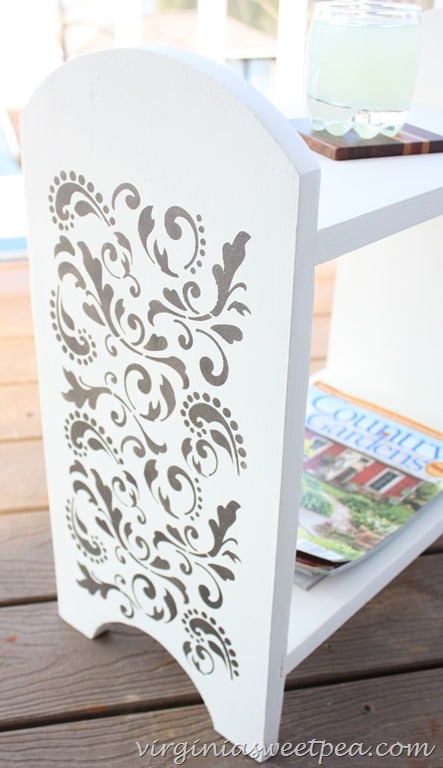 Both sides of the shelf got stenciled.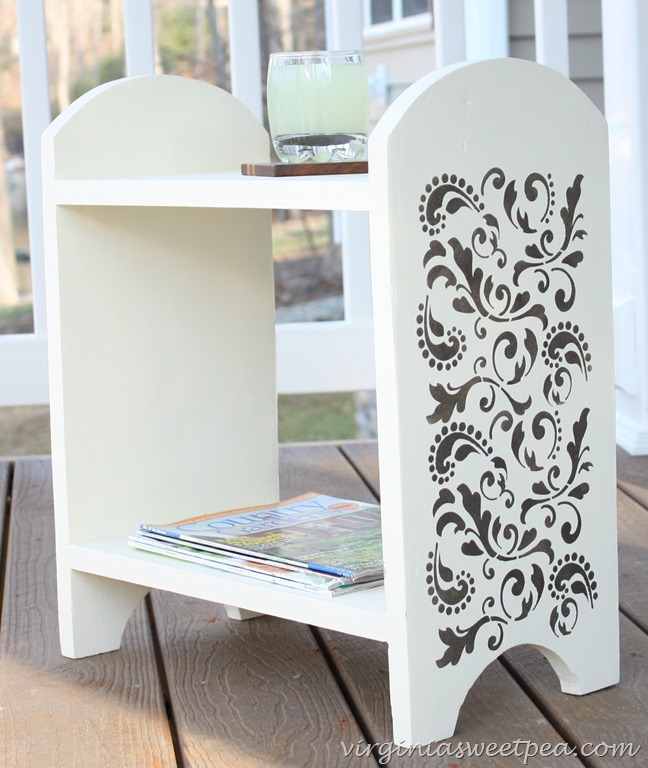 My mom didn't see the shelf until I pulled it out of the car when we arrived at the lake on Saturday. Her exclamation of "It's gorgeous!" made me so happy.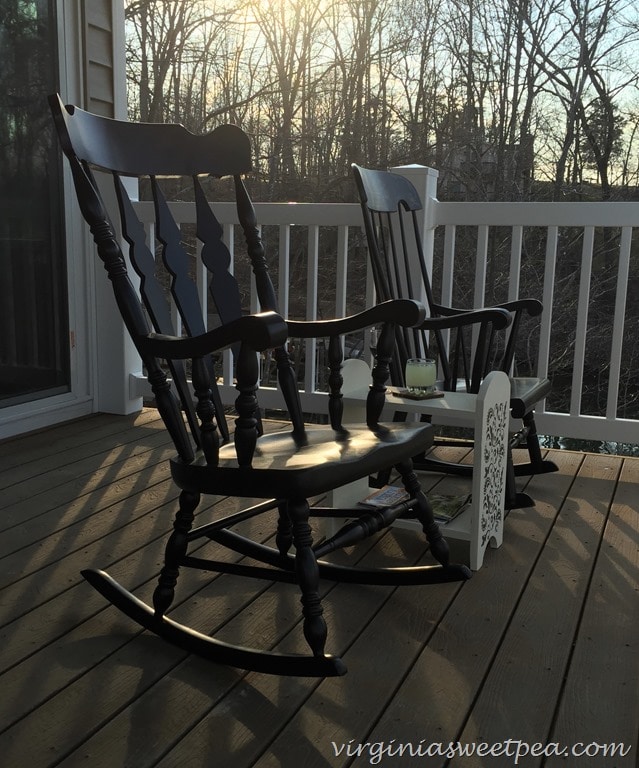 After we got settled into the house, we pulled two rockers on the porch, put the shelf between us to hold our drinks, and relaxed while admiring the view.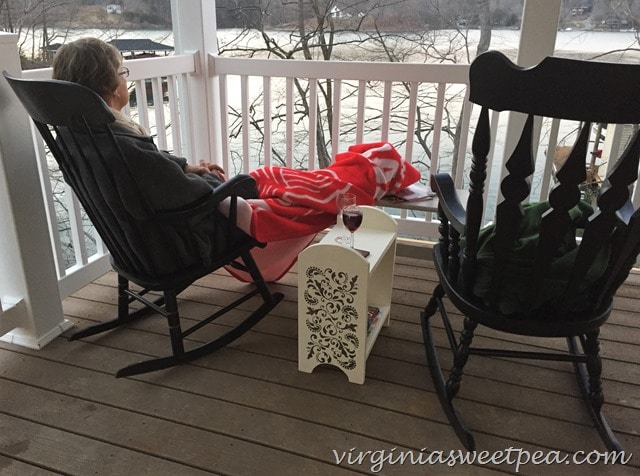 We stayed outside until it was time to eat dinner. What a treat for a February evening!
The black rocker on the right was a also a Themed Furniture Makeover Day project.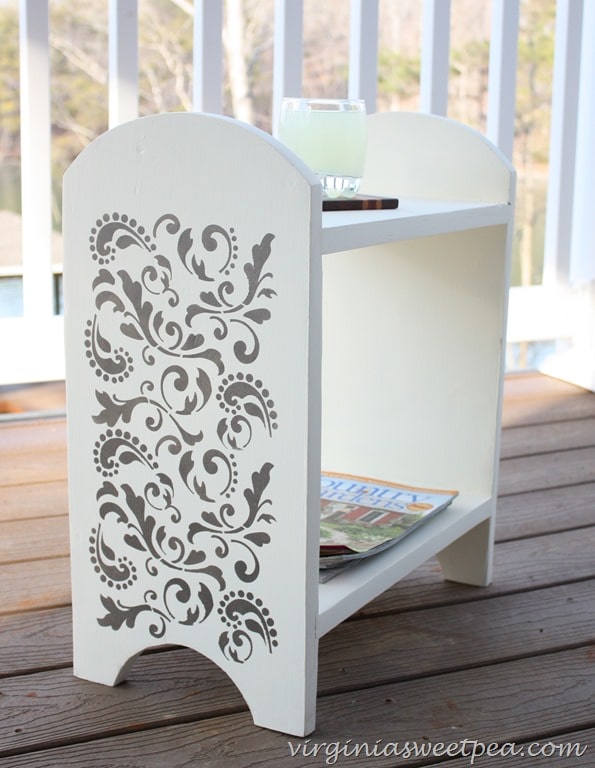 If my grandparents were still around, I think that they would be pleased with this makeover. When my aunt sees it, I hope that she's pleased as well.
Now it's time to enjoy the other "Inspired by Chocolate" makeovers for this month. Click on the links below to see each project.


This post contains affiliate links.
Sharing With:
H2O Bungalow, Dwellings-The Heart of Your Home, Refresh Restyle, Between Naps on the Porch,Concord Cottage,Stone Gable, Sand and Sisal, Yesterday on Tuesday, A Stroll Thru Life, Savvy Southern Style, Dwell Beautiful, Designer Trapped in a Lawyer's Body, Imparting Grace,From Gardeners 2 Bergers, Patina Paradise, The Everyday Home, Finding Silver Pennies, My Soulful Home