Tips for Pantry Organization (+ Other Home Organization Ideas)
Pantry organization makes life in the kitchen so much easier. Come see how I organize my pantry and get tips to use to organize the pantry in your home.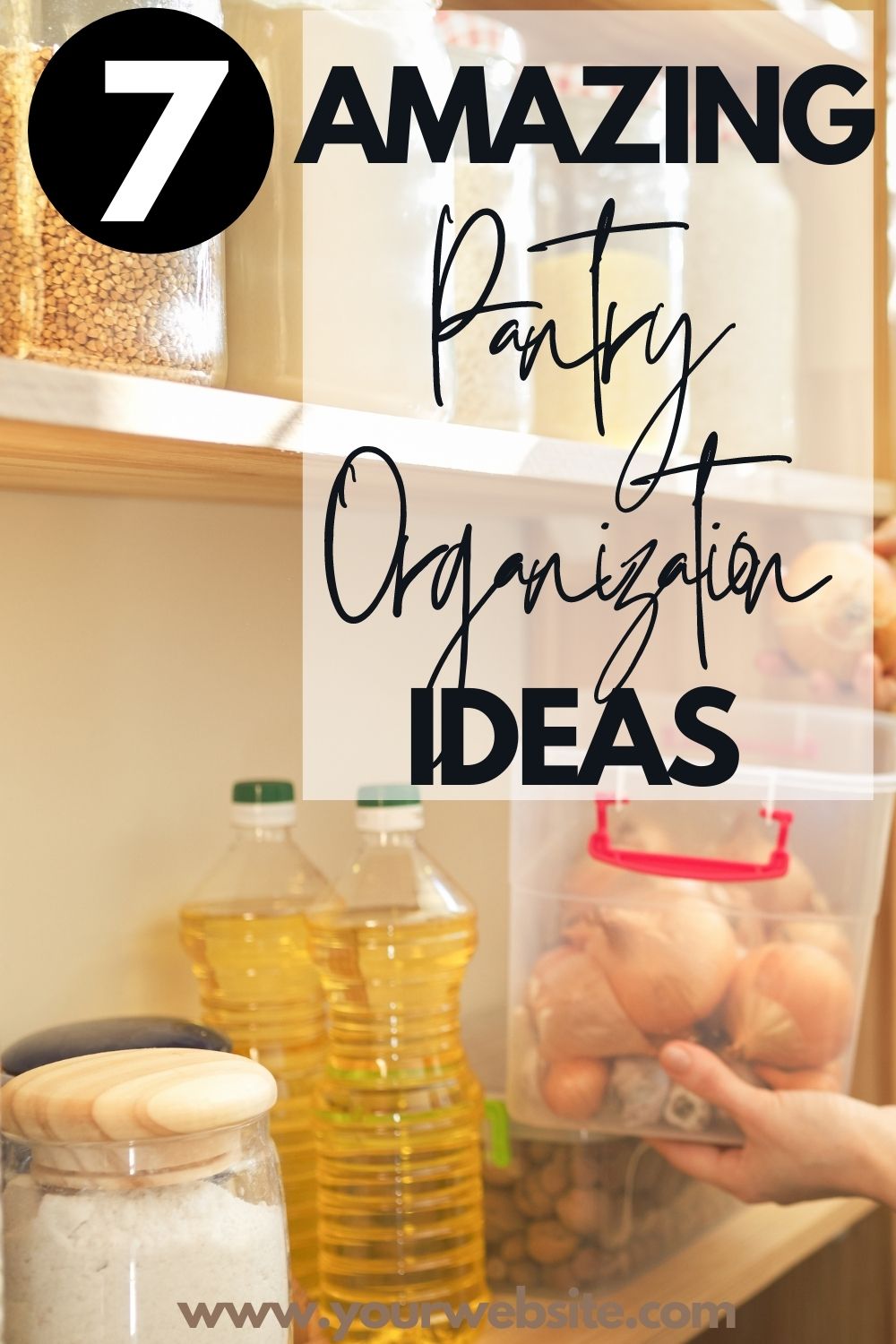 My pantry is now as organized as it is going to be and I'd like to share a few tips that work for me for keeping things neat and easy to find.
My pantry wasn't terribly unorganized, I just needed to take some time to decide exactly where I wanted to store certain items and I needed to decide if I was using every inch of space efficiently.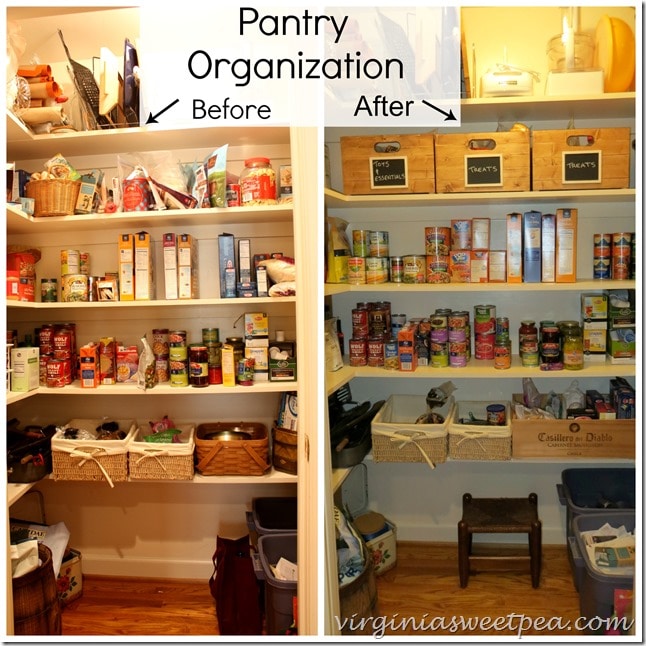 The worst area in the pantry and the one that bugged me to death was our dog Sherman's shelf.
We pretty much just crammed Sherman's canned food, medication, new toys, and treats into this area with no organization system in place.

Mr. SP and I built three crates to store Sherman's things that solved this problem perfectly.
I saw these crates for sale in the Plow and Hearth catalog and knew that they would be the perfect thing to use to store and hide Sherman's things. (2021 update – This crate is what they currently sell.)

Sherman's messy shelf looks so much better now! I intended for the third box to hold his canned food but he had so many treats that two crates were necessary. His canned food is on the shelf below for now.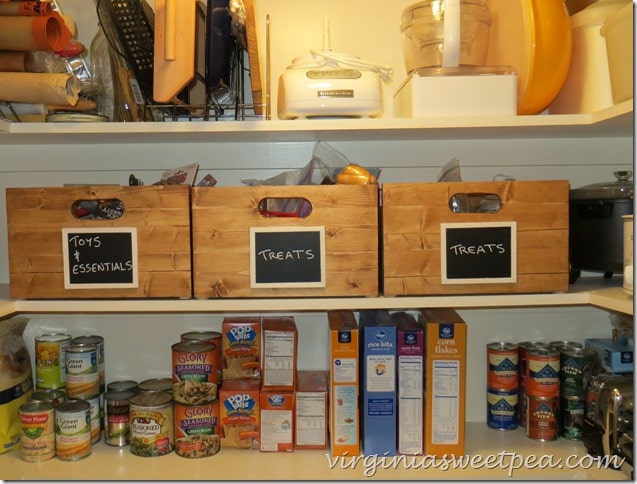 Now for some pantry organization tips that work for me.
Tip One

:

Group like foods together

Grouping like foods together makes it easy to find what you need when cooking and it makes it easy to see what needs to be added to the grocery list when it is shopping time.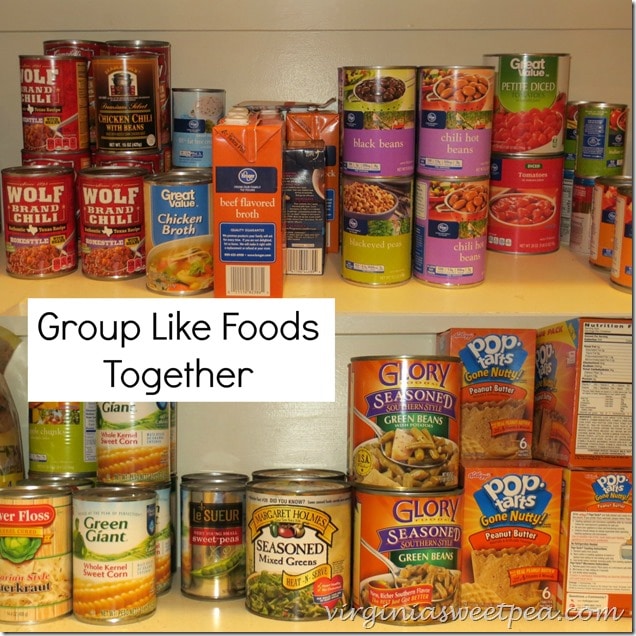 Tip Two:
Coral Boxes and Bags in a Crate
My rice, dried beans, and pastas used to be crammed into a pantry corner. I'd often have to dig through a pile to find what I needed.
A wine crate given to me by a neighbor corals these items neatly. I put slides on the bottom of the box so that I can easily pull it out without damaging the shelf.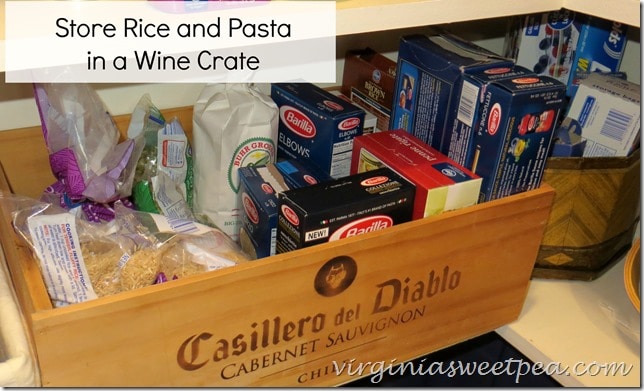 Now we will move to the left side of the pantry. I'm lucky to have a large pantry. It used to be a breakfast nook. Click here to see it in all of its 1950's glory.
Tip Three:
Use Pan Racks to Organize Platters, Silpats, and Rolling Pins
Things that I don't use frequently are stored on the top shelf of the pantry.
Platters stay neat in racks designed to hold pans. I got these at Lowe's a number of years ago.
Rolling pins and Silpats stay neat in the rack as well. Another rack on the top shelf in the middle of the pantry holds roasting pans and casserole carriers.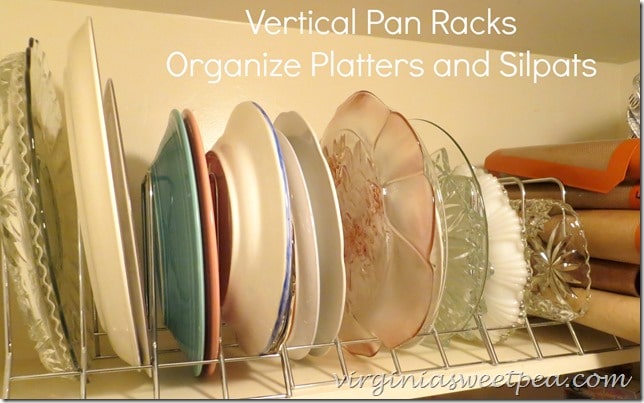 I keep baking supplies together on a shelf. My supply is a bit low now as I used a lot of ingredients for Christmas baking and haven't replaced them.
Tip Four

:

Use Vintage Containers for Storage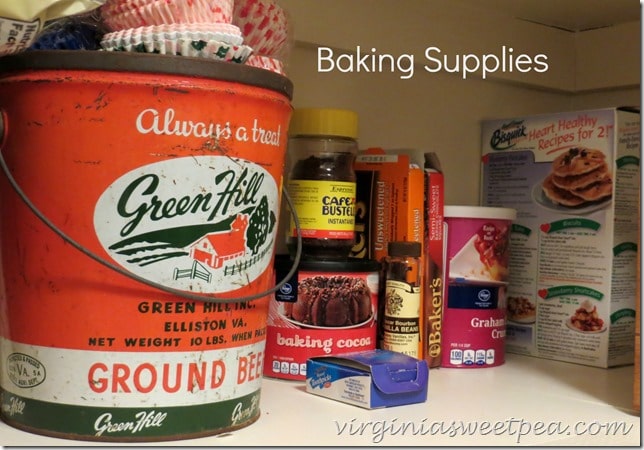 I don't bake cupcakes all that often but for some reason I can't resist buying seasonal liners.
A vintage tin keeps them in one spot and is easy to look through when I want to back a batch of cupcakes.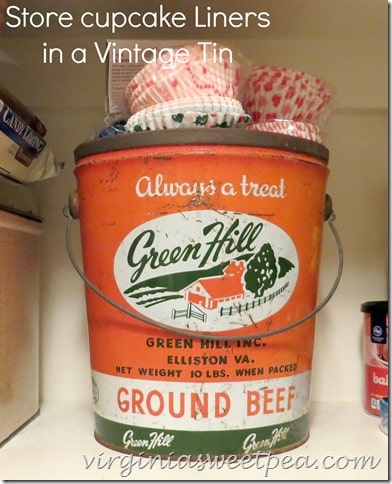 A vintage bread box that belonged to my grandmother hold sprinkles and tips used for cake decorating.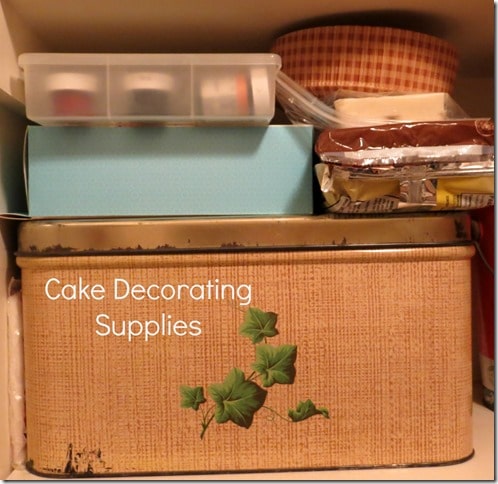 I like to keep my flour, sugar, brown sugar, powdered sugar, and chocolate chips in vintage canisters. There's no need to label them since I'm the only chef and know which container holds which item.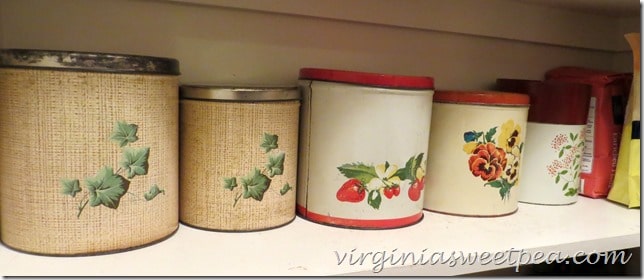 Cookie cutters are stored in labeled containers by season. I found these tins years ago on sale at Walmart.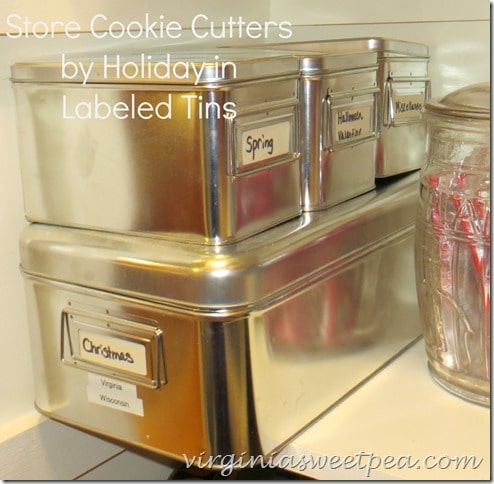 An old Planter's Peanut jar holds popcorn packets. I'd rather look at this than ugly boxes. The rack makes grabbing a granola bar easy and it neatly holds seasoning packets.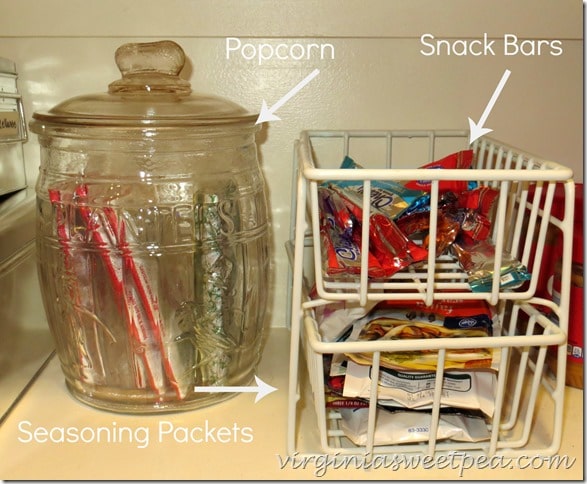 Our medications are stored in vintage tins that my grandmother used for cookies. Since we don't have kids, I can safely store these on the bottom shelf. I'd much rather look at a vintage tin than a shelf full of bottles.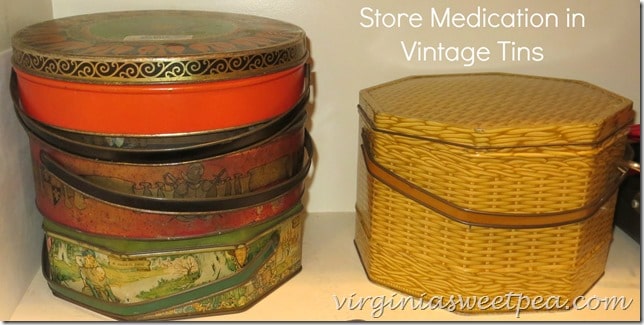 Sherman's dog food is stored in a vintage barrel that sits upon a rolling plant stand. This makes it easy to roll the food in and out of the pantry to feed him.
The bread box that you can see behind it usually stores potatoes but is now holding extra coffee. I sometimes use it to store extra wine as well.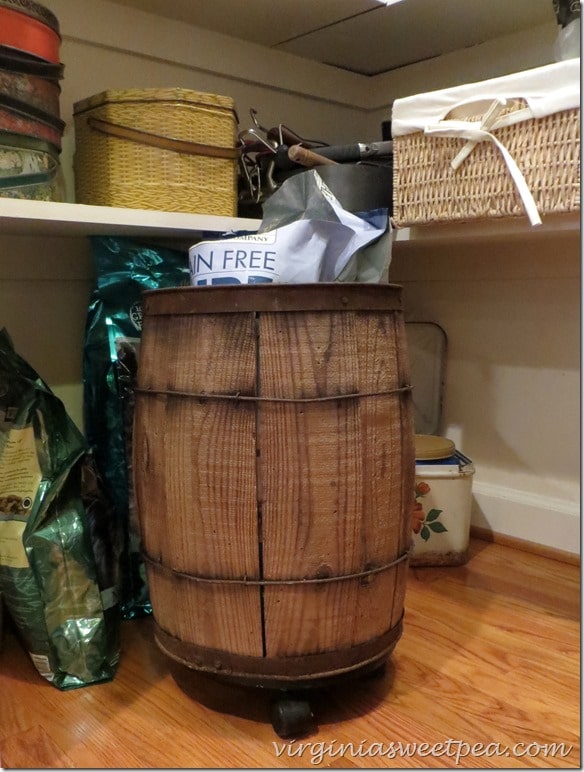 Tip Five

:

Store What You Seldom Use on the Top Shelf

Cake and cupcake containers, a salad spinner, and a deviled egg dish are items that I don't use on a regular basis. They go on the top shelf.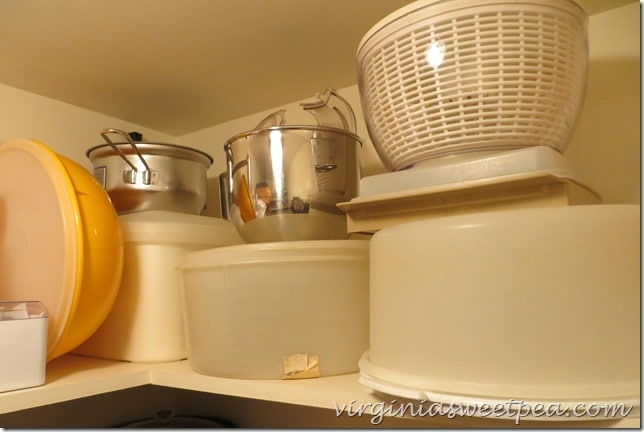 Tip Six:
Keep Appliances and Serving Pieces in One Area
We don't use these appliances regularly, so they live in the pantry.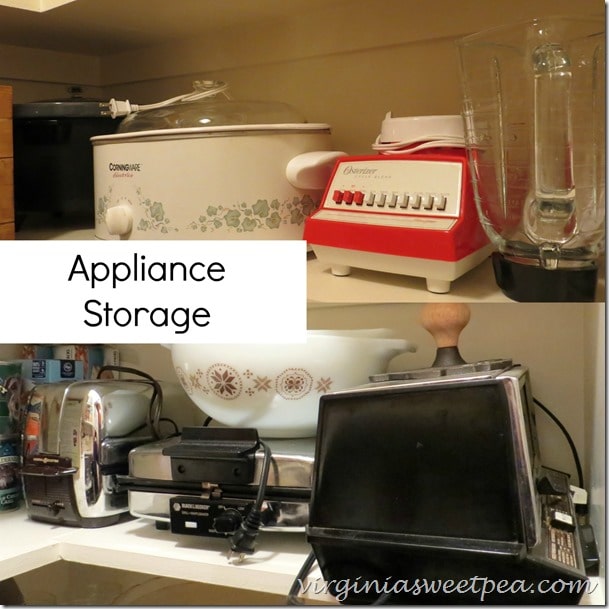 I have a lot of kitchen cabinets but I also have a lot of dishes. These items wouldn't fit in my cabinets so they are stored in the pantry. I love serving cakes and cookies on footed stands.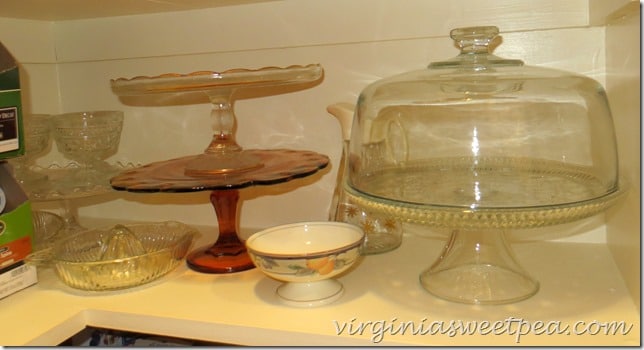 Tip Seven: Use a Vintage tin to store Extra Plastic Bags, Etc.
I like to keep extras of various sizes of plastic bags and also plastic wrap, waxed paper, parchment paper, and aluminum foil in my pantry. This is great for when I run out of a product from the kitchen drawer, I can replace it immediately and then add it to the grocery list to restock in the pantry.
Bonus tip: I keep the recipes that I regularly use in binders. Pages torn from magazines don't get added to the binder until I've tried the recipe and decide that it is one that I'd like to make again. These binders can be quickly pulled out for menu planning or following a recipe for making a meal.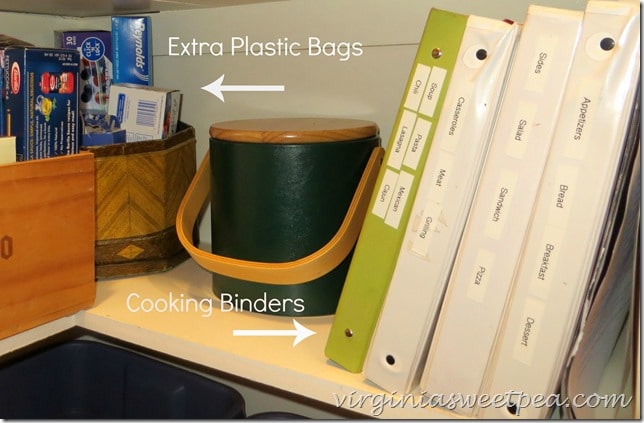 You can just see two of our recycle bins under the shelf in the picture above. We keep a bin for cans and another for mixed paper in the pantry. Everything else goes in bins in the basement. (We don't have curbside recycling in our city.)
I hope you enjoyed seeing my pantry and reading my pantry organization tips. If you have a tip for me that works for you, please let me know in the comments.