Ideas for Decorating with Antique Frames
Empty picture frames both old and new can be a great home decor item. Today I'm sharing creative ideas for decorating with antique frames.
While the frames that I share are antique or vintage, these ideas could be used for new or used frames as well.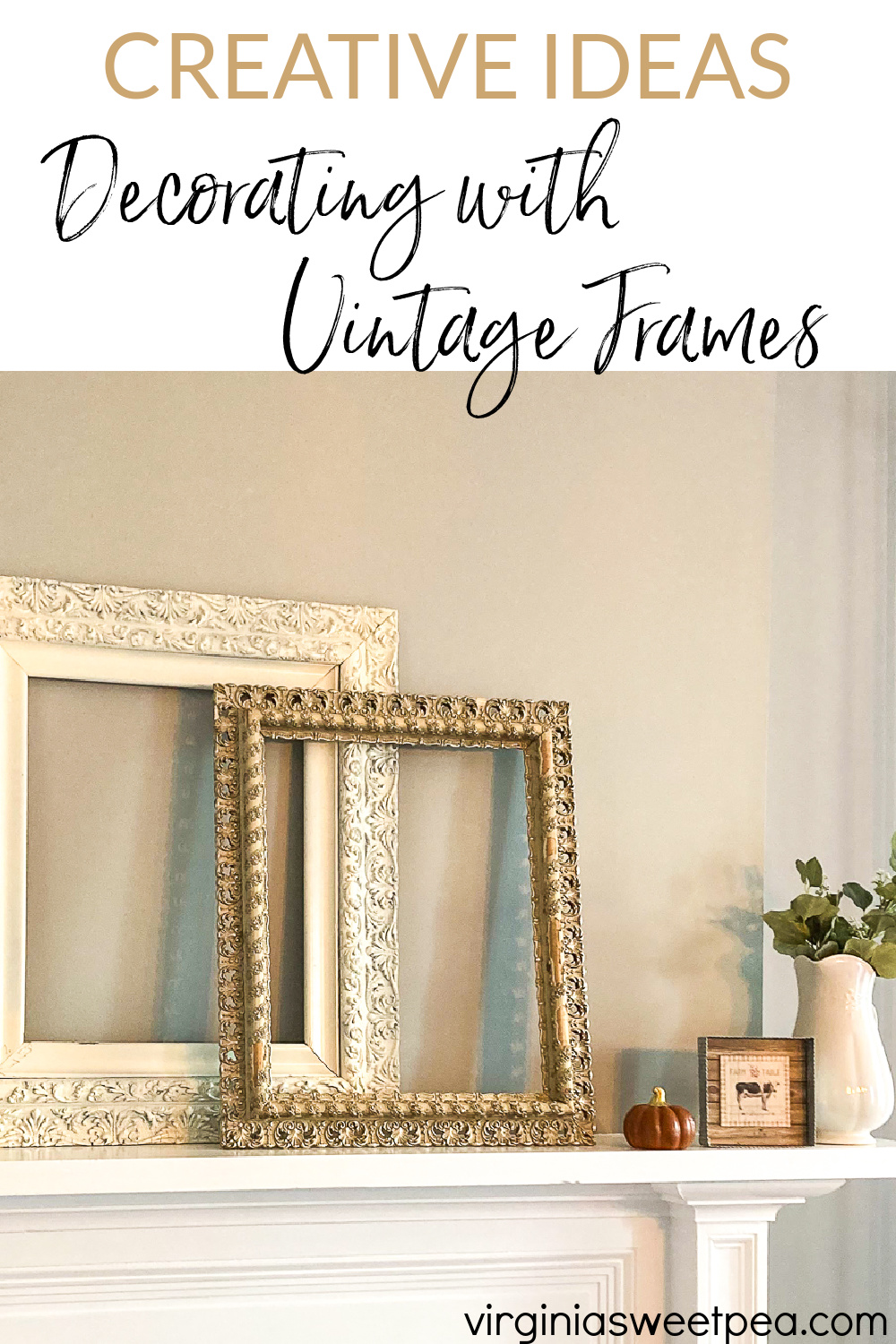 I am happy to be joining a group of blogging friends who share my love of vintage and antiques for a themed series where we share ideas for decorating with vintage.
This is an every other month series hosted by my blogging friend, Cindy of County Road 407.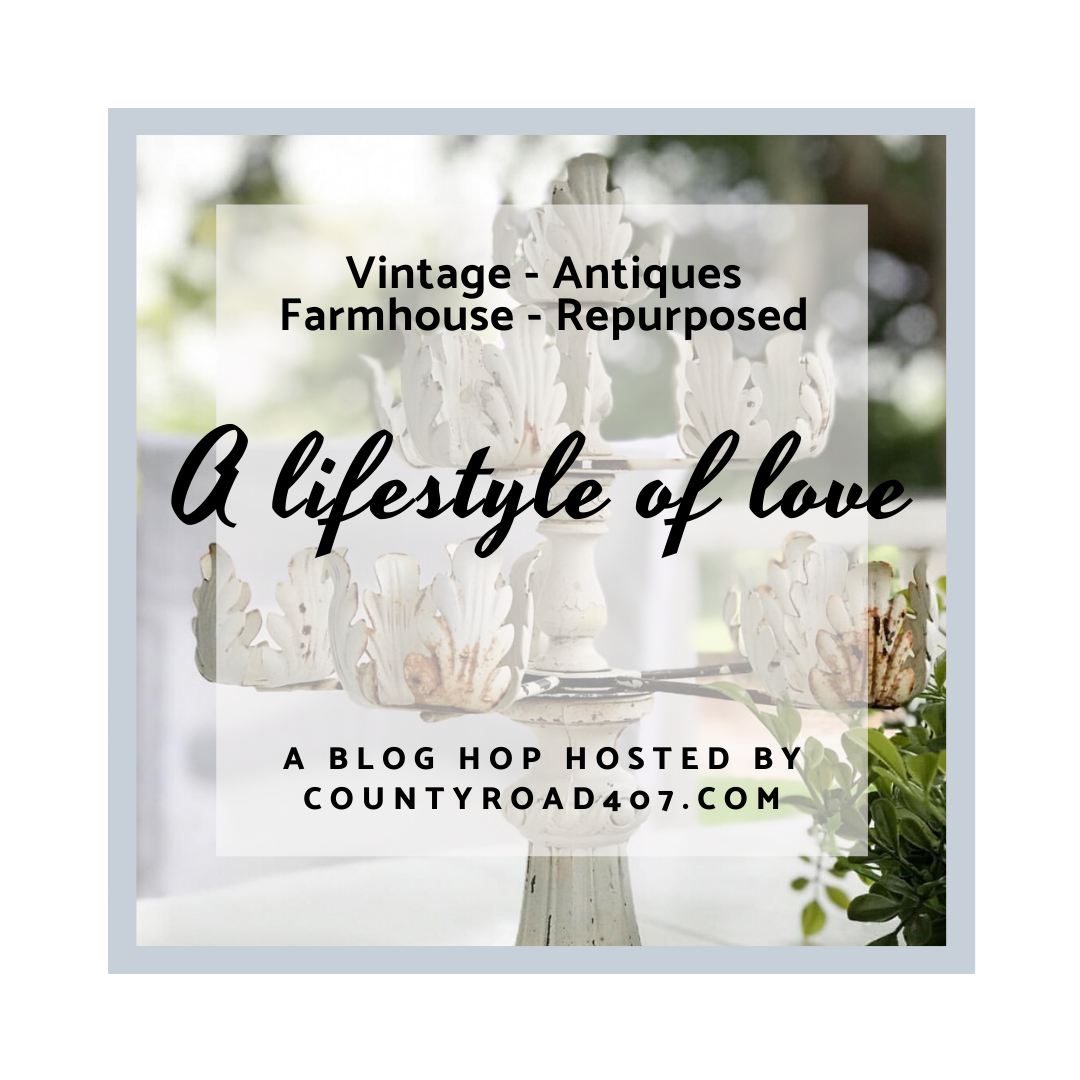 These are the other ideas for decorating with vintage items that I've shared in this series:
Today's ideas are all about decorating with antique frames.
For today's post, the ideas I'm sharing are from my family and from a friend.
After you enjoy the ideas that I share, enjoy those that my friends are sharing. The links to all of the ideas shared today are at the end of this post.
If you arrived from Our Southern Home, welcome! Christy and I have been blogging friends for many years and I adore her classic southern style.
Ideas for Decorating with Antique Frames
We'll be visiting three homes today for ideas for decorating with antique frames: an 1857 farmhouse; a 1912 home; and a 1961 ranch.
Antique Frame Ideas from an 1857 Farmhouse
My cousin and his wife live in an 1857 farmhouse on a working farm that has been in our family since 1896.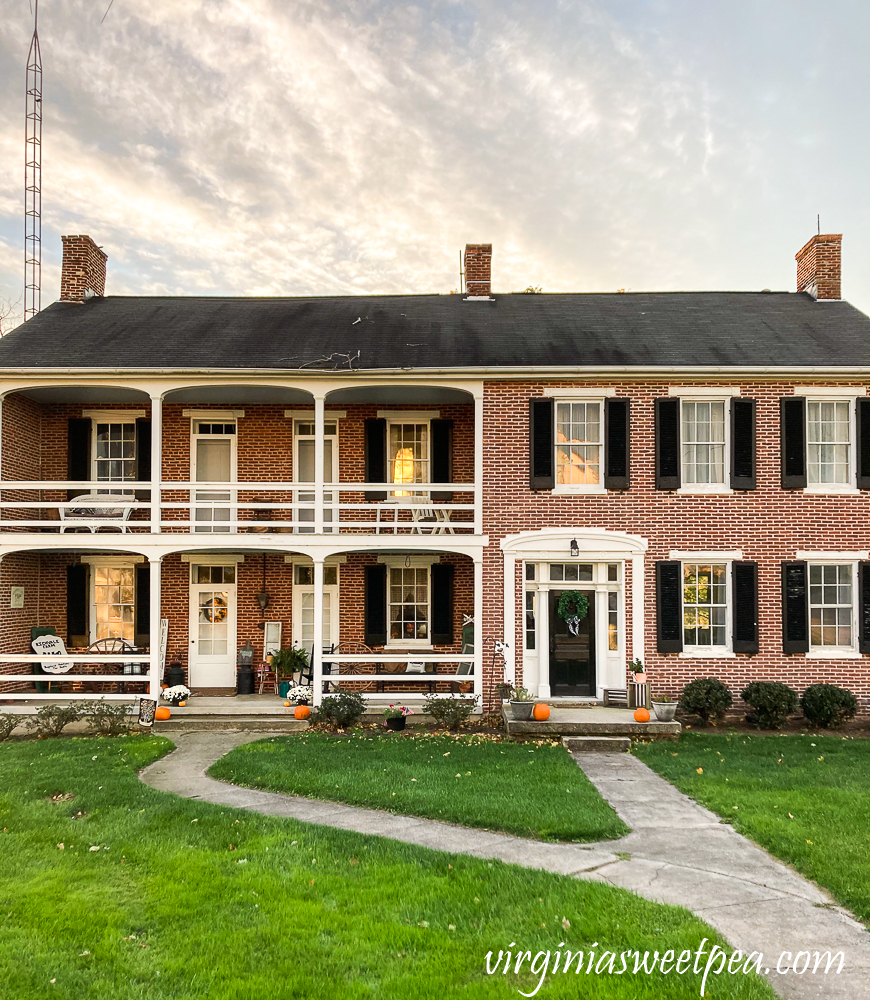 This is where my grandfather grew up and where my dad spent every school vacation. As a child, the highlight of my summer was going to "the farm" to spend a week.
Matt and Beth are the fourth generation to live in this farmhouse and to farm the land surrounding it.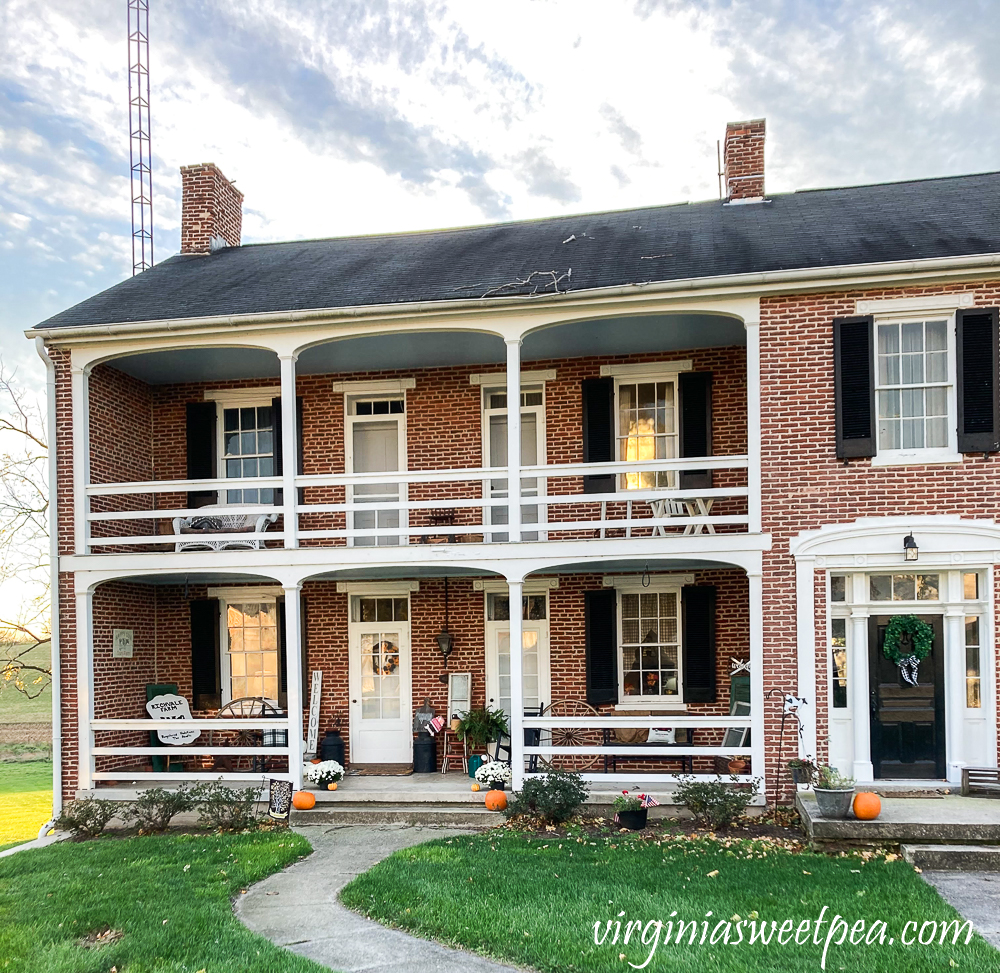 Beth and Matt are restoring the farmhouse and they are doing a wonderful job.
This fall we visited them and I noticed that Beth's dining room decor includes antique frames and she kindly sent pictures to me to share today.
My cousin, Mike, lived in the farmhouse alone for many years and the home fell into disrepair because it was impossible for him to operate a dairy farm and also keep up with maintaining an 1857 home.
Matt and Beth did major wall repair, removed carpet, restored floors, and did a lot of painting in their dining room.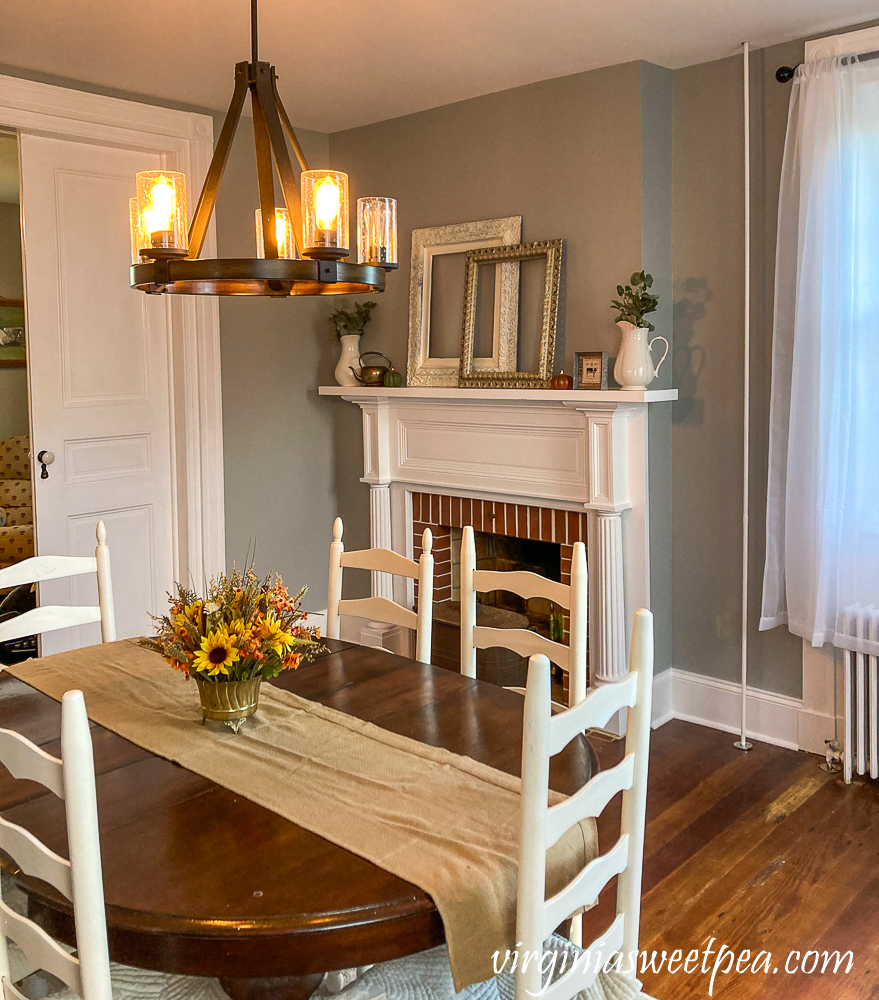 When I was a child, this room was used as a parlor and it was furnished with a sleeper sofa, a piano, and other antiques. My brother and I slept here as the five bedrooms in the home were filled with family who lived there.
When Beth and Matt showed me this room this fall, my eye immediately went to the fireplace and how Beth decorated it with antique frames that she found in the home.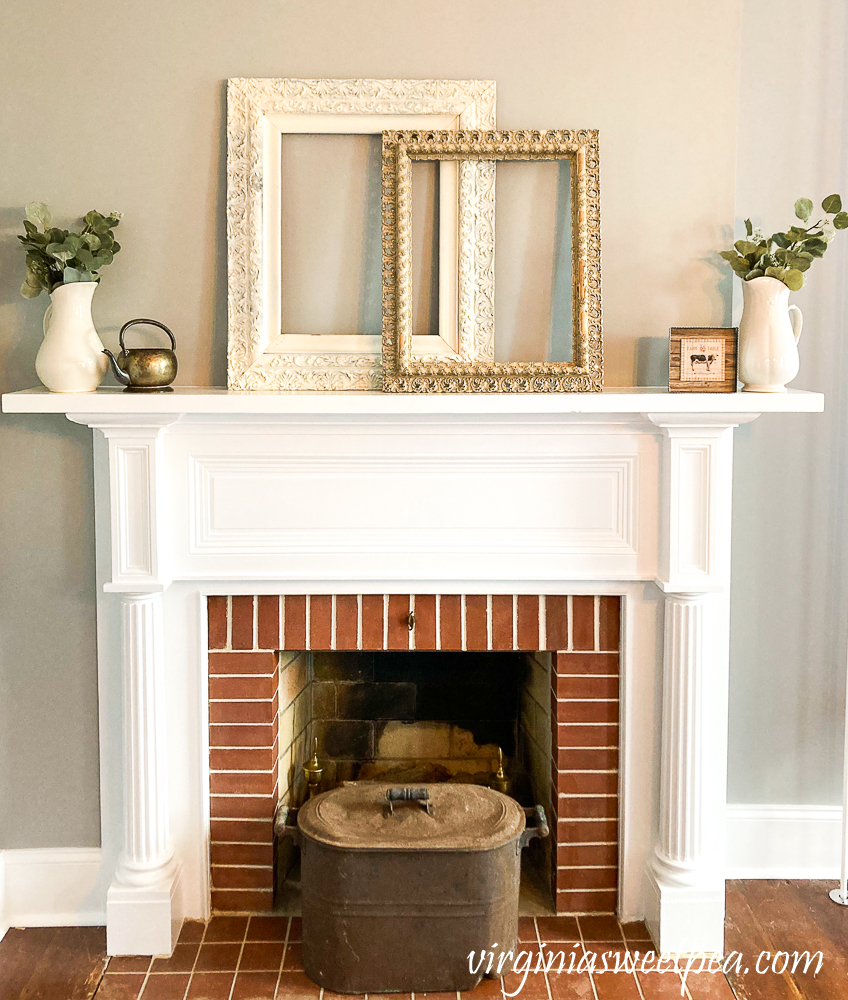 To decorate this area, Beth also used a copper kettle and copper pot that she found on the farm.
The basement of the farmhouse is filled with things saved over the years as is the attic, barn, and the two stone houses behind the home.
The stone houses were originally a wash house and perhaps a kitchen. The second floor of each building is believed to have been slave quarters. Over the years these buildings were filled to the brim with things the family no longer used but didn't throw away.
Beth has used all sorts of things found on the farm to decorate her home inside and outside.
For years and years, Richvale Farm was a dairy farm. Dairy farming is a difficult industry to be in these days, so Matt and his dad have transformed the farm into a crop farm that also sells steers.
Beth added a picture of a Holstein cow to honor the farm's use for many generations.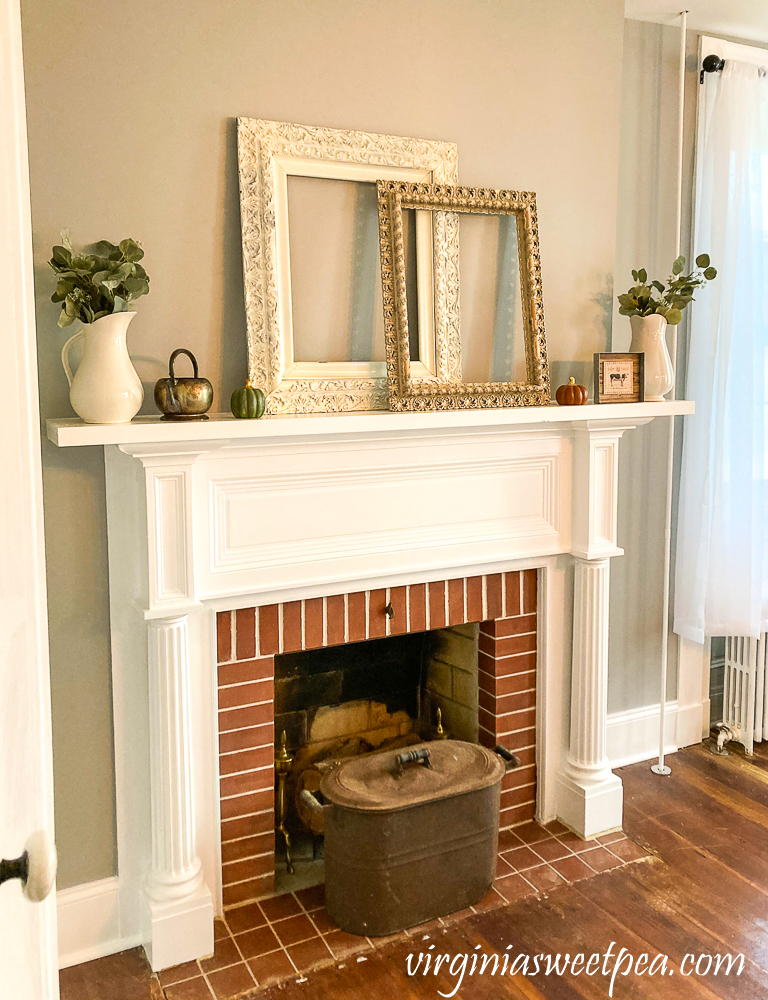 Beth used two frames that she found on the farm and painted as the centerpiece of her mantel decor. Aren't these frames beautiful?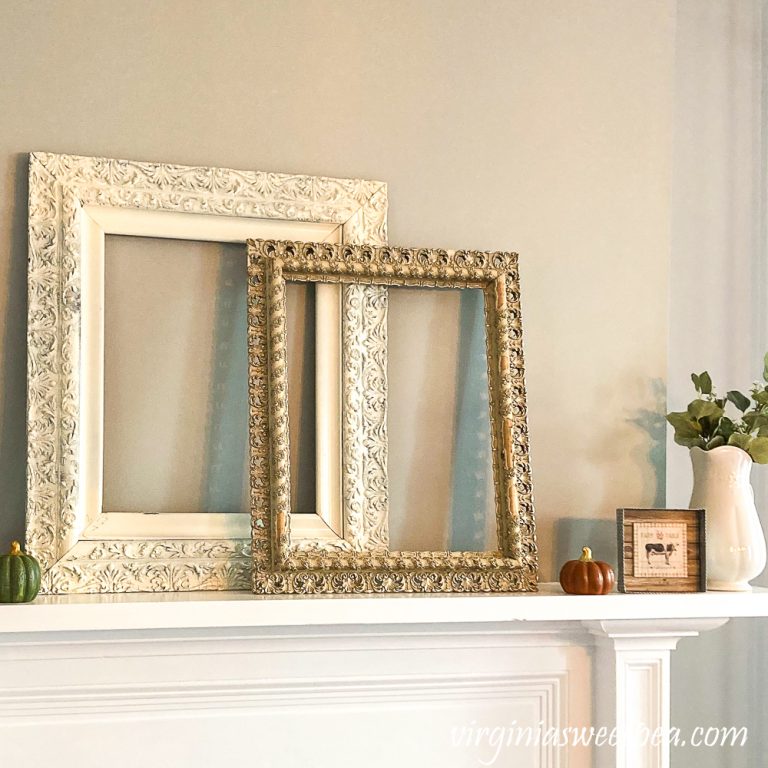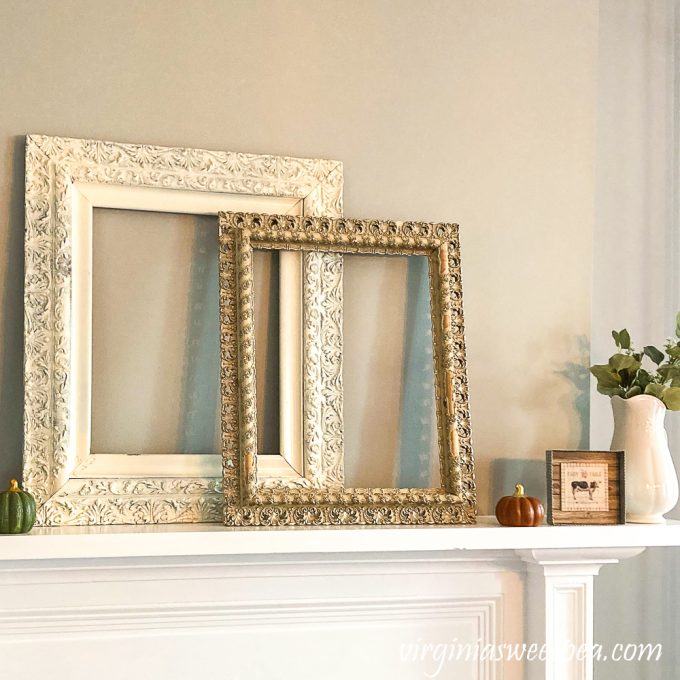 If you could see out the two windows, you would see one of the oldest barns in Frederick County, Maryland. You can see it, the other barns, and the gorgeous farm fields in this post.
Beth and Matt got married on the front lawn of the farmhouse and held their reception in the barn.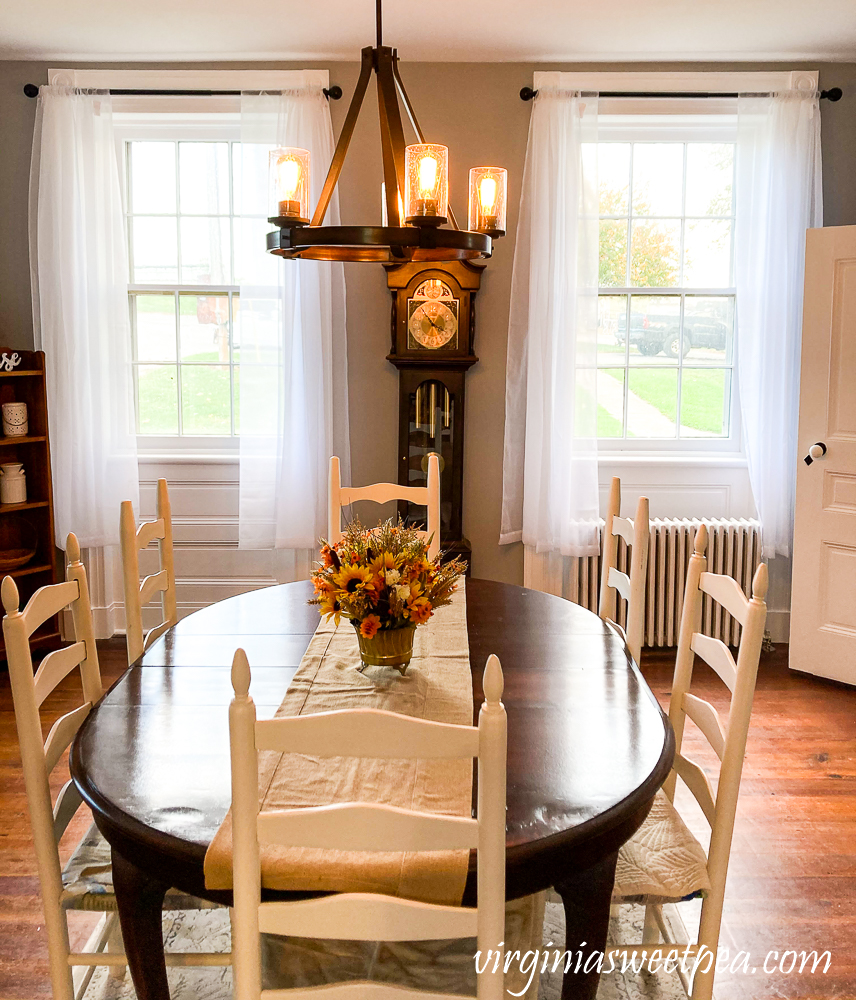 This room is so lovely and I'm thrilled that Beth let me share it with you.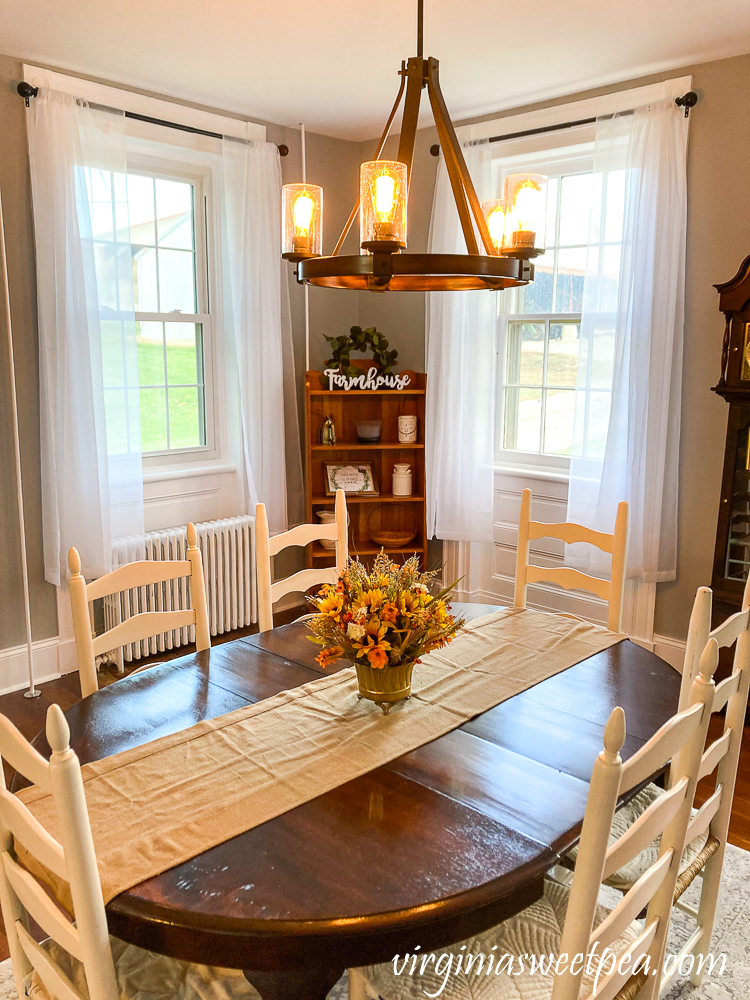 Antique Frame Ideas from a 1912 Home
Next we'll travel to Walnut Avenue to my mom's 1912 home. This home was built by my great-great uncle and has always been in my family.
Mama restored the home herself with help from family. These posts chronical the restoration of her home.
Mama has no frame in her home that isn't antique. When I visited a few weeks ago I took pictures of a few of her antique frames to share with you today.
My grandmother volunteered every election day and collected pins. Mama displayed some of Granny's pins using an antique frame.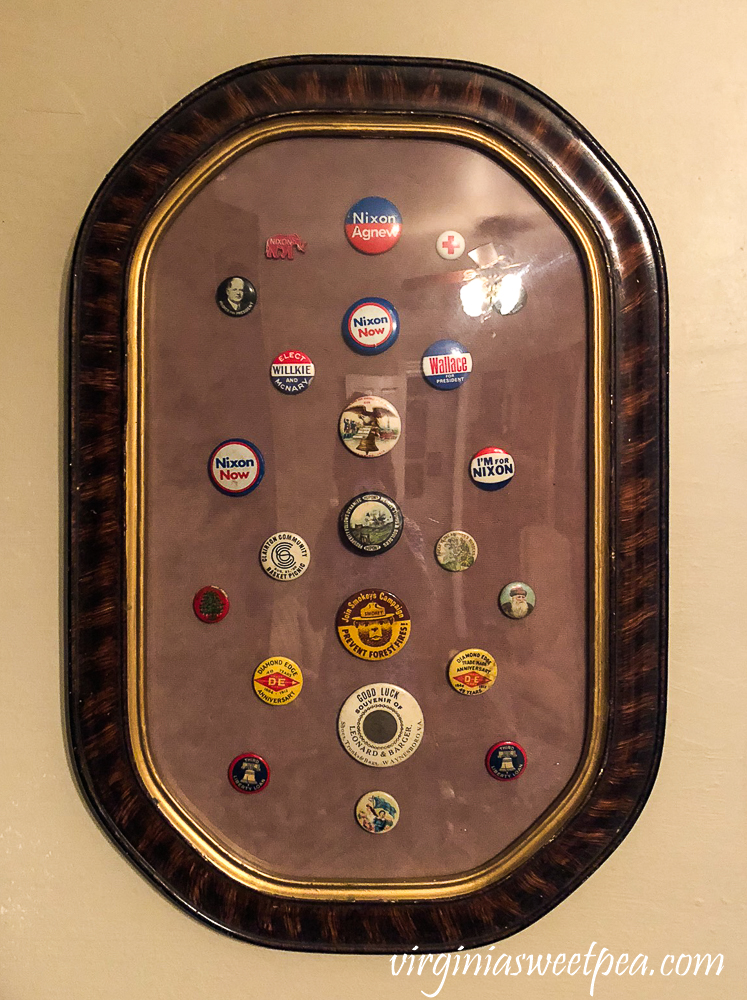 I love that these pins can be enjoyed and aren't just in a drawer where no one can see them.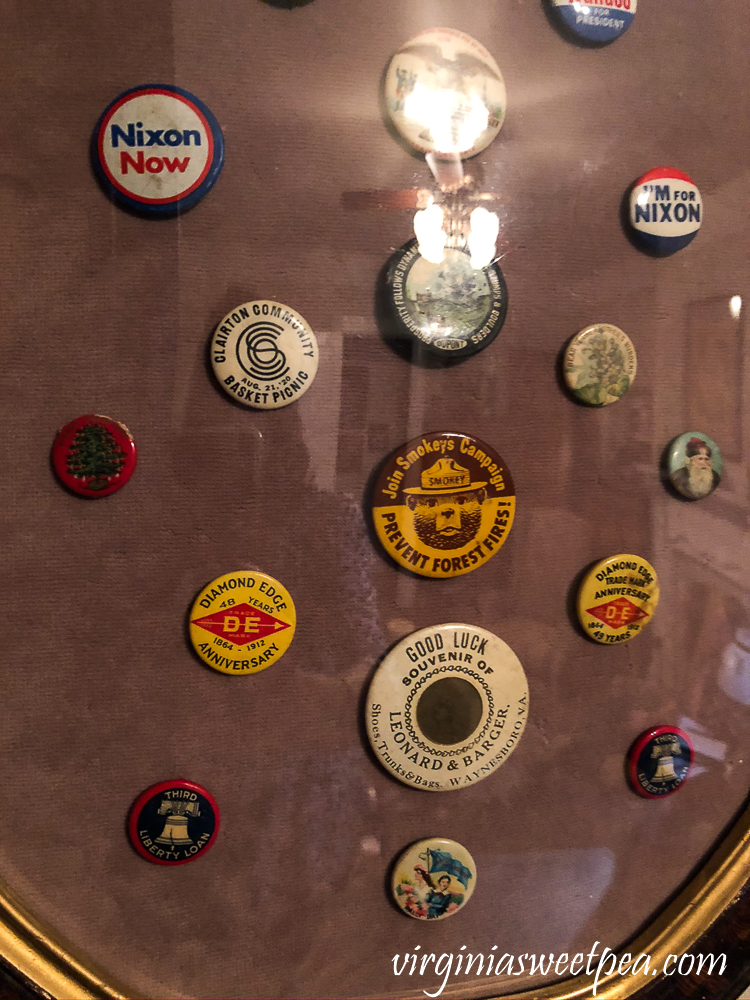 Next we'll see a few frame ideas from Mama's parlor.
The loveseat and matching chairs belonged to my great-great Aunt Lillian who raised my grandmother. Her farmhouse is still in the family and was built by the same great-great uncle who built Mama's home.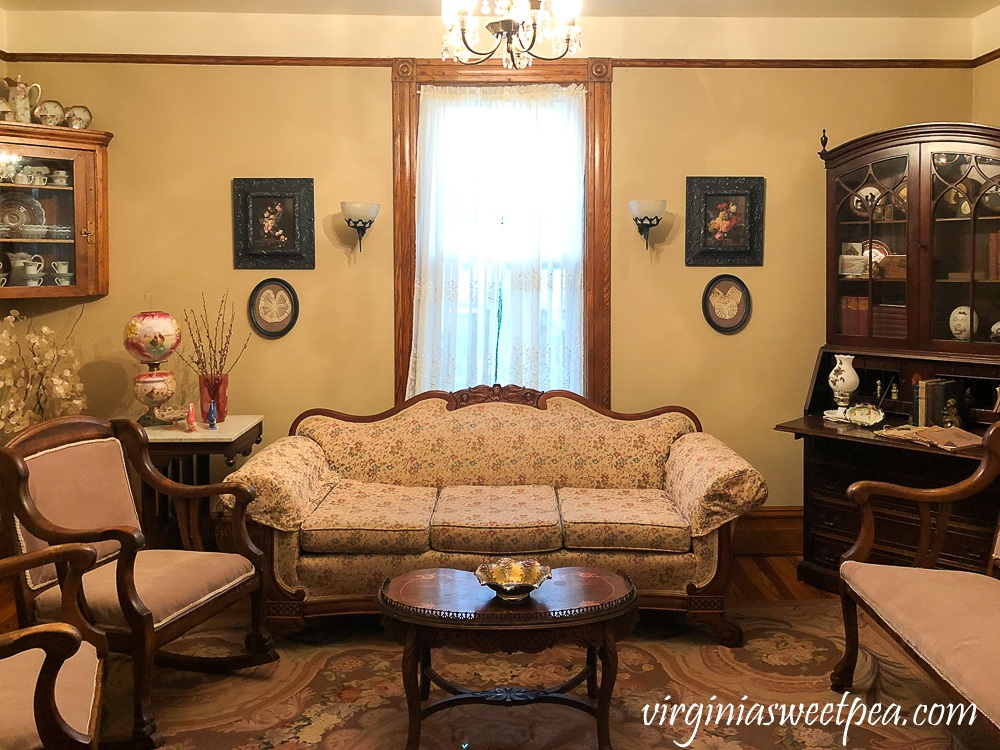 Granny's mother, Nellie, and her brother, Nelson, both died of thyphoid fever when Granny was 5 years old. Granny was sent to live with Lillian, Nellie's sister, and her two sisters sent to live with Emma, another sister.
Mama has one of Nellie's dresses, her hat, and a pair of shoes. This is pretty incredible considering that Nellie died when Granny was five.
Mama found some of Nellie's lace in a trunk and framed it with antique frames to display in her living room.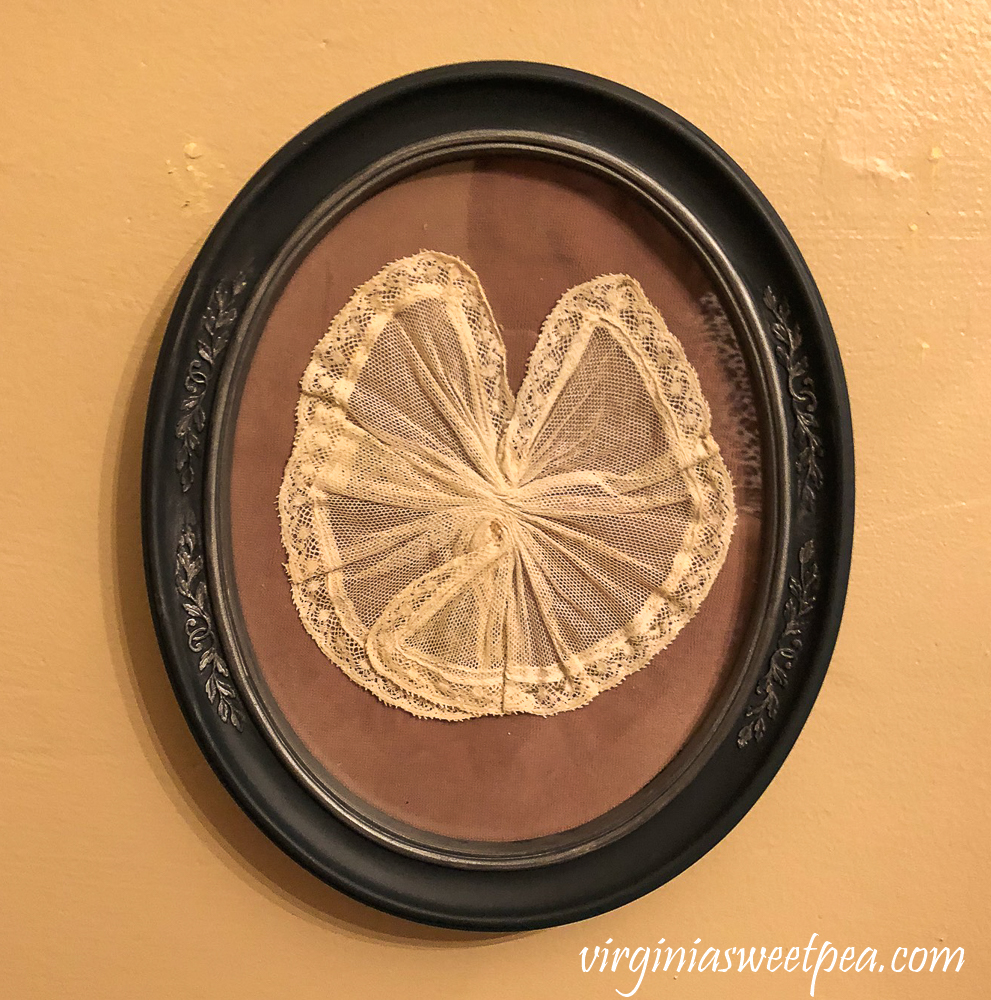 Mama used the same velvet to back these frames as she used on the frame to display her pins.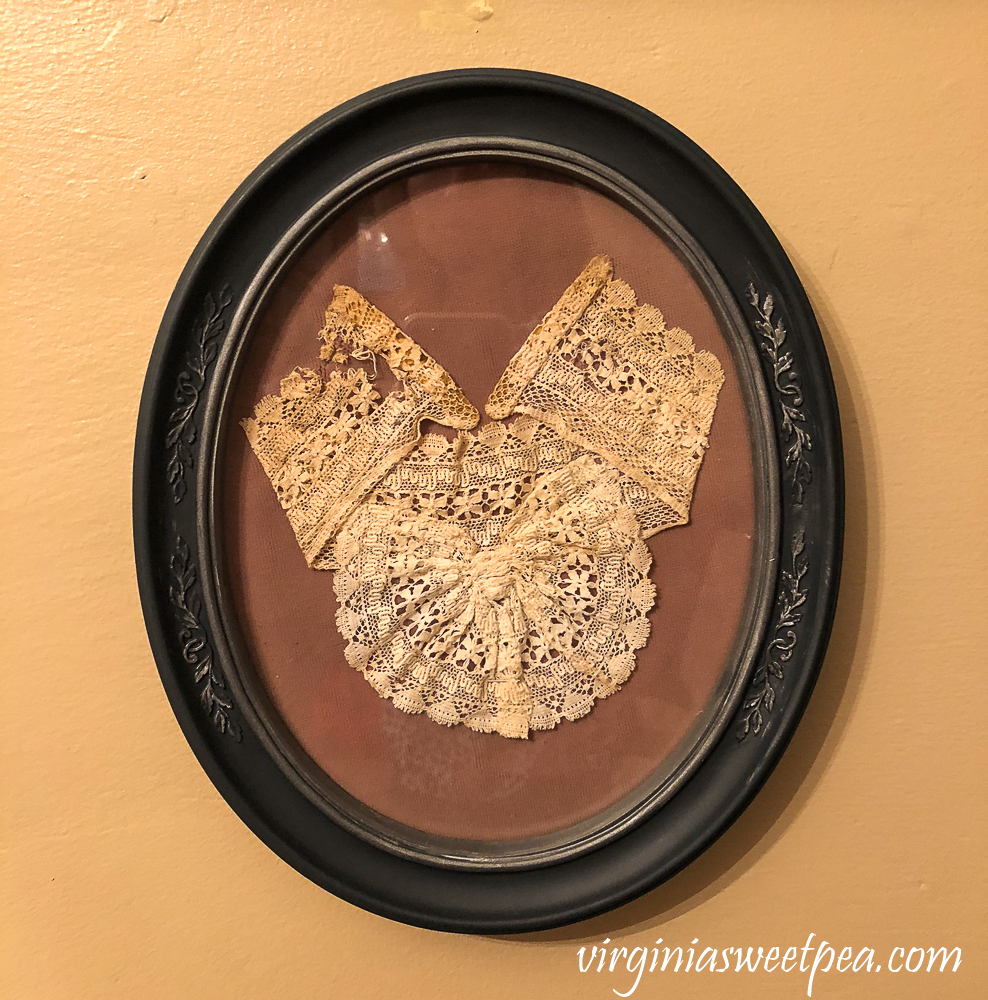 When I was a child, Mama painted this antique frame and added a mirror to it.
When my friend, Julie of My Wee Abode, was visiting this fall, Julie and I spotted this wreath in Williamsburg and I knew that Mama would love it.
It looks great hanging on this mirror.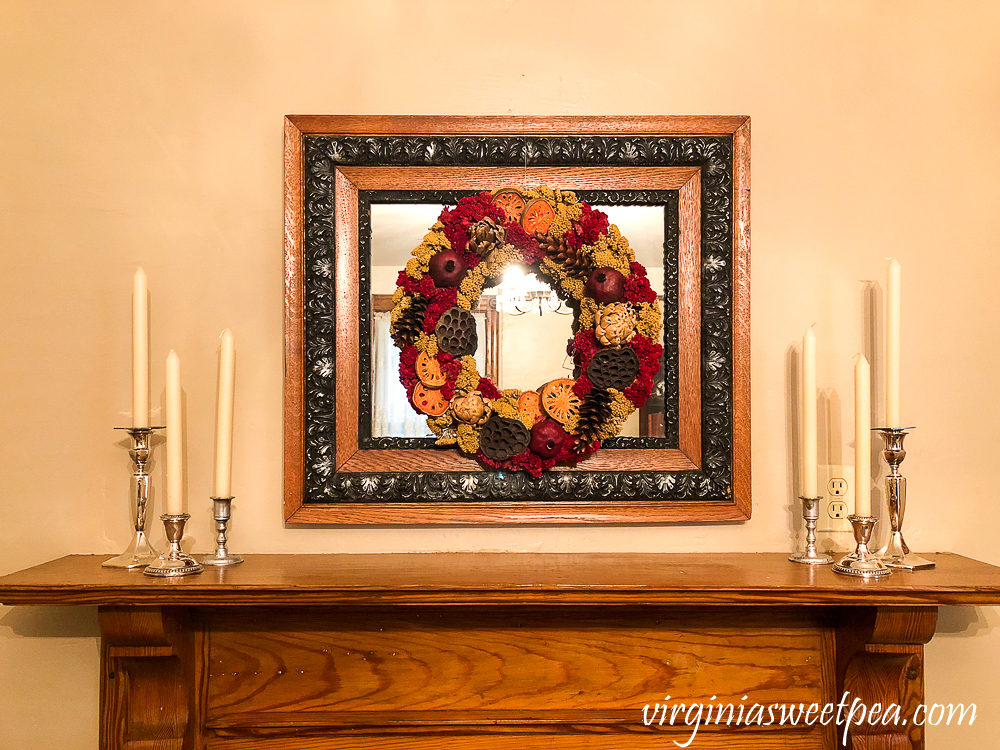 Mama created a gallery wall in her stairwell filled with family pictures and a few documents.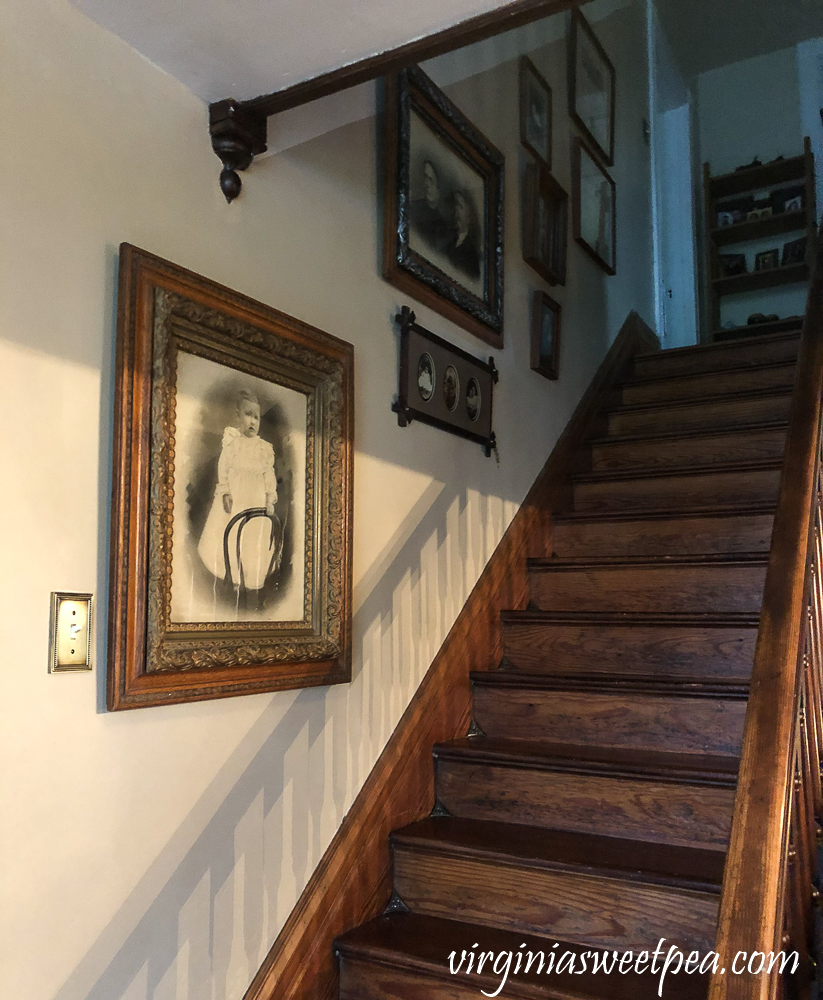 The first picture is of Mary Louise, my grandmother's first cousin, who died as a young child. Mama got this at an auction and had to pay more than she wanted to prevent an antique dealer from buying it.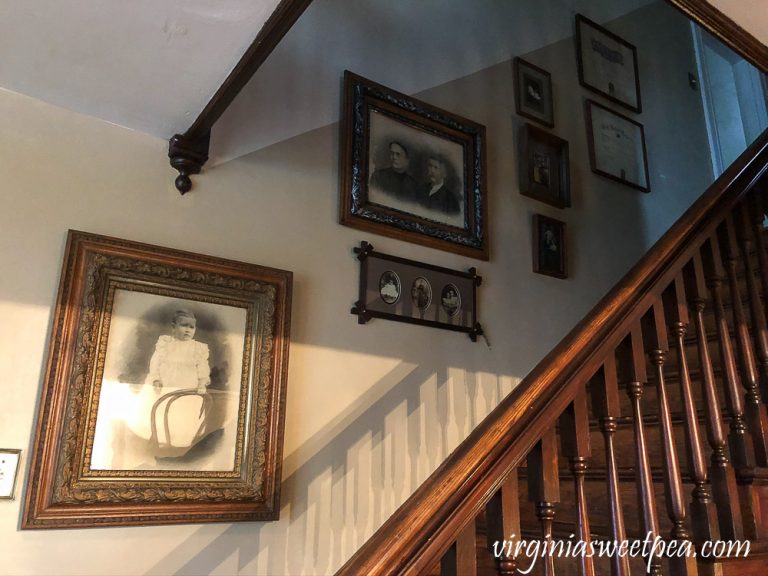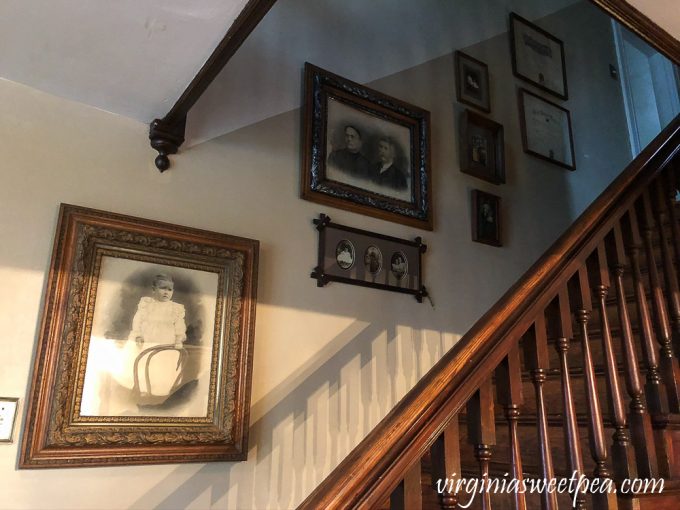 This frame is identical to the framed mirror in Mama's parlor. These are my great-great grandparents, Susan Rittenhouse Thompson and John Thompson. These are Nellie and Lillian's parents.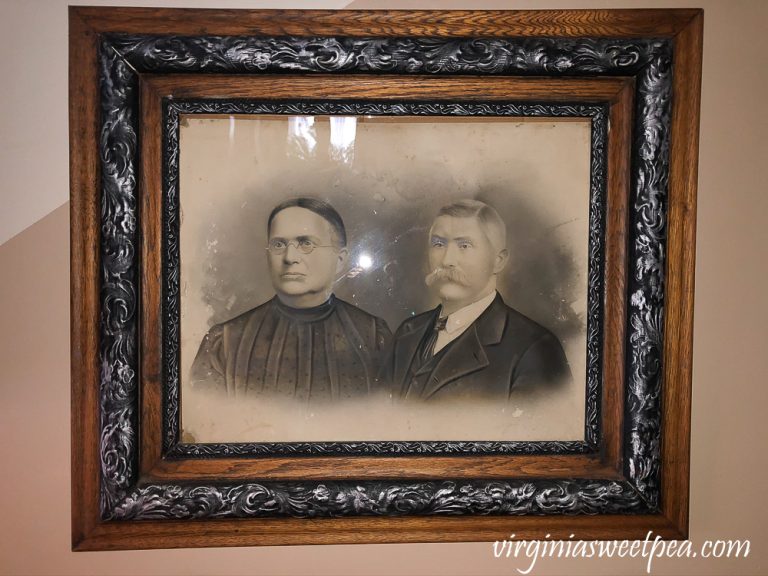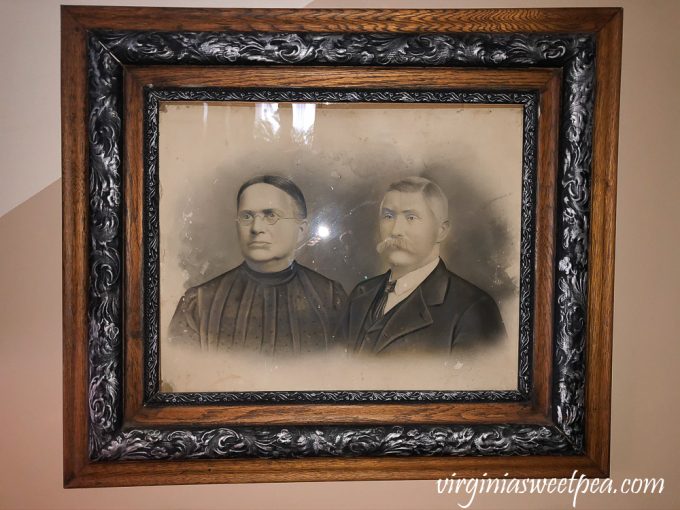 I love the style of this antique frame. Pictured here are Nannie, Granny's older sister; Lillian; and Creed and Maggie Scanlon. Creed and Maggie's dad built Mama's house and they grew up in it.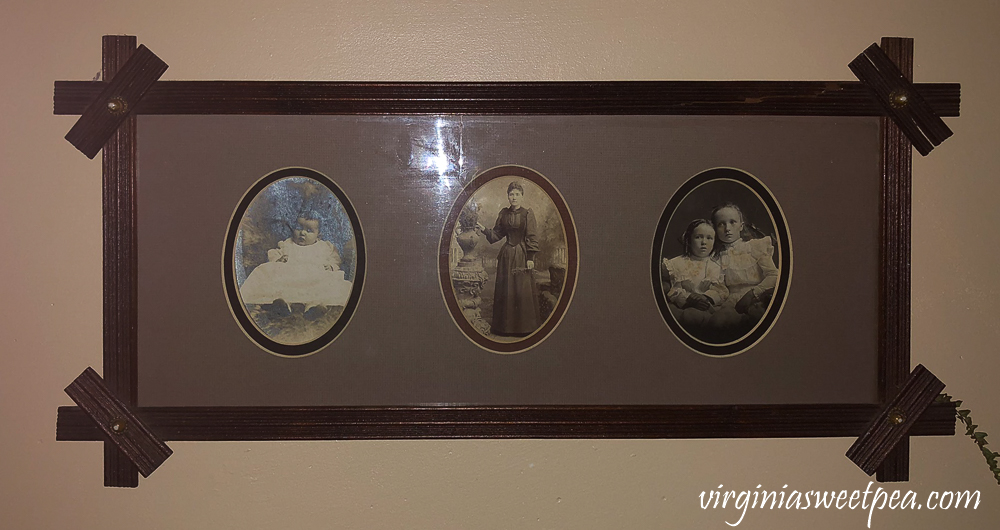 Mama taught at Waynesboro High School, the school where both Creed and Maggie graduated.
Mama has both Creed and Maggie's high school diplomas hanging in her stairwell.
Creed graduated in June 1917 and Maggie in May 1913. Mama also has their high school year books.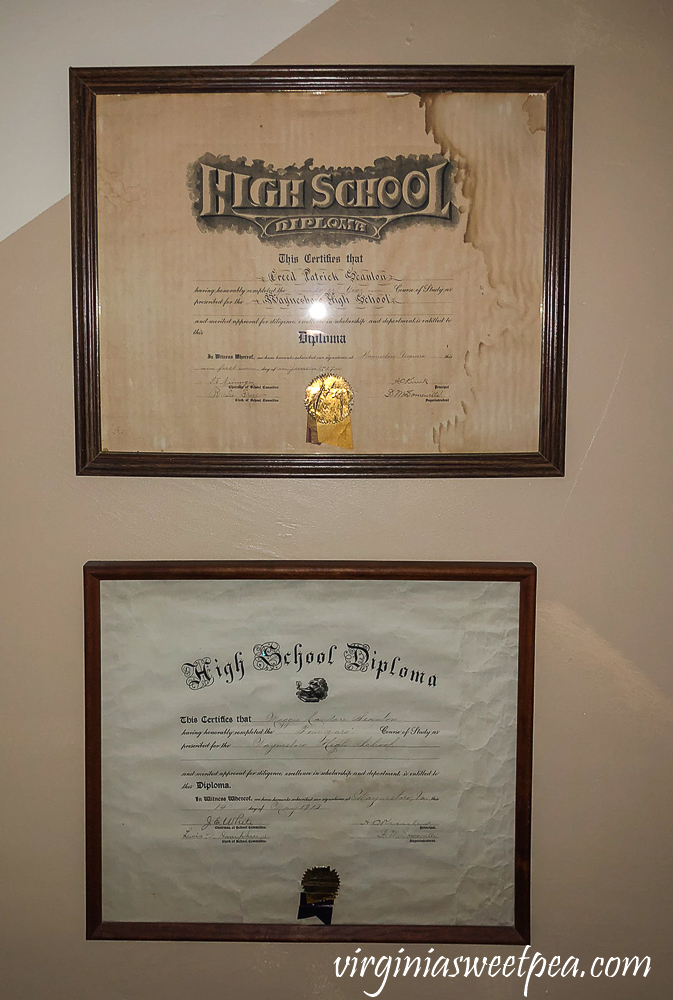 Antique Frame Ideas from a 1961 Home
We'll next visit the home of my dear friend, Suzanne, who lives in a 1961 ranch. Suzanne loves antiques and vintage and has incredible decorating style.
In her hallway, Suzanne creatively lined both walls with empty vintage and antique frames, framed family pictures, and art.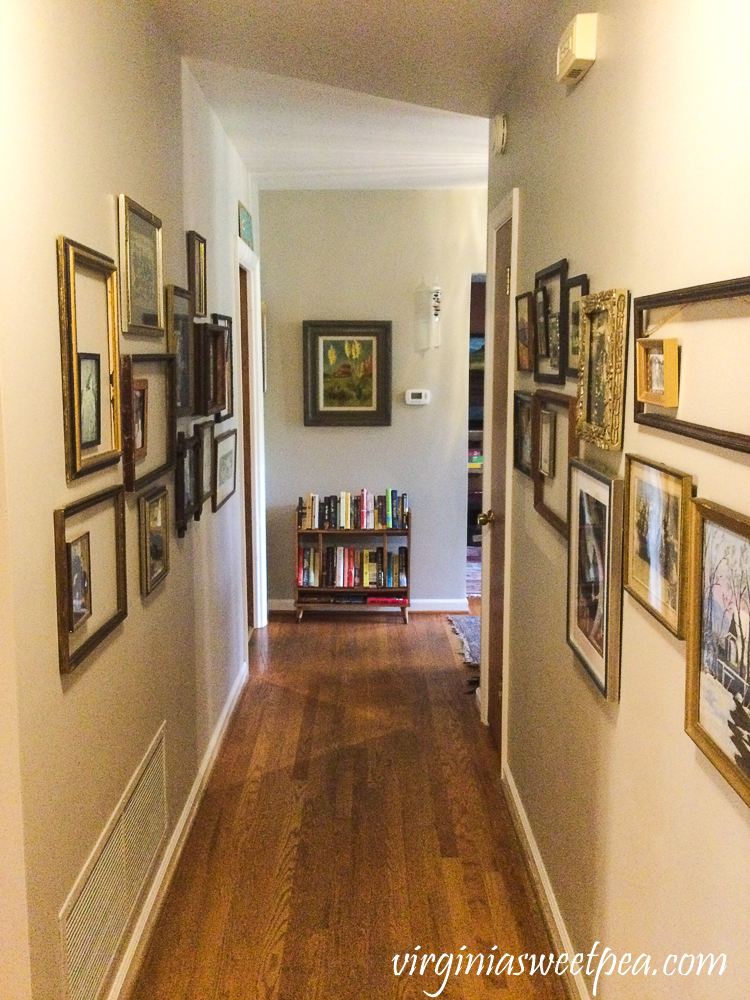 I love how Suzanne displays small framed family pictures and also small pieces of art inside empty frames.
Suzanne and I used the mountain and lake painting below when we teamed up for this blog post.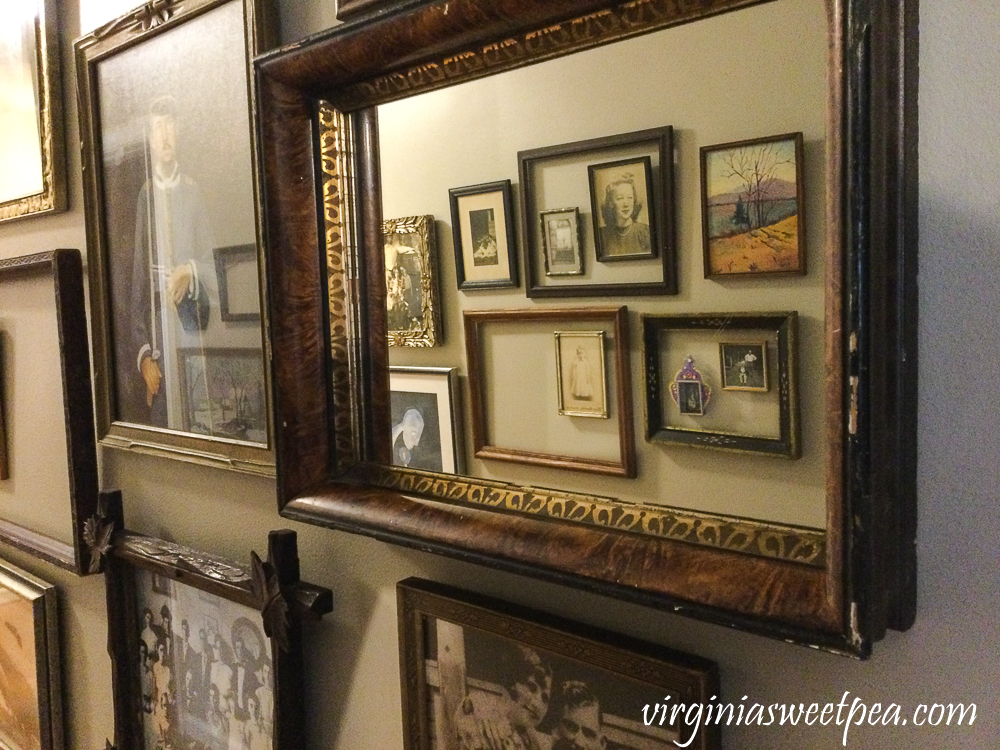 When I visit Suzanne, I love to look at her family pictures that she has displayed here.
Now let's discuss the Civil War soldier.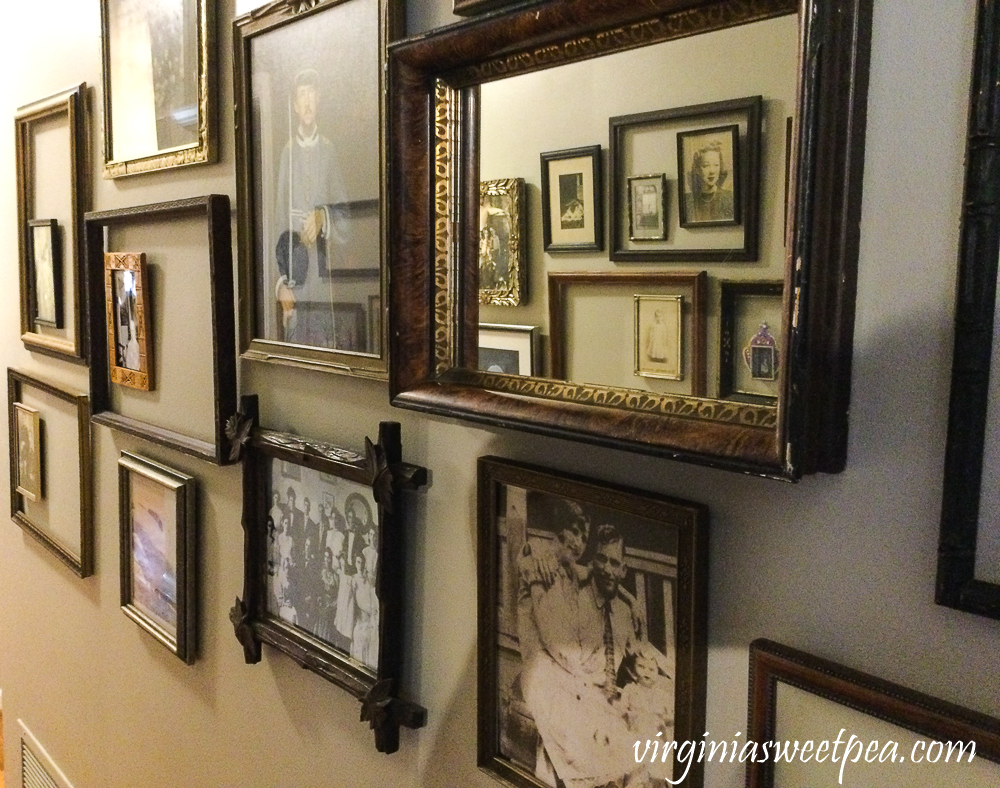 This is William Henry Ramsey, Suzanne's husband John's great-great grandfather.
In the Civil War he was Lieutenant Colonel, 57th Virginia Infantry, Steuart's Brigade, Pickett's Division, I Corps.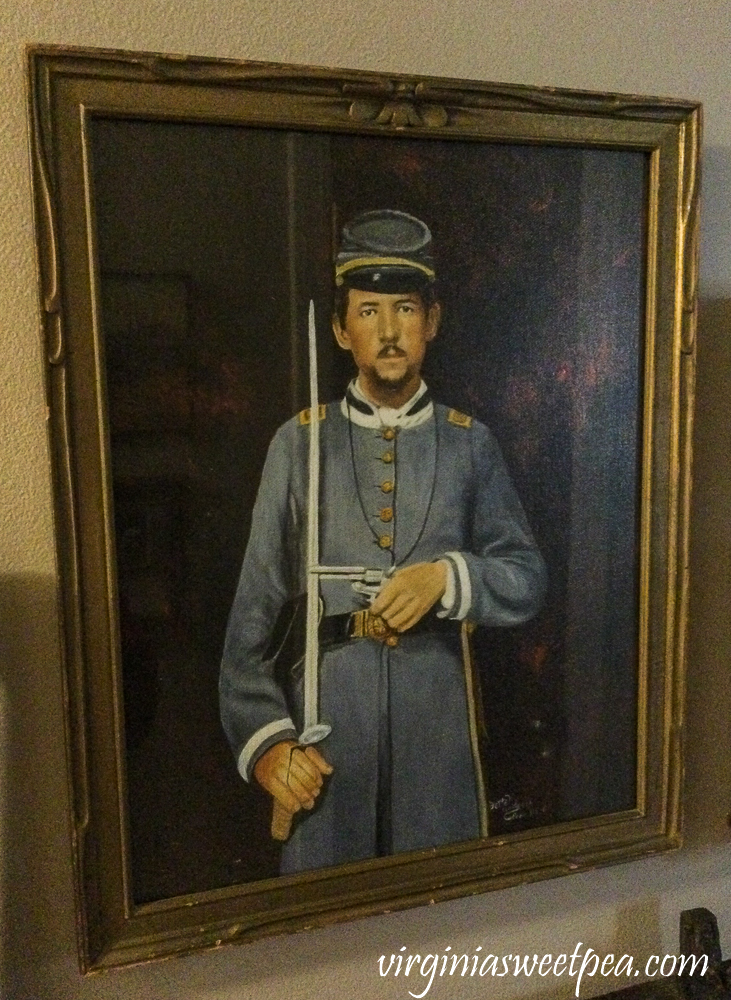 Suzanne and I live about 20 minutes from the Civil War surrender grounds in Appomattox, Virginia.
I was visiting there a few years ago with family and I spotted William Henry Ramsey hanging on the wall in one of the museums there.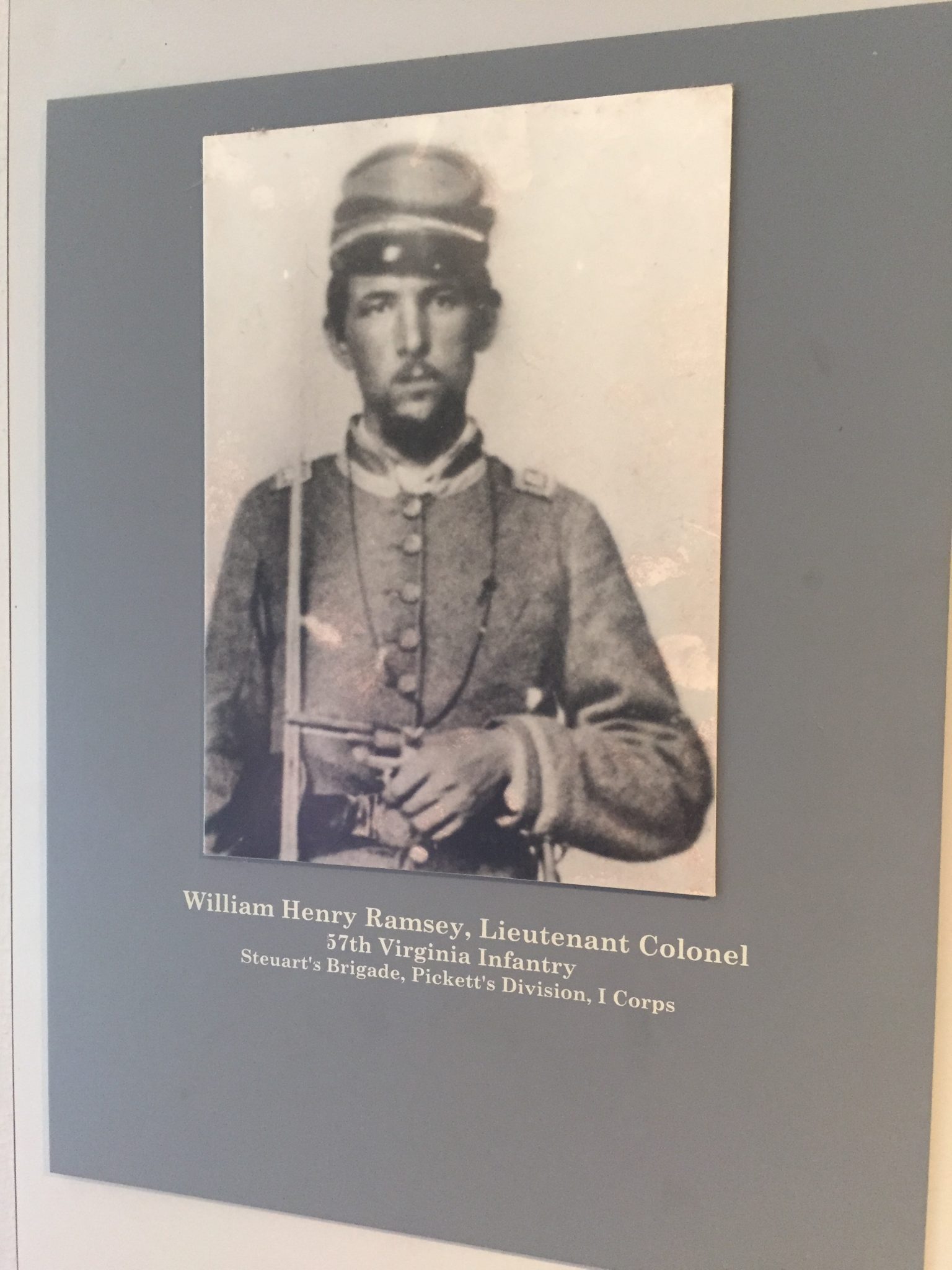 I immediately recognized him after admiring the print of his painting for many years in John and Suzanne's home.
I so much enjoyed sharing ideas for decorating with antique frames. Special thanks to Beth, Mama, and Suzanne for allowing me to share their homes.
If you are hopping in order, next on the tour is Ann from Dabbling and Decorating. Ann lives in my second favorite state, Vermont, and I love how she decorates her home with antiques and vintage. She also has a Maine home that she inherited from her parents that you don't want to miss.
More Ideas for Decorating with Frames
Click on the links below to see the ideas that my friends are sharing.