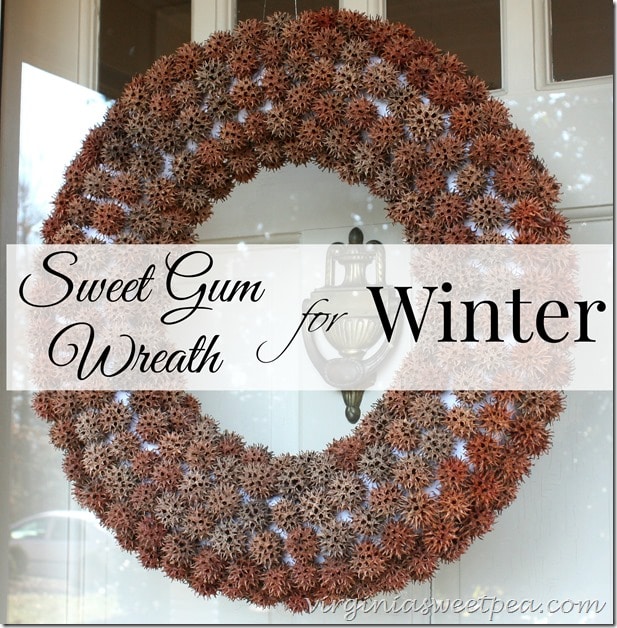 I am delighted to be a part of A Celebration of Winter blog tour hosted by Barb of The Everyday Home.  Today I'm sharing a Sweet Gum Wreath for Winter that I made for our front door.
Making a wreath from the seed pods of a sweet gum tree is a project that I've intended to do for years.  These trees are fairly common in my area and it was easy to pick up the seed pods that I needed during a few walks with my dog Sherman.  Note the color variation in the pods according to their age.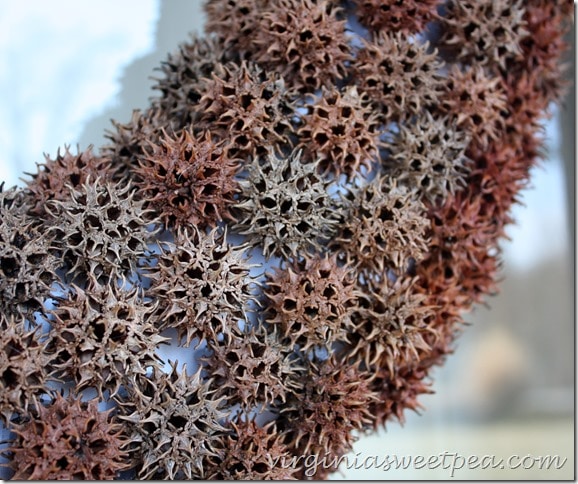 I originally intended to hang my Sweet Gum Wreath over my mantel but instead decided to hang it on my front door.  The Wood Slice Wreath that I shared with you earlier this month moved from the front door to over the mantel.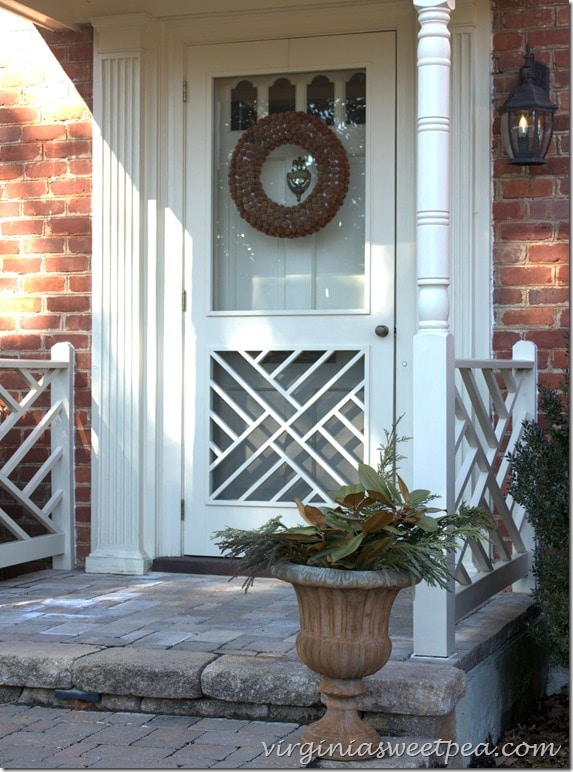 I also had plans to glitter this wreath with silver but when I finished gluing the sweet gum balls in place, I liked the natural look so much that I left it as is.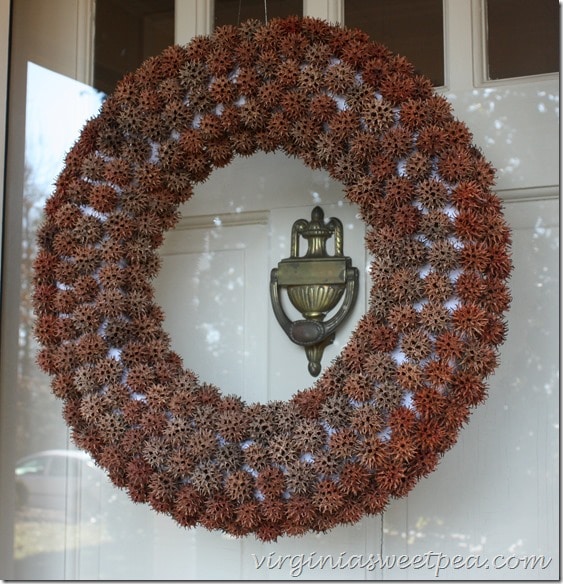 This wreath was easy to make.  If you'd like to make your own, you'll need:
18" Straw Wreath Form
Fabric strips to cover the wreath form (I used left over curtain interlining)
Sweet Gum Balls
Glue Gun
Start by covering the straw wreath form with strips of curtain interlining.  Any fabric will work, but I liked the flannel like feel of this fabric and I had plenty of scrap pieces on-hand.  After I cut two inch strips of fabric, they were wrapped around the wreath and held in place with glue from a glue gun.
**I should have wrapped wire around the wreath to make a hanger either before covering it with fabric or after.   My original intention was to attach a hanger to the back with a floral pin but it wouldn't stay in because of the weight of the wreath.*
Glue the sweet gum balls in place starting on the inside of the wreath.  (It really doesn't matter where you start!)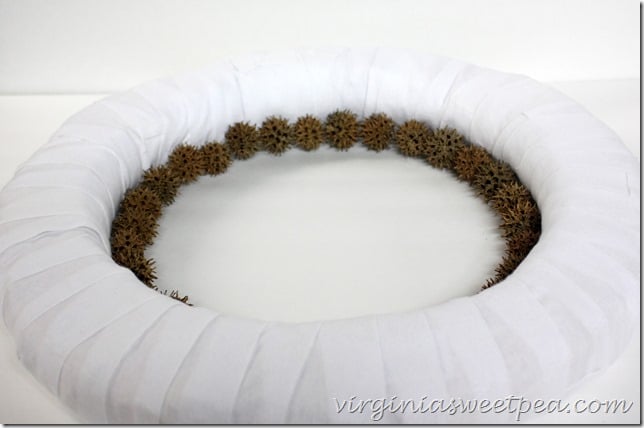 Continue gluing row by row until the wreath is covered.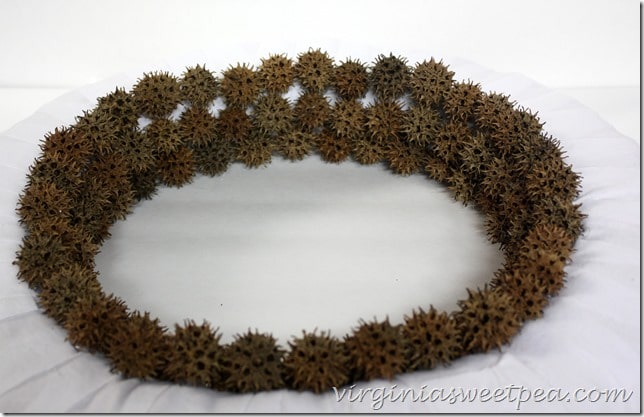 Are you wondering how many sweet gum balls it takes to make a wreath?  I didn't count the balls but I do know that I used six full dog poop bags from three separate dog walks.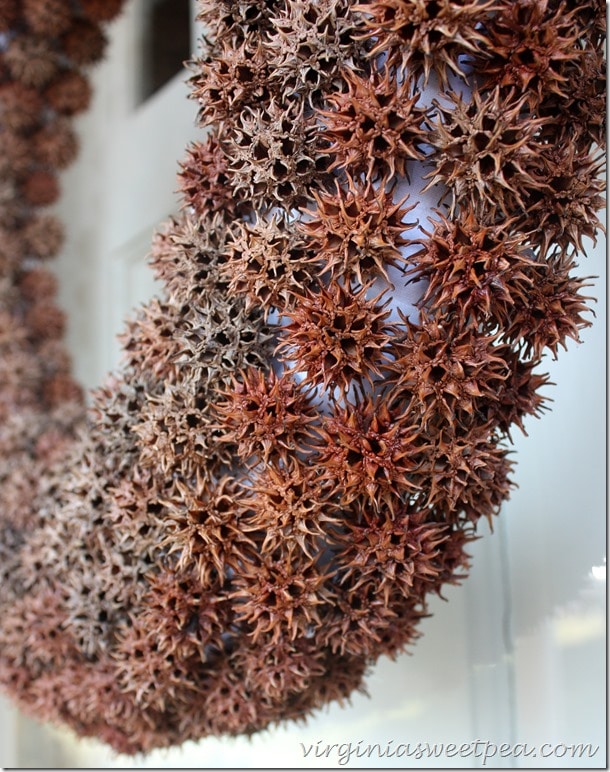 I'd love for you to pin my wreath for others to discover on Pinterest.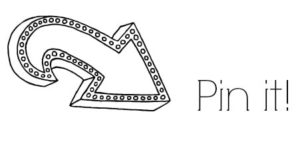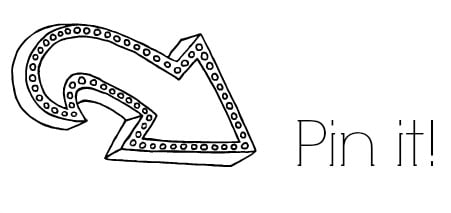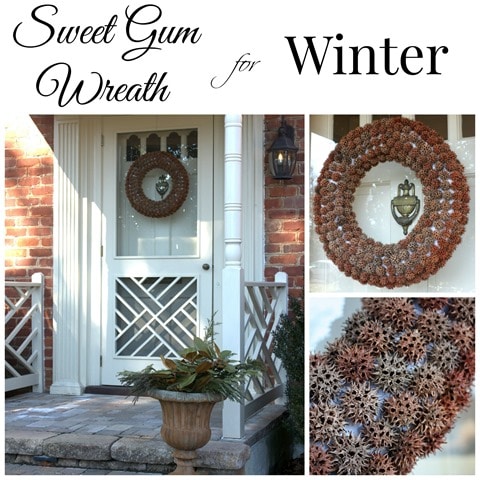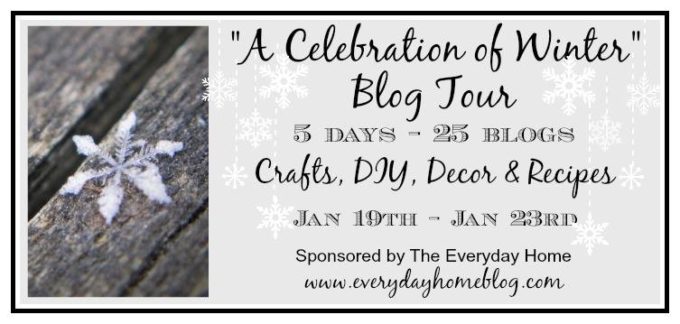 A Celebration of Winter is happening all week on some of my favorite blogs.  Be sure to scroll down to visit the other bloggers who are sharing projects today and those that shared earlier this week.  Come back tomorrow to visit Friday's projects.
Please click on the Thumbnails below to see all the
projects being shared on:
*{Please note, daily links will not show until 6am EST}
Monday, Jan 19th Celebration of Winter Participants
Tuesday, Jan 20th Celebration of Winter Participants
Wednesday, Jan 21st Celebration of Winter Participants
Thursday, Jan 22nd Celebration of Winter Participants

Friday, Jan 23rd Celebration of Winter Participants


Sharing With: Serenity Now, Savvy Southern Style