Sweet Gum Wreath for Winter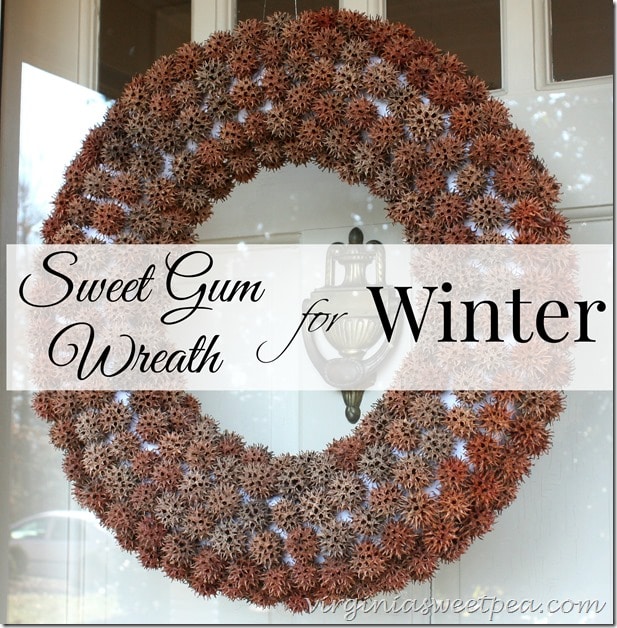 Making a wreath from the seed pods of a Sweet Gum tree is a project that I've intended to do for years. These trees are fairly common in my area and it was easy to pick up the seed pods that I needed during a few walks with my dog Sherman. Note the color variation in the pods according to their age.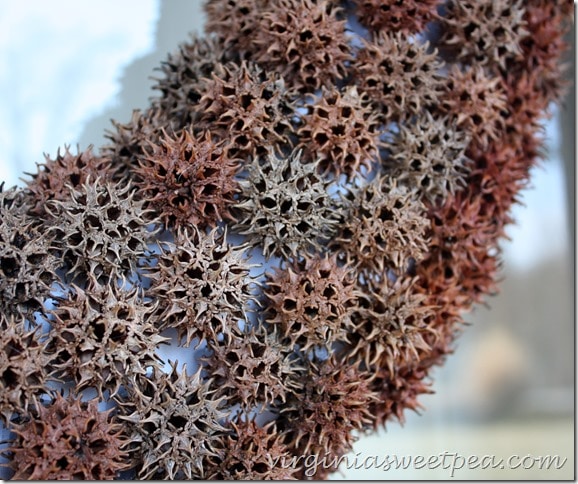 I originally intended to hang my Sweet Gum Wreath over my mantel but instead decided to hang it on my front door. The Wood Slice Wreath that I shared with you earlier this month moved from the front door to over the mantel.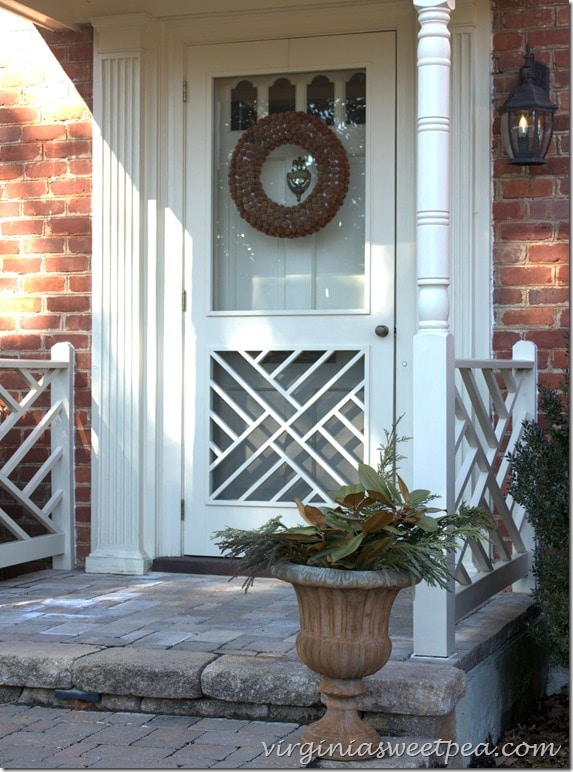 I love how this looks on our front door for winter. I always struggle with what to hang on the door once Christmas is over.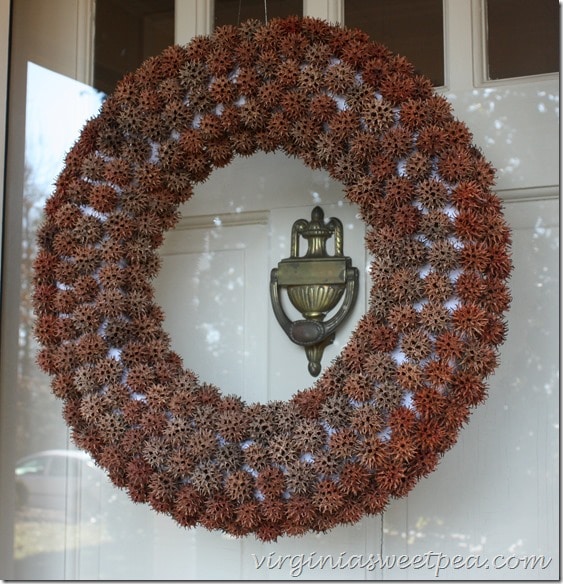 How to Make a Sweet Gum Wreath for Winter
This wreath was easy to make and can be used either as a wreath on a door or over a mantel or as a table centerpiece.
Supplies
This post contains affiliate links for your convenience. For full disclosure go here.
Fabric strips to cover the wreath form (I used leftover curtain interlining)
Sweet Gum Balls
Glue Gun
Wire to make a hanger
Steps to Make a Sweet Gum Wreath
Cover Wreath Form with Fabric
Start by covering the straw wreath form with strips of curtain interlining. Any fabric will work, but I liked the flannel like feel of this fabric and I had plenty of scrap pieces on-hand. After I cut two inch strips of fabric, they were wrapped around the wreath and held in place with glue from a glue gun.
I should have wrapped wire around the wreath to make a hanger either before covering it with fabric or after. My original intention was to attach a hanger to the back with a floral pin but it wouldn't stay in because of the weight of the wreath.
Glue Sweet Gum Balls to Wreath
Glue the sweet gum balls in place starting on the inside of the wreath. (It really doesn't matter where you start!)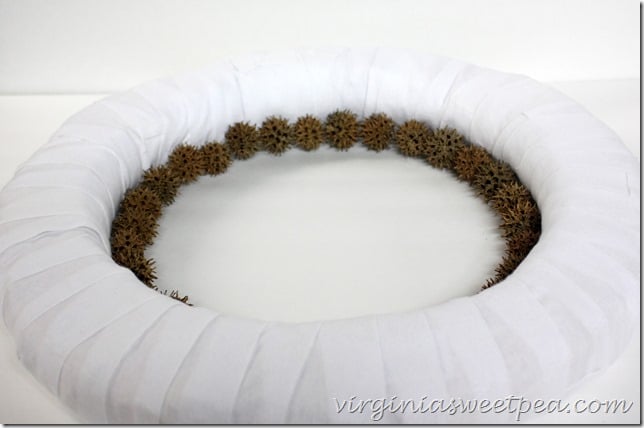 Continue gluing row by row until the wreath is covered.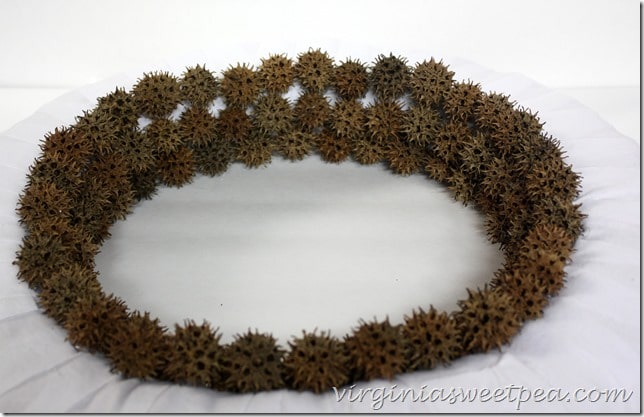 Are you wondering how many sweet gum balls it takes to make a wreath? I didn't count the balls but I do know that I used six full dog poop bags from three separate dog walks.
Hang and Enjoy!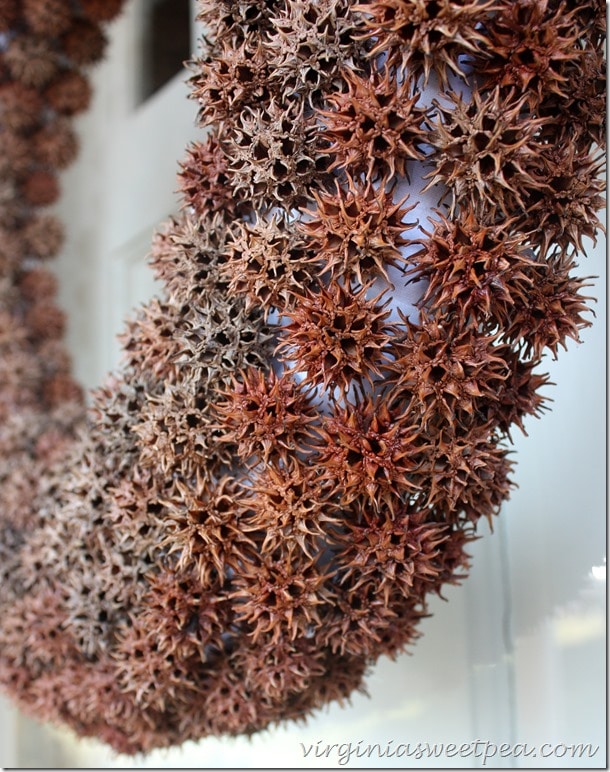 Other Options for this Wreath
I later sprayed this wreath with glitter spray paint to use as a table centerpiece. I added a glass hurricane open ended candle holder to the center of the wreath along with a red candle and magnolia leaves for Christmas decor in my dining room.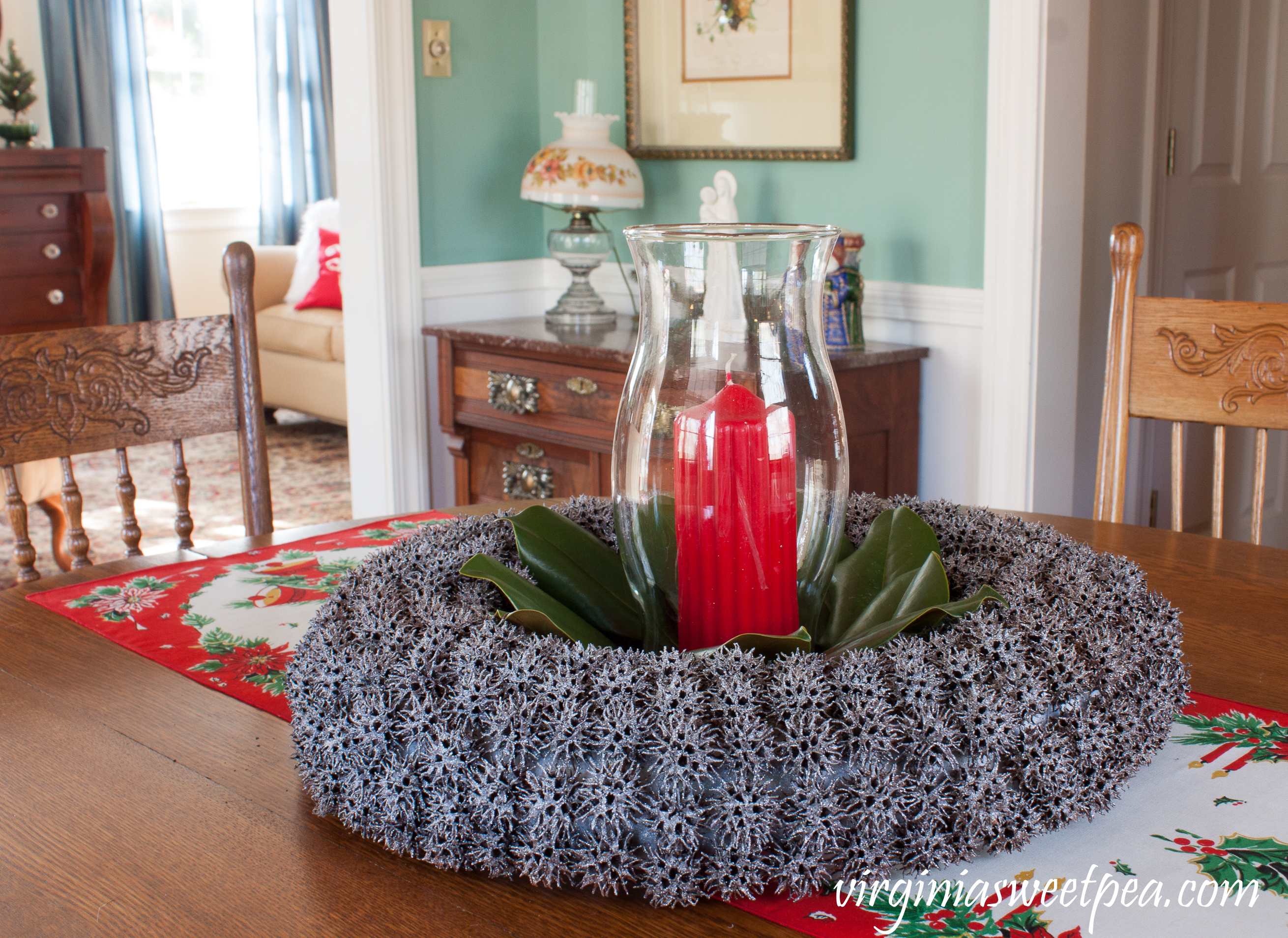 How to Make a Sweet Gum Wreath for Winter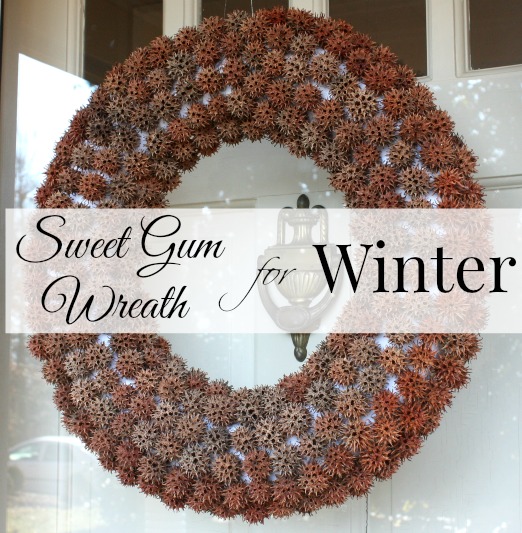 A Sweet Gum Wreath is perfect for winter decor. Use the pods from a sweet gum tree to make your own. Best of all, the pods can be found for free!
Materials
Fabric to Cover Wreath Form
Wire to Make a Hanger
Instructions
Cover the straw wreath form with 2" strips of fabric. Wrap the fabric around the wreath form gluing it into place with a glue gun as you wrap.
Add a hanger for the wreath with wire.
Glue seed pods to the fabric.
Hang and enjoy!