Vintage Fall Decor in the Living Room
Earlier this week I shared my Traditional Fall Mantel with Vintage Charm. Today I'm sharing more of the Vintage Fall Decor in our living room.
This room gets great morning light and it's the first room you see when you enter our home. It makes me happy to decorate it for each season and like always when I decorate, much of what I use is vintage.
When I decorate this room for each season, I start with the mantel and then I focus my attention on this chest of drawers that I inherited from my grandmother.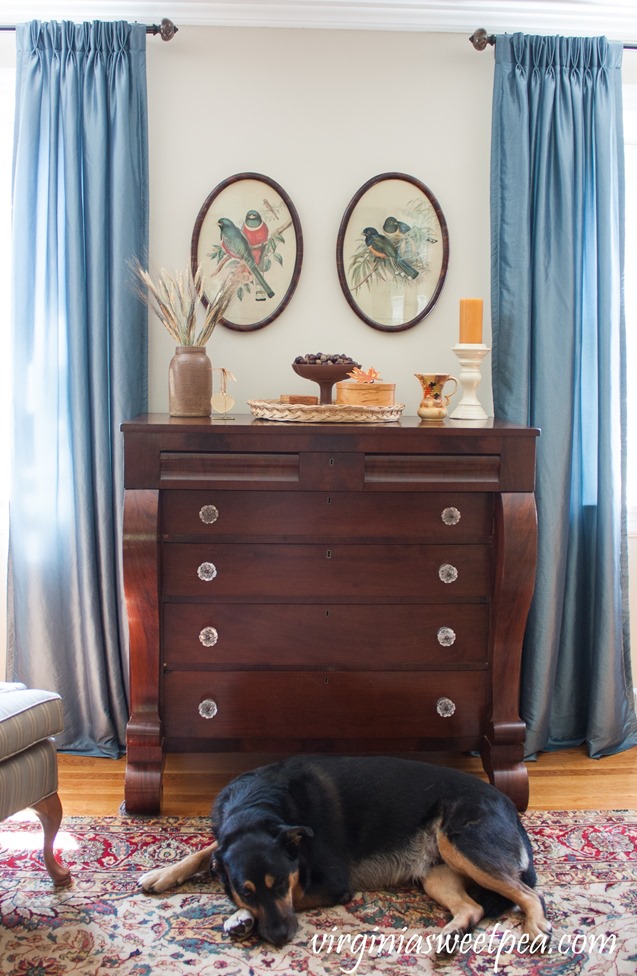 Sherman spends most of his time in this room and he often is found sleeping in front of this chest. If he's not in front of the chest, you'll find him on "his" sofa.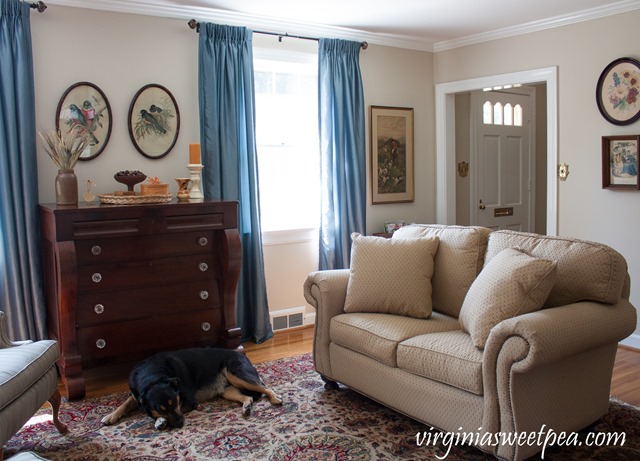 I decorated my mantel focusing on fall colors of gold, orange and brown, and I carried that color pallet over to the chest of drawers.
The crock was my grandmother's and I filled it with wheat stems from the craft store. The gold leaf beside the crock is an Aspen leaf that Mr. SP gave me for Christmas last year.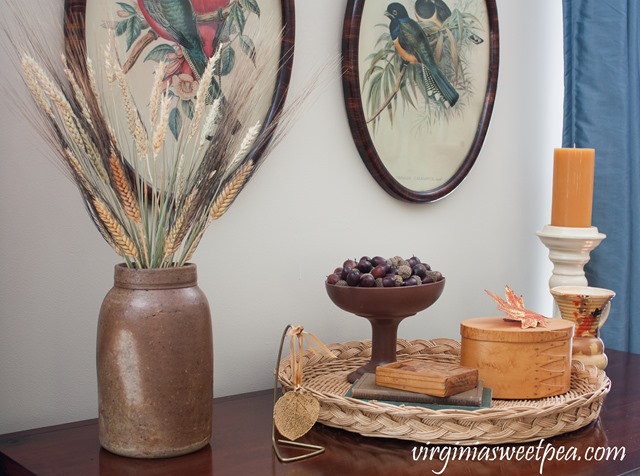 On the wicker tray is a brown Haeger planter filled with faux acorns, a handmade Maple box that Mr. SP gave me when we were first married, and vintage books topped with a vintage game. The green book, Foods and Cookery and The Care of the House, is from 1921. The brown book is a 1914 Selected Poems and Tales of Edgar Allan Poe that belonged to my grandfather. The block game is marked, "J. D. McNett, 112 Robertson Avenue, Charlottesville, VA.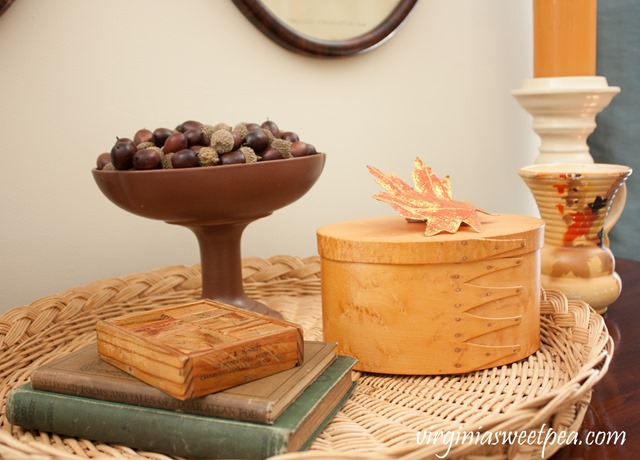 The maple box is topped with a preserved maple leaf brushed with gold. The vase beside it is marked, "Sophia – Made in England". It was my grandmother's and I wish I knew its story. The tall white holder was a gift from my dad to my mom many years ago.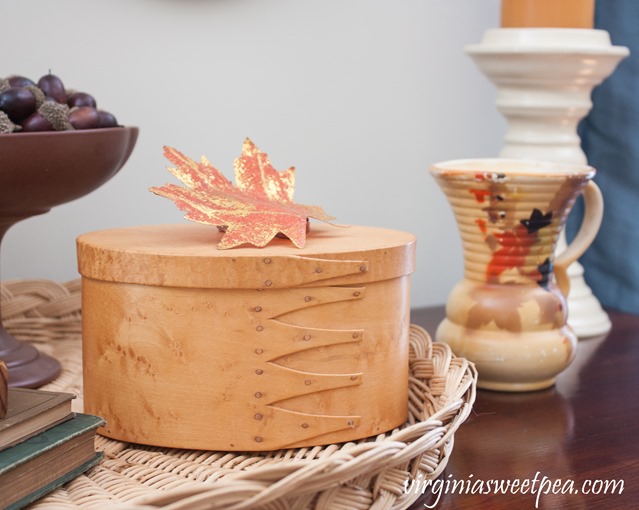 Another area that I enjoy decorating for each season is a table between two wing chairs in front of our mantel. This table belonged to a great-aunt of my former teaching assistant. I gave it a makeover and it's been in this spot ever since. I made the pillows a few years ago and the plaid blanket scarf is a recent purchase.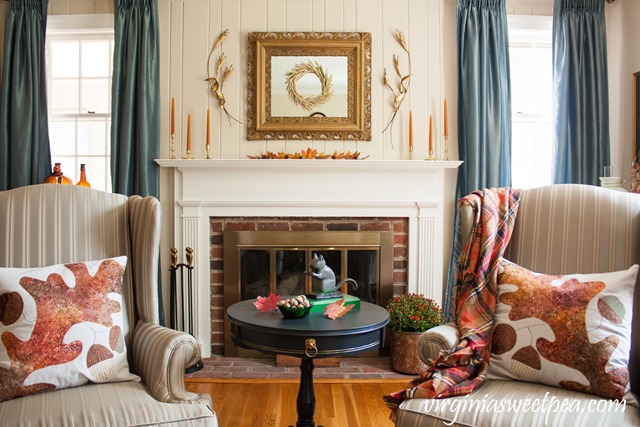 On the table is a squirrel nutcracker that someone in Vinton, VA gave my dad when he was a child. I filled a green bowl that belonged to my grandmother with acorns picked up on walks with Sherman so that Mr. Squirrel would have something to eat.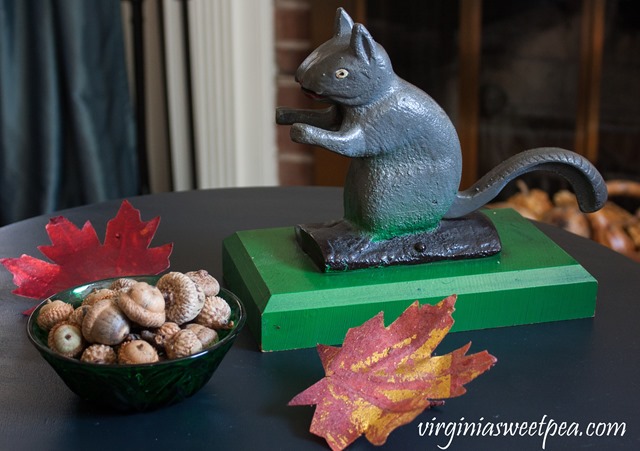 My grandmother put notes with many of her things so that we would know the story behind the item. Granny wove a basket over this bowl when she was a child attending Bible School. Isn't it sweet that she kept the bowl?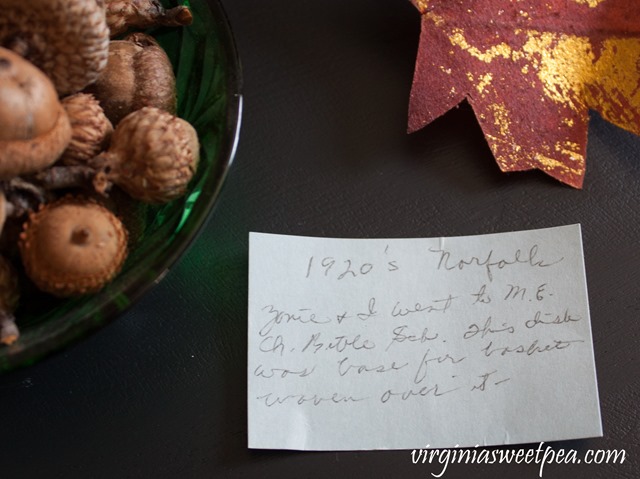 Another spot that gets seasonal decor is a marble topped table to the right of our fireplace. Both the table and the green vase filled with River Oats were my grandmother's. My mom gave me the lamp and we purchased the shade at a lamp shop located in the Dayton Farmer's Market.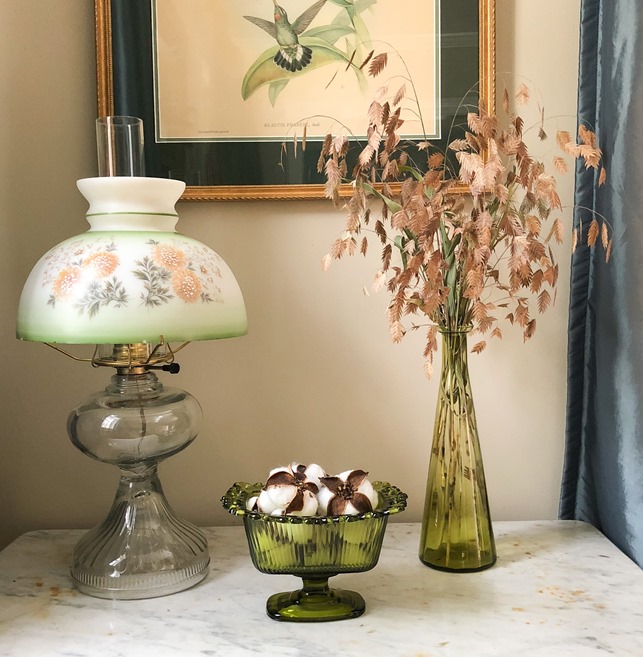 I bought this green compote years ago at a roadside sale. The cotton bolls are from Hobby Lobby.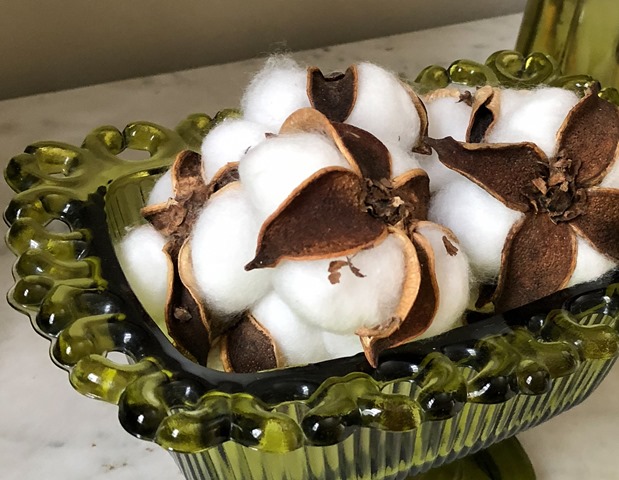 This side of the room is still waiting on fall decor. I plan to fill the large silver bowl on the old radio turned storage box with gourds as soon as they become available in my area. This bowl is from a local estate shop and is marked with OCC (Oakwood Country Club and was likely a trophy from a long ago golf tournament. The silver bowl to the left was my dad's and was given to him in 1941. The small silver bowl to the right was a recent Goodwill find and is engraved with "WCC, Runner Up, 1961". WCC is most likely Winton Country Club in Amherst County. The name Harding is written on a piece of tape on the underside of the bowl.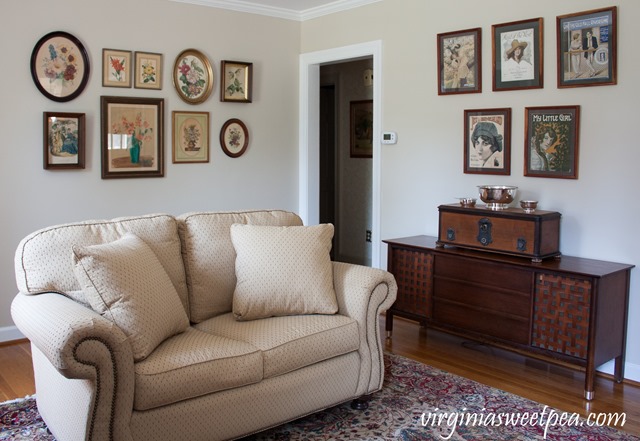 We are on pins and needles here in Virginia wondering what path Hurricane Florence is going to take. If you are in harm's way, please be safe!
I'll be back Friday for "Best of the Weekend" and next week I'll share how I made the wheat wreath hanging on the mirror over our mantel.