Decorating with Vintage for Fall
Last week I finally finished decorating my home for fall. I'm a slow decorator and it takes me a long time to figure out exactly how I want an area to look and then to get it looking just right. It makes me very happy to have my home decorated for the season and I really enjoy the displays that I create. In today's post, Decorating with Vintage for Fall, I'm sharing the fall decor in my formal living room, dining room, and on my porch.
Decorating with Vintage for Fall
When it's time to decorate for a season, I start with the seasonal decor that I keep packed away in my basement. I spread it out on a table and then pick and choose what I want to use. I also shop the storage shelves in my basement for vintage items that could work in vignettes. I try to use what I have and not buy bunches of new things that I will have to store. I did purchase a few new to me things to use this year and I'll point them out as they appear in this post.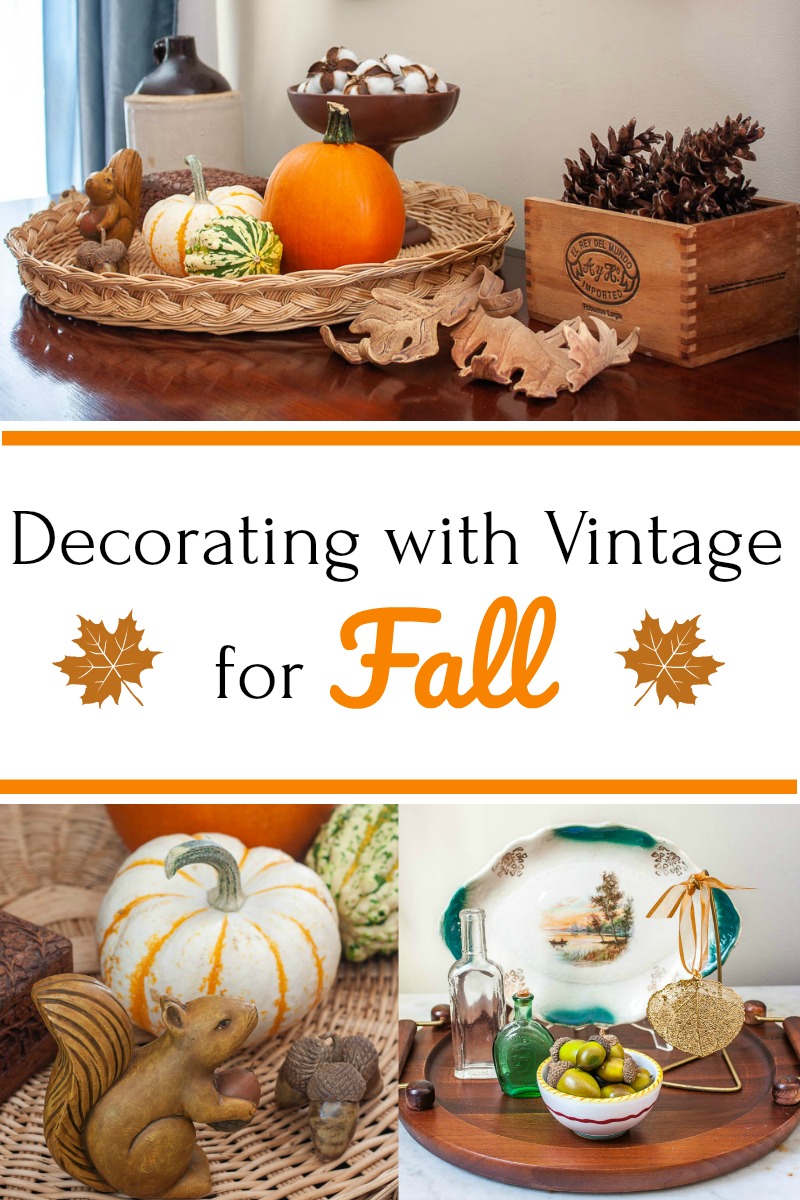 Fall Decor in the Formal Living Room
My formal living room is my favorite room to decorate because it is located at the front of our home and it gets great light. This room is one that I'm in and out of multiple times a day and I like for it to look pretty, especially when I decorate it for a particular season.
Fall Mantel
A few weeks ago I shared my fall mantel as part of a week long blog tour hosted by my friend and fellow vintage lover, Angie of Postcards from the Ridge. You can see more of my mantel here and if you are a lover of vintage, be sure to visit Postcards from the Ridge.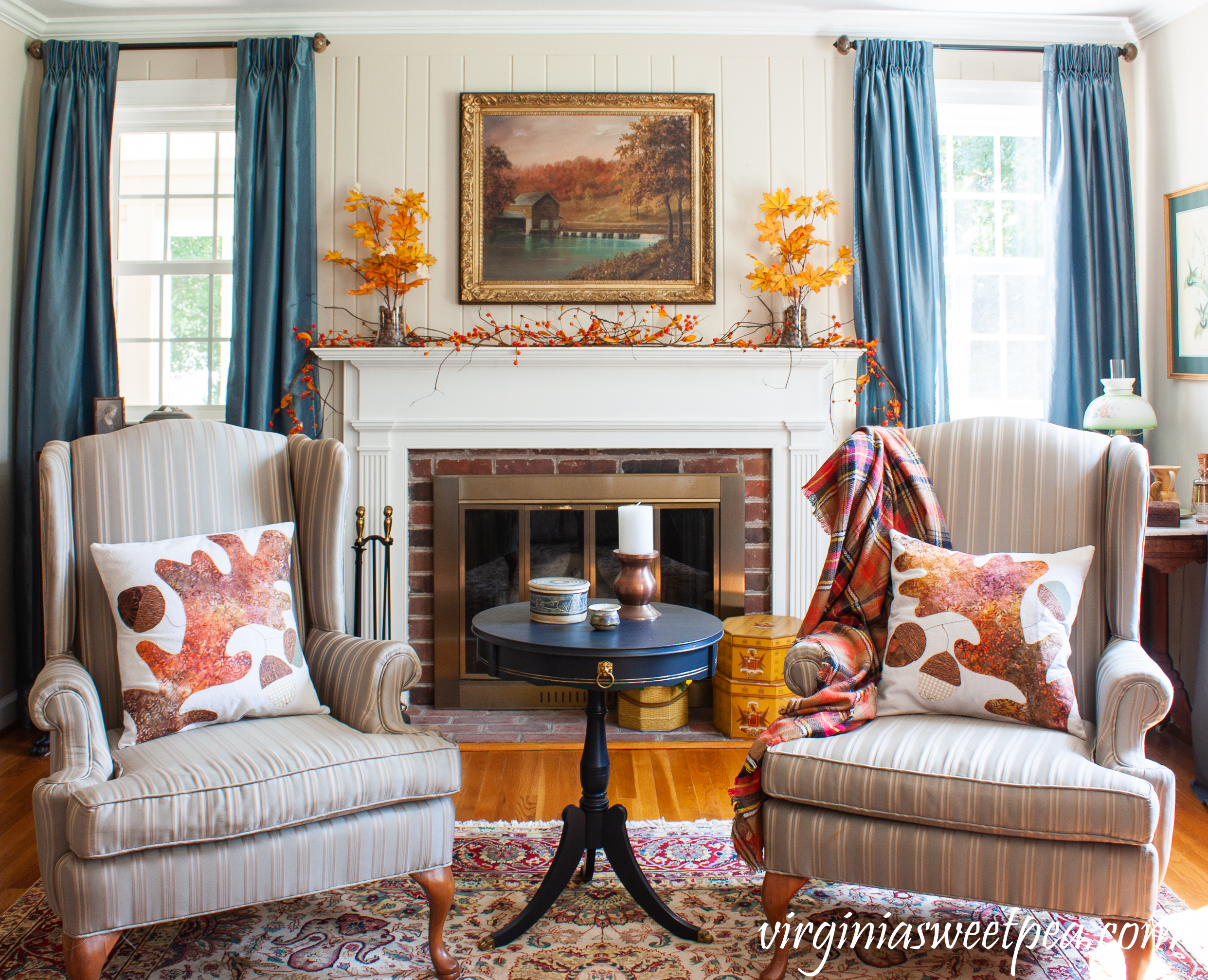 My mantel is a spot where I used a few new items. The painting was a lucky find in an antique shop in Concord, NC. When cleaning the painting, I discovered some writing on the back of it that lead to learning a few things about it. I explained all of this in my fall mantel post.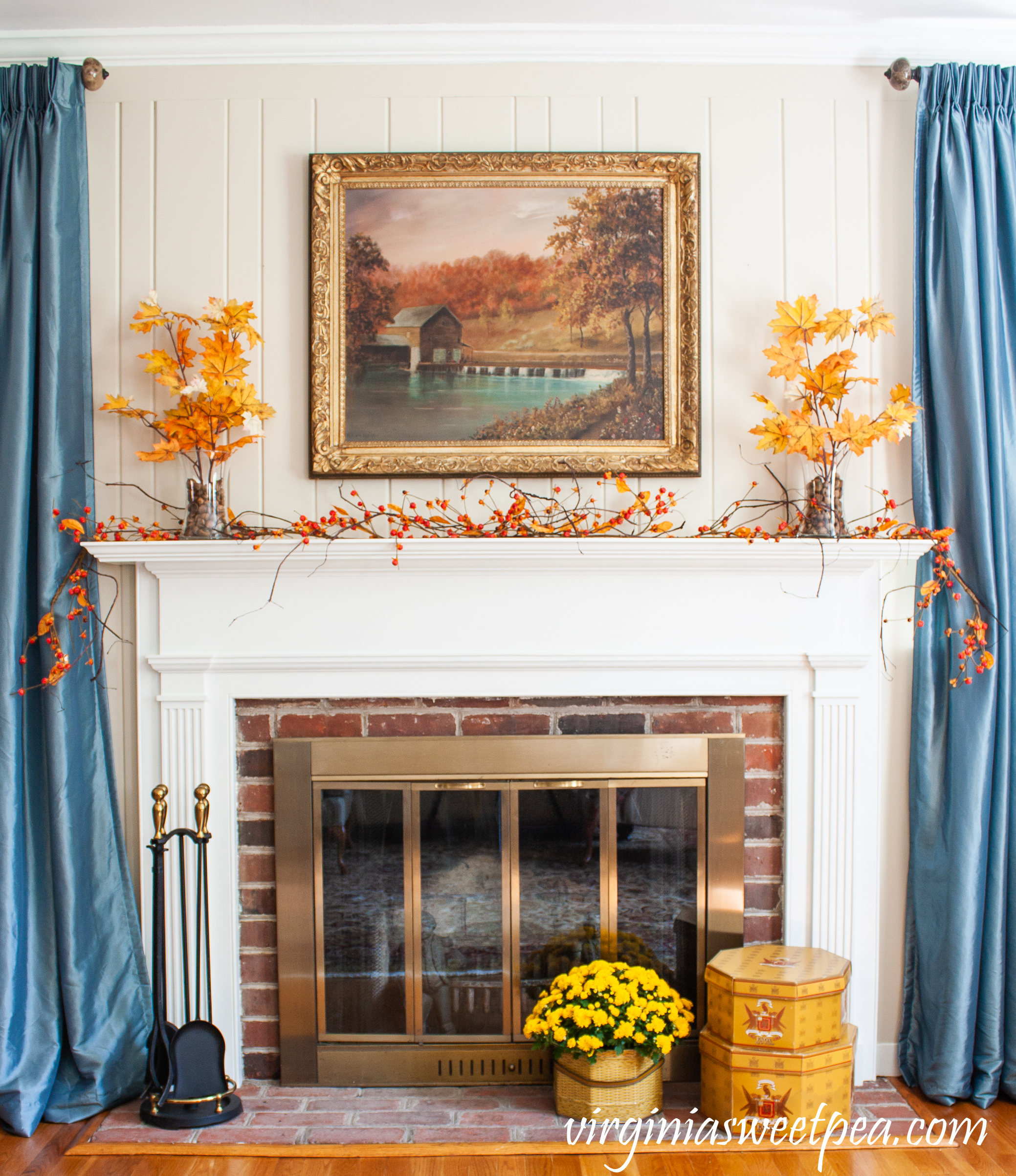 The bittersweet garland and faux fall foliage are also new items for this year's fall decor. These are things that I'll be able to enjoy for years to come.
Formal Living Room Fall Vignettes
Let's move on the the fall decor that I haven't yet shared with you this autumn. A favorite spot to decorate in our living room is the top of my grandmother's chest.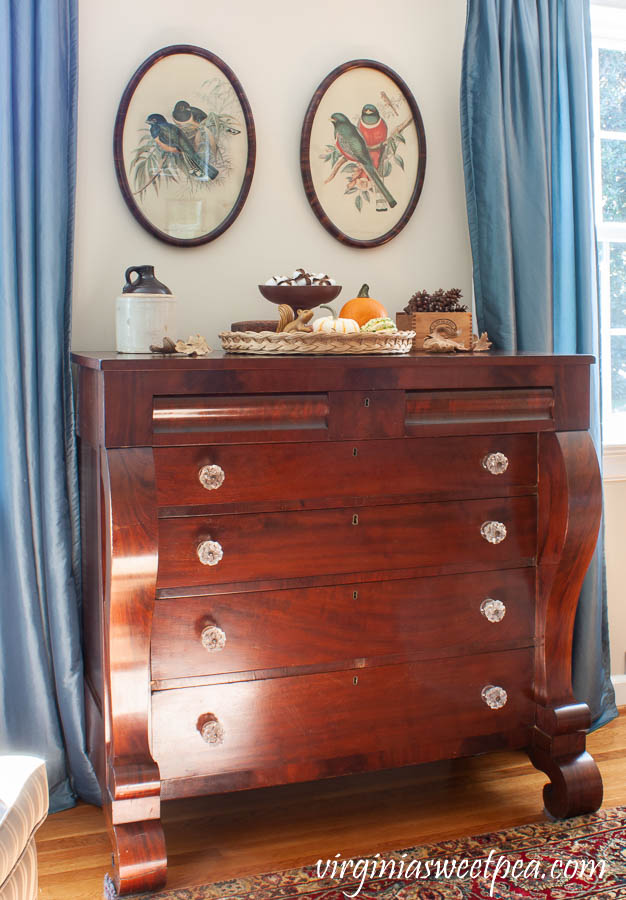 For this vignette I focused on shades of brown and added texture with the woven wicker tray and carved box. Pumpkins and a gourd add a pop of fall color to this scene.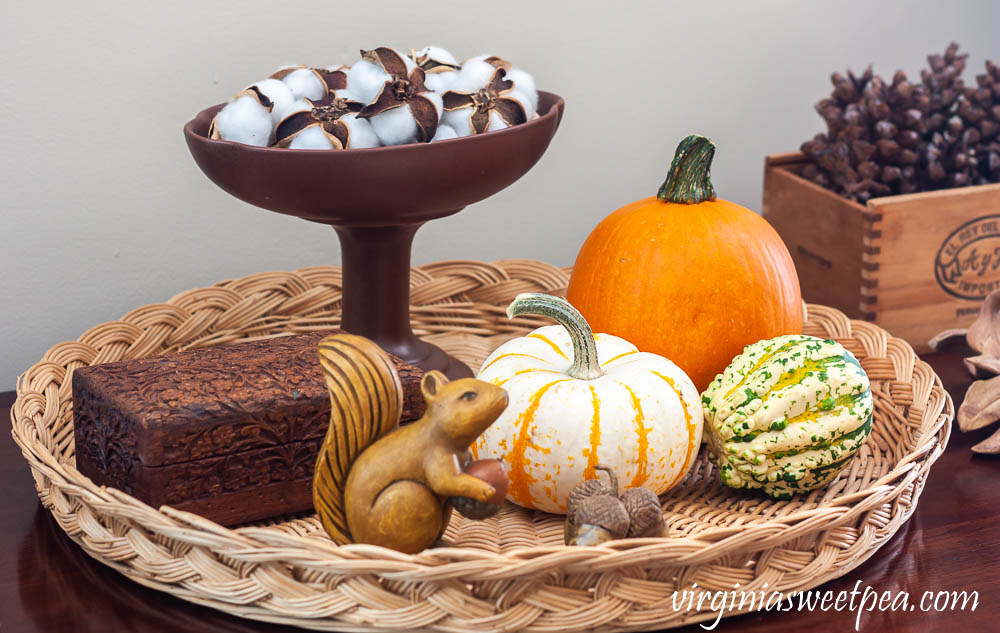 I love using pumpkins and gourds in the fall and when I see them for sale at a roadside stand or even at the grocery store, I have to stop myself from buying more and more. Learn how I dry and save my gourds to use from year to year here.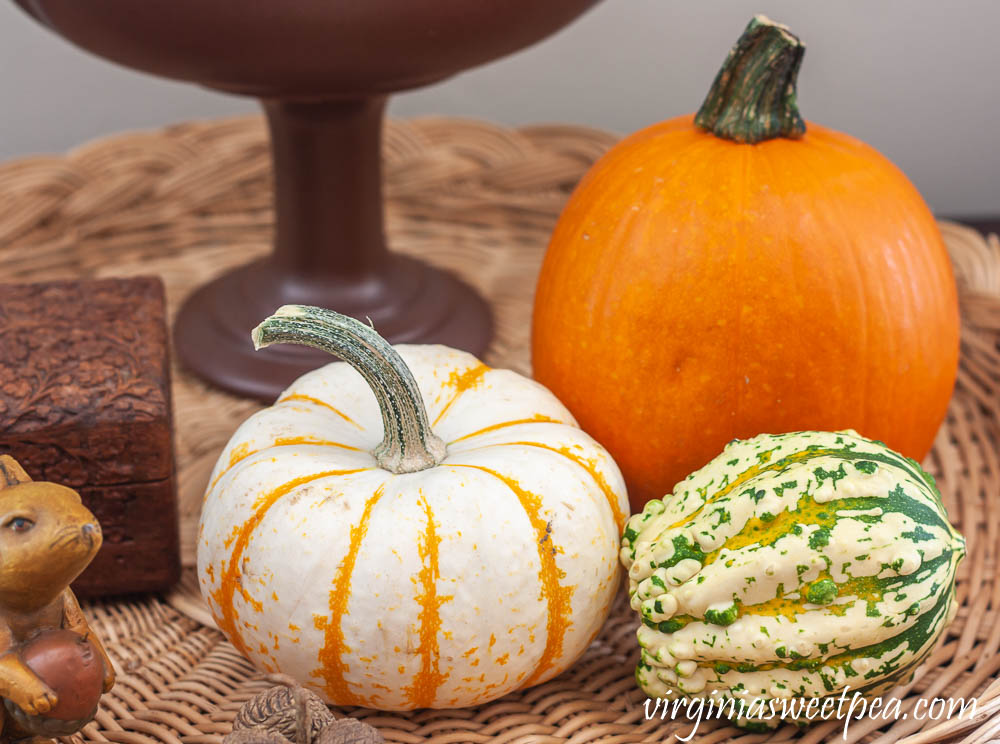 This squirrel is a fall item that I've had for many years. I typically don't use many tchotchkes in my decor but this sweet squirrel is an exception. He is used every fall in my home.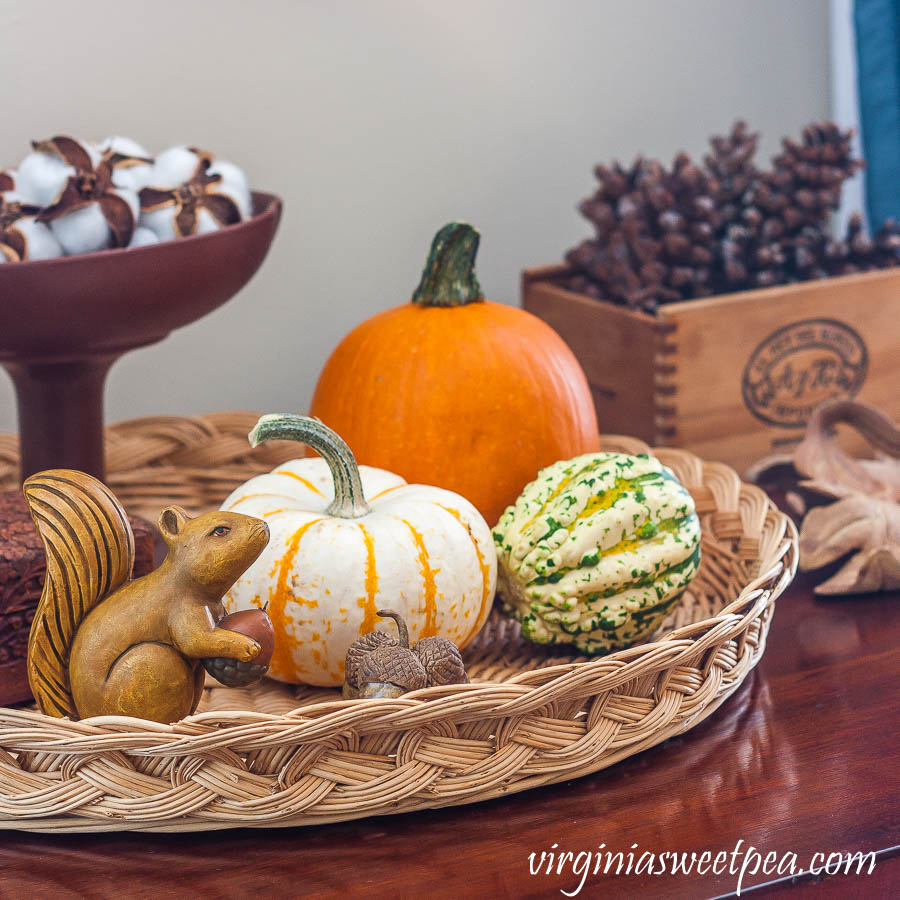 Near the squirrel is a clump of clay acorns handcrafted by a potter in Seagrove, NC. The acorns are new to me and I acquired them from a local gentleman who was selling them from his father's estate.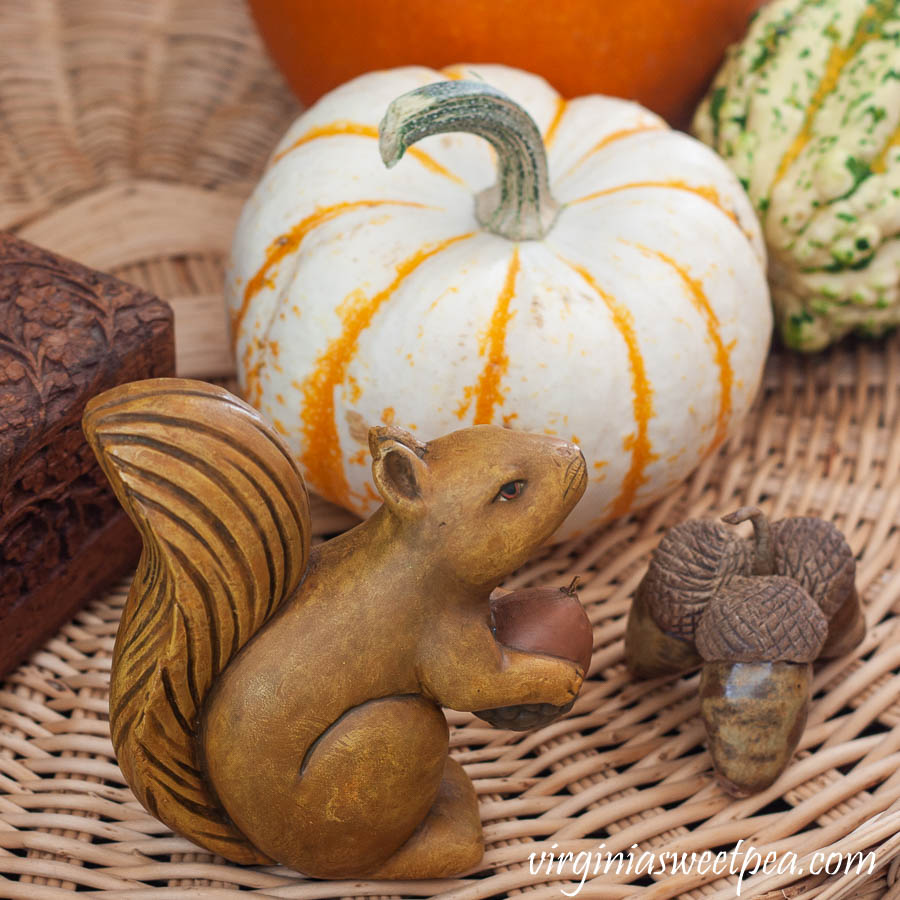 Here you can see a few more items that I purchased from the same gentleman, four clay leaves. All are marked, "Teresa", and one is marked "2007". I just so happened to spot these in a local FB group for sale shortly after they were posted. I hesitated for a few seconds and then decided that if I didn't mark sold on these quickly someone would beat me to them. I was correct as a few minutes after I typed "sold" someone else typed "next".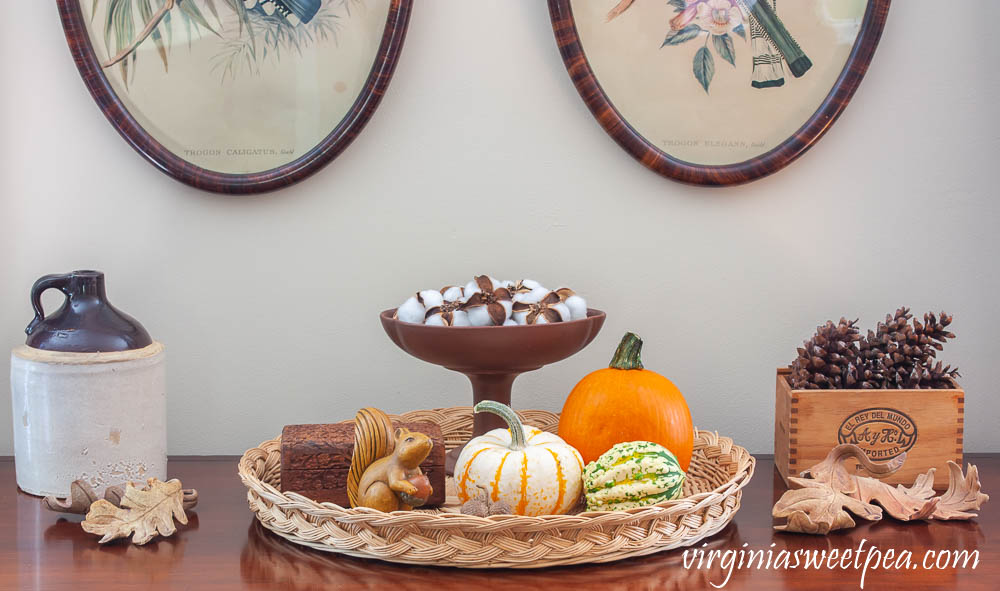 I like how these clay leaves look on either side of the basket.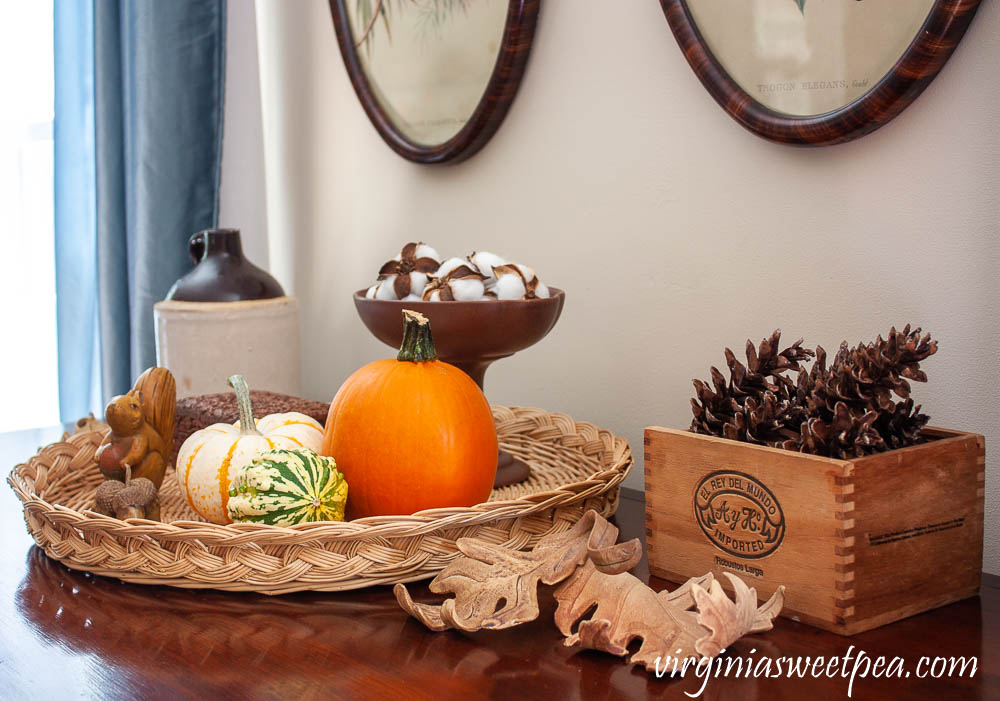 These clay leaves look very much like the real thing.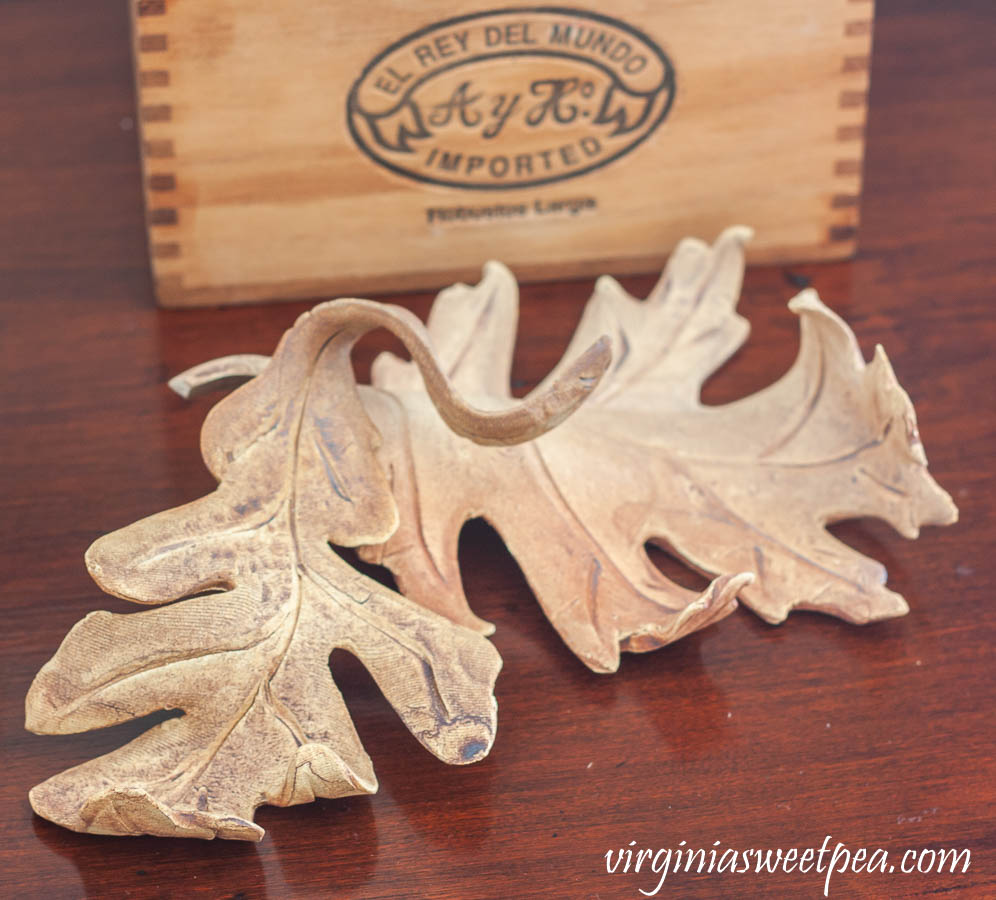 To balance out the display, I used an old jug that my mother gave me long ago along with two clay leaves.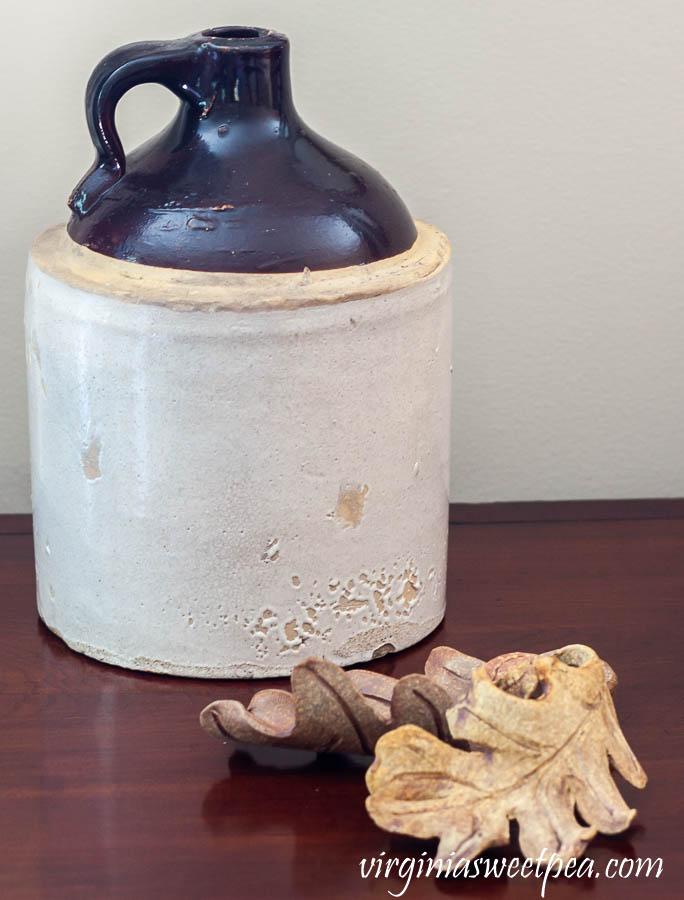 Another Living Room Fall Vignette
Another spot in my formal living room that I like to decorate is the table to the right of the fireplace. This table usually has a lamp on it but I borrowed it from this table to use in our family room with a fall lamp shade that I've had for years. I'll share our family room's fall decor next week.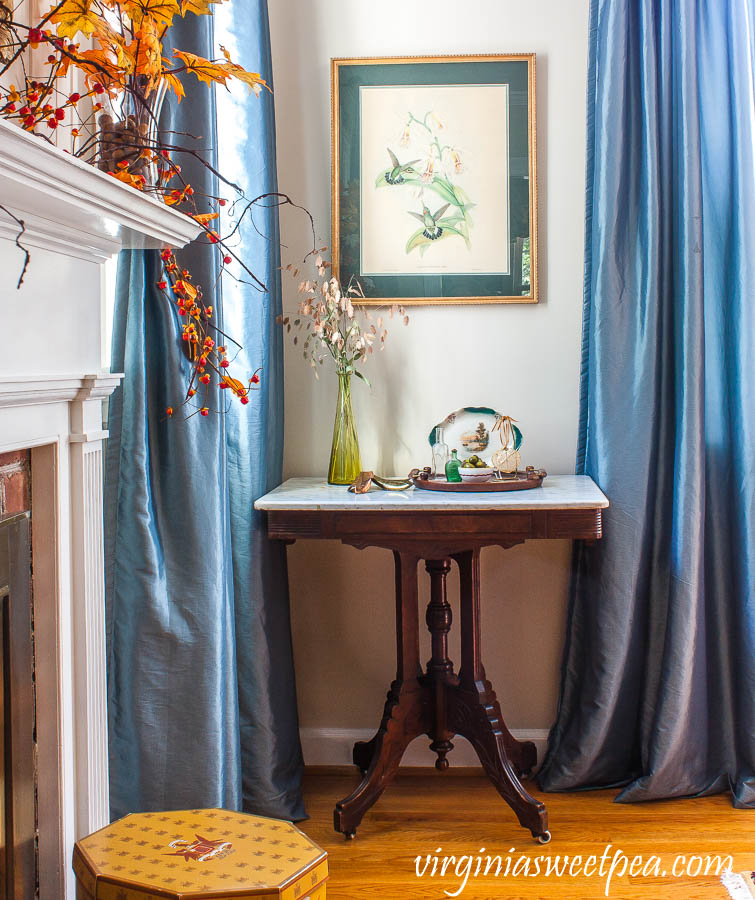 I focused on shades of green and brown for this vignette.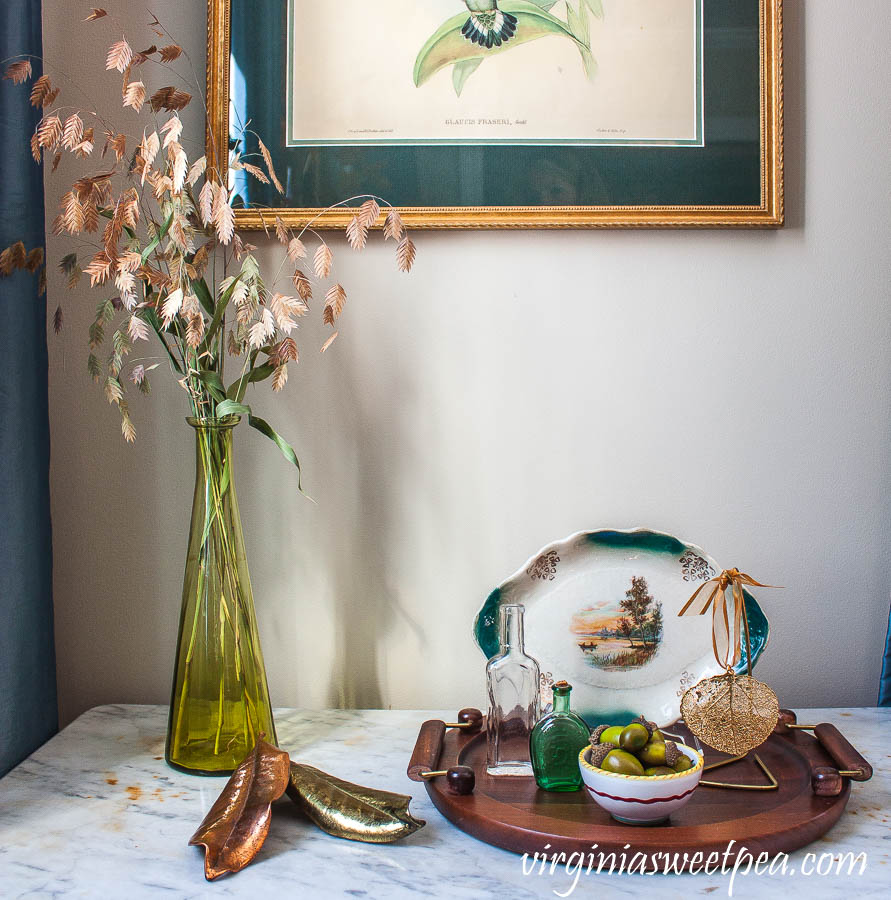 My grandmother's green vase is filled with dried River Oats. In front of it are two Magnolia leaves that my aunt gave me. They seem to be real Magnolia preserved in some way and then painted, one copper and one gold. If they aren't real, they are very authentic looking and feeling faux versions.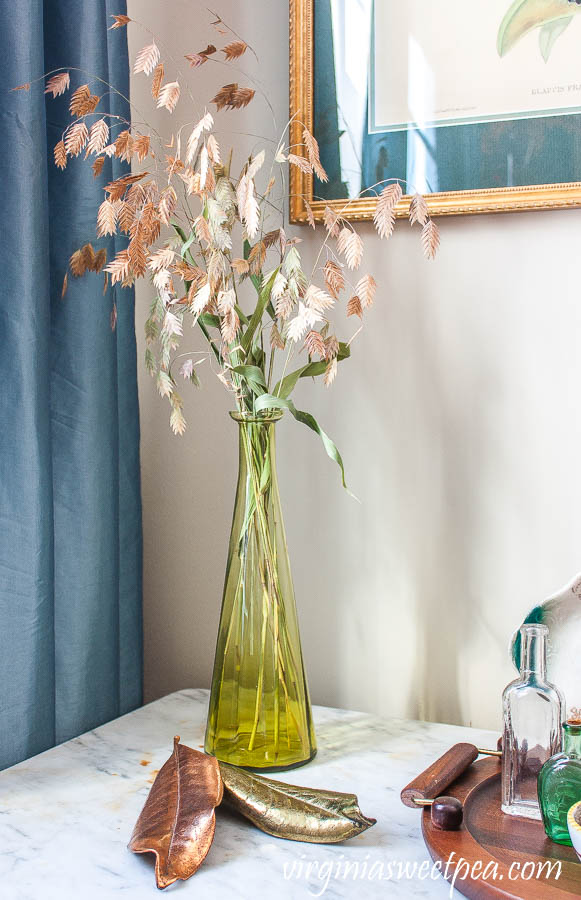 On a round cheese board that was also my grandmother's I created another fall vignette. A tiny platter with a fall scene on it was an Appomattox, VA antique shop find long ago. I only paid a few dollars for it and I've enjoyed using it every fall since I purchased it.
The leaf is a Vermont souvenir that my husband secretly purchased for me on one of our leaf peeping trips. I found the bottles in my basement and I'm not sure where they came from, perhaps one of my grandmother's homes or they could be bottles that we dug long ago.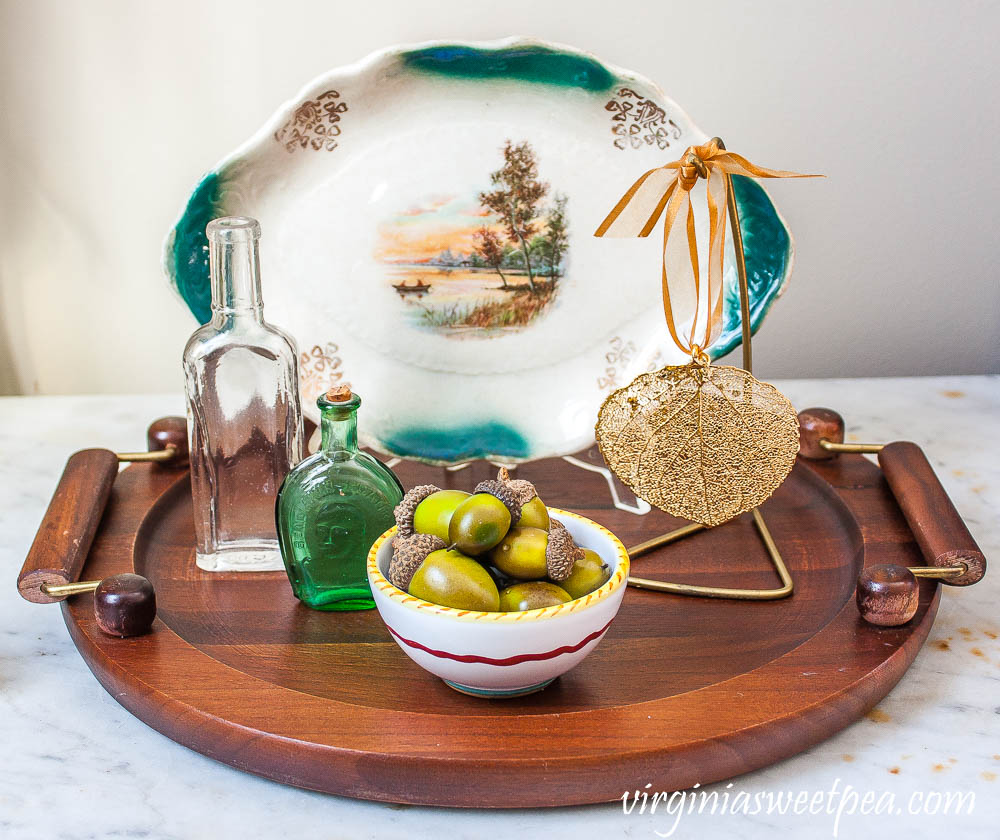 The faux acorns are a bonus from the gentleman who sold me the leaves. They are displayed in a bowl that my good friend bought for me in Italy when she visited there a few years ago.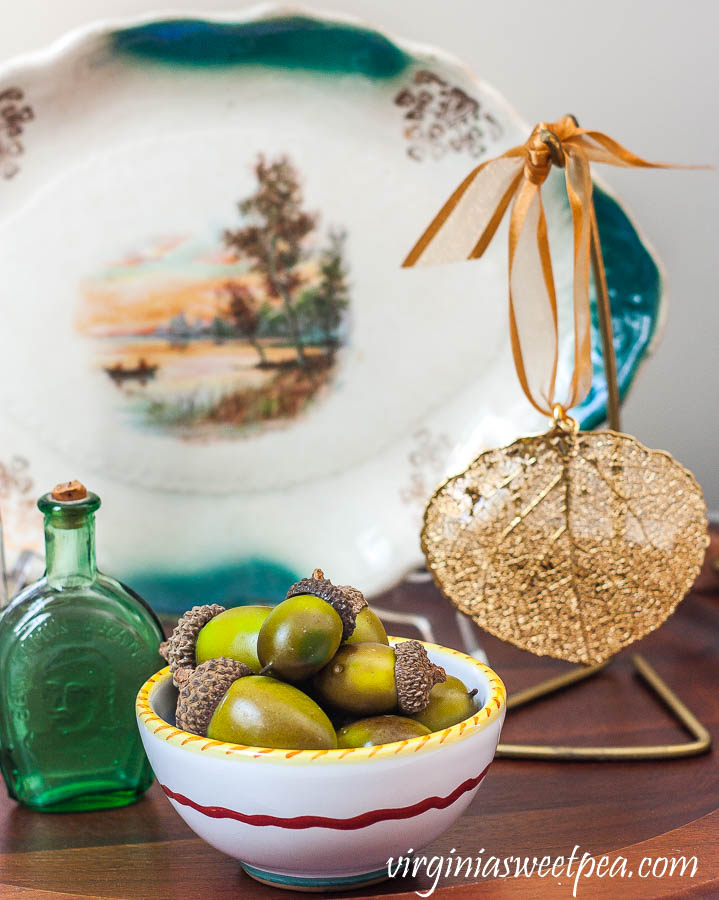 Fall in the Dining Room
We almost always enter our home via our porch which leads into our dining room. The dining room adjoins our living room and it's also a spot that I like to decorate seasonally since it's an area that I'm in multiple times a day.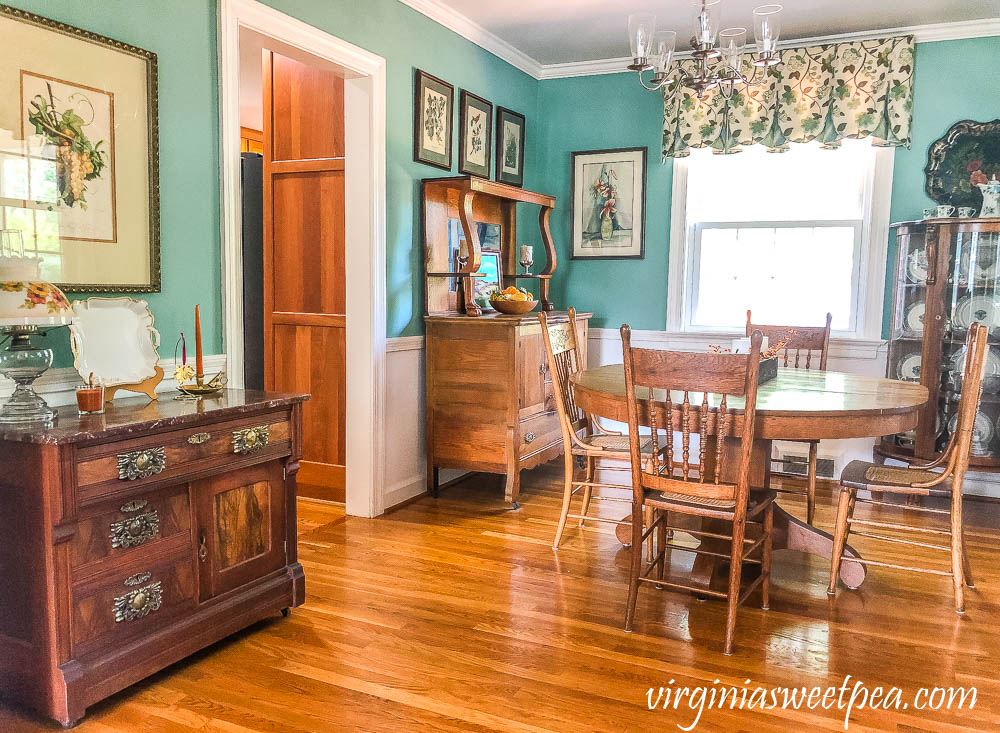 The dining room table centerpiece is a DIY Wood Box that I made a few years ago.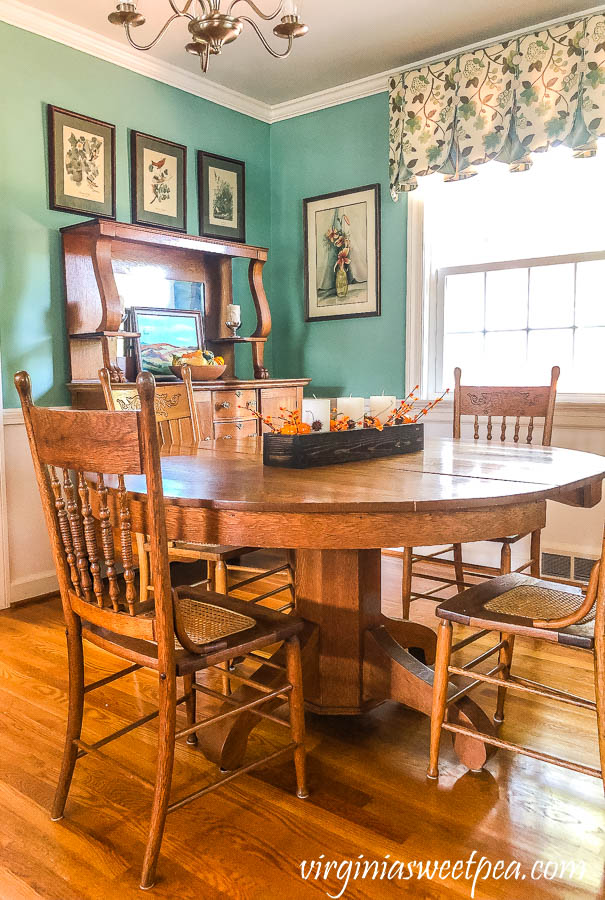 I filled the box with candles, pumpkins, sweet gum balls, and sprigs of faux bittersweet.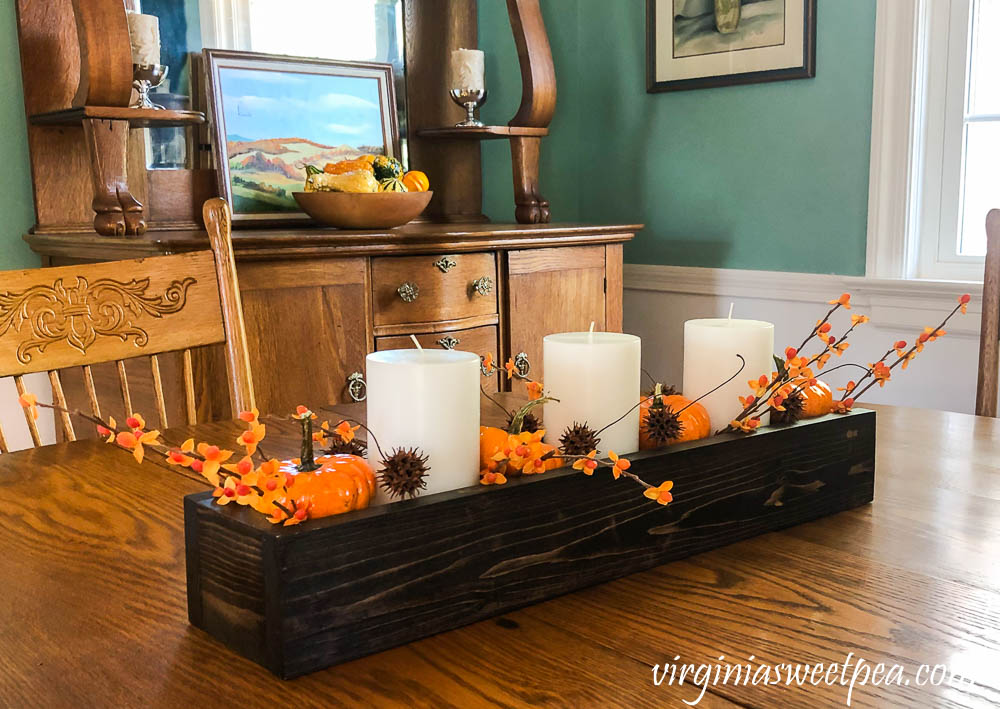 I wanted the pumpkins to have a bit of shine, so I used this technique that I've found that not only gives shine, it helps to preserve the pumpkin.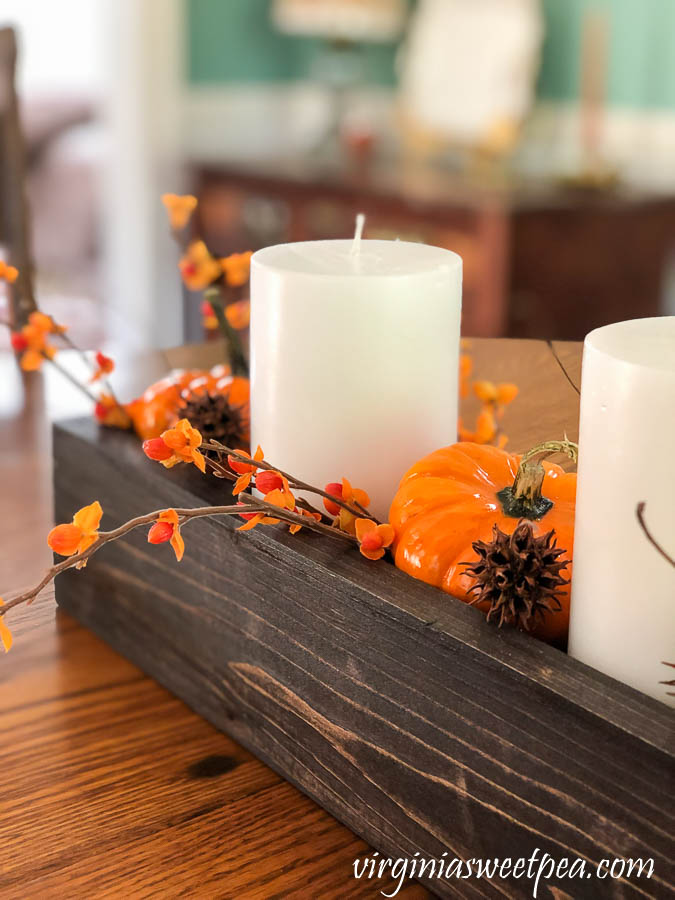 Every fall I spread my small pumpkins and gourds out on newspaper in my basement and dry them to use the next year. The pumpkins usually don't dry well but every once in a while one will, so I always try rather than pitching them in my compost pile.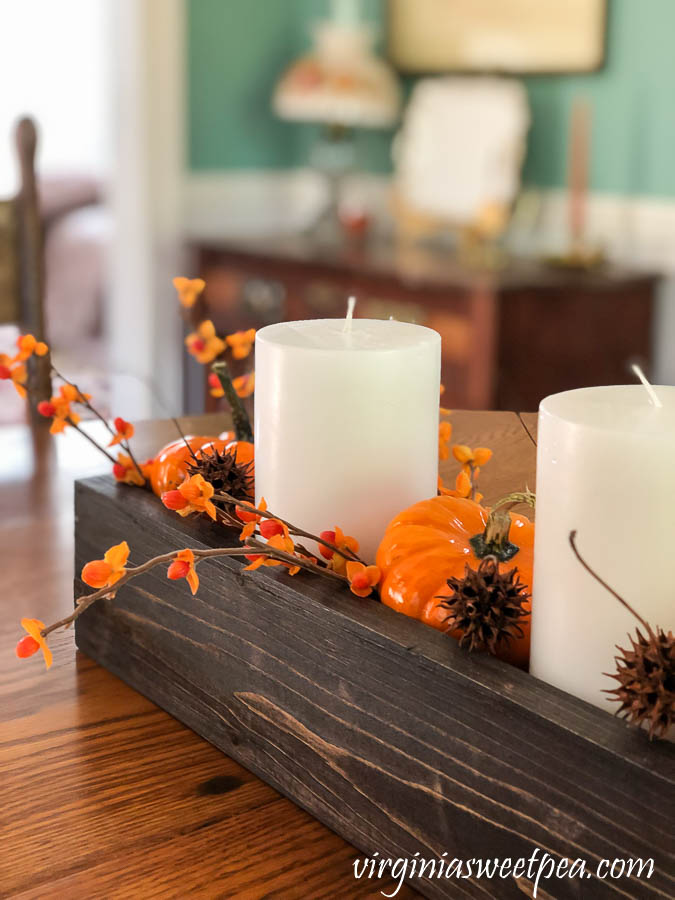 I decorated the oak buffet with gourds in a wood bowl, a fall painting, and fall candles in silver compote bowls.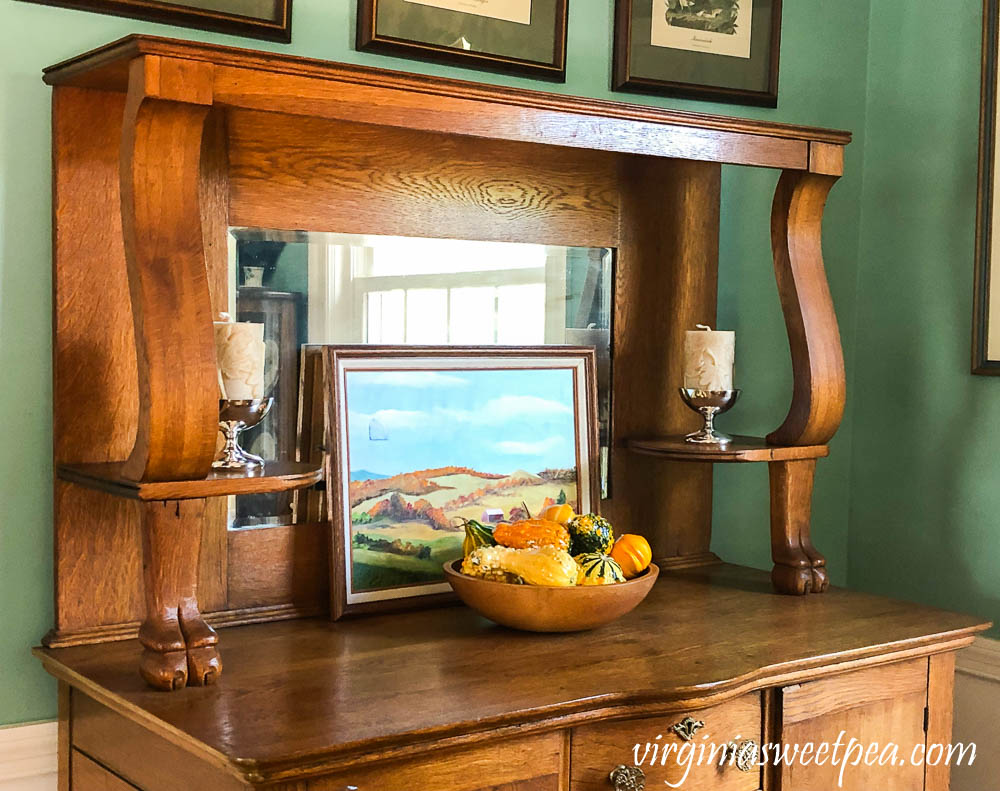 I bought this fall painting years ago in Vermont at a bargain price because it is ripped. A Christmas gift tag is taped to the back that says, "To: Bill and Audrey From: Debi".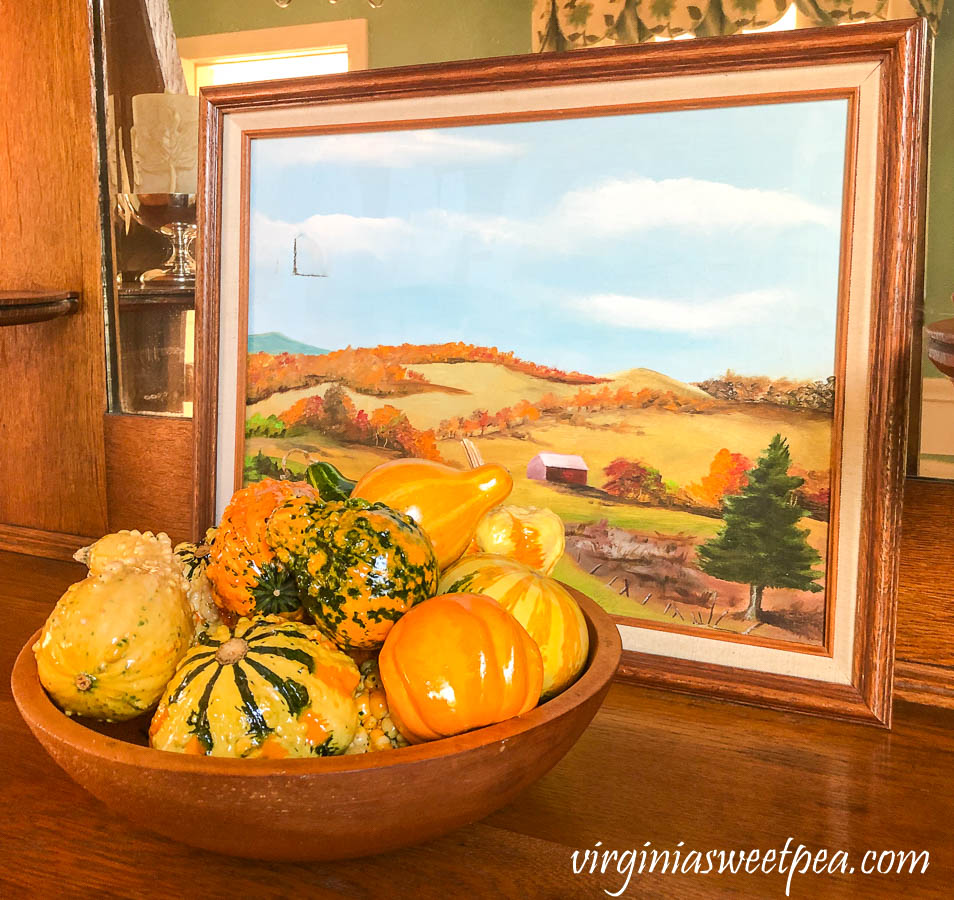 The candles are beeswax and were purchased at a local shop years ago. They used to smell really good but over the years have lost their scent.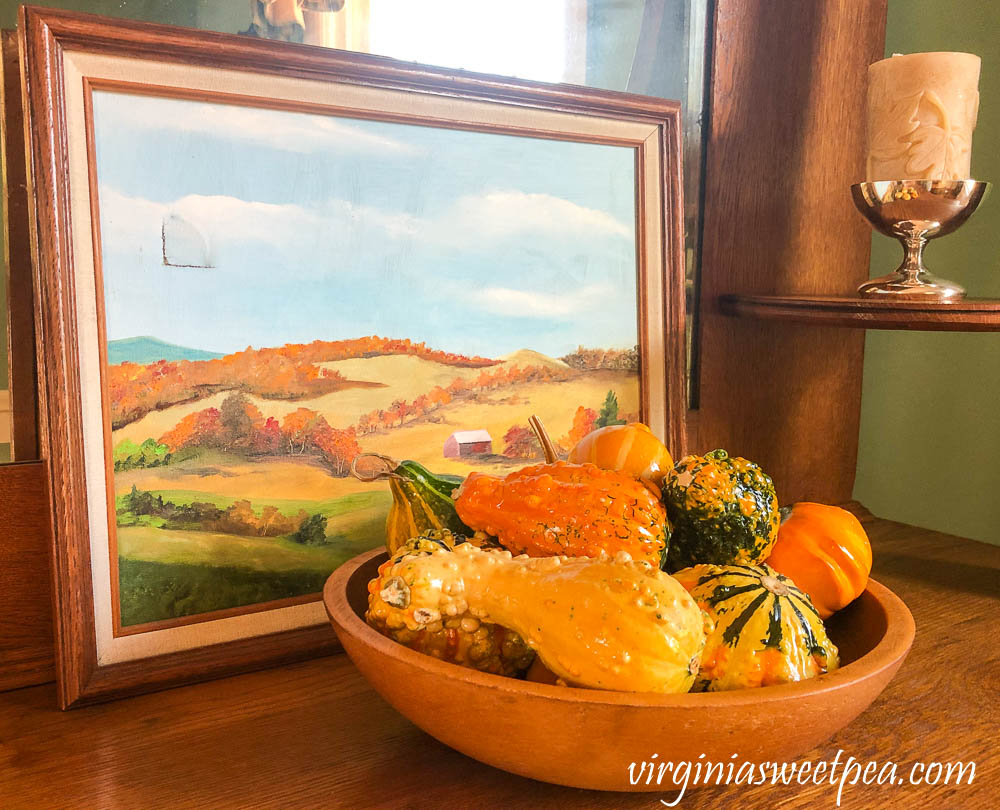 My grandmother's chest is the first thing that is seen as we enter our home from our porch.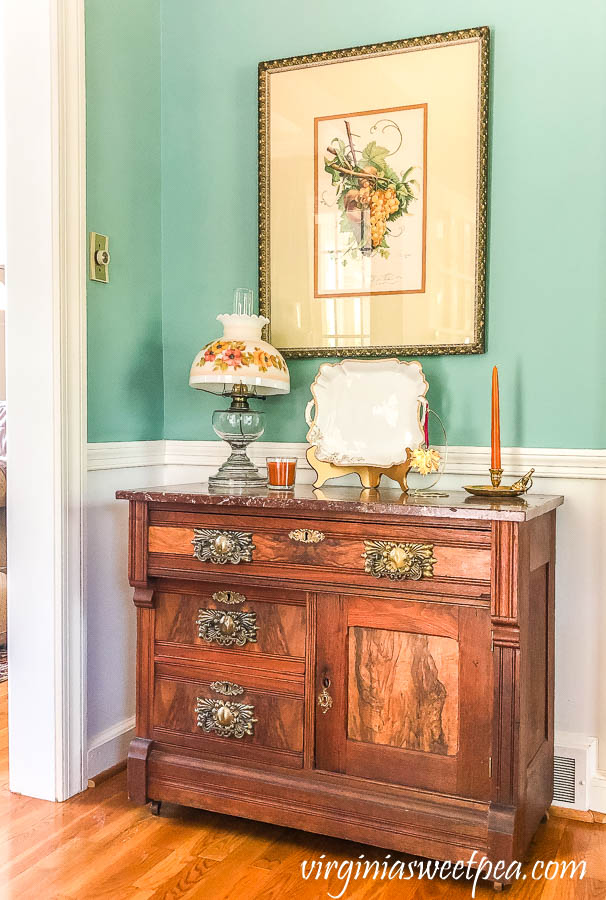 On the chest is a Haviland platter, a brass candle holder, another Vermont leaf, and an Ikea candle.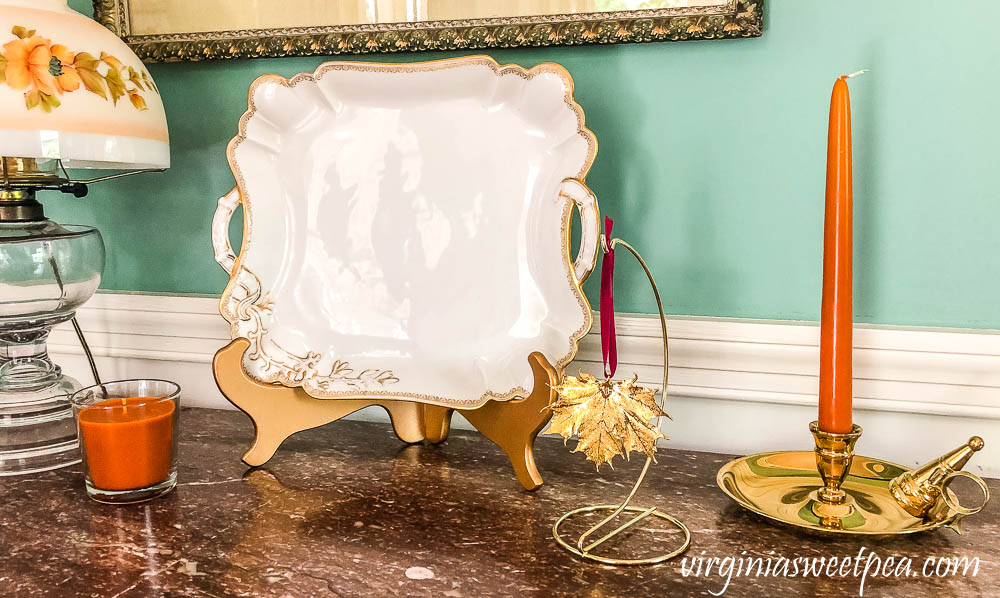 Fall Porch Decor
Our porch is a great spot to relax and it's another spot that I enjoy decorating for each season. The pillows are $5 outdoor pillows from Walmart. I love their fall colors and plaid pattern. They also get bonus points for being Virginia Tech Hokies colors.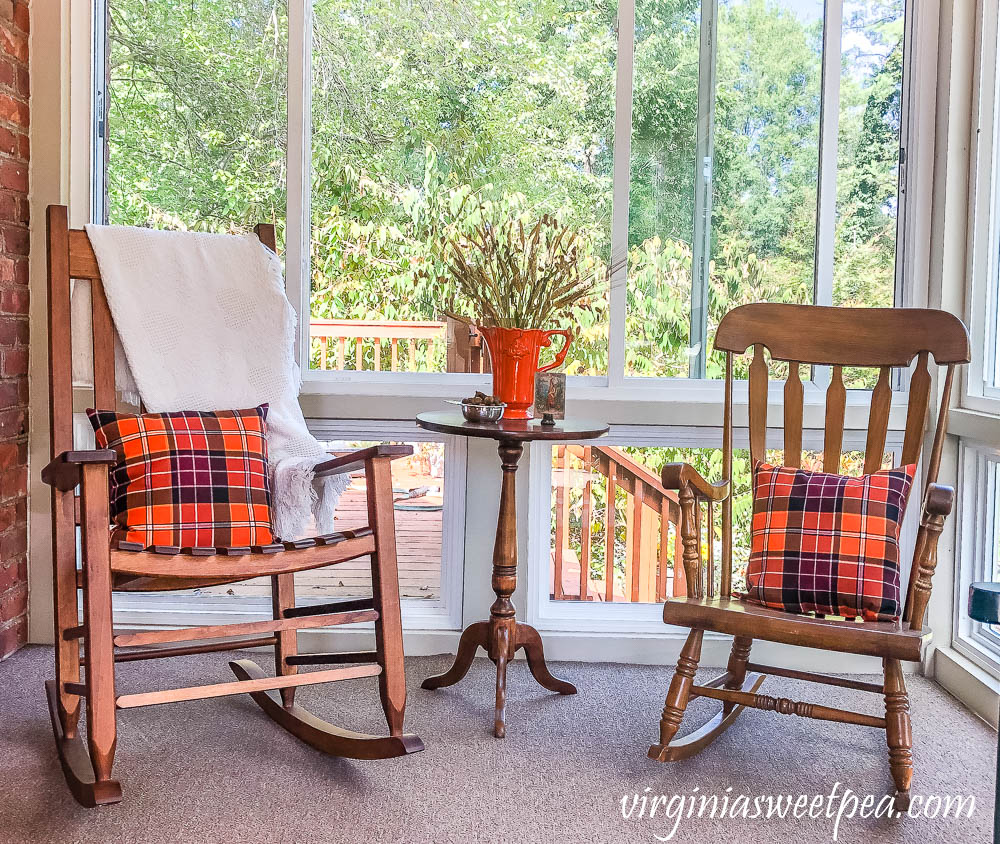 A fall wreath that I made a few years ago hangs on the wall. The table holds an old green bottle that my mom gave me, a green compote filled with acorns picked up on walks with Sherman, another Vermont leaf, and a piece of bark covered with Lichen. The plaid picnic tin was an estate sale find a few years ago.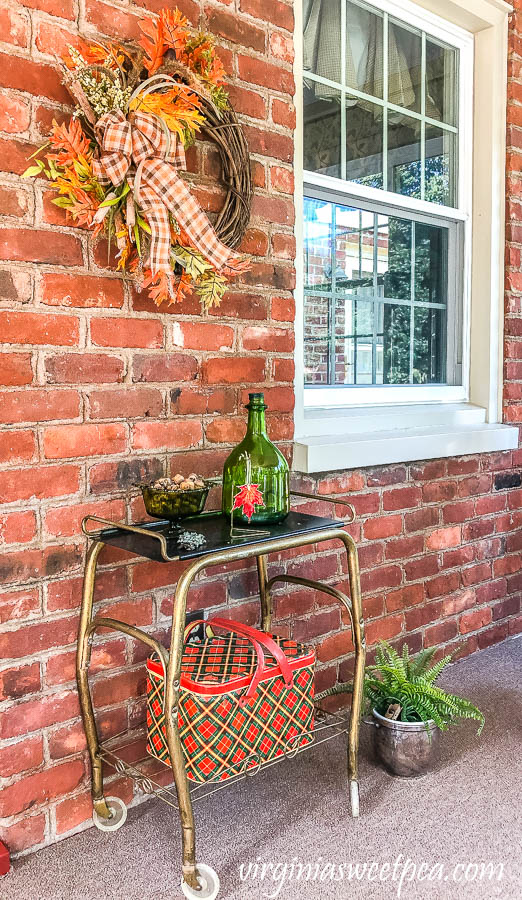 More acorns are displayed in my dad's silver porridge bowl.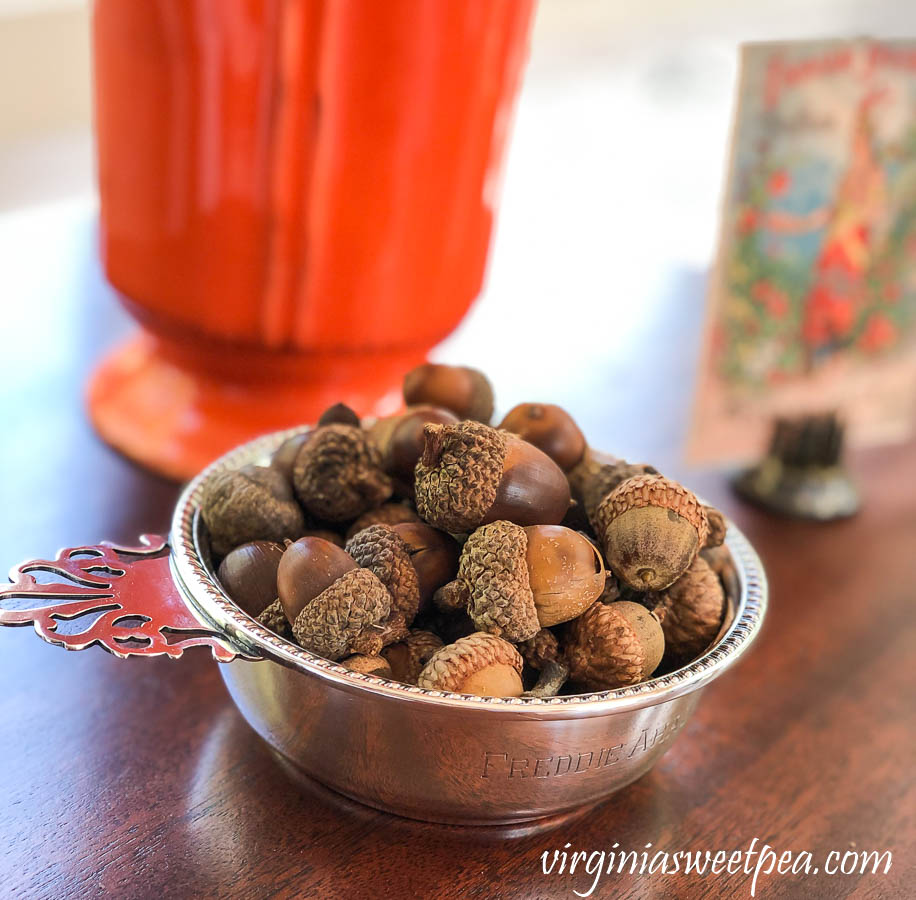 My aunt gave me this perfume ad that she bought at a flea market a few years ago. The colors in the card coordinate with the orange pitcher on the table.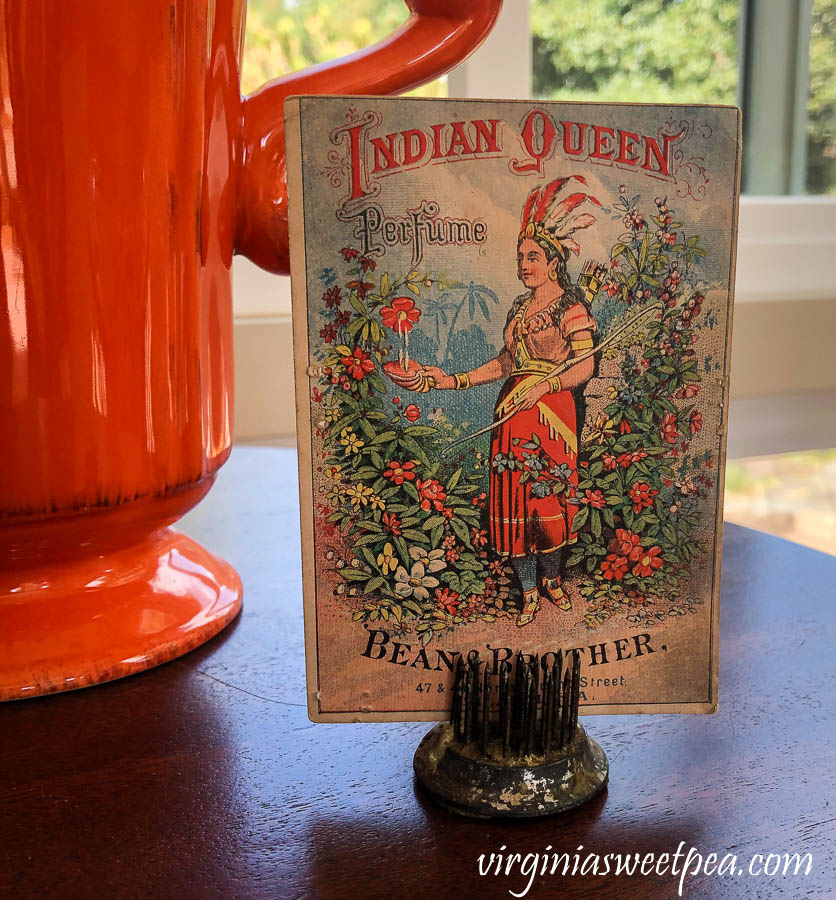 That concludes today's tour. I'll be back on Tuesday to share how I decorated our family room for fall.