Vintage Monday – Patriotic Decor
Happy 4th of July week! I hope you are off and doing something fun with your family.
For this week's Vintage Monday, I'm sharing Vintage Patriotic Décor. My last Vintage Monday post was about Vintage Oyster Tins. If you missed it, you can see it here.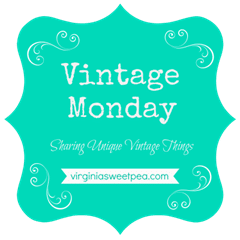 48 Star Flag
I love Americana décor and decorated my father-in-law's room at the lake in red, white, and blue. My favorite thing in his room is a 48 star flag that once belonged to my grandmother's cousin. After my mom gave it to me, I framed it and for a long while it hung over Mr. SP's desk. I love how it looks at the lake over the bed.
You can see more of this room's décor here.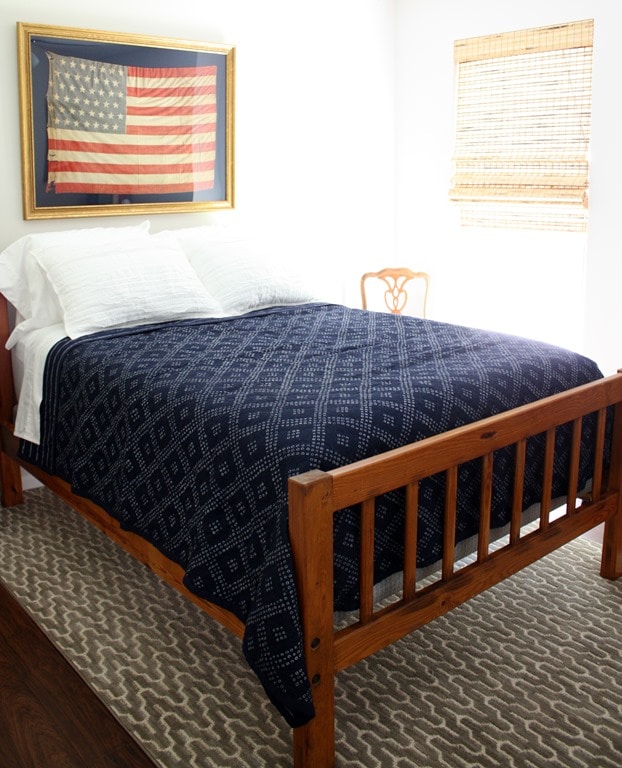 "Old Glory" Flag Print
This "Old Glory" flag print originally was found in a classroom. I found it in a dumpster outside of a retired teacher's home who had moved into a retirement home. The owners hired an estate company to clean out their house, and my friend Suzanne and I raided the dumpster every night after they left.
The frame was found on an early morning run. I had to run a few miles with it, but it was worth it. I had a frame shop put the two together and it's now great patriotic décor. This also is in my father-in-law's room at the lake.
I once used this print for a Patriotic Themed Mantel. The mantel didn't get decorated for the 4th this year. Oops.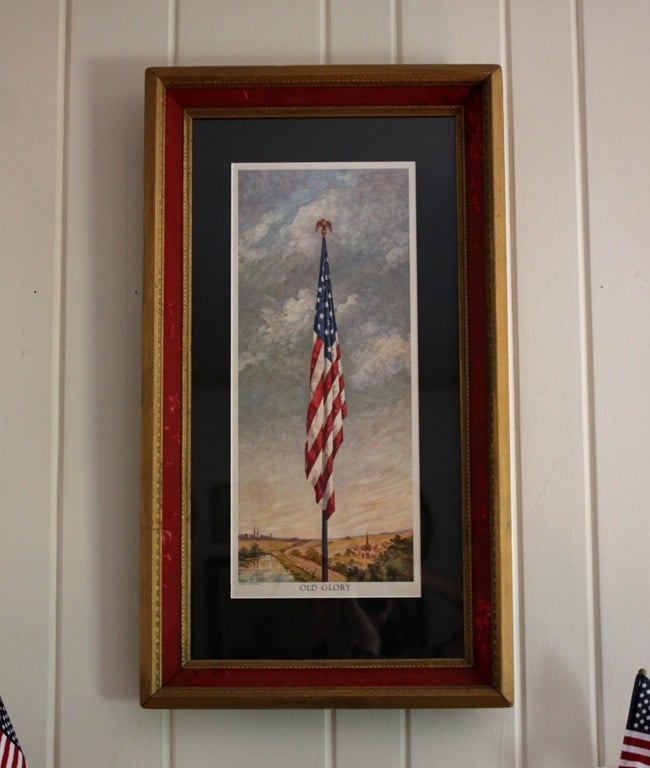 Small Eagle Bowl
Isn't this piece pretty? My friend Suzanne found it at Estates Revisited and knew that I would enjoy using it for 4th of July decorating. Suzanne is the author of a history blog, Appetite 4 History.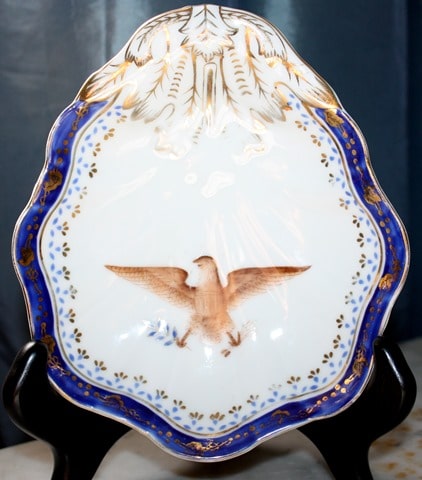 4th of July Post Card
This post card was sent to my Great-Great Aunt Willye in 1907. I wonder who in Lynchburg sent it to her?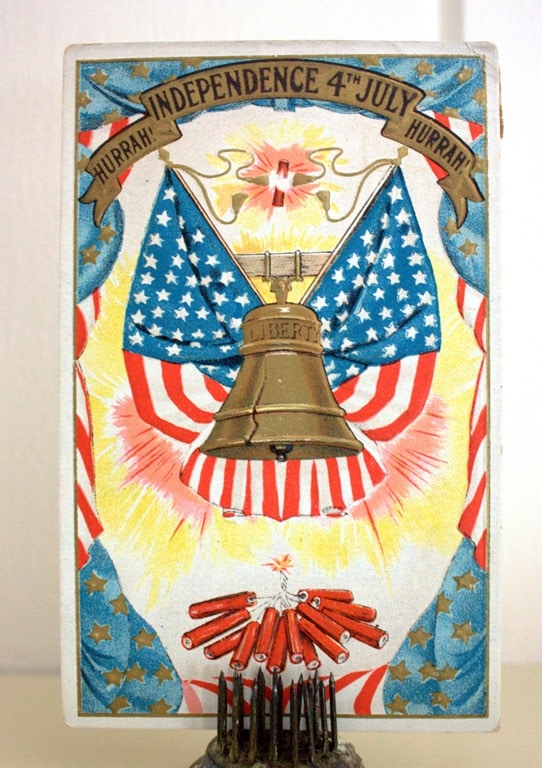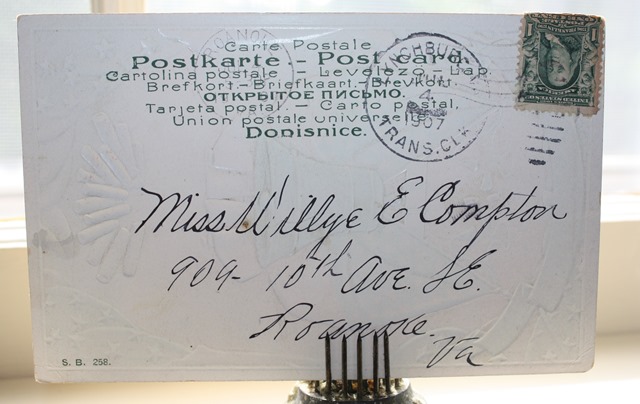 4th of July Hat
This vintage 4th of July hat belonged to the son of the great-great uncle who built my mom's 1912 house. He also was the original owner of the framed flag that we have at the lake.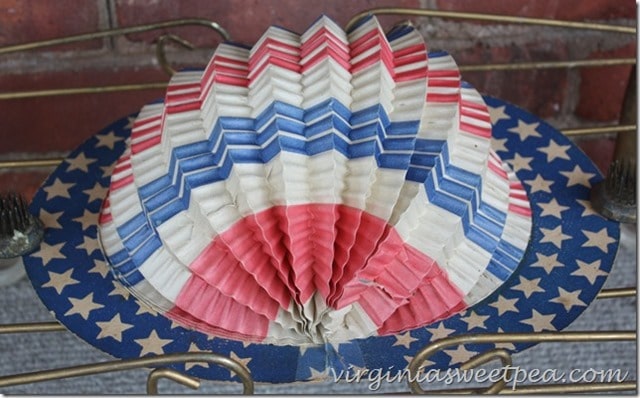 I display this hat nearly every year. This picture shows it with a Blenko vase and what probably is a Blenko candle holder. Both belonged to my grandmother.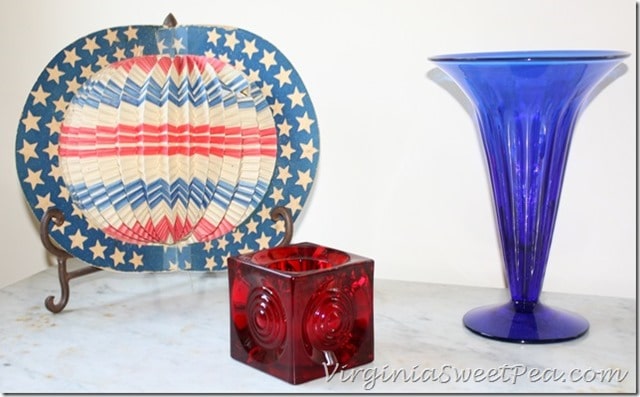 Bicentennial Jar
I found this Bicentennial lidded jar at a yard sale this summer. If you were around in 1976, you know that the eagle motif was quite popular.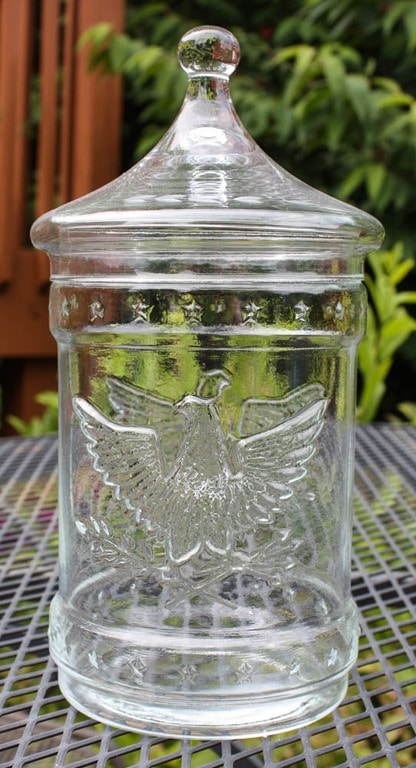 Bicentennial Ball Jar
This looks like an old lidded gar but it's actually a reproduction from 1976.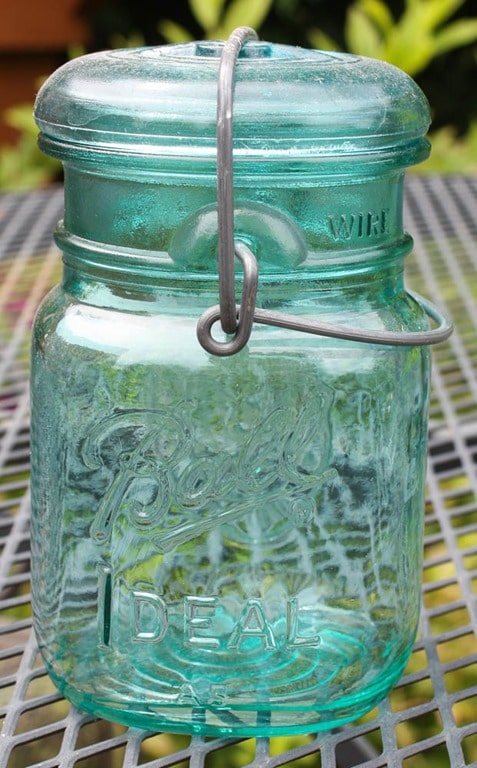 The back has this stamp signifying that it was produced to celebrate America's Bicentennial year.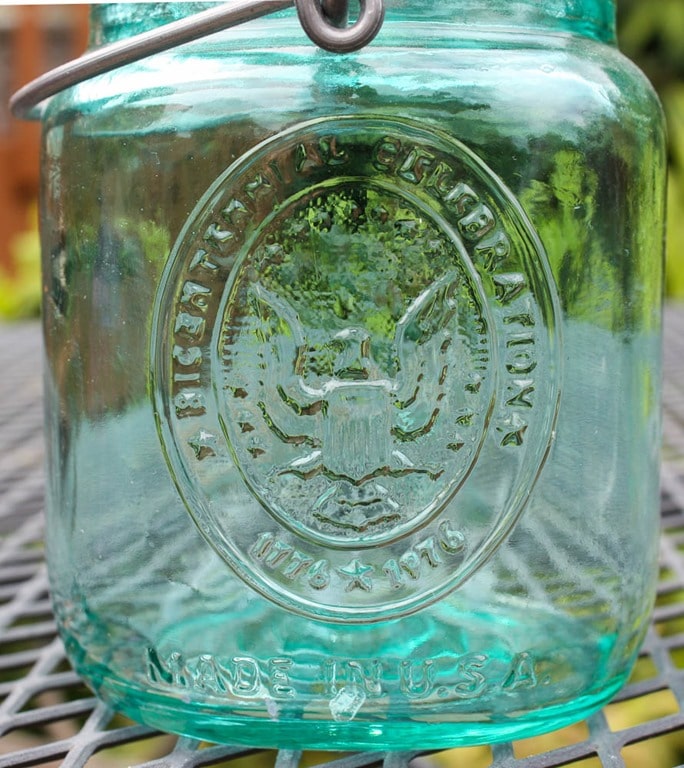 I hope you enjoyed seeing some of my Vintage Patriotic Décor. I have fun pulling it out each year!
I'd love it if you would pin this post for others to discover!