Patriotic Porch Decor with Vintage
I hope you had a wonderful Memorial Day weekend. I not only celebrated Memorial Day, I also turned 50 over the weekend! Memorial Day is when I start decorating with red, white, and blue for the summer. We are a patriotic family and I love showing our love of the USA by decorating patriotically with red, white, and blue for both Memorial Day and Fourth of July.
Today I'm sharing Patriotic Porch Decor with Vintage. I combined some of my treasured vintage pieces with a few newer things to create a porch display that makes me smile every time I see it.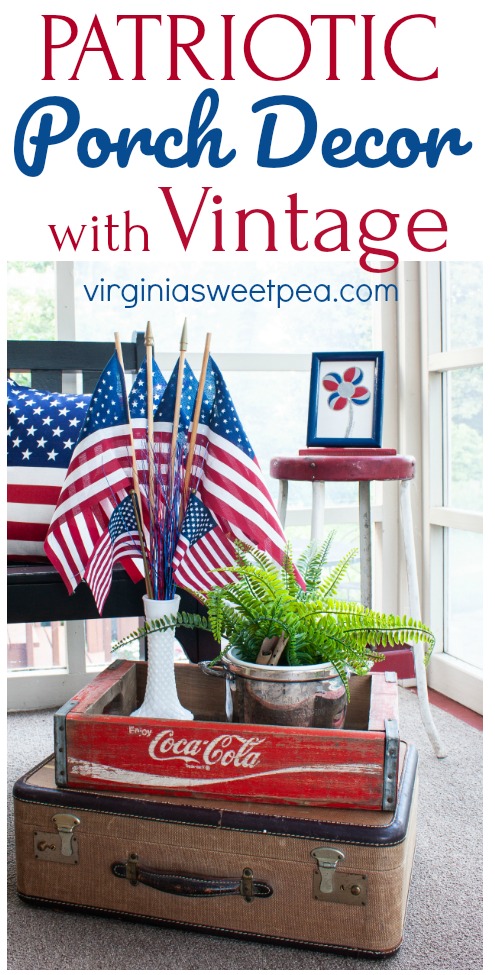 Today's patriotic porch display is a Pinterest challenge that I'm sharing along with a group of blogging friends. This is a monthly Pinterest challenge hosted by Cindy from County Road 407. Each month Cindy picks a picture from Pinterest and challenges our group to recreate the look. You may remember last month's challenge where our group created Spring Floral Wreaths and also the challenge from March where we each created an Easter Centerpiece and Table.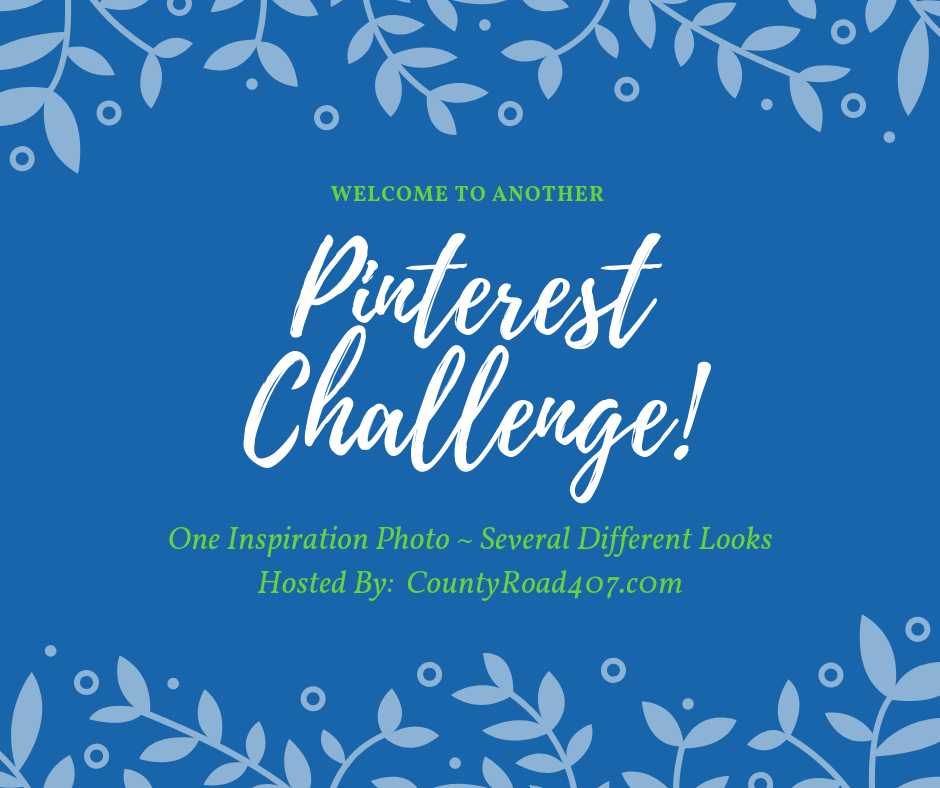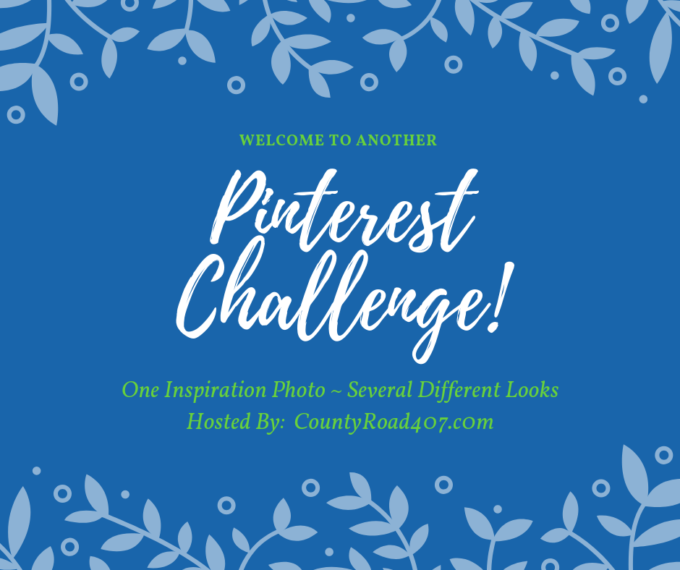 Many thanks to Cindy for hosting this challenge!
If you arrived here from Decorate and More with Tip, welcome! I am sure that you enjoyed seeing Terri's version of our inspiration picture. You'll find a list of all of the participating bloggers at the end of this post. I'm looking forward to seeing how everyone recreated this look.
Our Inspiration for this Challenge
This month we were challenged to create a Patriotic/July 4th vignette inspired by this beautiful display created by Mary from Home is Where the Boat is.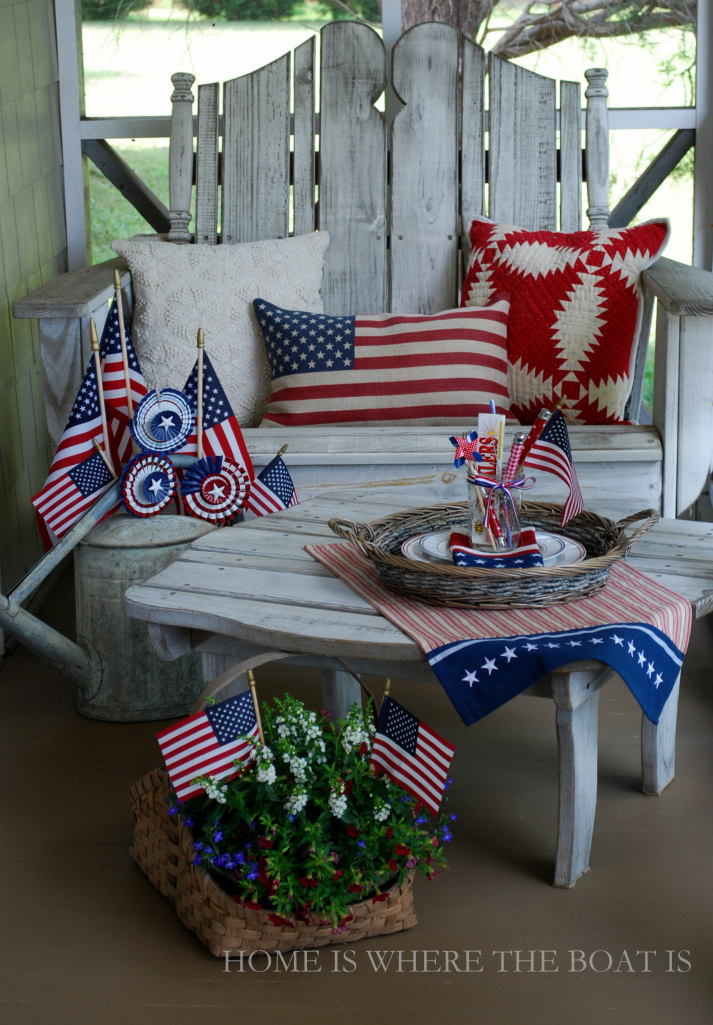 Isn't this a beautiful display? I love decorating our porch for each season and also for each holiday and I couldn't wait to get started on this challenge.
Since I've been decorating patriotically each summer for 25+ years, I didn't need to buy much to create my version of this look.
I like patriotic decor because it can be enjoyed from the end of May through Labor Day and I love showing my love of the USA. Buying a few new things to add to my patriotic collection was no problem at all!
Patriotic Porch Decor with Vintage
This is my version of Mary's inspiration photo found on Pinterest. Like Mary, I used a bench, a watering can, and lots of flags.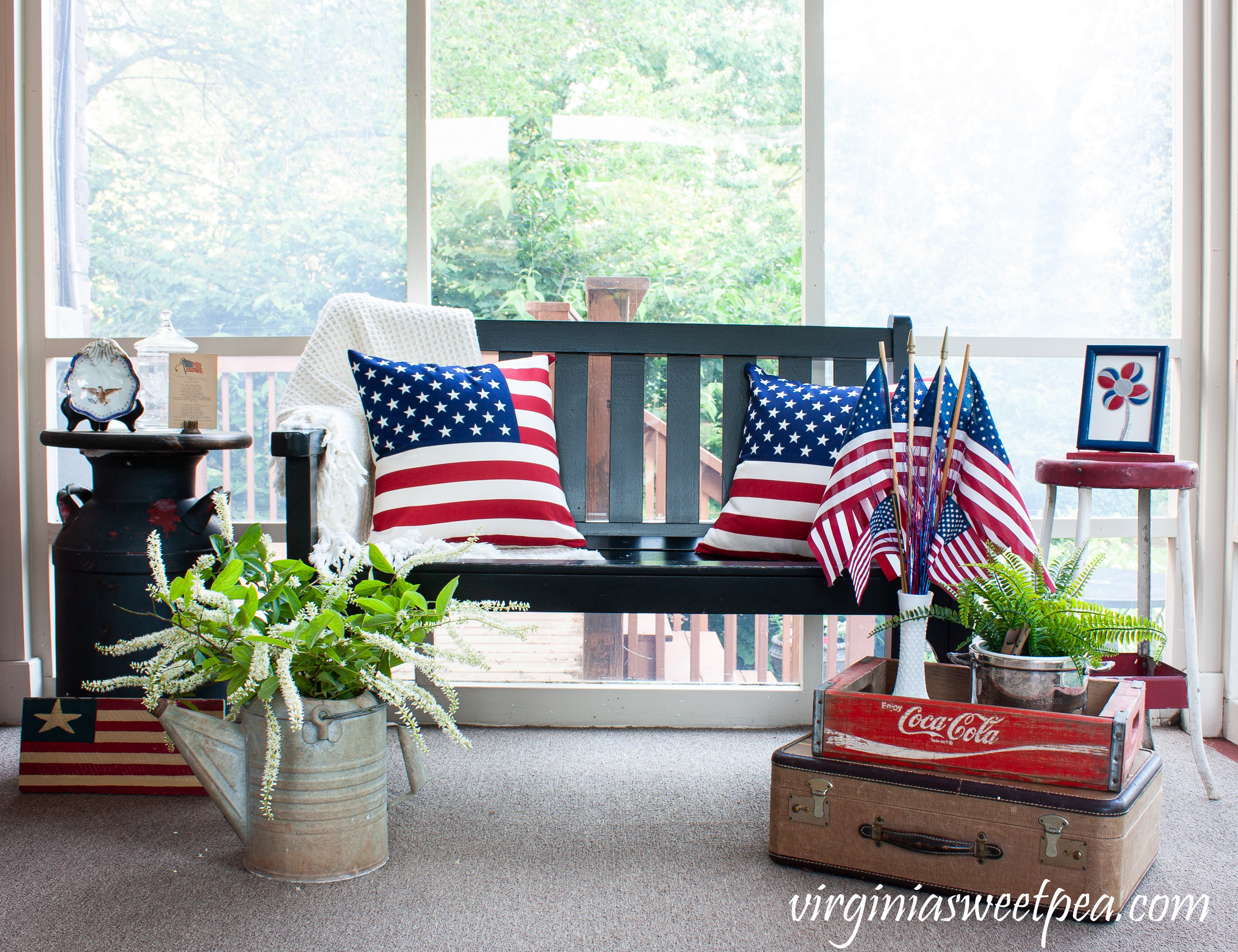 This bench stays on our porch year round. We use our porch as our main entrance, so this bench gets plenty of use when we put on our take off our shoes when we enter or leave the house.
The only items that I purchased for this challenge were two 18 x 18″ American flag pillow covers. At $8.99 each, I considered them a real bargain. I also purchased two 20 x 20 pillow inserts for the covers.
Patriotic Porch Decor Details
I love decorating with vintage and many of my vintage things belonged to my grandmothers. My friends and neighbors know that I like vintage and I'm often the recipient of vintage things that they no longer want. One of our old neighbors moved and gifted me with a vintage milk can from Iowa that I turned into a side table by adding a top to it. We glued a coffee can to the top that fits inside the milk can top so that the top is stable. The white that you see peeking out is padding that I wrapped around the coffee can to make it a tight fit.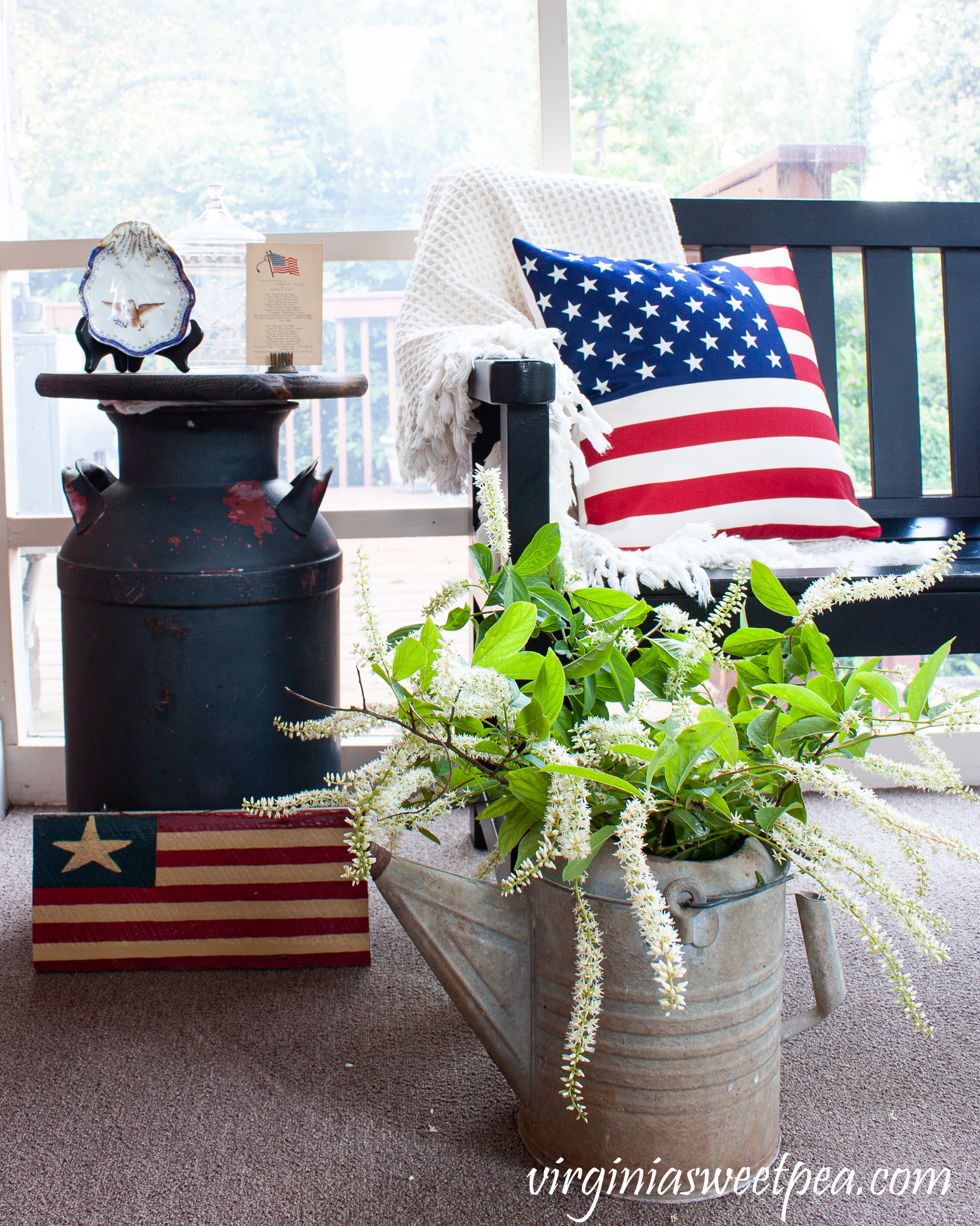 Blooming Virginia Sweetspire is displayed in a watering can that belonged to my grandparents. Since this is a patriotic display, the trailing blooms remind me of fireworks.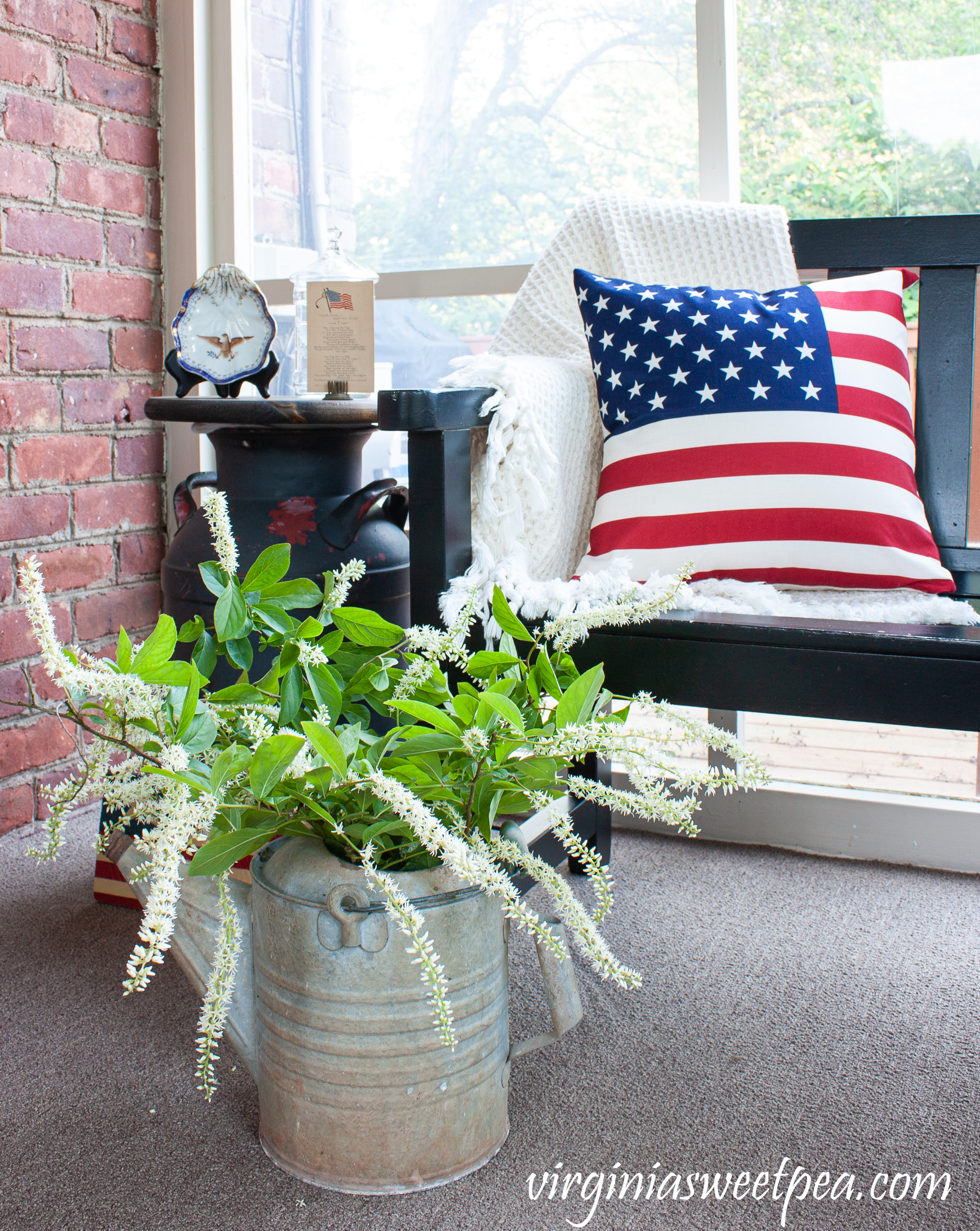 On the milk can table are several patriotic items including a china bowl with an Eagle marked "7441" and a vintage flag postcard.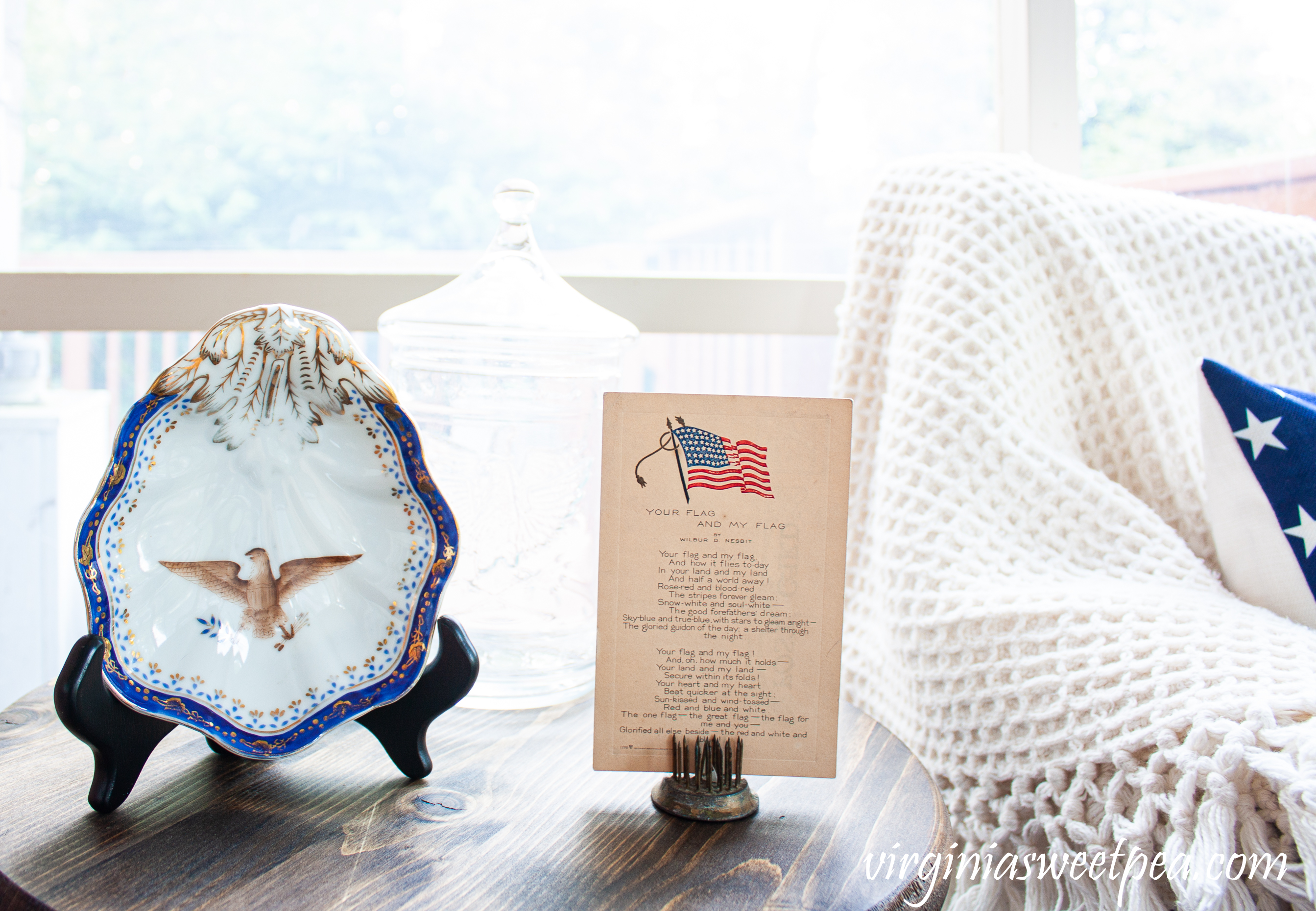 My good friend used to work at an estate sale shop and purchased the Eagle bowl for me knowing that I would enjoy using it for patriotic decor. The glass container in the back of the vignette is decorated with an Eagle on either side of the glass and a row of stars on the top and bottom of the container. I would guess that the glass container is from the 1976 bicentennial.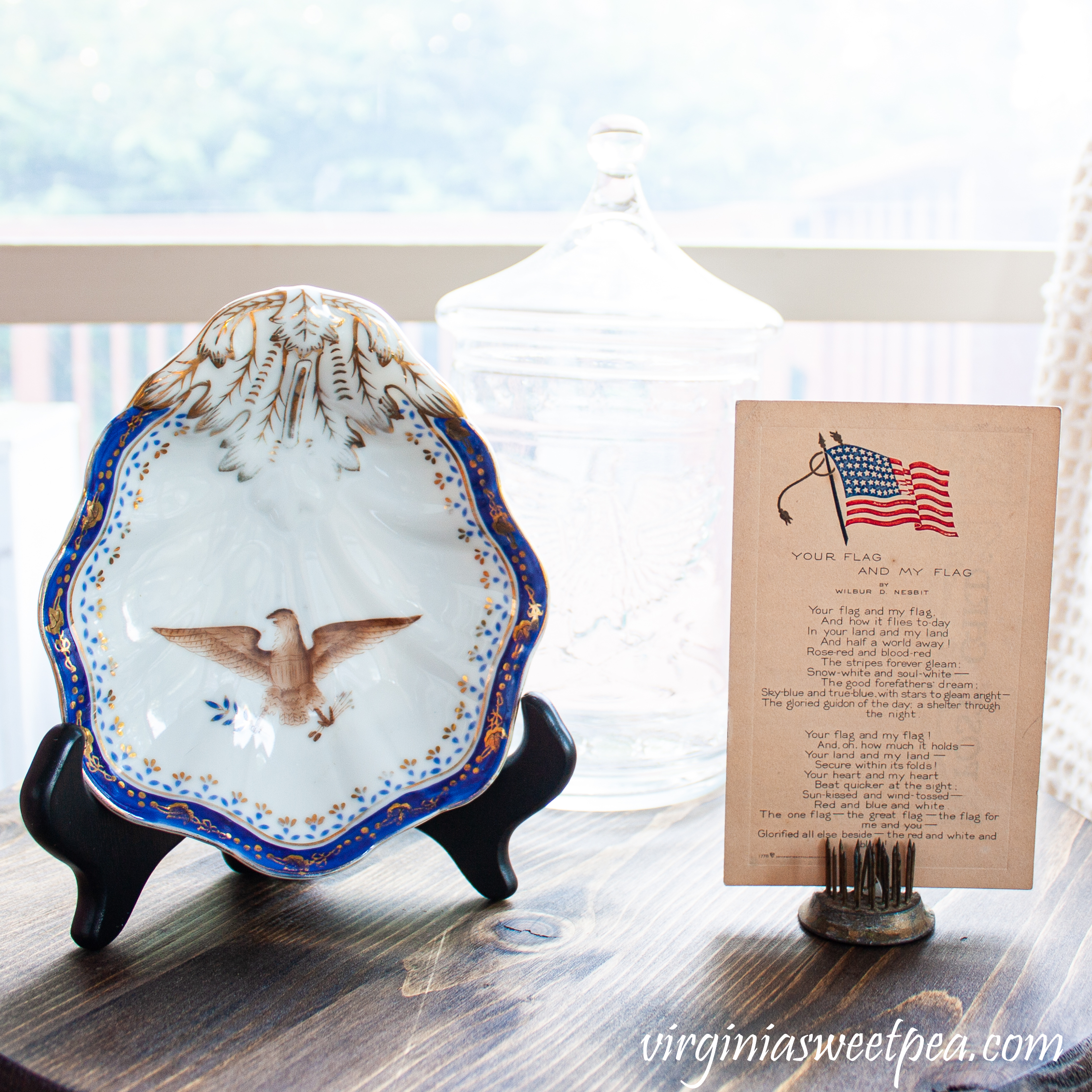 This postcard was never sent and was found in a collection of cards that date to the early 1900's.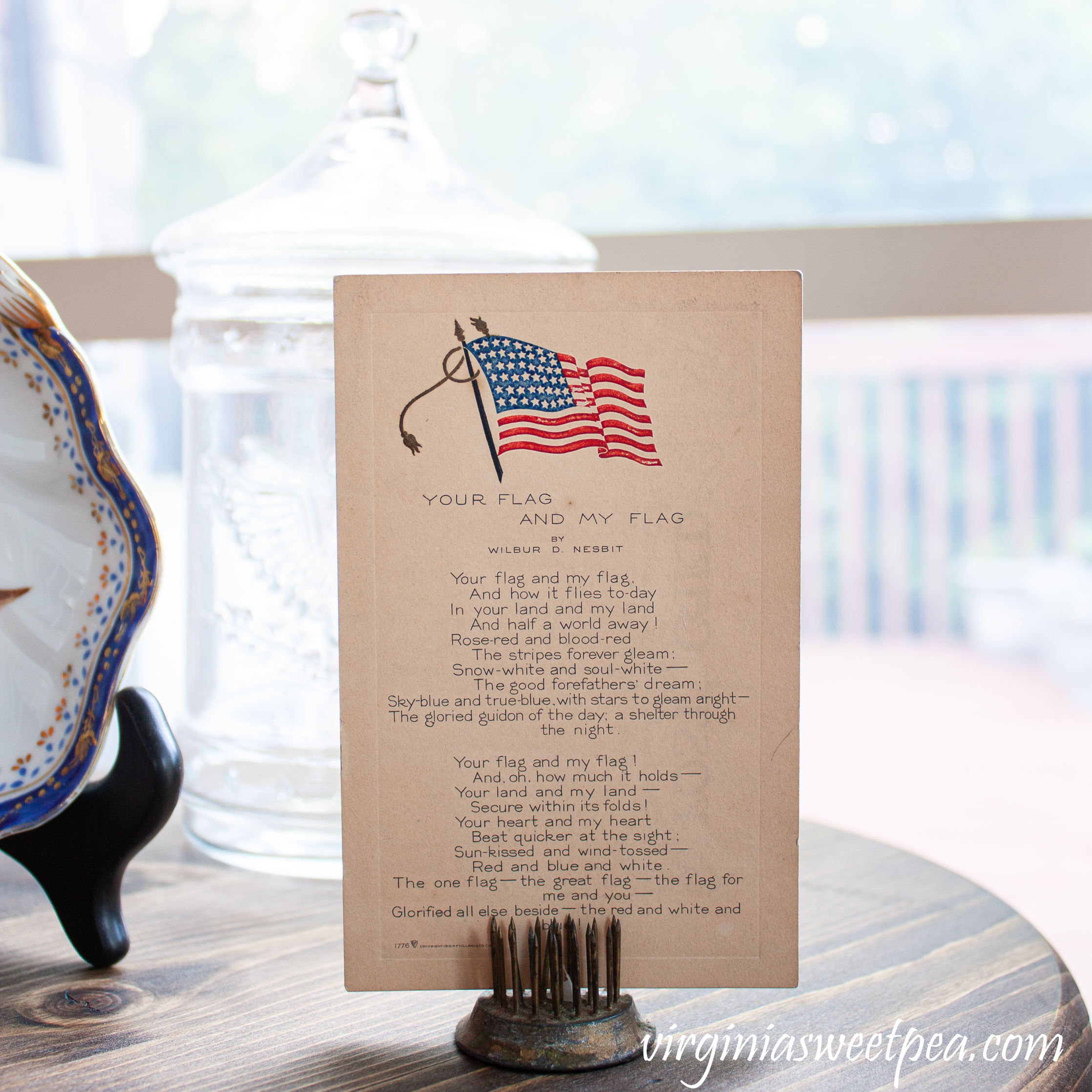 On the other side of the bench is another patriotic display featuring red, white, and blue. The suitcase was my grandmother's, the Coke crate was an antique shop find, and the red stool was given to me by my mom.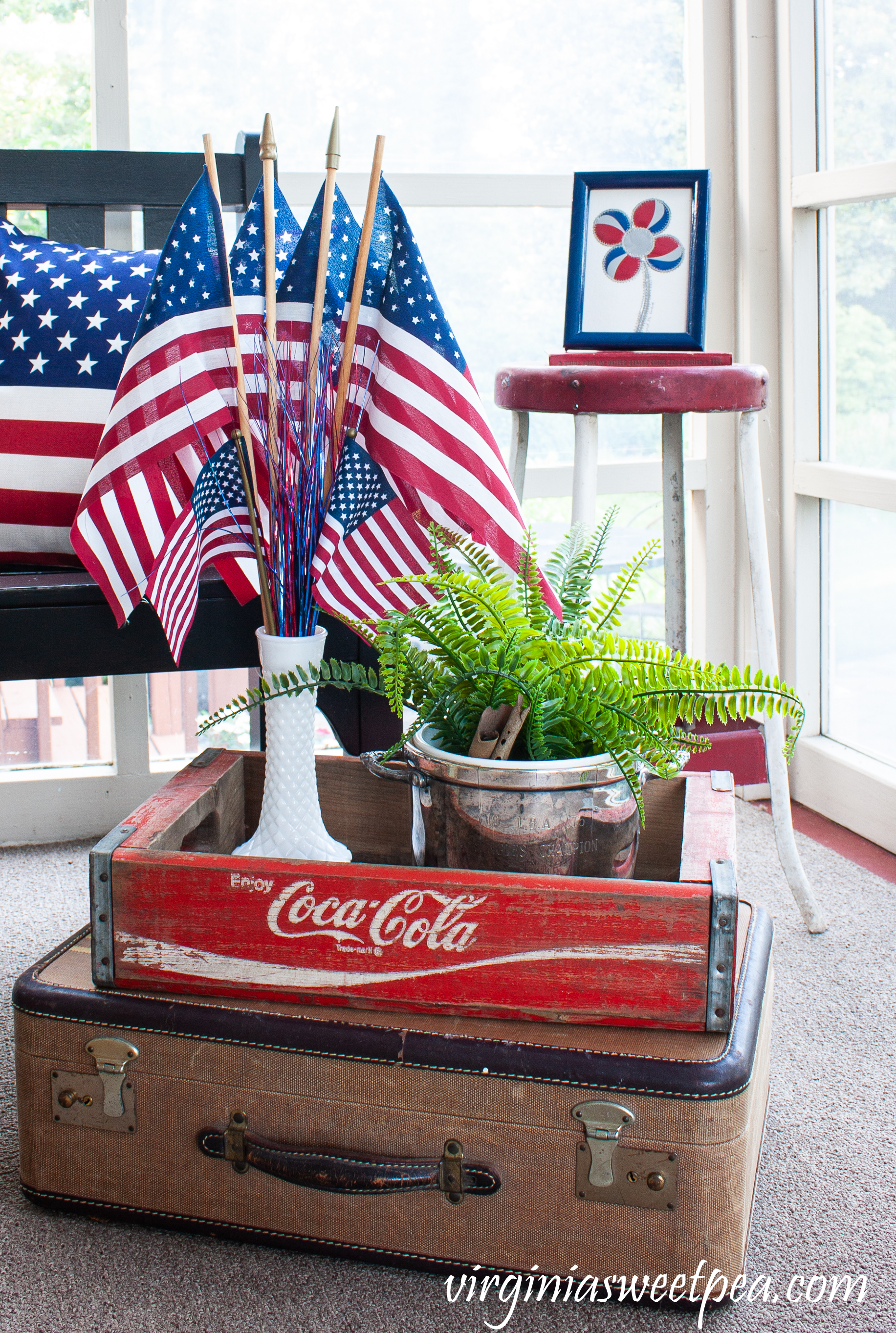 American flags in a milk glass vase with some red and blue filler from the dollar store along with a vintage silver ice bucket with a fern fill the Coke crate.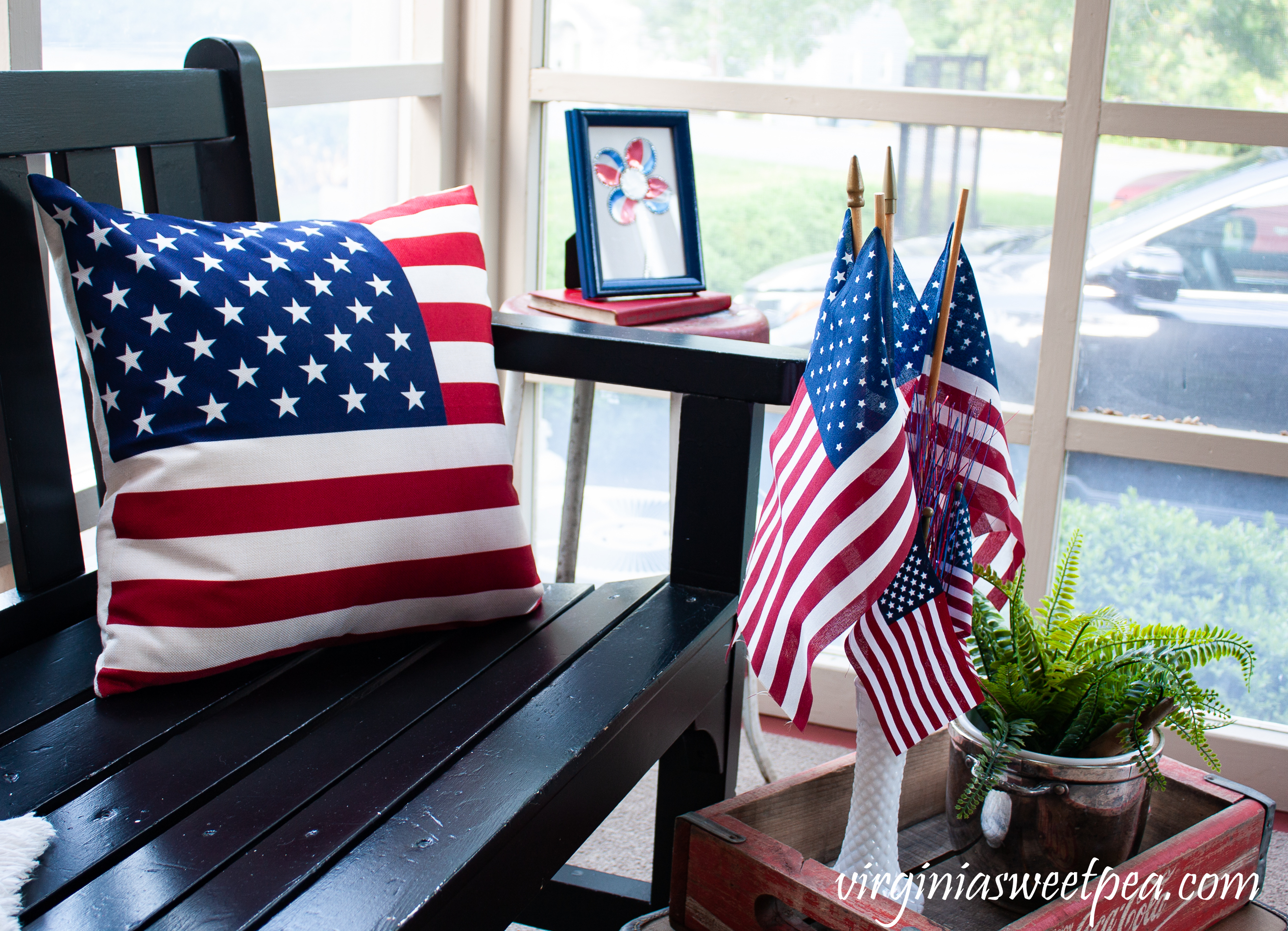 The stool holds a framed card with a flower made using logos from Pepsi cans.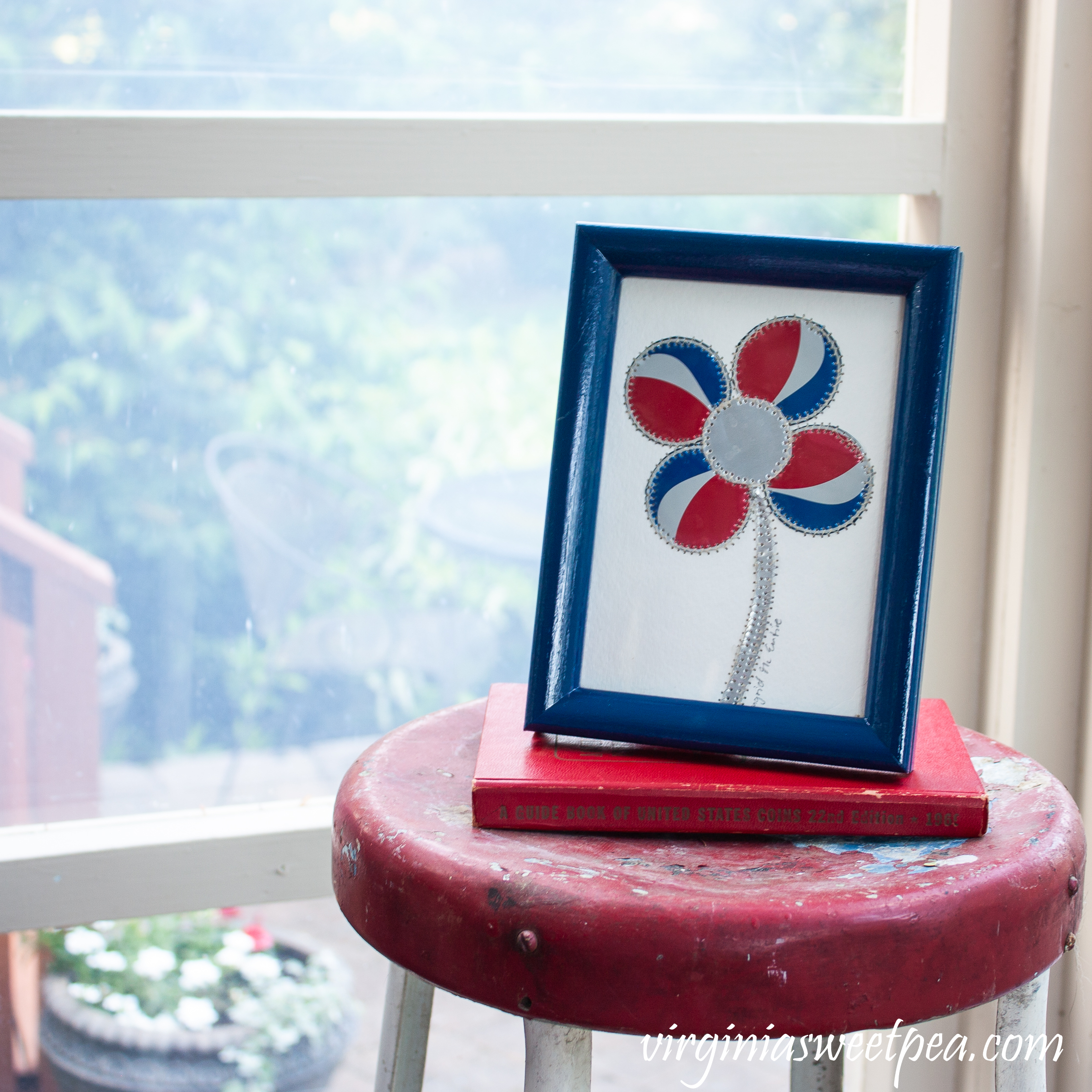 You may remember from last month's Pinterest challenge that I shared that this porch is getting a huge makeover with some structural work along with new windows to replace the plexiglass panels that are currently screwed in place over the screens. We can't wait to have windows that we can open and close which will enable us to enjoy this porch nearly year round. The job is a bit more complicated than we originally thought and the work has yet begun but hopefully we'll have an improved porch to enjoy by the end of the summer.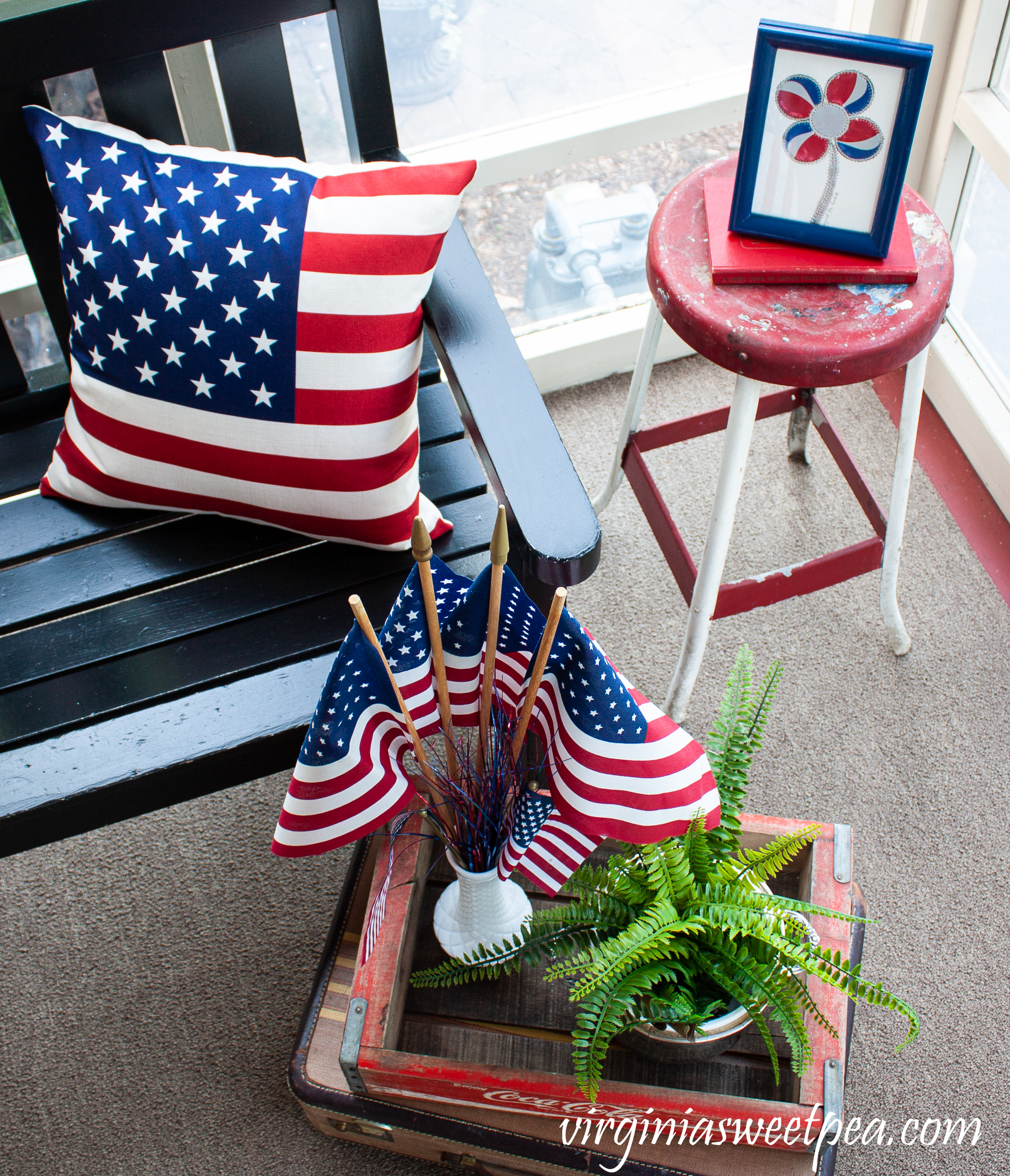 Next on the tour is Katie from Let's Add SprinkesLet's Add Sprinkes. I'm looking forward to seeing Katie's version of the patriotic display.
More Patriotic Displays to Enjoy
Click on the links below to visit each blogger who is sharing their version of the inspiration picture. I'm looking forward to seeing them all!

You are invited to the Inlinkz link party!
Patriotic Ideas
Every year I love decorating my home with red, white, and blue for patriotic holidays. These are some of my favorite patriotic posts.