Vintage Style Patriotically Decorated Living Room
I have had the best time decorating my living room patriotically for summer.
To coordinate with my patriotic mantel, I decorated the room with patriotic vignettes using vintage and a few things that I crafted.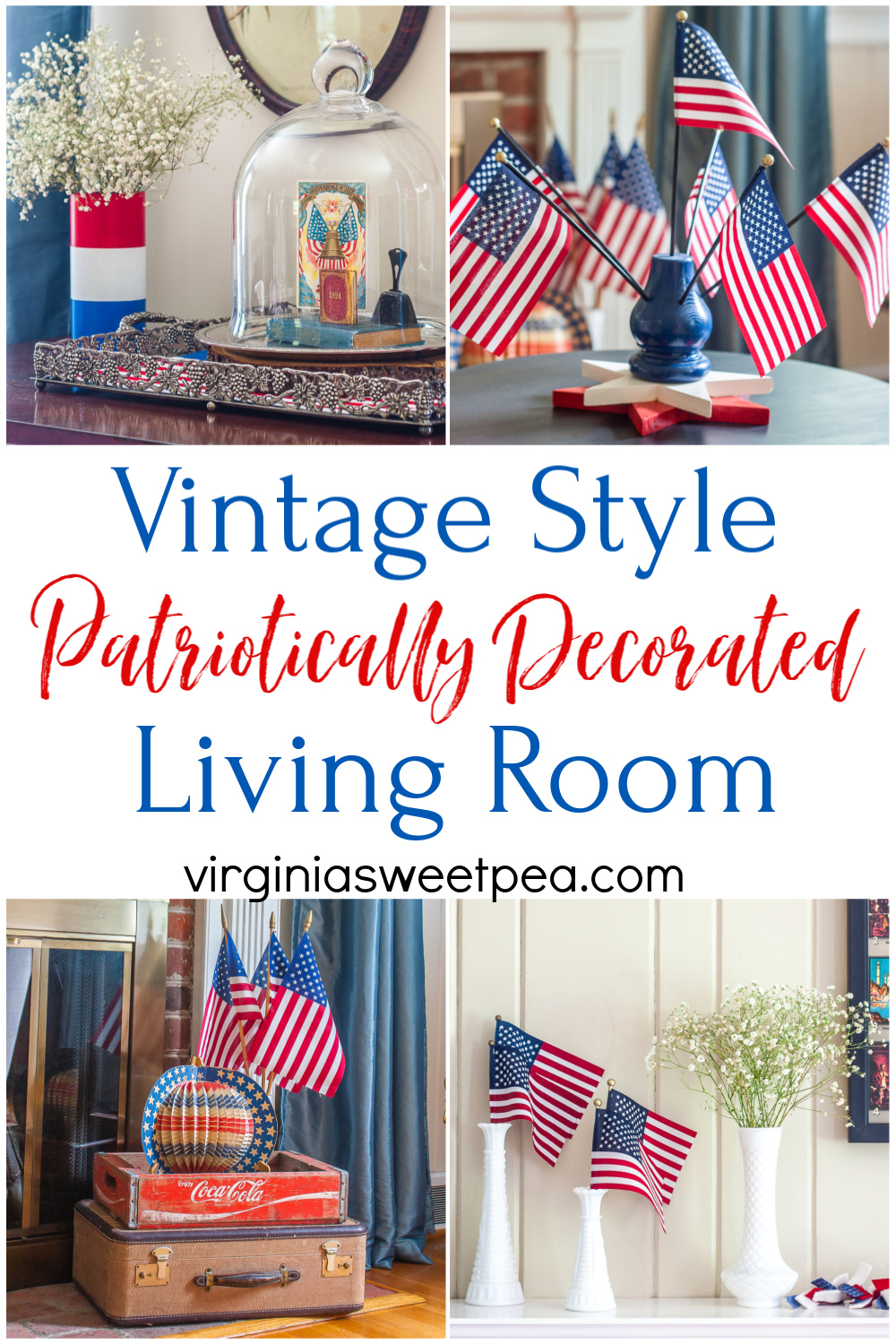 Vintage Style Patriotically Decorated Living Room
I enjoy decorating with my mostly inherited vintage items and I enjoy sharing the story behind each piece.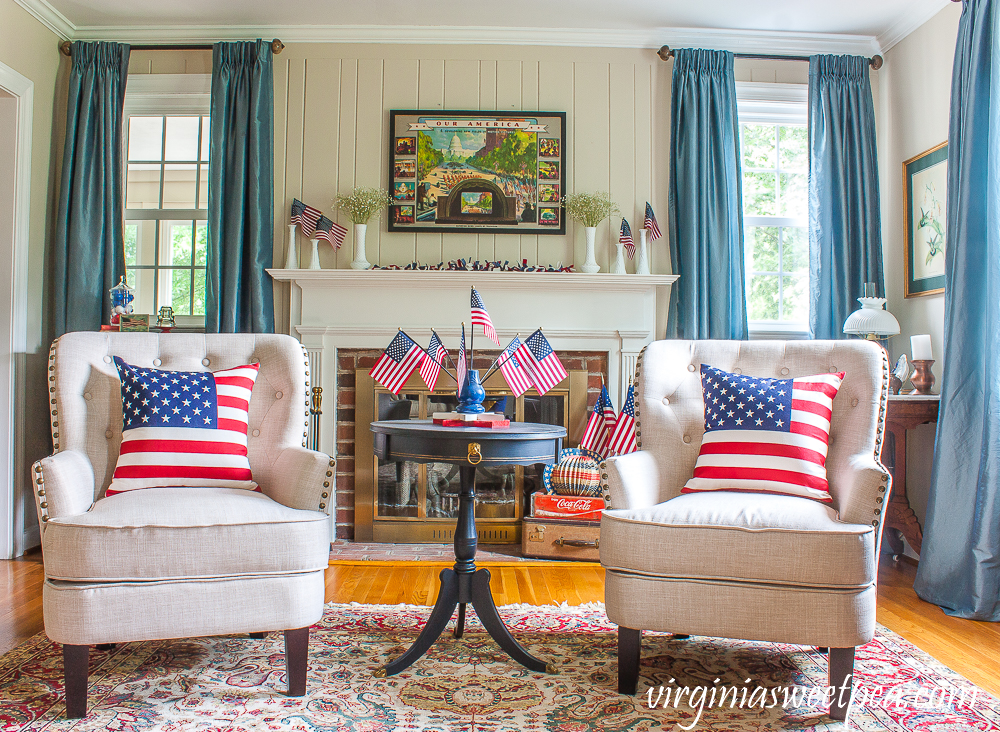 Chairs / Pillow Covers / Patriotic Centerpiece
Let's take a tour of my patriotically decorated living room!
Patriotic Vignettes
Our mantel is decked out with vintage and I have enjoyed its decor so much. You can see all of the mantel details in this post and don't miss how I made the fabric garland.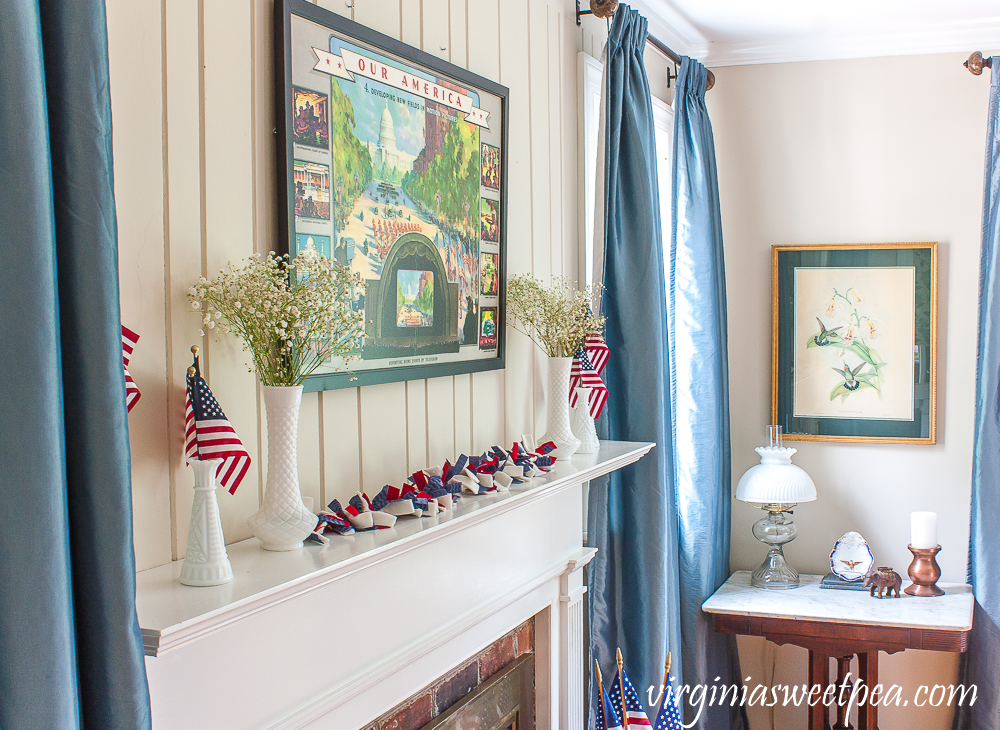 I had so much fun shopping my house to create patriotic displays for this room. The first spot to share is my grandmother's table to the right of the mantel.
Eagles and Elephants
My friend used to work in an estate shop and spotted this eagle bowl for sale. She knew I would like it and gave it to me as a gift.
The bowl has no markings other than 7441. I would love to know its history.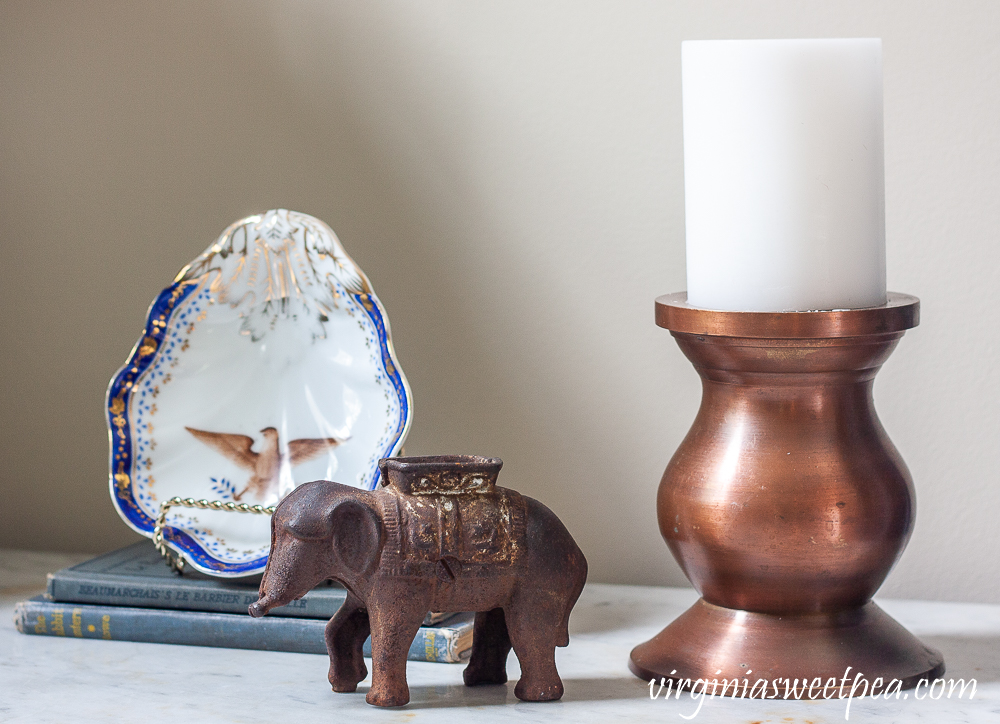 I elevated the eagle bowl with two vintage books:
1945 The Rabbit Lantern by Dorothy Rowe
1893 Le Barbier de Se'ville par Pierre Augustin Caron De Beumarchais
The French book was my grandfather's from his college days at Roanoke College. I did not know that my grandfather studied French until looking at the details of this book to share here. There are notes throughout the book where he translated paragraphs.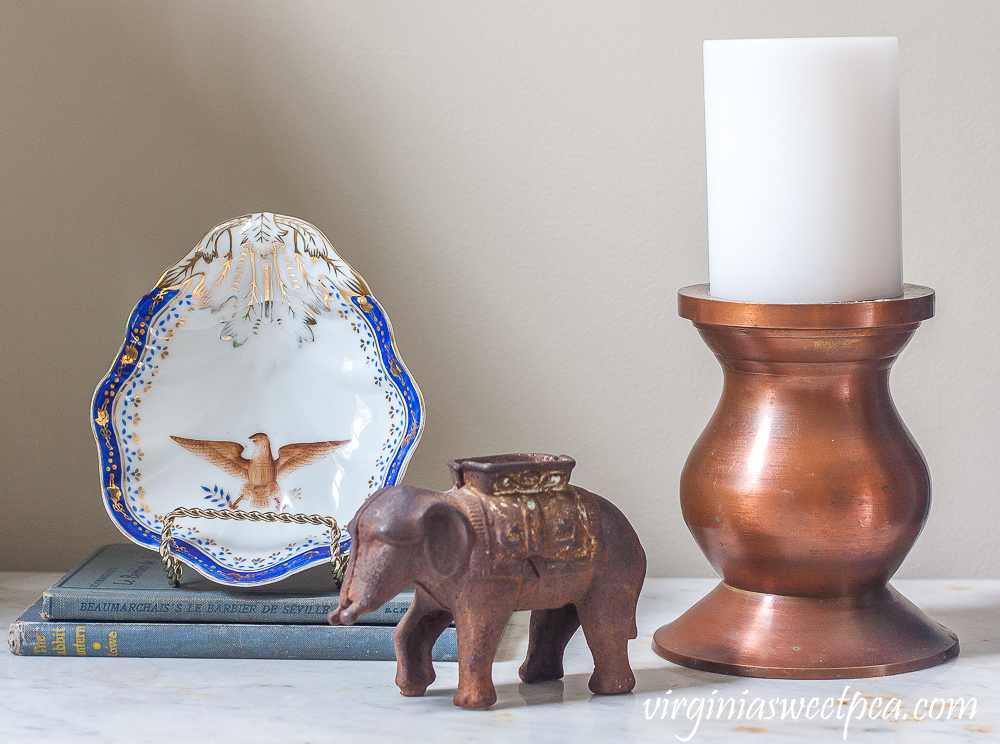 To complement the brown of the Eagle and white of the china, I added a copper-hued candle holder and white candle. The candle holder was a gift purchased at an antique shop, but I don't believe it to be antique.
The vignette needed something else, so I looked around on the shelves in my basement and spotted this elephant bank that belonged to my grandmother.
If you like donkeys instead of elephants, don't worry, there is a donkey planter on my porch.
Patriotic Vignette with Vintage
To the left of the mantel is this patriotic vignette that I shared a few weeks ago. See all of the details in this post including how I made the red, white, and blue filler for the 1976 jar.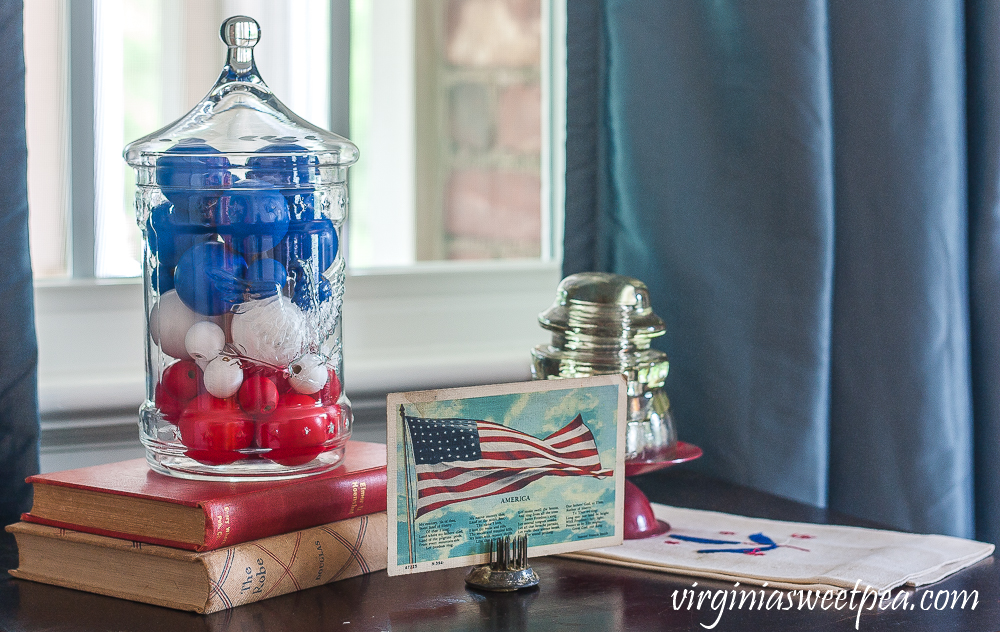 Patriotically Decorated Chest
The last spot that I decorated patriotically in our living room was my grandmother's chest.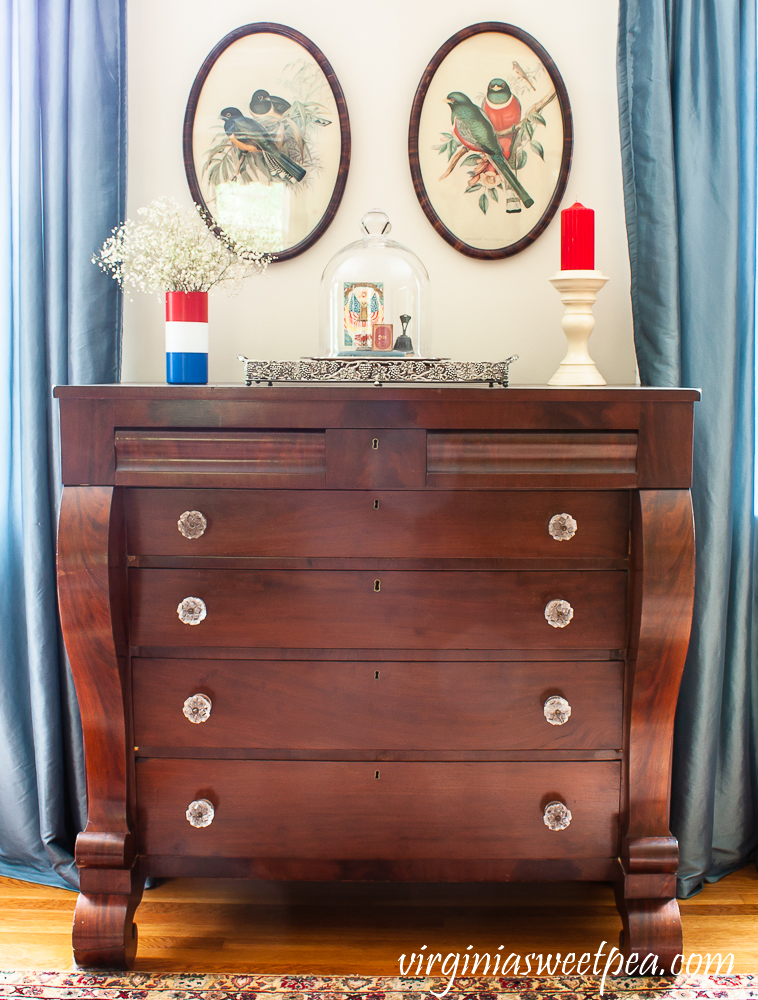 A cloche elevated by a slice of wood rests on a silver tray lined with a flag placemat.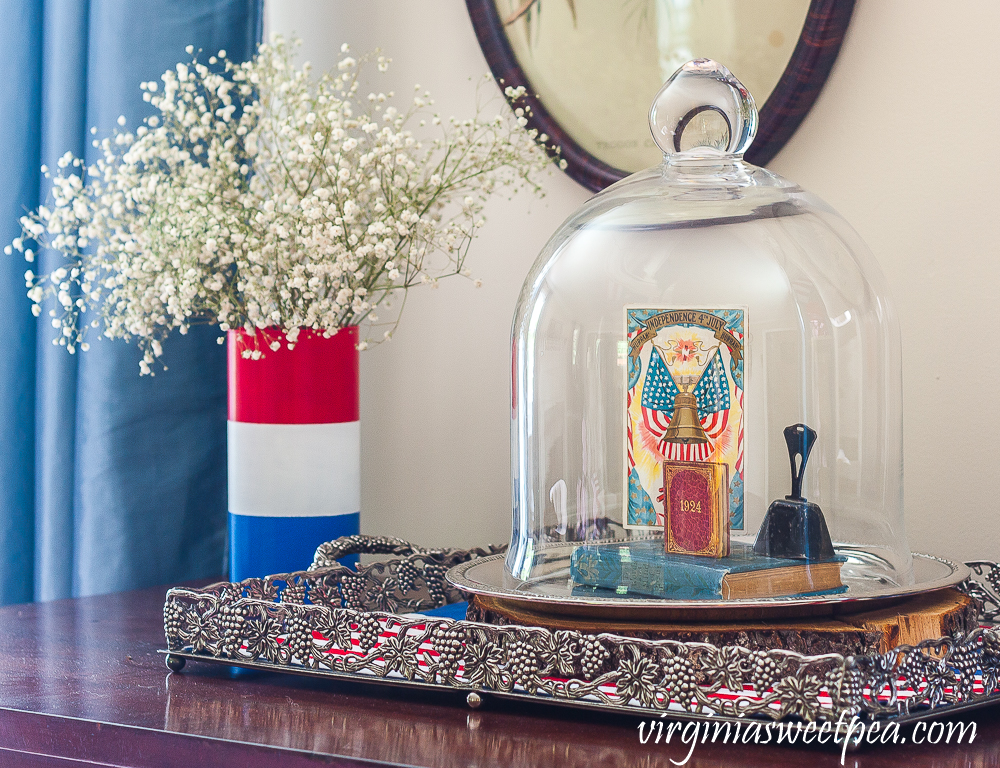 I purchased this tray years ago in a basement antique shop in downtown Staunton.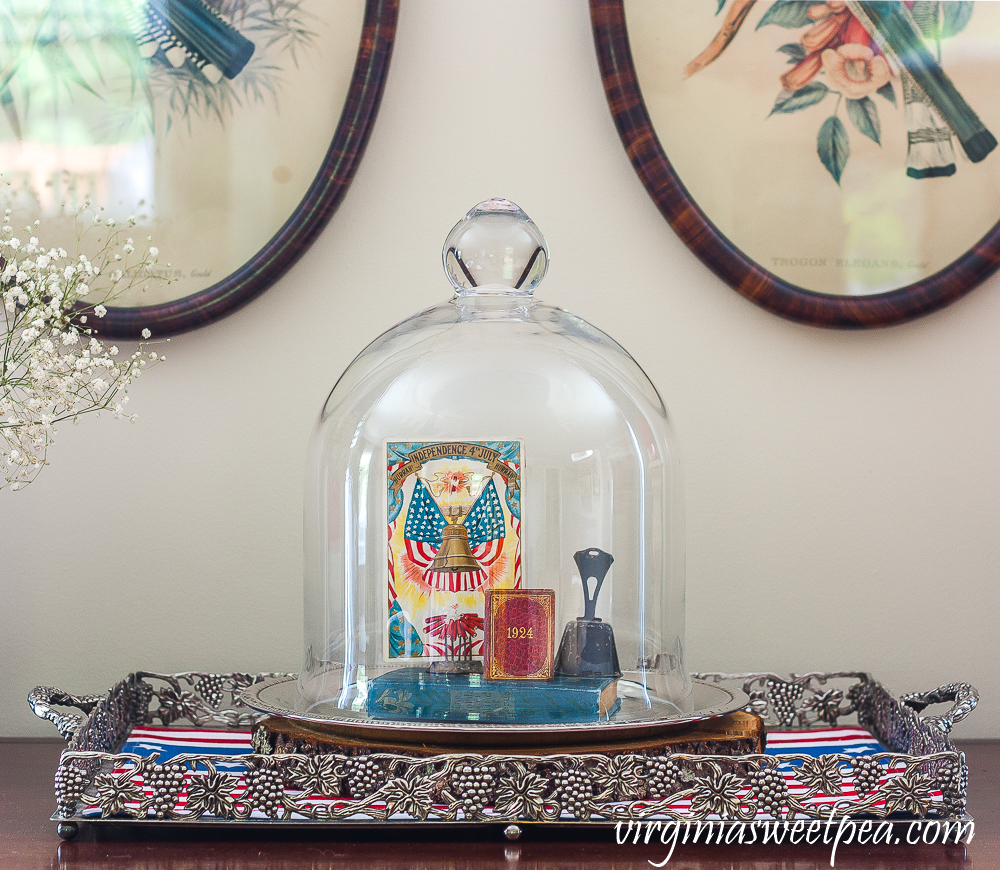 The cloche is decorated with a 1907 postcard sent to my great-great-aunt elevated by a book.
The book is The Words of Jesus, given to my grandmother on December 25, 1926, by Mrs. Sandenson, perhaps her Sunday School Teacher.
The small leather-covered book stamped with 1924 is an engagement calendar that belonged to my grandmother's cousin. The back is stamped with CF. Rumpp & Sons, Fine Leather Goods, Philadelphia.
The bell was also my grandmother's and she gave it to me when I was a little girl.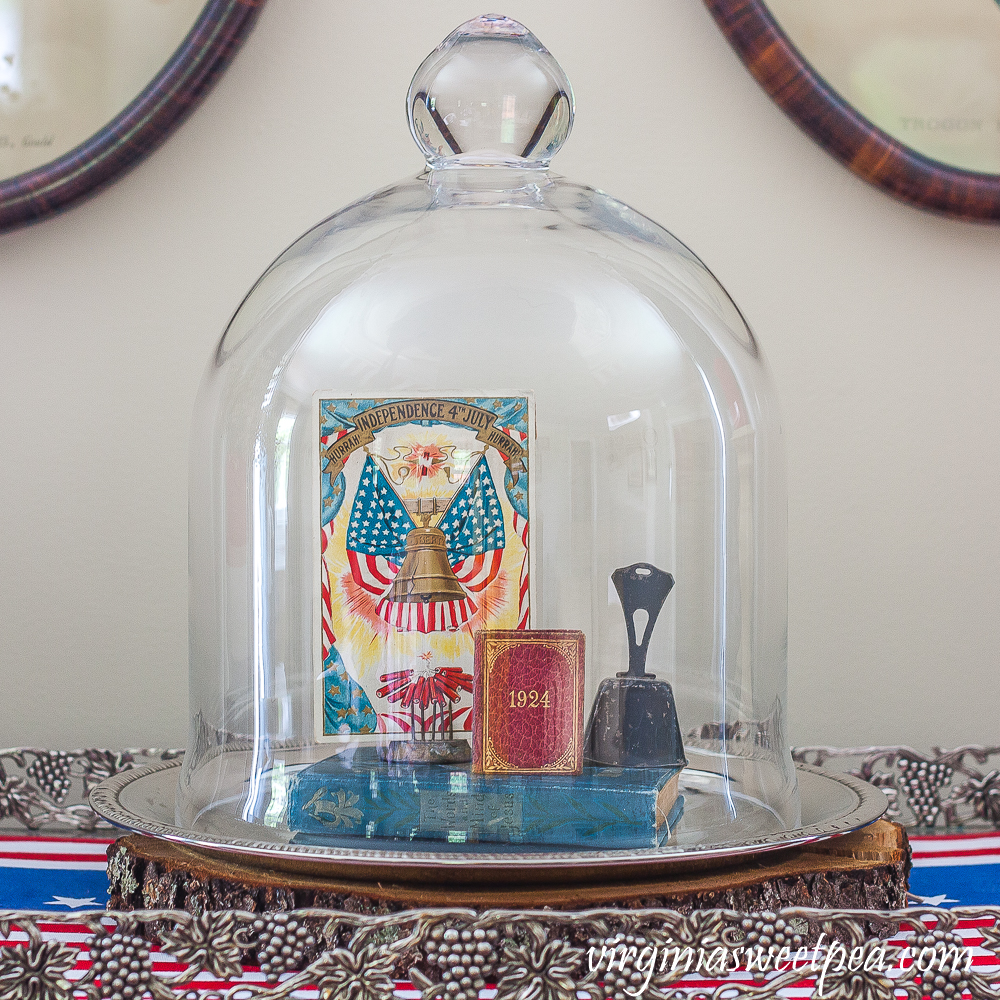 To the left of the cloche is a red, white, and blue vase that I made in May and to the right, a red candle on a cream candle holder that my dad gave to my mom.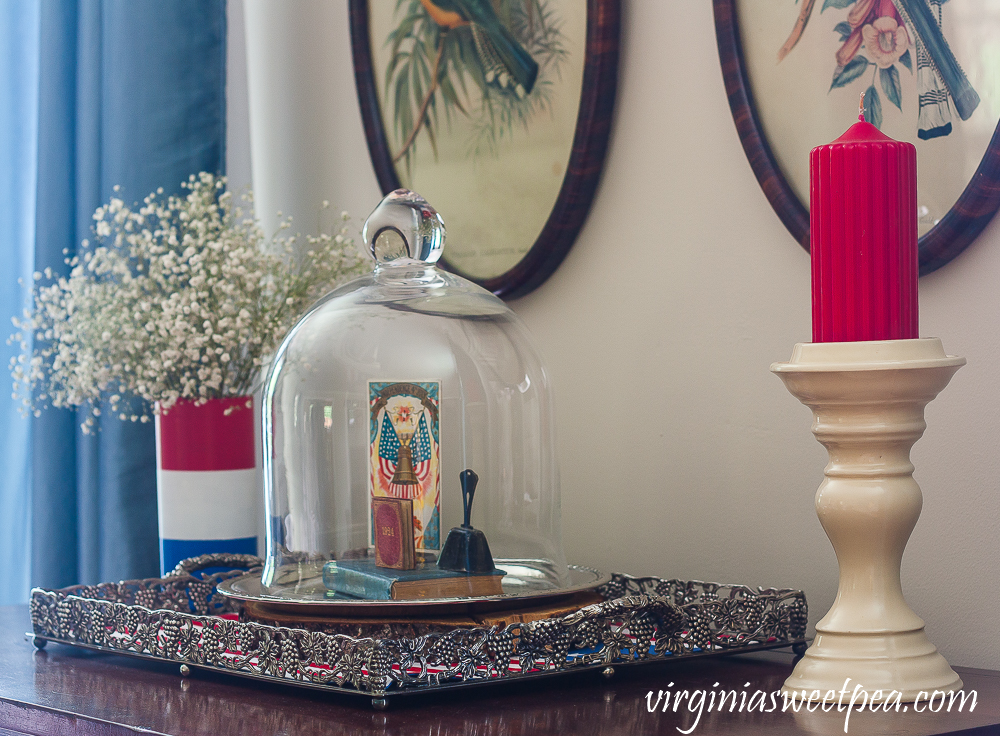 I hope you enjoyed the tour of my patriotically decorated living room.
I'll be back on Friday to share how I made the patriotic garland seen in the center of my mantel.
Patriotic Ideas
Every year I love decorating my home with red, white, and blue for patriotic holidays. These are some of my favorite patriotic posts.