This post and photos may contain Amazon or other affiliate links. As an Amazon Associate I earn from qualifying purchases. If you purchase something through any link, I may receive a small commission at no extra charge to you. All opinions are my own.
I think it is safe to say that just about everyone is currently loving farmhouse style. Farmhouse style might make you think of the style made popular by Chip and JoAnna by way of their show, Fixer Upper, or you might be like me and when you think of farmhouse style think of your grandmother's farmhouse that was filled with family treasures, now considered antique or vintage.
Farmhouse Inspired Projects
I'm joining some blogging friends today to share farmhouse inspired projects. You'll find links to all of the projects at the end of this post.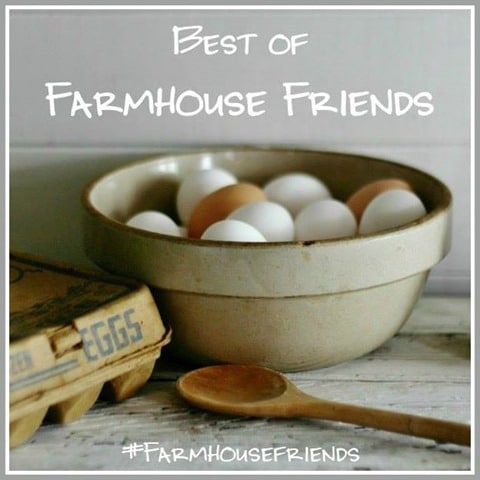 My Farmhouse Inspired Project
I have been slowly but surely working on furnishing our lake house. If you are new here, we built a craftsman style cottage at Smith Mountain Lake that was completed in December. I'm decorating one of the guest rooms that will primarily be used by my father-in-law with a vintage and Americana theme. My father-in-law is a retired engineer and I wanted to create some wall art for his room that I knew he would like.
My friend gave me two windows from Black Dog Salvage (read about my family connection to Black Dog here) and after seeing them, I knew that I'd use one at the lake for wall decor. I used the window to frame vintage Popular Mechanics and Popular Science covers from the late 1930's and early 1940's. My father-in-law hasn't seen this wall decor in his bedroom and I can't wait for him to do so because I know that he's going to love it.
Vintage Magazine Covers Displayed in a Window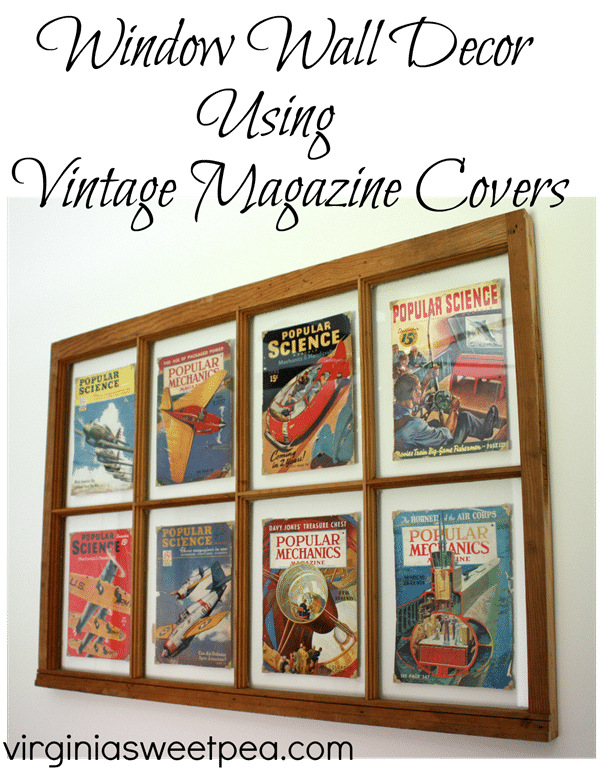 Where Did I Get the Magazines?
When my grandmother moved into a nursing home, my aunt was tasked with the massive job of cleaning out her home. One treasure that I inherited was a box of vintage Popular Mechanics and Popular Science Magazines from 1938 – 1941. One magazine cover had a last name written on it making me believe that these originally belonged to my grandmother's brother-in-law.
I have many more of these magazines and if you want to complete this project, contact me.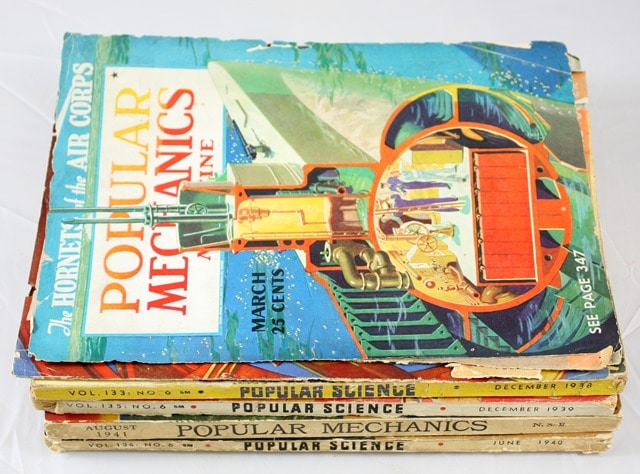 Remove the Magazine Covers
I picked eight favorite covers to use for this window wall decor project. Some of the covers were already torn off the magazines.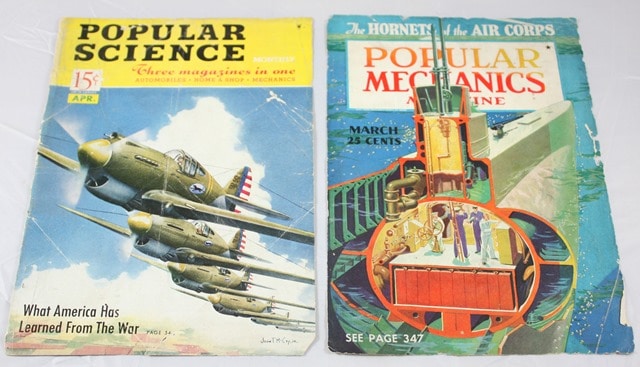 It pained me to tear the covers off the complete magazines but I held my breath and just did it. I figured that it was better to enjoy the cover than to stuff the magazines back in my attic.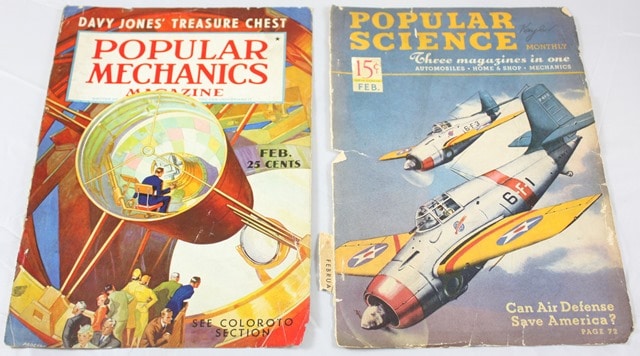 I love that a prediction for the future was to be able to fish using a television set.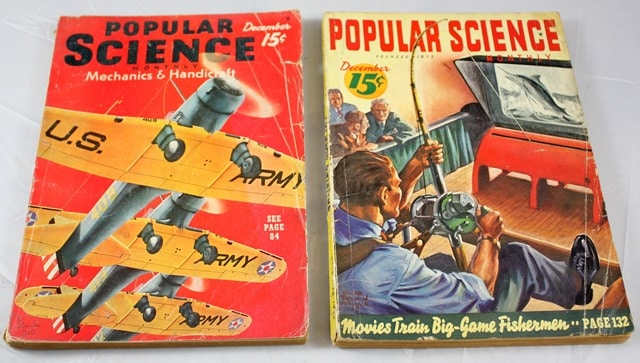 Two more magazine covers were used but unfortunately the pictures were blurry and I didn't realize it until this project was at the lake and I was back home at my computer.
Prepare the Window
The hardest part of this project was cleaning the window! The two windows must have been stored in a wet area because both ends had rotten spots. A cut with a circular saw fixed that problem. You can see the cut end here.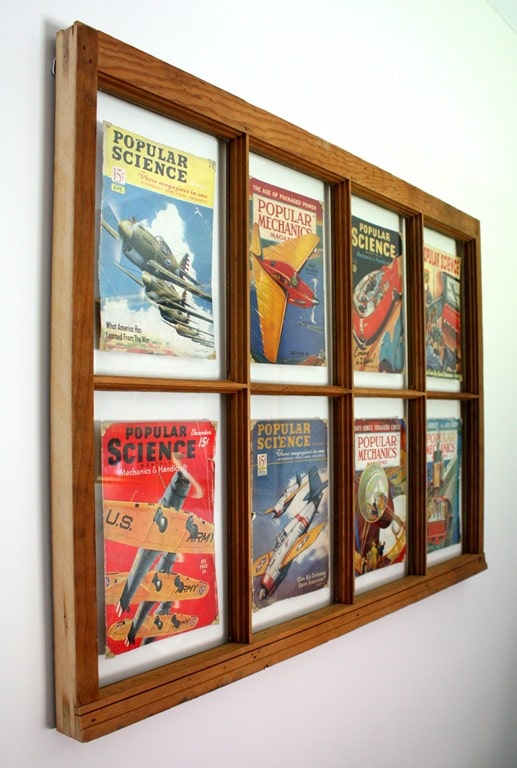 Attach Magazine Covers to the Window
I didn't want to damage the covers, so I used photo corners and glue dots to attach the covers to the glass. The photo corners are designed for scrapbooking and have an adhesive backing that is very sticky, so I quickly discovered that I needed to cut the corners out with scissors and then apply a glue dot to the back of the corner. D-rings were used to hang the window from the wall. (This window is very heavy!) Links included are affiliate.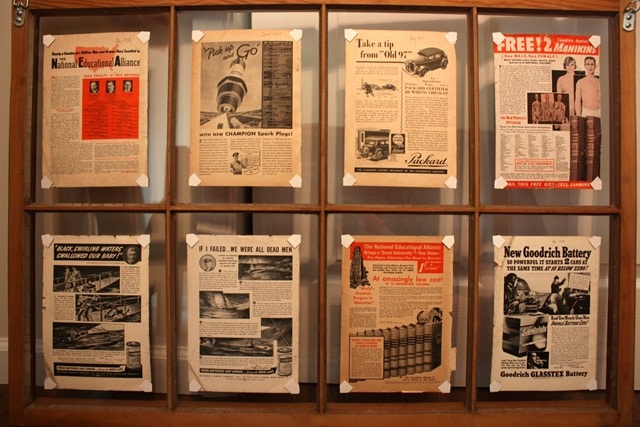 The Finished Product
I had a devil of a time taking pictures of this project because of glare from the glass. The 43 star flag belonged to my grandmother's cousin, son of the uncle who built Mama's Walnut Avenue home. I framed it as a Christmas gift to Mr. SP and it has been hanging over his desk ever since. We now need something else to hang over his desk. 🙂 The airplane painting is a Mr. SP original from his youth. Be sure to come back Tuesday to see the rest of this bedroom!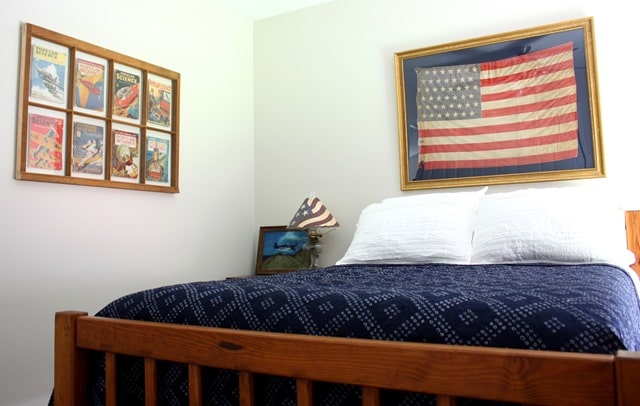 I think that this window wall decor will be a conversation piece when guests stay at our lake home. We haven't had any guests yet but now that it is warm, it's time for some to stay with us.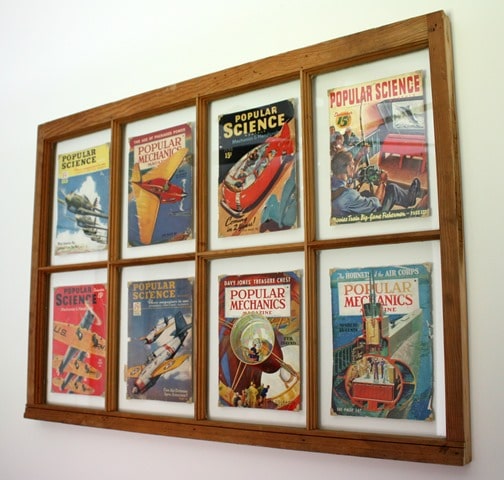 The ads in the magazine are almost as interesting as the covers.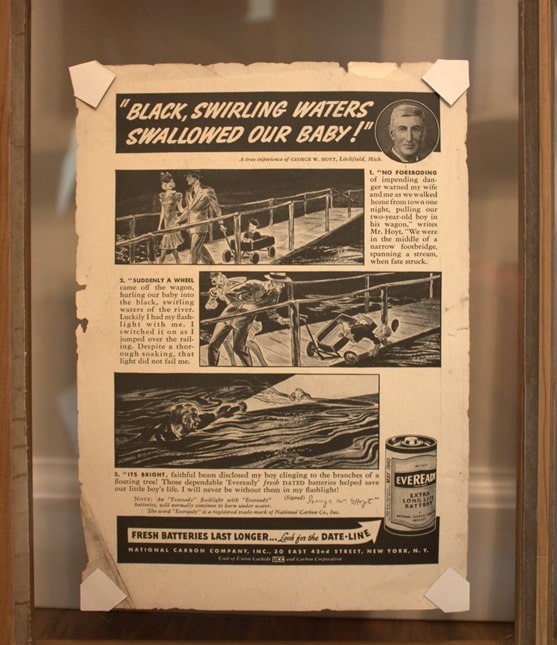 When I tore a magazine cover off, I wrote the date of the magazine on the back side of the cover. The covers that were already torn off had no dates printed on them. I didn't know that the NEA (National Education Association) used to be called the National Education Alliance until I saw this ad.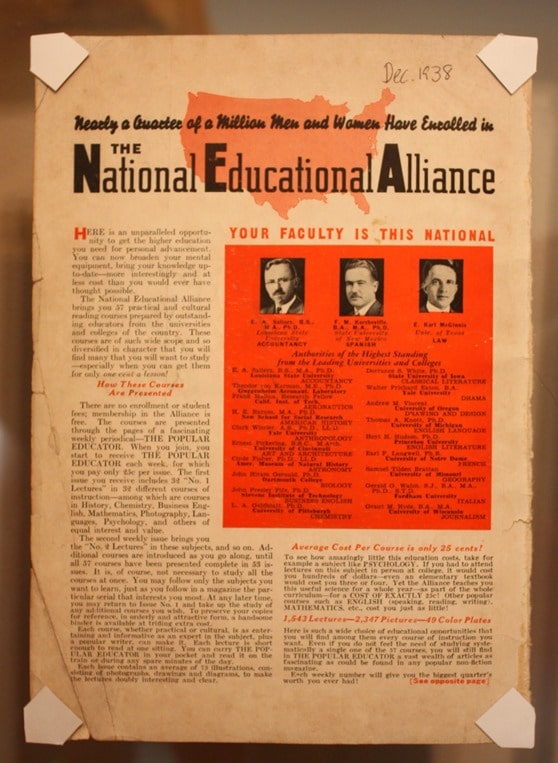 This Packard ad from 1941 is interesting. I plan to leaf through the magazine for ads that I might frame for another wall display. Perhaps that's how I'll use the second window that my friend gave me.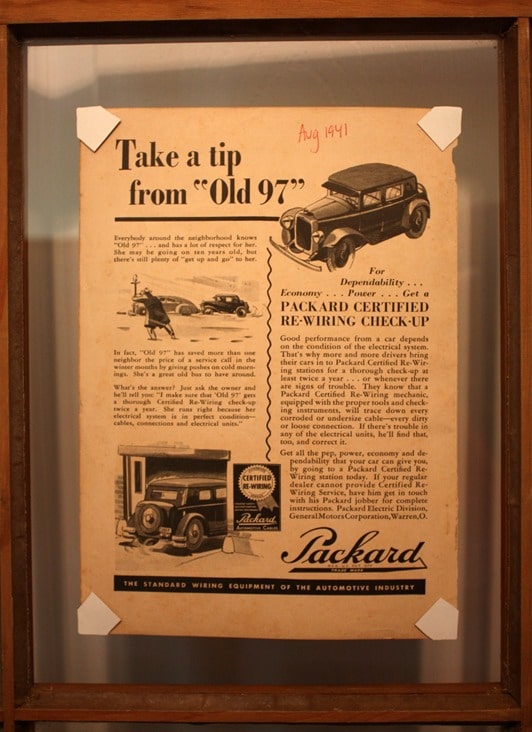 Visit all of the Best of Farmhouse Friends projects by clicking on the links below.