Guest Room Decor at Smith Mountain Lake
Earlier this week I shared the window wall art that I made for a guest room at our Smith Mountain Lake home. Today I'm sharing the rest of that bedroom's decor.
This guest room will primarily be used by my father-in-law, a retired engineer and veteran. The room's theme is Americana and I've tried to fill it with decor that I think that he'll like.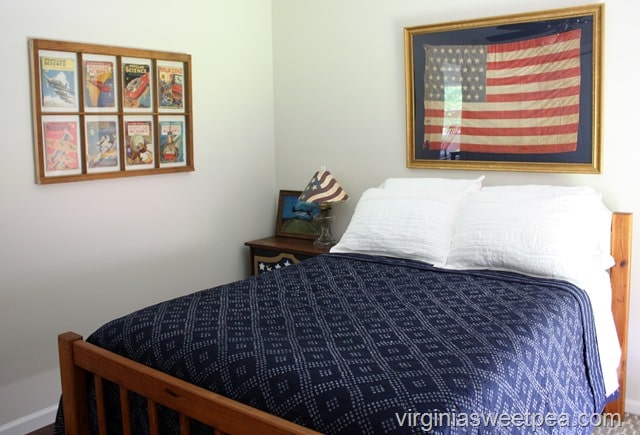 Mr. SP purchased the bed when he first came to Lynchburg nearly 30 years ago from Cargo at the mall. It's been in our guest room at home and now it's here at the lake.
The chair in the corner has Pi appliquéd on the seat cushion and I know that my father-in-law will love it when he finally sees it. I didn't get a shot of it but you can see it in this post.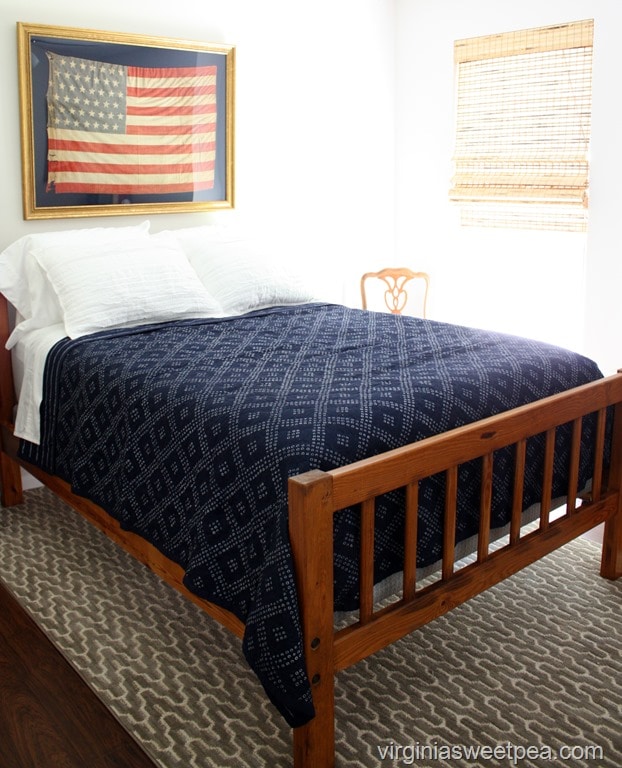 The bedside table is a patriotic Ikea Rast hack that we completed last spring.
The shield is routed into the drawer fronts and was modeled after a gate that we saw in a museum in Vermont.
The lamp on the table is a converted oil lamp that Mama gave us. If you are my age or older, you probably recognize the shade whose style was popular about 20 years ago.
The painting was done by Mr. SP when he was a child and his dad gave it to us specifically for this bedroom. The 43-star flag belonged to my grandmother's cousin.
This bedroom is cozy and thus was difficult to photograph.
The dresser below is what you see when you first look into this room.
My father-in-law is a huge baseball fan, so I wanted to incorporate some baseball items into my Americana theme. And, what says America more than baseball?
The chest is from an unfinished furniture store in town and was purchased and stained by Mr. SP around the time he first moved to town.
The DIY baseball bookends were my project for March's Power Tool Design Team.
My aunt bought the Norman Rockwell print at a flea market in Florida and gave it to me to sell in my shop. After dry brushing the frame with off-white paint, I couldn't bear to sell it knowing that from Chicago father-in-law would love it in his room.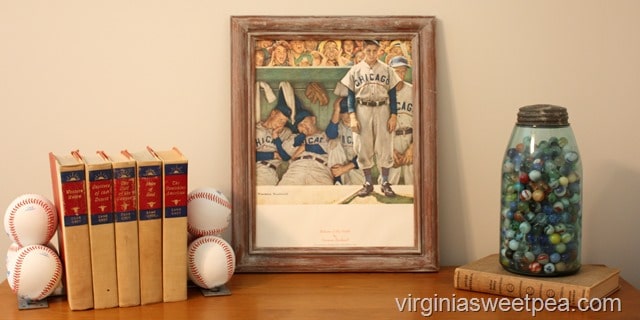 I'm not sure if my father-in-law is a Cubs or White Sox fan. I'm sure he'll like it no matter which he prefers.
The marbles belonged to my dad and so did the baseball book. Mama gave them to me when we visited her at Easter.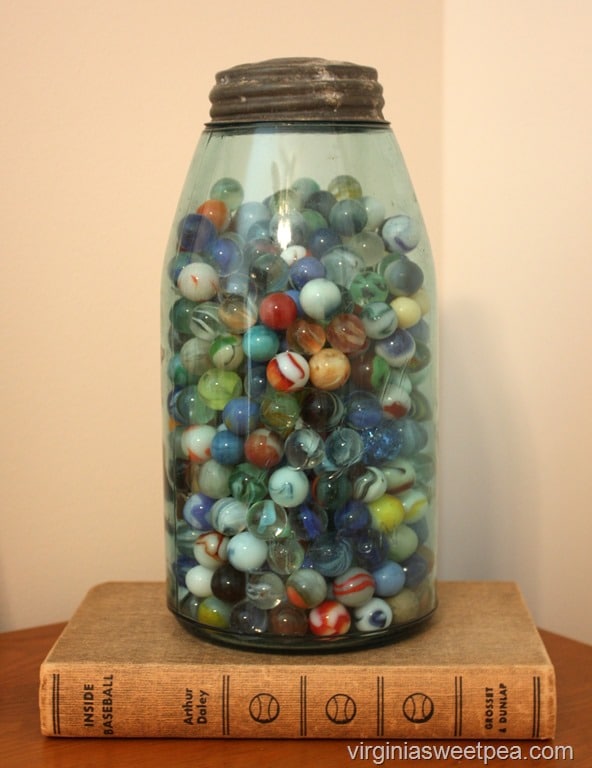 Would you believe that I found the vintage "Old Glory" flag print in a dumpster?
Its frame was an early morning find while running on trash day. My friend Suzanne and I love to run on trash day! (Suzanne just started a history and food blog, Appetite 4 History.)
I had a local frame shop mat the print and frame it and it's been patiently waiting in my basement for two years now for a home. I love how it looks here.
You can tell by the pictures that this is indeed a cozy room but how much time do you want to spend in a bedroom at the lake anyway?
I think it will be perfect for our guests, especially our vintage loving ones.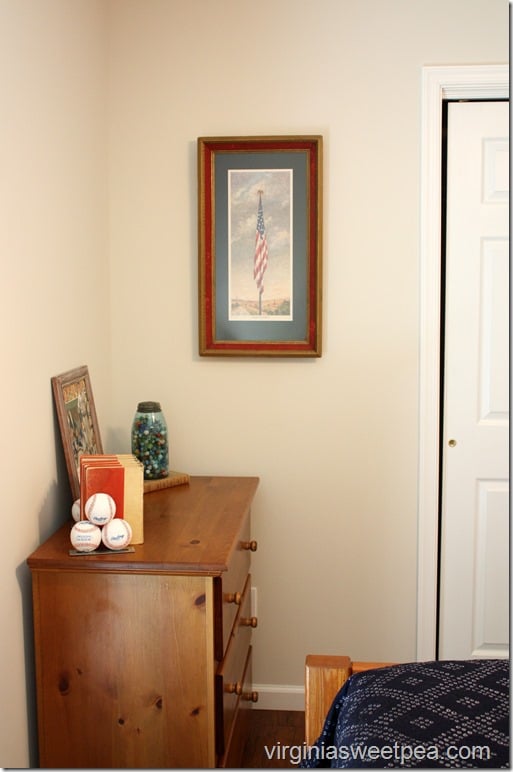 In case you missed it earlier this week, here's another look at the window wall decor that I made for this room.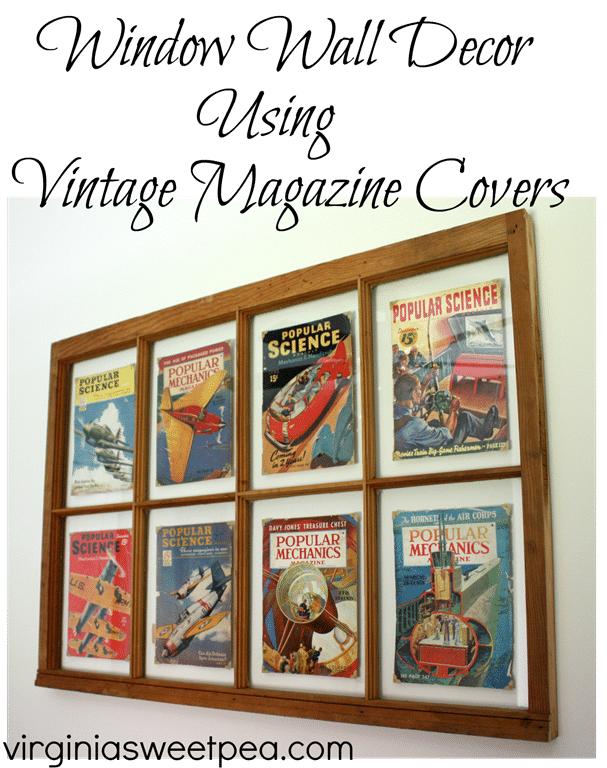 My mom's room at the lake is coming along and I hope to share its decor with you soon.
The bed needs to be sandblasted and painted but even without a bed, it's ready to be used with a mattress and box spring on the floor.
Her decor is also vintage but is feminine. Update: See her room here.
The master bedroom is another story. It is usable but is a blank slate for decorating. When I get out of school for the summer, I'll get to work in there. Update: See the master bedroom here.
To see my other posts about our Smith Mountain Lake home, click here.