Life Magazine from December 25, 1950
The other day I was looking through my many Christmas storage bins and I came across a Life magazine dated December 25, 1950. I enjoyed looking through it and thought that it would be fun to share some of the things in this magazine that caught my eye.
Life Magazine – December 25, 1950
A long time ago an older couple who lived down the street from my friend moved into a retirement home and then had an estate company clean out their house. The estate company parked a giant dumpster in front of the house and then threw all kinds of treasures into it.
Now these were treasures to my friend and I, but to an estate company, small stuff that they didn't want to bother to sell.
When the estate crew left for the day, my friend would call me and we would climb into that dumpster to find treasures. This Life magazine is one thing that I found and saved.
You can see more of what I salvaged from the dumpster here and here. We also took loads of stuff to Goodwill because we couldn't bear to see so much thrown away.
Magazine Cover
The cover painting is by John Koch, a well known portrait painter who had painted a similar painting in 1935. Life magazine asked him if they could use the 1935 painting and he offered to do a new painting and said, "I can do better now."
I believe that this magazine was saved because of the special children's section. The magazine owner was a teacher and along with this magazine, I saved bunches of other things from her classroom including these Coca Cola posters that I had framed and now are hanging in our lake house. You can see another Coca Cola print from the dumpster in this post.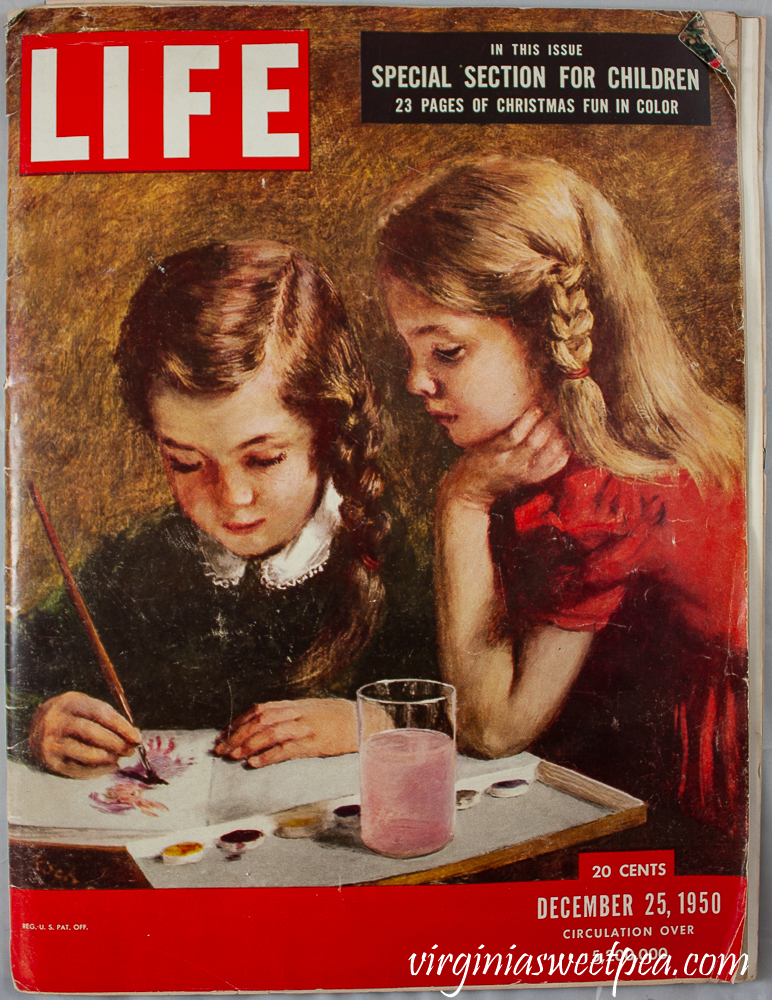 Advertisements
After looking through this magazine, I realized that advertisements were very different in 1950 with more art and fewer photographs.
This adorable painting shows a family coming to visit grandma. You have to look carefully to realize that it is an ad for Plymouth.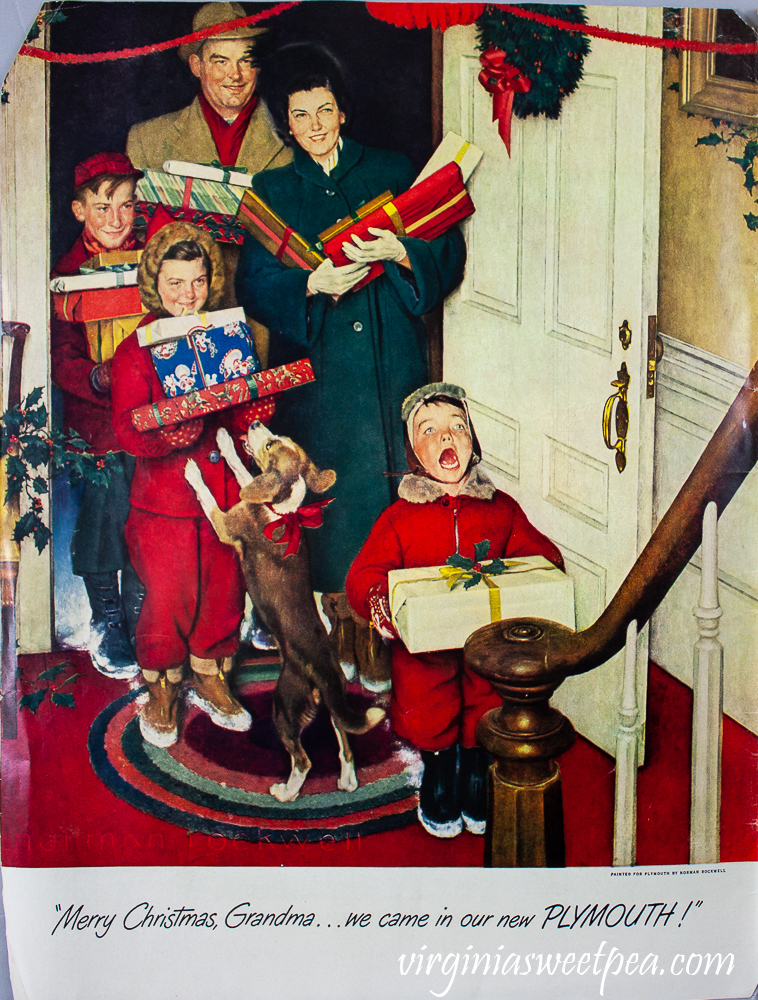 We take an automatic transmission for granted, but in 1950 it was new technology. This ad shows the features of the Merc-O-Matic automatic transmission in a Mercury.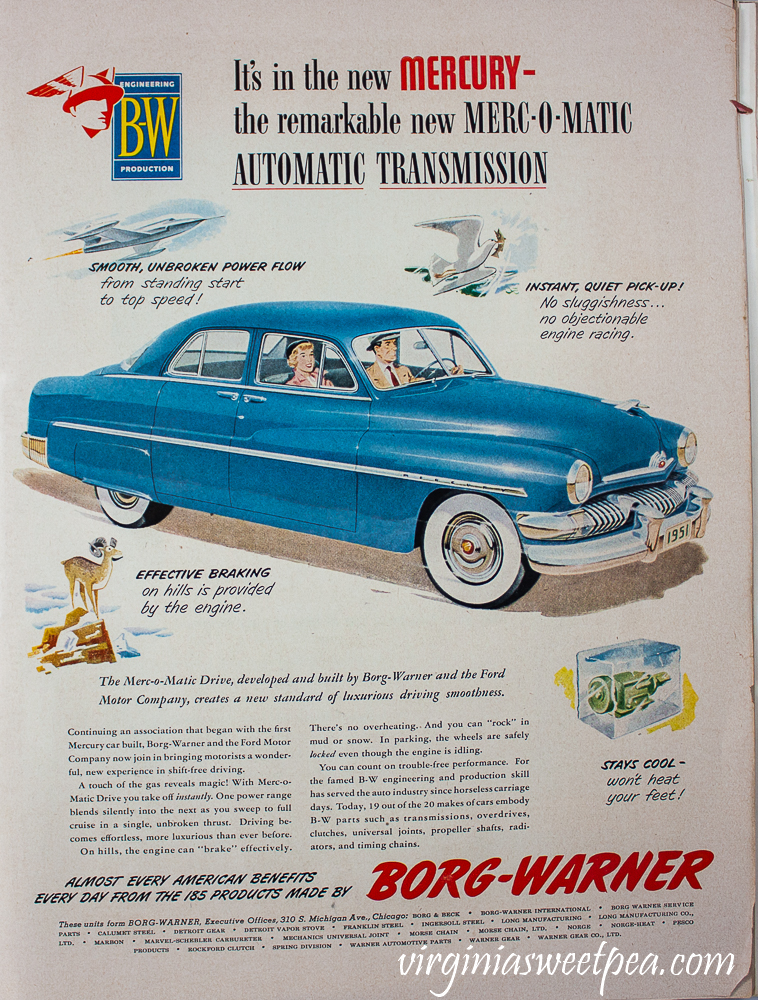 Ads in the 1950's had a lot of text. Can you imagine anyone in this day and age taking the time to read a long ad like this? It's a sweet Christmas story and nice feel good ad for Bell Telephone Systems.
My father-in-law worked for Illinois Bell and I'm eager to see if he might remember this ad.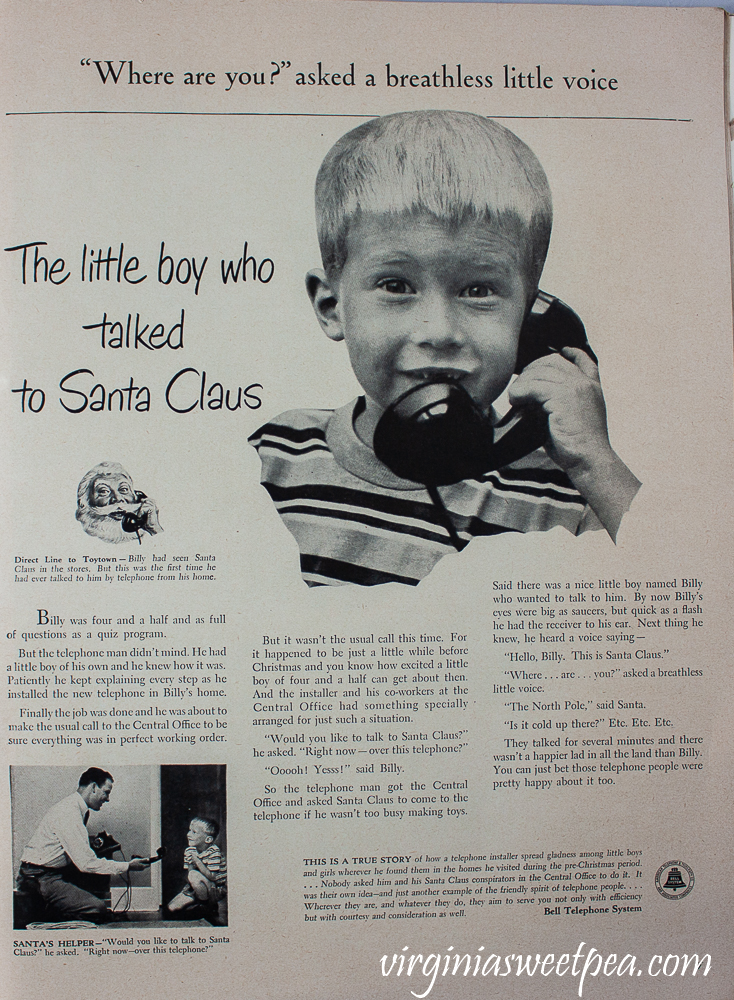 This ad might nauseate you a bit if you read it. I've always thought of any "cream of" soup as a casserole ingredient. Campbell's marketed this soup to be enjoyed as the label says, as soup.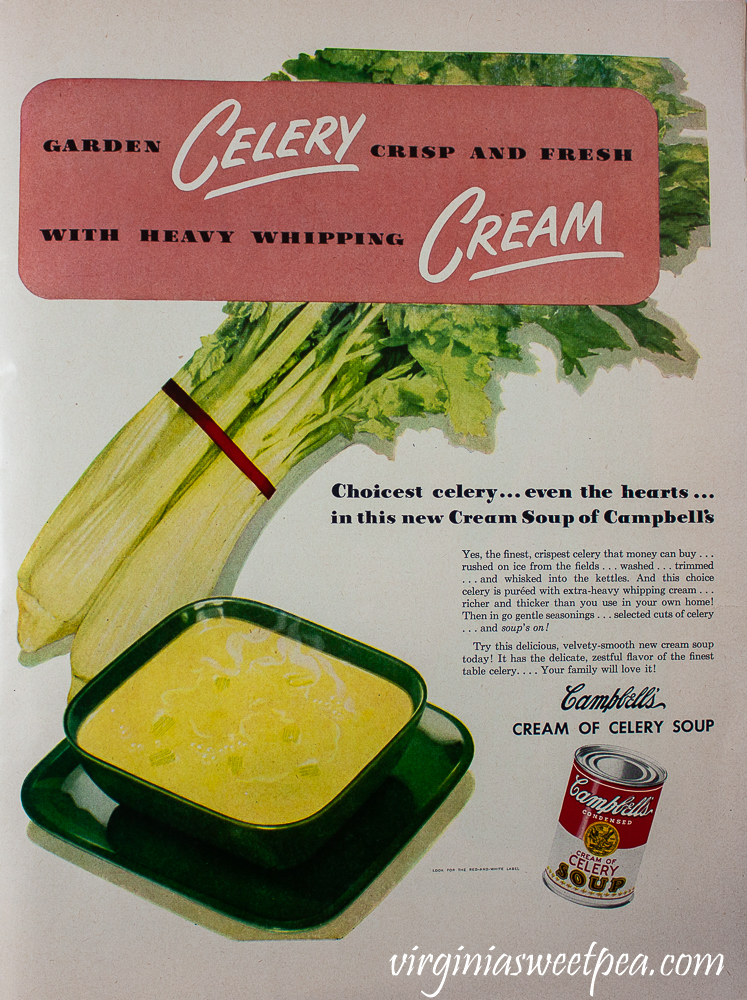 I had never heard of Ballantine Ale until seeing this ad. Ballentine is one of the oldest beer brands in the United States and at its peak was the 3rd largest brewer. It's now owned by Pabst Brewing Company and in 2014 Pabst relaunched Ballantine IPA with favorable reviews.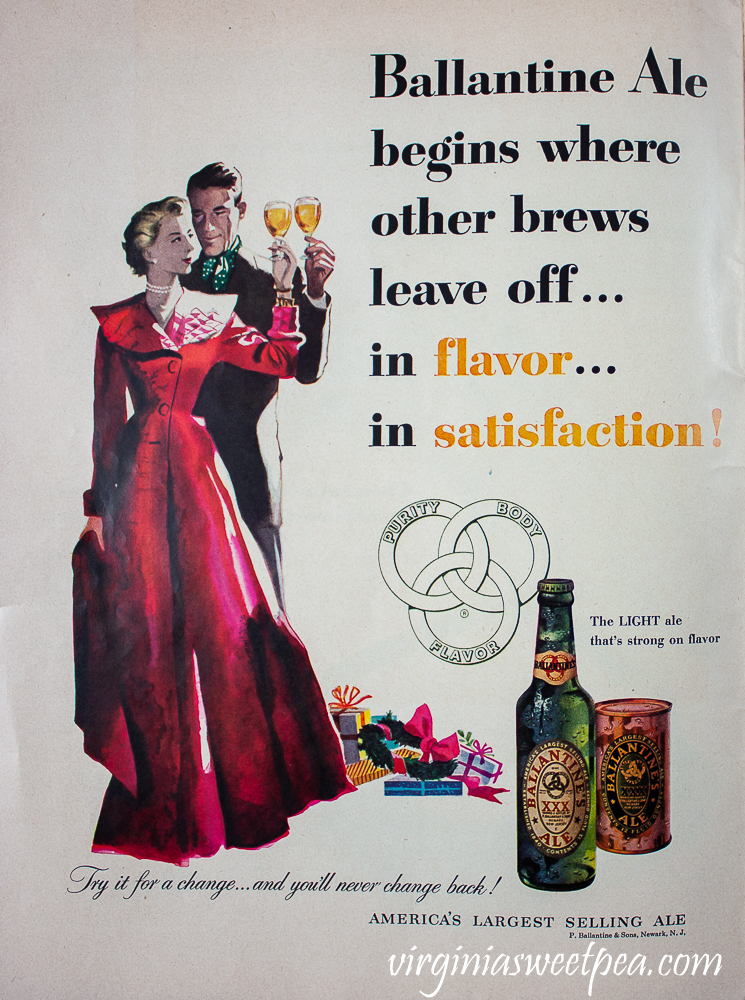 Santa put out quite the spread in this Budweiser ad. Note that in 1950, beer can lids were flat. My husband collected beer cans throughout his childhood and I shared some of his collection here. He has a Budweiser can like this one but I didn't photograph it for that blog post.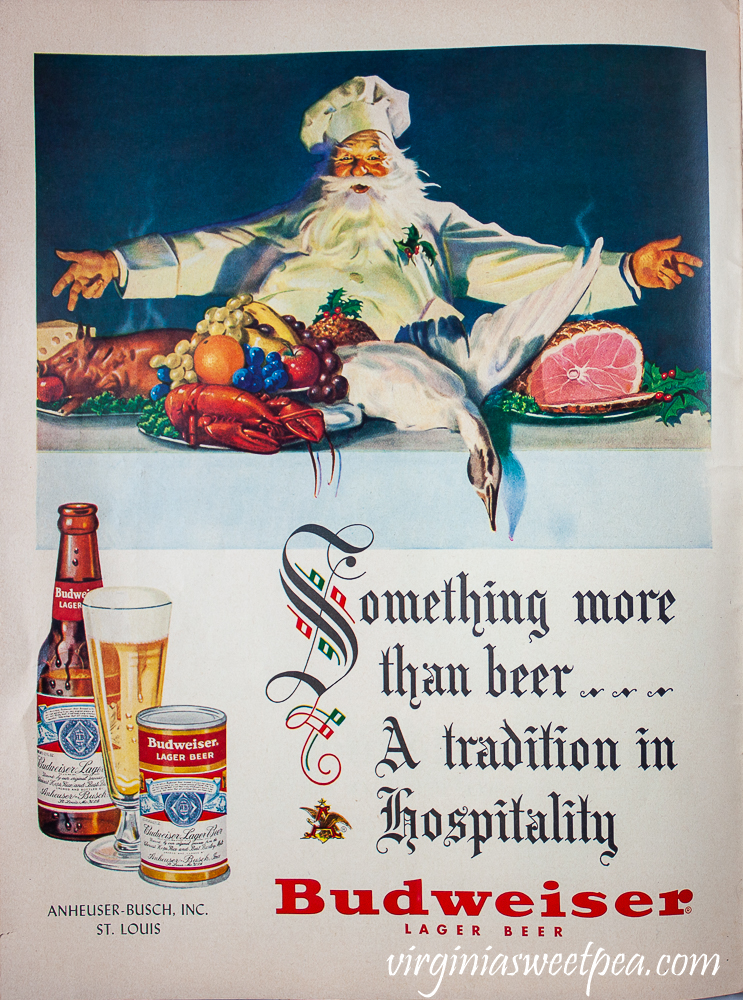 This fellow received a case of Schlitz beer and disappeared from Christmas decorating to crack open a cold one. The tag on the box says, "Do not open until Xmas", but he couldn't wait.
I think that this ad would make a great poster to display at Christmas.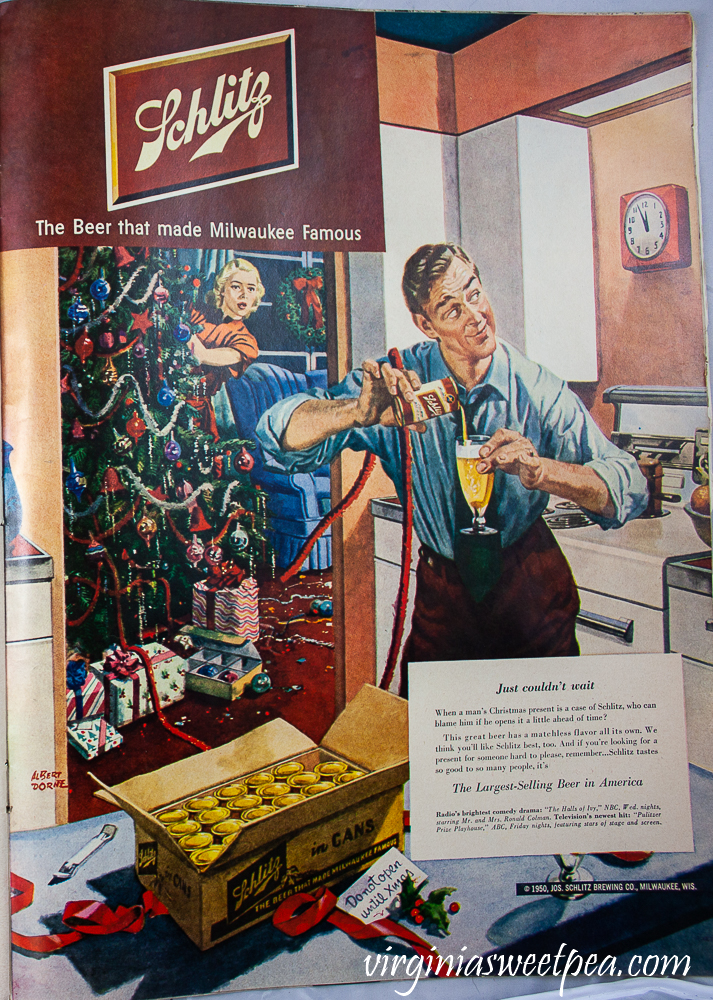 The Pan-American Coffee Bureau published this ad.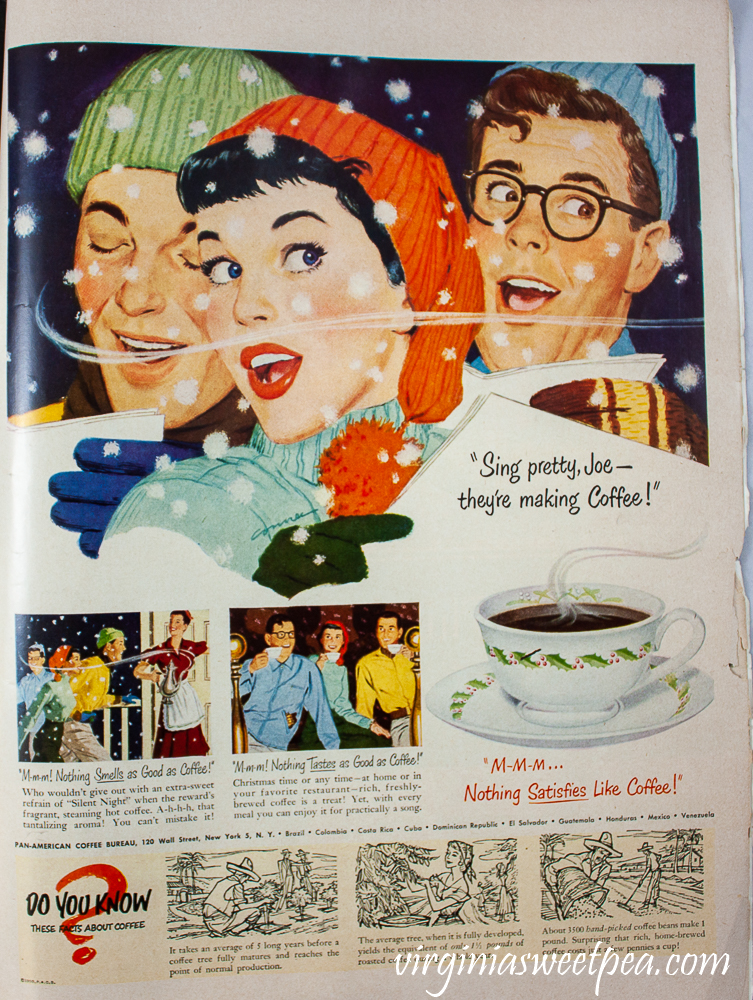 I've never heard of this whiskey, but it's still in production today.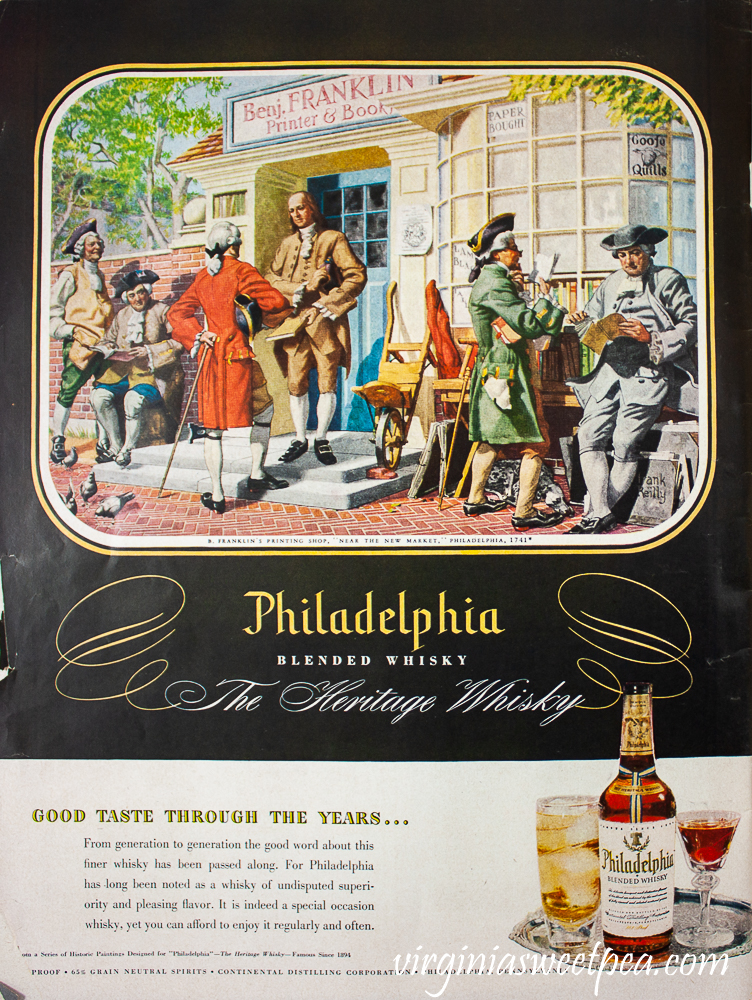 This issue of Life magazine certainly had a lot of alcohol ads. In this ad, star Fred MacMurray encourages trying Blatz, Milwaukee's finest beer.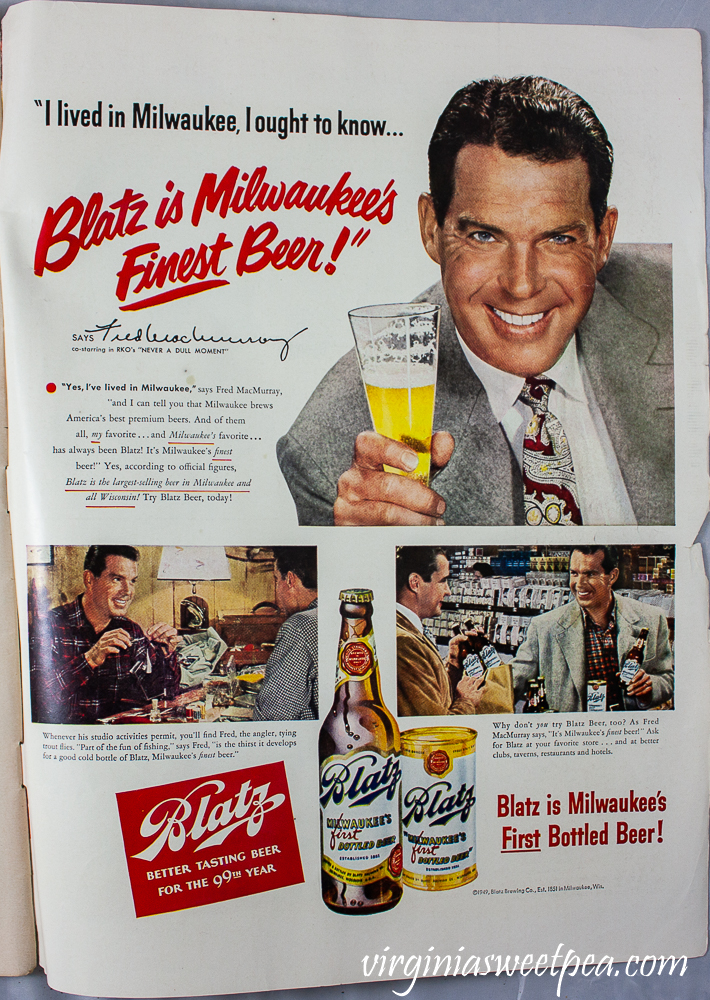 Chesterfield cigarettes had a pretty box for Christmas. (Wouldn't I love to have that box for decorating?) Arthur Godsey, Bing Crosby, Perry Como, and Bob Hope help to sell these cigarettes.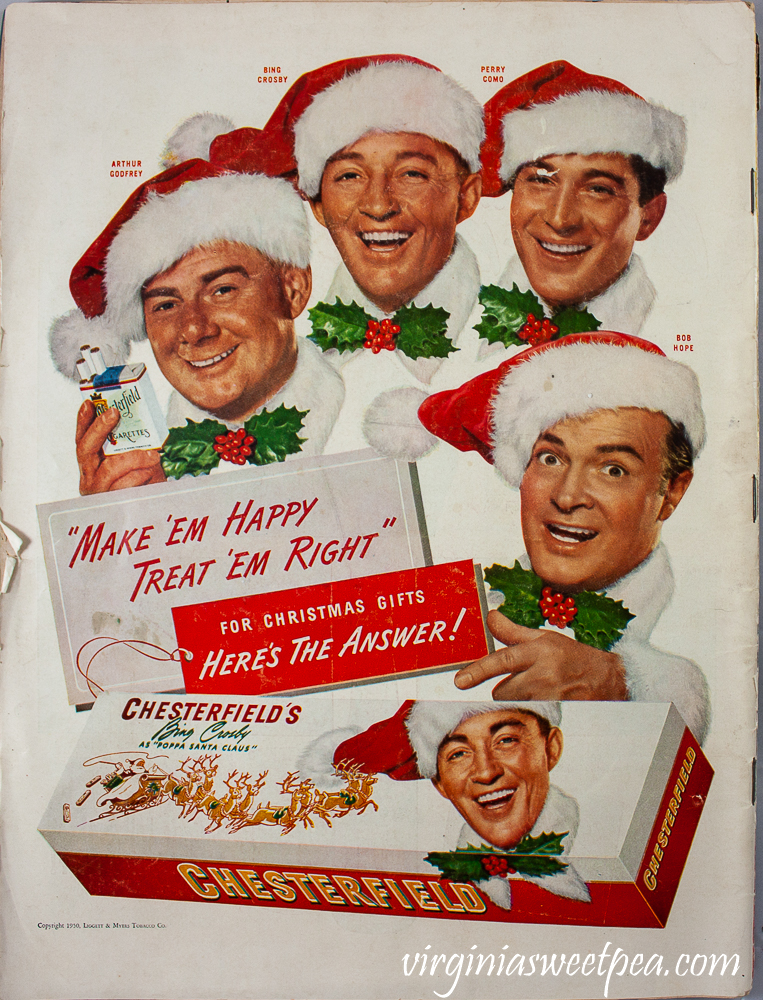 No one would ever publish an ad like this one in this day and age. I didn't even realize this was an ad until I read it and then saw Listerine Antiseptic at the bottom.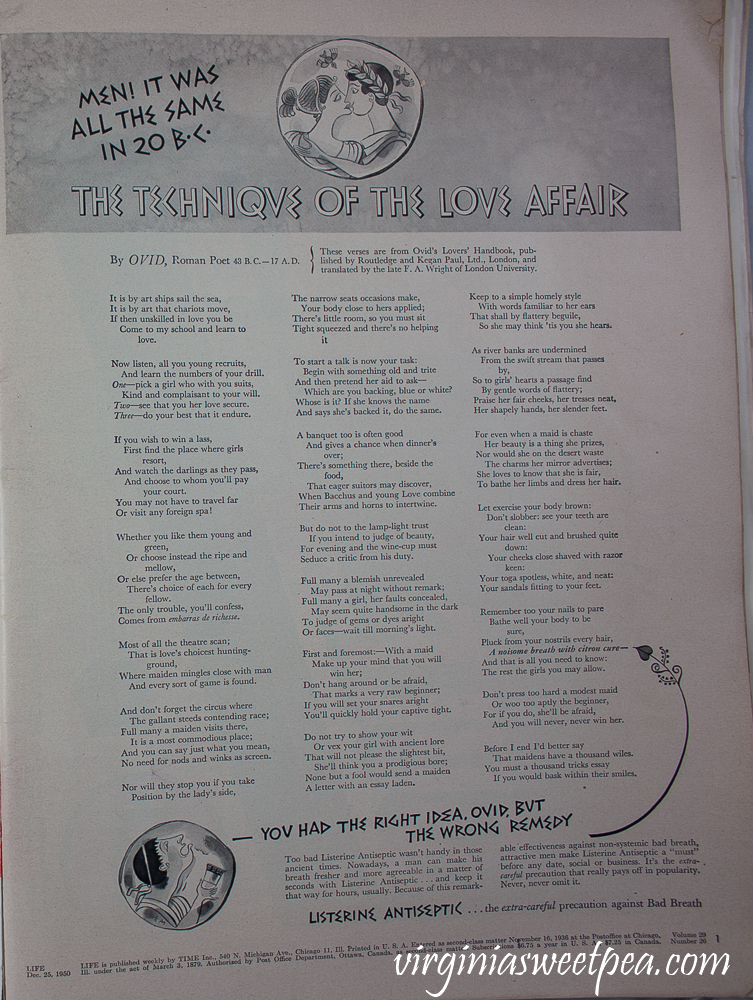 Christmas Section for Children
In 1950 I can imagine that any child would be excited to have 23 pages of the magazine to enjoy.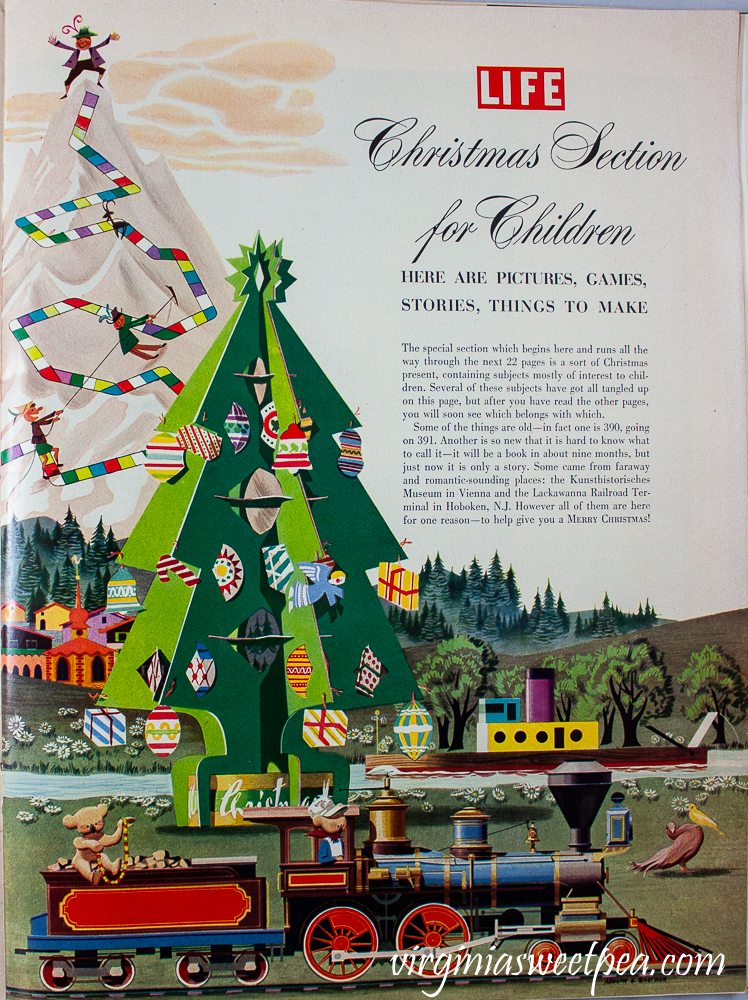 Children were supposed to look at this painting from 1560 and identify games that children were playing as well as toys and pastimes. There are at least 71 activities to find.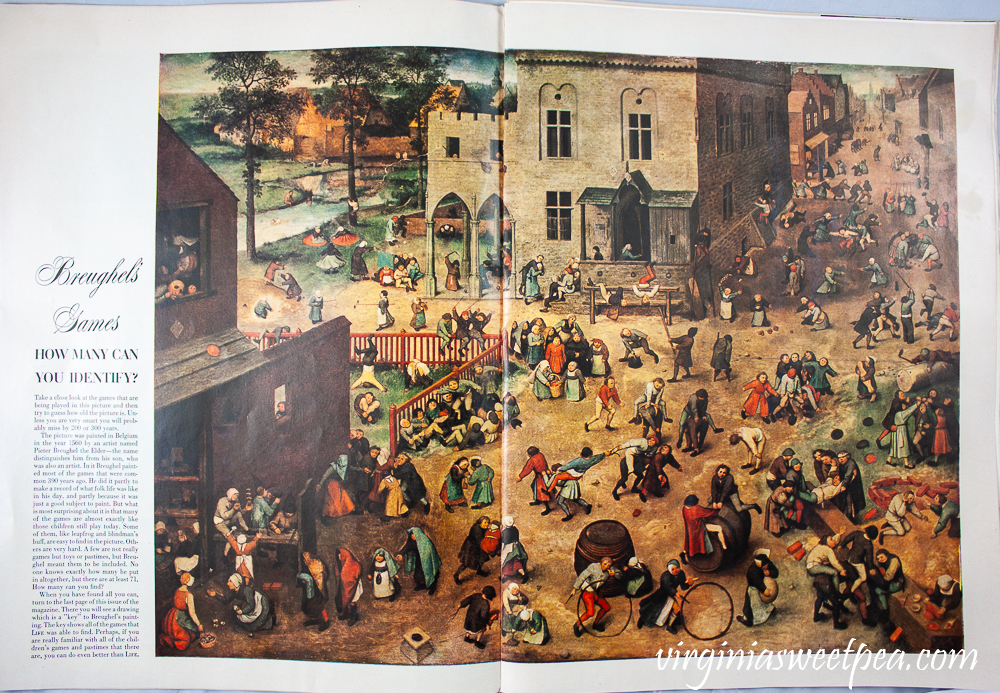 These toys are all from a carnival held at the Museum of Modern Art in NYC.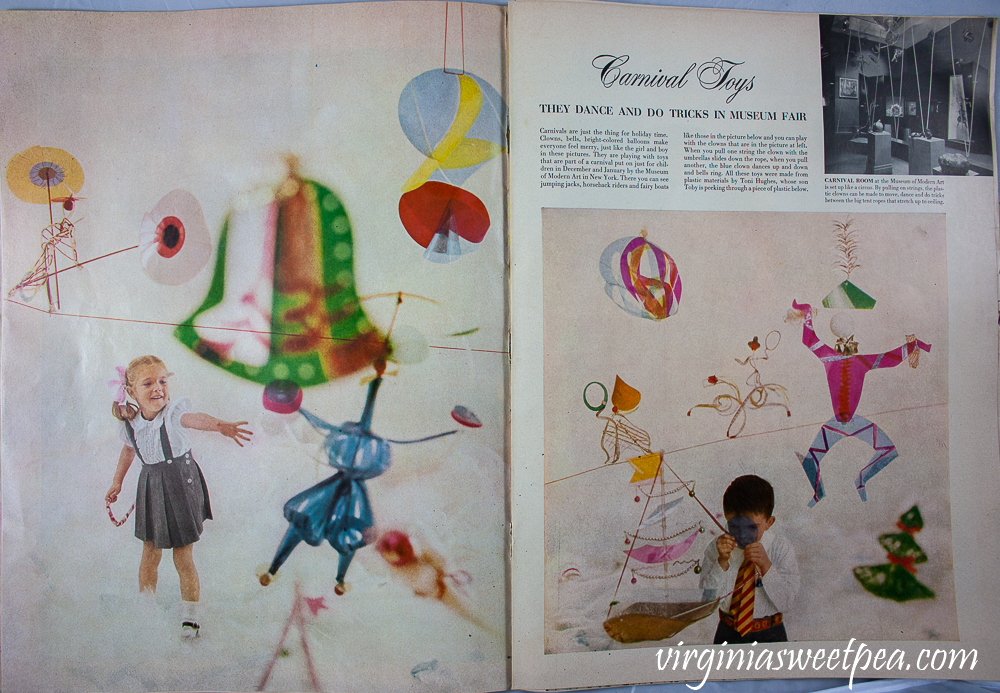 Trains have been loved by children for generations. I'm sure that many a boy or girl gazed at these model trains and wished that they were theirs.
Kids could make the Christmas tree pictured on the right hand page and cut out the ornaments on that page to use for decorations.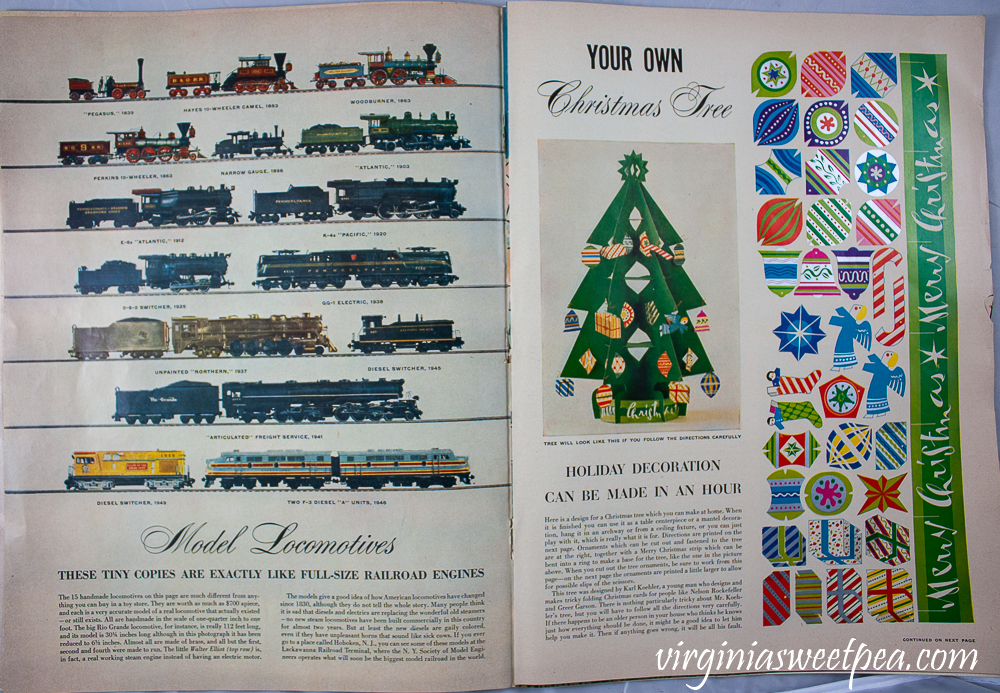 This is the pattern to use to make the tree.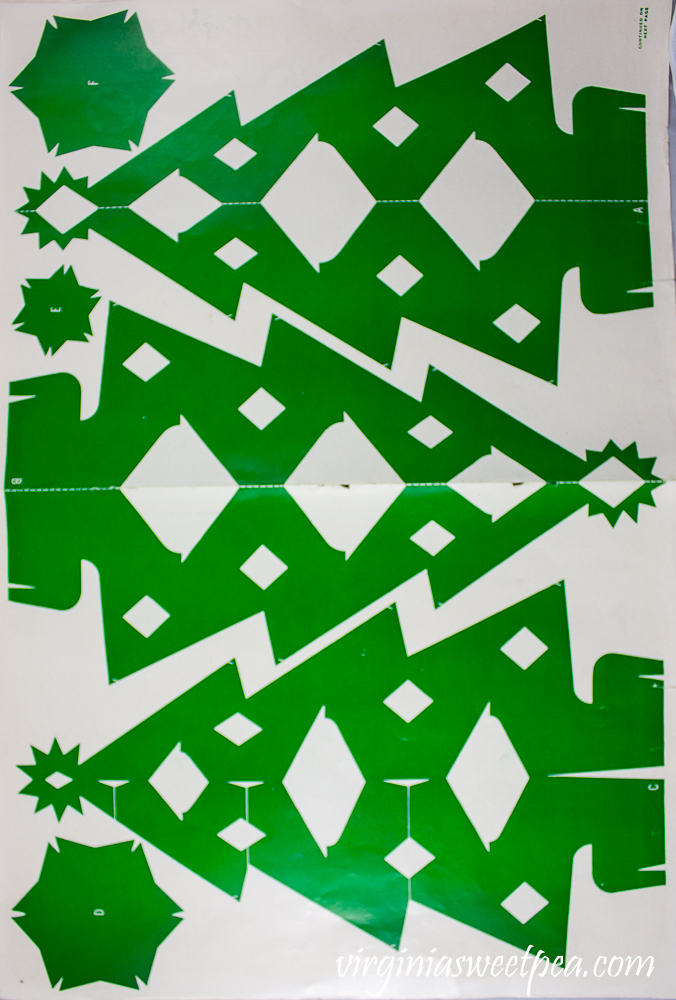 Wouldn't it be neat to make a cardstock version of this tree so that it would be sturdy? I may have to try this.
Kids could read about performing birds.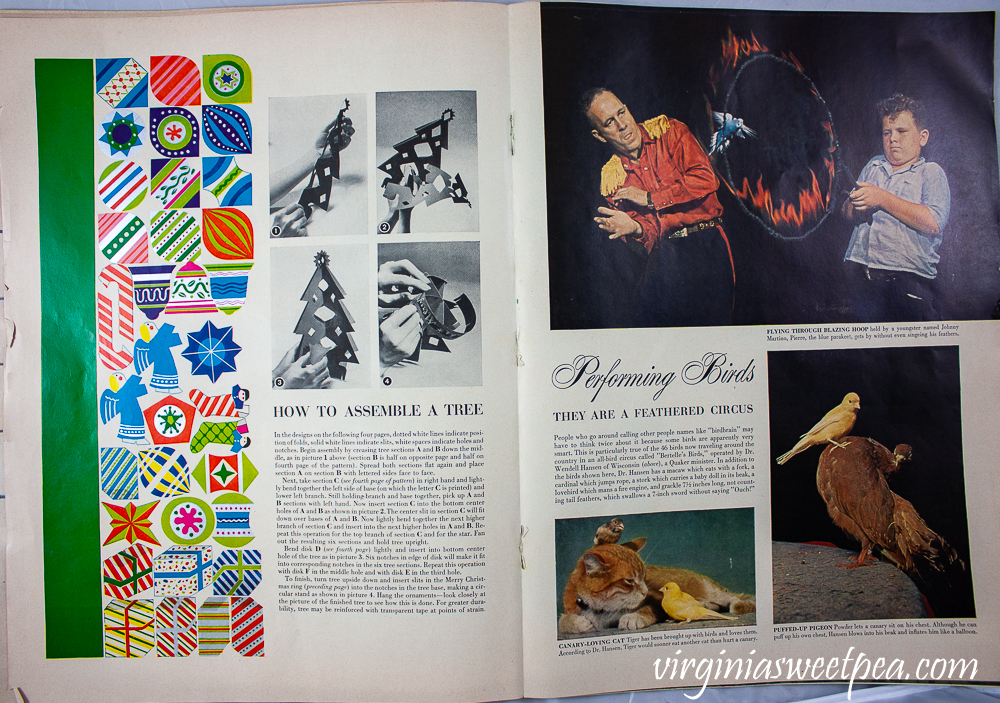 Kids could play the "Climb the Matterhorn".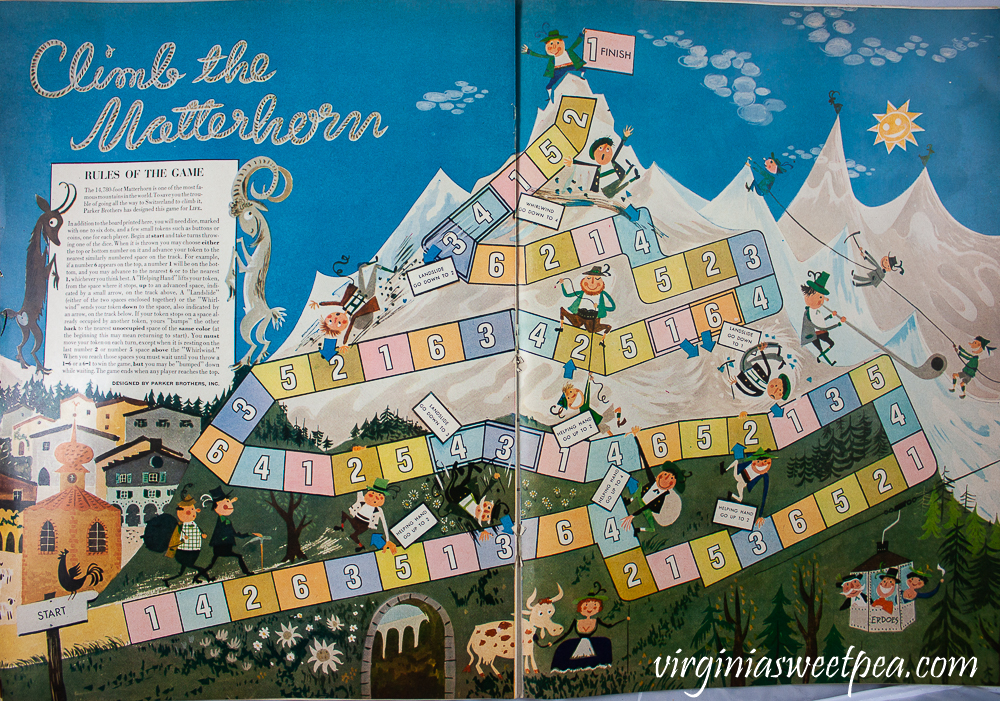 They were encouraged to make a paddle wheel steamboat, paper and noodle jewelry, an electric quiz game, and paper mache bowls and trays.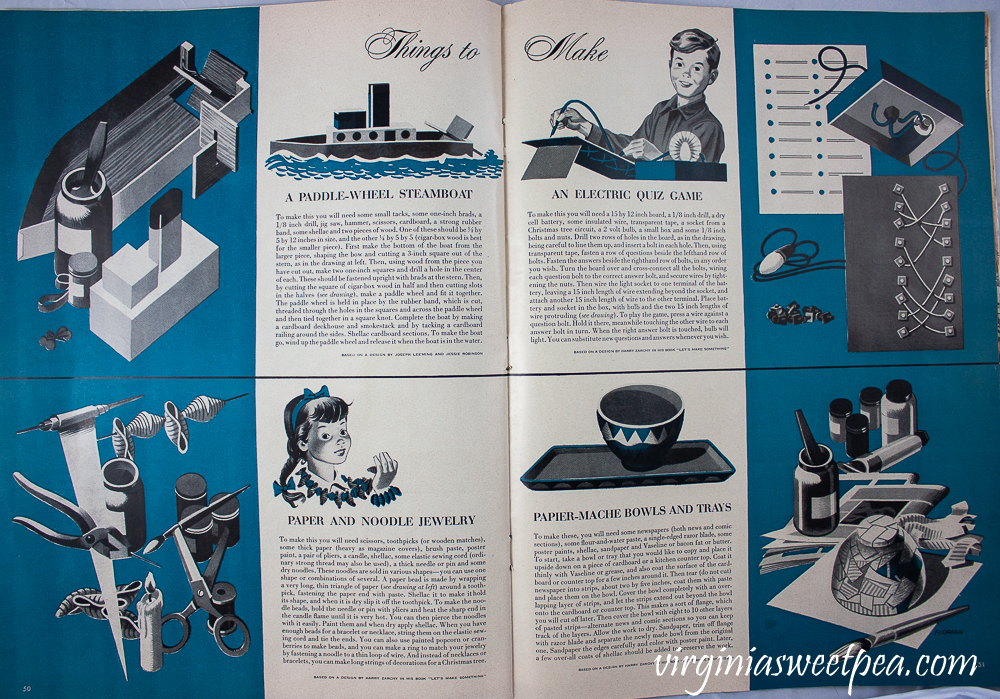 Korean War
On a serious note, there was an article in this issue on the Korean War.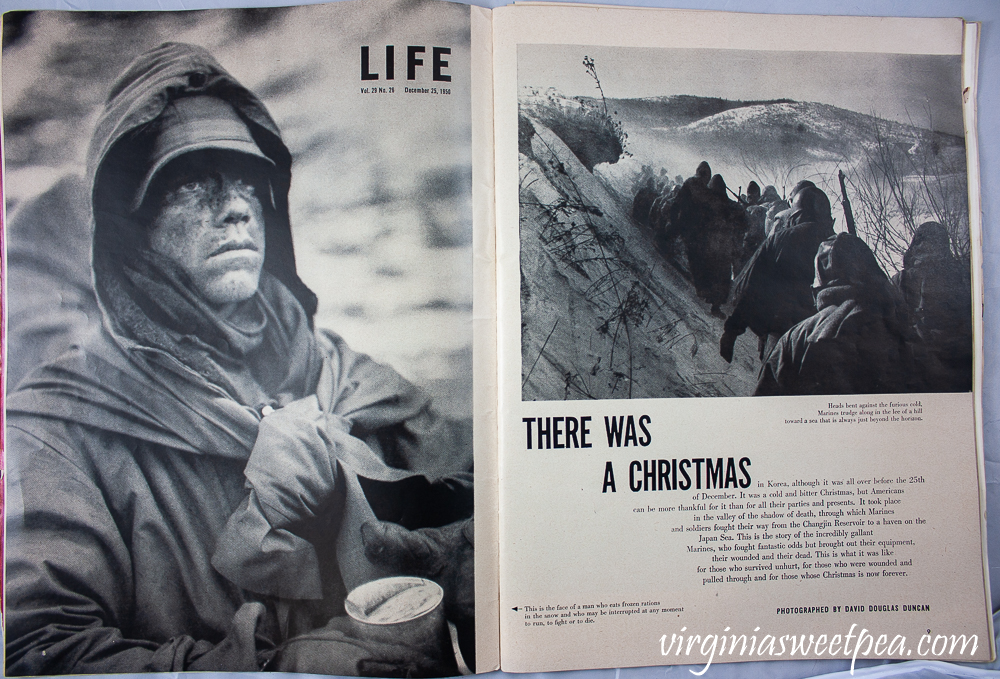 One of my uncles fought in the Korean War and I thought of him as I read the article and looked at the pictures.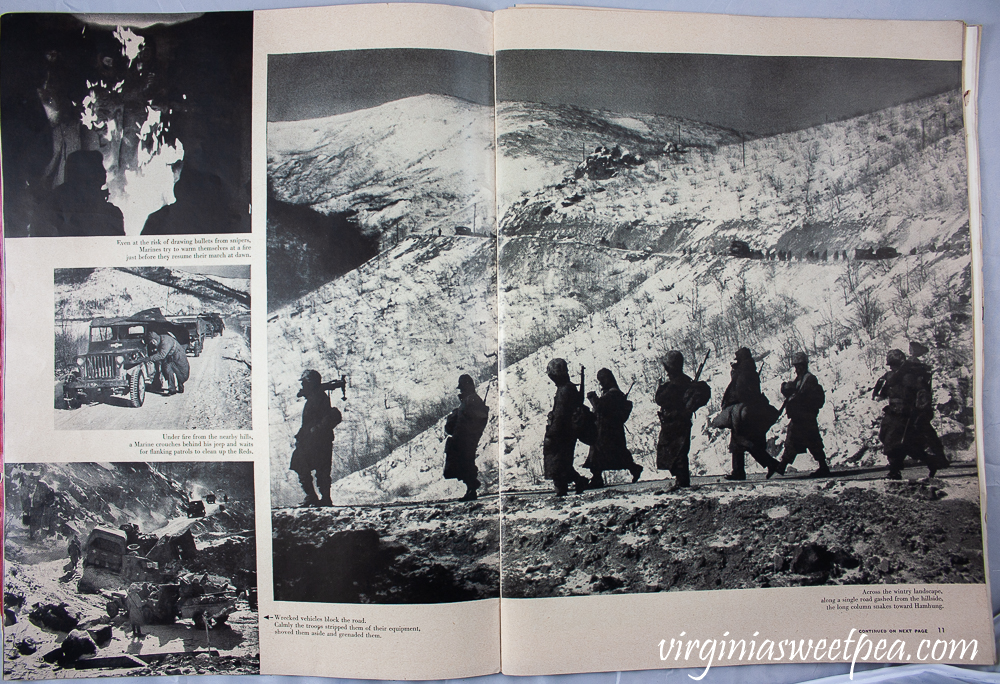 I had to ask my history loving husband to explain what went on in the Korean War because I apparently didn't retain anything that I learned about it in school.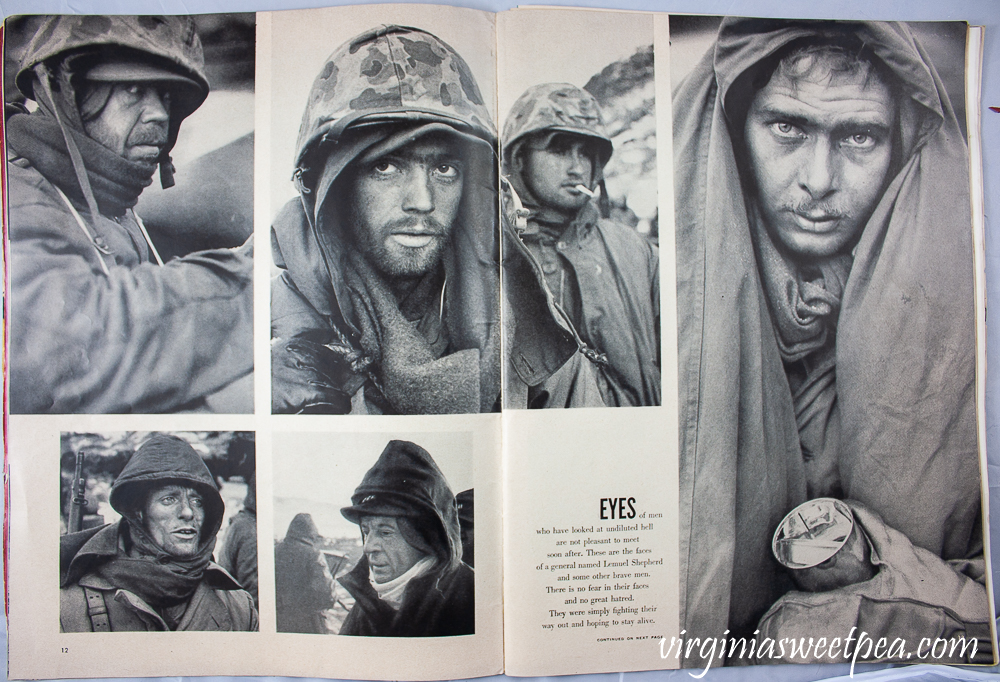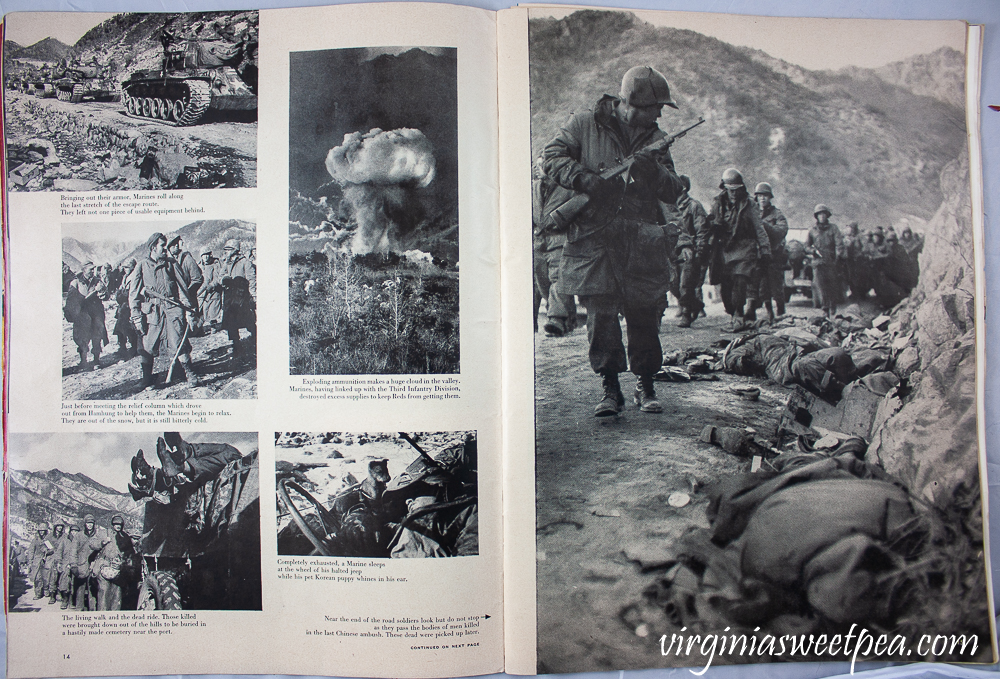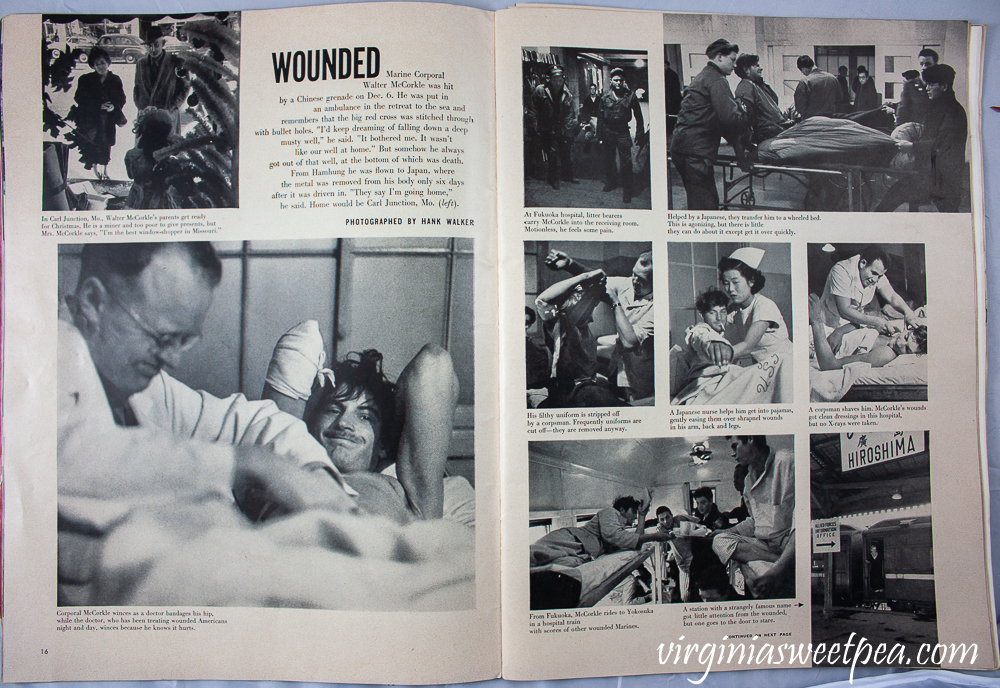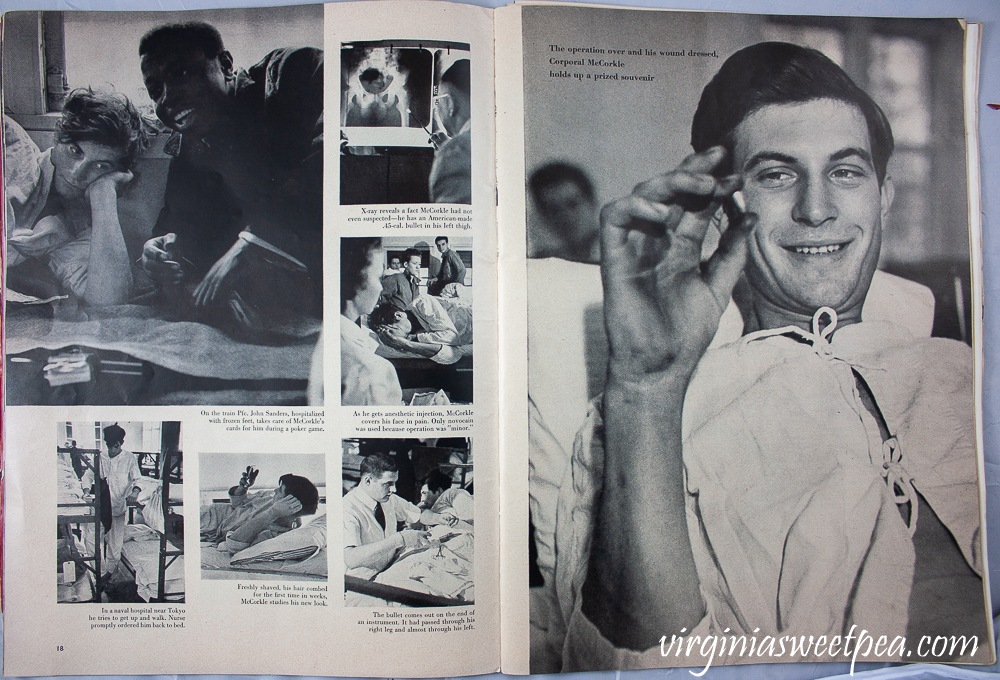 Debutantes
America must have been very interested in debutantes as this issue highlighted debs in New Orleans, Baltimore, San Francisco, St. Louis, Philadelphia, Detroit, Chicago, Charleston, and New York.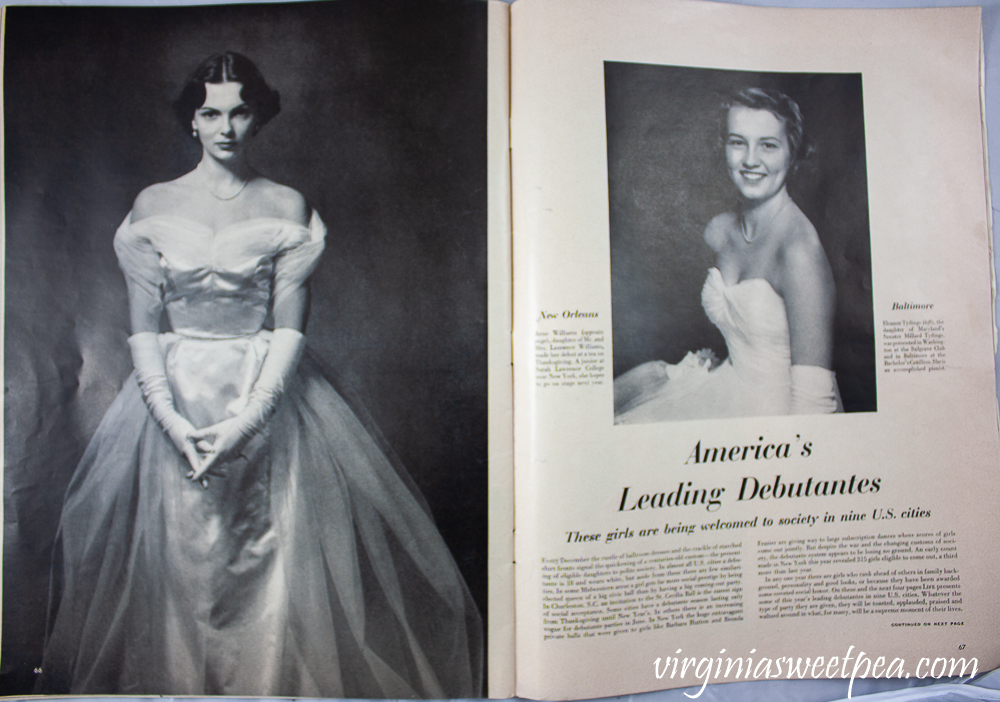 New York's debutante was Caroline Lee Bouvier, Jacqueline Kennedy's younger sister.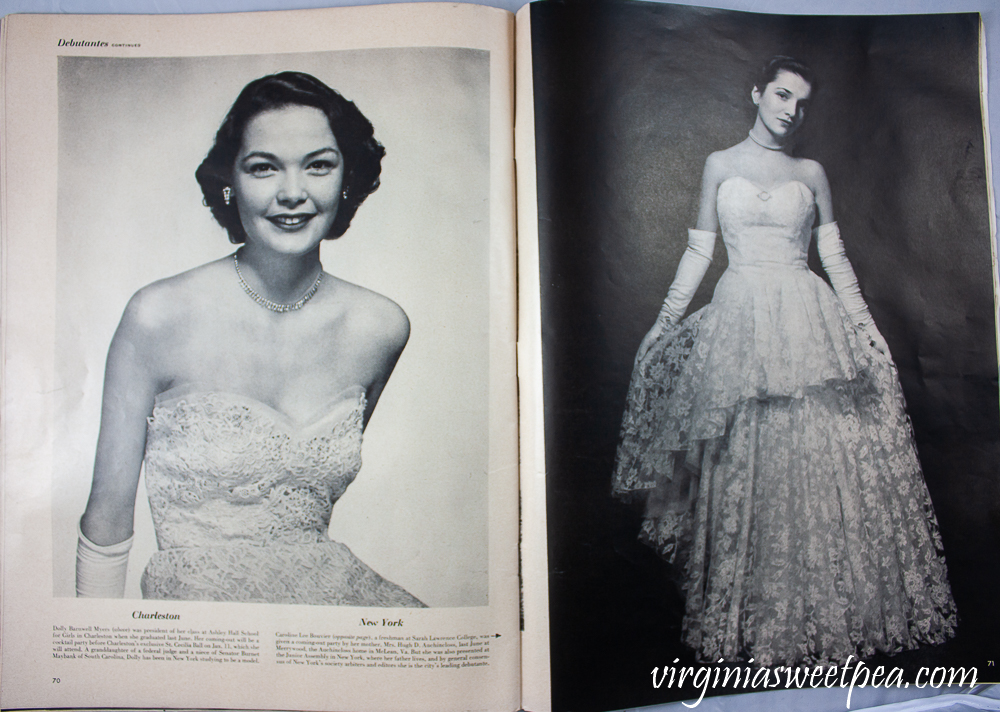 Final Thoughts
This was just a bit of what was published in this issue of Life magazine. In 1950 receiving this magazine was probably a big pleasure as the only other sources of news or entertainment were newspapers or tv for those lucky enough to own one.
I'm so glad that I found this magazine in the dumpster and saved it from the landfill.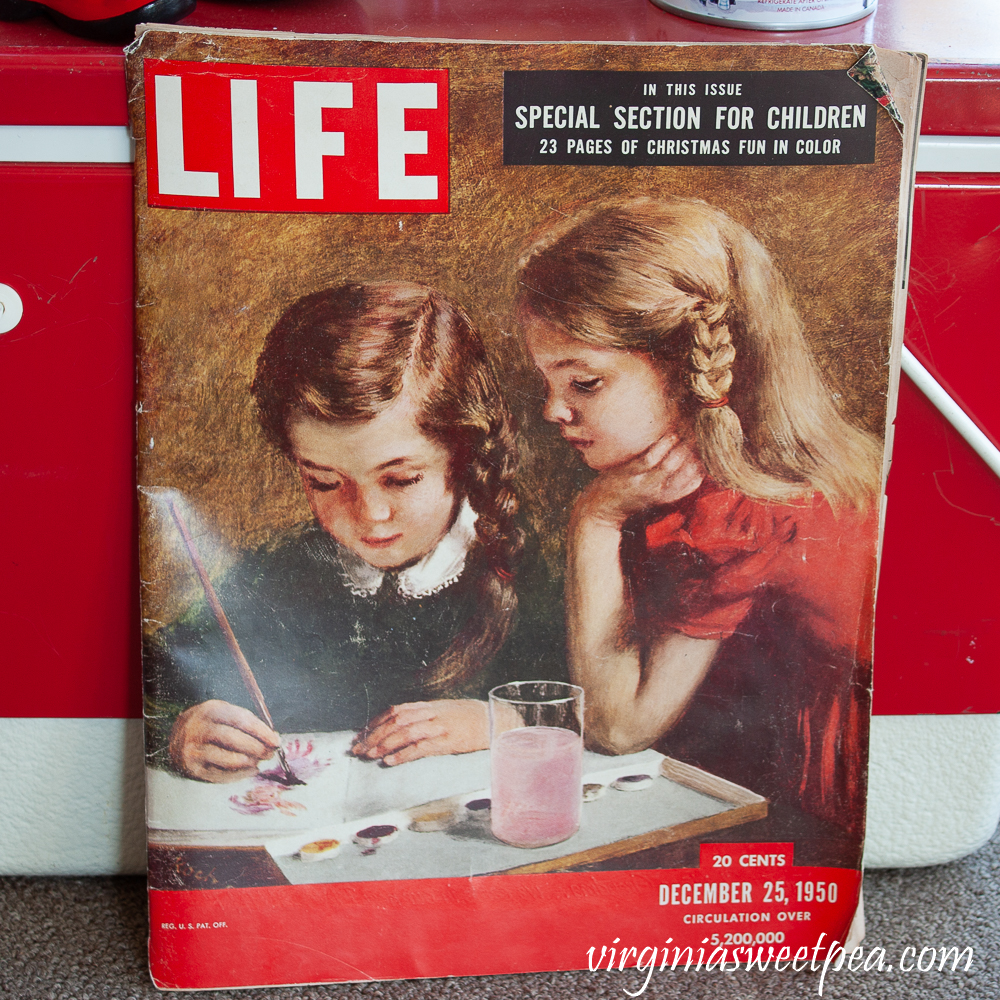 Pin It!

I would love for you to pin this post to Pinterest for others to discover!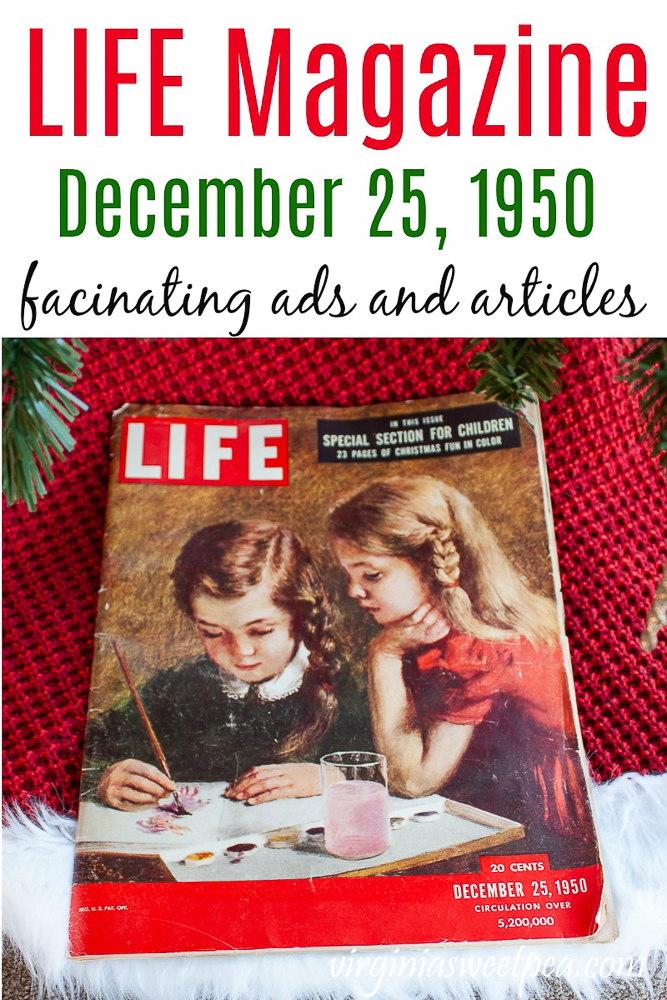 I hope that you and your friends and family have a wonderful Christmas!