Bathroom Update Sneak Peak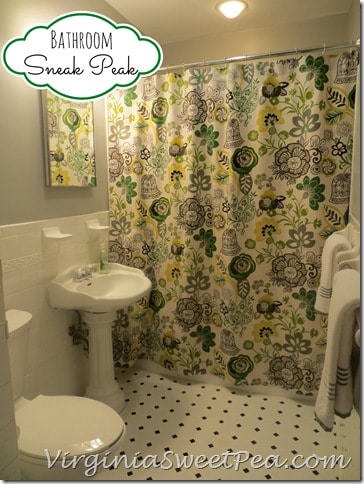 I've been hard at work on our main floor bathroom update and although the project isn't complete, progress has been made. If you missed the before pictures, click over to see the difference a new paint color makes in this room.
I started plans for this update by selecting fabric for the shower curtain. I made this over the winter and am so happy to finally get to hang it. I picked the wall paint color from a gray in the fabric. The ceiling was painted white, the walls gray, and the trim, closet doors, and main door got a fresh coat of white. The door is still in the basement. Thank goodness we have more than one bathroom!
This yellow rug is one that we've been using in this room and the color still works. I'm not sure if I'll keep this rug or get a new one in a different color.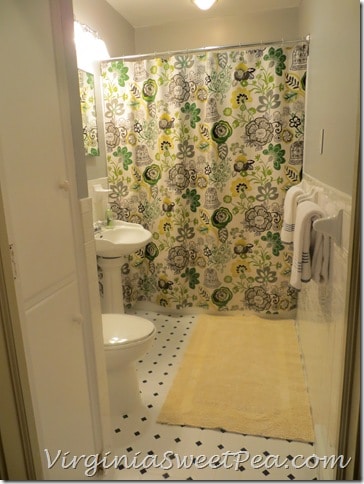 A big project was refreshing the floor grout. I explained how to do this last summer and after a year of heavy use, it was time to refresh it again. Not only did I do the floor, I did all of the walls, too. It took several hours but was well worth the effort. Both my floor and wall tile look almost new.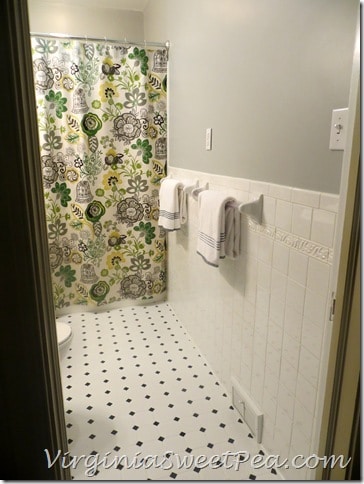 Are you wondering what is left to do? I plan to have a large mirror cut for the wall that you see in the picture above. It will have to be custom made because the outlet is in the future mirror's space. It's going to be great to finally have a mirror other than the tiny one on our medicine cabinet.
We are planning to replace the pedestal sink with a cabinet. I found one that I like in a local shop and need to bite the bullet and order it.
I have one piece of art for this room that will hang over the toilet. Additional art will be nice, but I'll wait until I find it.
I hope to have this project finished by the end of August. We are really happy with how it's looking so far!