Building Our Lake House – Part Two
Back in June I shared that we are building a house at beautiful Smith Mountain Lake. A lot has happened since June and I'm excited to share our lake house progress with you.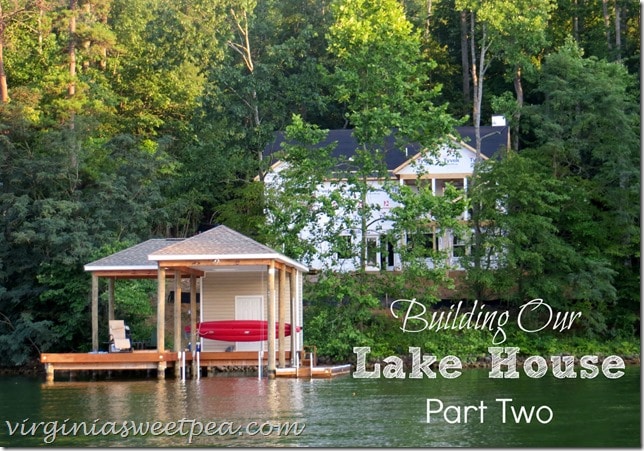 June's lake house progress was all about the basement: the walls were poured; plumbing work completed; and then the floor was poured. While we were in Atlanta for the Haven blogger's conference, we learned that framing had begun. Boy was it a shock to see the property for the first time after the house had been framed. I had imagined what it would look like for so long and to finally see a house was truly exciting.
Our builder is David James Homes. We chose this company because before construction begins everything both interior and exterior is selected. The benefit is that you know exactly how much you are spending before the project begins. Of course some changes might have to be made which could increase the price but they should be minor and not a budget buster. With David James Homes, you also pick everything out ahead of time with limited choices. For example, for a kitchen faucet you have two or three models from which to choose and then two or three finishes. Upgrades are available but then the price increases. We upgraded on a few things such as the flooring (we went with a higher grade laminate); the front door (I wanted a Craftsman style); and the kitchen cabinets (I wanted them to go to the ceiling). If you don't like any of the choices, you can purchase the items on your own. I wanted a farm sink so I purchased the Domsjo from Ikea. I didn't like any of the lighting choices, so I will also will be purchasing the dining area light, kitchen pendants and ceiling fans for the bedrooms. Everything else was picked out ahead of time which is great for someone like me who has trouble making a decision.
Let's take a look around!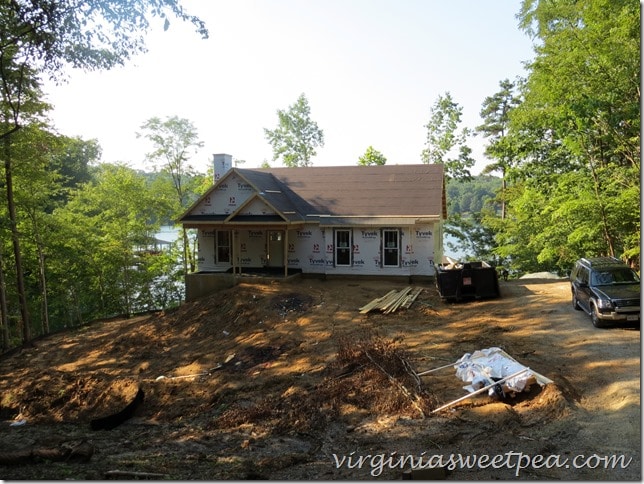 With David James Homes you can choose one of their plans or use your own design. We modified a plan that we found online. This home wasn't our first choice but our homeowner's association did not approve our first choice because the footprint was not large enough. This home at just over 1300 sq ft has a larger footprint but less square footage than our first choice plan which was a two story.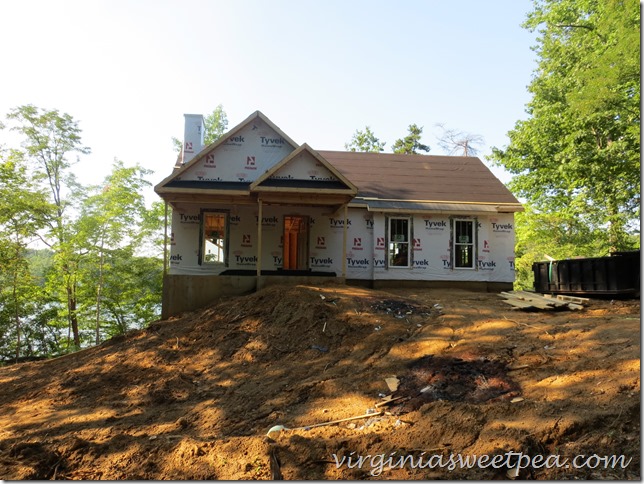 I love a Craftsman style home and our exterior will have some of those details.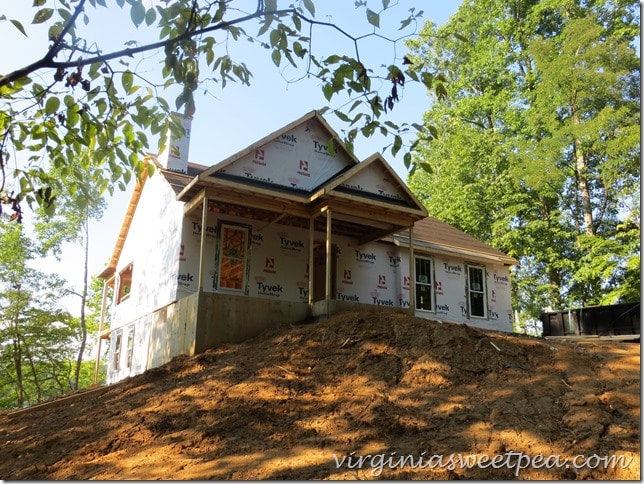 The side view shows the covered porch that we believe will be the most used part of the house. The triple window beside the porch is the dining area. The basement will be unfinished but we added a lot of windows so that after it is finished in the future it will be bright. The corner seen here will be a future family room.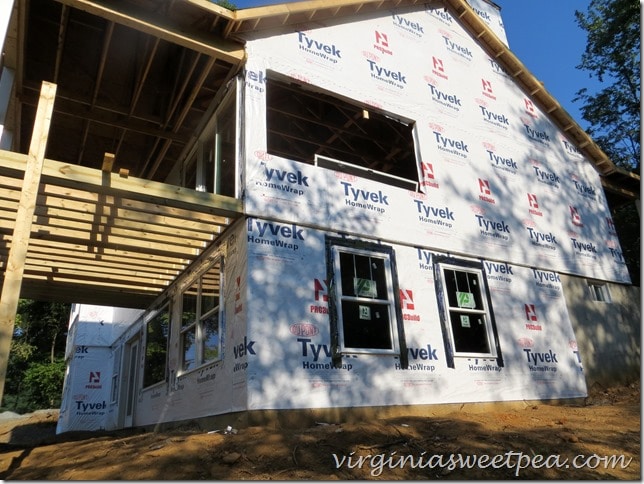 Here we see the back of the home. The triple windows to the left are in the master bedroom. The covered porch has triple french doors that lead to the dining area. You might wonder why there are no windows in the middle of the top floor. This area is the master bath which has no room for windows and then the kitchen which is compact and needs the wall space for cabinets and the refrigerator.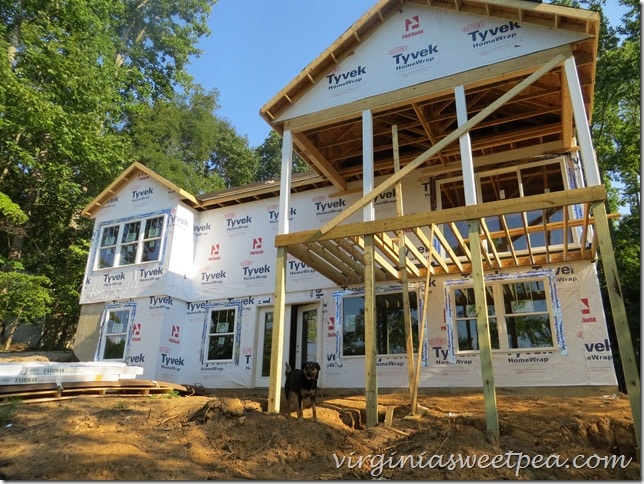 The left side of the basement will eventually be a bedroom. Mr. SP has already promised this room to my teenaged niece. He's hoping that if she has her own room that she will want to visit us often. 🙂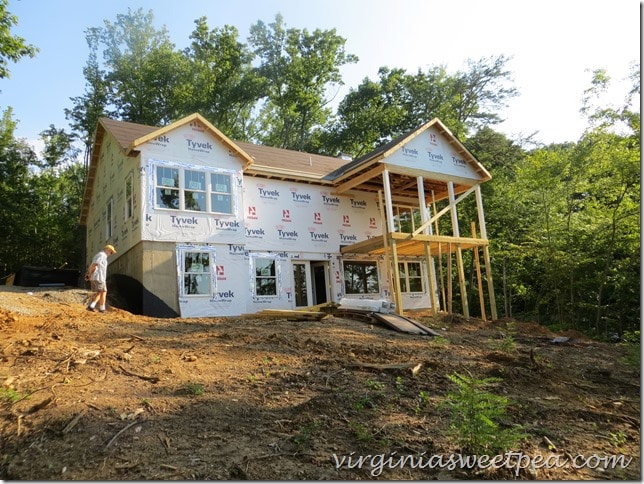 Appalachian Power has to approve any trees that are cut along the lake's shoreline. The trees that you see in between the house and the shoreline will be cut down once we have approval. It must be a slow process because they've had the application for two months.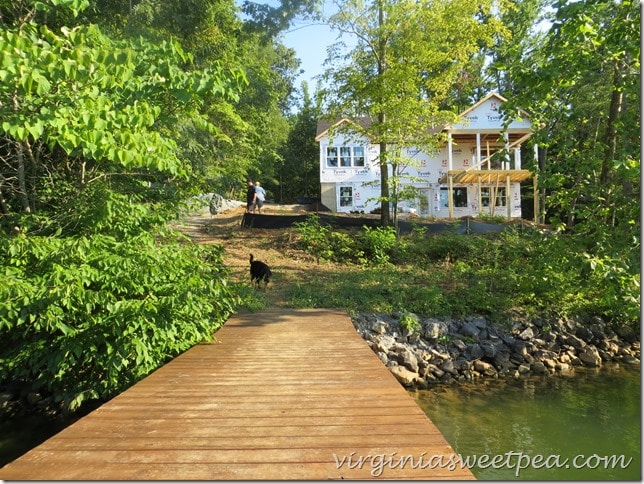 Let's go inside! This is the family room /dining area/ kitchen.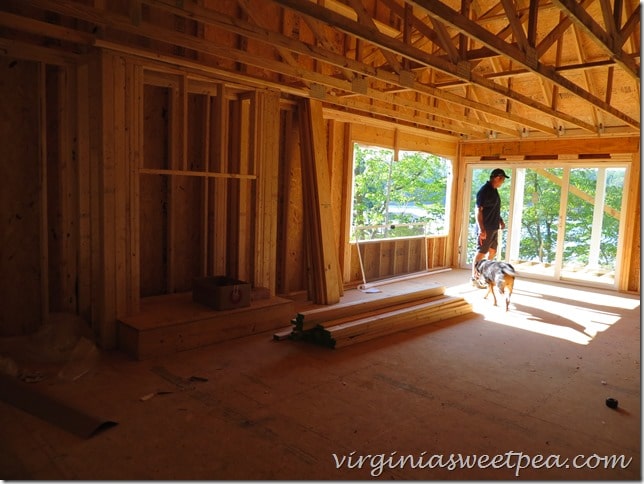 Mr. SP is standing in what will become the kitchen. The pipe in the floor shows you the location of the sink. There will be a bar on the opposite side of the sink. In this picture you can also see the hall bath and you can get a glimpse of the master bath located next to the kitchen. (Look behind the window leaning against the wall.)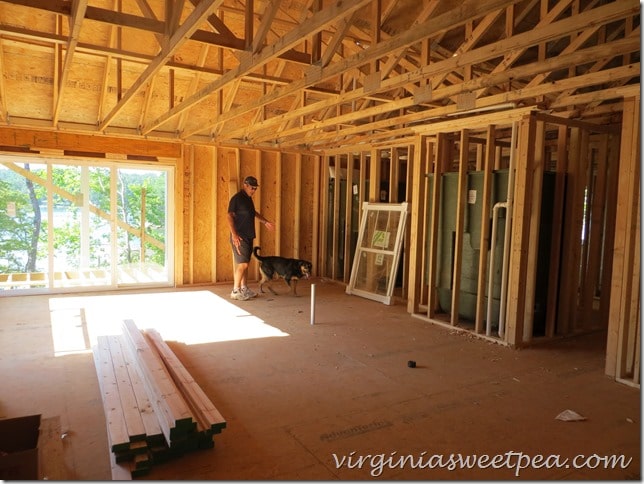 This is a view of the same room from the dining area. Mr. SP is standing about where a sofa will be placed. My mom bought a sofa a few years ago that she is giving to us to use here.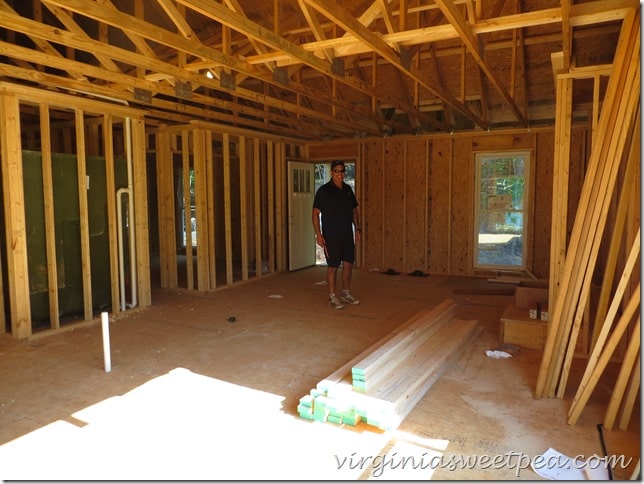 We are both excited to have a wood burning fireplace with a hearth. This will be rock that will match the rock used on the outside of our home. My mom gave us a very old beam from the carriage house on the farm where my grandfather grew up in Maryland to use for the mantel. My dad made mantels for the house where I grew up for two fireplaces using wood from the same carriage house. My grandfather spent his week of summer vacation on the family farm every summer working. When the carriage house was to be demolished to build a garage for cars, he decided that demolishing it would be his vacation project. I'm glad that he passed along and saved some of the wood from this old building.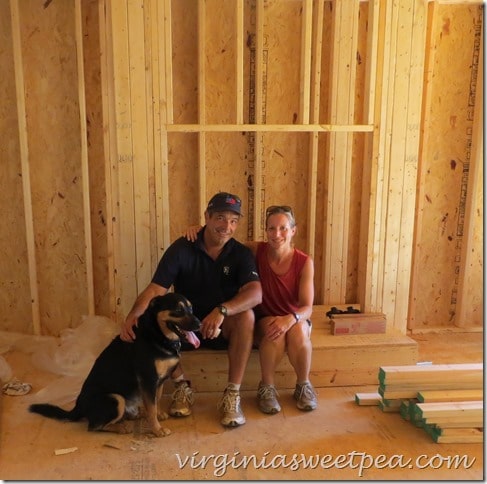 The covered porch has a nice view and I think that we'll use this in three seasons, maybe even if four if a winter day is mild.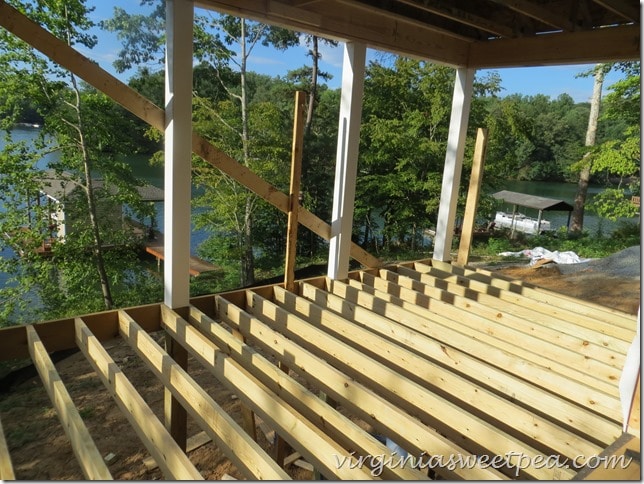 We took this picture when it was just about dark one evening. Before we drove home I had to go inside the house to see what the lake view would look like at night.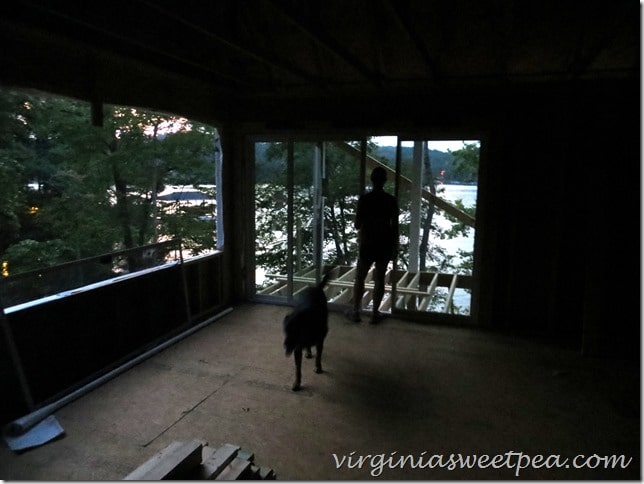 Our house has three bedrooms, the first of which is adjacent to the family room. You can see a bathroom across the hall and you can also see my father-in-law standing in what will be the master closet.
This bedroom will primarily be used by my father-in-law. The bed for this room will be a Cargo bed that Mr. SP purchased when he first came to town that is currently in our guest room. I'll replace the Cargo bed with an antique one that belonged to my grandmother that I've been saving in my basement hoard. I even have a mattress and box springs for this room in my hoard! The antique rocker that you saw in the guest room (if you clicked over) will also go in this room. Last year at Haven you could win a rug from Shaw Floors by entering an Instagram contest. I entered and received a rug that has been waiting in my basement since last July to be used. If it is big enough, it will go in this room. My mom had an antique dresser at her beach house that I adopted when she sold the house. It's been patiently waiting in my basement to be used for again for clothing and not for storing vintage flower pots. I used this dresser when I was in college. Our family furniture gets around! My father-in-law is a veteran and his room will have an Americana theme. The patriotic Ikea Rast hack dresser that we complete in March will serve as his bedside table and a large framed antique American flag currently in our home office will hang over the bed.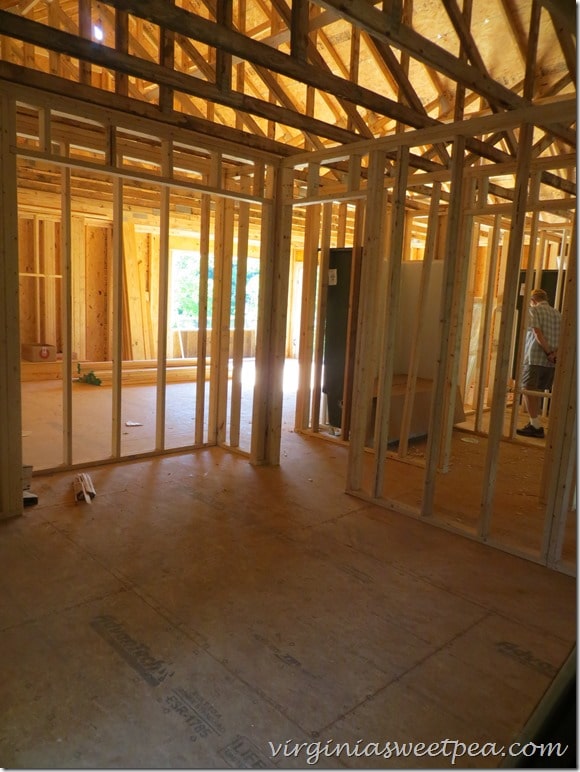 The second bedroom will primarily be used by my mom. I was the lucky winner of a Shaw Flooring door prize rug at this year's Haven and plan to use the rug that I won in here. The rug is gray with an off-white pattern that will go perfectly with my grandmother's white iron bed that Mama used to use at the beach. She'll use this dresser that we rebuilt and painted last summer and use this table beside her bed. I got lucky and won a chair from La-Z-Boy that will be perfect in the corner. I'm still picking out the fabric for the chair and will be sure to show it to you when I finally get it.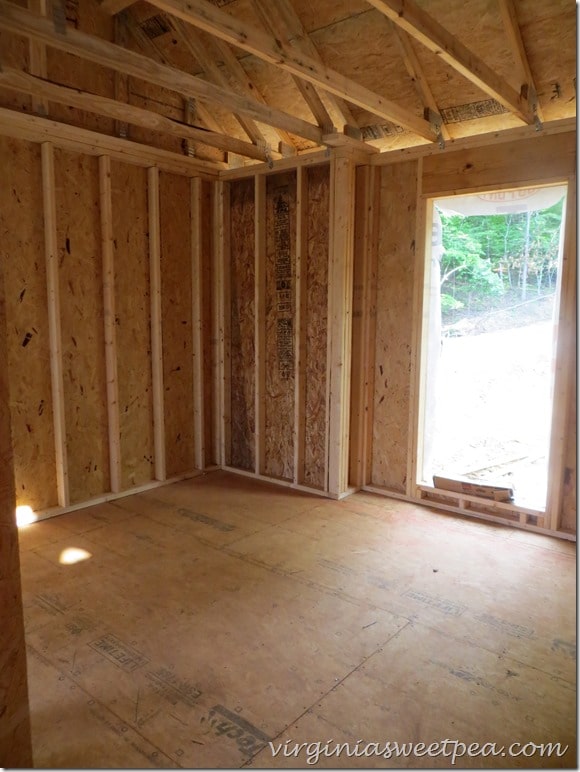 This view shows the closet in my mom's bedroom and also the linen closet at the end of the hall. The room on the far side of the picture is the master bedroom.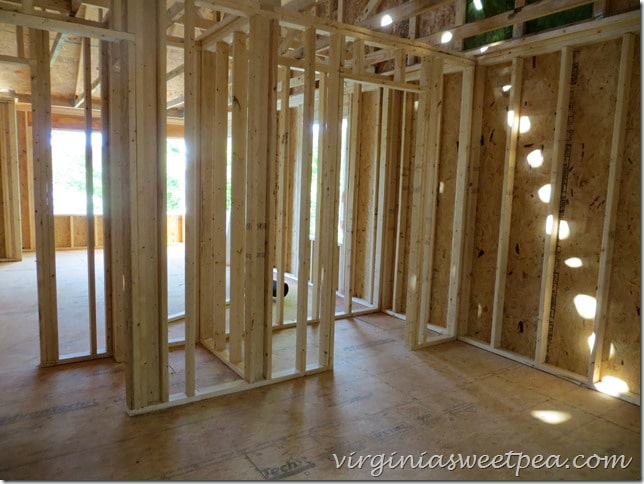 The master bedroom has five windows making it nice and bright. The bed will go between two windows on the outside wall. Unlike the other two bedrooms, I don't have a set plan for this room. I don't have a bed but know I still have plenty of time to find one. I've been looking on Facebook yard sale pages and also Craigslist but haven't found one yet that I like. I know that I'll use my dad's antique bedside table that I refinished last summer beside the bed and may use this antique typewriter table as a second bedside table. I want to use the media cabinet that I decoupaged last summer across from the bed for a television. It's fish theme will be perfect for the lake. I'm not sure if I'll use this dresser or this one that's currently in my sewing room.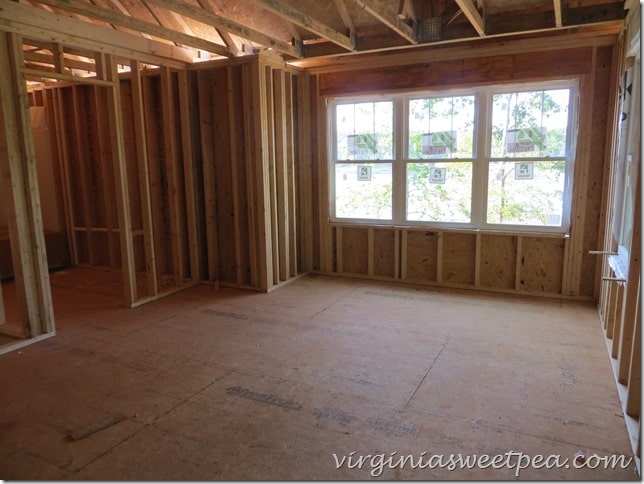 I can't wait to wake up to this view in the master bedroom in all four seasons.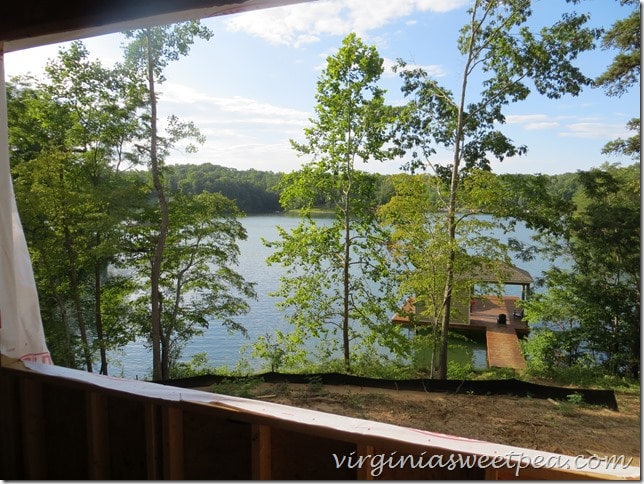 Sherman is showing you the location of the master bathroom and closet. You can also see where the stairs will be located that lead to the basement.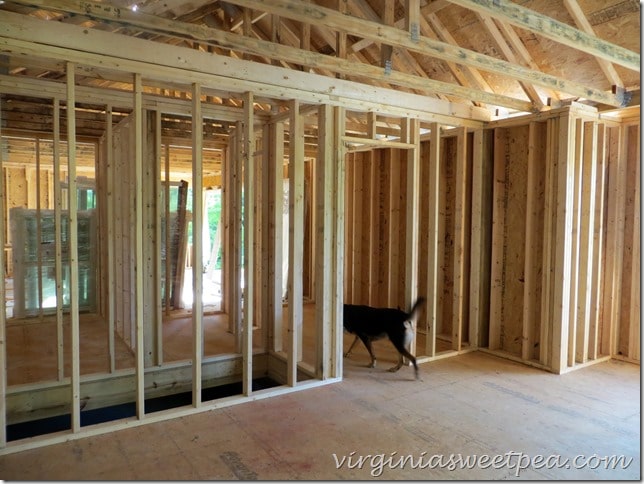 Now we head into the basement.
Look at all of that space! I am going to try really hard not to fill this space too quickly. 🙂 My father-in-law is standing in what will be the laundry area. You can see the plumbing for the washer to his right.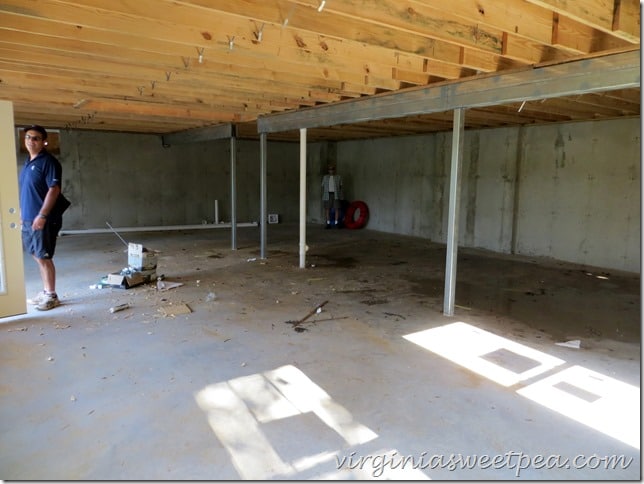 The stairs were delivered last Friday and hopefully will be installed soon. We have plans for a workroom in the space against the back wall. Mr. SP has nearly completed a work bench for this area that is unlike any ever seen.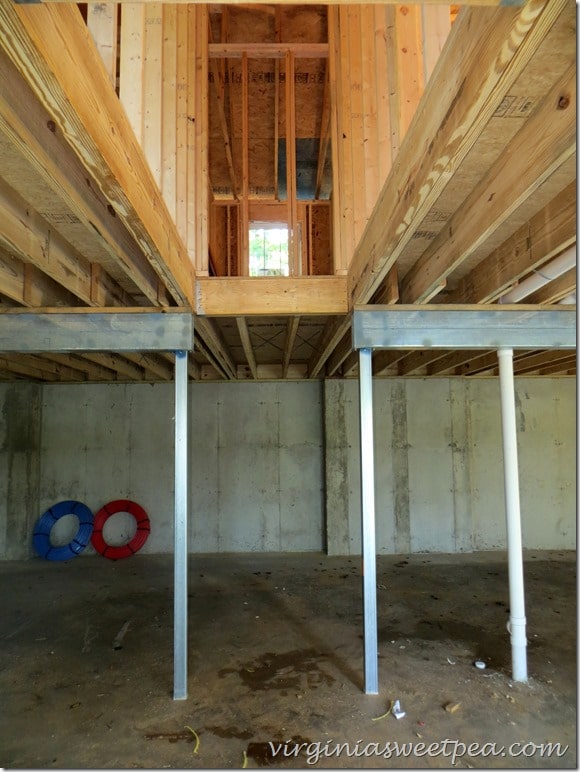 The framers left us a nice message. Isn't that fun?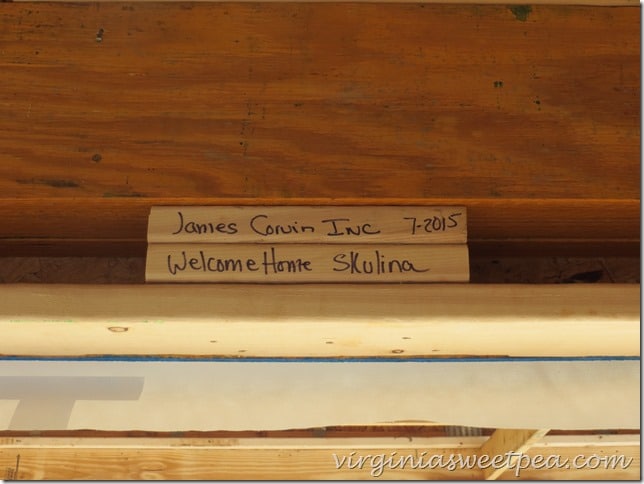 Before I close, here's one last view of the house and dock from across our cove.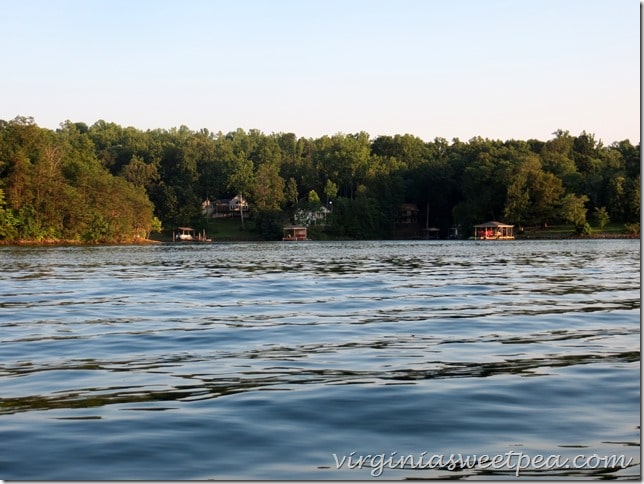 This is such an exciting project for us, particularly for me since I've never bought or built a home. We really look forward to enjoying this home and to spending time here with family and friends.
Sharing With:
Dwellings-The Heart of Your Home, Refresh Restyle, Between Naps on the Porch, Concord Cottage,Stone Gable, Sand and Sisal, Yesterday on Tuesday, A Stroll Thru Life, Savvy Southern Style, Bless'er House, Common Ground, Houseology, Imparting Grace