It's finally fall, the perfect time for a dessert with one of fall's food pleasures, apples. Caramel Apple Pound Cake gets its caramel flavor from brown sugar in the batter. Granny Smith apples and plenty of butter make this a super moist cake that I honestly can't get enough of!
After the batter is made, it is layered in a Bundt pan alternating with layers of chopped apples coated in cinnamon and brown sugar. The crowning touch is a cream cheese icing infused with hot caramel topping topped with walnuts and more caramel.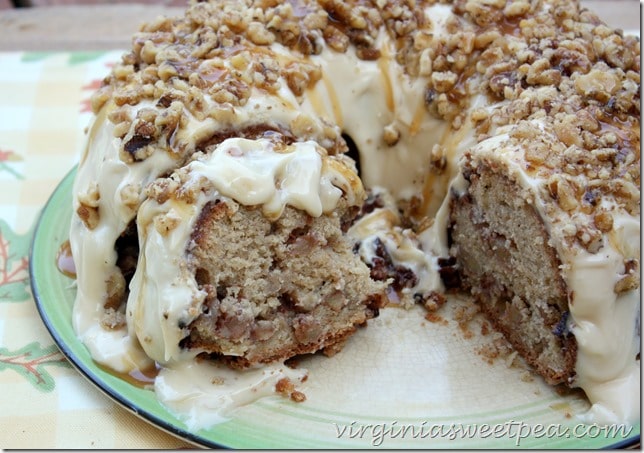 I made Caramel Apple Pound Cake to share with friends at a "Girls Night Out" dinner hosted by one of my very best friends. Elsie is quite the cook and served delicious bacon wrapped pepper stuffed chicken along with panzanella and sautéed squash. I hope the girls liked this cake as much as I like it!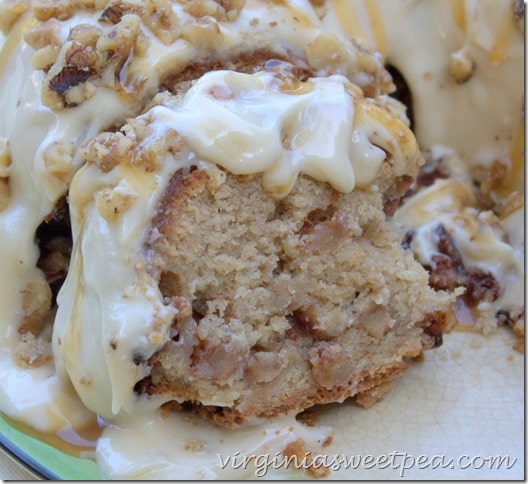 The cake was served on a cake plate that my grandmother received at her bridal shower in the 1930's. I love its pretty color and how it crackled with age. I know my grandmother would be thrilled to know that I still using it and that I'm sharing it with you.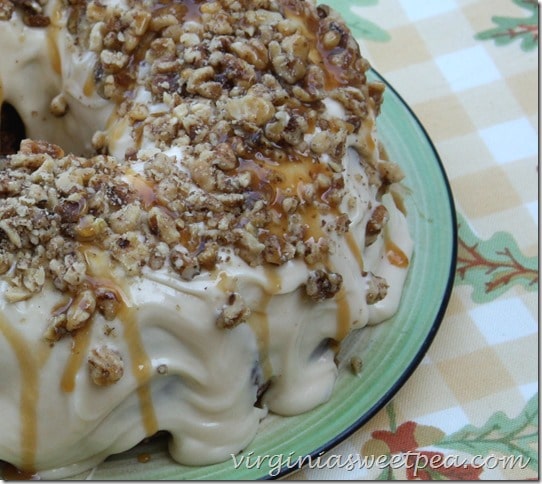 Caramel Apple Pound Cake
Ingredients
1 cup sugar
1 1/4 cups firmly packed light brown sugar, divided
1 1/2 cups butter, melted
4 large eggs
1 tsp vanilla extract
3 cups flour
2 tsp baking powder
1/3 tsp cinnamon
1/3 tsp cloves
1/3 tsp nutmeg
1 tsp salt
3 cups chopped Granny Smith Apples
2 tsp cinnamon
Cream Cheese Icing
Garnish: chopped walnuts, caramel topping
Instructions
Preheat oven to 350 degrees. Butter and flour a 12 cup Bundt pan.
In a large bowl, beat sugar, 1 cup brown sugar, and melted butter until combined. Add eggs, one at a time, beating well after each addition. Beat in vanilla.
In a medium bowl, combine flour, baking powder, 1/3 tsp each of cinnamon, nutmeg, and cloves, and salt. Gradually add flour mixture to sugar mixture, beating until combined.
In a separate bowl, combine apples, remaining 1/4 cup brown sugar, and 2 tsp cinnamon.
Spoon 1/3 of batter into prepared pan and 1/2 of the apples; repeat layers. Top with remaining 1/3 of batter.
Bake for 50 minutes to 1 hour. Let cool in pan for 10 minutes. Remove from pan and cool completely on a wire rack. Top with cream cheese icing, chopped walnuts, and caramel topping.
Cream Cheese Icing: Combine 8 oz cream cheese with 2 cups of powdered sugar. Beat at medium speed until smooth. Add 1/4 cup caramel topping and a splash of whole milk. Add more mild if necessary.


I am already planning to make this again next weekend when my mom, aunt, and cousins join me for lunch prior to a historic home tour that is held every September in my town. I know Mr. SP will be glad to have a second week to enjoy a nightly slice of this cake.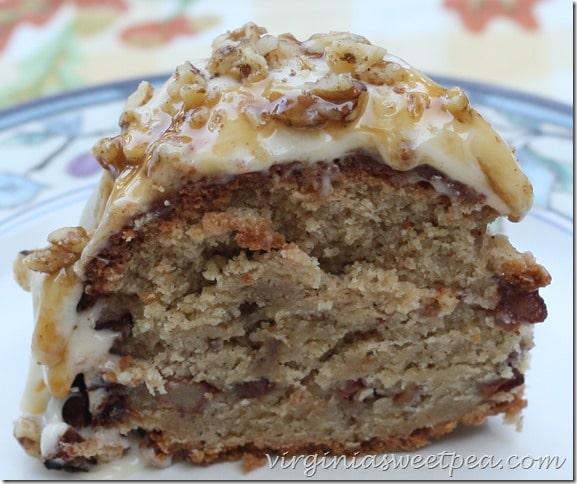 Is your mouth watering? I know mine is! I'm craving a piece of this cake with a cup of coffee served outside while I enjoy the warm September sun and a cool fall breeze. Doesn't that sound heavenly?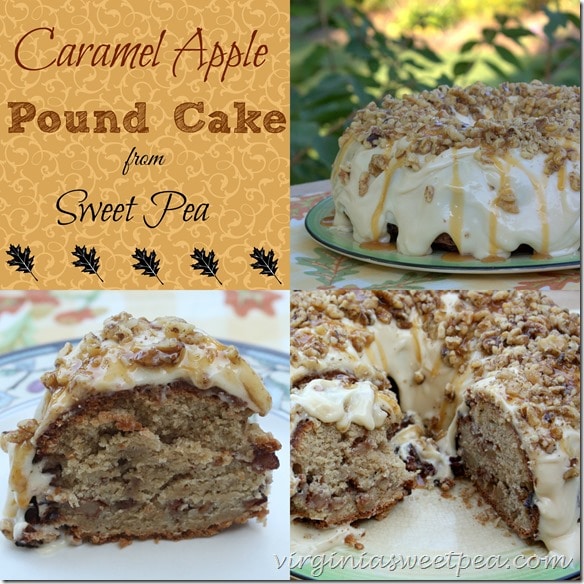 While you are visiting, I invite you to enter a giveaway that started today. Two winners will receive a $250 Visa gift card. Pop on over to enter before you browse the rest of posts in this week's Festival of Fall.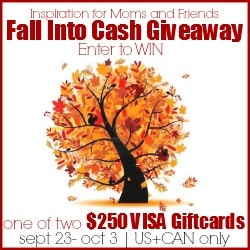 Be sure to visit each of the blogs participating
in the Festival of Fall, hosted by Barb Garrett of The Everyday Home.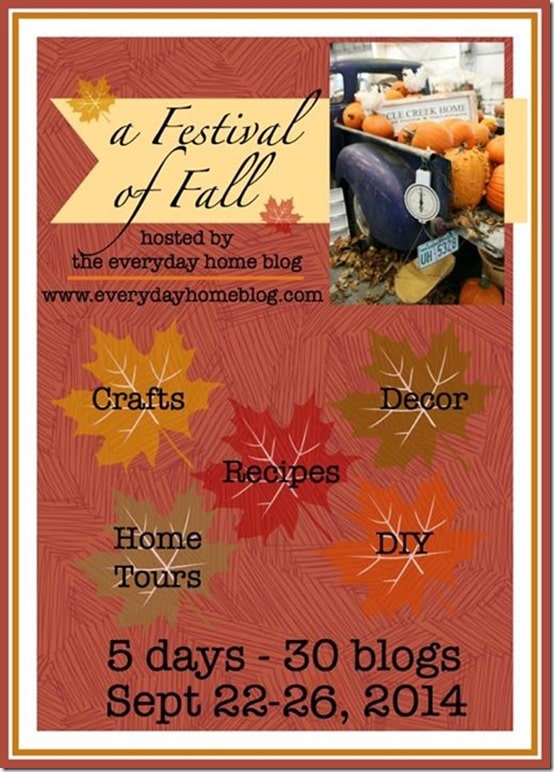 Each day is a different theme and you will
love seeing all the projects presented each day.
Monday: Fall Crafts
Tuesday: Fall Recipes
5) Sweet Pea
Wednesday: Fall DIY
1) Kirb Appeal
Thursday, Fall Decor
2) Stonegable
Friday, Fall Home Tours
Monday- Fall Crafts
Tuesday- Fall Recipes
Wednesday- Fall DIY
Thursday- Fall Decor
Friday- Fall Home Tour