Apple-Spice Bundt Cake with Caramel Frosting
I've been craving a fall dessert and tried a recipe that I spotted in the September 2016 issue of Southern Living Magazine, Apple-Spice Bundt Cake with Caramel Frosting.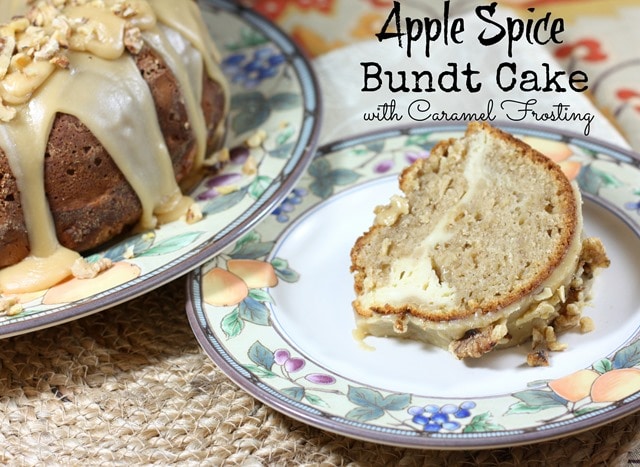 What gives this cake its unique flavor?
Southern Living described this dessert as an update on an old-fashioned Southern cake with the warm spice of chai, an Indian tea.
I've never tasted chai tea and I'm guessing that cardamom and coriander added to the cake batter are what gives this bundt cake its unusual and very good flavor.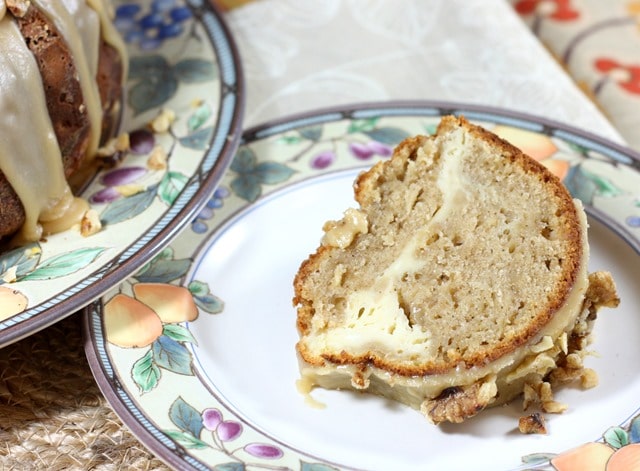 It also includes apple and pumpkin pie spice
The cake also is flavored with grated apple and pumpkin pie spice.
A cream cheese filling adds another dimension of flavor.
Since I have an uncontrollable sweet tooth, the best part to me is the caramel icing made with heavy cream and cooked on the stovetop.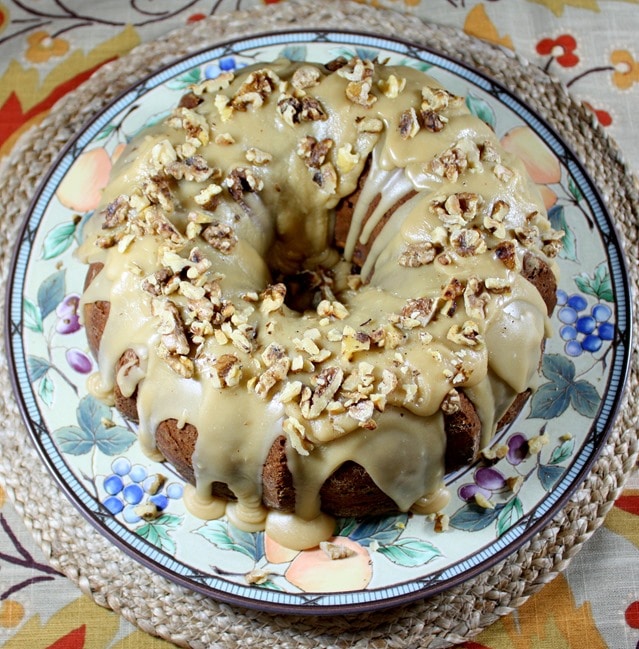 Suggestions for Serving
This cake is scrumptious served at room temperature but could also be warmed slightly to bring out the aroma of cardamon and coriander.
If you're feeling extra indulgent, serve it with a scoop of vanilla ice cream.
Of course, a cup of coffee would be perfect to enjoy with this dessert.
Enjoying this Cake
This bundt cake won't last the week at my house even though there are only two of us eating it.
I'll admit that we put a pretty big dent in it after I made it on Saturday.



Yield: 12 servings
Apple-Spice Bundt Cake with Caramel Frosting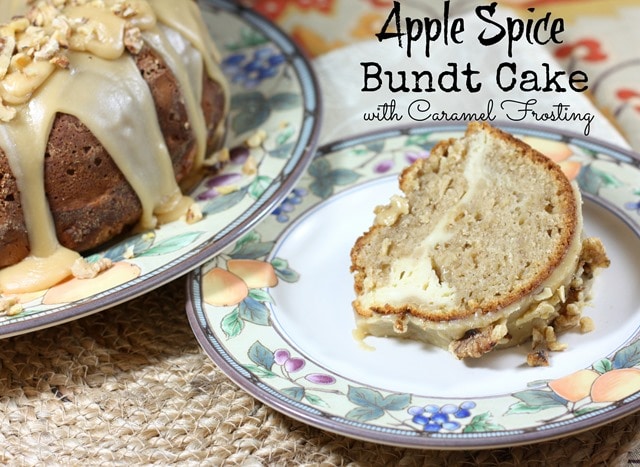 Ingredients
Cream Cheese Filling
1 (8 oz) pkg cream cheese, softened
1/4 cup granulated sugar
1 large egg
2 T flour
1 tsp vanilla extract
Apple-Spice Batter
1 cup packed brown sugar
1 cup vegetable oil
1/2 cup granulated sugar
3 large eggs
2 tsp vanilla extract
2 tsp baking powder
2 tsp pumpkin pie spice
1 1/2 tsp ground cardamom
1 tsp kosher salt
1/2 tsp baking soda
1/2 tsp ground coriander
3 cups all-purpose flour
3 large Granny Spice apples (about 1 1/2 lb), peeled and grated
2/3 cup roughly chopped pecans or walnuts
Caramel Frosting
1/2 cup packed brown sugar
1/4 cup heavy cream
1/4 cup salted butter
1 tsp vanilla extract
1 1/4 cups powdered sugar, sifted
Instructions
Prepare the Cream Cheese Filling: Preheat oven to 350 degrees. Beat cream cheese, 1/4 cup granulated sugar, 1 egg, 2 T flour, and 1 tsp vanilla with an electric mixer on medium speed until smooth.
Prepare the Apple-Spice Batter: Beat brown sugar, oil, and 1/2 cup granulated sugar with an electric stand mixer on medium speed until well blended. Add 3 eggs, 1 at a time, beating well after each addition. Stir in 2 tsp vanilla. Whisk together baking powder, pumpkin pie spice, cardamom, salt, baking soda, coriander, and 3 cups flour. Gradually add to brown sugar mixture, beating on low speed until just blended. Add apples, and beat on low speed just until combined.
Spoon half of the batter into a greased and floured 14-cup Bundt pan. Dollop Cream Cheese Filling over the apple mixture leaving a 1-inch border around the edges of the pan. Swirl filling through batter using a knife. Spoon remaining batter over filling.
Bake in preheated oven until a long wooden pick inserted in the center comes out clean, 50 minutes to 1 hour. Cool cake in pan on a wire rack 20 minutes; remove from pan to wire rack, and cool completely (about 2 hours). Spoon frosting immediately over cooled cake: sprinkle with nuts.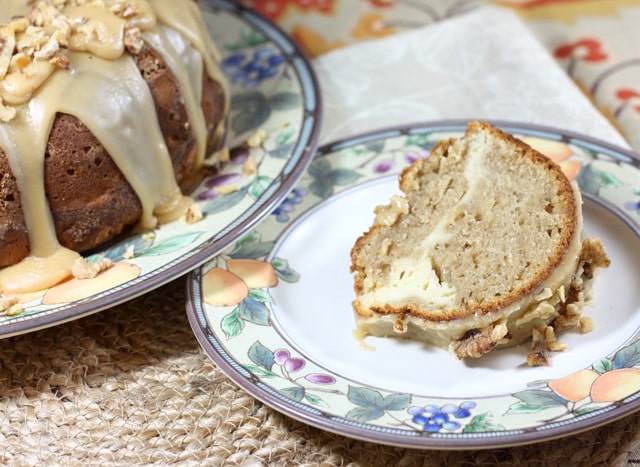 If this cake sounds good to you, you might also like Caramel Apple Pound Cake.