Cobbler's Bench Coffee Table Makeover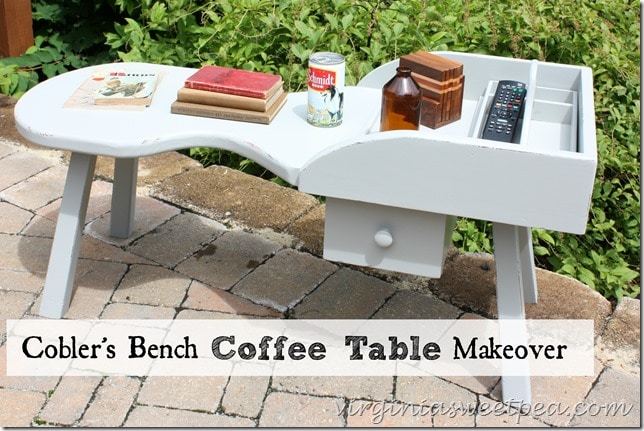 It's time for another round of "Themed Furniture Makeovers." Each month my blogging friends challenge each other to makeover a piece of furniture using a theme. This month's theme is rustic.
The rustic theme had me stumped until I found this cobbler's bench coffee table at Goodwill for just $14.99. It's solid and charming in a rustic sort of way and I thought a great candidate for a makeover.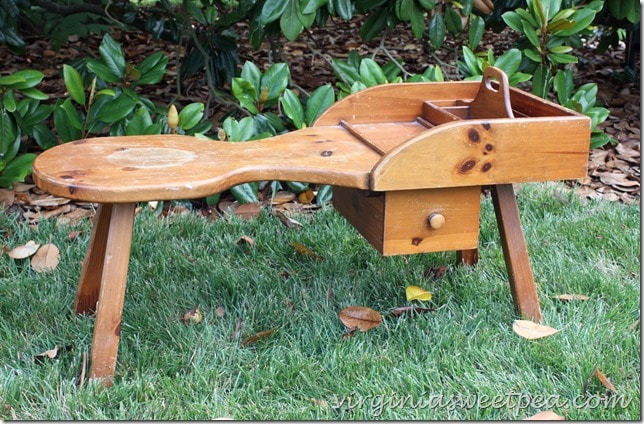 I started the makeover with sanding and followed by spraying with an acrylic sealer. I was afraid that the knots in the wood would bleed through the paint and I've learned from my friends that acrylic sealer prevents this problem.
I used three coats of Velvet Finishes paint in Opulent on this piece. I love this color and also used it on a glass topped table that I snagged from Goodwill over the winter.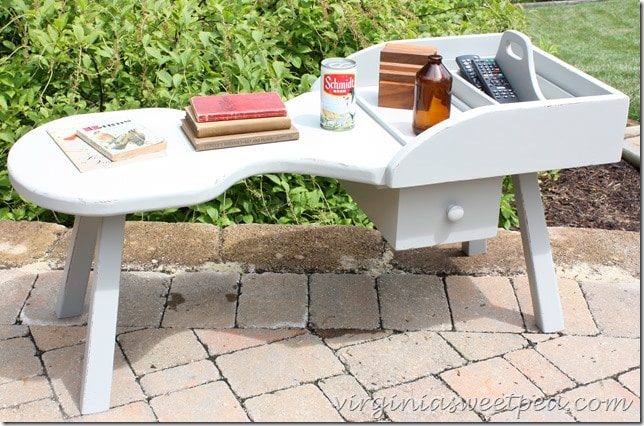 This cobbler's bench coffee table has a drawer which would be handy for storage. I lined it with scrapbook paper to give it some personality.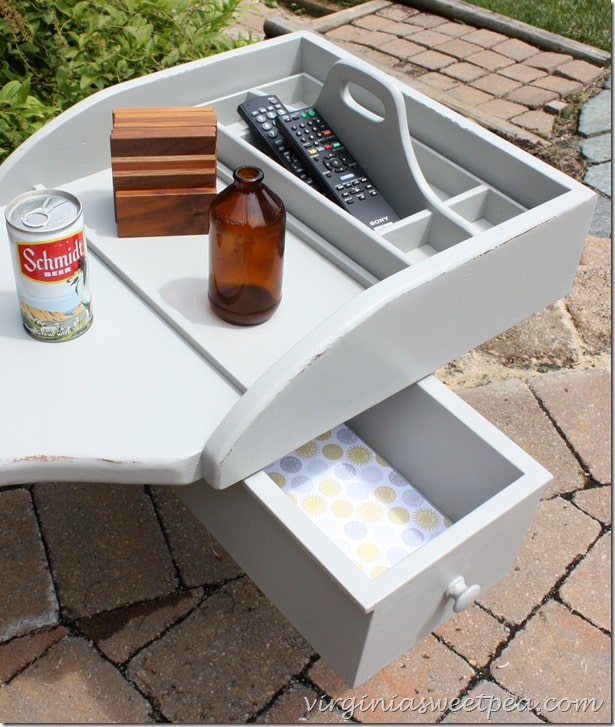 The caddy comes out and I think would be perfect for remote storage.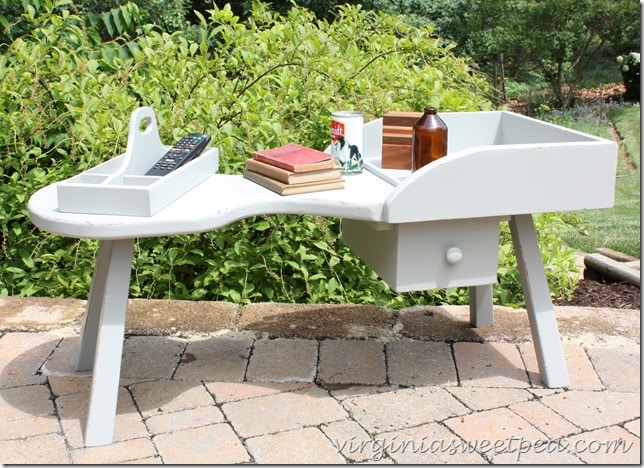 I had fun rooting around my basement looking for coffee table accessories. Of course if you have a coffee table, it's going to have a beer on it from time to time. Mr. SP collected beer cans when he was a youngster and the Schmidt Beer can is one that he saved. The brown bottle was one of my dad's. I'm not sure why it was saved but if I had to guess the brand that it held, I'd go with PBR.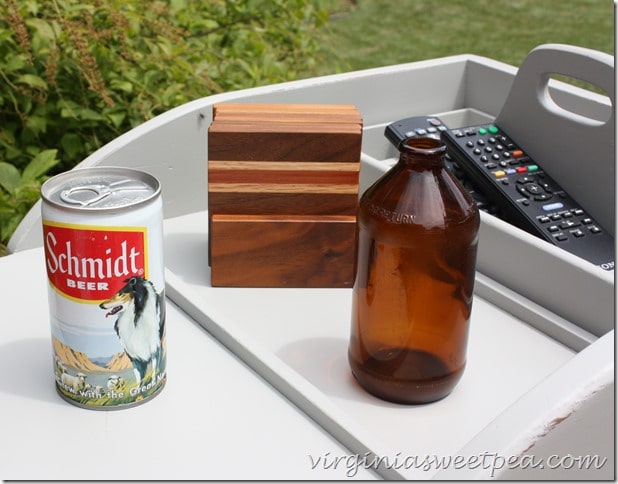 Of course in real life a coffee table most likely wouldn't hold antique books but I couldn't resist getting out a few of mine to show. The Bergen's Botanies-Key and Flora is copyrighted 1908.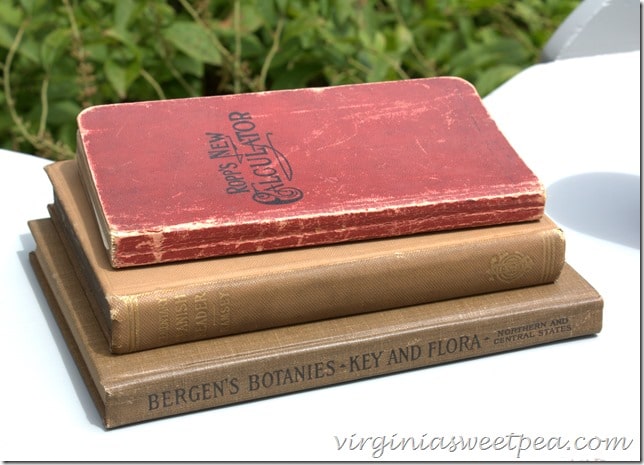 The Spanish reader belonged to the son of the uncle who built my mom's 1912 house. The copyright on this book is 1897. Isn't the liberty loan sticker interesting?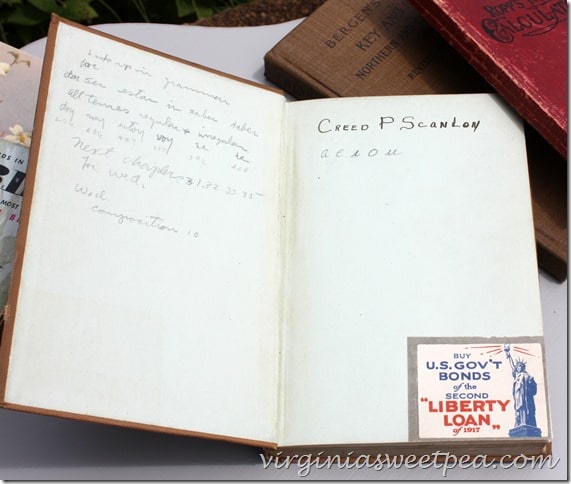 My grandmother enjoyed watching birds and both of these books were hers. The Birdlife of Virginia is a Virginia Commission of Game and Inland Fisheries publication dated 1951. The Golden Guide to Birds is copyrighted 1947.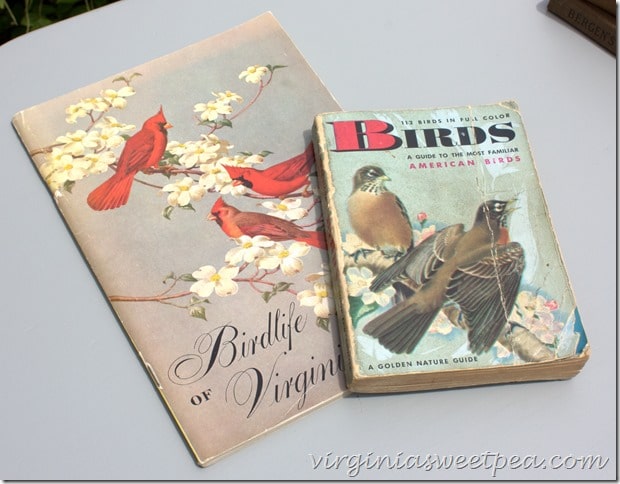 I did a bit of research before I painted this piece; I wanted to make sure that it wasn't an authentic cobbler's bench that had value. After doing some Internet scouting and asking a local antiques dealer his opinion, I decided that it wasn't terribly old. If I had to guess, I'd say that it was made using plans that were available in the 1960's to woodworkers.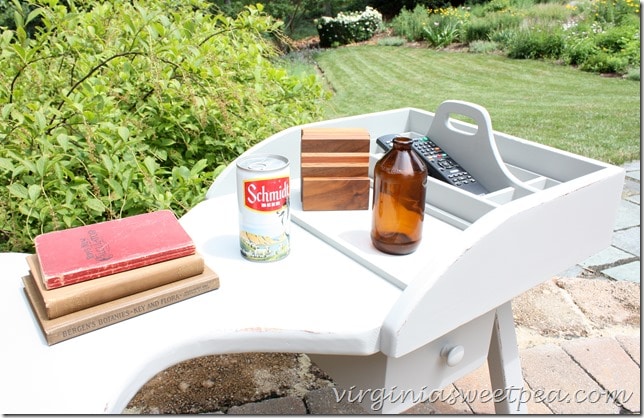 What will I do with this? For now it will be stored in my bulging-with-furniture basement. It could end up being used as a coffee table at the lake or if my mom and I ever get a booth at a local antique spot, I may try to sell it there. If you are local and interested in this piece, leave a comment or email me.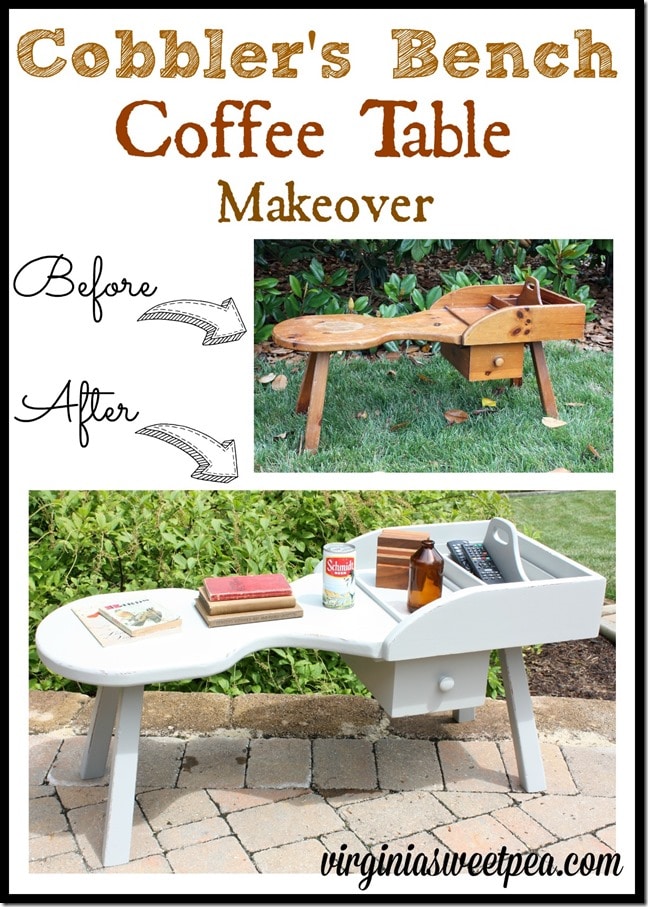 You can see all my projects from past Themed Furniture Makeovers here.
Now for the fun part! Scroll down to see the makeovers that my friends are sharing this month. I always enjoy seeing how each person interprets the theme. Rustic should be interesting!


Sharing With:
The Interior Frugalista, Dwellings-The Heart of Your Home, Between Naps on the Porch, Concord Cottage,Stone Gable, Sand and Sisal, Yesterday on Tuesday, A Stroll Thru Life, Savvy Southern Style, Just a Girl and Her Blog, Common Ground, Imparting Grace