Spring Coffee Table Decor
The first official day of spring is March 20, but I'm craving spring decor in my home right now. Today I'm sharing my spring coffee table decor.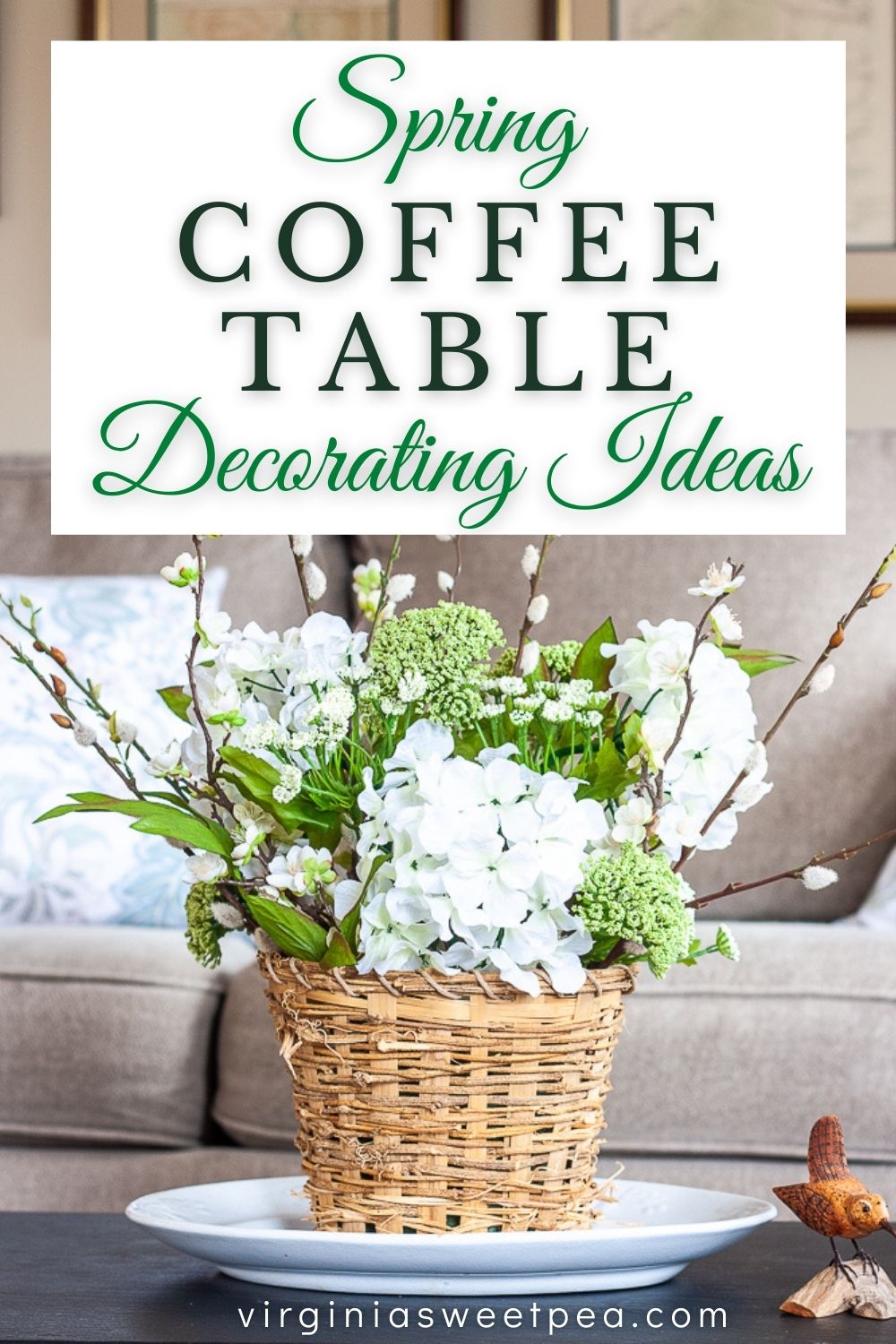 I'm sharing my spring coffee table decor for this month's Pinterest Challenge.
Each month Cindy from County Road 407 selects a picture from Pinterest and challenges our group to create our own version of the look.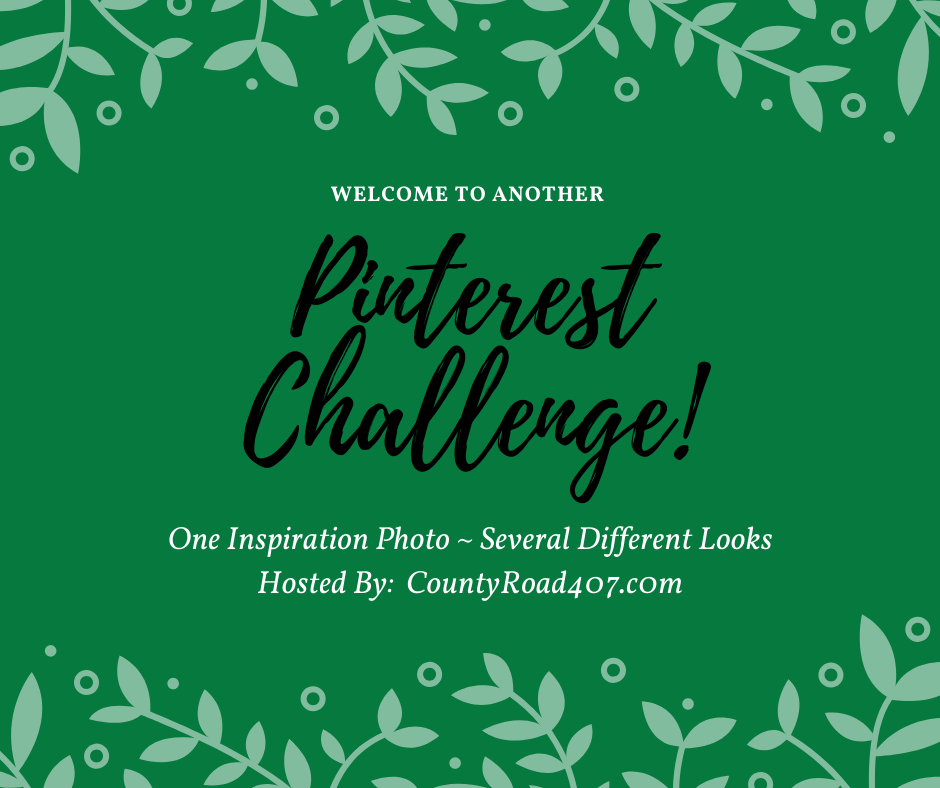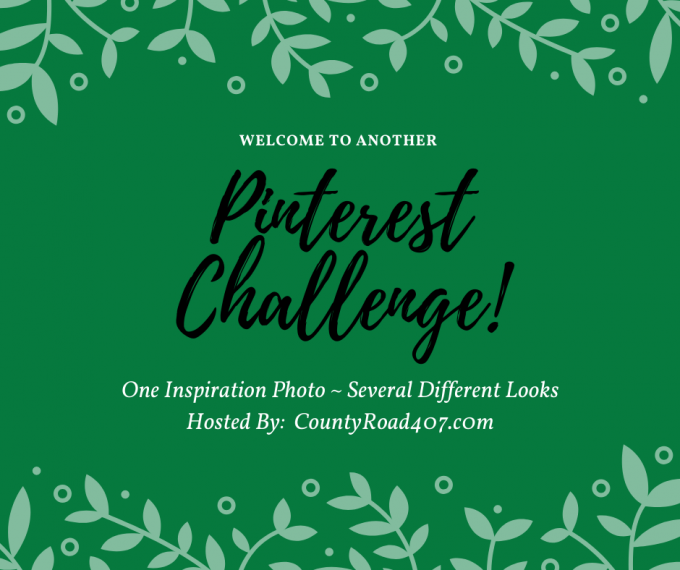 If you arrived here from DIY Beautify, welcome! Cindy and I have been blogging friends for a long while. If you've never visited her Texas home, be sure to do so today.
Our Inspiration for this Challenge
The theme for this month's challenge is spring decorated console or sofa table and our inspiration comes from Amanda Marie of Sincerely Marie Designs.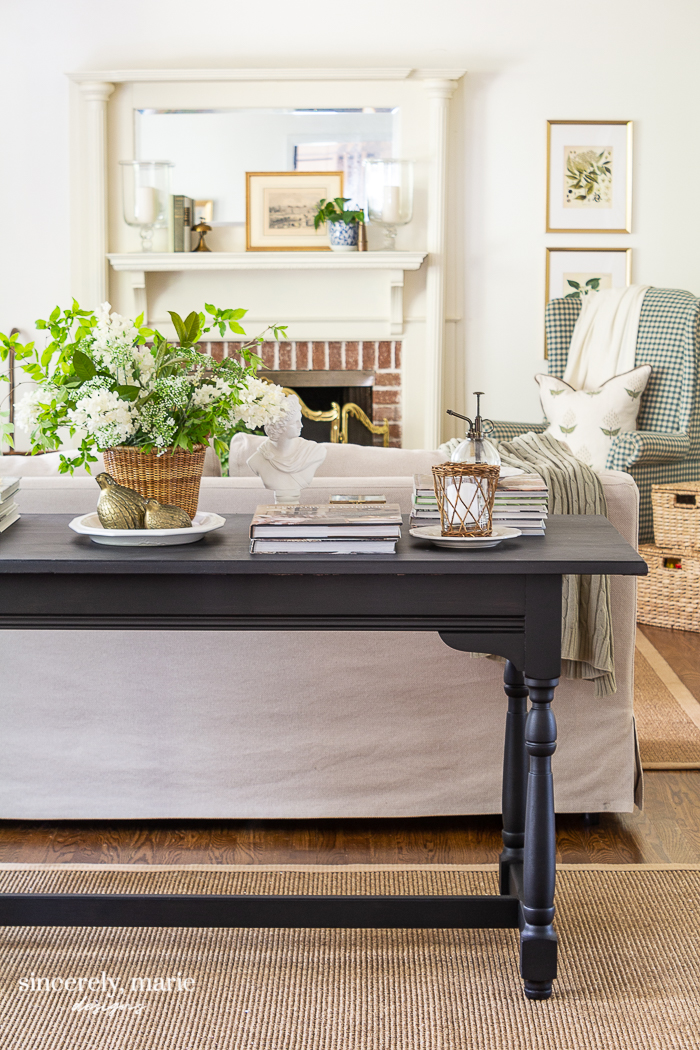 Amanda decorated her sofa table for spring and it looks wonderful.
The design elements that Amanda Marie used to decorate her spring table include:
Spring floral centerpiece on a white plate
Brass birds
Stacks of books
Statue
Candle
Plant atomizer
Brass tchotchke under a small cloche (Click on Amanda's post to see this.)
After seeing Amanda's beautiful sofa table, I shopped my basement to create my own version.
Spring Coffee Table Decor
I love how my spring coffee table decor turned out and I'm looking forward to soon getting the rest of my home decorated for spring.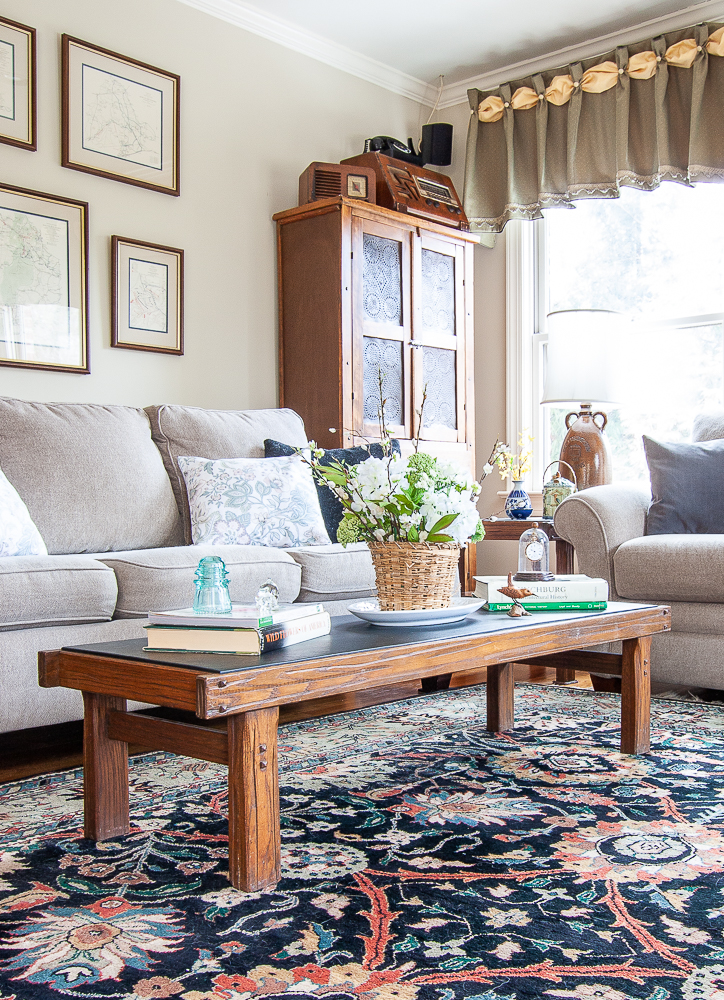 The challenge this month was to decorate a sofa or console table for spring, but since I have neither, I decorated our family room coffee table.
This coffee table is part of a 1968 set of furniture that my parents purchased when they first got married. I colored many a picture, played endless card games, worked many puzzles, and had many snacks at this table as a child and teen. My end tables and lamps are from the same 1968 furniture purchase. Mama still has and uses the sofa, recliner, and chair and ottoman that came with the set.
Spring Table Centerpiece
The first thing that I did to decorate my spring coffee table was to create a centerpiece similar to Amanda Marie's.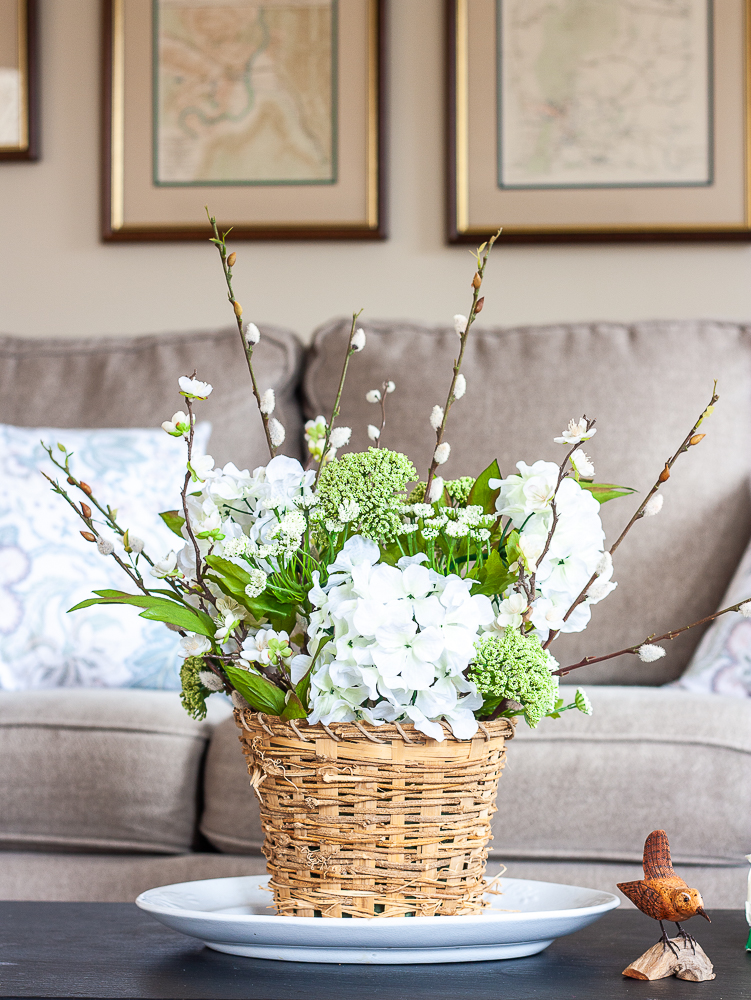 I shared a step-by-step tutorial for how I made this centerpiece earlier this week.
Amanda Marie displayed her centerpiece on a white plate with a pair of brass birds.
Instead of a white plate, I used an antique ironstone platter that belonged to my grandmother. I don't have brass birds, so instead I displayed a hand carved bird that also was my grandmother's beside the platter.
Granny loved to go to craft shows and I have a feeling that she purchased this bird in the 1980s or perhaps the 1990s. It was carved by Hugh A. White. I searched for information about him and found none other than this carving.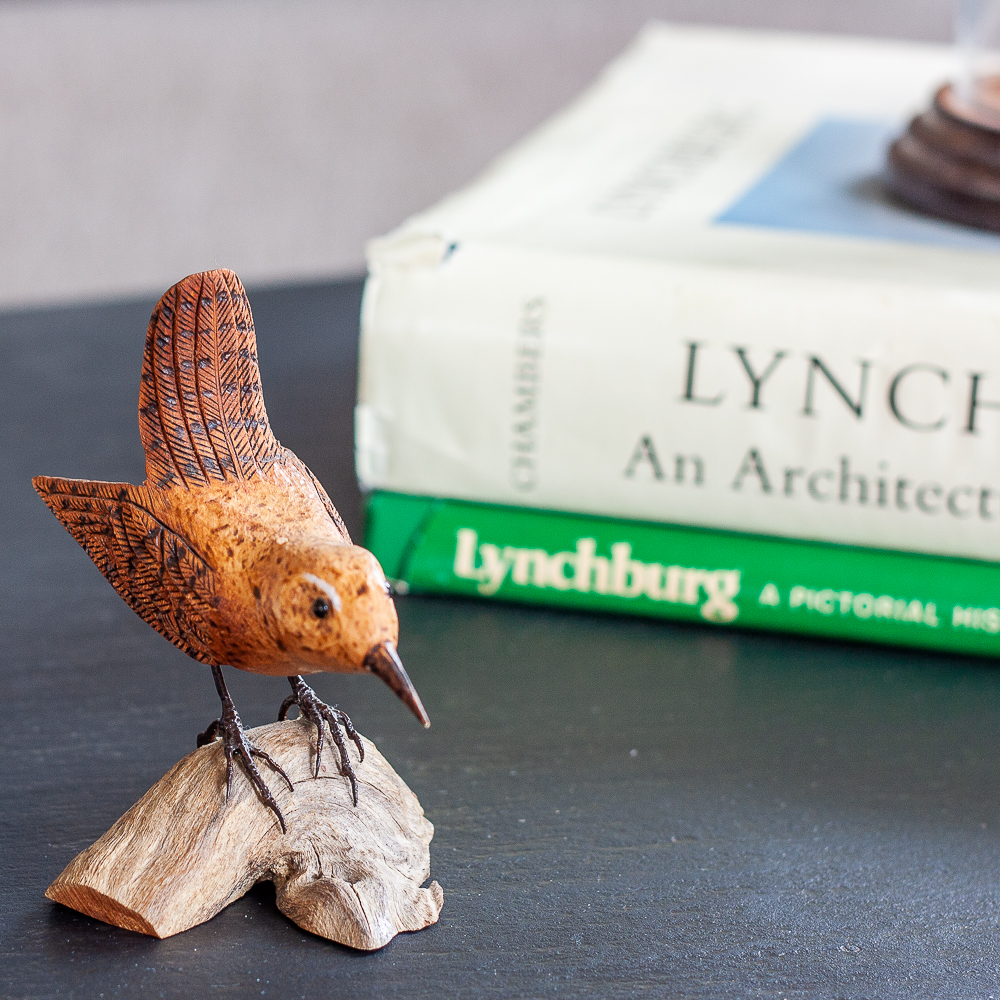 After the centerpiece was made, I moved on to decorating the rest of the coffee table for spring.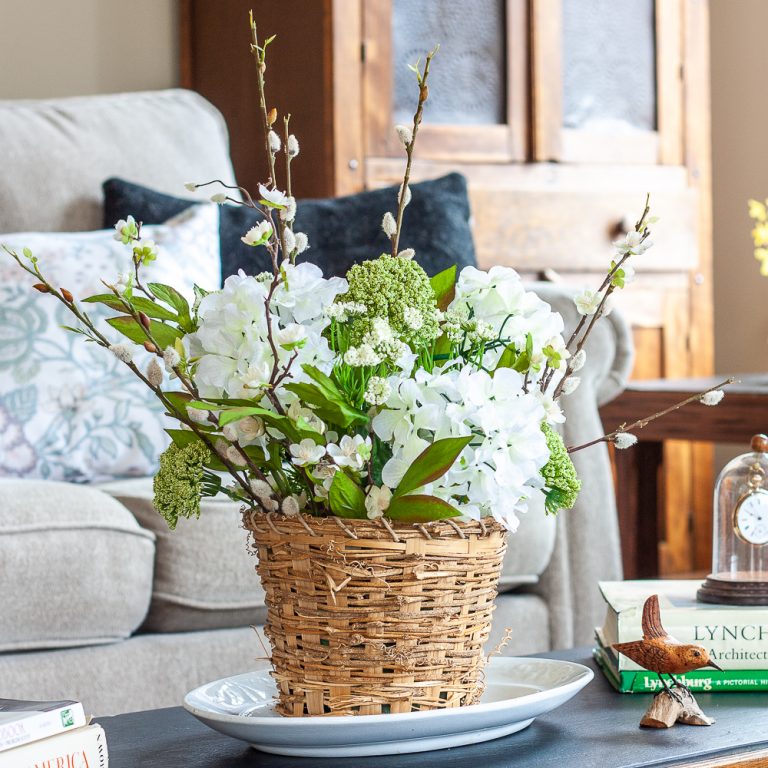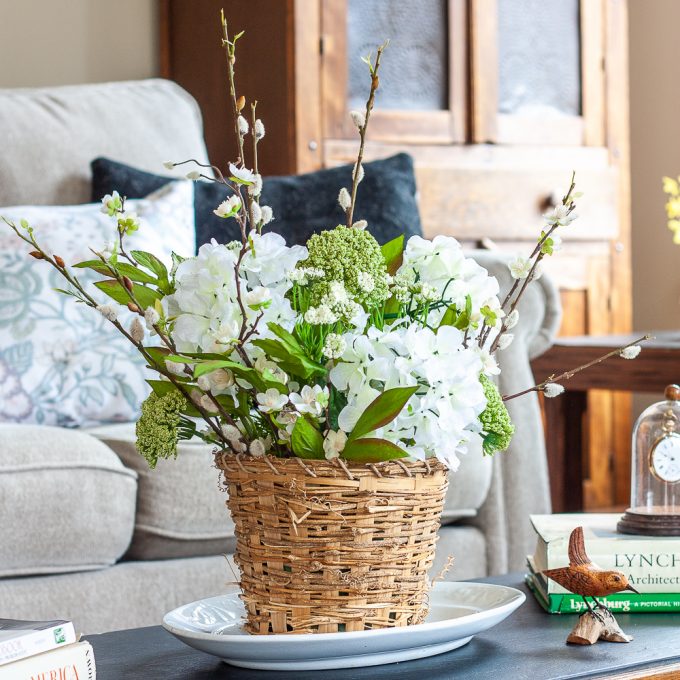 Spring Coffee Table Decorations
Amanda Marie filled her sofa table with stacks of home decor books accented with decorative items.
Since I was working with a coffee table instead of a sofa table or console table, I didn't have room for multiple stacks of books, so I flanked my flower arrangement with two stacks of books.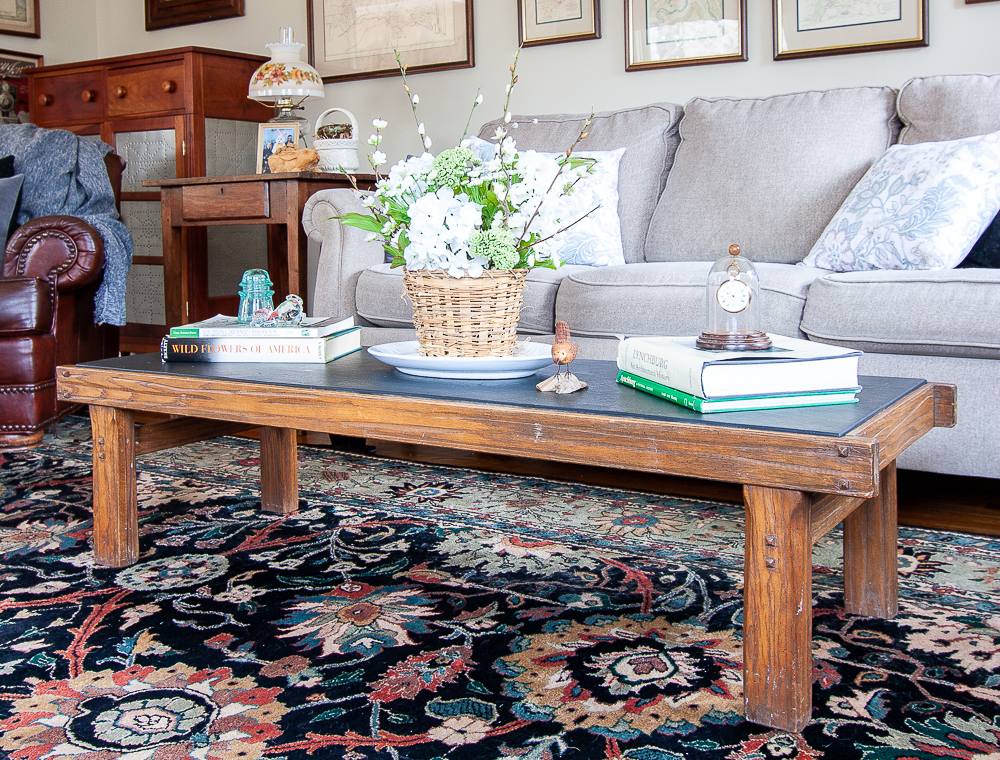 I don't collect decorator books so instead I used books that have meaning to me.
On the left side of the coffee table, I used these books: Southern Gardener's Handbook and Wild Flowers of America.
The Wild Flowers of America book has the most gorgeous illustrations. This was my grandmother's book and my aunt let me have it when Granny moved into a retirement home.
The Southern Gardener's Handbook was given to me several years ago and it is a book that I really enjoy. Since it's now on my coffee table, I'm going to reread it in preparation for gardening this spring.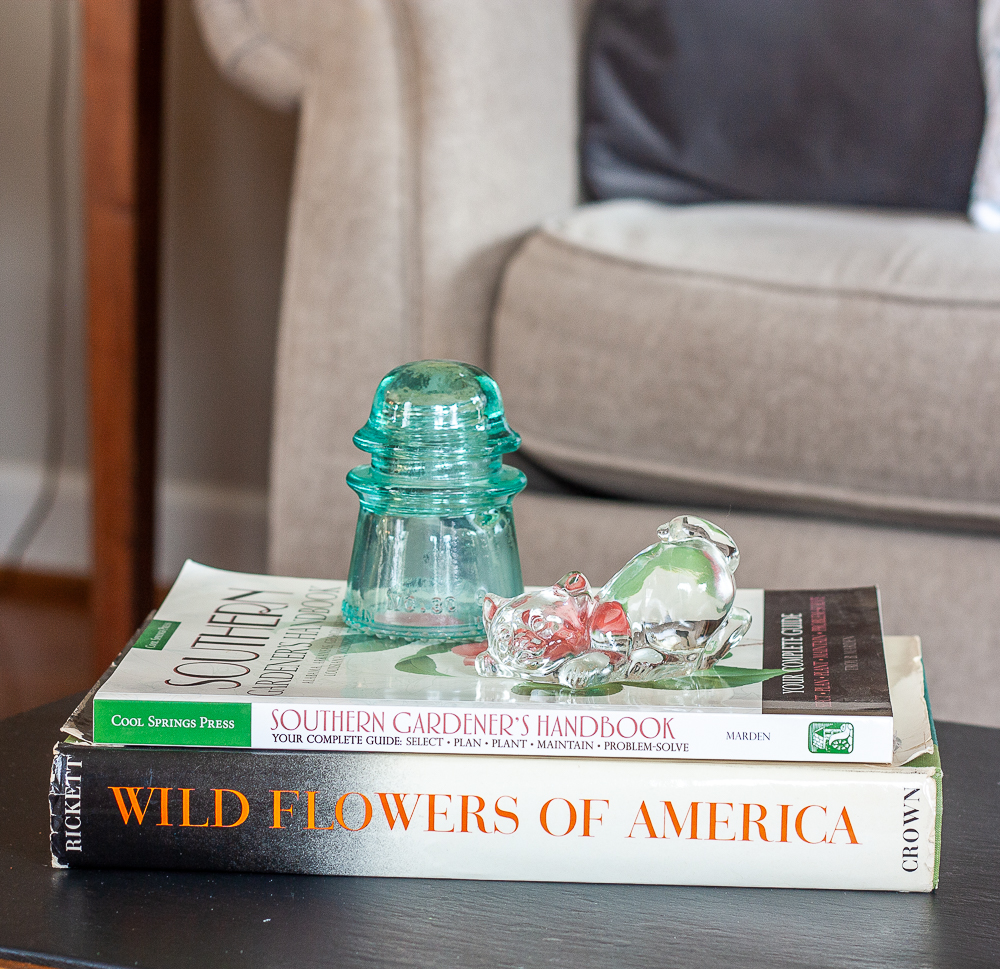 Amanda Marie used a glass plant atomizer on one of her stacks of books and a statue beside her flower arrangement.
I don't own a glass plant atomizer or a statue, so I searched my basement for something to substitute for these items.
My book stack is decorated with a Lynchburg, VA glass insulator and a glass cat. I love cats and one of my cousins gave me this glass cat in the 1980s.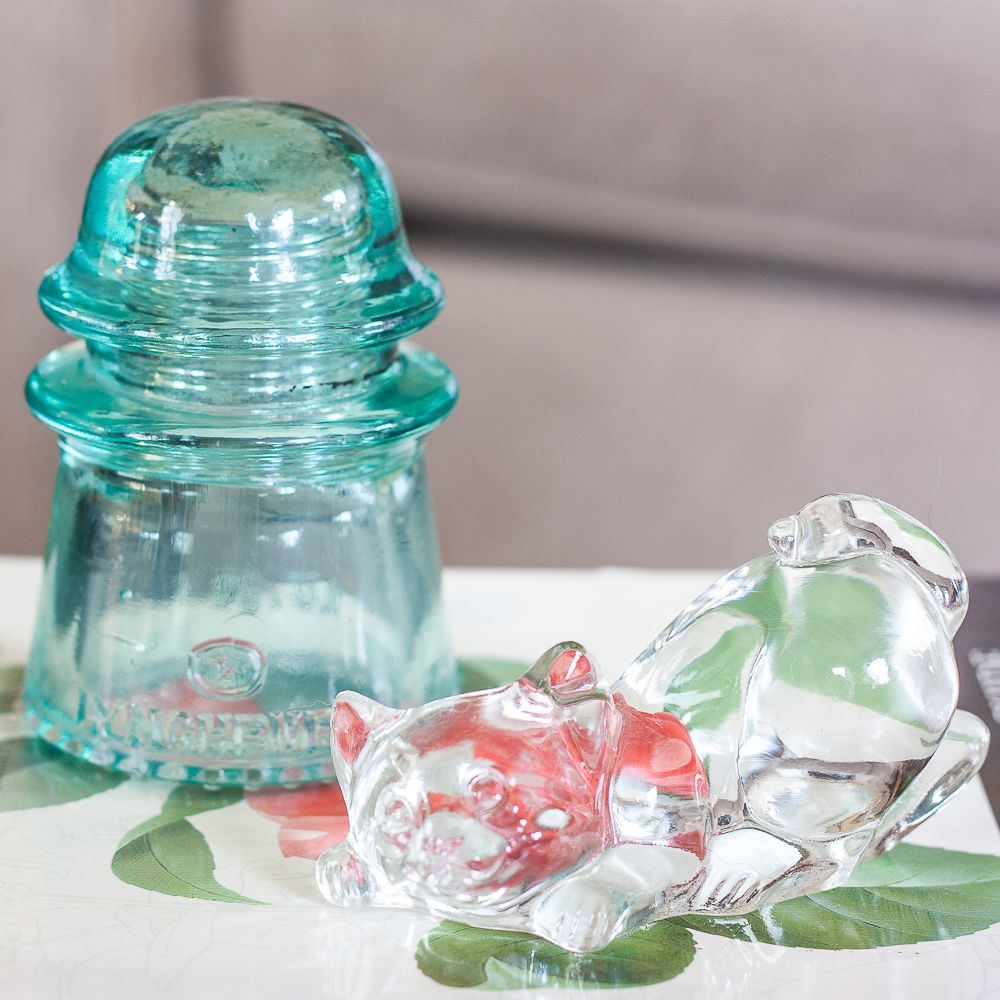 The insulator is extra special because it was made where I live, in Lynchburg, Virginia.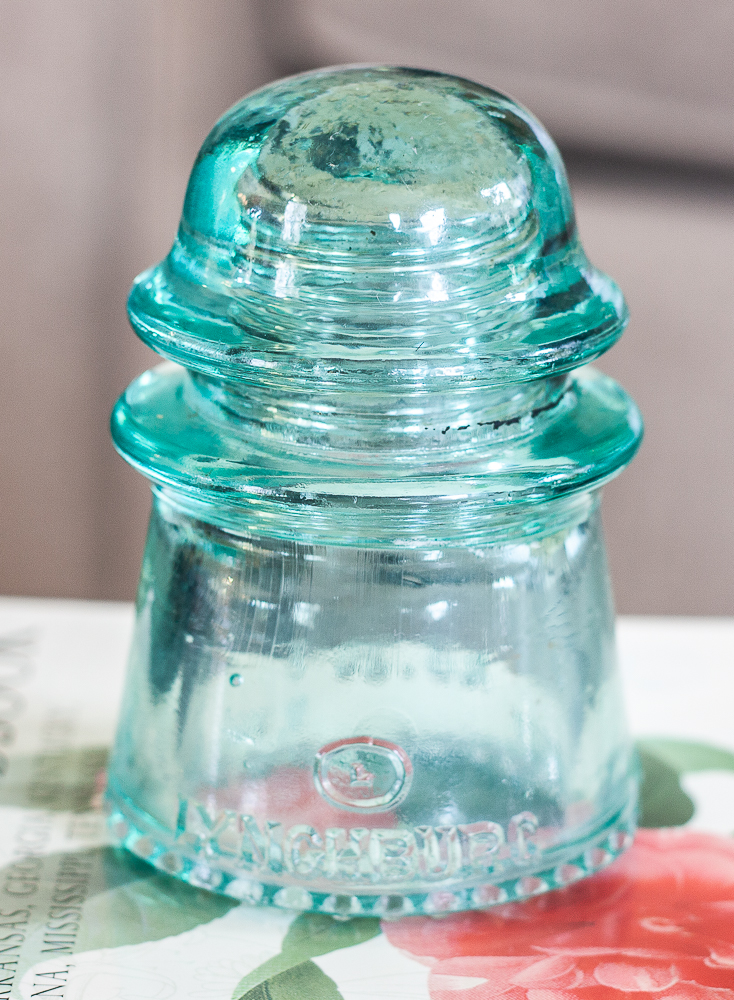 These insulators were manufactured by the Lynchburg Glass Cooperation between November 1923 and May 1925 and distributed all over the world.
Mama gave me my insulator but if you are local and you want one, this Lynchburg glass insulator is available on Etsy.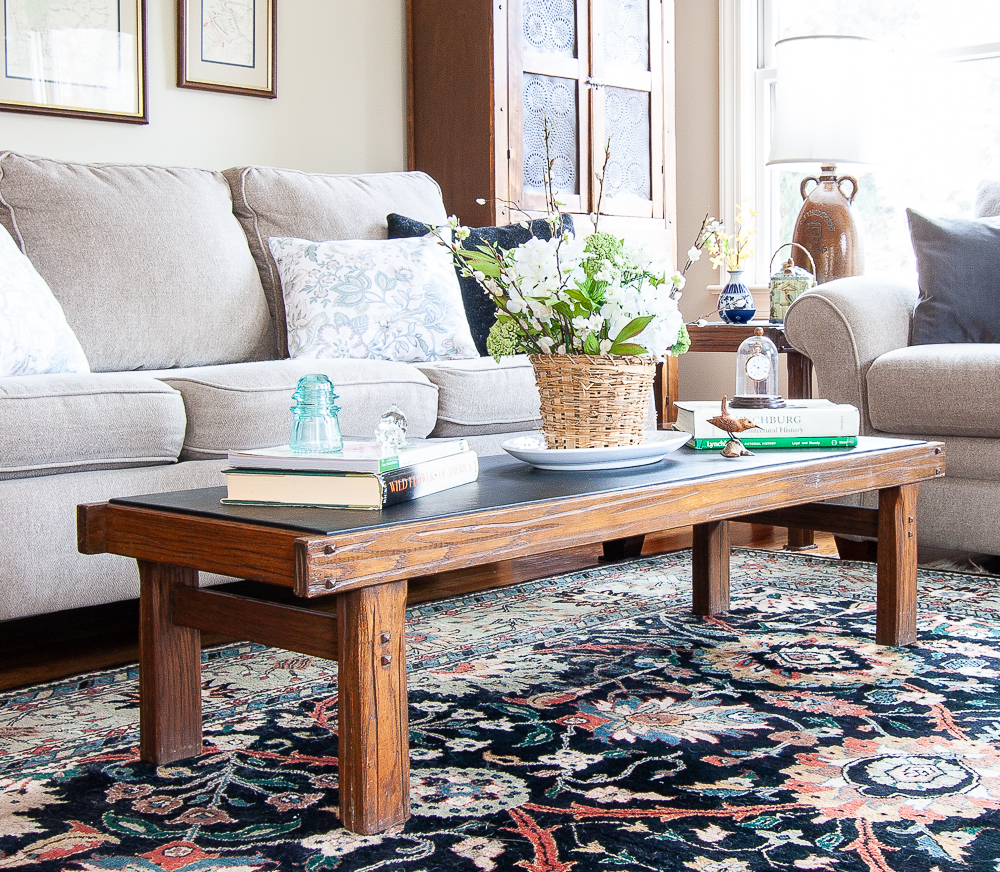 On the right side of the coffee table, I used two more books, both local to Lynchburg, VA.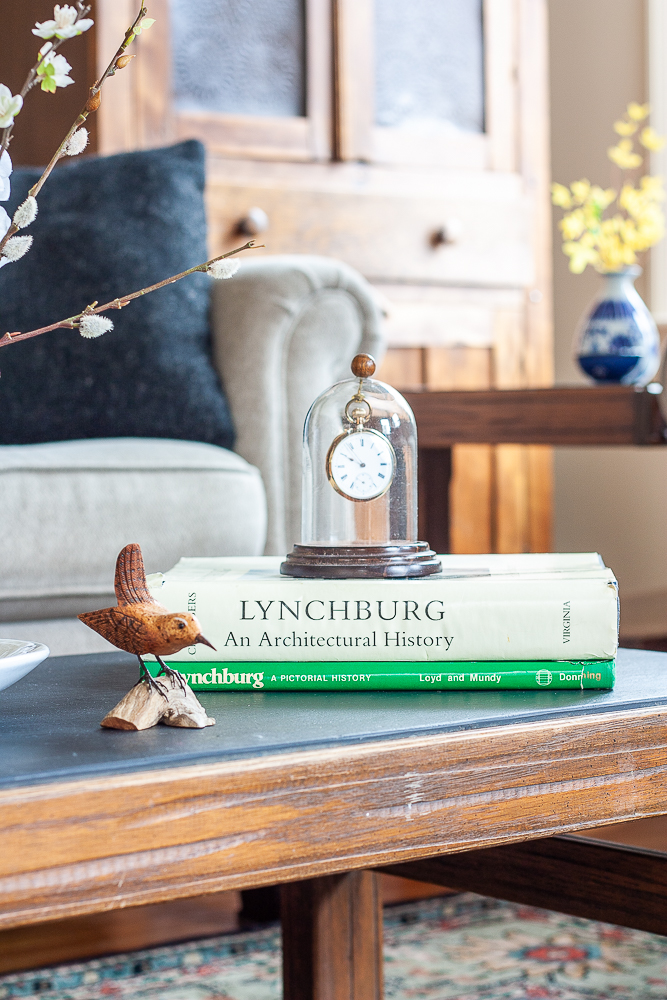 Lynchburg, An Architectural History by S. Allen Chambers is a book that fascinates me. This book is filled with pictures of old Lynchburg homes and gives the history behind each home including information about the architects who designed them.
I live next door to one of the homes featured in this book and if you read my Stitch Fix posts, you've probably seen a glimpse of the front of it.
The house is on 9 acres and only the front is visible from the street.
There is a strip of heavy bamboo and trees between my house and this house, so I have no view of any of the property although I know what it looks like because I walked around it years ago when the house was for sale.
The current owners had landscaping done by Southern Landscapes and I found a picture of its backyard here. Do you know how much I would like to crawl through that bamboo to see this backyard in person? Look at it lit up at night!
Mr. SP bought this book when he first moved to town and I'm glad he did because any time I want information on an old Lynchburg home, I use this book.
I bought the Lynchburg, A Pictorial History at a book sale fundraiser at the YMCA.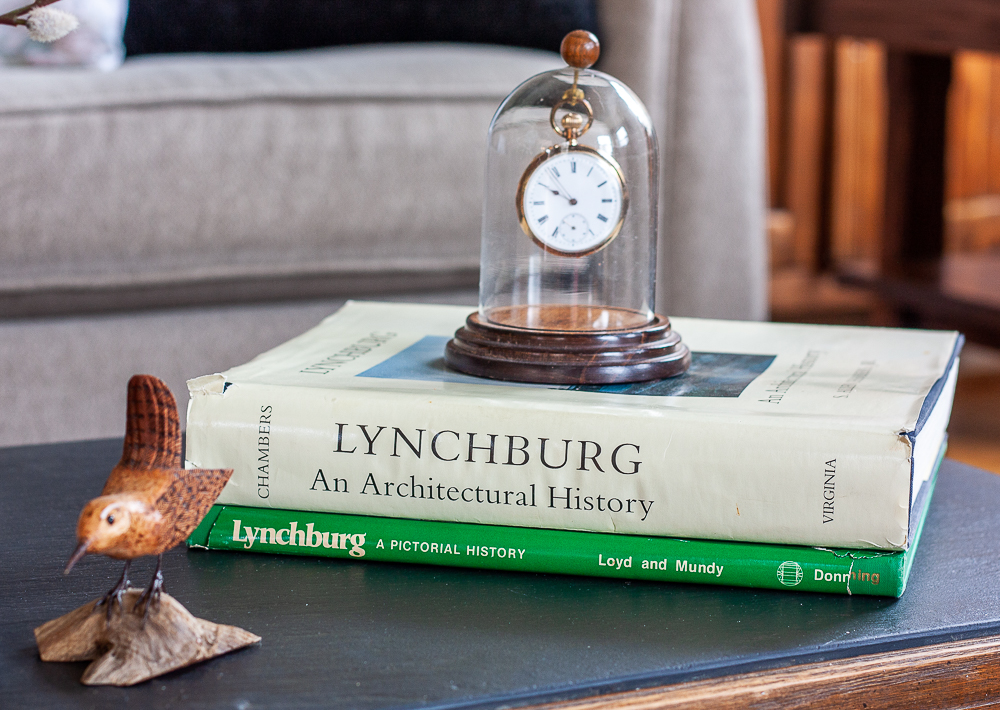 Amanda Marie decorated one of her book stacks with a small cloche over a brass tchotchke. My small cloche displays my husband's German maternal great-grandfather's pocket watch.
This is Karl Nickel, owner of the pocket watch under the glass dome. We believe that this photo is from the late 1800's.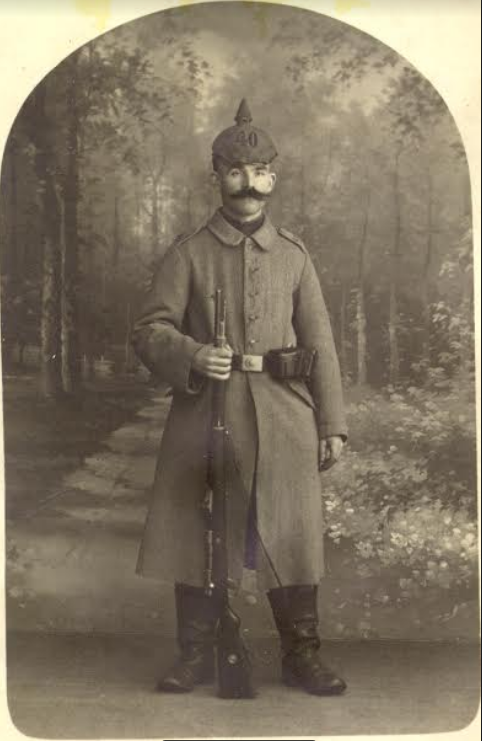 Family Room Spring Vignettes
After I decorated the coffee table, I created a few more spring vignettes in our family room.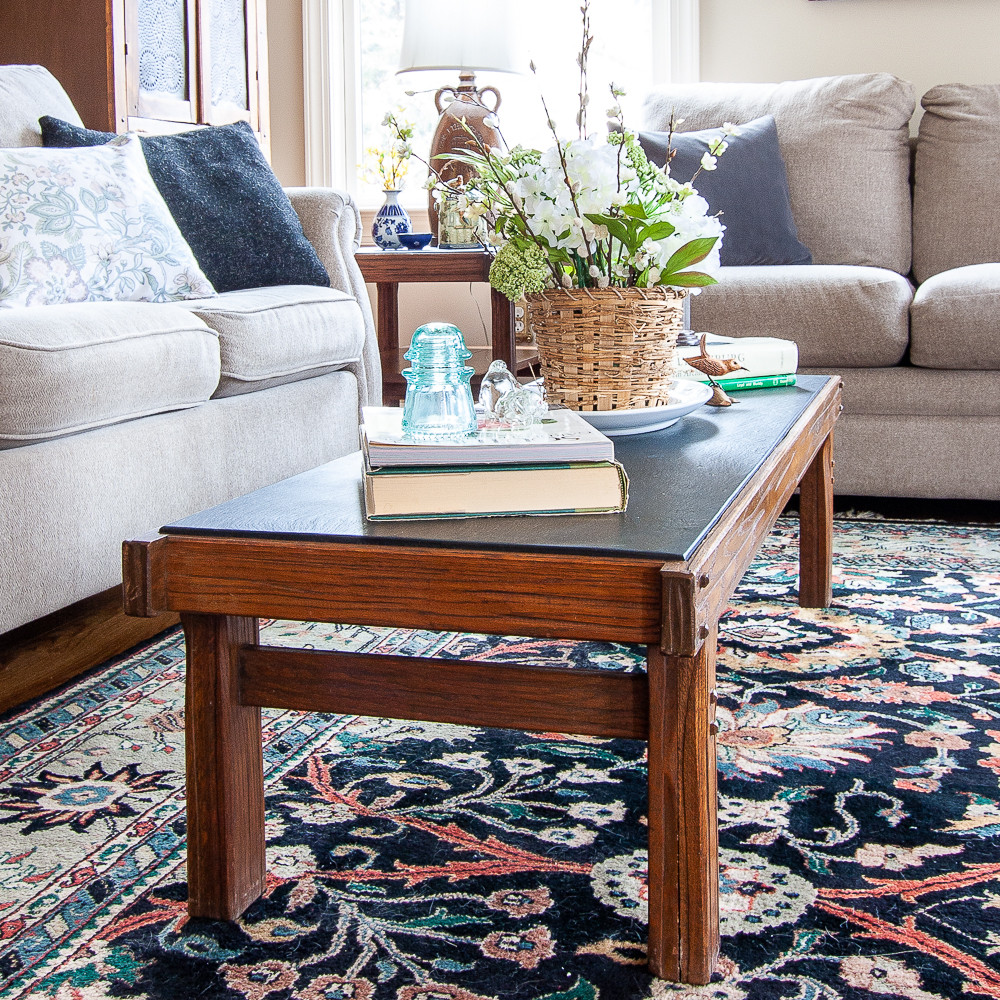 On this end table, I created a simple spring vignette using a vase that my good friend Becky gave me, a bowl that my niece bought for me in Greece, and a bird pottery piece that belonged to my grandmother.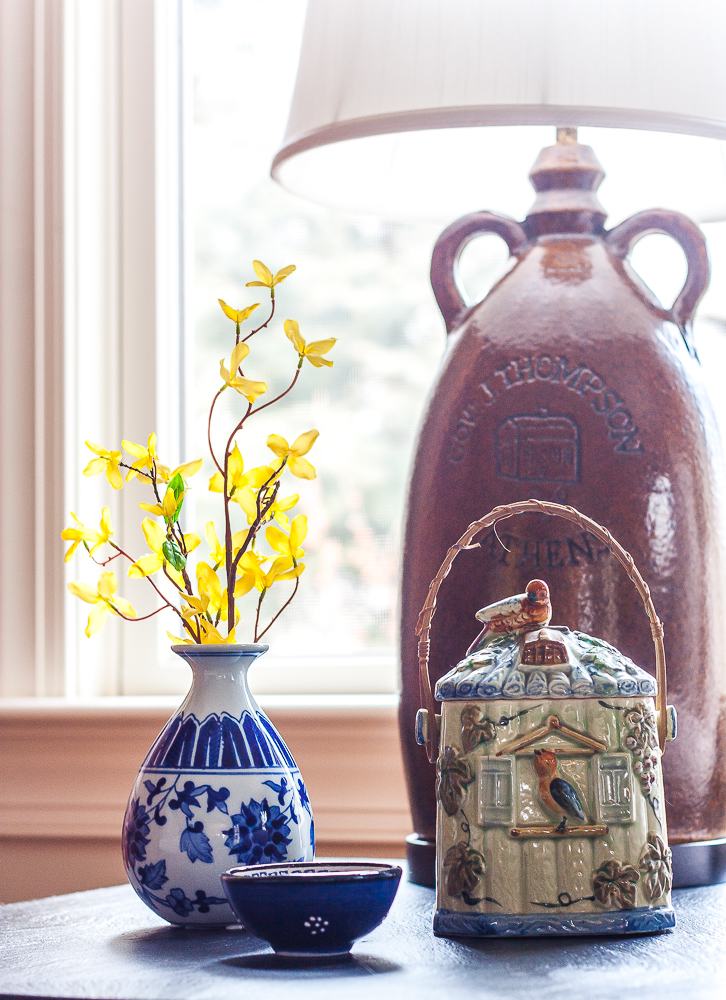 I'm not sure how long this vignette will stay in this spot because Easter is less than six weeks away and I don't want to miss enjoying Easter decorations. Click here to see how I've decorated for Easter in past years.
I quickly decorated the table beside Mr. SP's sofa for spring with an Easter vignette. Instead of holding candy, the rabbit bowl holds dog treats for Sherman.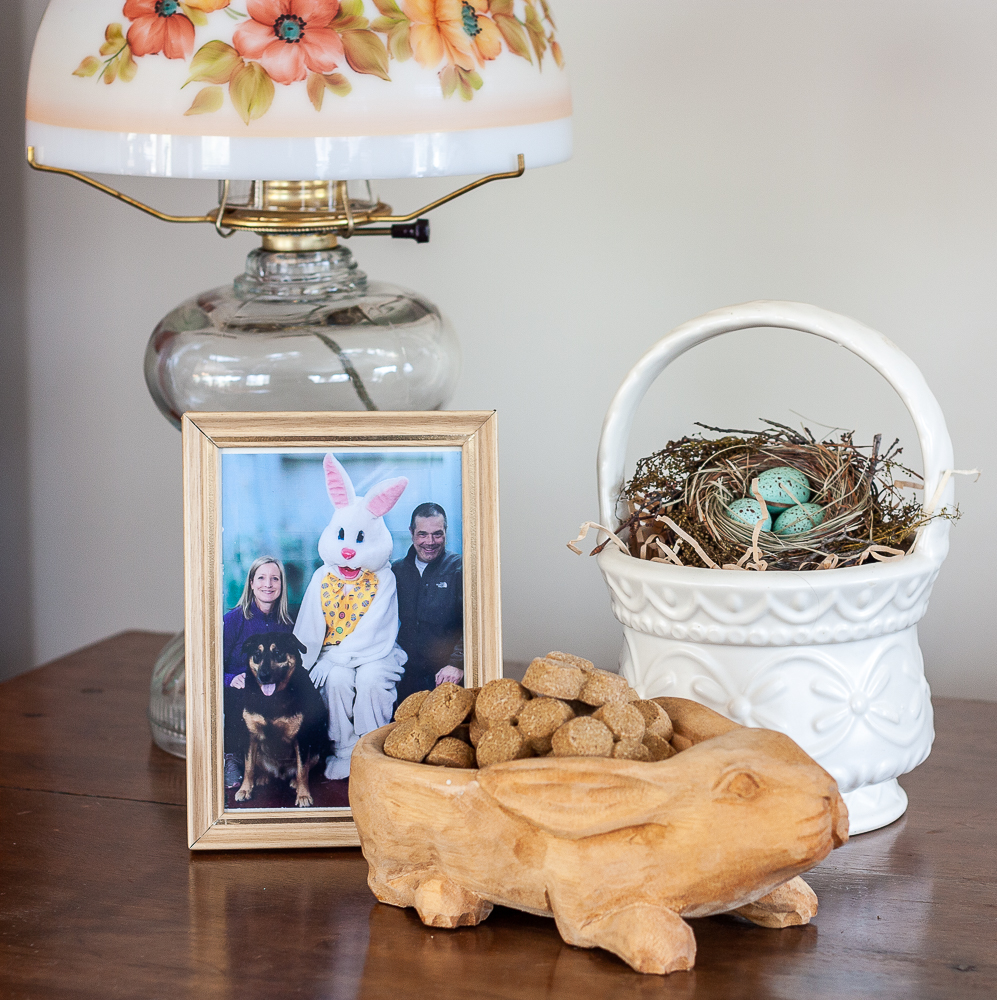 I'm so happy to have a touch of spring in my home and I'm especially happy that I felt well enough to create it.
The next blogger sharing her version of our inspiration picture is Kristen from White Arrows Home. Kristen lives on a lake in the Northwoods of Wisconsin, and like me, she loves to decorate with vintage. I can't wait to see what she created for this challenge!
More Projects to Enjoy
Many thanks to Cindy for organizing this fun monthly challenge!
Click on the links below to visit each blogger who is sharing their version of our inspiration picture.